Our wedding entertainment style & personality is:
All of the disc jockeys and office staff at Grant Hemond & Associates use their knowledge and expertise to make your event everything you dreamed it would be, and we do so with genuine enthusiasm, respect, and a strong desire to please. We pride ourselves on personalizing your wedding to what you think your guests will enjoy. Basically, your wish is our command.
We love providing entertainment for weddings because:
We take great pride in our business. You can be confident that your disc jockey/emcee will provide you with impeccable service. Our disc jockeys are full-time; this is not a sideline, hobby or part-time job. Your DJ is a dedicated professional who entertains at over 150 events each year. We also have a full-time office staff at your service Monday through Friday from 9 am-5 pm.
What sets us apart from other entertainment vendors is:
Our focus is on customer satisfaction. We're not a DJ company that brags about our own accomplishments…our customers, clients, and fellow business associates have always been kind enough to do that for us. We would be honored to work for you and we guarantee that you will experience the same satisfaction.
In addition to music, we also provide:
LED Uplighting, Custom GOBO Stencils, VJ Services, Projector & Video Screen Rental, Karaoke, Photo Booth, and Battery-powered Ceremony Systems, Intelligent Lighting, and Fog.
Our Associations/Awards:
Member of ADJA (American Disc Jockey Association)
Member of NACE (National Association of Catering Executives)
Member of WEPTB (Wedding & Event Professionals of Tampa Bay)
2008-2013 WeddingWire Bride's Choice Awards
2014-2021 WeddingWire Couples' Choice Awards
2008-2021 The Knot Best of Weddings Awards
The Knot Best of Weddings Hall of Fame
Website | Blog | Facebook | Twitter
---
Featured Grant Hemond & Associates Weddings on Marry Me Tampa Bay:

post
open
View More Grant Hemond & Associates Weddings 
---
Reviews From Marry Me Tampa Bay Couples:
"Wedding music was hugely important for LJ and I. I knew we'd be out on the dance floor as soon as dinner service was over, and we wanted someone who could keep the party going and make sure everyone was up and dancing. We actually included song requests in our invitations so everyone had a song to look forward to and make sure everyone felt involved in the party.​ Grant Hemond & Associates was recommended by our wedding coordinator and our DJ, Mike, did a great job. We had a thorough phone call leading up to the wedding and went through what we were looking for in a DJ/ MC. Mike really listened to our wishes." – Brittany and L.J. | Elegant Hyatt Regency Clearwater Beach Wedding
"The DJ was the scariest part of the wedding search! I posted on Facebook to ask if anyone really enjoyed their DJ, and then four people said the same name, Grant Hemond. Our DJ from Grant Hemond & Associates was so great and relaxed during the process. He played my favorites during dinner, like Nat King Cole and Frank Sinatra, and then satisfied all age-groups during the dancing! The service was great, they were easy to work with and had fair prices." – Haele and Tyler | Elegant Copper and White The Birchwood Wedding
"We hired Grant Hemond & Associates because we received numerous recommendations for them. Our DJ, Tony Lange, did an absolutely amazing job! Our guests could not stop raving about how wonderful our DJ was. We had a huge range of ages at our wedding (from 8 years old to 80 years old), and Tony played music that everyone loved. I have never been a big dancer, so I told my husband that I didn't think I would dance much on our wedding day and just planned on mingling with our guests, but literally every song Tony played was great, and I never got off the dance floor the entire night!" – Allison and Andrew | Gold, Blush Pink and Grey Westin Tampa Bay Wedding
"[We wanted] our guests to have an incredible time. We both love upbeat music, so every one of our first dances was to upbeat songs. Our DJ, Grant Hemond & Associates, played fun and upbeat dance music so literally everyone danced, even our 85-year-old grandmothers!" – Madison and Matt | Garnet and Gold The Tampa Club Wedding
"Kevin and I really enjoy going out for dinner and drinks, dancing and enjoying one another. We wanted that same 'good time' vibe to transfer into our wedding and all of our guests to have a good time and really enjoy themselves! We hired Grant Hemond because all of our vendors recommended them, and they really kept the party going! We told them we wanted fun music and to keep the dance floor full, and they delivered!" – Rose and Kevin | Romantic Purple and White Sarasota Wedding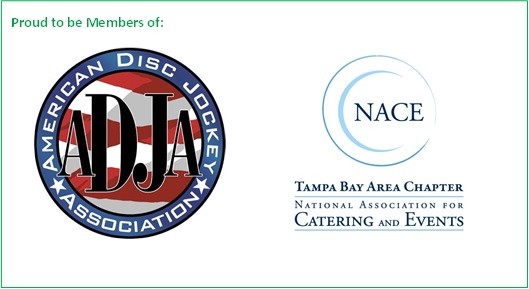 Exclusive Marry Me Tampa Bay Promotion: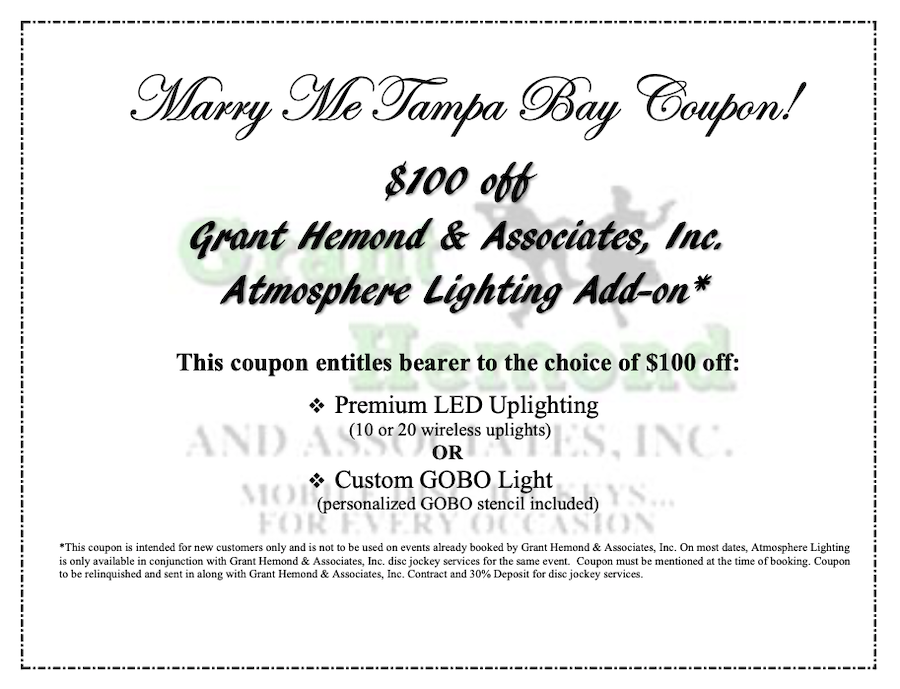 ---
---