Amy and Taylor's St. Pete beachfront wedding was a beautiful ocean-view celebration covered in pink and red florals that decorated their private club event venue. Dusty blue linens and ivory accents took the bride's favorite colors and elegantly incorporated the triadic color scheme.
"I didn't initially intend on a set theme, but I knew I wanted to be on the beach for my ceremony. I was much more focused on making sure the colors I loved went together and were flattering together. Our colors were desert rose and dusty blue with a little bit of gold," the bride detailed. "I used Pinterest to find which colors I liked best. I knew my bridesmaids would wear a desert rose, and I liked that color with the dusty blue, which the groomsmen wore for their ties, and I just went from there!"
The St. Petersburg bride read Marry Me Tampa Bay to help visualize her wedding day for her 99 guest ceremony and reception.
"I ended up seeing multiple blog posts from Marry Me Tampa Bay that I read during my planning process. My friend Carly was actually posted in their blogs as well! I stumbled upon Marry Me Tampa Bay mainly to see photographs of past weddings at our venue which helped with my vision," Amy revealed.
The local bride and groom already knew Florida was the perfect location for their wedding, but it was the private beachfront at Isla Del Sol Yacht and Country Club that won Amy's heart. With the option to include a ceremony on the sand and sailboat departure, it was a perfect fit for the adventurous couple.
"I really wanted a ceremony on the beach, but it's hard to have a private beach ceremony. This was the first part of Isla Del Sol that we loved. I also wanted some sort of indoor and outdoor option so that we could be inside for our reception but enjoy the outdoors for our ceremony and for pictures. Lastly, I wanted to work with people that seem easy and accommodating. You end up spending a lot of time with the people who are helping you with your wedding so it was super important that when I went on a tour for a wedding venue I felt welcomed and that people wanted to assist and help!" the bride revealed. "I only went to Isla Del Sol, and I knew right away that is where I wanted my wedding. I specifically picked it because of their ceremony option to be on a private beach, their ballroom area is big and so gorgeous when it's decorated, and it is a good value for everything you get to have a wedding there. When I found out we could go on a private sailboat after the ceremony that made me think I definitely needed my wedding here!"
Finding a photographer who would help Amy and Taylor feel comfortable in front of the camera and could capture the beauty of the waterfront was a top priority. At the advice of her venue coordinator Melissa, the bride hired Carrie Wildes Photography.
"I wanted a photographer who could capture all the beauty in our wedding with solid reviews online and clean, but colorful pictures. I looked at maybe five other photographers and their galleries and reviews. Carrie Wildes' gallery was the type of photos I liked, and she also had amazing reviews. I called her on the phone to get a feel for her, and I loved her instantly! I wanted someone who made me feel welcomed, answered any questions, and seemed easy to work with. I thought she was amazing." Amy exclaimed. "Our personalities definitely show in our photos with Carrie. We both love to laugh and have fun and do not take life too seriously at all. We chose to have our pictures together on a sailboat, just us two and I think that was the main thing we did that really spoke to both of us and our personalities. It was a new adventure and because it was just us and Carrie; it was a good reminder that this wedding day is about us and to still make time for one another! I told Carrie when I met up with her the other day it made me sad that I don't get to see her as much anymore!"
As the wedding planning process wrapped up, Amy realized the final details were too draining, so she reached out to a professional planner with over 15 years of experience.
"I initially did not even want a wedding planner, but as the wedding got closer I realized I still needed to be working while planning last-minute details, and I got stressed. I needed someone who could help me with timelines and help me with last-minute contacting of vendors and just help me take away any stress," the bride explained. "I called Jillian from Perfecting the Plan and liked her personality instantly. She helped me so much with a timeline and answering all these questions I realized I had that I initially hadn't even thought of!"
For the perfect party ambiance, Iza's Flowers created a stunning floral arrangement hanging from the reception chandelier, while ghost chair rentals from A Chair Affair complemented the dusty blue table linens, and Grant Hemond & Associates kept the dance floor packed all night.
"When I first got engaged I started pinning flowers I love and the style of flowers I liked. I pinned wedding colors I loved, and I noticed the flowers I liked seemed flattering for the colors I was going for. For my flowers, I went to my florist Iza's Flowers with my pins. At our initial meeting, she right away noticed I had a specific type as far as flowers. The colors in our flowers were mauve and burgundy roses with a little bit of peach and ivory popping out," the bride articulated. "The flowers and all of those little details really make a wedding. I was in shock at how flattering my flowers looked on the day of the wedding and how much they popped with my bridesmaids' dresses!"
Looking back on the entirety of the day, the joy of getting ready with her loved ones made a lasting impression on Amy, although it couldn't outshine the stunning sunset sailboat ride.
"The most memorable moment was getting ready with the people I love the most before the wedding and just getting to feel so beautiful and so loved by everyone around you! Getting ready might seem like a silly memorable moment, but really that is when you are with your friends and family you love the most," the bride reminisced. "Being on a sailboat with Taylor was definitely memorable as well, and the most memorable part of the reception was dancing and getting to become the DJ at the end of the night! We had so many people on the dance floor just dancing the night away!"
The Proposal:
Taylor and I were staying at the Tradewinds on St. Pete Beach as a staycation because my dad was visiting and staying there. We went to dinner on the beach with my dad. I went to the bathroom, and when I came out my dad seemed teary-eyed, which I just ignored. I found out later Taylor had shown my dad the ring and asked him for my hand in marriage! That next day we checked into our hotel, and it was such a nice suite instead of the normal room we had purchased. I felt like something might be going on, but didn't want to say anything.
We were getting ready to go to dinner, and I came out from the shower, and Taylor was out on the balcony. When I walked out he was down on one knee asking me to marry him and crying. He put my ring in this really pretty shell which was super thoughtful. I ran to my dad's room, knocked, showed him the ring, and we went out to eat to celebrate! My dad lives in Massachusetts so it was really special to have him there to celebrate with us!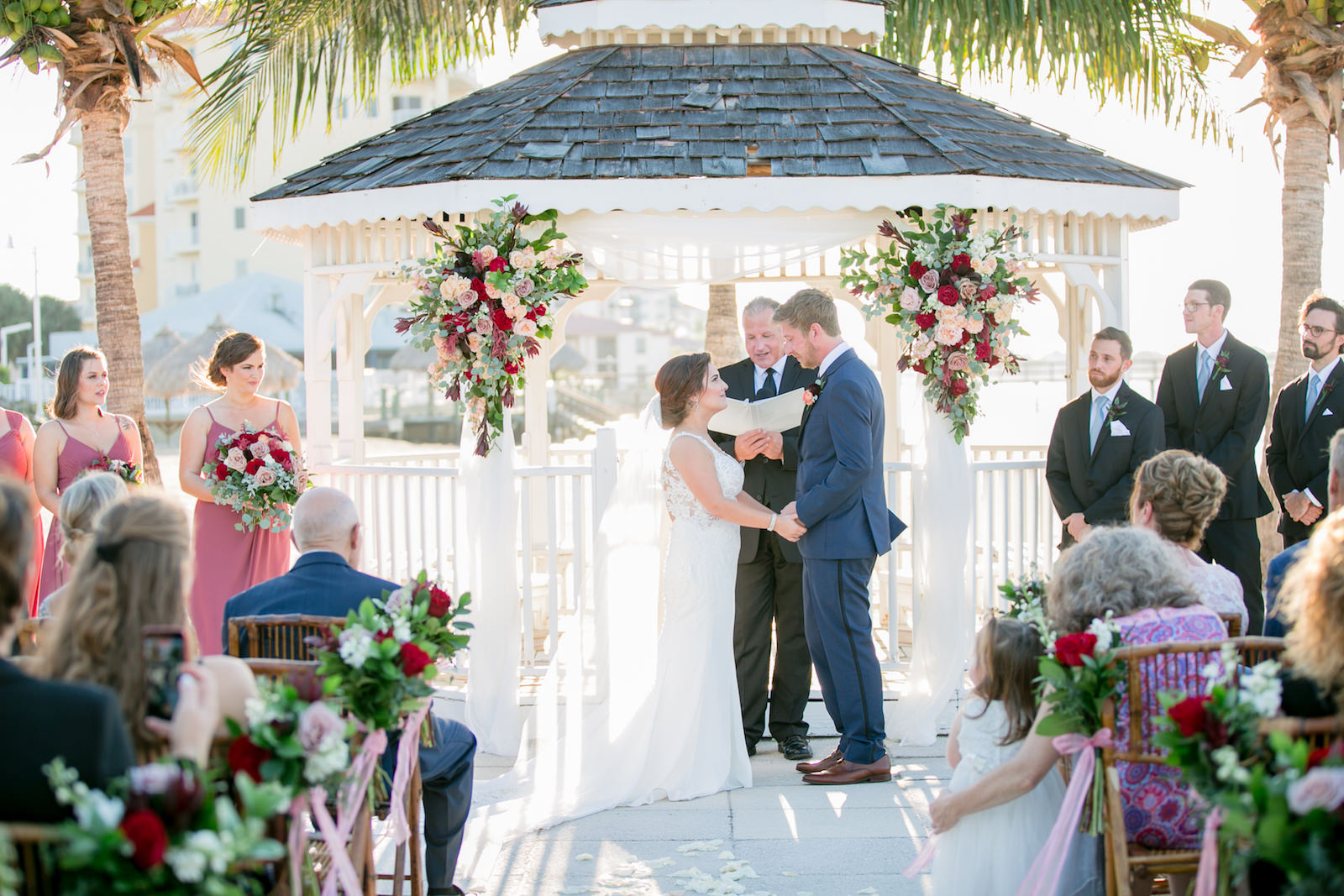 Where did you spend your honeymoon?
We went to Barbados and stayed at the Sandals Royal! My mom had been to Barbados and loved it, and Taylor's aunt is a travel agent and spoke highly of Sandals' resorts! We had never been away to an all-inclusive, so we picked there because it seemed like a peaceful vacation where we woudln't need to worry about much at all! It was awesome!
Where did you host your bachelorette party?
I had my bachelorette party at an Airbnb in Fort Lauderdale, and Taylor had his at an Airbnb by Weeki Wachee River! Most of my friends live in Florida and are teachers, so staying in Florida and having mine during the summer made the most sense for us. Taylor loves being outdoors, so Weeki Wachee was perfect for him.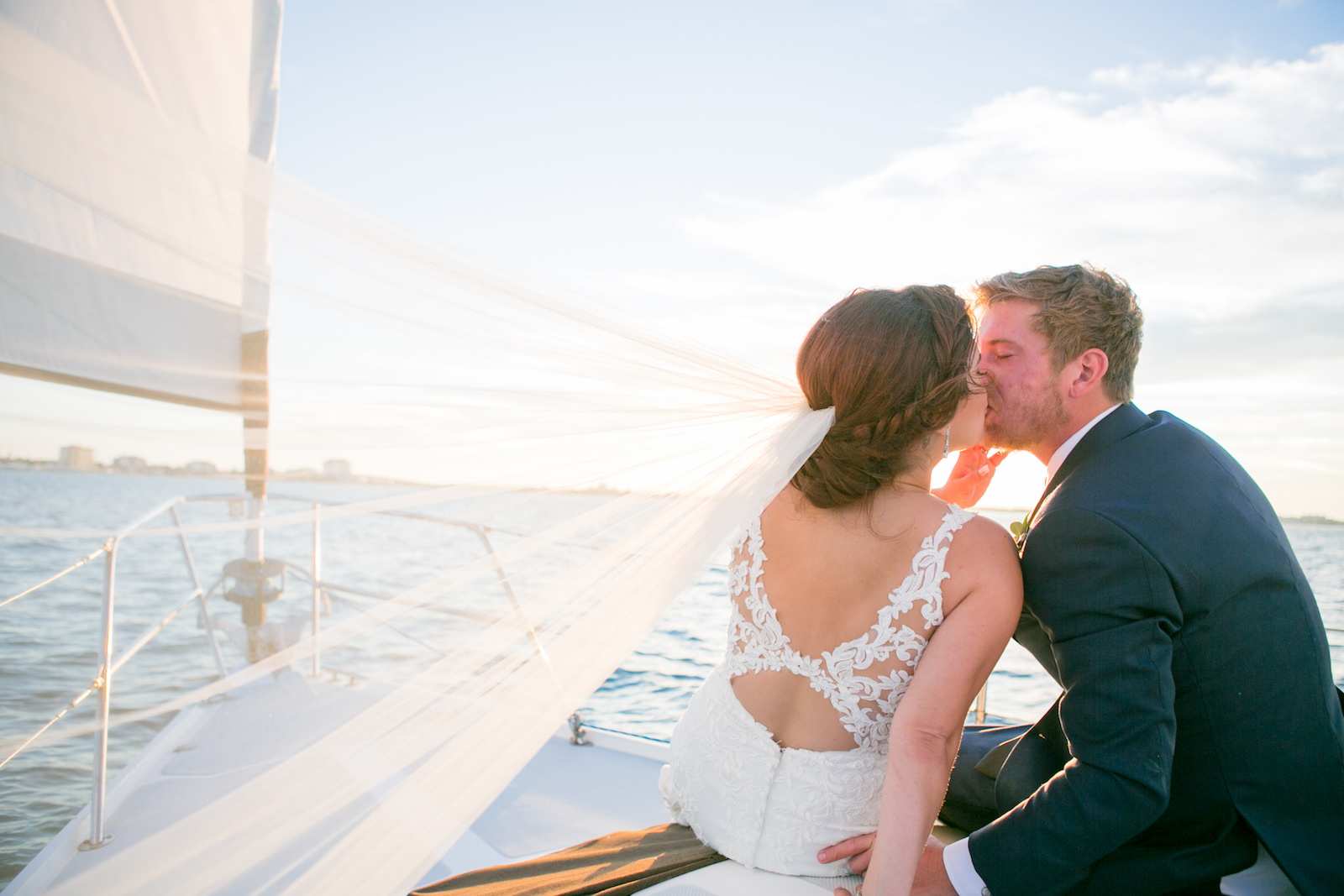 Which vendors really exceeded your expectations?
I was actually blown away by all of my vendors. We had to postpone our wedding due to COVID, and I was able to keep every vendor I initially had planned, and we all found a date that worked! How kind they all were with postponing a lot of business for them was really sweet. I look back and really appreciate Iza's Flowers and how amazing her flowers came out. It was hard to find certain flowers at the time of my wedding, and Iza still pulled it off! Carrie Wildes Photography is also amazing. Carrie is just so fun to work with and has a really positive energy about her. Her pictures turned out so gorgeous, and we got to go to her house to look at them and catch up! That was really fun. Isla Del Sol is fabulous as well. Melissa is great, and we had not one issue with Isla del Sol! It was all perfect!
What advice would you give to other Tampa Bay couples?
Not to stress and enjoy everything including the planning process! This is all for one day, and it needs to be special, but it can't be if you don't just enjoy the moment!
Also, it's okay to ask for help. I waited until the last minute to get decorations done and found myself stressed. My friends instantly jumped in and helped and that's okay! Planning is stressful and a wedding is too much for one person to handle!