Marry Me Tampa Bay is the area's most trusted wedding planning publication. We showcase local Tampa Bay/Sarasota/Lakeland weddings and the fabulous wedding pros who bring them to life.
Our mission is to feature the area's best weddings and educate engaged couples on the importance of hiring professional wedding vendors.
At Marry Me Tampa Bay we believe:
It's not enough to be another vendor listed in a crowded directory.
Local wedding pros shouldn't have to feel like they are a wallet first and a person last.
Local wedding pros shouldn't have to figure out marketing by themselves.
Local wedding pros should be able to showcase their brand and tell their story in a meaningful, local context.
Local wedding pros should have networking options that make sense.
By showcasing amazing, local weddings across multiple social media platforms, MMTB is a powerful resource for couples planning their weddings. Because we are local publication, we reach your ideal client, those getting married near Tampa Bay, who are looking to spend on average $30,000+ for their wedding. We offer a geo-targeted readership base and use our online influence to create brand awareness and social proof to nearly 250,000 readers with almost 1,000,000 page views each year.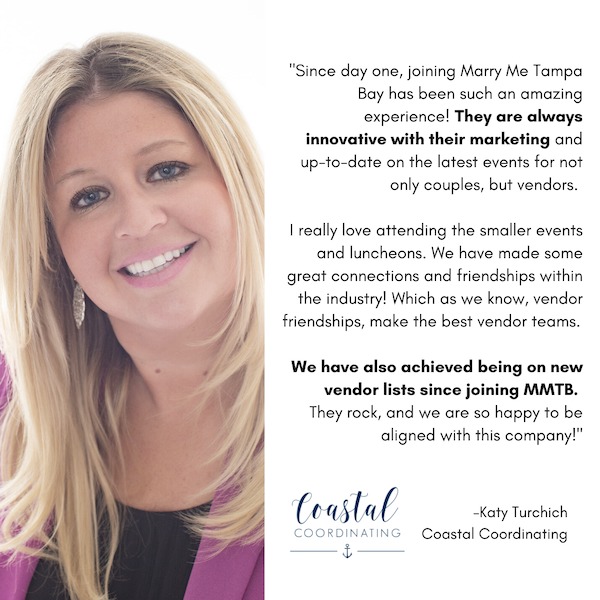 However, we are not advertising.
Let us repeat that. We are NOT advertising.
Marry Me Tampa Bay offers wedding pros a membership with marketing, networking and social media influencer opportunities.
By becoming a member, you'll be more than just a vendor listing on a page. You'll have the voice of Tampa Bay weddings in your corner to rave about your weddings, promote your events, organize styled shoots, create content highlighting your business and provide you with local industry connections. Because our passion is helping our members grow, we form relationships with them to better understand how to marketing their business' unique qualities to make them stand out from their competition.
How Marry Me Tampa Bay Benefits Its Members: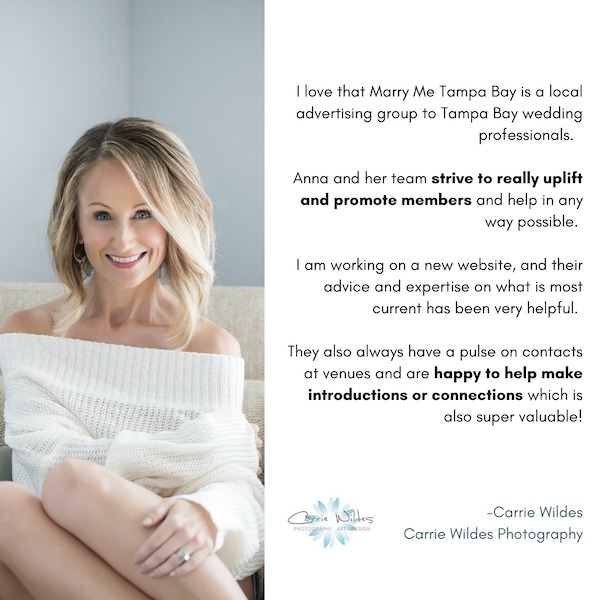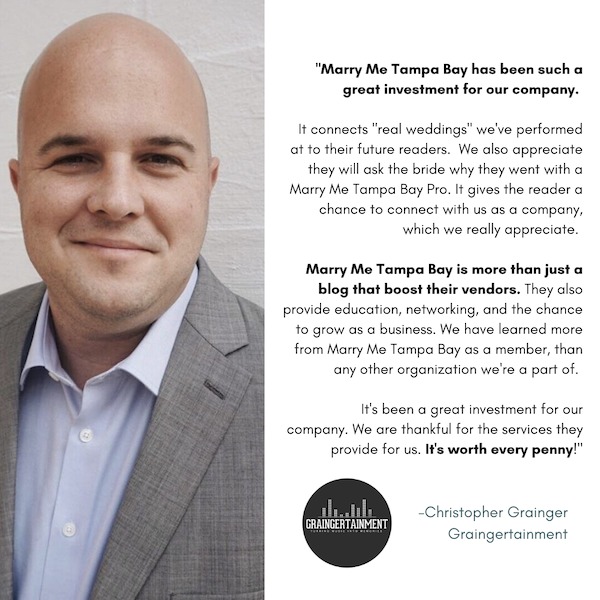 Don't miss the opportunity to become one of Marry Me Tampa Bay's exclusive members.
Request our membership information below to discover a new way of marketing your wedding business: