Mikka and Ross' waterfront Sarasota wedding on Longboat Key embraced Florida's vibrant colors and tropical elements in an idyllic setting for their destination wedding.
"We chose the Sarasota area due to the weather and scenery. We wanted our wedding to be Florida glam; we have always been drawn to warm weather and tropical colors, especially living in Buffalo," the bride shared. "The aesthetics were very important, so having a more colorful palette was necessary. Marry Me Tampa Bay showed what venues and vendors were around and helped visualize what our wedding could be like. We selected oranges, pinks, greens, and blues to fit the tropical theme."
After many postponements and an intimate elopement, the bride and groom were thrilled to finally celebrate their union. The anticipation and destination locale made for an unforgettable wedding experience.
"This was our second wedding due to COVID. After three postponements, we had a small private ceremony in Buffalo, but there were little to no friends or family," Mikka revealed. "This was the wedding reception that we always dreamed of having. We have a blended family and wanted to make sure that my eight-year-old daughter was incorporated into the wedding and that she felt as special as I did on that day. We also added to our family between the two ceremonies and got to have our four-month-old baby part of the ceremony."
The New York couple envisioned a relaxed destination wedding for their 65 guests and selected The Resort at Longboat Key Club for the resort amenities, which includes six restaurants and lounges, a newly renovated resort center, updated pool decks, golf, tennis, and an array of water sports.
"We are laid back and that was how we wanted the wedding weekend to be, so everything was designed specifically with having fun in mind and not hyper-focusing on everything being perfect," the bride articulated. "I loved Longboat Key because the resort seemed like it would be a blast to stay at with our wedding party, and the scenery was so beautiful. Everyone had so much fun hanging out at the beach the day before the wedding. It was awesome to have a little vacation together with all of our closest family and friends. That's exactly what I was going for when I decided to plan a destination wedding and what better place to do that than at a resort-like Longboat Key?!"
The couple held their ceremony on the Marina Lawn, then moved to the Harbourside Terrace and Lawn for the reception, ending the night in the Harbourside Ballroom for the after-party.
"We wanted our wedding to be outside and scenic, but not on the beach. The Resort at Longboat Key Club had many different options to choose from. I loved the marina the second I saw it and knew the Harborside Lawn, all lit up at night, would be perfect for our intimate wedding," the bride gushed. "As far as the service and amenities go, it was all top-notch. I treated myself to a brightening facial the day before the wedding at the spa and that was perfect. The service at the wedding was perfect. Everything went smoothly and the staff was so friendly and amazing."
Mikka and Ross sought a seasoned Sarasota wedding photography team with a relaxed vibe to match their personalities.
"We wanted a professional at a decent price. We saw some of Limelight Photography's portfolios and were impressed. After having our first conversation with Daphne, we knew that she was the right person for us. She was fun and laid back all while being very professional. We thought she did a fantastic job!" the bride beamed.
Looking back, experiencing the day as it unfolded is something that Mikka will never forget.
"Seeing how beautiful everything came together was amazing. The ceremony was beautifully worded by our officiant, our 8-year-old gave a surprise toast, Ross danced with her, and the Hora [were the most memorable moments]," the bride reminisced. "But the fact that the wedding came together how it did was so incredible and really took our breath away."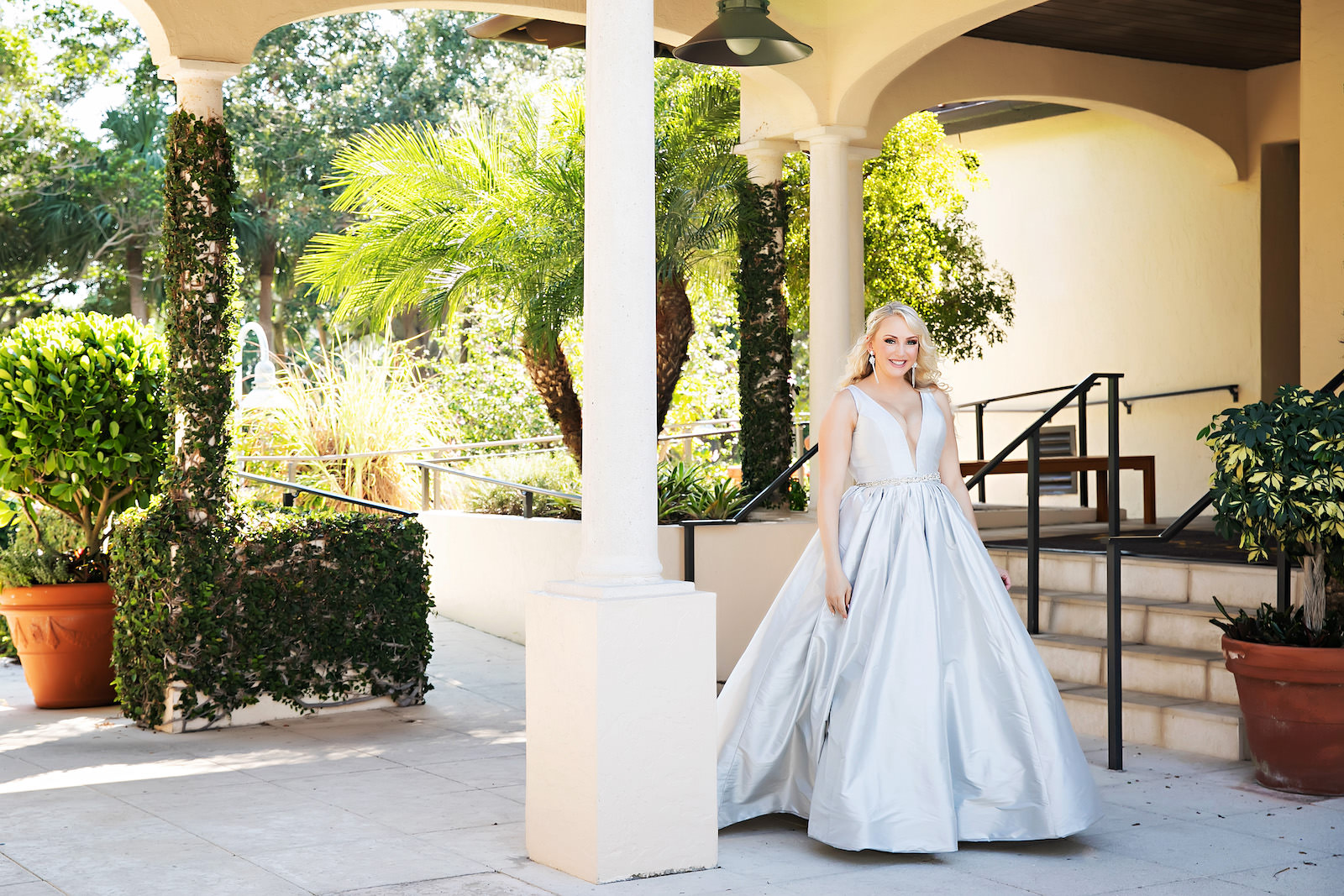 How would you describe your theme/wedding design inspiration?
We wanted our wedding to be Florida glam; we have always been drawn to warm weather and tropical colors, especially living in Buffalo.
What were your colors?
The aesthetics were very important, so having a more colorful palette was necessary. We selected oranges, pinks, greens, and blues to fit the tropical theme.
The Proposal:
Ross picked a fight with me earlier in the week (I was not aware that it was a fake fight) and then offered for me to get my nails and makeup done as a gift to apologize. On the day of the appointment, he asked if he could get me an Uber to the appointment and when the "Uber" arrived, it was my best friend who drove in from Ohio to surprise me.
We went to get our makeup and nails done, and then I went home to tell Ross that my friend was staying at this nice hotel downtown and that we should try to get a room (unbeknownst to me, he had a suite booked there for over a month). He "called" the hotel and told me that we luckily got a room for the night.
We went to a nice dinner and then went to check into the hotel. When we arrived at the hotel, I looked for my friend who was nowhere to be seen, and then Ross said, "Why don't we go to the room and then find her?" We got to the room and there were flowers all over the room and a bottle of champagne. When I turned around, Ross was on one knee with the ring out and proposed. I of course said yes and then said, "We need to tell all our friends." He then told me that all our friends were at the rooftop bar of the hotel waiting for us, where we celebrated all night.
Where did you spend your honeymoon?
The Dominican Republic. We had the opportunity to be at a private resort with some very close friends, and it was a once-in-a-lifetime opportunity.
Which vendors really exceeded your expectations?
All of our vendors exceeded our expectations. Our wedding cake was phenomenal; we sometimes have difficulty putting our vision into words, and they took our notes and nailed it. The photos were great, and the DJ kept everyone in a great mood. Our planner was fantastic, as being out of state we could not meet in person often to discuss our vision. They were able to create the most unbelievable outdoor wedding.
What advice would you give to other Sarasota couples?
Getting a planner was a must! Being out of town, it would have been impossible to meet with vendors. Focus on the things that matter. Let some of the little details that were not important go and focus on the day and experience as a whole, not one specific moment of the day.