Chris Grainger, owner of Graingertainment favorites includes:
The One – Acoustic Piano – Matt Johnson, John Adams
This song features beautiful lyrics that really will get your guests emotional
Holocene – Bon Iver
It works for a great first dance or last private dance.
Grow Old With You – Joseph Vincent
A beautiful remake of Adam Sandler's original. It's a great first dance song.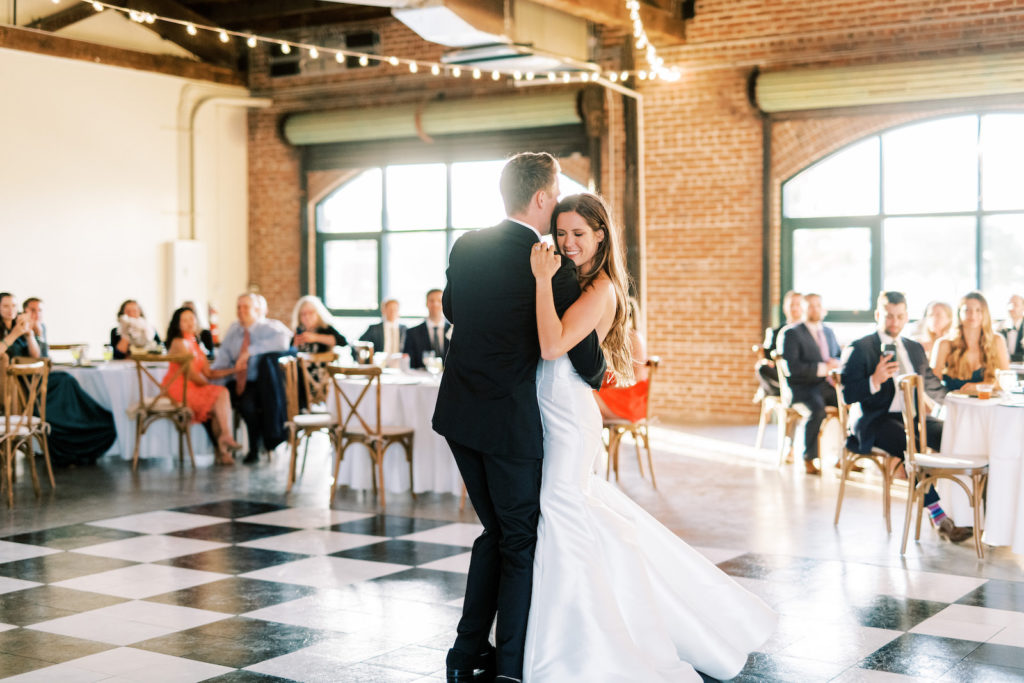 Neutral Downtown St. Pete Wedding | Kéra Photography | Graingertainment
---
Alicia Lum, Event Coordinator with Breezin' Entertainment, shares her entertainers' top picks:
At Last – Etta James
This is a classic that you really cannot go wrong with. This one was a big favorite amongst our COVID couples. So many of our couples had to push their wedding back months, if not years, and this song perfectly represented their feelings of "At Last."
All Your'n – Tyler Childers
The next two are personal favorites that are so sweet with a little country flare. This song speaks for itself with the lyrics saying "So I'll love you 'till my lungs give out, I ain't lying, I'm all yours, and you're all mine." This song is on my personal wedding day playlist and a strong contender for my future first dance song!
Beyond – Leon Bridges ft. Luke Combs
The original version of this song is such a sweet romantic song, but this version with Luke Combs gives it the perfect twist. When listening to the lyrics, you can feel the emotion and love behind them. This song is also on the slower side, making it easy to follow and dance to.
Love Like This – Lauren Daigle
This song is perfect for couples who are more spiritual. It has beautiful lyrics saying, "What have I done to deserve love like this."
Simply the Best – The Hound & The Fox
This is a fantastic twist on Tina Turner's song, "The Best." This song gives a very light, whimsical feel and is great for a fun first dance.
Make You Feel My Love – Adele
When listening to the lyrics of this song, it is clear that this is perfect for a more classical first dance. One verse in the song states, "When the evening shadows and stars appear, and there is no one there to dry your tears, I could hold you for a million years, to make you feel my love."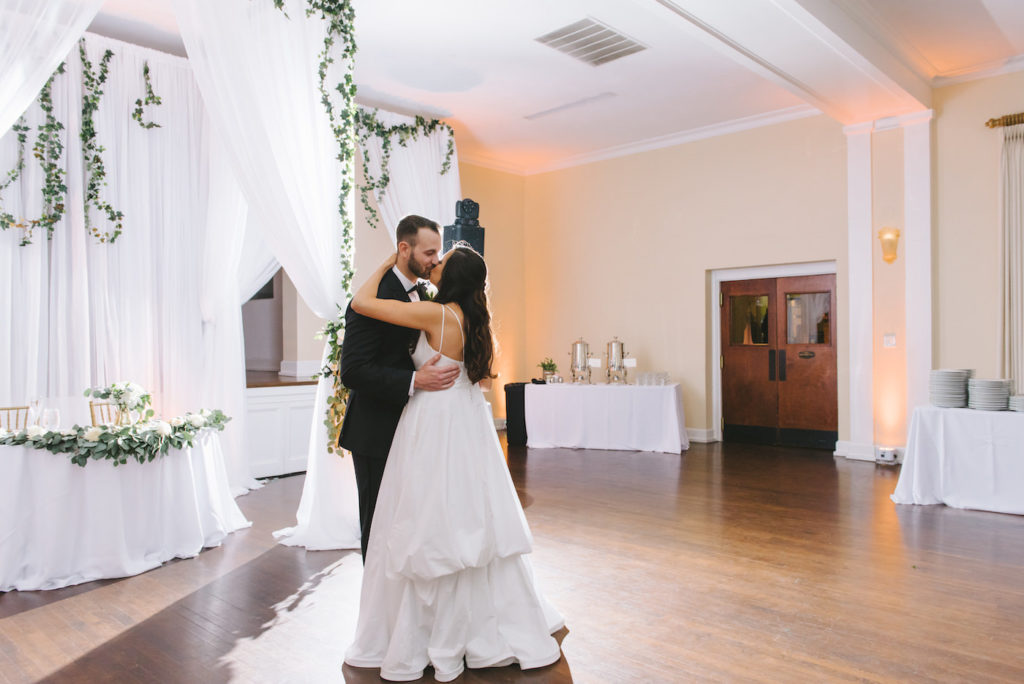 Timeless Greenery and Gold South Tampa Wedding | Kéra Photography | Breezin' Entertainment
---
DJ Rich Kenny, owner of Tampa Event DJs likes to create a melody of songs:
Couples are looking into innovative ways to surprise one another by recording their own unique song or using online services to bring a song to life.
A great first dance should be a surprise, starting with a slow song and then ending with a fast song. We have produced many mash-up first dances. What is a mash-up, you ask? It's a recording that is created by digitally combining and synchronizing instrumental tracks with vocal tracks from two or more different songs. We have also produced custom mixes. For example, using Ben E. King's Stand By Me and Prince Royce's Bachata version of Stand By Me.
We produce the mix and send it over weeks, if not months in advance, for couples to practice. Guests are surprised and excited by the transition and changes in the dance. This is great for video and sets the stage for a celebration. -DJ Rich Kenny, Tampa Event DJs
---
Platinum Entertainment owner Tony Mancuso recalls:
Regarding first dance songs, we always urge the couple to pick a song or songs as sometimes we do a little medley edit for our couples that truly mean something to them. A first dance song doesn't have to be anything routine and cliché to be that everything moment. When a song really clicks with a couple, the moment is always better and more real.
Yours – Russell Dickerson
One of our couples picked this, and we edited it to be a little shorter so we could get to the crescendo quicker. We added dancing on clouds and cold sparklers for the first dance and set off the sparklers right as the song builds back into the chorus from a lull. It was amazing!
Life is Better With You – Michael Franti
It's a fast dance song, and while our couple definitely had a super romantic and epic ceremony with the bride coming in on a white horse-pulled wagon, they wanted to kick their party off with more energy. They bounced around the dance floor, twirling each other and laughing, and the whole crowd loved it because it was so them.
---
---
The DJs from Grant Hemond and Associates list their top first dance picks:
From the Ground Up – Dan + Shay
Tenerife Sea – Ed Sheeran
You Are The Reason – Calum Scott
Back At One – Brian McKnight
All My Life – K-Ci & JoJo
First Date – Acoustic – Taylor Acorn
This is a personal favorite of one of our Grant Hemond and Associates DJ associates as it not only gives a fresh new take on a throwback hit, but the theme and lyrics are perfectly applicable to a happy new couple's first dance together. The heart of the track also keeps a great balance between an easy-going and an upbeat sound which helps keep the whole room engaged at the same time while retaining a reflective spirit surrounding the newlyweds and their special moment on the dance floor.
---
Instructor and owner of Wedding Dance Lessons by Amanda, Amanda Rodriguez Parekh, shares a variety of first dance songs:
Classics: Can't Take My Eyes Off of You and Can't Help Falling in Love
These two songs are oldies but goodies, but I love them because there are so many covers of them! Your guests will still recognize the song even if you put your own twist on it by choosing a different artist.
Country: Heaven – Kane Brown and In Case You Didn't Know – Brett Young
These are sweet, syrupy, and twang'y, all in one.
LGBTQ+ Friendly: Better Together – JJ Heller, Jack Johnson and Make You Feel My Love – Shane Filan, Adele
These songs are beautiful, and they don't denote specific pronouns.
Upbeat: I Am Always Gonna Love You – Jon McLaughlin and The One – Kodaline
If you're a couple that can't help groove when a fun song comes on, I recommend these!
Contemporary/Romantics: The Way You Make Me Feel – Michael Jackson and I Choose You – Sara Bareilles
These are literally your wedding vows in a song. If you are looking for a very meaningful first dance song, these are them!
Choreographer and Instructor: Wedding Dance Lessons by Amanda