Chris Grainger, owner of Graingertainment, favorites include:
The One – Acoustic Piano – Matt Johnson, John Adams
This song features beautiful lyrics that really will get your guests emotional
Holocene – Bon Iver
It works for a great first dance or last private dance.
Grow Old With You – Joseph Vincent
A beautiful remake of Adam Sandler's original. It's a great first dance song.
DJ Nick, of Graingertainment, adds:
In Spite of Ourselves – John Prine
I love this song so much. It talks about a couple who, despite their flaws and quirks, are fully committed to each other. It's a bit crass but touches on the realities of a relationship that isn't always picturesque but uniquely them:
If We We're Vampires – Jason Isabell and the 400 Unit
Something I can't quite put my finger on, but this is just a beautiful song. It highlights the fact we do not have all that much time in life, so every moment with the love of your life is a gift.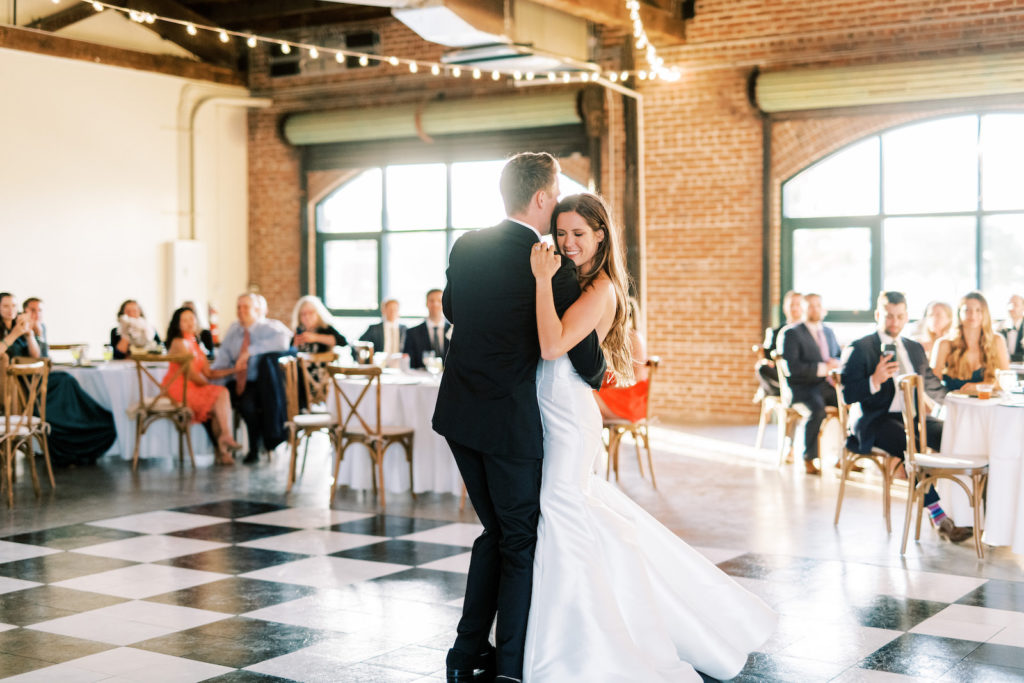 Neutral Downtown St. Pete Wedding | Kéra Photography | Graingertainment
---
Alicia Lum, Event Coordinator with Breezin' Entertainment, shares her entertainers' top picks:
At Last – Etta James
This is a classic that you really cannot go wrong with. This one was a big favorite amongst our COVID couples. So many of our couples had to push their wedding back months, if not years, and this song perfectly represented their feelings of "At Last."
All Your'n – Tyler Childers
The next two are personal favorites that are so sweet with a little country flare. This song speaks for itself with the lyrics saying "So I'll love you 'till my lungs give out, I ain't lying, I'm all yours, and you're all mine." This song is on my personal wedding day playlist and a strong contender for my future first dance song!
Beyond – Leon Bridges ft. Luke Combs
The original version of this song is such a sweet romantic song, but this version with Luke Combs gives it the perfect twist. When listening to the lyrics, you can feel the emotion and love behind them. This song is also on the slower side, making it easy to follow and dance to.
Love Like This – Lauren Daigle
This song is perfect for couples who are more spiritual. It has beautiful lyrics saying, "What have I done to deserve love like this."
Simply the Best – The Hound & The Fox
This is a fantastic twist on Tina Turner's song, "The Best." This song gives a very light, whimsical feel and is great for a fun first dance.
Make You Feel My Love – Adele
When listening to the lyrics of this song, it is clear that this is perfect for a more classical first dance. One verse in the song states, "When the evening shadows and stars appear, and there is no one there to dry your tears, I could hold you for a million years, to make you feel my love."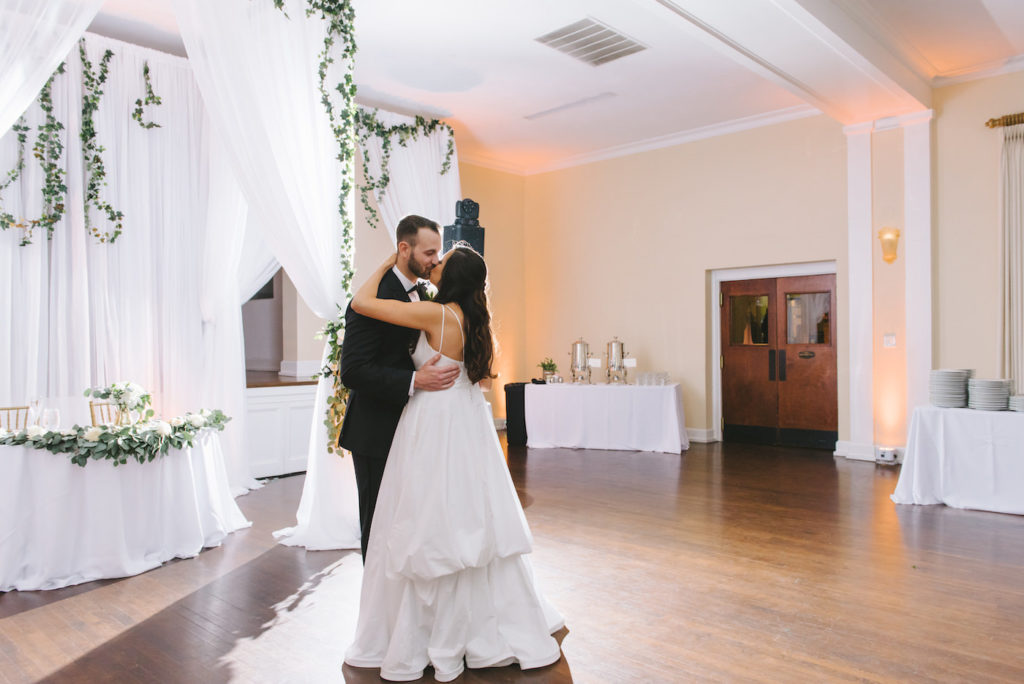 Timeless Greenery and Gold South Tampa Wedding | Kéra Photography | Breezin' Entertainment
---
Platinum Entertainment owner Tony Mancuso recalls:
Regarding first dance songs, we always urge the couple to pick a song or songs as sometimes we do a little medley edit for our couples that truly mean something to them. A first dance song doesn't have to be anything routine and cliché to be that everything moment. When a song really clicks with a couple, the moment is always better and more real.
When The Day Met the Night – Panic at the Disco
This song is a bit more upbeat as it builds and can create tremendous energy in the room. We did it for one of our couples recently and even edited it down a bit so instead of 4:30 length it was more like 2:30 and only the best parts of the song.
Yours – Russel Dickerson
This song has a wedding version and is one of those new, classic love songs. It even has a great part that builds towards the last chorus, and we love to time our cold sparklers to ignite as the song rises to its full crescendo. It makes for one of those "wow" moments that are priceless.
Perfect Symphony – Ed Sheeran & Andrea Bocelli
The combination of Sheeran & Bocelli is absolutely beautiful, and there is usually never a dry eye in the house
Beyond – Leon Bridges
An instant classic! Leon Bridges' voice is pure magic and harkens back to the days of Sam Cooke and makes you feel all kinds of ways.
If I Don't Have You – Alicia Keys
A lot of times our couples have more than one song. In that instance, we are happy to create a custom edit for our couples. As a producer, as well as a DJ, this is easy for us to accomplish for our couples.
We had one couple who wanted this song, and then they had us merge it into Ella Es Mi Fiesta (Remix) by Carlos Vives ft. Maluma. This served the purpose of both a slow dance and showcased the bride's Columbian roots while also allowing the groom to show off the final product of months of dancing lessons.
The final product was amazing. Our couple crushed it, and the entire wedding was cheering them on. What a way to kick off the night!
Yours – Russell Dickerson
One of our couples picked this, and we edited it to be a little shorter so we could get to the crescendo quicker. We added dancing on clouds and cold sparklers for the first dance and set off the sparklers right as the song builds back into the chorus from a lull. It was amazing!
Life is Better With You – Michael Franti
It's a fast dance song, and while our couple definitely had a super romantic and epic ceremony with the bride coming in on a white horse-pulled wagon, they wanted to kick their party off with more energy. They bounced around the dance floor, twirling each other and laughing, and the whole crowd loved it because it was so them.
---
---
The DJs from Grant Hemond and Associates list their top first dance picks:
From the Ground Up – Dan + Shay
Tenerife Sea – Ed Sheeran
You Are The Reason – Calum Scott
Back At One – Brian McKnight
All My Life – K-Ci & JoJo
First Date – Acoustic – Taylor Acorn
This is a personal favorite of one of our Grant Hemond and Associates DJ associates as it not only gives a fresh new take on a throwback hit, but the theme and lyrics are perfectly applicable to a happy new couple's first dance together. The heart of the track also keeps a great balance between an easy-going and an upbeat sound which helps keep the whole room engaged at the same time while retaining a reflective spirit surrounding the newlyweds and their special moment on the dance floor.
---
With over a decade of experience as a wedding DJ, Ed Grube, owner of Events Done Right, offers this insight:
First Date – Blink 182 Acoustic Cover by Taylor Acorn
The acoustic cover version captures all of the same elements as the original classic by the punk rock band but slows it down to a more appropriate tempo and caters more to that important dance with your special someone. Your guests will catch on and recognize it as well!  We loved how one of our couples chose this version for their first dance song and then ended the night with the original version from Blink 182 as their last dance of the night with all of their guests. We thought that was brilliant!
Joy Of My Life – Chris Stapleton
The song is not a hidden gem by any means, but the lyrics run so deep with lines such as Some may have their riches, Some may have their worldly things, As long as I have you, I'll treasure each and every day.  We've been playing this song even just as a slow dance at some weddings, but to have you in the middle of the dance floor with your special someone, and this playing in the background really helps transcend that first dance to a very memorable occasion. Plus, you can never go wrong with Chris Stapleton!
---