Karra and Yuli's timeless downtown St. Pete wedding was an elegant affair that combined a monochromatic color palette with luxurious flora. The waterfront ceremony featured a floral-filled ceremony arch, champagne wall, and string quartet, followed by a romantic reception set in a historic hotel ballroom.
"I wanted to go for something that was classic, romantic, and elegant. Since we had a black-tie wedding, I wanted our décor to show that," the bride shared. "Our colors were white, cream, and champagne. I chose them to go with the black-tie feel."
The 170-guest outdoor January wedding featured rows of pristine white chairs and a white stage overlooking the scenic marina. Guests were encouraged to be in the moment by stowing their phones during an unplugged ceremony so they could enjoy the surrounding scenery, live string music, and a glass of champagne. The couple exchanged vows in front of a floral arch covered in stems of fluffy stock, creamy roses, snowball hydrangea, and leafy greenery.
Inside, the same flowers were echoed in beautiful centerpieces that varied in height between the tables, offering visual interest and drawing the eye up towards the impressive ceilings and statement Chihuly chandelier. The Belleair bride and groom relied on the beautiful and extensive inventory from A Chair Affair to elevate their ballroom reception and tie in their elegant, formal style. The champagne linens added a luxurious feel, as gold accents appeared throughout the space, from chic glass charger plates to gold-rimmed glassware, adding subtle sparkle to the neutral color palette.
"The décor rentals were amazing. The table settings we picked out from A Chair Affair were more than I could have asked for. It really brought everything from our vision together," Karra beamed.
The pair incorporated additional decorative details as well as interactive elements to create a lasting impression for their guests. From the flutes of bubbly that welcomed guests to the ceremony to the nightcap of whiskey and cigars, their friends and family received VIP treatment at every turn.
"We had a champagne wall for the ceremony and a string quartet. Everyone said they haven't been to too many weddings with those little features, and everyone loved it," the bride beamed. "We wanted the guests to feel like this was the best party they attended. From the champagne wall to the bourbon and cigar roller, everybody had such a great time."
The focus on guest experience carried throughout the big day, with special attention paid to the wedding entertainment. Karra knew hiring the right DJ would help create an epic party, so she turned to Grant Hemond & Associates for their years of experience, knowledge of her venue, and excellent reputation.
"I wanted a DJ that knew how to get the party started and keep it going during the entire night. Everyone loved our DJ, and they were out on the dance floor all night," the bride gushed. "Grant Hemond & Associates came highly recommended from the Vinoy as they have done a lot of weddings there. Their service was amazing."
When they weren't cutting up the dance floor, guests struck a pose in an elegant photo booth. Unlike some photo booths that can feel dated, The Gala Photobooth offers modern, lux designs, resulting in snapshots that reflect the classic styling of the event.
"Photobooths at weddings are always a hit with everyone, so we already knew this was a must," the bride articulated. "From their reviews, The Gala Photobooth looked really good, and I am so happy I used them. The photos turned out so good!"
Karra recalled two stand-out memories from the day, each of which involved quality time with some of her favorite people in the world.
"I will always remember the morning of the wedding, getting ready with all my bridesmaids. Something about having all your closest friends with you on your big day is such a special thing," the bride reminisced. "Doing a first look was memorable, too. I am so happy we decided to do that. It helped calm the nerves to just see my husband and spend some one on one time before the wedding began."
The Proposal:
We were in Park City, Utah for New Year's Eve weekend, and Yuli surprised me with our entire condo decorated with rose petals and candles. He got my entire family on Facetime to watch since they weren't able to be there in person; that meant so much to me
How would you describe your theme/wedding design inspiration?
Classic, romantic, and elegant. Since we had a black-tie wedding, I wanted our décor to show that.
What were your colors?
White, cream, and champagne. I chose them to go with the black tie feel.
Where did you host your bachelorette party?
Key West. I wanted something not too far away and that had everything we wanted: sun, pool, drinks, bars, and nightlife.
Where did you spend your honeymoon?
Montego Bay, Sandals. We wanted an all-inclusive resort, and Montego Bay has such great reviews, and the water was exactly what we wanted, an island getaway with crystal clear water.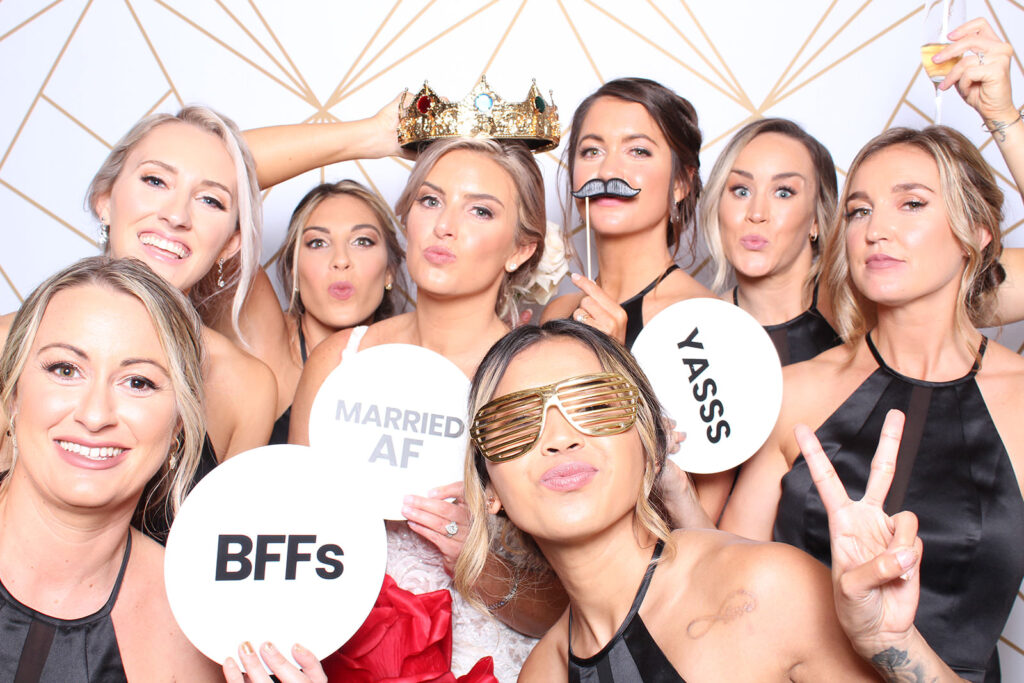 What advice would you give to other Tampa Bay couples?
This is your day, so don't stress over what you think others will like or dislike. Remember to take time for yourself and also time for just you and your husband. When everyone says the day flies by, they are correct. It went by so fast!