Sarabeth and Nick's destination Dunedin wedding combined soft shades of pink with lush, greenery-focused flora along with coastal Florida touches.
"I wanted the whole day to feel effortless but formal which perfectly fit the feel of a jazz-themed hotel backdrop. We wanted a small reminder of Florida peppered throughout with a waterfront ceremony and cocktail hour and some tropical blooms in my bouquet," the bride shared. "The bridesmaids' dresses and décor showcased shades of mauve and taupe while the groomsmen sported midnight blue tuxedos."
The Atlanta couple grew up in Florida and knew they wanted to host a destination wedding in the charming city of Dunedin for their 99 guests. Knowing all of the logistics that would go into their celebration, they turned to Amber McWhorter Photography to creatively capture the day in film, while keeping everything seamlessly organized throughout the process.
"We looked for a wedding photographer who would help us capture the different chapters of the day. When you are managing a tight schedule and organizing bridesmaids, groomsmen, family members, etc. you need the right person for the job, and for us, that was Amber McWhorter Photography. In addition to being immensely talented and easy to work with, Amber was very responsive throughout the months leading up to the wedding," Sarabeth raved. "Nick and I had never had photos taken professionally until our engagement shoot with Amber, and she guided us every step of the way without it being uncomfortable. Every direction she gave created gorgeous angles that I would have never imagined possible."
The two elements that were most important to the pair were guest experience and making the day personal.
"A close friend of ours performed the ceremony, telling stories and offering advice collected from loved ones. My dad gave a sunset toast at the end of cocktail hour, and as a surprise, both of our families charged the dance floor with our baby's pictures printed on sticks and danced together to We Are Family by Sister Sledge. It was fabulous! I was also transported to the aisle via golf cart which felt very Florida!" the bride beamed. "Instead of a classic wedding cake, we opted for donuts and coffee. Our first date was at Dunkin' Donuts in college so that was a fun way to celebrate that fun memory. My father-in-law made the coolest wall to display them on. It was no fuss and everyone loved it!"
Sarabeth relied on the creative team at Leaf It To Us to create natural garden-inspired flora featuring lush cascades of greenery and blooms in shades of white, blush, and mauve.
"I wanted a florist who would balance exercising a vision while managing a reasonable budget. Kristyanna with Leaf It To Us was an absolute dream to work with," the bride beamed. "She thrived on inspiration and was happy to receive photos throughout the process to evolve our vision as the planning moved further along. Whenever I would get a new idea, Kristyanna would find a way to make it work within our budget without sacrificing quality and the vision. She also created the most stunning floral archway that served as the backdrop for our ceremony and family photos."
Vintage "old Florida" postcards accented the reception tables, while a mix of tall and short centerpieces and greenery accents adored the ballroom.
"I used Marry Me Tampa Bay for inspiration throughout the wedding process. It was helpful when brainstorming venues, rehearsal dinner locations, and other area-specific needs that are so well showcased on the site," the bride shared.
The bride and groom elected to write their own personalized vows, rather than reciting traditional "I do's." It was that exchange that Sarabeth recalls as the most unforgettable aspect of their wedding day.
"Nick and I are both typically pretty private people and in the seven years that we have been together not many people have really ever heard us express how much we care for each other. In that spirit we decided to write and recite our own wedding vows," the bride revealed. "It was such a special moment to share our commitment and feelings for one another in front of the people we cared about most. The whole experience felt so intimate, and I will cherish those words for the rest of my life."
The Proposal:
Before moving to Atlanta, Nick and I lived in Jacksonville Beach near the ocean. We were visiting my parents for the weekend and planned a sunrise beach walk which we had enjoyed many times before. About halfway down our usual route, Nick got down on one knee (my mom said she knew he had done it right when he returned home with a sandy knee).
After we left the beach, my closest friends were waiting as a surprise to celebrate with us. It was the perfect day and felt very "us" which I will always appreciate.
Where did you host your bachelorette party?
Nick and I had a semi-joint bachelor/bachelorette weekend in Blue Ridge, Georgia. We rented two cabins not too far from each other, and the girls and I enjoyed activities like tubing, wine tasting, and bonfires. On the final night, the girls and guys all met up for a cookout at the boys' cabin and had an absolute blast! It really set a fun tone for the wedding because everyone got to know each other beforehand.
Where did you spend your honeymoon?
We spent our honeymoon at Disney's Vero Beach Resort, which was a popular vacation spot for my family growing up. It was fun to go back there at the start of this new stage in life, and it was the perfect relaxing getaway after a bustling wedding week!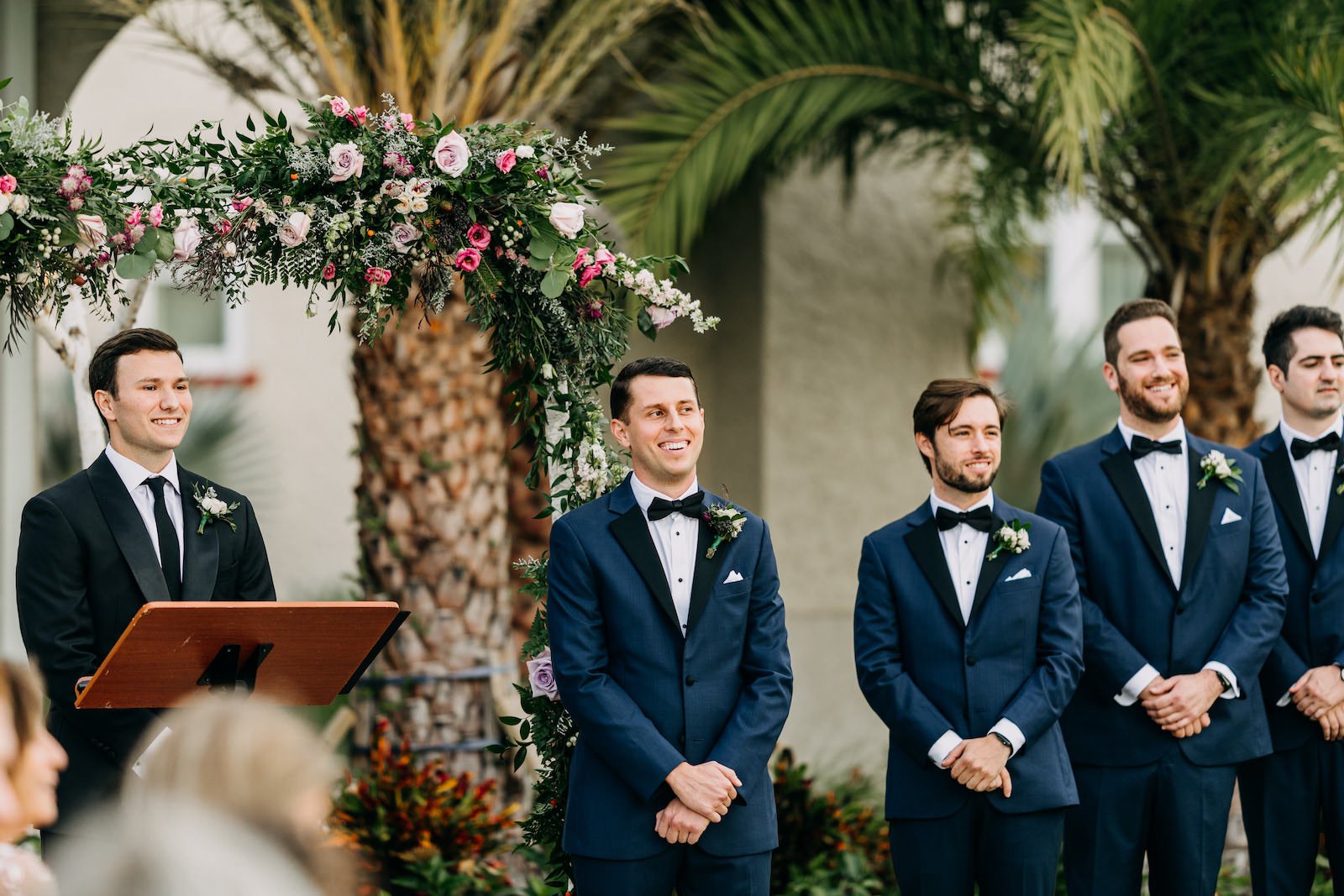 How would you describe your theme/wedding design inspiration?
We tried to use our venue as an inspiration wherever possible. The building and grounds have such natural beauty. I wanted the whole day to feel effortless but formal which perfectly fit the feel of a jazz-themed hotel backdrop. All the while, we wanted a small reminder of Florida peppered throughout with a waterfront ceremony/cocktail hour and some tropical blooms in my bouquet.
What were your colors and why did you choose them?
The bridesmaids' dresses and décor showcased shades of mauve and taupe whilethe groomsmen sported midnight blue tuxedos.
What advice would you give to other Tampa Bay couples?
Use the beautiful amenities of the area to your advantage. I've always loved Dunedin and knew it would be a quaint destination for our guests to enjoy. There are so many local restaurants and activities to enjoy while exploring the city. Guests enjoyed biking on the trail, walking around the local shops, and having coffee on a bench by the water. The whole wedding week felt like a getaway for all.