Cherine and Dan's downtown Tampa wedding was a celebratory evening at one of Tampa Bay's most well-visited locations, The Florida Aquarium. The bride and groom created a jewel-toned-inspired wedding that was uniquely theirs by paying tribute to one of the first things they found in common, their love for a classic sci-fi film.
"Jurassic Park was my favorite movie as a kid, and it turned out it was one of Dan's favorites when he was growing up as well. We both even had the same Jurassic Park Trapper Keepers in elementary school! For our first date, we went to see Jurassic World Alive at Amalie Arena. So when deciding on the design and theme for our wedding, we wanted to feature Jurassic Park in some way, but still have a classic, beautiful wedding that wouldn't look tacky or like a 4-year-old's birthday party. We wanted our wedding to be a reflection of us and our personalities, to be fun while still having an elegant day we could look back on decades from now without any regrets. We didn't want something cookie-cutter, but we also didn't want to be too out there either. It was a balance we were definitely cognizant of throughout the planning process," the bride explained. "To get the look and feel we were going for, we chose a tropical motif that wasn't overly floral. Our colors were dark teal, gold, forest green, and white. The teal color was for our bridal party attire, which I thought complimented the aquarium's ceremony setting perfectly. The rest of our decor used the gold, green and white colors, which gave our wedding a natural feel that went well with the light Jurassic Park atmosphere I wanted while still having that timeless wedding look."
The Tampa bride wanted to stay local for the wedding planning process and utilized Tampa Bay's most trusted resource to research and review vendors for their big day. Cherine event joined a live zoom call with the editor of Marry Me Tampa Bay, Anna Coats, to gain insight into the intricacies of planning.
"I emailed back and forth with Marry Me Tampa Bay several times to ask for advice and recommendations when I was deciding between vendors, and they were always so responsive and helpful with their insight. I participated in a Zoom Q&A with Anna as well, where other brides and I would be able to ask any planning questions we had," Cherine revealed. "Marry Me Tampa Bay put me directly in contact with our florist, Brides N Blooms Designs when I reached out to ask for assistance!"
In addition to inviting their 85 guests to an immersive experience at the Florida Aquarium, the couple fell in love with the ceremony backdrop against the Coral Reef tank that filled with synchronized bubbles as they took their first kiss. The rooftop reception overlooking downtown Tampa's waterfront added a layer of sophistication Cherine had always imagined for her wedding day.
"When we started researching venues, my husband and I wanted something unique. We didn't want our wedding to be in a generic hotel ballroom. We looked at exactly one hotel during our venue search and as soon as we saw their ballroom, as lovely as it was, we knew it wasn't for us. And while I love the look of an outdoor wedding, I just didn't want to worry about bad weather changing our plans at the last minute, so I wanted a place that had a beautiful indoor location for the ceremony," the bride explained. "When we looked into The Florida Aquarium, we loved that it was just so different from an ordinary wedding venue. All of the photos of other weddings were just gorgeous, and the variety of settings for photos in there is incredible, especially the Wetlands area. We really wanted our wedding to be a fun, memorable night for our friends and family, and having our ceremony in the Coral Reef Room is certainly memorable and different from a typical wedding! I especially loved that we could have our reception on the rooftop, overlooking the water and downtown Tampa but also that they had an indoor space available for our reception as a backup in case of bad weather. What sealed the deal for us was that our money would go to supporting a nonprofit. Weddings are expensive, so if we were going to spend the money anyway, I love that it at least could help a good cause at the same time!"
It was essential to Cherine that she find a wedding photographer who would produce high-end photojournalistic style portraits to complement the dramatic atmosphere that the aquarium provided. Limelight Photography's expansive portfolio using light and color captured the exact mood the couple had imagined, giving them magazine-worthy moments to reminisce on forever.
"With our venue chosen, we knew we wanted photographers who had a vibrant style. While 'light and airy' photography is very pretty in a lot of settings, that is not what we wanted in the aquarium. We wanted artistic photos that popped with color but didn't want overly posed pictures either. We wanted a photojournalistic style that could fully capture our wedding day. Finding the right photographer was one of my highest priorities because your wedding photos last forever," Cherine detailed. "I found myself immediately drawn to Limelight's gorgeous photos. Every picture I saw was stunning and vibrant and made every couple of theirs look like they belonged in a magazine. And after looking at every wedding they photographed at The Florida Aquarium, I just knew I had to have them for our wedding as well. Rebecca and Michael were our photographers, and they were so incredibly thorough."
While creating her own DIY decor to match the subtle Jurrasic Park aesthetic, the bride discovered a logo wax seal and champagne flutes that perfectly paired with the theme. Brides n Blooms Wholesale Design added fresh florals that elevated the evening, and Skyline Limousine ensured the couple arrived in style and on time.
Paying special tribute to her mother who had passed away, the bride designed a ceremony with love and intent to truly capture the meaning of their marriage vows.
"The ceremony itself was incredibly important to me since my mom was a wedding officiant for more than 30 years. She passed away five years ago, and it was always her dream to see me get married, so I knew I had to incorporate the ceremony she used," the bride revealed. "Several times during the reception, we had guests coming up to us saying how much they loved our ceremony and how it made them cry, all while telling us that it was the most fun wedding they'd ever attended."
Grant Hemond & Associates brought the party upstairs to the outdoor rooftop where guests enjoyed the cool springtime weather and overlooked the sunset views of the city.
"We put a lot of thought into our music and our decor, and I'm a bit of a perfectionist when it comes to small details. We DIY'd way more than I think we initially realized! We made all of our centerpieces ourselves, using hand-blown glass terrariums over pieces of driftwood, and we put succulents, greenery, and small gold dinosaurs inside them," Cherine detailed. "They were then placed on top of palm leaves, which we hot-glued together ourselves as well. For our invitations, we bought a wax seal kit with the Jurassic Park T-rex logo, and I spent far too many hours making each wax seal myself. We then enclosed our invitations in these tropical gold folders that we got on Etsy, tied them with ribbon, and placed the wax seal on top. For the music, we made multiple playlists, from the ceremony to the cocktail hour, to the dinner, to the reception, right down to choosing Weird Al Yankovic's Eat It as our cake-cutting song!"
While the bride looked back on her favorite memories of the day, it was the private first look in the jungle-inspired wetlands exhibit with her groom that erased all of her wedding day jitters and made her grateful for the private moment they shared alone.
"My most memorable moment was our first look in the aquarium's Wetlands area. Up until that point, I was still a bit stressed and hadn't entirely let myself relax and enjoy the day. But as soon as I saw Dan waiting for me, I felt all of that stress disappear. When he turned around and saw me, tears immediately welled up in his eyes, and it was a perfect, quiet moment together for just the two of us," the bride reminisced. "For Dan, his most memorable moment was the beginning of our ceremony, as we all walked into the Coral Reef room for the very first time and saw our family and friends waiting for us. Over a year of the two of us planning our wedding came down to that moment, with the music playing and seeing the room set up how we had envisioned it for so long and seeing it all come to fruition."
The Proposal:
We had taken a mini-vacation to St. Augustine around the holidays for "Nights of Lights," where the whole town is lit with millions of white Christmas lights. While there, we walked past several weddings. As I was driving us back to Tampa on I-4, we hit a pretty bad thunderstorm in the Orlando area. I'm terrified of lightning, so I asked Dan to talk to me and keep me distracted. We somehow started talking about when we were going to have kids, and I said, "Perhaps we should talk about when we are going to get married first!"
The rest of the trip turned into us starting to plan our wedding! I was excited about the conversation but didn't want to push it, but he brought it up again the next day and that's when we decided, "We're really doing this!!" We shopped for rings online together. I was out with one of my friends when I got an email saying the ring had been delivered, so I checked the mailbox when I got home and saw it wasn't in there, but the rest of our mail was. The moment I walked in the door, Dan ran toward me to try to get down on one knee. He had gotten the ring from the mailbox but purposely left the rest of the mail in a futile attempt to surprise me!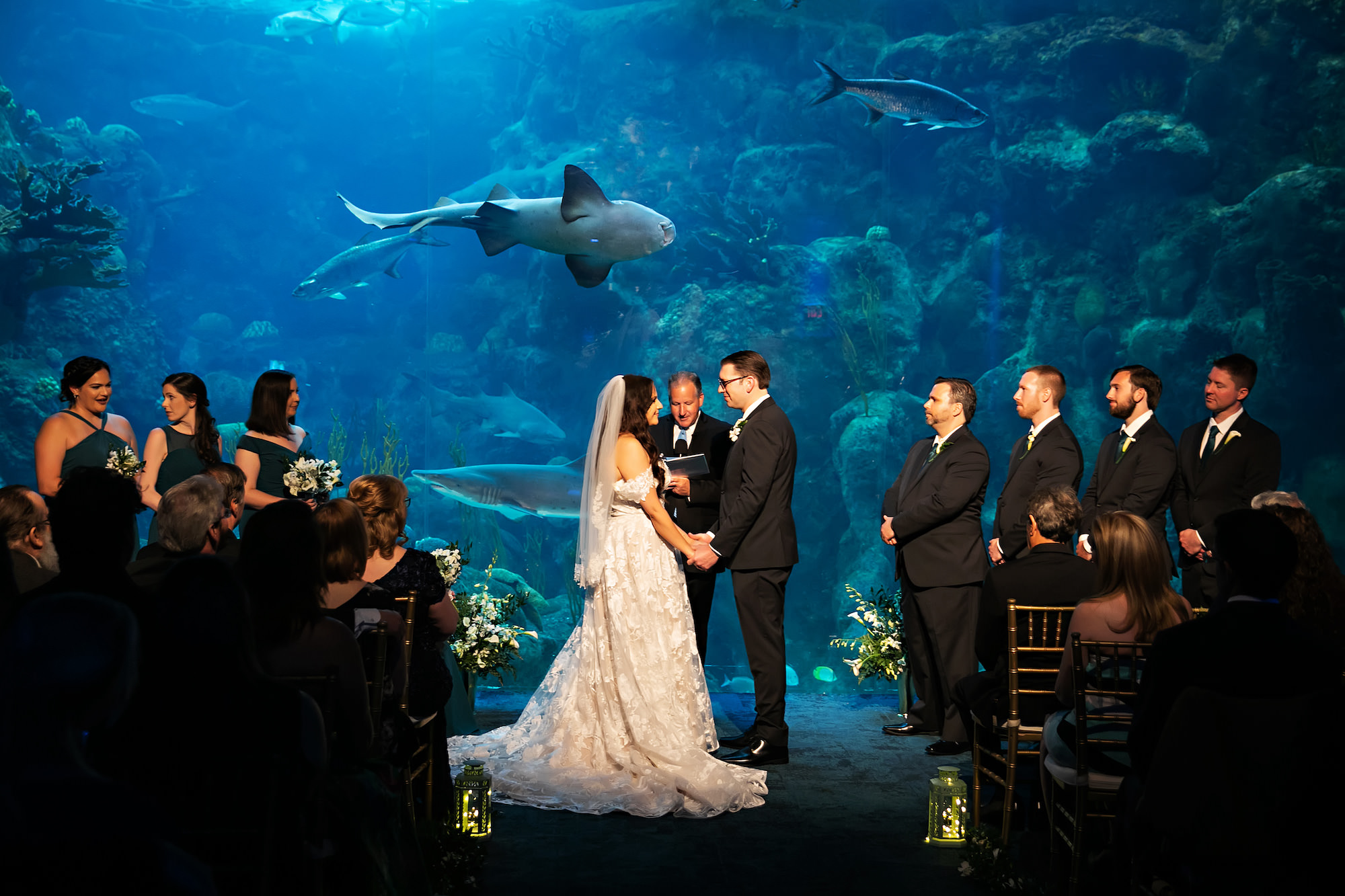 Where did you spend your honeymoon?
California, starting in San Diego at the Hotel del Coronado. We then drove up to the Los Angeles area to spend a day each at Disneyland and Universal Studios Hollywood, since we both love theme parks. From there, we flew to San Francisco and spent the remainder of our time in Napa. We loved having such a wide variety of experiences on our trip. San Diego is one of my absolute favorite places to visit, and neither of us had ever been to Napa before — and we already want to go back!
Where did you host your bachelorette party?
St. Augustine, which I always love visiting. I liked that it was close enough to drive to, yet far enough away from home that it still felt like a true getaway for the weekend. We rented an Airbnb within walking distance to the historic downtown area, and my friends planned the perfect bachelorette weekend that was exactly what I wanted, with a spa day, high tea, and even a haunted pub crawl!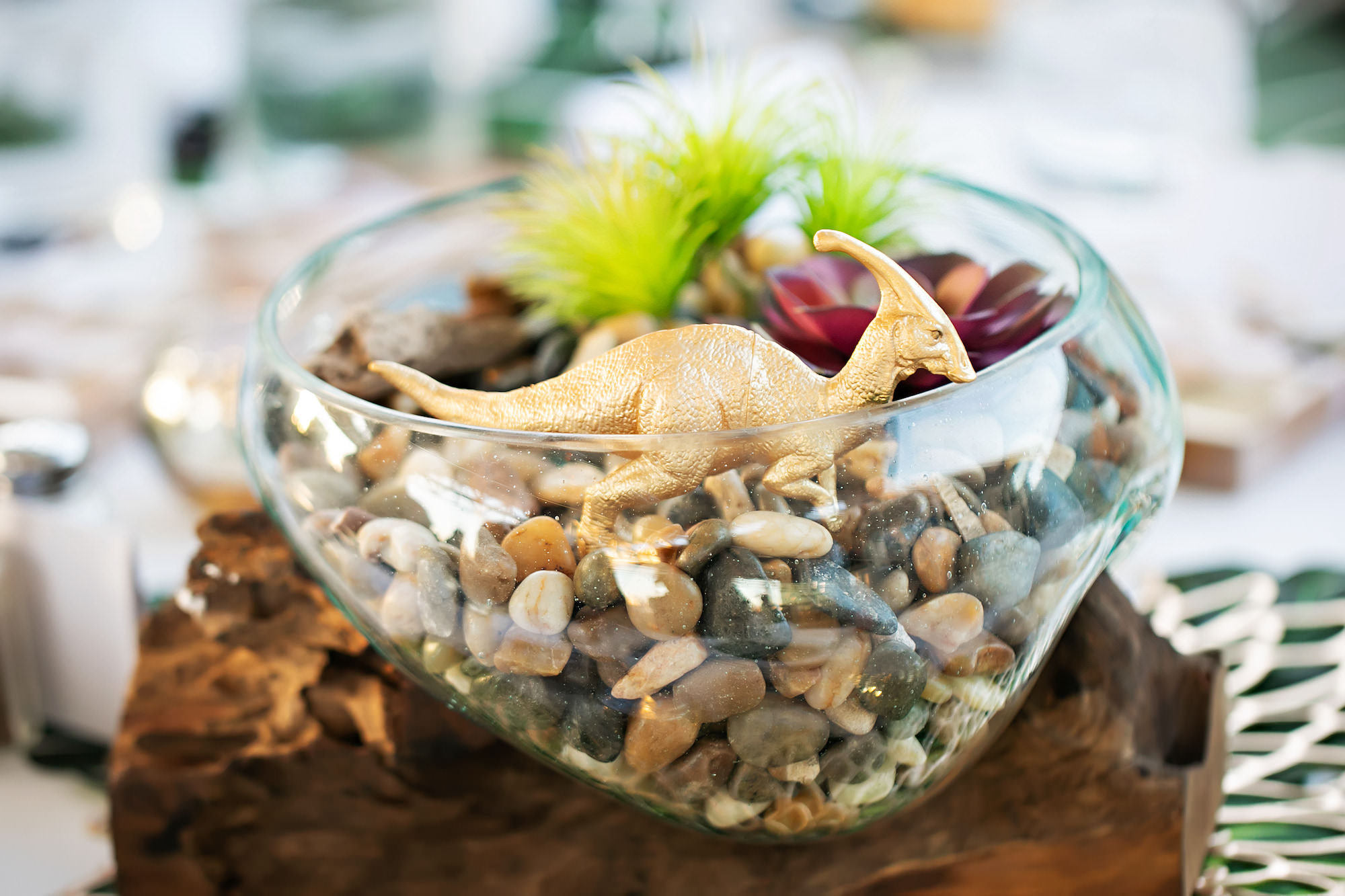 Which vendors really exceeded your expectations?
Our planners were absolute lifesavers. She set up the ceremony and reception exactly how I had envisioned, right down to our very intricate centerpieces, and she did this all just during the cocktail hour! She had such a great artistic eye and made our sweetheart table look so pretty, as well as our memorial table and the table with the guest book and card box.
The Florida Aquarium was absolutely wonderful to work with from start to finish. Kimberly Lemakos was our wedding coordinator, and she was so easy to communicate with, answering all of our questions so quickly! When I decided to completely alter our floorplan a month before the wedding, it was not a big deal at all, and when I wanted to substitute different champagne, bourbon, and beer for the open bar, she was able to quickly get a price for me. Anytime we wanted to go see the aquarium, she was happy to meet with us or just send us complimentary tickets so we could get a better feel for the space, scout out spots we wanted to use for photos, etc. I am so incredibly happy I chose the Florida Aquarium for our venue because I would recommend them over and over again.
Our rental company went above and beyond for us on our wedding day. We paid for the cold spark fountains for our first dance, not really thinking about the fact that the time change two weeks prior meant that it would still be rather bright out on the rooftop of the aquarium, and the sparks wouldn't be all that visible. When we did our first dance, it was also a bit breezy, which lessened the effect of the sparks as well. After our dance, Liz came up to us and told us that she had talked with our photographer and videographer and that they were going to have us re-do our dance once the sun went down, and it was dark out so that she could set off the cold spark fountains again, that way, we could get better photos and video. We certainly didn't expect that, but we were so grateful because the photos certainly turned out so much better the second time around!
What advice would you give to other Tampa Bay couples?
I would recommend all of our vendors over and over again, from our photo booth vendor to our hair and makeup artists who were such a breath of fresh air after I had a truly terrible hair and makeup trial with another company that left me in tears. I would shout from the rooftops for couples to consider the Florida Aquarium as their venue because I hadn't even thought of it as a possibility when we first got engaged.
As expensive as weddings are, remember that this is your day and focus on and prioritize the things that are most important to you. For us, we spent a bit more than we'd initially intended when it came to photography and videography, but those are the memories we are going to have forever, and those were more important to us than having more expensive decor.