Planning a destination Clearwater Beach wedding can have its challenges, but working with a couple you have never met in a short amount of time can prove to be a situation in which an expert wedding planning team can truly shine. Having years of experience in planning many Tampa Bay weddings, the team at Special Moments Event Planning proved that they can draw inspiration from anywhere.
For Willis and Kyera's Clearwater Beach wedding reception at the newly remodeled Hyatt Regancy Clearwater Beach, the planning team got to work. With only the wedding ceremony and reception locations confirmed, along with a florist, the team at Special Moments created a modern, garden-style reception.
"I worked with the florist to design a modern garden-style reception feel based on the inspiration of a goddess-style look of the bride's dress, but also the clean modern look the dress gave us," owner Tammy Waterman of Special Moments Event Planning shared. "The couple wanted to have a real wow factor for their guests that traveled so far, but did not want it to look overdone."
MORE: SPECIAL MOMENTS EVENT PLANNING WEDDINGS
Capturing the gorgeous details of the newly renovated Clearwater Beach ballroom was Tampa Bay wedding photographer Brandi Morris of Brandi Image Photography.
"The new ballroom at the Hyatt is absolutely stunning! The view and the natural light pouring in from the floor to ceiling windows is a dream. The space looks bright, clean, and contemporary with the whites, blues and metallic accents," Brandi gushed.
MORE: BRANDI IMAGE PHOTOGRAPHY WEDDINGS
When asked which elements complete the look of a reception space, Tammy shared that one of the biggest factors is where the eyes focus as guests enter the reception space.
"I feel the chairs are a very important factor to complete the room, along with creating an eye catching focal point, which in this case, was the florals with a neutral palette and then the color brought in with the florals," Tammy explained.
MORE: HYATT CLEARWATER BEACH WEDDINGS
"Tammy was able to pull together their perfect day with an amazing team and detailed eye," Brandi added.
To complete the elegant look, Clearwater Beach wedding cake bakery A Piece of Cake created a classic three-tiered cake adorned with floral accents to complement the reception centerpieces.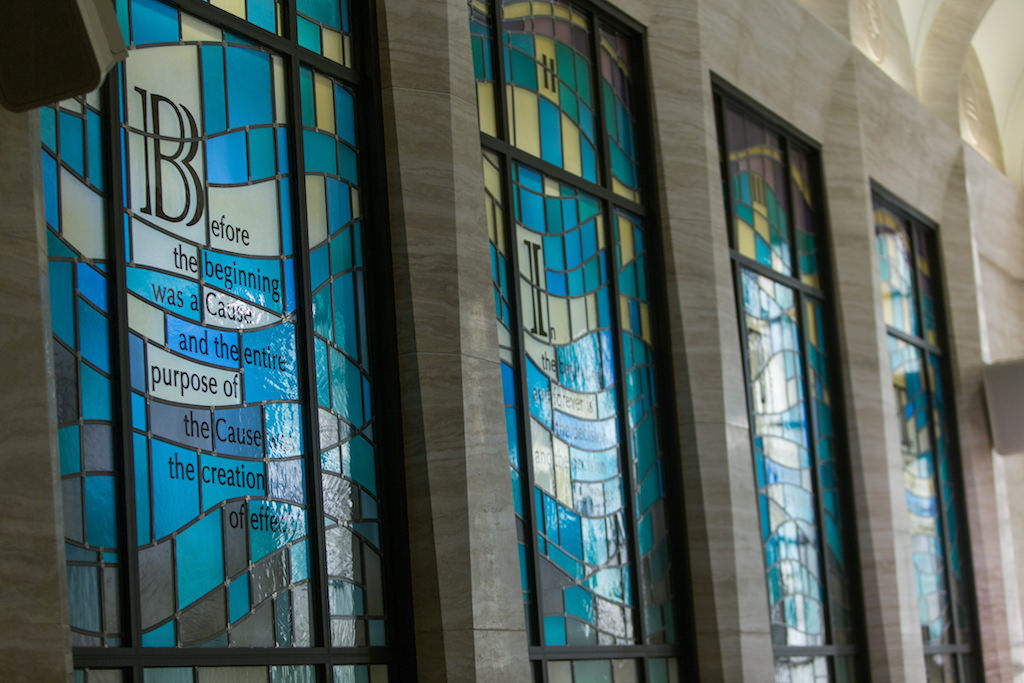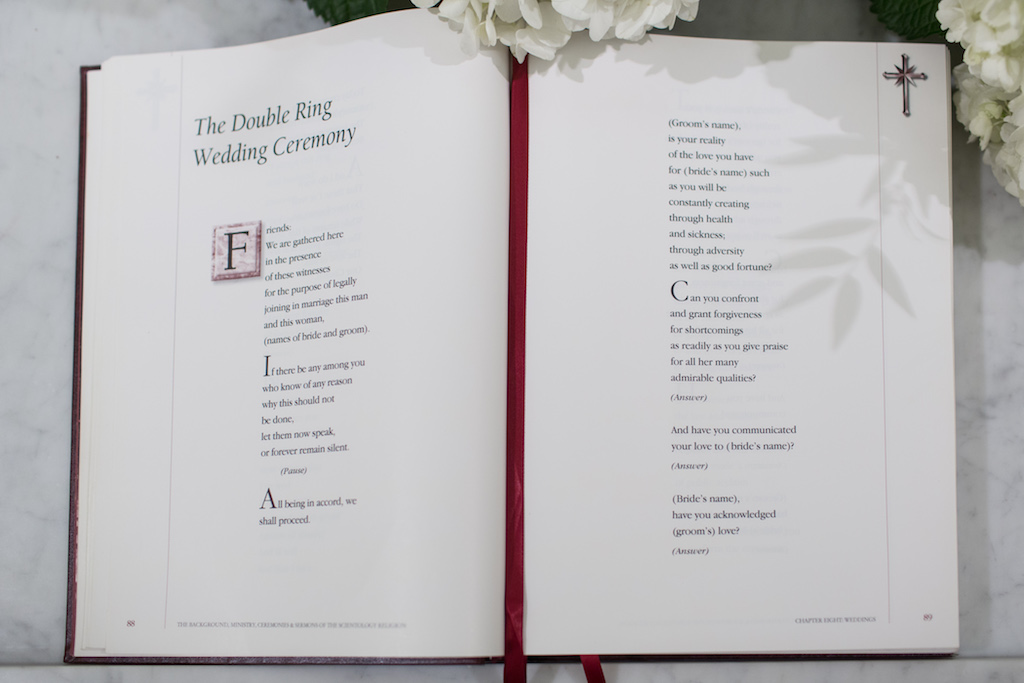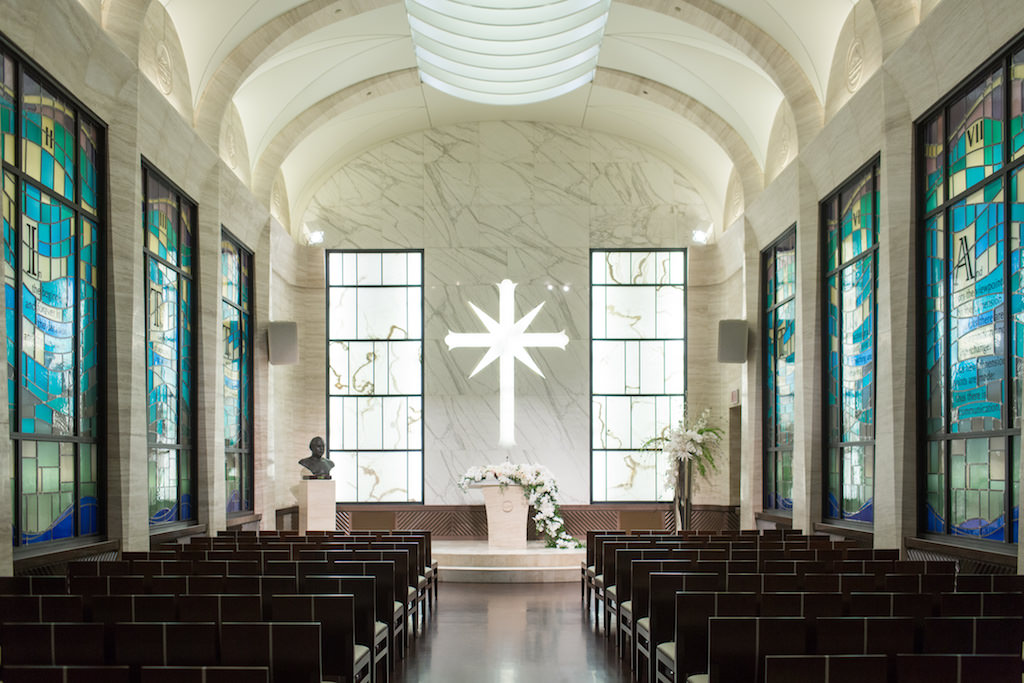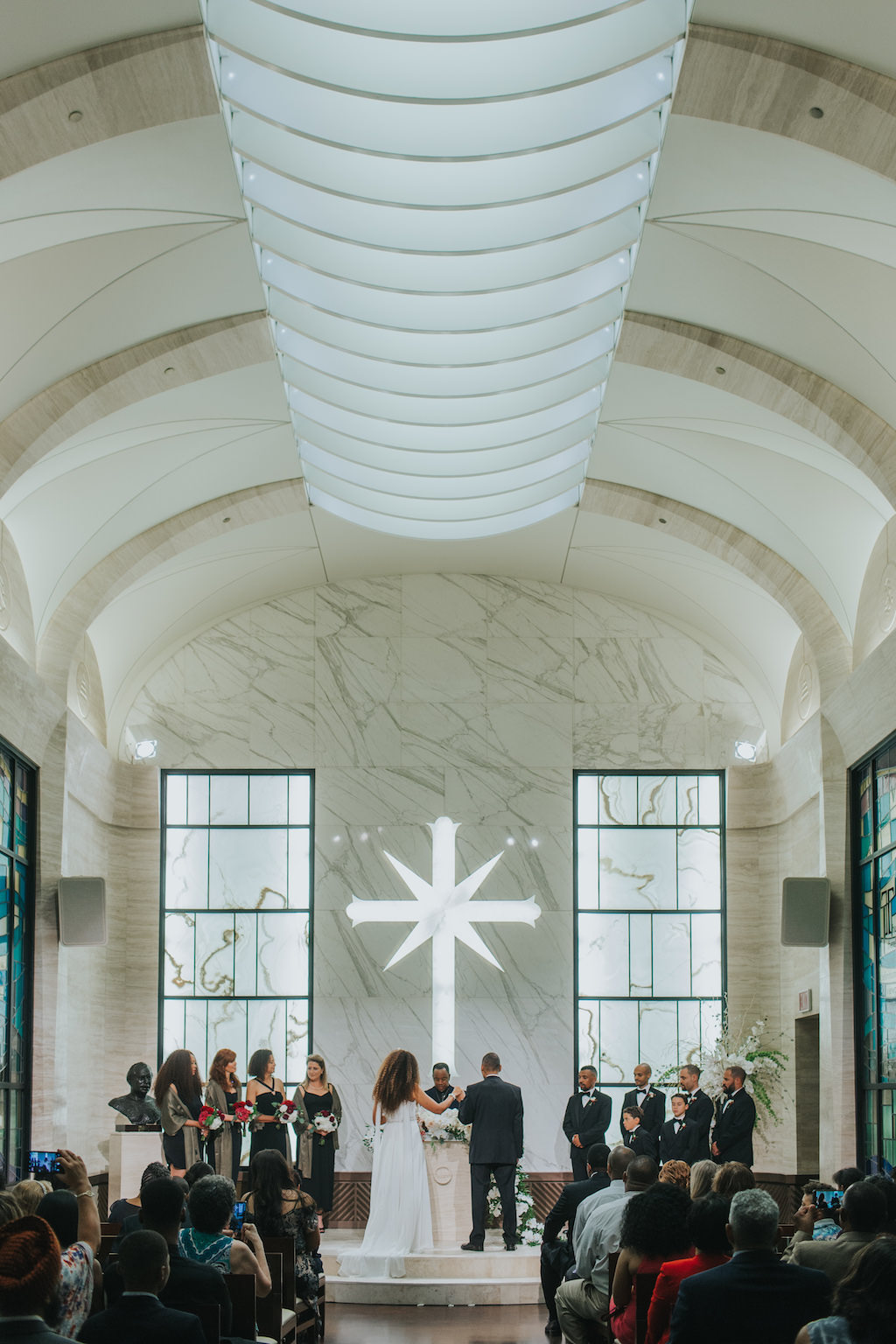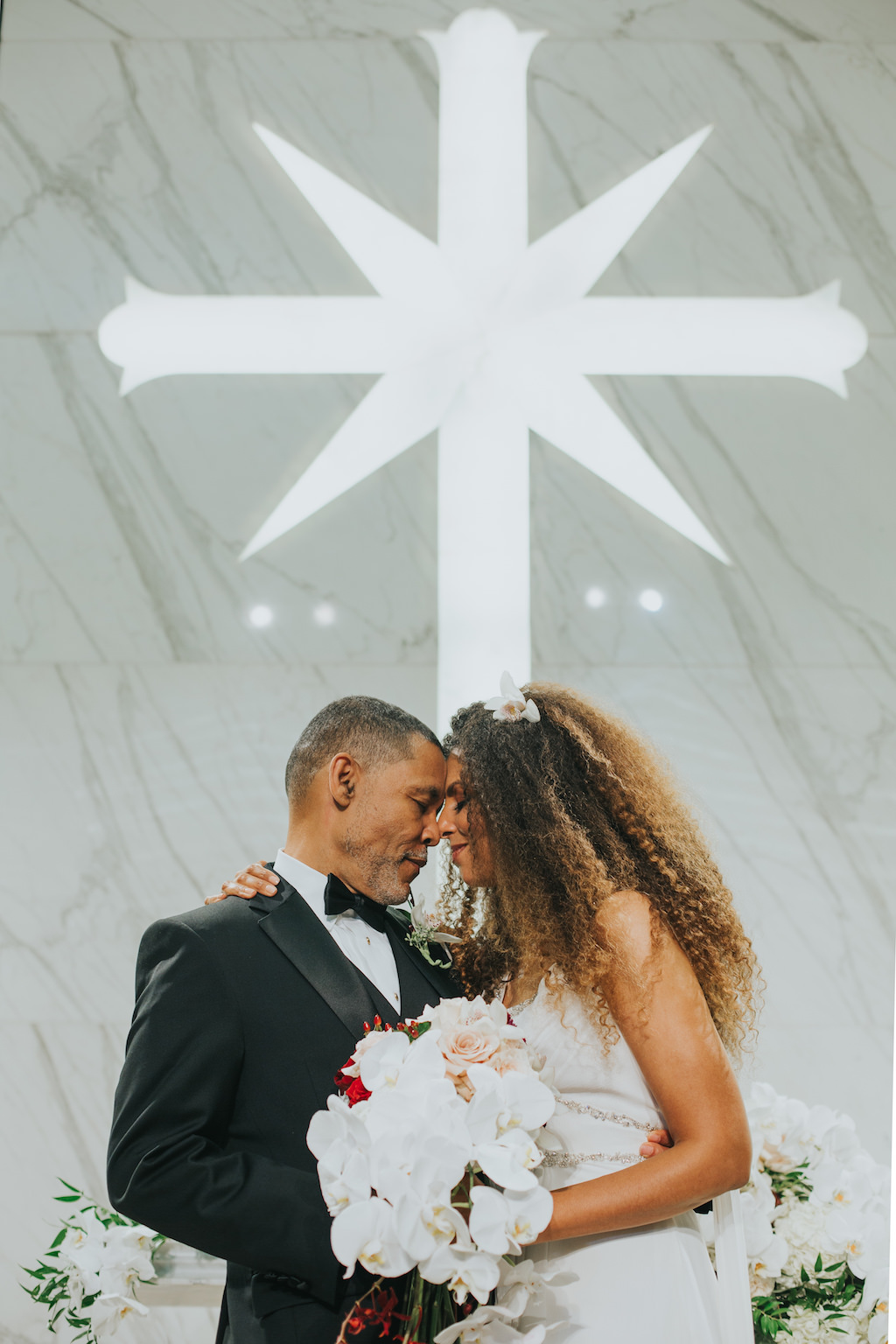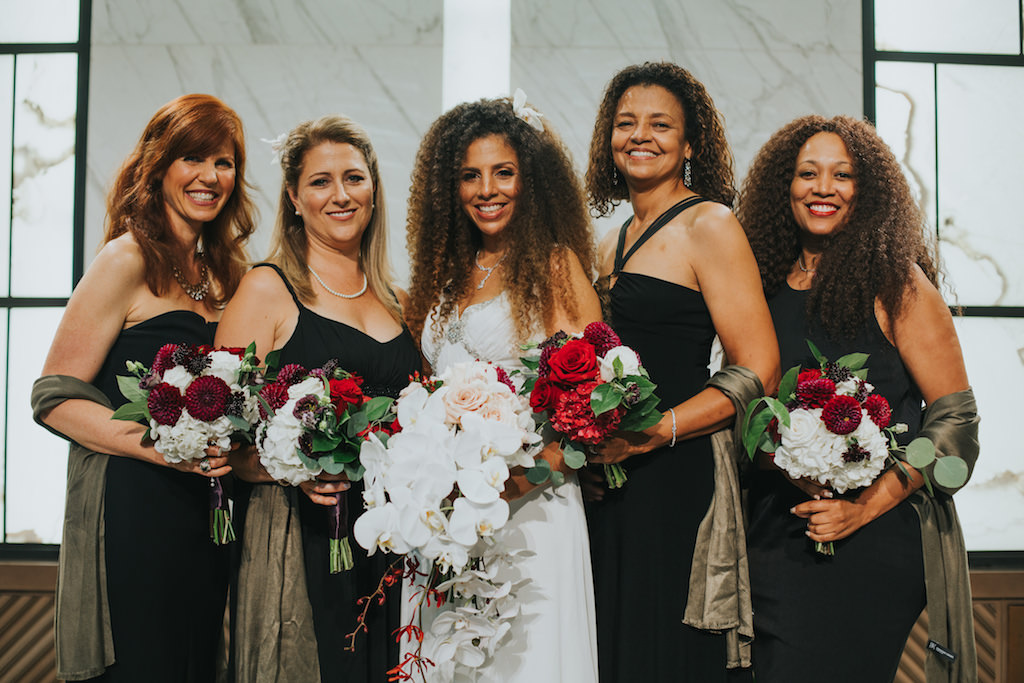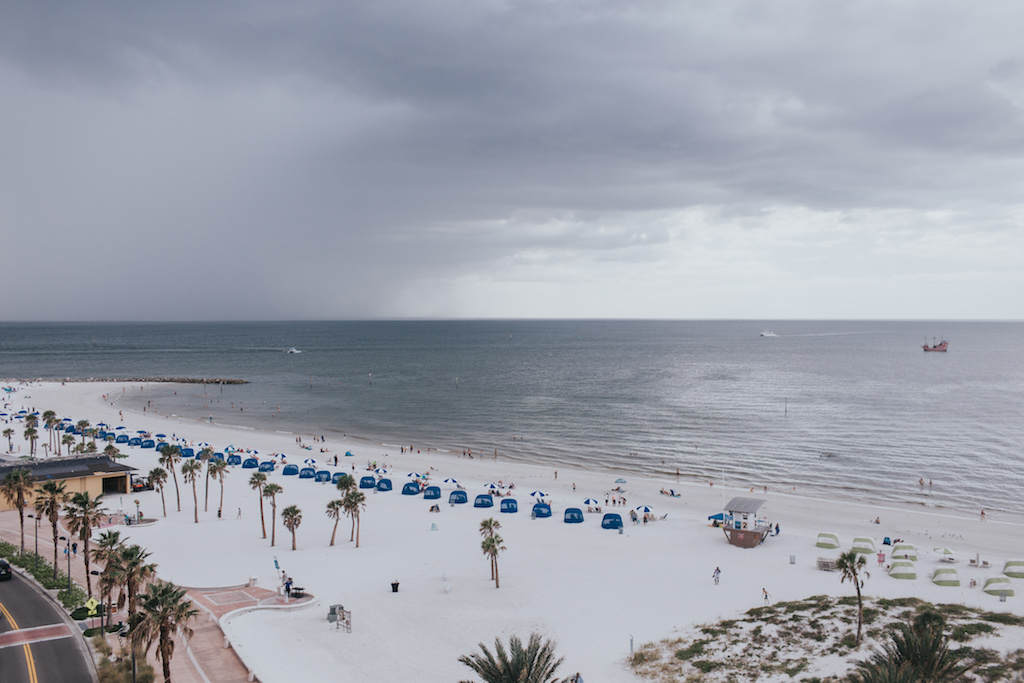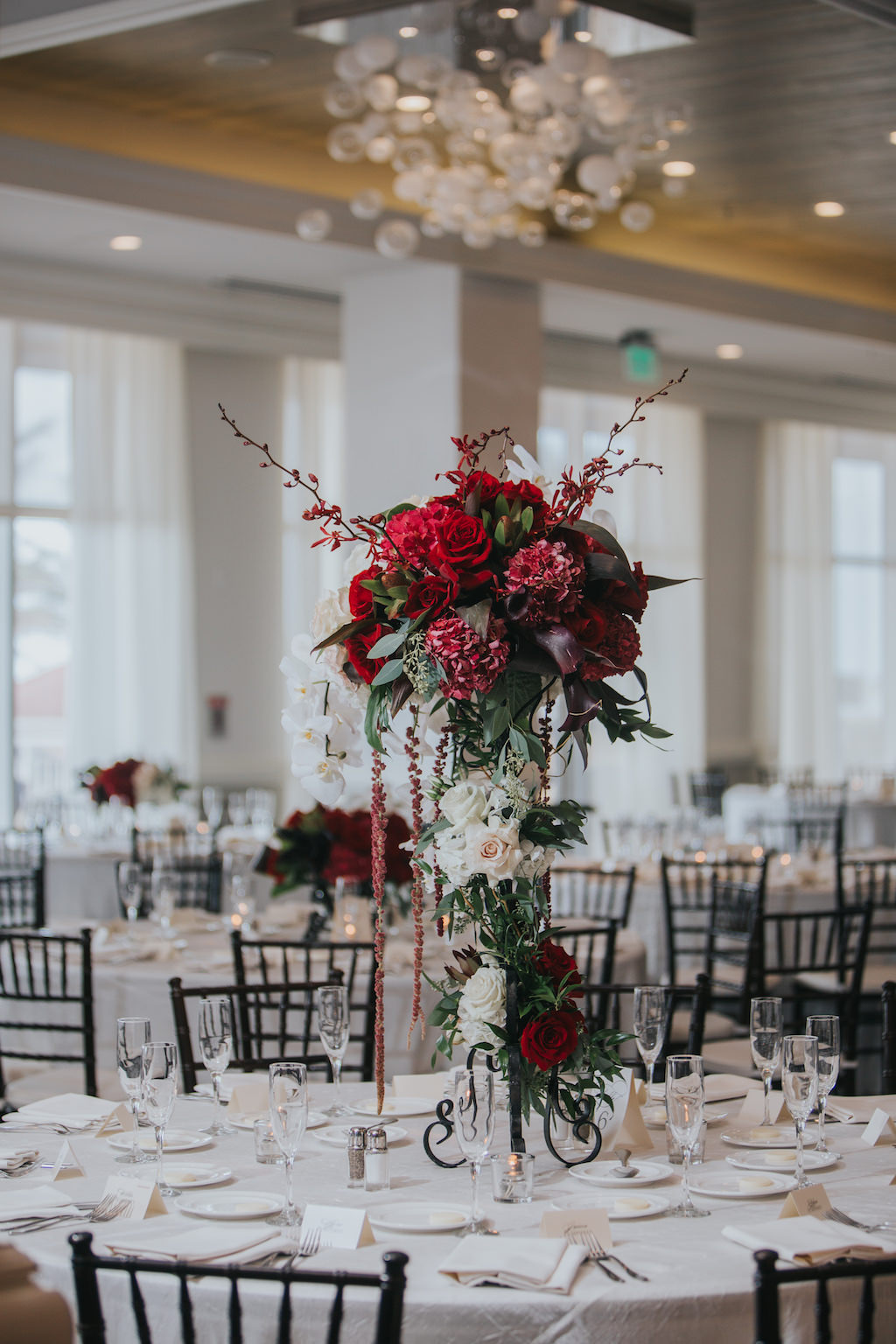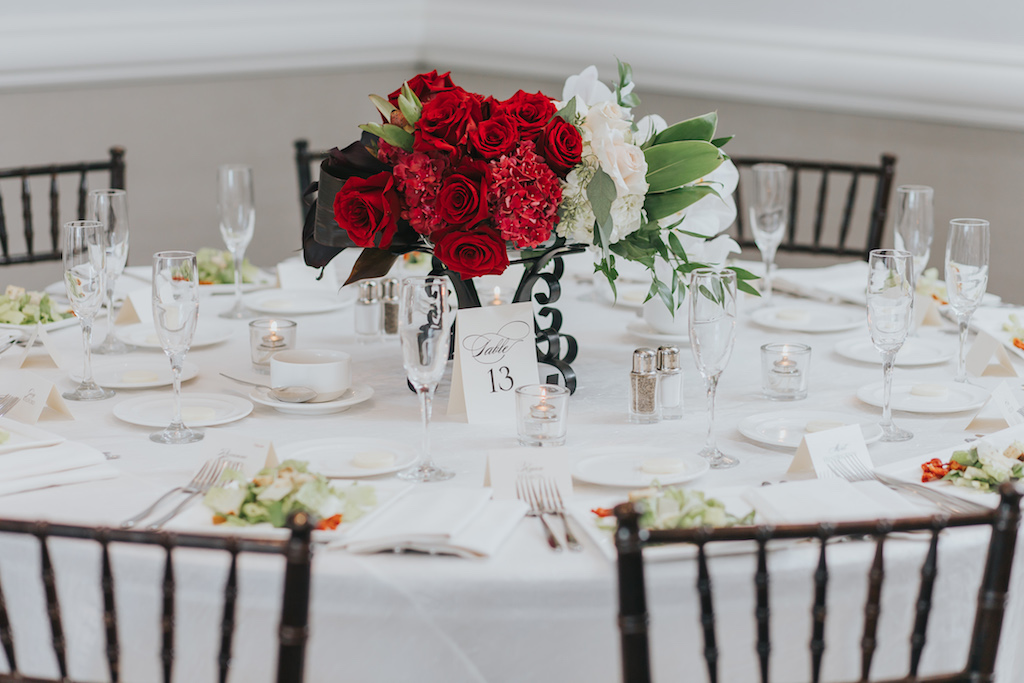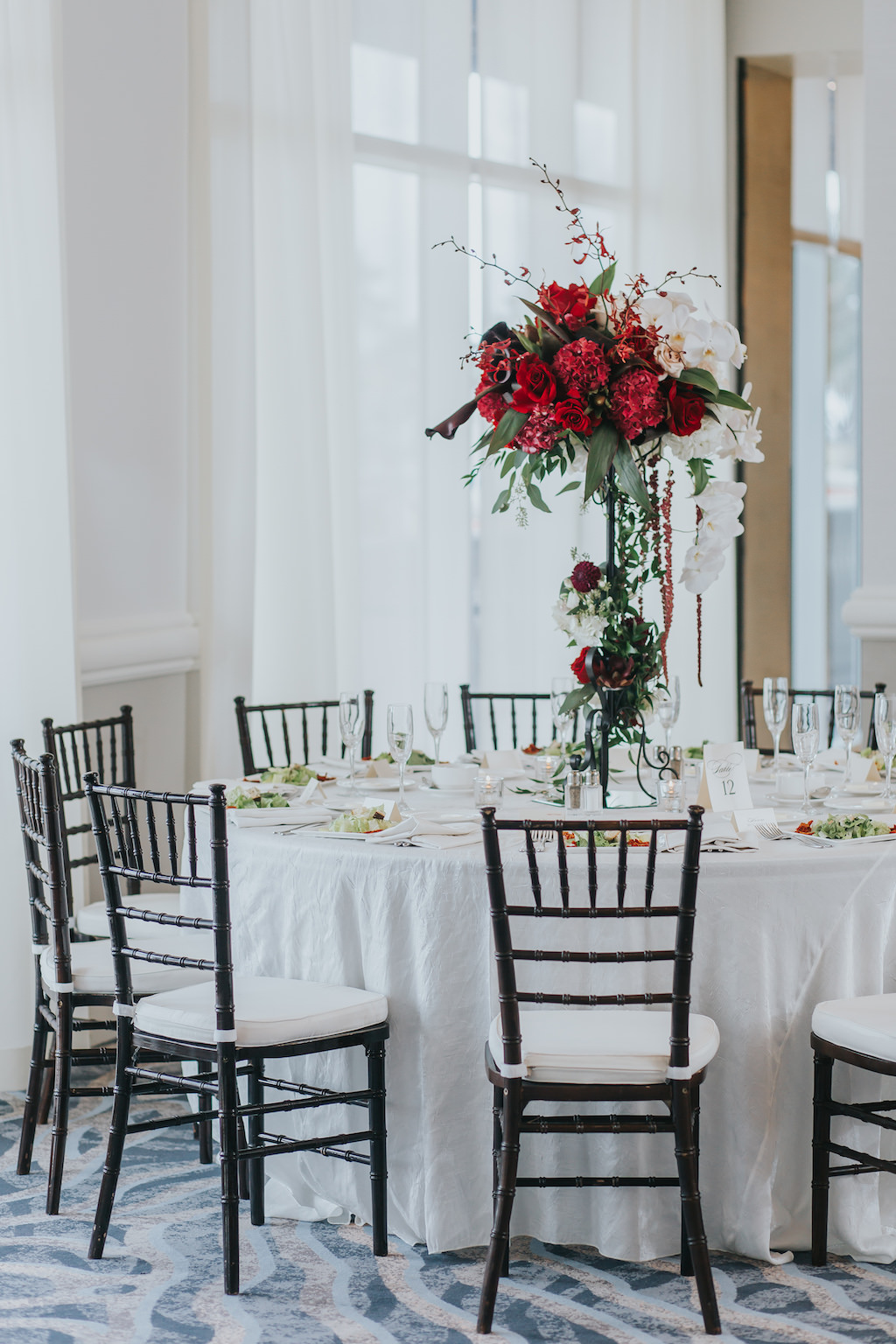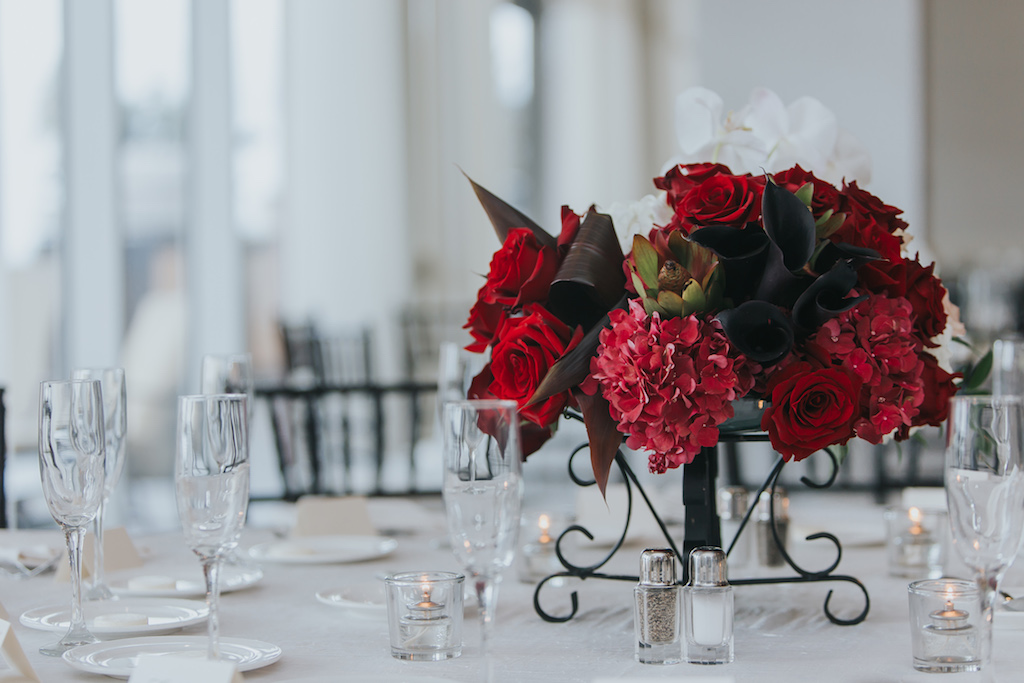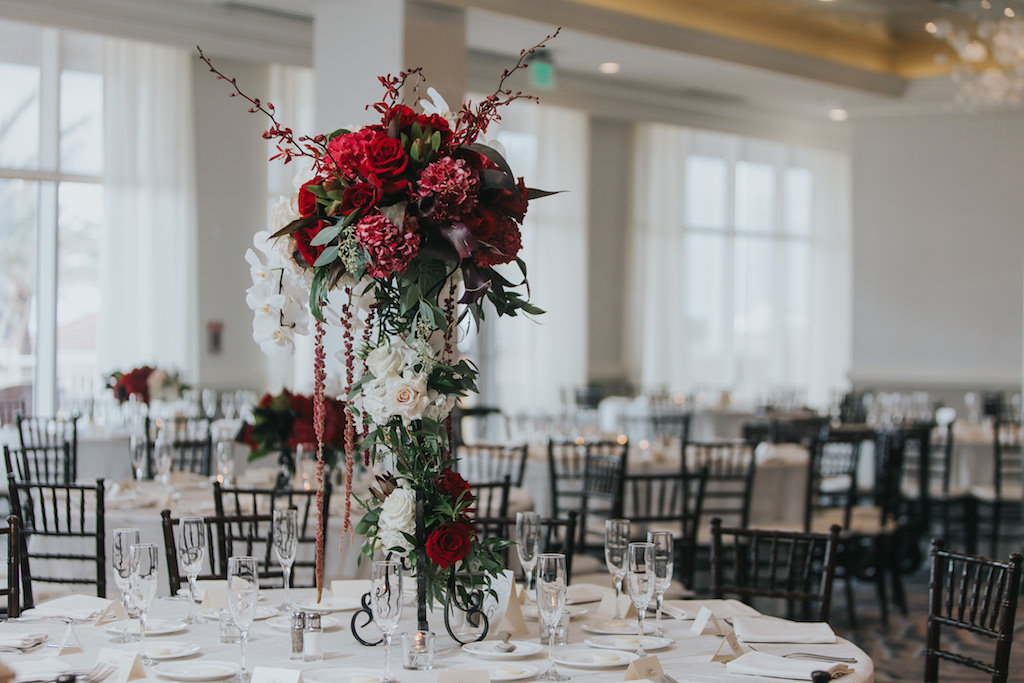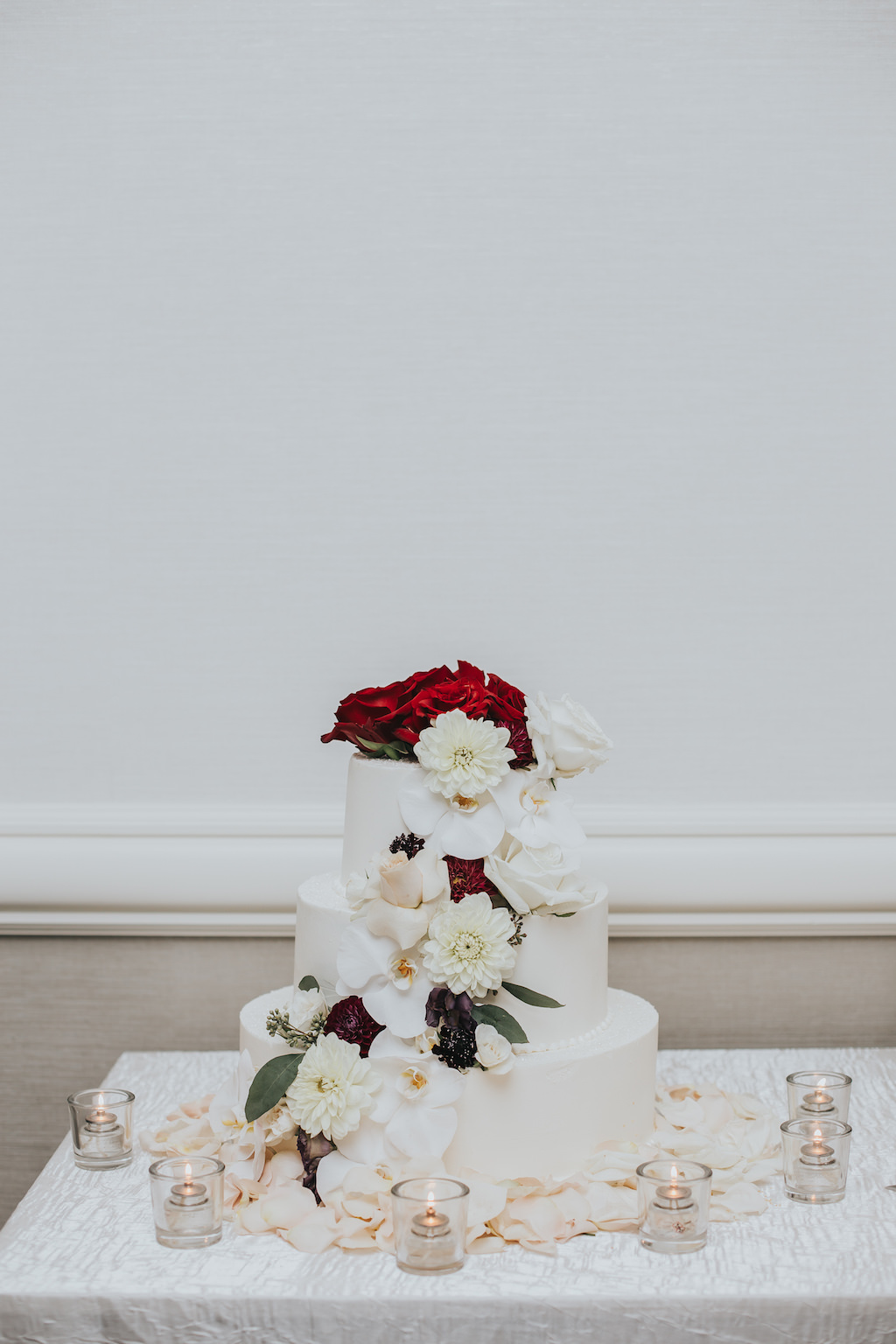 What are your tips for couples planning a wedding with a couple from out of state who are working with a wedding planner?
"Hire a wedding planner to assist you. I also feel that collecting as much inspiration photos to be able to help communicate your vision is very important. If you are not able to make a trip here in person before the wedding, then we highly recommend a mock table of your florals, decor, linen and chair choices to confirm that your vision is coming to life and everybody is on the same page." -Tammy Waterman, Special Moments Event Planning
Ceremony Venue: Church of Scientology
Reception Venue: Hyatt Regency Clearwater Beach *Marry Me Tampa Bay Preferred Wedding Venue
Photographer: Brandi Image Photography *Marry Me Tampa Bay Preferred Wedding Pro
Planner: Special Moments Event Planning *Marry Me Tampa Bay Preferred Wedding Pro
Florist: Dana Dineen Floral Design
Cake: A Piece of Cake & Desserts
DJ: Grant Hemond and Associates *Marry Me Tampa Bay Preferred Wedding Pro
Hair and Makeup: Michele Renee the Studio *Marry Me Tampa Bay Preferred Wedding Pro
Chair Rentals: Elite Events & Rentals
Linen Rentals: Custom Linens
Invitations/Calligraphy: Tampa Calligraphy
Transportation: Jolley Trolley
Childcare: Nannies Who Care