Sarasota wedding caterer Milan Catering and Event Design is hosting a bridal show at one of our favorite Sarasota wedding venues, the Powel Crosley Estate, Sunday, January 25, 2015 from Noon-4 p.m.
The bayfront Powel Crosley Estate is a Mediterranean revival-style mansion situated directly on the water. The private venue features a circular tower, carriage house and is on the National Register of Historic Places.
Sarasota brides can meet with over 20 of wedding vendors during the bridal show, including preferred Marry Me Tampa Bay wedding vendors The Michele Renee Hair & Makeup Artist Group and Grant Hemond & Associates.
We're highly recommend attending intimate, wedding venue hosted bridal shows versus some of the larger shows, because at venue hosted shows the vendors typically have an established relationship with the venue, so you know that they are well respected.
For more Sarasota bridal show tips, read this great advice article: Maximizing Your Bridal Show Experience.
Pre-register for free Sarasota bridal show tickets or pay $5 at the door.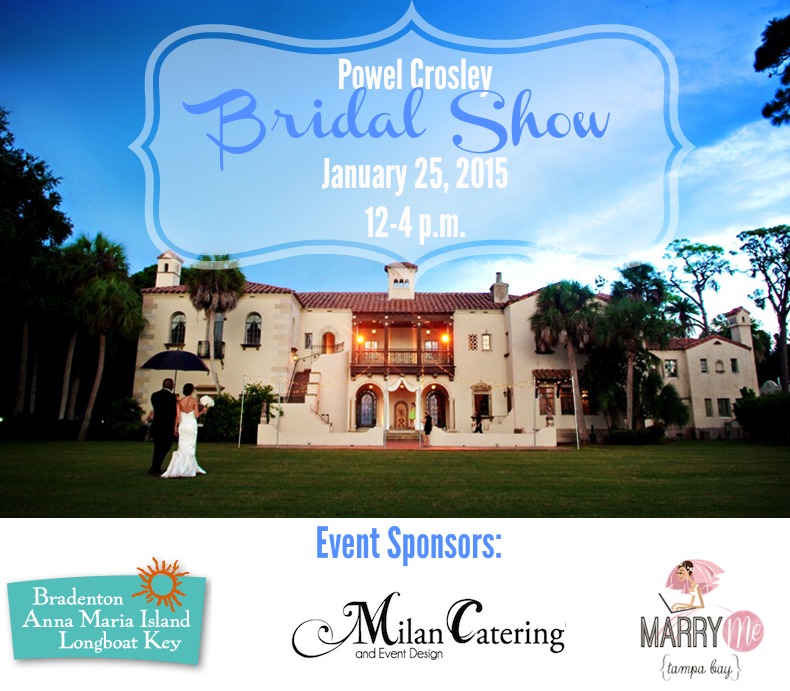 Powel Crosely Estate Bridal Show
January 25, 2015
Noon-4 p.m.
One Seagate Drive
8374 N. Tamiami Trail Sarasota, FL 34243
Pre-register for free tickets
Tried and True Powel Crosley Wedding Vendors include:
Sarasota Wedding Gallery
Milan Catering and Event Design
Cakes by Ron
A Slice of Heaven
Perfect Settings
Elegant Designs
FH Weddings and Events
Flowers By Fudgie
Breezin Entertainment
Grant Hemond and Associates *Preferred Marry Me Tampa Bay Vendor
Sunshine Carriage
Siesta Key Trolley
Trenholm Photo
Timbor Imley
Mandy & Me Photography
Stephanie Smith Photography
Jason Mize Photography
StarFruit Productions
Shutterbooth
The Michele Renee Hair & Makeup Artist Group *Preferred Marry Me Tampa Bay Vendor
Fresh Salan Sarasota
Affairs in the Air
US Tent Rentals
Linens by the Sea
MMD Events