What makes each Tampa Bay wedding different from the next is the experience you create for your guests. Couples love seeing everyone on the dance floor, but with guest counts fluctuating due to COVID-19, what do weddings look like today?
We asked Tampa Bay's best wedding DJs to share their experiences since weddings have resumed.
"Trying to articulate how all weddings have been affected would be painting with too broad of a brush. Every wedding is affected differently, Eric Harding of Grant Hemond & Associates explained. "My experiences as it relates to the dance floors at weddings these last few months have been different at every wedding."
Communication with your wedding planner and venue coordinator about their social distancing guidelines and let your DJ know your comfort level and that of your guests.
"If you are still wanting to move forward and get married. Do it. Don't let people make you feel guilty, Christopher Grainger, owner of Graingertainment shared. "It's your wedding day; if guests don't want to come because of COVID-19, then that's their choice. Give them a choice and be understanding, but again it's your choice to move forward."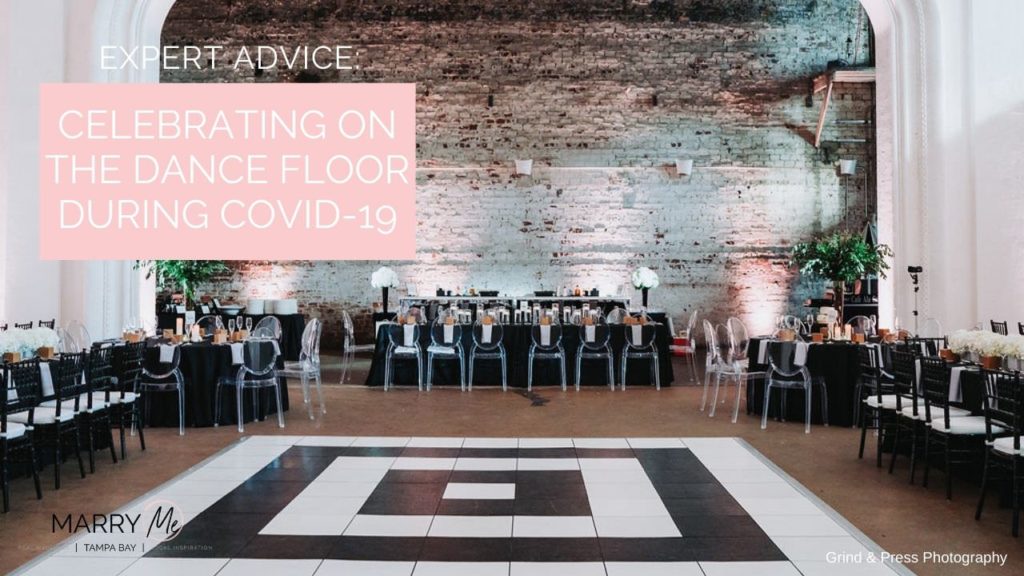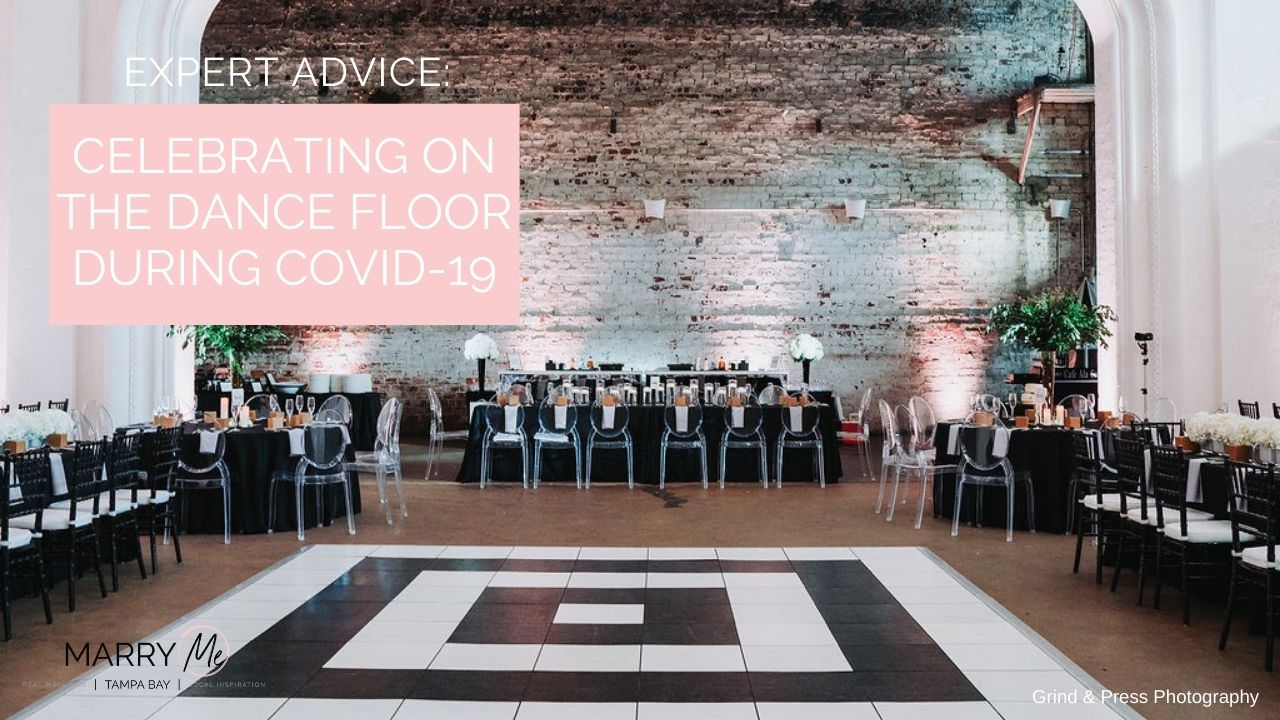 How Has COVID-19 Affected Entertainment at Weddings?
"Every wedding we have been a part of since returning back to events from COVID-19 consists mostly of guests enjoying themselves, dancing, eating, and roaming. There are a few guests who are still taking precautions and staying their distance. Though it seems those who are coming to a wedding want to enjoy themselves and forget about COVID-19 for an evening. " -Christopher Grainger, owner of Graingertainment
"I've noticed at just about every wedding during the pandemic, elderly guests have not stuck around for long. While it's always been common for elderly guests to leave early, it's been particularly noticeable in the last few months. This is likely due to the fact that elderly people are considered 'high risk' in terms of COVID-19 and want to limit their exposure to other people. For most of these weddings, this has caused an early and strong emphasis on newer music and not nearly as much focus on 'oldies' or 'classics.' This change in both the demographic of the crowd and thereby the music that gets played has affected some wedding dance floors positively and other wedding dance floors negatively." -Eric Harding, DJ at Grant Hemond & Associates.
"COVID-19 has affected entertainment in a way that guests must get creative on the placement of where they are placing their DJ and bands. We use to have the DJ or band right up on the dance floor. Now we have to strategically think of where we are putting our entertainers so that they are socially distant from guests, but not too far where they feel like they are outcast. Make sure that the band is six-feet from the dance floor. Consider getting a bigger stage so the band members can spread out while performing and set up a stanchion to help remind guests to keep their distance." -Cindy Dervech, owner Breezin' Entertainment
How Can Your DJ Help Guests Follow Safety Precautions?
"First and foremost, we always follow the 'house rules,' adhering to the social distancing and face-covering requirements set forth by the venue and/or the newlyweds. Many newlyweds have been providing face coverings to all of their guests. The masks have often featured the name and wedding date in a lower corner to personalize it and bring it in line with the rest of the wedding details. Some newlyweds have asked that we regularly encourage or remind their guests to wear their face-coverings or to take note of the chosen colored wristband being worn by guests. The colored wristband (red, yellow, or green) is meant to allow each guest to indicate to others the level of contact they are comfortable with. Along with following these guidelines, we are making sure to properly sanitize our microphones before being used by guests for toasts or speeches." -Eric Harding, DJ at Grant Hemond & Associates.
"As a DJ company, we are wearing our mask, sanitizing the microphone for toasts/speeches, keeping our distance from guests and helping them know about any safety precautions in place for the evening." -Christopher Grainger, owner of Graingertainment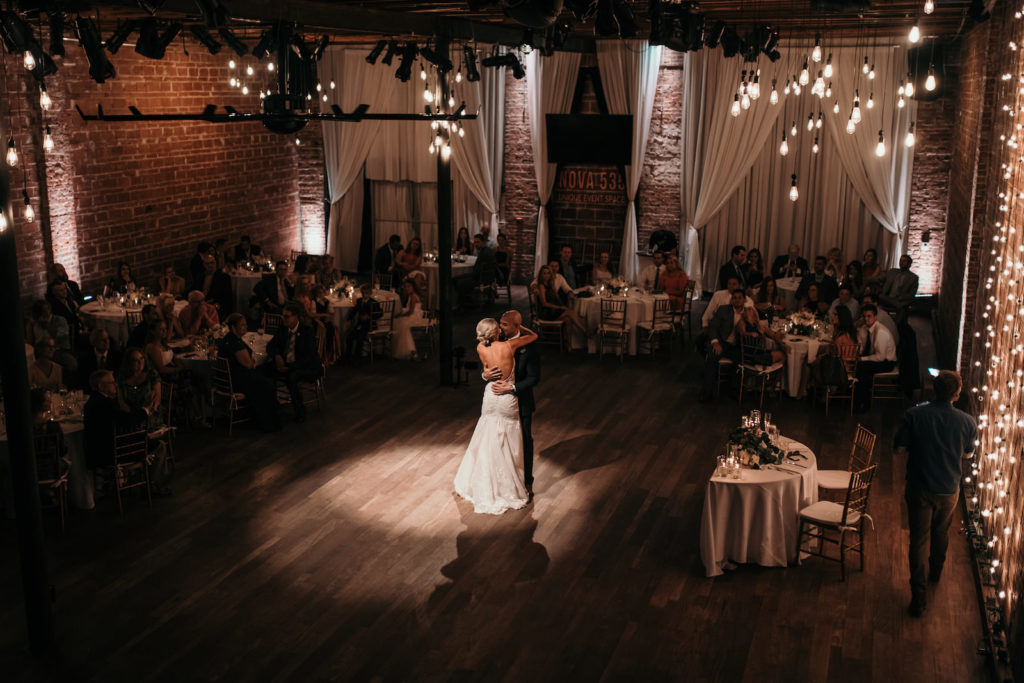 Intimate Weddings And Music
"Couples having intimate weddings and elopements are completely understandable given the current state that we're all in. However, they should keep in mind that they'll still need music, microphone capabilities, and an emcee even for a small gathering. They might not be having a big reception, however, that's not all a Disc Jockey is hired for. Our DJs can provide audio for the ceremony, as well as music for dinner and the first dance. DJs also handle announcements and give structure to any size event whether it's for 25 guests for two hours or 175 guests for five hours. No matter how big or small a wedding is, most couples still want to incorporate the traditional aspects and need someone to help them create the best outcome of their intimate event." -Grant Hemond & Associates Staff
"With regard to intimate weddings and music, the same has always been true, guests will generally follow the lead of the newlyweds. There could be a total of ten people at a wedding. If the newlyweds are on the dance floor, the remaining eight guests will tend to be on the dance floor with them. If the newlyweds are not big dancers, they can still enjoy themselves and engage with their guests while a more mellow, personalized soundtrack of their favorite artists/songs plays in the background." -Grant Hemond & Associates Staff
How Has COVID-19 Affected the Availability of Wedding Entertainment?
"We are seeing a surplus of inquiries since August 2020. People are ready to get back together." -Christopher Grainger, owner of Graingertainment
"2021 is even busier than normal given the fact that so many couples have had to reschedule events." -Grant Hemond & Associates Staff