Emily and Brent's St. Pete Beach wedding featured an outdoor waterfront ceremony, iconic sunset beach portraits, and pops of deep reds paired with bright whites.
"Our wedding design inspiration was winter coastal, and our colors were burgundy and silver. They go well with the cooler temperatures we had during the time of year we got married," the bride shared.
To focus on the memories of the day and not the logistics, the Largo couple selected one of Tampa Bay's most experienced wedding planners.
"We were looking for someone who was extremely organized, had previous experience, and didn't get flustered easily. We wanted someone to coordinate and handle all of the stress so everyone involved could truly enjoy the day," Emily explained. "Tammy of Special Moments Event Planning was recommended to us by a family who was also using her and had been pleased with the assistance she provided, how easy she was to work with, her knowledge of the entire process, and what small detailed questions to ask. The staff at Special Moments did a good job of keeping us on track with the timeline and communicated well with us throughout the event."
The couple had a keen eye when it came to finding their ideal wedding photographer and looked for someone who could capture the day as it unfolded as well as stay on task so that the couple could savor every moment of the day.
"We looked for someone who seemed to enjoy taking pictures, specifically at weddings, and someone who catches the important moments. We looked at editing style, angles, and backgrounds," the bride shared. "We chose Amber McWhorter Photography because of the work that we had seen on social media and on her website. We liked Amber's editing style and the beautiful backgrounds she had her couples in front of. Amber was able to work quickly in a tight time frame to get all the photos on our list as well as wrangle our groomsmen, which was not an easy task."
The pair incorporated ceiling draping, silver Chiavari chairs, chargers, and a wooden ceremony arch to add to the elegant winter theme.
"The pieces we chose to rent from Gabro Event Services really enhanced our wedding and reception. They are beautiful as well as of great quality," the bride beamed.
Looking back, the final celebration of the night with the couple's 80 guests was also one of the most memorable ones.
"We did a sparkler send-off in our ceremony space with all of our guests. It was so much fun, for everyone, and the pictures were awesome! Also, we went to a nearby beach for couples photos during cocktail hour," Emily reminisced.
How would you describe your theme/wedding design inspiration?
Winter Coastal. We just chose things that were our style. We wanted a classy coastal feeling.
What were your colors?
Burgundy and silver. They're pretty colors and go well together. They go well with the cooler temperatures we had during the time of year we got married.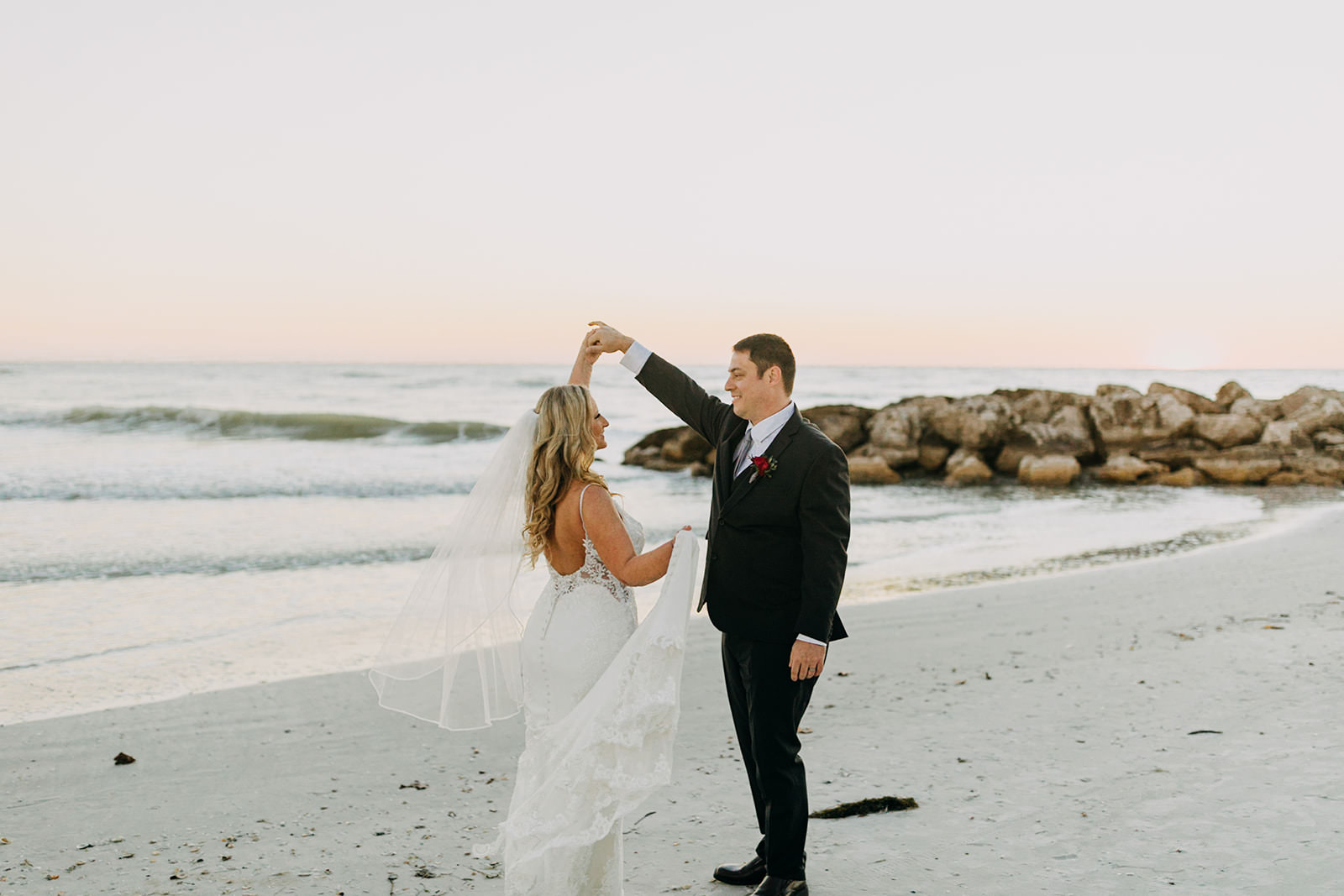 The Proposal:
We like to go to the beach to watch the sunset, so Brent proposed at sunset on Indian Rocks Beach on New Year's Eve.
Where did you spend your honeymoon?
Hawaii. We both had been once before and with COVID we wanted to stay within the U.S.
Where did you host your bachelorette party?
My friends and I went to Key West for the weekend. I absolutely love it down there. It's so pretty and has all the activities I like: beach, boating, and shopping.
Which vendors really exceeded your expectations?
Our videographer was absolutely amazing! He was so easy to work with and got the best parts of the day recorded even though we didn't see him too much.
What advice would you give to other Tampa Bay couples?
Give yourselves enough time to plan without cutting it too close, and if there are any specific vendors you want, book them earlier than you think you need to. The planning process is inevitably long and comes with some stress so try to remember to enjoy it and not stress about little details. It will all come together.
Also, we highly recommend a coordinator, at least for the day of. They take on the stressful parts of coordinating the day and truly allow you and your family to be in the moment.