Jordan and Tyson's destination St. Pete Beach wedding featured a bright palette of tropical pinks, greens, and gold accents with bohemian details and show-stopping flora set against the idyllic ocean backdrop.
"I would describe my wedding as being boho-inspired. It is definitely my favorite style and the same way I have our house decorated, as well as my clothing boutique," the bride shared. "Most people would describe my personality as being pretty bright and happy, so I think the fun colors definitely align with my personality! I went with very bright, vibrant colors, and then mixed that with all things gold! I wanted our wedding decor to be different from weddings our guests had attended before, something that really stood out. Hot pink, vibrant greens, and gold were my main colors. They are my all-time favorite colors and how I design pretty much every other aspect of my life – you should see my living room!"
The Texas bride grew up vacationing in St. Pete and creating memories at iconic The Don CeSar, so hosting her wedding at the "Pink Palace" with her own daughter in attendance made for an extra special touch.
"I always knew that if I ever did get married, I would get married at The Don CeSar. It is so special to my family and me and has always held such a special place in my heart. It truly is my happy place and my favorite place on earth!" Jordan beamed. "It is the resort my family and I have been going to every summer and my favorite place to go to. I have been taking my own daughter there since she was six months old. It is definitely a huge part of our family and I couldn't think of any other place I would have ever wanted to get married at. The Don CeSar was phenomenal and made our day extra special with their genuine care for our wedding to be exactly how we dreamed it to be! I couldn't say enough good things about our venue coordinator!"
Choosing the perfect wedding officiant was a priority for Jordan, who cherished the symbolism and meaningfulness of the ceremony.
"I wanted someone who wasn't too serious and who made it a very personal experience for us, not just someone who read the same thing that they read at every wedding before ours," the bride shared. "I spoke with quite a few officiants before I contacted A Wedding With Grace. The first time I spoke with Grace, I knew she was the one for us! She takes such great pride in her work and truly loves what she does. She wanted to get to know both Tyson and me on a more personal level to be able to learn more about us individually and as a couple. That detail made our wedding ceremony so extremely special to us and I couldn't say enough good things about Grace!
Jordan stayed true to herself and her design vision during the planning process without letting outside opinions or traditional standards alter her decisions. The result was a truly unique celebration for her 70 guests.
"A big part of what made the wedding unique is the design. Flowers and all of the colors were definitely something that I put the most thought into! I picked out every single flower, fresh and dried, that was in my bouquets and on my ceremony arch. I didn't work with planners; it was just me and my vision, and all of my loved ones could really see that in all of the details," the bride detailed. "Our colors and design and even setup of the reception were definitely not like any weddings I have attended before. It truly was everything I could have hoped for!"
Jordan chose a colorfully striking wedding cake design adorned with gold leaf, and also requested a special groom's cake in honor of Tyson's favorite spirit. The Artistic Whisk created both confections with jaw-dropping detail.
"My wedding cake inspiration was pretty much the same inspiration that I had for the rest of our wedding: fun, bright, and different than you see at all other weddings. That's why I went with a hot pink cake with gold detail," the bride shared. "I had seen The Artistic Whisk's work on Instagram and saw what incredible cakes they create! They then delivered some cake flavors to taste while I was on vacation at The Don CeSar before our wedding and that really sealed the deal! They're the most delicious cakes! Jovana, the owner, is so sweet and really makes sure that you are 110% happy with every detail of your cake before the big day! I chose Lemon with Raspberry Basil Jam and Red Velvet for my cake flavors, and Tyson chose Pistachio for his cake."
After months of planning, it was seeing her vision come to life that the bride recounts as the most unforgettable part of the celebration.
"My highlight would be the moment I got to the beach to walk down the aisle, and I got to see my vision of the ceremony setup and all of my most favorite people there to celebrate me and Tyson!" Jordan reminisced. "My reception décor absolutely blew me away with how it was exactly how I dreamed it to be; it looked amazing and all my vendors really went above and beyond. I love being able to relive the day over and over again by being able to watch our wedding video and look at the beautiful photos. I feel so lucky that I got to live out my perfect wedding. It wasn't something I had dreamed of from a young girl, it wasn't until I met Tyson that I ever wanted to get married. I'm so thankful for each person that was there to make it so special for my little family, for that I am forever grateful. It really was the best, most beautiful day ever!"
The Proposal:
Tyson proposed on Christmas Eve. He knew I didn't want some big elaborate thing with a lot of people there, so he planned it perfectly. We went to dinner with our daughter and my parents, and then took pictures in a sled in front of a Christmas tree in Downtown Rockwall. It was a tree we had taken pictures in front of the Christmas before, so I thought that's just all that was happening, but then he got down on one knee. It was perfectly perfect for me!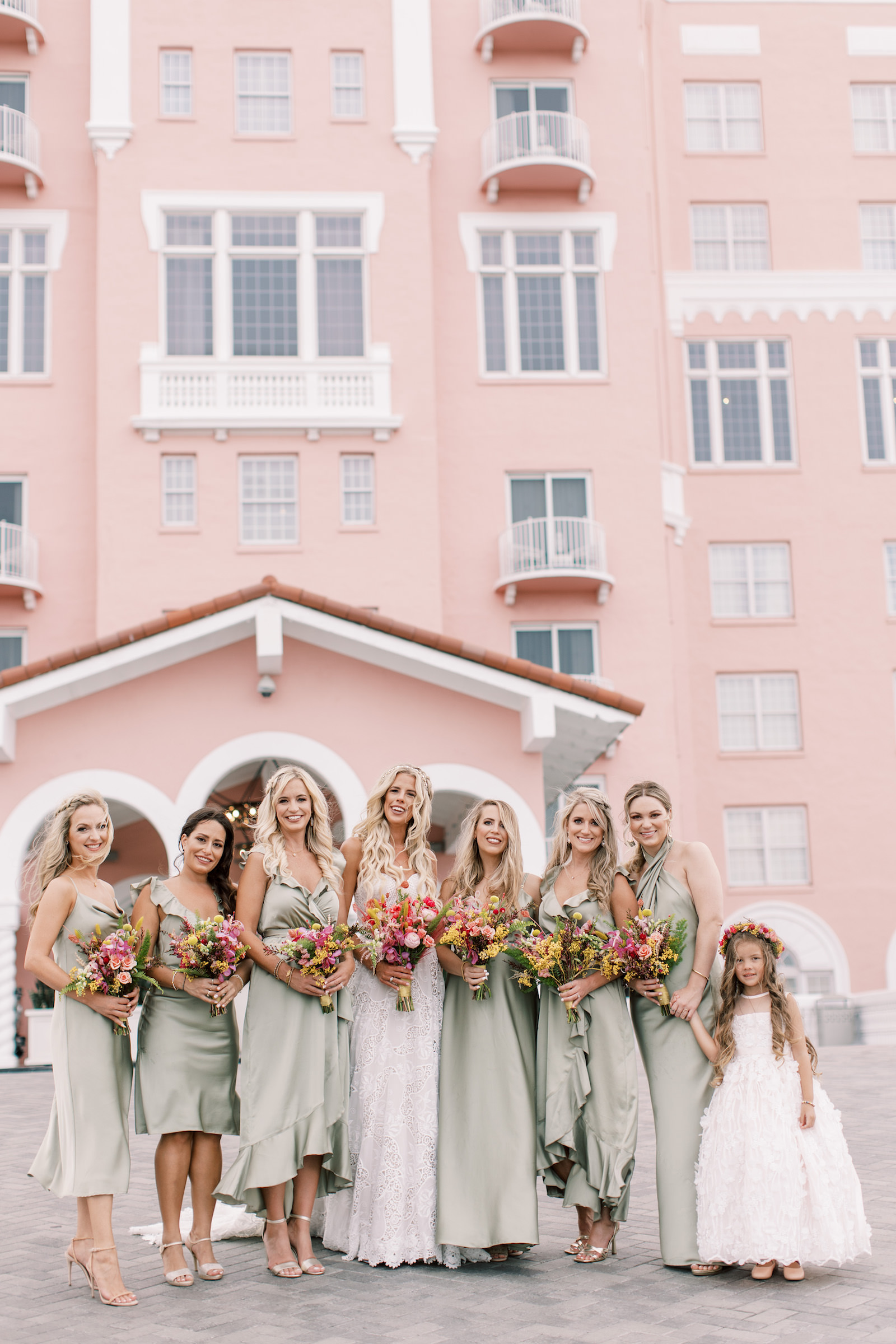 Where did you host your bachelorette party?
Dallas. We stayed at the Joule Hotel and had the best time ever! I didn't want to go too far, so it was the perfect weekend in the city!
Where did you spend your honeymoon?
We didn't want to have to worry about all of the COVID mandates in other countries, so we decided to stay in the U.S. and go up to the New England states. We stayed in Portsmouth, New Hampshire and visited Maine. We really enjoyed it!
---
What advice would you give to other Tampa Bay couples?
Choose all of the same vendors that I did! Ha! They all were so amazing and did exactly what they promised they would. Our wedding would not have turned out the way it did if I had chosen any different vendors than the ones that I did! I can't say enough good things about each and every one of them!