The DJs at Grant Hemond & Associates have literally hosted over 20,000 weddings in Tampa Bay, making them one the top wedding music experts in the area.
Music not only sets the tone of your wedding reception, but the songs that you choose for those most special moments will be forever engraved into your memory. No matter if you're driving to work, sitting in the office or the guest of another wedding, every time you hear your "First Dance" song, it will instantly transport you to your wedding day.
Discover the top "First Dance" songs of 2015 as chosen by the DJs of Grant Hemond & Associates.
11 of the Best "First Dance" Wedding Songs of 2015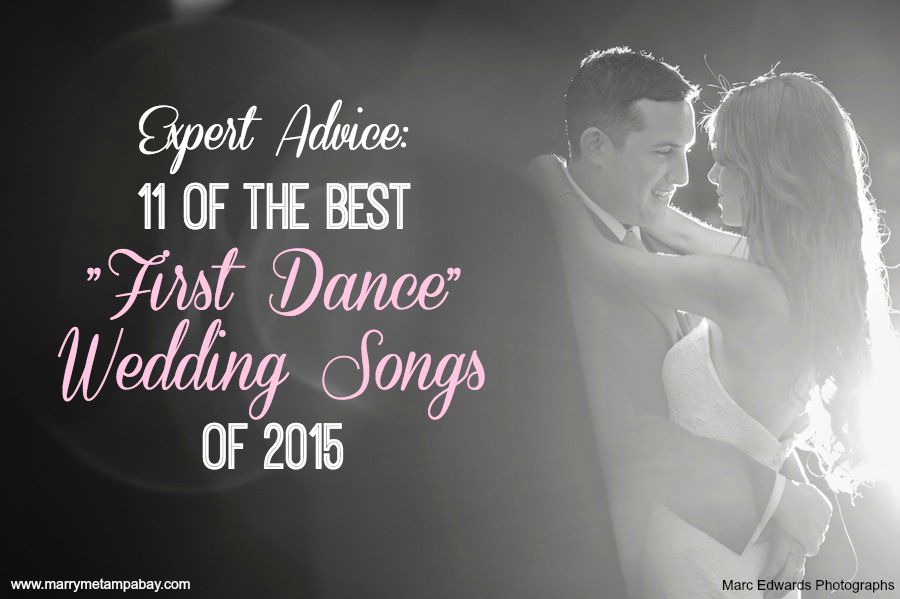 Someone  Like You by Van Morrison
"Songs that are current come and go so fast, but just like a relationship of a husband and wife, a classic song will withstand the test of time." -James King, Grant Hemond & Associates DJ
Thinking Out Loud by Ed Sheeran
"Great voice for this song, meaningful lyrics, easy to dance to, not too long or overboard emotionally." -Gary Cradick, Grant Hemond & Associates DJ
Let's Stay Together by Al Green
"It will grab both the younger and most definitely the older audience, while still capturing the younger crowd with it being a timeless classic. It also has some of the most meaningful lyrics in a popular song that is meant to express a couple's love towards one another." -Adam Hensleigh, Grant Hemond & Associates DJ
At Last by Etta James
"It appeases to all age ranges. Beautiful song and lyrics." -Jason Tally, Grant Hemond & Associates DJ
You Are The Love of My Life by Sammy Kershaw
"The title says it all." -Jude Rinaldi, Grant Hemond & Associates DJ
Come To Me by Goo Goo Dolls
"This song is an eclectic mix of beautiful lyrics and smooth melody that guests of all ages enjoy!" -Craig Hemond, Grant Hemond & Associates DJ
Somewhere Over the Rainbow by Israel Kamakawiwo'Ole
"Almost every wedding I play this song, someone will come up to me and tell me that they love it and ask who sings it. It puts a smile on their faces every time." -Jody Bower, Grant Hemond & Associates DJ
Listen to the full "First Dance" playlist on Spotify
Never Stop by Safety Suit
"It's poetic, romantic, easy to dance to and has a powerful message of commitment and love." -Ben Daniele, Grant Hemond & Associates DJ
Acoustic Version of Latch by Sam Smith
"Elements of piano and violin make this song appropriate for the most elegant of weddings. Sam Smith's modern and timeless voice over the acoustics also make it great for even the most casual beach wedding." -Cory Barron, Grant Hemond & Associates DJ
Can't Take My Eyes Off of You by Frankie Valli and the Four Seasons
"This is one of those rare songs that works very well for ANY part of the wedding (ceremony, cocktail hour, dinner or even dancing). It starts soft and mid-tempo but eventually picks up in energy. When played towards the end of dinner, guests will often sing loudly the lyrics '…I love you baby!,' which is great for building that time to party feeling. While it can be interactive and engaging, the song is still soft enough and lyrically appropriate for the First Dance. Depending on your crowd, they may choose to sing along no matter when it's played!" -Eric Harding, Grant Hemond & Associates DJ
All of Me by John Legend
"First Dance songs tend to be whatever is current. Mostly because couples will hear that song together for the first time when they're in a relationship with one another and have that connection to it. This song is definitely one that current brides and grooms can relate to." -Doug Decker, Grant Hemond & Associates DJ