When planning your Tampa Bay wedding, you've budgeted for flowers, specialty linens, and chiavari chairs, but have you thought about the lighting? Nothing quite sets the mood for your wedding like soft, romantic lights. From uplights to market lights, we've asked our Tampa Bay wedding rental experts to share their favorite type of lighting and how it enhances the look of your wedding day.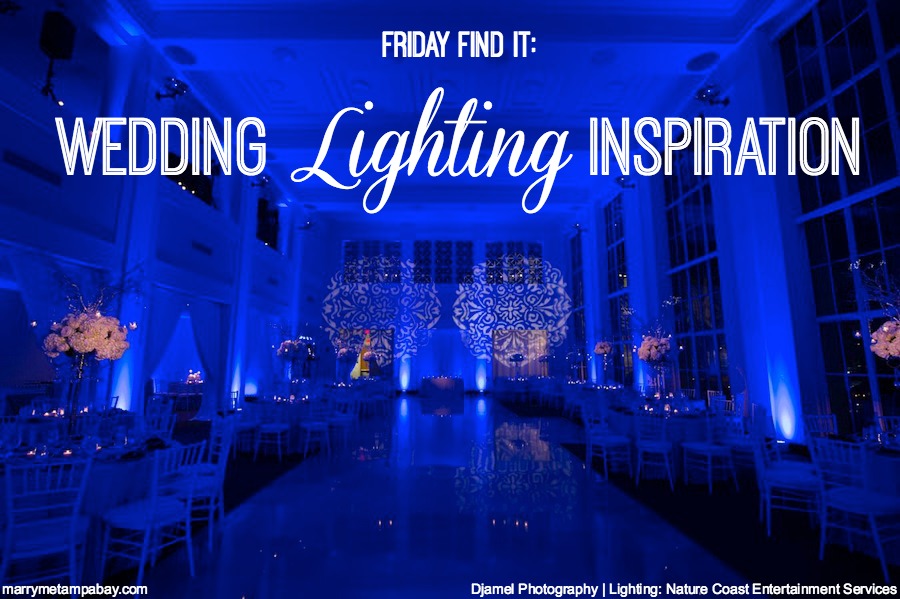 Uplights
"Colored uplighting can be coordinated with the wedding's overall color palette and can turn a plain venue into a beautiful, colorful reception. Changing the color scheme throughout the night can change the atmosphere instantly. For example, softer, warmer lights can be used to create a romantic mood during dinner while bright, disco colors would be appropriate for the dance floor. Another great way to incorporate up lighting in your reception is to separate the dinner area from the dance floor with different color washes." -Christopher Grainger, Graingertainment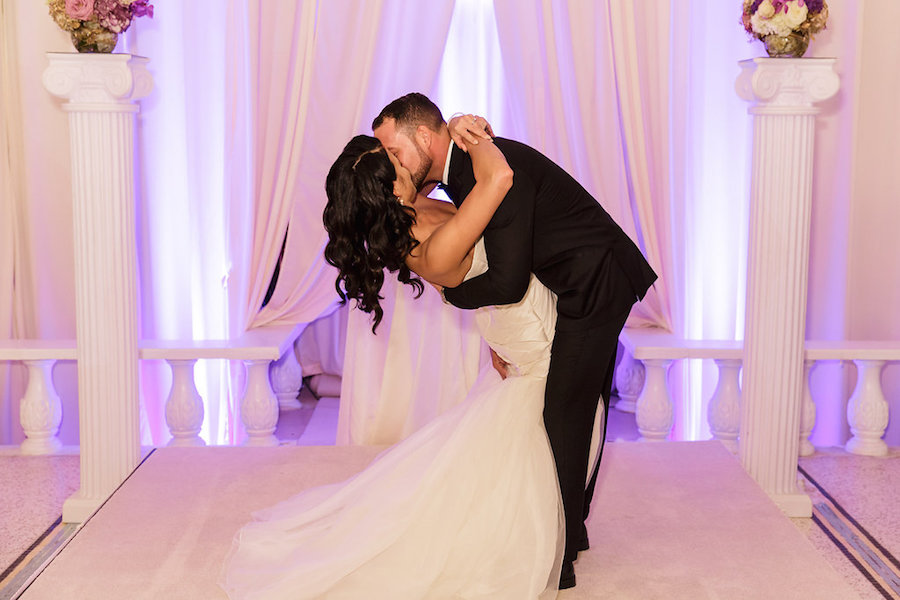 "Uplights really add a magical look to any event, especially using bold colors. You'll have almost a limitless color palette to select from with LED lighting technology. You can create an ambiance of candlelit romance with amber uplighting or decorate your venue in colors matching your bridesmaid's dresses, floral blooms or table linens." -Christopher Grainger, Graingertainment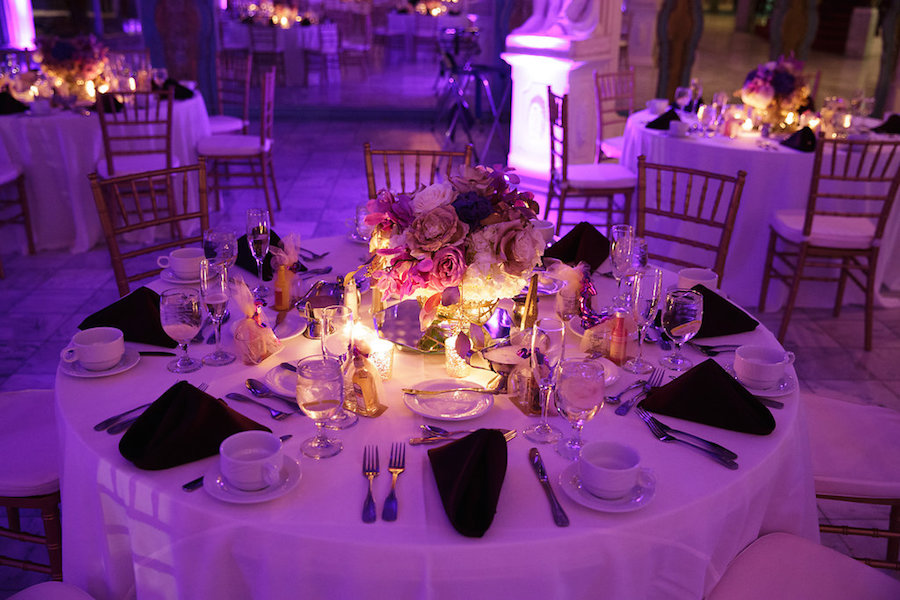 GOBO
"A GOBO is a stencil that slides over a light source to project an image onto a surface. GOBOs are often used at wedding receptions to project monograms, dates and other wedding themed designs. Using a GOBO to create a fun pattern is also a great way to add a personal touch to the lighting effects at your wedding. From a typical monogram of the bride and groom's initials to a starry night sky on the ceiling, GOBO lighting can be used in a variety of classy and tasteful ways to enhance any wedding." -Christopher Grainger, Graingertainment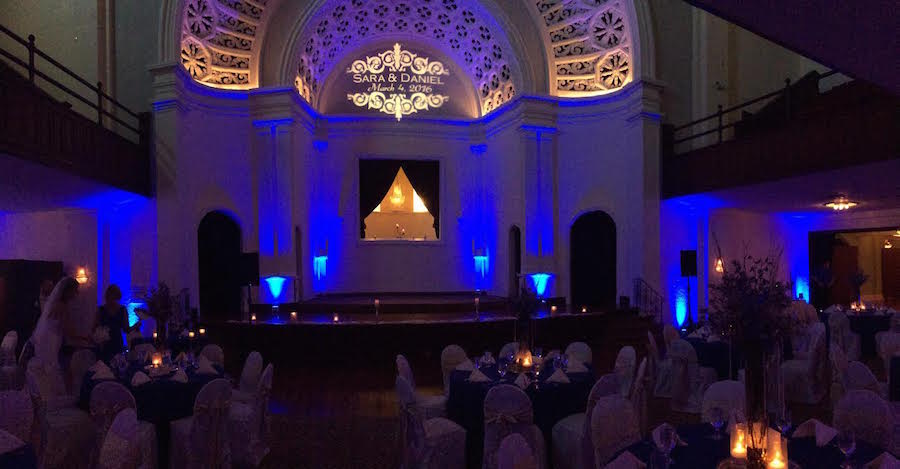 Lighting: Grant Hemond & Associates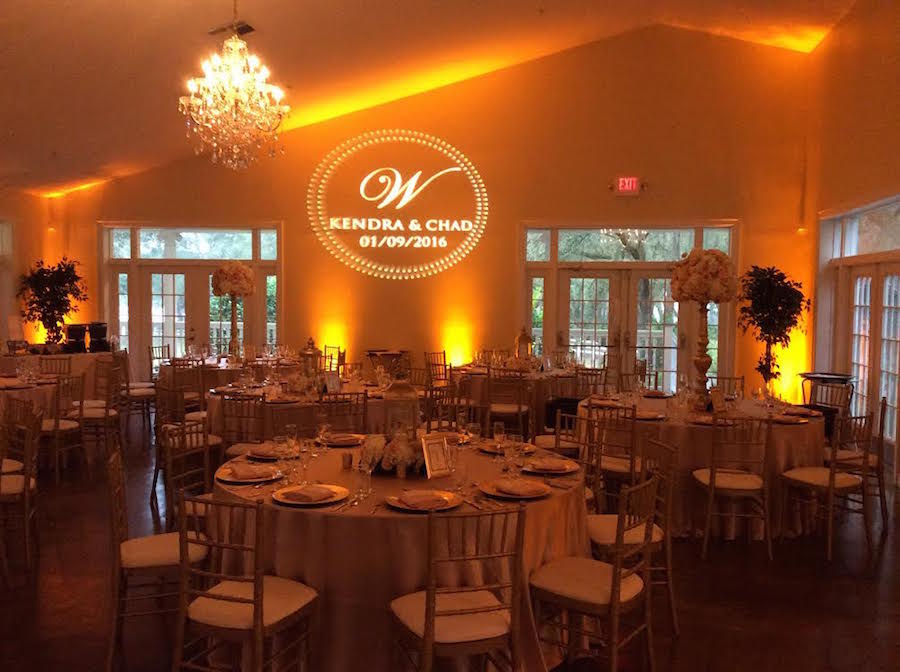 Aisle Lighting
If your wedding is going to be outdoors at a sunset or even at night, it's important to have lighting for your photographer so that there is a harsh flash in every photo and for your guests to be able to see what is happening during your ceremony. A simple amber glow against your ceremony arch or aisle is enough to illuminate your photos.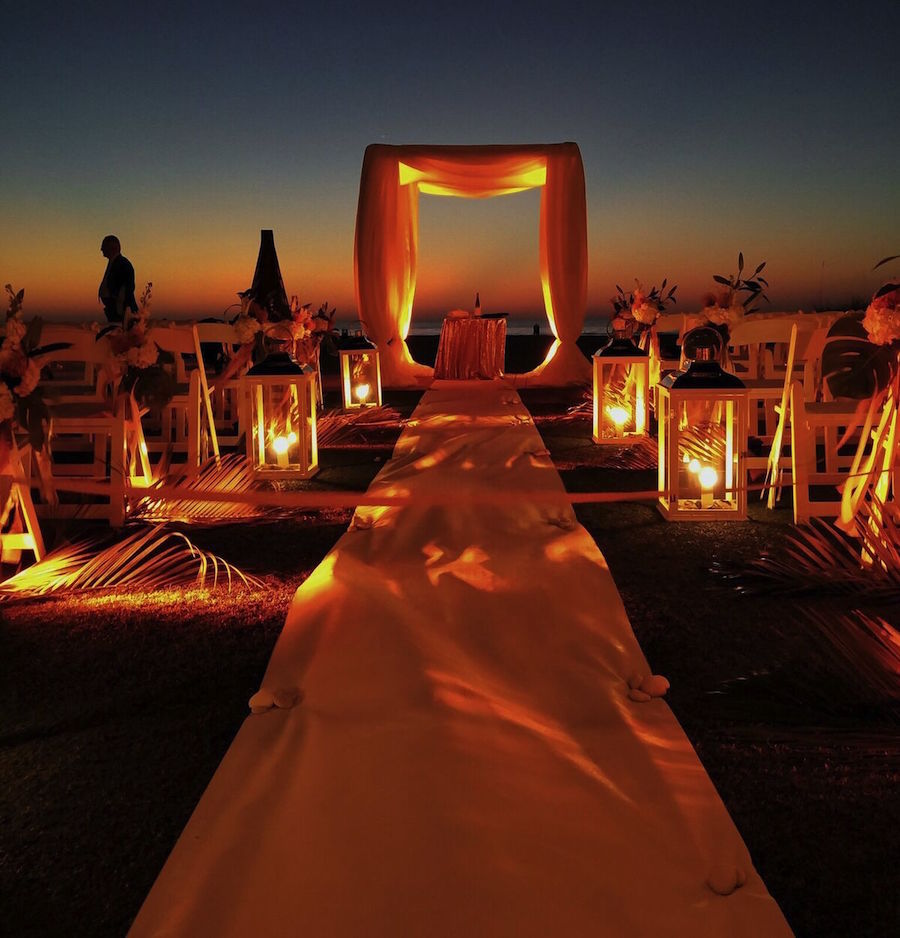 Lighting: Nature Coast Entertainment Services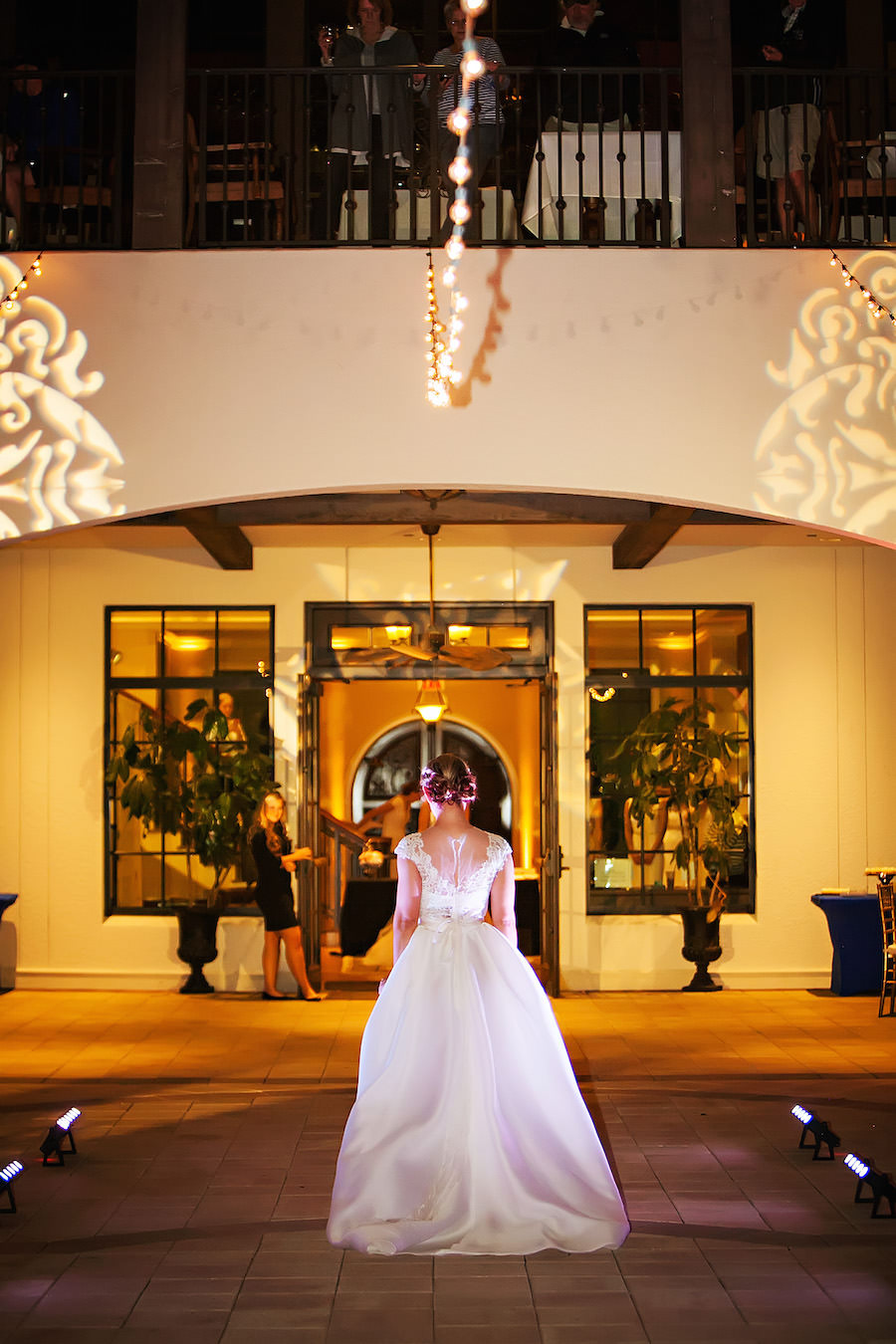 Limelight Photography | Lighting: Nature Coast Entertainment Services
Market Lighting
LED market lighting creates the perfect romantic atmosphere for any outdoor Tampa Bay wedding reception. Not only does it provide a soft light for guests to use for dinner, but it also creates a warm environment that is great for wedding photos.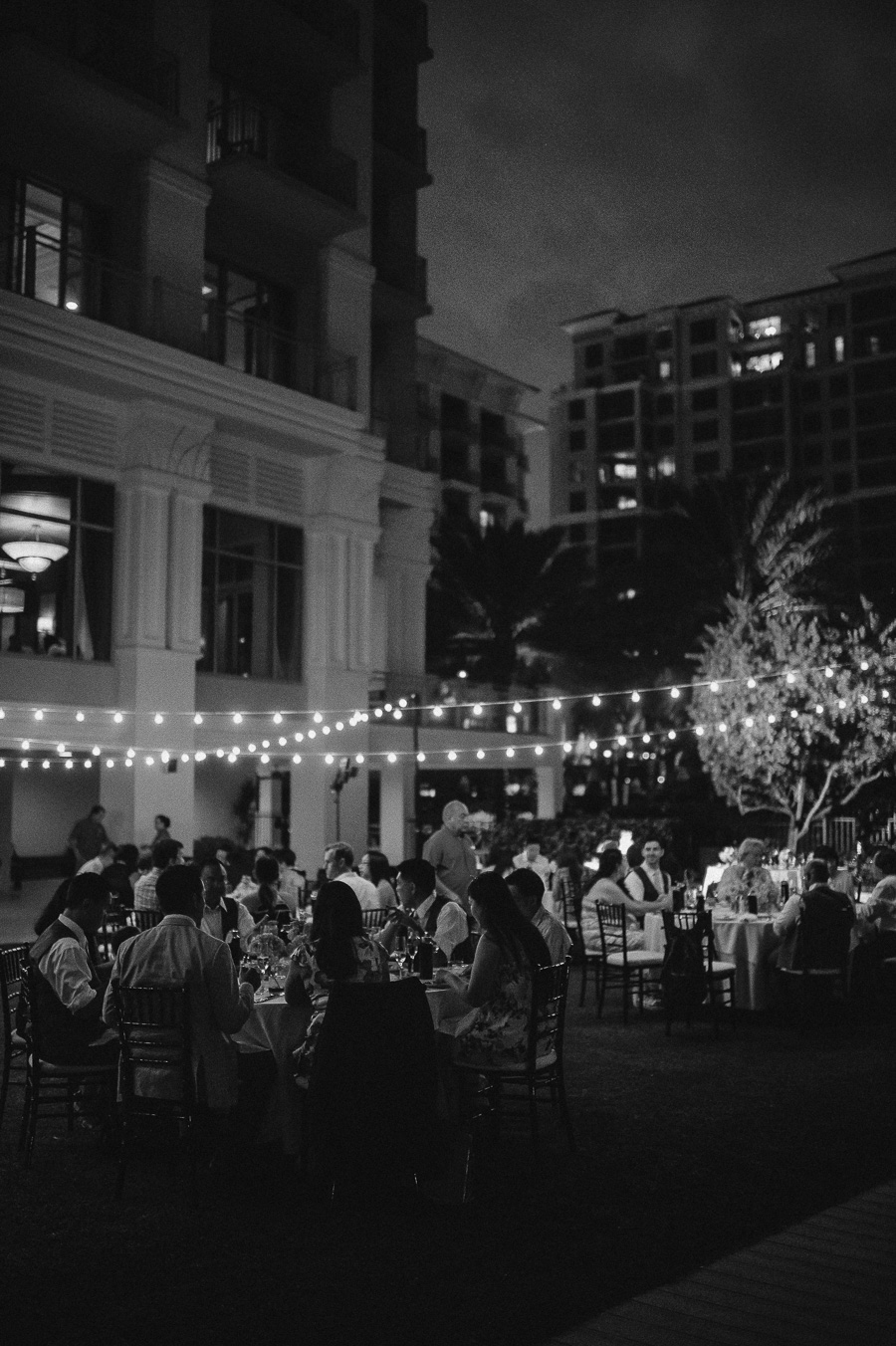 Sunglow Photography | Lighting: Nature Coast Entertainment Services
Think outside of the box and give your weddings guests a wow factor by incorporating market string lighting inside! Combining the market lighting with warm amber uplighting and pin spot lighting transforms the an otherwise simple room.  
Can't see the pin spots? Notice how the centerpieces Iza's Flowers light up. The detail of these florals standout because of the perfect angle of the pin spot lighting. 
Lighting: Nature Coast Entertainment Services | Flowers: Iza's Flowers