Choosing a date is one of the most important things you'll do during the planning process for your Tampa Bay wedding. While summer is often an ideal time to get married in more northern parts of the country, the same considerations don't apply to Florida weddings.
"Florida is hot in the summer, like chill out in the AC and in the pool hot! So we really urge couples considering a Florida wedding in the summer to look at an indoor wedding venue with floor-to-ceiling windows and great views. Your family and friends will thank you later," wedding planner Tammy Watterman of Special Moments Event Planning shares."
To help you make your wedding as comfortable as possible, we asked our Marry Me Tampa Bay preferred wedding pros to share their best advice for couples considering a summer wedding.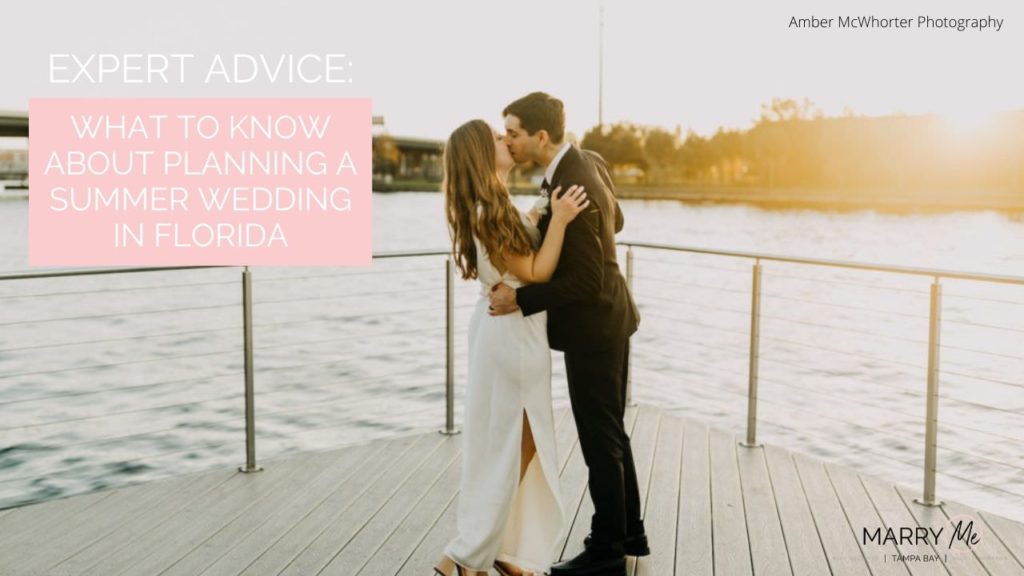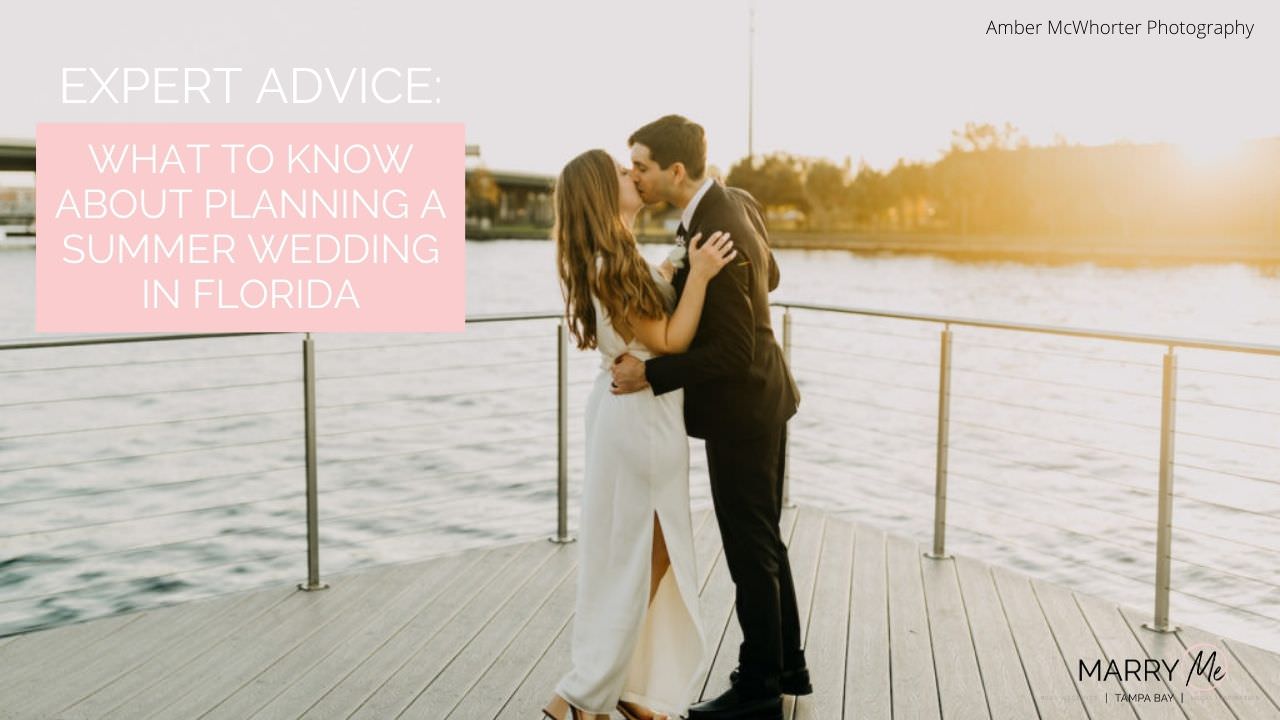 How Can the Heat Affect Your Ceremony?
"If you're envisioning an outdoor ceremony, cocktail hour, or reception, you'll probably have lots of cranky guests who are looking for somewhere they can cool off. We often see this manifest in guests who don't want to be seated for the ceremony until the very last minute, or who don't want to enjoy the full cocktail hour or reception due to the heat. This could end up throwing off the overall timeline or affecting photo opportunities with guests who seek respite in an indoor reception space before cocktail hour ends, which limits the décor detail shots that many couples desire." -Christi Winsor, owner of Winsor Event Studio
"There are a number of ways the heat can affect your wedding ceremony. You should stick with early morning or late evening but don't forget about afternoon showers. If you are planning an outdoor ceremony it is essential to have a Plan B. The heat may affect your wedding dress options, your bridesmaid dresses, and the selection of men's formalwear. You need to choose hardier flowers that can stand up to the heat and not wilt, and you should think about the comfort of your guest by making available cold drinks, fans, umbrellas, and shade available. I've had a bride pass out on me from being overheated during the wedding portraits. You don't want that happening!" -Karen Cerboni, owner of EventFull Weddings
"Summer weddings in Florida are hotter than you expect! Scheduling your ceremony for earlier in the morning or later in the evening will benefit you as you'll avoid the hottest part of the day. Heatstroke is not a welcome wedding guest!" -Brandi Morris, owner of Brandi R. Morris, Officiant
"Sunset is the latest in the summer, from the end of June to the beginning of July it's at 8:30 p.m. Typically that hour before sunset is the prettiest and coolest part of the day for photos. If you are doing a first look before the ceremony, sometimes it's better to just do the first look and still do the wedding party and bride and groom photos after the ceremony to break it up and also keep the heat to a minimum. Fun fact, even if it is really hot, you generally can't tell in photos!" -Carrie Wildes, Carrie Wildes Photography
"We're so lucky in Florida to have beautiful weather all year long, but that's not to say each season won't come with its considerations, especially if you are including your pet in your celebration. In the heat of the summer, it is particularly important to think of your pet's well-being and limitations. When planning our "Dog of Honor's" special days in the summer months we first determine the venue's pet policies and whether or not they will be allowed indoors. If they are not, it is very important to take into account the amount of shade available and the ground we'll be walking the pup on (pavement is a serious concern in the Florida heat), and how long we'll be on site. We manage the pet's energy levels to ensure they won't overdo it and plan the day with plenty of water and AC breaks. This advice, in particular, is crucial for couple's and their pets when traveling to Florida for a summer wedding as they may not be used to the intensity of the heat and powerful sunshine." -Kelly Maronpot, owner of FairyTail Pet Care
"Don't underestimate the heat. Have a water or drink station for guests, use fans as favors, have bug wipes handy, and make sure you adequately communicate the weather expectations to your guests. Make sure to include an appropriate dress code on your invitations or wedding website. Let guests know that sundresses, guayaberas, and sparkly flip-flops are A-OK!" -Leigh Wilson-Arwood, Events Manager at Red Mesa Events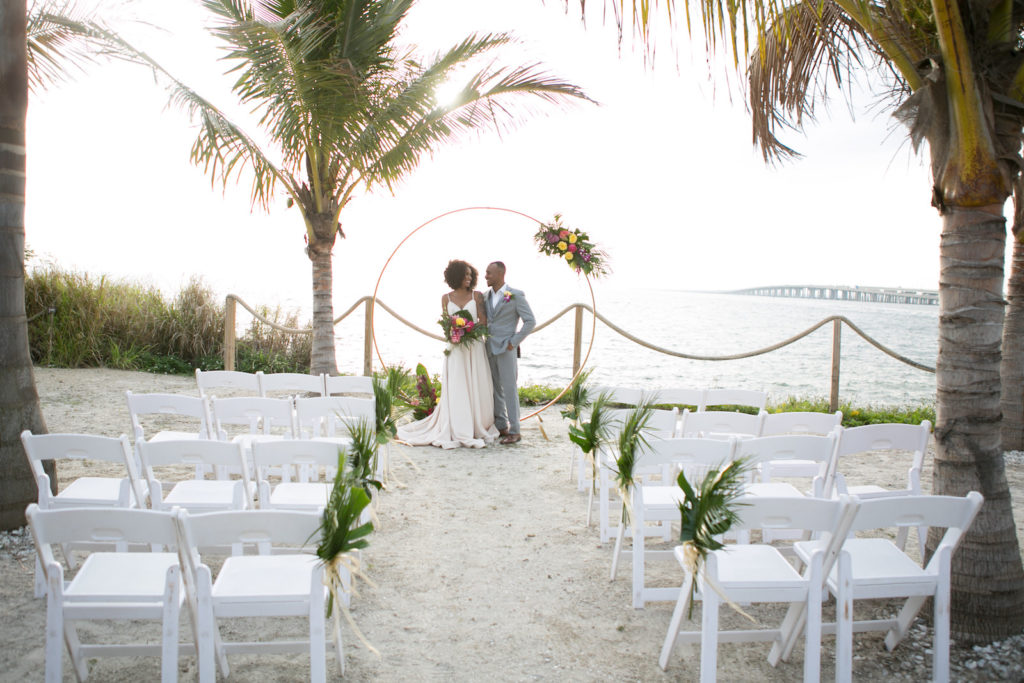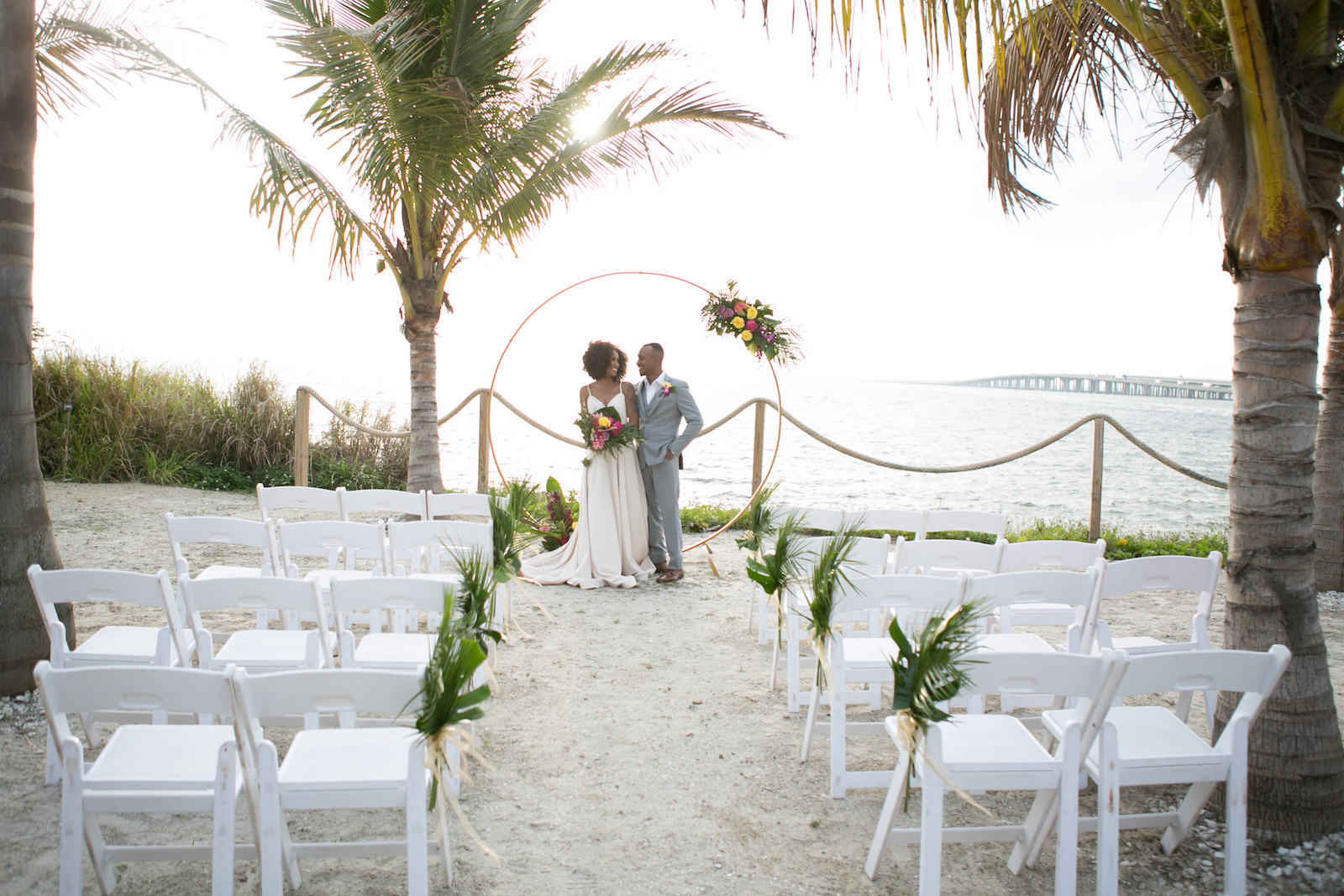 How Can the Heat Affect Your Decor?
"The Florida heat can be brutal. If you are having an outdoor summer wedding, keep that in mind when making your decor decisions. When it comes to flowers, don't choose delicate flowers that might wilt in the heat, choose tough, luscious greens that can withstand the weather. For your centerpieces and guest gifts, don't pick something that could potentially soften or melt, choose something that can survive in warm, humid conditions." -Amber McWhorter, owner of Amber McWhorter Photography
"Most desserts need to be kept at room temperature, so plan to keep everything indoors. If you have your heart set on outdoor treats, keep them indoors until right before serving!" -Brandi Becker-Matiyak, owner of Sweetly Dipped Confections
How Can the Heat Affect Your Hair/Makeup and Attire Choices?
"Forget the heat, it's our lovely Florida humidity that has a huge impact on hair and makeup. Humidity is the amount of water vapor in the air so when we have high humidity it's like standing in a steamy bathroom. The best way to ensure your hair and makeup will last all night is to find a hair and makeup company that uses water-resistant makeup and anti-humectant hair products. Anti-humectant hair products are essentially products with moisture blockers that prevent the hair from trying to absorb the moisture in the air. This will minimize frizzing. If you are getting married in some of our hotter months (June-September) it is best to opt for a hairstyle that up and off your neck. All the hair products in the world will not hold up if you are drenched in sweat. If you sweat easily a boho crown braid or glam up style is a great choice to keep you cool, feeling comfortable, and looking flawless. For makeup, we use a secret weapon skin prep product on our brides that prevent their face from sweating. I know sounds too good to be true but it works wonders! The best pro tip is to make sure the products are up to par to combat the humidity." -Kelcey Yaeger, owner of Adore Bridal Hair and Makeup
"Pay special attention to your attire and your hair and makeup. A long lace embellished wedding gown with a sweeping train is heavy and hot. Carrying a train across the beach anytime is hot, so consider something lightweight and maybe a little shorter. Your hair will struggle to hold its curl, and makeup will need a touch-up. Think about very light natural makeup and wearing your hair down or pulled to one side. Think about the guys too! Dark suits or suits of any kind will be hot. So instead, think of light, breathable fabrics such as khaki slacks, linen shirts, and maybe skip the tie." -Tammy Waterman, owner of Special Moments Event Planning
"If you are having a summer wedding in Florida you need to choose a lightweight wedding dress preferably strapless or thin-strapped. Stay away from long sleeves and heavy fabrics. The same holds true for your bridesmaids. Your groom and the groomsmen may want to consider a lighter-weight suit such as linen over a traditional suit or tuxedo. The summer heat is more friendly to casual or beach festive attire for your guests than formal clothing. I definitely suggest brides and bridesmaids wear their hair up for comfort as the curls don't hold well in the summer humidity." -Karen Cerboni, owner of EventFull Weddings
How Can the Heat Affect your Reception?
"Receptions in the summer heat should be indoors if at all possible. Florida is known for afternoon showers which only makes it hotter and muggier. If you are outside, choose florals that can stand up to the heat and last all night without wilting. Choose a lighter menu for your guests. Be prepared to sweat a lot on the dance floor, and watch out that the cake doesn't melt! Also, have a Plan B because it could very possibly rain." -Karen Cerboni, owner of EventFull Weddings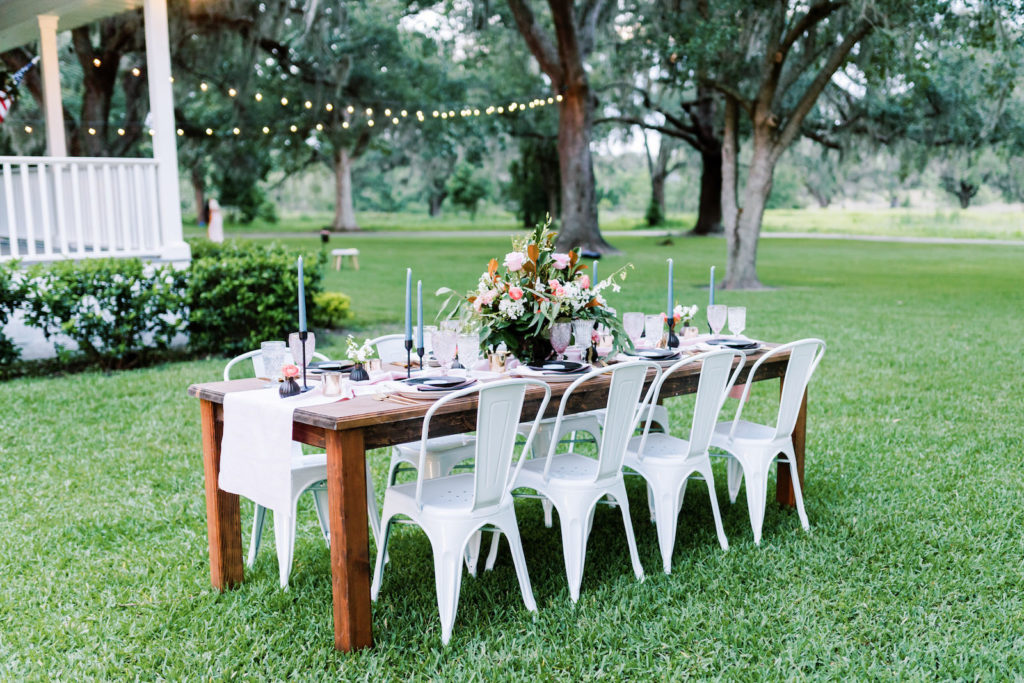 Stephanie Lanni Photography | EventFull Weddings
What do Couples Need to Know about Summer Rain?
"Always…and I do mean, always have a backup plan for the weather. Those rain showers come fast and furious, and you have about a five-minute warning before they hit. Get a tent, hand out umbrellas, have an indoor option, and have some sort of plan. Understand that tents are expensive and require permitting. You can't just 'throw up a tent' at the last minute if you're on certain properties." -Leigh Wilson-Arwood, Events Manager at Red Mesa Events
"We are sort of mini-meteorologists and constantly monitoring the weather in anticipation of your wedding day! By using the most advanced radar possible, the same resources pilots use to navigate weather, we are able to calculate down to the hour the percentage chance of rain and directional movement of the storm (cell, band, etc.). This is depicted on our weather page for all the locations we service. It's always a great idea to have some sort of 'Plan B' in the case of inclement weather; this could be a covered courtyard, pavilion, or some type of overhang if worst comes to worst. In Florida, the 10-day forecast is more of a guesstimate and is highly inaccurate. We will not have a predictable forecast until 12-24 hours before the event, so save yourself the hassle or worrying a week out. Stick to the game plan and if you are working with professionals; they will assist in this regard. Besides, it's good luck if it does rain on your wedding day! The most incredible pictures ever taken on the beach are followed shortly after an armageddon-like rain shower. Rainbows come out shortly after a rainstorm too." -Brandon Wheeler, owner of Gulf Beach Weddings
"Summer rain is not predictable. The forecast might say that it will rain and it never rains, and on the other hand, it might say there is a zero chance of rain and pour. Not only that, but if it is a small storm, the rain typically moves fast. Keeping up with an actual rain radar is what has saved me from making calls as the photographer. I think that flexibility is key here. If your photos are planned at 5 p.m., and it is supposed to rain, bump up the time to get photos done. Know that your schedule and timing might change. One other important part when planning an outdoor summer wedding is to have a backup plan just in case it does rain." -Amber McWhorter, owner of Amber McWhorter Photography
"Be educated on the weather, sunset time, and locations here in Florida but most important is attitude and expectations. It could rain all day and be the best wedding ever because of how the couple's attitude going into the situation is." -Carrie Wildes, owner of Carrie Wildes Photography
---
---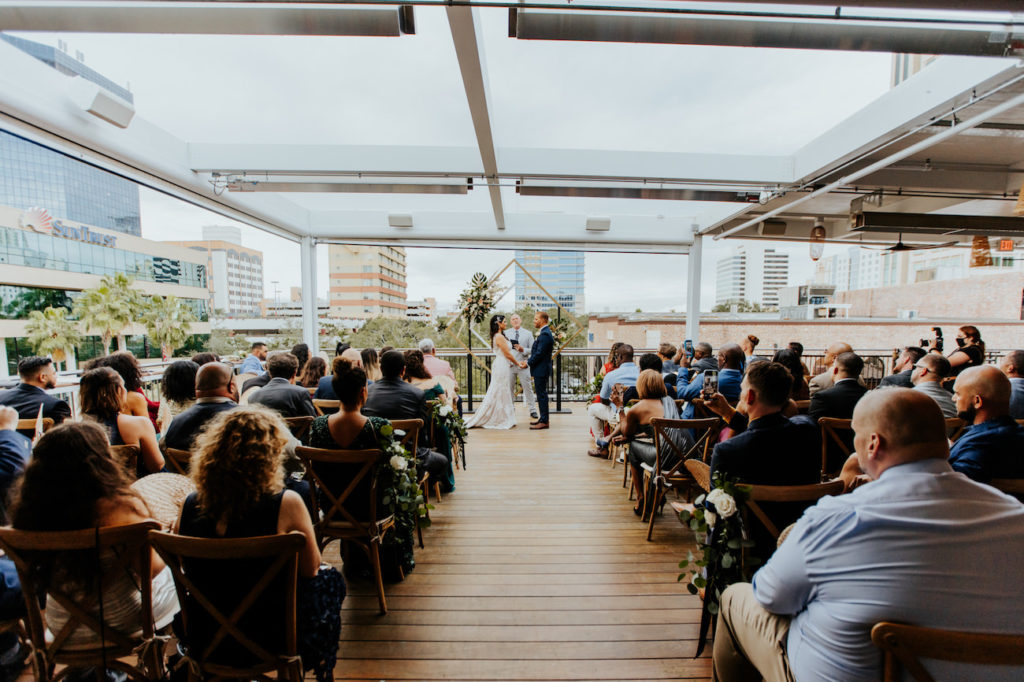 Southern City Photography | Red Mesa Events
What Are the Best Ways to Keep Your Guests Cool?
"If you are having a summer wedding, you can have it all indoors to keep everyone cool. If you want to have the ceremony outside, make sure to let guests know to dress accordingly and also provide them with fans to stay cool. Also, make sure they are not waiting in the heat for the ceremony to start. They should be able to wait in an air-conditioned area just until the ceremony is about to start to get everyone seated." -Amber McWhorter, owner of Amber McWhorter Photography
"There are several fun and trendy options couples can incorporate in their decor to keep their guests cool during their wedding day! We love including umbrellas as an added decor element since these are also helpful when it comes to shading your guests during your ceremony, cocktail hour, or reception. Umbrellas enhance the setting by also keeping everyone comfortable! Another trend we see couples utilize is ceremony fans for each attendee. Sometimes these are branded with the couples names or even include the program on the fan." -Jessica Ralph Bova, owner of Parties A'La Carte
"If your wedding ceremony is outside, your wedding guests could be sitting in the sun for 15-20 minutes before you arrive. By the end of your ceremony, they will be super uncomfortable and ready to be inside, cooling off. Think about a water station, fans, and sunscreen and keep the wedding ceremony really short." -Tammy Waterman, owner of Special Moments Event Planning
"Lean into the summer theme! Go for spiked lemonade, lots of fun and colorful florals, bright and brilliant bridesmaid's dresses, and yummy summertime foods like BBQ and tacos!" -Leigh Wilson-Arwood, Events Manager at Red Mesa Events
"The best ways to keep your guests cool are to choose the coolest part of the day to hold the wedding, hold your festivities indoors in the air conditioning, and, if outdoors, have a more casual dress code. Be sure to have access to water, offer 'boozie' popsicles during cocktail hour, and ice cream for dessert. If you are having the reception in a tent be sure to have AC units and/or misters to help keep the space cool." -Karen Cerboni, owner of EventFull Weddings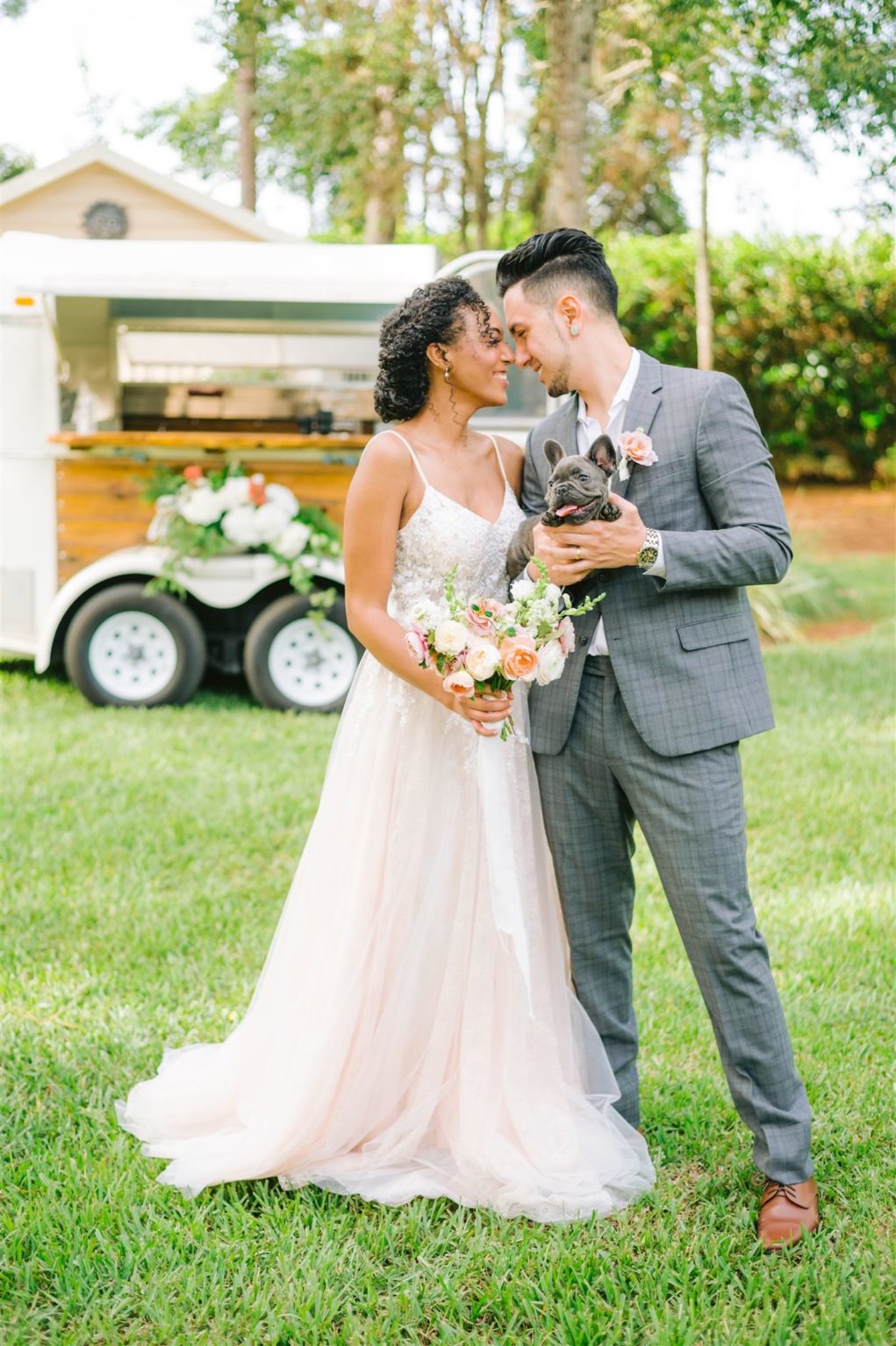 Stills by Hernan | John Campbell Weddings | Spunky Spirits
Are There any Benefits to Hosting a Summer Wedding?
"Guestroom rates are cheaper in the summer in Florida compared to the fall/winter, so it will be more affordable for your traveling fuests!" – Kristina Holcomb, Sales Manager of Hotel Alba
"Many venues offer discounted rates during the off-peak summer season, which can be a great savings if the venue offers indoor space for ceremonies and receptions. This way couples can stretch their budgets even further while also providing a comfortable environment for their special day." -Christi Winsor, owner of Winsor Event Studio
"One benefit to hosting a summer wedding is that more of your guests would be available to attend. Kids are out of school, and the summertime is considered to be a slower season in various fields of work! This can be really helpful if you have essential family members who you want to attend. " -Heather Lorenz, Event Coordinator at The Birchwood
"Summer weddings in Florida mean beautiful colors, incredible sunsets, glowing skin, and (big hair!) Find a nice air-conditioned room for your ceremony and reception, and you'll be surprised at the savings you'll may be greeted with…sometimes as much as 1/2 off for your summer wedding!" -Karin Bearnarth, Director of Sales and Events at Mision Lago Estate
"Having a summer wedding in Florida is a great option for the budget-conscious couple. Vendors are typically slower and would love the additional business. You can also opt for an off-peak weekday like Wednesdays or Thursdays, which would lower your spending, and most guests will turn it into their summer vacation if they're traveling." -Leigh Wilson-Arwood, Event Manager at Red Mesa Events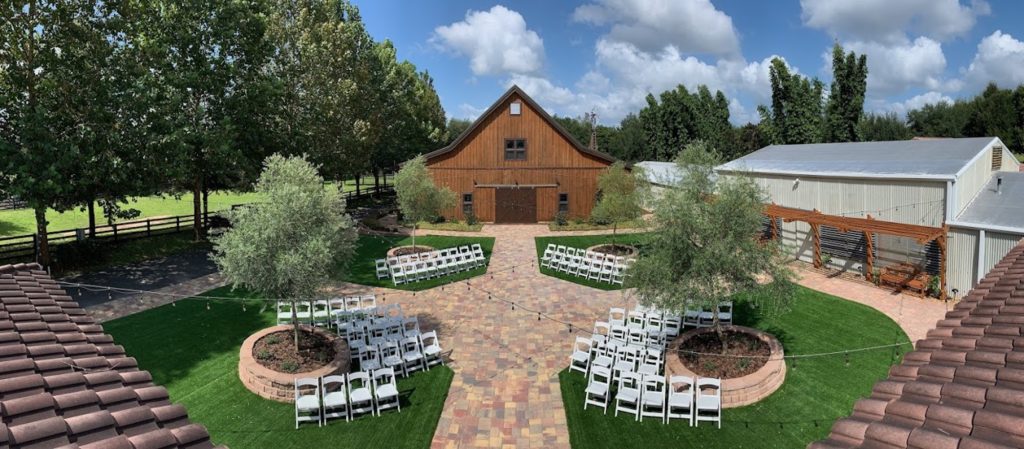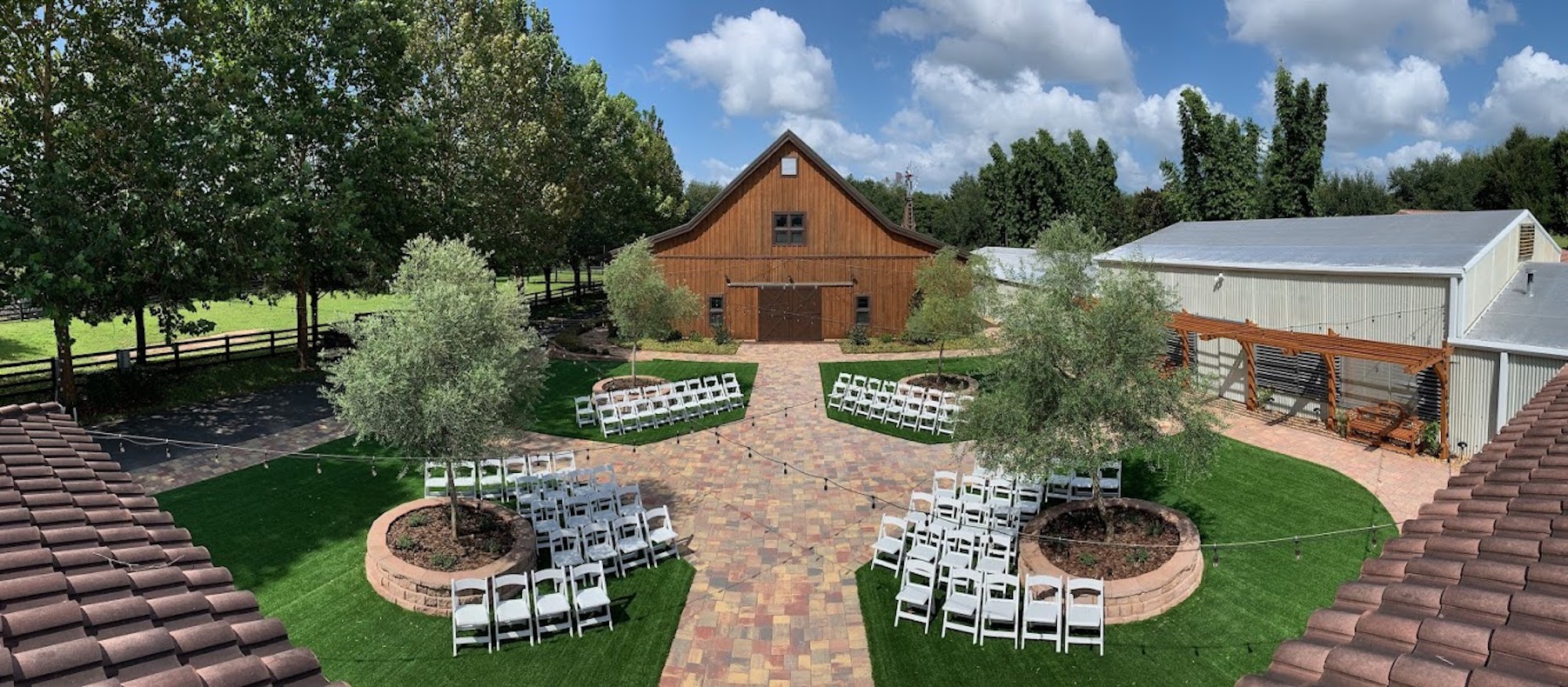 What Would Couples Be Surprised to Know About Summer Weddings in Florida?
"Florida is a summer vacation destination. People are traveling here from all over the globe. Hotel rooms will be at a premium, as will rental cars. During peak season, those beautiful beach photos you had in mind might be filled with beach chairs, umbrellas, and people in swimsuits." -Tammy Waterman, owner of Special Moments Event Planning
"Couples from northern states may be surprised to discover that Florida doesn't necessarily 'cool off' once the sun sets in the summertime. It certainly takes the edge off, but the humidity remains constant throughout the evening. If you are planning a summer wedding in Florida, I would definitely recommend having it fully indoors!" -Heather Lorenz, Event Coordinator at The Birchwood
---
---