One of the most important details to take care of before the wedding day is to procure the marriage license. Grace Felice, wedding officiant and owner of A Wedding with Grace, provides guidelines for couples getting married in Florida.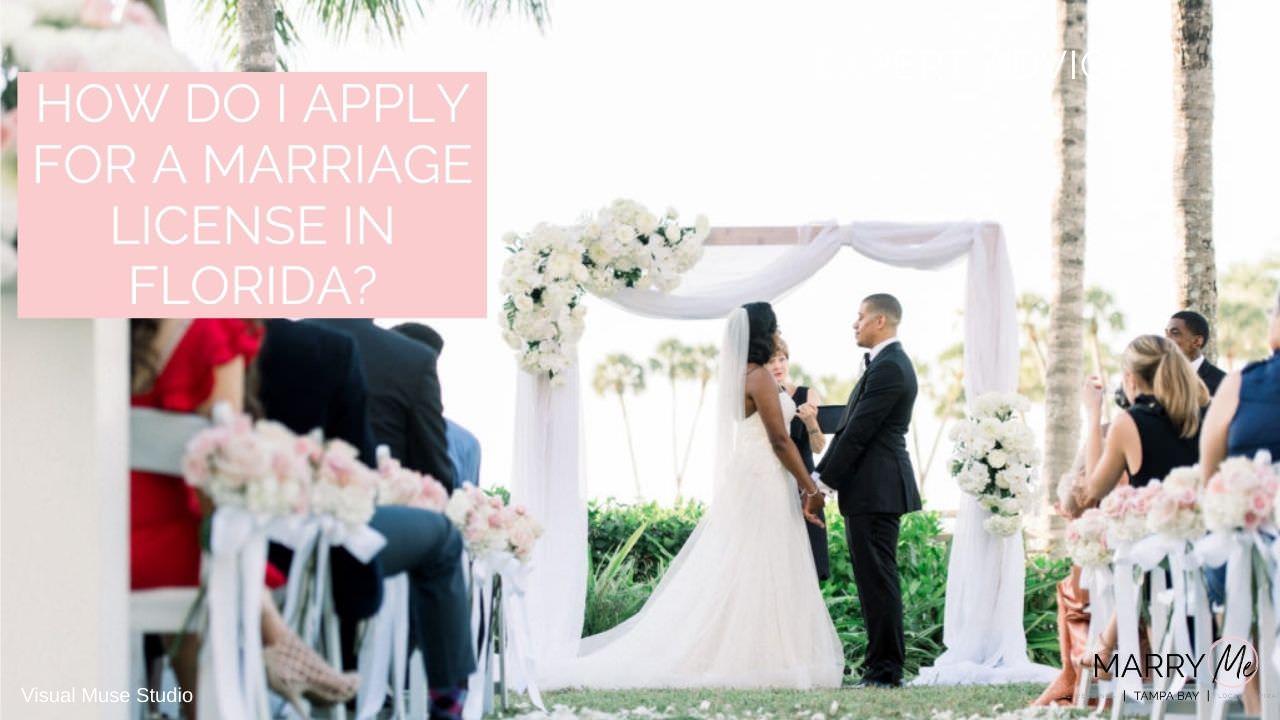 Where Can I Get a Marriage License?
The marriage license may be issued by a Clerk of the Circuit Court in any county in Florida; it does not have to be purchased in the same county in which the couple's wedding is taking place, although it must be returned to the county clerk's office at which it was purchased, once the ceremony has taken place.
Hillsborough Country Clerk of Court
Sarasota County Clerk of Court
Pinellas County Clerk of Court
What Do I Need to Get a Marriage License?
In order to apply for the license, the couple must be at least 18 years of age (with few exceptions). Some Clerks of Court allow the couple to fill out an online application; others must complete the application at the Clerk's office. Regardless of how the application is completed, the couple must pick up the license in-person and provide their Social Security numbers, along with a valid government I.D. such as a driver's license, state ID card, or passport.
International couples must provide a passport or other legal documentation. With the current COVID-19 situation, be sure to check with your local clerk of court's office as to their current hours or changes in the application process.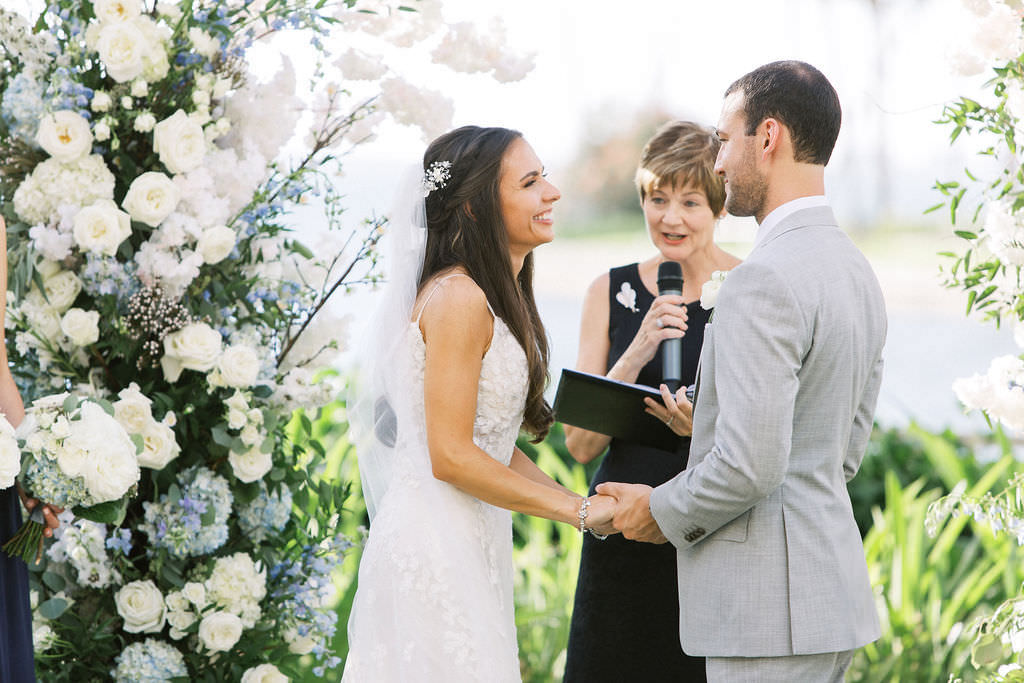 Is There a Waiting Period to Get a Marriage License?
For non-Florida residents, there is no waiting period for the marriage license to become effective. It is valid the day of purchase, and the couple may be married that very same day.
Florida residents must wait three days after the issuance of the license to be married unless they complete a premarital course, in which the waiting period is waived.
If one party is a Florida resident and the other party a non-Florida resident, the 3-day waiting period will apply.
By completing the premarital course, the fee for the marriage license will also be reduced.
NOTE: The couple's state residency is determined by the address on their photo identification cards. For example, if the couple has moved to Florida, but they have not yet changed their driver's licenses from their previous location of residence, the Clerk will issue the license based on the residency listed on their driver's licenses.
What is the Cost to Get a Marriage License?
$86.00 plus processing fees, which vary, depending on the county in which the license is purchased. Payment may be made via cash, check, or credit card.
What If I've Been Married Before?
If either party has been married previously, the date the last marriage ended must be provided to the Clerk of Court. Paperwork is not necessary; only the date is required. Witnesses are not required to sign the marriage license.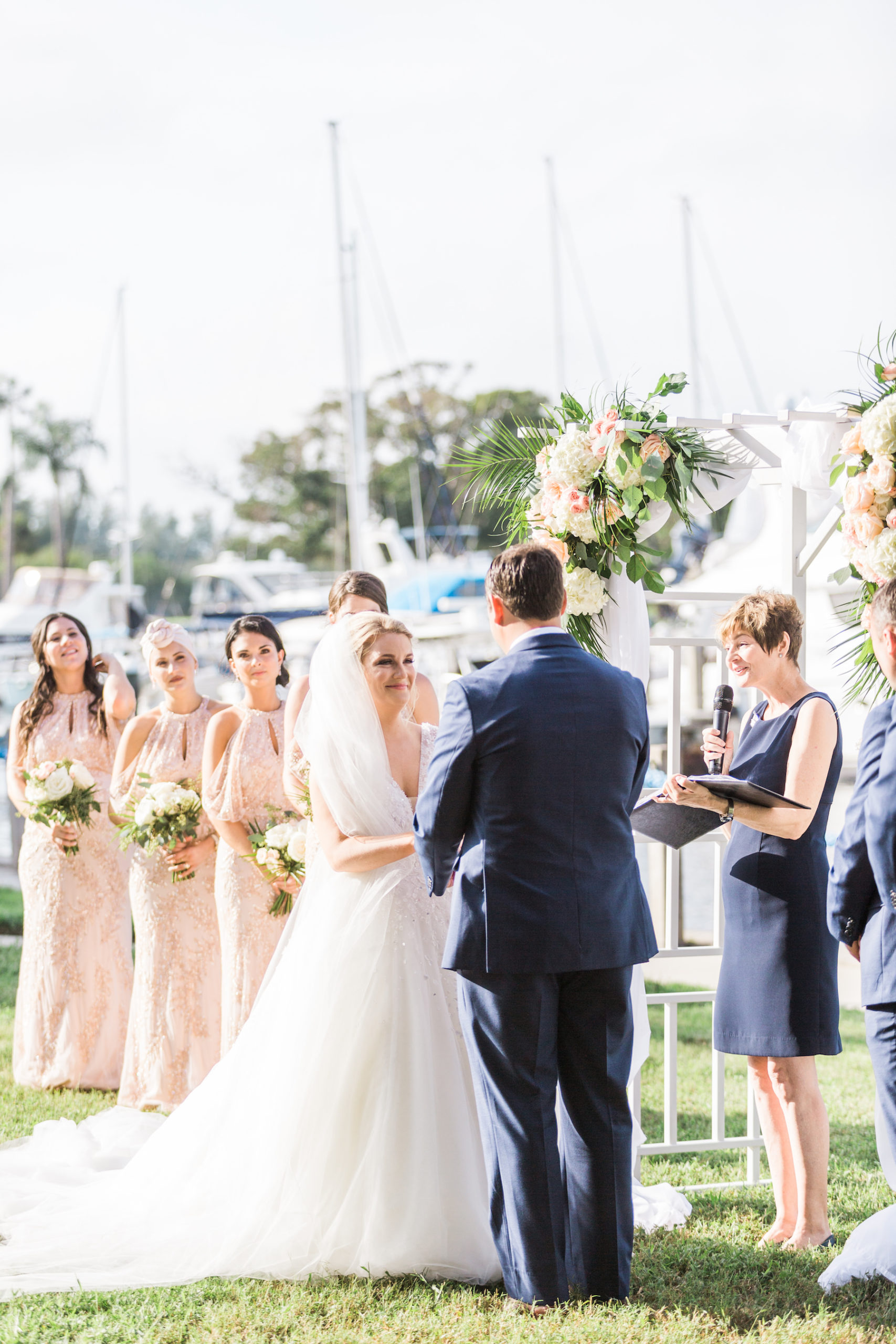 How Quickly Do I Have to Get Married After the Marriage License is Issued?
Once the license is procured, it is valid for sixty days.
The marriage license must be given to the person officiating the wedding, completed by the Officiant, then filed with the Clerk of Court's office within ten days after the couple's wedding has taken place. Once the marriage license is filed and recorded, a certified copy will be issued, and your marriage is official!
---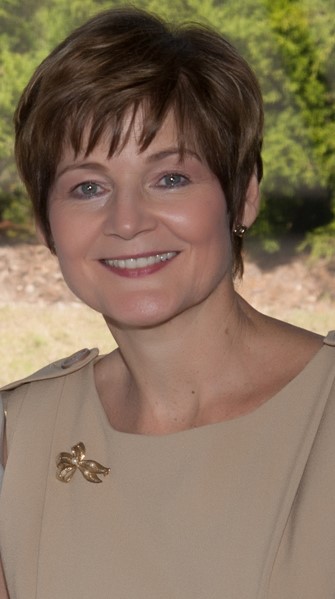 Grace Felice
A Wedding with Grace provides authentic, elegant, and artful ceremonies that speak to the heart of who you are as a couple. Your wedding ceremony is one of the most uniquely personal moments in your lives. Choosing the right officiant, one that truly connects with you and with whom you feel a partnership throughout the planning process, is essential to start your wedding celebration with the right tone – one that is joyful, inspirational, and full of love. Grace's background in creative writing, film, and literature is reflected in the beautifully articulated and exceptionally personalized ceremonies she performs.
Respectful of all faiths and philosophies, Grace is happy to incorporate prayers, ceremonies, or elements that hold meaning for you, as you begin your life together as a married couple. Love is love, and Grace respects and welcomes all couples. If your relationship and personal style are unconventional, Grace would love to learn more about the two of you, and offer unique ideas and insight into creating the perfect ceremony for you. Grace has extensive experience in conducting interfaith and intercultural ceremonies, as well, having worked with couples from all parts of the world, and will joyfully integrate customs and traditions that honor your unique heritage.
For those couples who wish to include their pets, Grace is a huge animal lover, and would be delighted to include these important family members in your wedding celebration!
Grace's sole focus on your wedding day is to celebrate YOU, and the extraordinary love that you share, with a meticulously crafted ceremony — one filled with joy, reverence, affectionate humor, and timelessness — a ceremony that will, for the two of you, forever remain a distinctive and cherished lifetime moment.
---