Mary Anna Photography is a husband and wife wedding photographer team whose light-filled work captures connection and inspires celebration for generations to come! Based in the Tampa Bay area and available in destinations across the US.
---
---
Our Wedding Style Is:
We believe that wedding photos should be timeless. Your wedding portraits are a legacy that will be cherished for a lifetime.
We love creamy skin tones and beautiful soft light. Our edit is bright and true to life. Our goal is to keep our colors true to their natural hue. We focus on clean simple backgrounds so all attention is on you. Our specialty is capturing simple beauty and real moments so that you can remember them for generations to come.
Our Personality Is:
We are happy and joyful because those are the images we love to create. Every laugh starts behind the camera. Whether it's Mary's jokes or Ben eating a dandelion to make the flower girl giggle. We don't hold back when it comes to creating joy and laughter for our clients.
---
What Inspired Us to Start Our Business is:
I have always loved wedding days. From the smell of fresh flowers to the sound of the dresses, I'm a sucker for all things wedding. Before I started my business, I was "that" friend who would always volunteer to help my newly engaged friends plan. Have you ever seen 27 dresses?! yeah, kinda like that… If you watch closely, behind my camera I'm probably tearing up just like your best friend.
---
We Love Being a Part of the Wedding Industry Because:
Stop for a moment and consider: there is no other event in your life that you will give so much for in time and effort. This is a day where you know once in a lifetime memories are being created.
Weddings are a day when food is shared and drinks flow freely. It's a day when tears come quickly and laughter lingers in every conversation… But it goes further than that. Weddings are where relationships are honored and new bonds are formed. Everyone leaves a wedding day changed forever.
We love capturing wedding day memories because we know these aren't just beautiful pictures they'll bring you back to the same joy and gladness you felt the day you were married.
---
What Makes Our Business Stand Out From Other Vendors Is:
Gorgeous photos are only the beginning of what we offer:
1. We value lasting relationships with our clients. Having a heart for genuine friendships with my clients positively impacts your portraits in many different ways. You want more than just beautiful portraits. You want someone who knows your love story and captures your real emotions. That's why we prioritize getting to know you throughout the planning process. Then when we arrive on your wedding day, it will be a relief to feel like a friend arrived and not just a hired vendor.
2. We equip our brides to craft the wedding of their dreams. Because I've photographed so many weddings, I know what will make for GOOD wedding days and what will make for GORGEOUS wedding days. That's why in addition to photography I send weekly wedding tips straight to your email. We cover everything from engagement portraits, to veil choices to exits. We even craft a custom timeline with each of our brides.
3. We capture emotion-filled, expertly posed images. One of the main reasons that our clients love their photos is because they love how they look in them. We help people feel natural and confident in front of our cameras. I teach clients how to pose for their body type and create couple interactions that look beautiful, easy, and natural on camera. I love showing clients the back of my camera in session to prove how amazing their portraits are. I have clients going from "We've never done this before" to "Wow! We should become models" by the end of their session!
---
One Thing Most Couples Would Be Surprised to Know About Us Is:
Summer of 2021 was the first time I'd ever seen the Gulf of Mexico! It's been on my bucket list for years now but something always came up. I went for the first time last summer and I am in love! I've always enjoyed the beach but after going to the Gulf I feel like I've finally found my favorite place. Please give me all the cliché wall plaques!
One of Our Non-Wedding Passions Is:
My favorite "tourist" locations are typically well off the beaten path. No crowds, no lines! Whether it's kayaking in the gulf or a natural spring, walking through a nature preserve, or watching the sunset through a veil of Spanish moss. I'm entranced with the beauty of nature all around us.
---
Our Pricing:
Our complete wedding day experience with full-day coverage is $2,800.
Many couples select a custom heirloom album for a total investment of $3,400.
---
Our Associations/Awards:
Our work has been published in places like Virginia Living Magazine, United with Love, and others but my most gratifying awards have been my brides tearing up upon seeing their wedding day photos
---
Special Offer for Marry Me Tampa Bay Readers:
Complimentary engagement session and 20% off your wedding album
---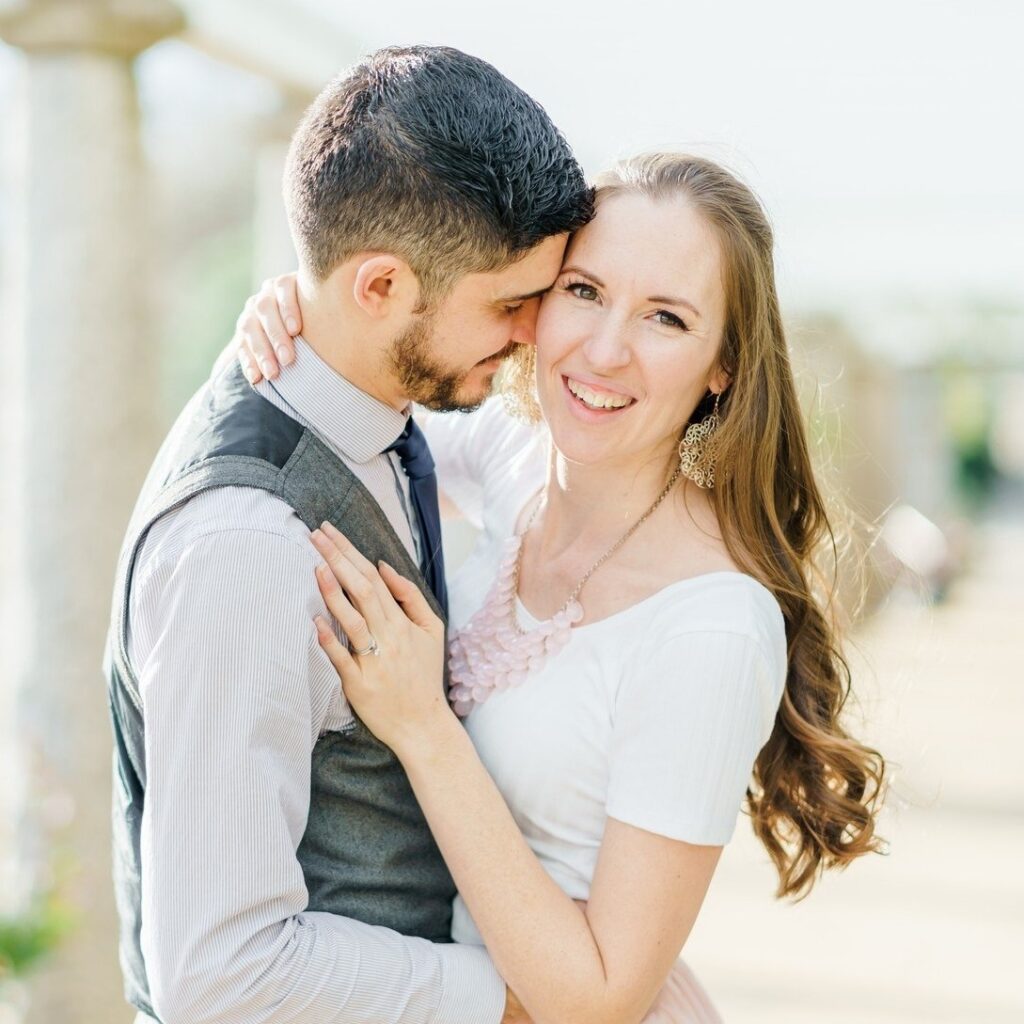 Meet Mary Anna
I married my high school sweetheart (and second shooter) right out of college. I'm so thankful to say he's still my favorite person after many years of marriage! I do photography part time and love my day job: raising four fantastic little people. Before Florida, I lived in Virginia's Shenandoah Valley, one of the prettiest places on the east coast. I spent years hiking the peaks of the Blueridge mountains and counting the days till spring buds, then apple season than the first snow. Anticipating the ever-changing beauty.
Now I'm loving the Florida sun, palm trees, and "cool" winter days. You'll always find me planning a dinner party or a day trip with friends. Wherever life takes me, I've found the most fulfillment is found in connecting with others and I feel most contented when my home is filled to the brim with guests. That's why I love being a photographer. I get to serve and connect with kind and interesting people.
---
---