I am a HUGE advocate of a hiring a Tampa Bay wedding planner.
Since most brides have never planned a large event beyond maybe a birthday party or baby shower, they don't realize the scope of what it takes to make a wedding day smooth and enjoyable.
For those brides who understand the importance of hiring a professional wedding planner (trust me, it's an investment you will not regret), they often get confused about the role and responsibilities of the venue's wedding coordinator versus hiring your own wedding planner. 
To enlighten you, I've enlisted the help of Master Wedding Planner Tammy Waterman of Special Moments to shed light on this topic.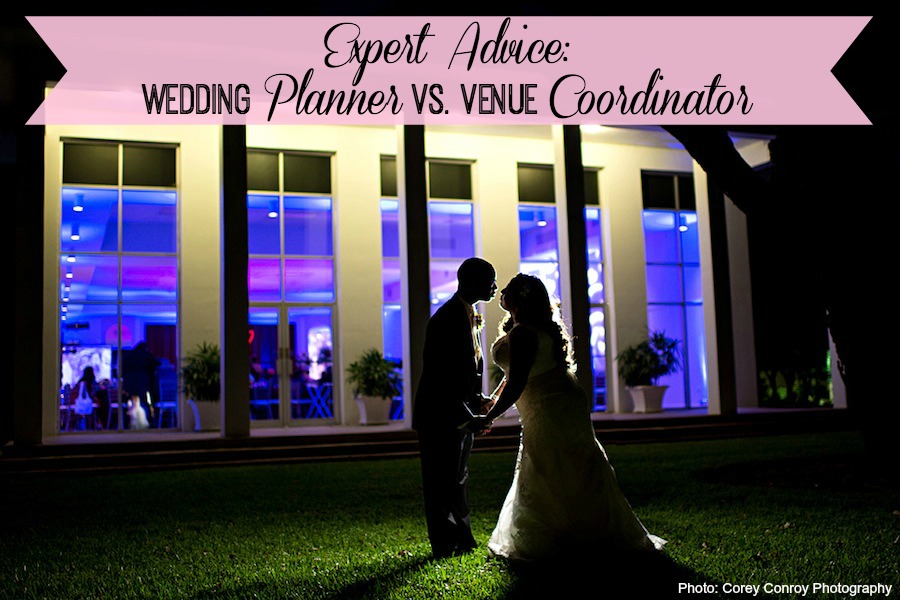 Expert Advice: Tampa Bay Wedding Planner vs. Venue Coordinator
If you're trying to decide whether or not you need a wedding planner since your venue offers an in-house coordinator, there is quite a difference between those two. There are many venue in-house coordinators who do a great job managing the venue, but it isn't their job to assist you with all the details, etiquette, time lines, etc. that go along with planning your wedding. When in doubt, just ask them what services they will be providing for you.
Here are just a few of the many things that a Tampa Bay wedding planner can help with that a venue in-house coordinator cannot:
Attend vendor meetings with you and ask the right questions
The main objective during vendors meetings is for the couple to meet with the vendor, and then decide if they are the right fit, because a wedding planner has already spoken with vendor before the couple meets them and gets the answers.
Review your vendor contracts for errors or potential problems
A wedding planner sees contracts from vendors all of the time and will check for proper times, make sure that there are no important requirements that need to be fulfilled in advance of the wedding and review and remind when final payments and information is due to each vendor.
Assist you with invitations and stationery etiquette
Part of a wedding planner's job is to assist and advice with wedding invitations and etiquette. We help couples get through who is listed, based on circumstances and family dynamics and know the correct way to handle it.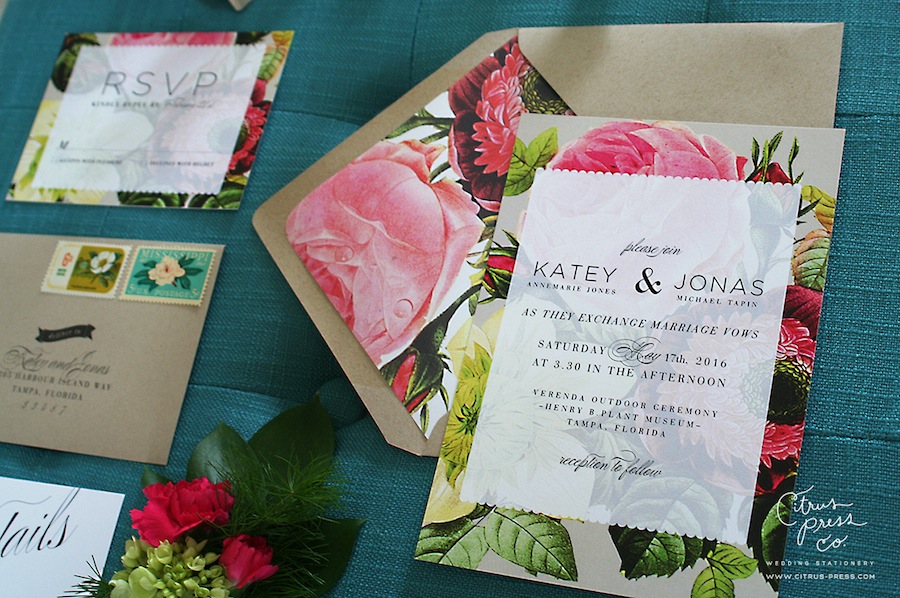 Wedding Invitation by Citrus Press Co.
Create extensive time lines
A wedding planner reaches out to all vendors and collects times needed from each vendor, discusses with your photographer the time needed to capture photos requested, makes sure sound checks are done on time and that all of your wedding party knows where and when to be on all of your wedding weekend events
Help you combine all the elements and create an overall wedding style
We are there for all aspects of the planning process, not just the actual venue area, i.e. matching you up with the right stationery, florist, dress designer etc.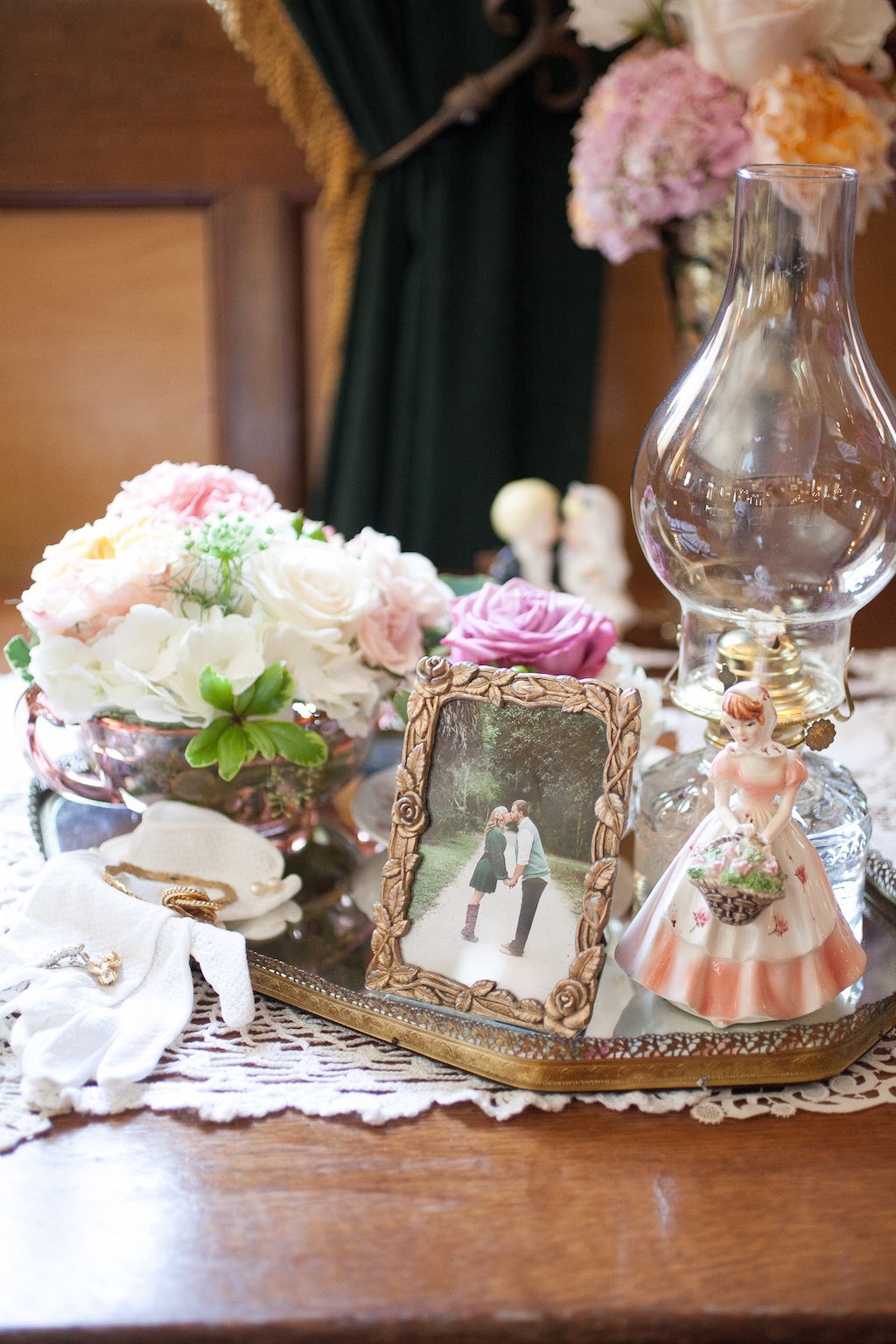 Vintage, Garden Ybor City Wedding – Don Vicente De Ybor Historic Inn | Photo: Esther Louise Photography | Planner: Special Moments
Stay in touch with your vendors and make final confirmations
We will reach out and establish an open line of communication in advance of the wedding and will know when all final important deadlines need to be met for each vendor.
Have backup reputable vendors to contact in case of a problem
Wedding planners often know if there is a potential problem in advance, because we have already researched and communicated with vendors in advance.
Attend dress fittings and learn how to bustle the dress
While it is nice to have the Maid of Honor or Mother of the Bride handle this, they usually have had a few cocktails by the time you are ready to bustle the wedding dress, so a fresh set of trained eyes can handle it quickly and efficiently. Plus, if you have no one local, your wedding planner is an independent person who can attend dress fittings and give a unbiased opinion on the cost of the alterations, and if it is out of the normal range or unnecessary.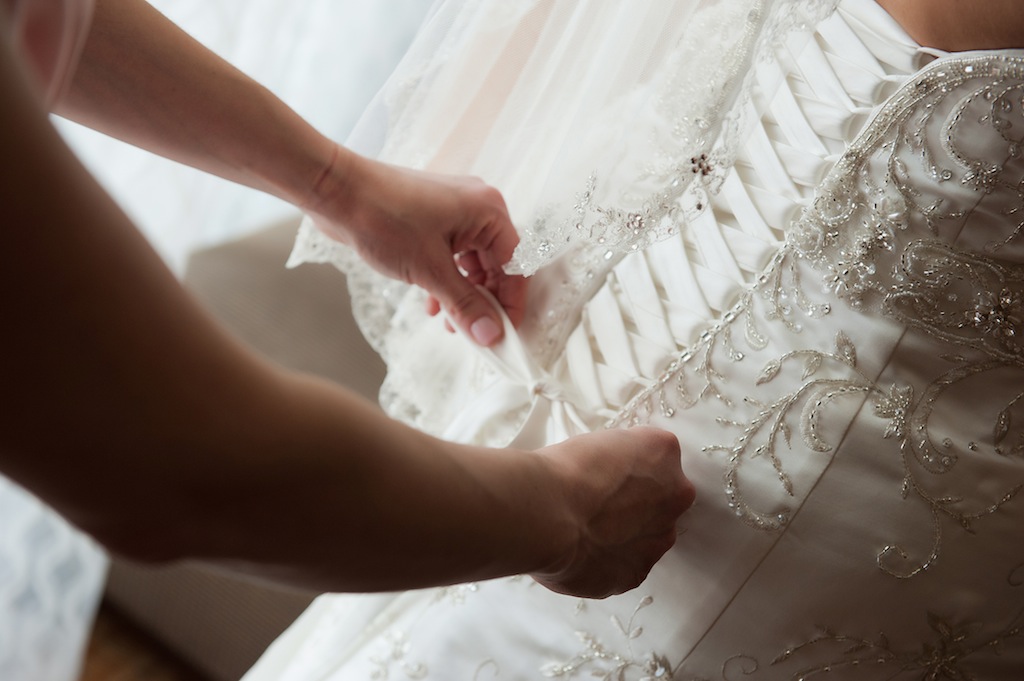 Photo: Alexi Shields Photography
Provide you with custom planning resources
The best wedding planners will work with you as if you are the only couple they have, give you the time that you need and work around your hours, versus only when the venue is open.
Ready to hire a Tampa Bay wedding planner? Discover if you need to hire a full service or "day of/month of" wedding planner!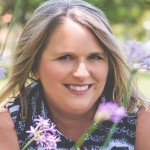 A modern day fairy godmother and all around dream-maker, Master Wedding Planner Tammy Waterman created Special Moments over ten years ago with a desire to give couples the wedding experience they deserved, complete with gorgeous details, stress-free planning, and expert management.
Tammy is a long-standing member of the Association of Bridal Consultants and as a Master Wedding Planner, holds one of the organization's top honors. She is the recipient of a Miss Dorothy Heart Award for passion in the wedding industry, and a member of the Inaugural Advisory Panel for Wedding Planner Magazine.
Tammy's favorite part of any wedding day is seeing her couple's faces when they are walking back down the aisle and considers it a privilege to be the very first to congratulate them. In her spare time, you can find Tammy hitting the dance floor with her line-dancing friends or in the great outdoors "glamping."
Website | Facebook | Twitter
Featured Weddings on Marry Me Tampa Bay