We are huge advocates of hiring a Tampa Bay wedding planner.
Since most couples have never planned a large event beyond maybe a birthday party or baby shower, they don't realize the scope of what it takes to make a wedding day smooth and enjoyable.
Those who understand the importance of hiring a professional wedding planner (trust me, it's an investment you will not regret), often get confused about the role and responsibilities of the venue's coordinator versus hiring your own wedding planner.
"If you're trying to decide whether or not you need a wedding planner since your venue offers an in-house coordinator, there is quite a difference between those two. There are many venue in-house coordinators who do a great job managing the venue, but it isn't their job to assist you with all the details, etiquette, timelines, etc. that go along with planning your wedding," Tammy Waterman, Master Wedding Planner and owner of Special Moments Event Planning explains. "When in doubt, just ask them what services they will be providing for you."
To provide advice on the roles of your wedding planner versus venue coordinator, we've enlisted our preferred wedding pros to share their insight.

---
What Are the Differences Between a Wedding Planner and a Venue Coordinator?
"Wedding planners and venue coordinators are very different but have one thing in common, they are both valuable aspects of your wedding day! Venue coordinators are individuals who work for your venue. They know the venue like the back of their hand and can answer any venue-related questions you may have. They do not, however, handle anything unrelated to the venue (i.e. contacting other vendors, developing a wedding timeline, coordinating rehearsal, etc.). Wedding planners, on the other hand, do all of the above and more! They act as your liaison for everyone in your wedding, from vendors to family members. Couples often get the two mixed up, and that is entirely understandable." -Melanie Eubanks, owner, Lemon Drops
"There is a huge difference between the two, hence the reason most venues require a wedding planner. In our case, we are an all-inclusive venue that handles furniture setup, room flips, breakdown, staffing, food, and beverage service. All of this is overseen by our events team and venue coordinators. While all of this is taking place, your wedding planner is ensuring the florist, DJ, photographer, etc. are on time, the decor is placed, hair and makeup are underway for the bride, groomsmen are in place, and most importantly, they are the one's sending you down the aisle. The venue coordinator and wedding planner come together to make the day perfect without skipping a detail, and truly, one job could not be done without the other. Both teams focus on you in a million different ways." -Bri Haverhals, Senior Sales and Event Manager, The Urban Stillhouse
"The venue coordinator is responsible for answering questions pertaining to the venue. They are in charge of the day of things going on at the venue, allowing vendors in, controlling a/c, lights, etc. They are solely responsible for the operations of the venue. Your planner is normally an outside planner who is running the show and the setup, directing vendors on setting up, making sure all vendors are running on schedule and dealing with the organization of sending the bridal party down the aisle." -Kelci Zicconi, owner, Kelci Leigh Events
"A wedding planner manages your full event through and through. We manage your budget, help with vendor selection, review all your contracts, create a detailed timeline, remain in contact with your full vendor team, and more. The venue coordinator's main focus is that the venue is prepped and ready on the day of the event. If any items are being used from the venue's inventory, they make sure their team knows what is being utilized and that it is in place the day of for the other vendors to come in and set the space. On top of inventory items, they help with anything related to food and beverage being provided through the venue." -Jessica Ralph, owner, Parties A' La Carte
"Many mistake venue coordinators for day-of coordinators or wedding planners. Typically, your venue coordinator is there to help with everything pertaining to your venue only. Their presence is to ensure everything goes smoothly with the building and what they have offered in your package. They make sure you have the correct set-up plan if they are providing tables and chairs, or even linens and decor. They help with direction, whether that be for your vendors who are loading in or your guests who are trying to find parking and the main entrance. Your venue coordinator is there on the day of the event for safety reasons as well. Whether that be to oversee the bar and catering staff that they are in the guideline of venue protocol, or monitoring the guests' actions to make sure no one is touching what they shouldn't, or entering a room that is off boundaries. Most of the time, if your venue coordinator is present for the full duration of your rental period, they have a lot on their plate and don't necessarily have the time or ability to do what your planner is there for." -Amanda Lewandoski, Venue Manager, The Venue at The Block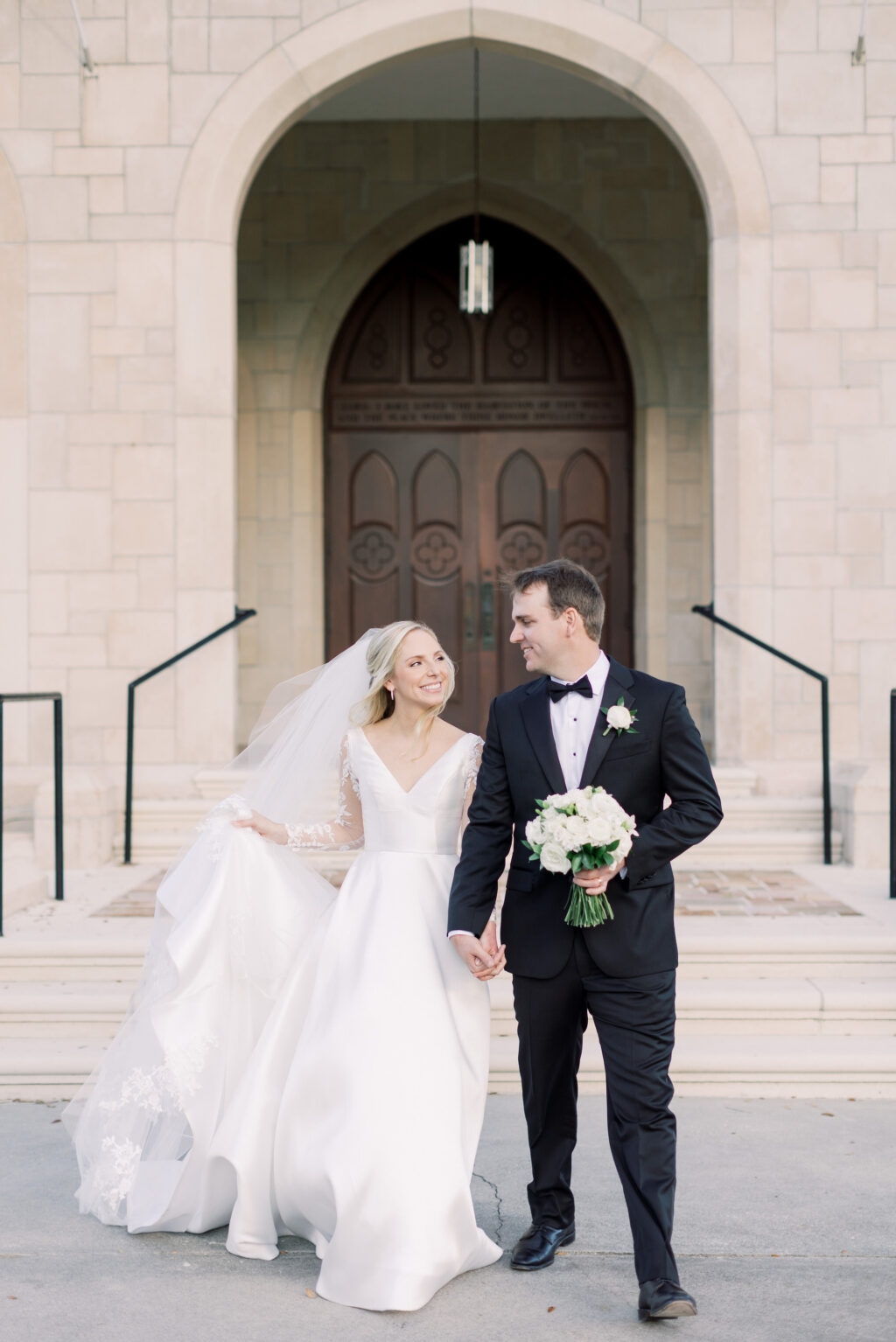 Luxurious, Pink, Southern, Tented Clearwater Wedding | Photography by Avery | Parties A' La Carte
"As someone who has been on both sides, being a previous venue coordinator and now a wedding planner, I can tell you there is a huge difference! In simple terms, a venue coordinator is there to make sure everything goes well from a venue standpoint, and your wedding planner is there for you. A venue coordinator will make sure your space is set up as expected, any internal items are handled, and they stick around to make sure someone is present to troubleshoot any venue-related items like the lights, a/c, and AV technology. Your wedding planner takes care of all the rest! Your wedding planner will create a timeline that goes beyond just your wedding festivities as their main focus is to ensure your wedding day is stress-free from the moment you wake up." -Stephany Perry, Stephany Perry Events
"The easiest way to explain the difference between your venue coordinator and wedding planner is the responsibilities. As a venue coordinator, I am helping with everything on the venue side, this includes food, beverage, floor plan, linens, meal service, etc., whereas your wedding planner will help create your wedding timeline, manage contracted vendors, conduct the ceremony coordination, assist with setup and breakdown items, all while keeping the happy couple on schedule as well. Ultimately we both have the same end goal, wanting each and every couple to have the absolute perfect day, so we work together to make sure every moving part goes off without a hitch!" -Grace Summa, The Birchwood
"The difference between the two is the venue coordinator is responsible for the venue and anything the venue is providing for the event such as tables and chairs and catering if it's included with the venue. They are not going to be involved in designing the wedding, booking your vendors, and coordinating all the moving parts of a wedding." -Karen Cerboni, EventFull Weddings
"A venue coordinator contracts your food and beverage minimums and helps with your menu. They send a preferred vendor list for you to reach out and book. They set up the wedding rehearsal but don't always run it. Your venue coordinator is available for the ceremony and some of your reception, but they don't fully set up and break down and will do a timeline for the reception only. They stay to make sure dinner is served and then leave for the evening." -Jillian Bartosiak, Perfecting the Plan
"An 'on-site' planner is another person specifically tasked with making sure the ceremony itself runs smooth and transitions to the reception or post-ceremony functions flawlessly. This is essentially the person that coordinates all the vendors (Officiant, Photographer, Live Music, etc), helps with parking next to the beach, and assists the bride/bridal party/groomsmen with some last-minute advice and organization to keep the ceremony timely." -Brandon Wheeler, owner, Gulf Beach Weddings
---
What Does a Wedding Planner Do That a Venue Coordinator Does Not?
"A wedding planner will attend vendor meetings with you and ask the right questions. They review your vendor contracts for errors or potential problems and will check for proper times, make sure that there are no important requirements that need to be fulfilled in advance of the wedding, and remind you when final payments and information are due to each vendor. We create extensive timelines by reaching out to all vendors and collecting times needed from each vendor, discussing with your photographer the time needed to capture the photos requested, making sure sound checks are done on time and that all of your wedding party knows where and when to be on all of your wedding weekend events. Planners have reputable backup vendors to contact in case of a problem and often know if there is a potential problem in advance because we have already researched and communicated with vendors in advance. We can also assist you with invitations and stationery etiquette. The best wedding planners will work with you as if you are the only couple they have, give you the time that you need, and work around your hours, versus only when the venue is open." -Tammy Waterman, owner, Special Moments Event Planning
"There are many responsibilities that wedding planner has in their job description. Overall, overseeing and managing the planning process is the main focus. We begin by making an initial budget so we can stay in line with the client's vision in relation to their overall wedding budget. Once the budget is approved, we then begin reaching out to vendors and presenting these options to our couples for them to make a final decision. Once the decision is made, we review all contracts and make sure that everything looks right before signing. Once we are closer to the date, we create a master timeline and verify that all vendors are aware of the full day of run down. We are the first on-site on the wedding day and the last to leave. This ensures everything is set correctly as well as all items are taken down at the end of the night, leaving the venue the way it was when we started." -Jessica Ralph, Parties A' La Carte
"When you hire a wedding planner, they will handle the entire day for you from start to finish and make your day stress-free! Not only do they arrange a timeline for the day, but they will set up all your decor, coordinate and make sure all your vendors arrive on time and be there the whole night to ensure everything goes smoothly! As amazing as venue coordinators are, they are just not responsible for all these duties. The venue coordinator is there as a point of contact for the venue and to make sure everything is logistically set up correctly on the venue's end. Hiring a wedding planner is one of the most beneficial things you can do for your wedding!" -Amanda Derby, Events Director, Florida Avenue Brewing Company
"A planner will assist with design elements for your wedding day. They will double-check that you have all of those small details done and finalized. They will make your timeline and layouts. They will reach out to vendors and help with the booking of outside vendors. Your planner will be with you from the time you book all the way until they put you in your getaway car!" -Kelci Zicconi, owner, Kelci Leigh Events
"The list is endless. A planner, unlike a venue coordinator, will help the couple with all aspects of the wedding, not just the venue. We assist with the sourcing of all vendors, have direct communications with those vendors, and help couples make the numerous decisions that go into planning and executing a wedding. If you want expert help and you don't want to worry about any of the details on your wedding day, then the bottom line is you need a planner." -Karen Cerboni, EventFull Weddings
"Unless your venue package includes full-service wedding planning and execution, here are some things a venue coordinator is not expected to do, and what you need to hire a planner for: coordinating details and important information with all of your vendors, Lining up the wedding party and carrying out the processional, cleaning up the decor and putting everything away in boxes (This one is important!), running your rehearsal, creating a detailed schedule, and the list goes on. Take a moment when booking your venue to ask what the coordinator and their staff provides; ask so many questions! They are there to help, and also want your day to go smoothly." -Amanda Lewandoski, Venue Manager, The Venue at The Block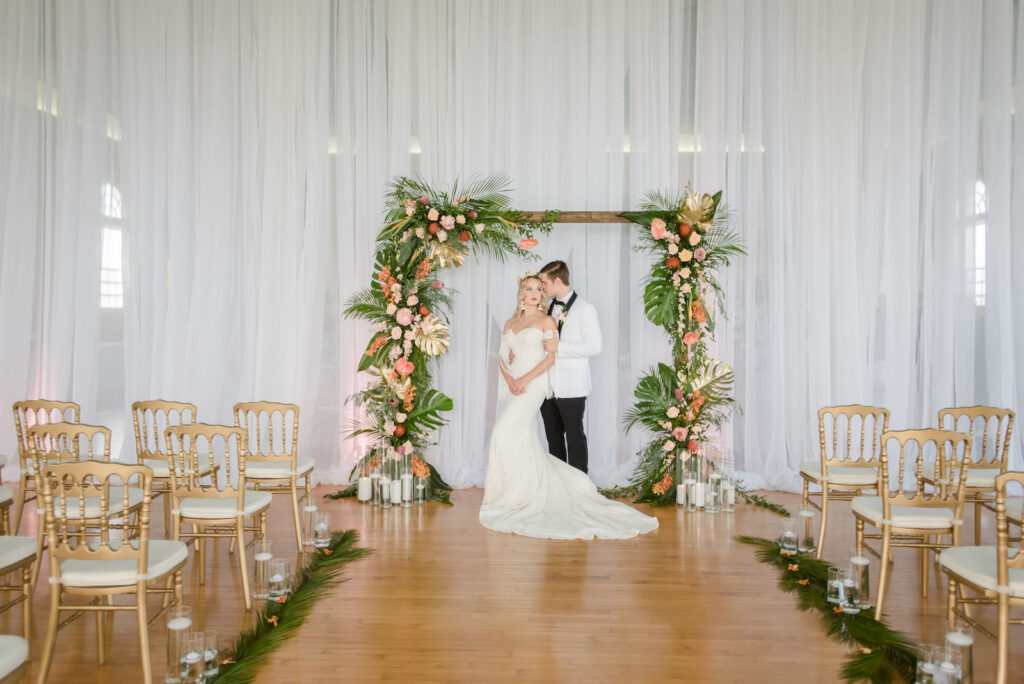 Modern, Tropical Ybor City Wedding | Amanda Zabrocki Photography | Eventfull Weddings
"We make sure that everyone is showing up on time, setting up according to the floor plan, and answering any and all the questions that come up on a wedding day. We are normally asked for our opinion on where things should be placed and always come up with plans when things go wrong. We are the voice of the couple, whereas a venue coordinator does not make these decisions. We are also there to make sure that the couple gets down the aisle on time, that everyone is cued for toasts or dances, that your vendors are being fed at appropriate times, and make sure everyone is on the same page the entire wedding day. Lastly, we also work with the couple at least a month before and sometimes a year before, depending on the package they choose. We do your timeline, confirm your vendors, run your rehearsal, and know so much about your wedding day beforehand." -Delaney Driver, owner, WilderMind Events
"Wedding planners are there throughout the entire planning process as an advocate for the couple, assisting with a budget, vendor referrals, design guidance, and advice. Your wedding planner has chatted with you and your vendors about what you imagined for your special day as well as how you would like everything set up to make for a seamless day." – Lauren Gertz, owner, MDP Events
"Before the wedding day, planners help book the venue, help with a budget, and help you actually stick to it. We help to negotiate with the vendors to ensure you are getting the best pricing, help book the vendors and transportation, and are present at all vendor meetings. We organize the vendors' timelines from the beginning of the day until the end of the day, run the rehearsal, and book and organize the rehearsal dinner. On the day of the wedding, we set up the ceremony and reception, including assembling escort cards and charts, and stay throughout the entire wedding to ensure all is running smoothly. We make sure the couple's items are safe and returned to their hotel room the night of the wedding (including the gifts and cards) and clean up the venue in the evening. Planners assist with gift bags/favors for guests, deliver welcome bags to venues, and return tux and rental items the day after the wedding." -Jillian Bartosiak, owner, Perfecting the Plan
"A wedding planner is with you from the beginning helping sort all of the beach locations, vendor options, lodging, and logistics/pricing through the ceremony and beyond. Whereas a venue coordinator and/or 'On Site' coordinator is someone that is specific to the ceremony or day-of coordination. The 'on site' planner is another person specifically tasked with making sure the ceremony itself runs smoothly and transitions to the reception or post-ceremony functions flawlessly." -Brandon Wheeler, Owner, Gulf Beach Weddings
---
Since We Have A Venue Coordinator, Do I Need a Planner?
"A professional wedding planner looks at the big picture. We work with the couple to break down their entire wedding budget based on their preferences and needs. The venue, catering, and rooms may be part of that, but it extends to more than a dozen planning areas. Too many times, a venue coordinator makes referrals to other vendors based on their experiences with them on-site. Venue coordinators don't take the time to look at vendors who fit the couple's budget or personality as most are swamped with the volume of clients and don't have the time or resources to research the best vendors for each couple's needs. Additionally, if your wedding ceremony isn't at the venue, it usually doesn't involve the venue coordinator. The same is likely to apply to getting ready or room blocks; the venue coordinator only handles what happens at their location. A lot of essential services and moving parts of a wedding day can happen before you arrive at the wedding venue, and a professional wedding planner is there to oversee those pieces." -Tammy Waterman, owner, Special Moments Event Planning
"The venue is solely responsible for the venue itself and the small number of extras they provide (if they provide anything extra at all!) The list could vary with every venue you work at. The venue is not involved in booking outside vendors, most of the time information is missing and details get mixed up, the right questions are not being asked, which leaves room for things to get messed up, and certain important details may not make sense the day of, i.e. linen sizes, table sizes, electrical outlets, and weather factors." -Kelci Zicconi, owner, Kelci Leigh Events
"Wedding planners are a constant support system and organize all timing for the logistics as well as the vendor deliveries, set-ups, and breakdowns! Lots of times, the couple brings all of their personal items like framed photos, signage, cake knife and server, guest book, printed materials, and day of customized items but their family or wedding party has to set it up themselves. This is when a wedding planner would come in to manage all of these details. With MDP Events, we typically will collect these items the day before at the rehearsal to make sure the couple doesn't have to worry about anything at all on the day of!" -Lauren Gertz, owner, MDP Events
"I used to offer my services to handle those wedding planning details, but once I realized it was impossible to oversee the ceremony seating or table setup because I was too busy in the bridal suite, that's when it clicked. I've required a wedding planner at my venue ever since. The best advice I can give: do not cheap out on your wedding planner or your venue (good venues come with a good team); they will handle and 100% dedicate themselves to the things you thought you could handle yourself. You (or your mom, or your best friend) could be the most organized and detail-oriented person you know, but I promise, your coordinators need to be far from affiliated with the wedding party. Let two professional teams divide and conquer the nitty-gritty, while you enjoy the best day of your life!" -Bri Haverhals, Senior Sales and Event Manager, The Urban Stillhouse
"Having a planner is a huge help during a wedding! Not only do they help on the day, but planners are your main contact for vendors. As a photographer, it is important for me to know the timeline and plan for the day. Many times when there is no planner, that task gets placed on me. This is tough because although I have enough wedding experience to create a general timeline, it takes away from my job (capturing beautiful images of the day). When I have to wrangle guests for group photos and make sure that the entire group is sticking with the timeline, it cuts into time actually taking pictures." -Joy Hmielewski, owner, Joyelan Photography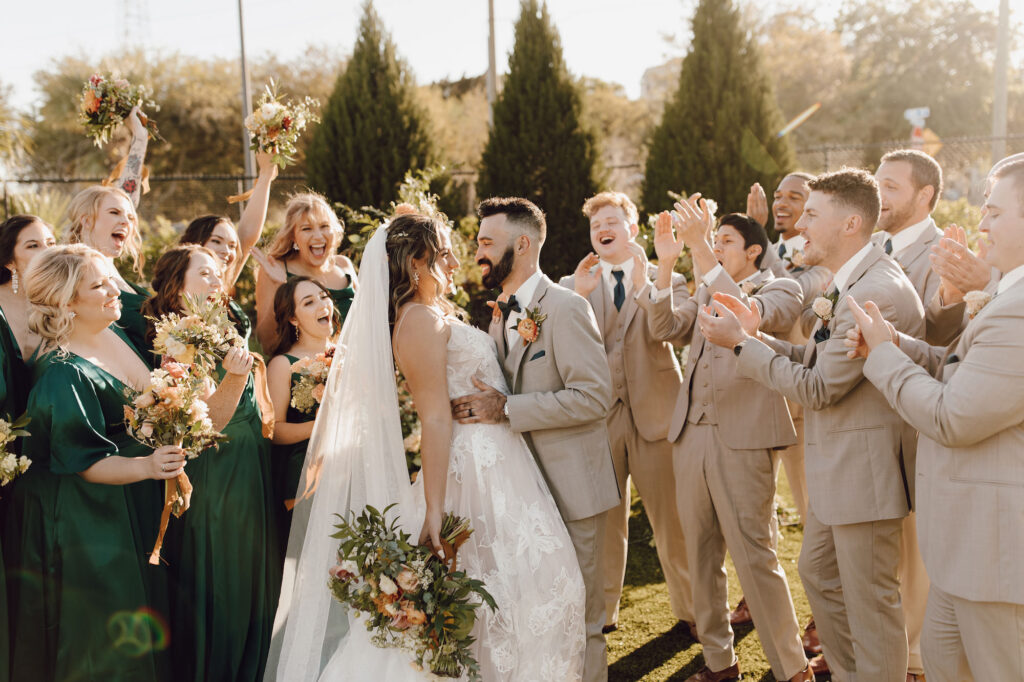 Whimsical Jewel-Toned Dade City Wedding | Venue at the Block | Special Moments Event Planning | Coronado Photo + Film
---
Your Venue Coordinator May Leave Before the Wedding is Over
"If you only have a venue coordinator, there is a high likelihood no one will be running the wedding once the ceremony is over. Once dinner is served, venue coordinators usually leave the wedding, and the wedding is handed over to the banquet manager. Wedding planners are there from start to finish, ready and able to handle all the details and issues that will appear throughout the process." -Melanie Eubanks, owner, Lemon Drops
"Venue coordinators are there to ensure that the venue is running smoothly. If it's at a venue that provides catering/bar service, then they are also overseeing this. They are there to unlock the buildings, make sure the tables and chairs are set up (if they provide this), and make sure the kitchen is running smoothly for dinner. A lot of venue coordinators will leave once the dinner service is over. A wedding planner is there from start to finish on the wedding day. We arrive when the first vendor walks through the door, and we are there until the end of the night when the last vendor leaves." -Delaney Driver, owner, WilderMind Events
---
Your Venue Coordinator Could Change During Planning…Multiple Times
"Unfortunately, as many couples saw during COVID-19, venues furloughed many of their employees. This left couples with no one to answer their questions, or couples were shifted to someone who knew nothing about their wedding. Professional wedding planners are there to advocate for our clients and help them navigate the issues they encounter. Many venues are still running short-staffed or have people covering roles they are not completely familiar with. In general, a wedding venue can change coordinators multiple times over the time a couple is planning their wedding. Unless all of the details discussed with each coordinator make it into the couple's permanent file, they don't get passed on. Working with a professional wedding planner ensures that all the details get followed up on whether they are from a venue or any of the dozen wedding vendors the couple will work with." -Tammy Waterman, owner, Special Moments Event Planning
"Venues have a high turnover rate; your venue coordinator could change once or multiple times during your wedding process. Your wedding coordinator that you specifically hired is here to stay through thick and thin; we won't leave your side." -Melanie Eubanks, owner, Lemon Drops
---
---