We are a mother and daughter team passionate about planning all types of wedding-related events.
Our focus is on delivering exceptional quality service and providing our couples with a luxury experience at an affordable price. By limiting the number of weddings we accept, we are able to provide our clients with a very personalized, hands-on experience based on their schedules and specific needs.
---
---
What We Offer:
Wedding design, planning and coordination.
---
Our Wedding Style Is:
I would best describe our style as luxurious fun. We strive to make every step of planning a mini-event that makes our clients feel special and something they will reflect on with fond memories as much as their wedding day.
Our Personality Is:
I would best describe us as fun-loving Type A personalities with a passion for parties.
---
What Inspired Us to Start Our Business is:
Our inspiration is derived from our passion for entertaining friends and family in beautiful environments. We believe there really isn't anything better than bringing people together to celebrate with good food, fun, and of course a little bubbly!
---
We Love Being a Part of the Wedding Industry Because:
We love planning weddings because there really isn't anything more special than coming together with friends and family to share an evening of good food and fun in a magical environment.
---
What Makes Our Business Stand Out From Other Vendors Is:
Our business is unique to others because we are focused on providing a more exclusive boutique planning experience to our clients. We do not limit the number of meetings, calls, emails, or hours spent at the event and we cater to our clients' schedules by meeting at locations and times that are convenient to their busy schedules.
---
One Thing Most Couples Would Be Surprised to Know About Us Is:
I am obsessed with British history films.
One of Our Non-Wedding Passions Is:
I love traveling to other countries and try to take at least one trip each year.
---
Our Pricing:
Partial Planning beginning at $3,000.00
Full Planning beginning at $4,000.00
Day of Coordination beginning at $1,500.00
Wedding Related Events are custom priced with an average investment of $500.00
---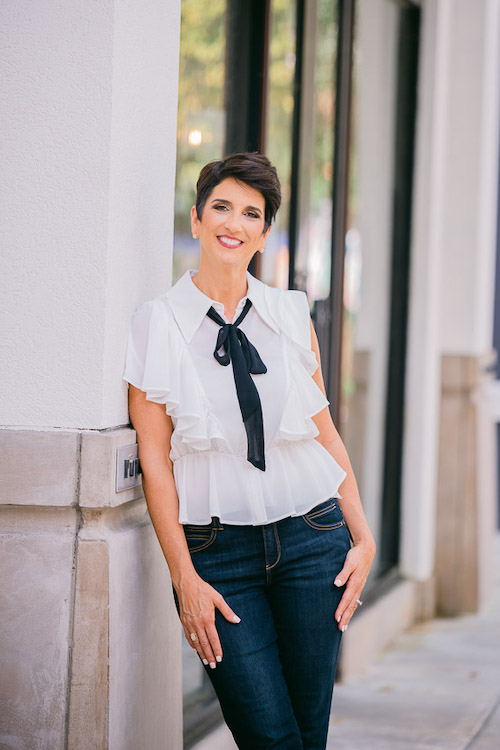 Meet Karen
I am one of the few people you will find born and raised in Tampa. I have thirty-three years in corporate America which has prepared me for running my own business and managing the details of planning weddings. I'm married to a wonderful man I met on a train in Chicago while on a girls' trip. We have one daughter, a son-in-law, and a grand-dog named Franklin we spoil ridiculously.
When I'm not working, I'm most likely spending time with my family, decorating or redecorating our 100-year-old bungalow home or Shelby's house, and if you are ever looking for me you should probably check Home Goods or the dog park. My husband and I love traveling, dining out, going to the movies, running on Bayshore, and enjoying our vibrant Downtown Tampa and Hyde Park Village.
---
---
As Seen on Marry Me Tampa Bay