Adore Bridal is an elite hair and makeup team that brings hair and makeup services to you and your bridal party on-site for your convenience. Our mission is to provide exceptional service and unwavering support, with a commitment to the promised schedule. We take pride in our punctuality and ability to ensure bridal parties are ready at the requested time. We partner with each bride's vendors making for a smooth and seamless day-of experience for brides. We cherish the time with our bride and her party during the most intimate moments before the vows are said, and are passionate about making this part of the bride's special day one to remember.
Website | Facebook | Instagram
Our Wedding Hair and Makeup Style Is:
Our hair and makeup style is limitless – we love creating looks tailored to what the bride envisions. We are known for natural glam and create timeless and effortless looks.
Our Personality Is:
We bring a calming energy and a level of comfort where you can let your guard down. Our team is warm, friendly, and has a great sense of humor (so we think!). We are there to laugh with you and have been known to shed a few tears with you before you walk down the aisle.
We Love Providing Wedding Beauty Services Because:
When you get to do what you truly love it's no longer an occupation – it's a passion, and it is our passion. Some may think we have a problem; we truly eat, sleep, and breathe bridal beauty. Our passion for our work is fueled by the reaction we receive when we hand our brides the mirror to reveal their final look before walking down the aisle. It's about the memories we get the opportunity to be part of while getting you and your girls ready on the biggest day of your life. That type of experience is what makes this the best job ever and we feel so blessed to call this a career.
What Makes our Business Standout from Other Hair/Makeup Artists is:
There are three Company Quality Standards that we promise to uphold: All of our makeup artists and hairstylists are certified and practice proper sanitation procedures. All of our makeup artists use Temptu Airbrush Makeup (see our website to learn why). We never double book our stylists. Our focus is solely on YOU! By combining these standards with our elite team of MUAs and hairstylists we will have you and your entire party looking and feeling fabulous on your big day!
Our Pricing:
While we understand there are less expensive vendors out there, we feel our high-class work and the experience we create are priced at a competitive value. All of our artists are licensed professionals with decades of combined experience. Our makeup artists only use Temptu, the highest quality airbrush makeup available on the market. Temptu is hypoallergenic, vegan, and proven to be great for all skin types. We also bring a "white glove" outreach service to you and your vendors throughout the planning process to ensure our hair and makeup schedule accommodates your overall timeline. These are just a few of the ways we go above and beyond to guarantee our clients the exceptional service they're paying for. We have A La Carte Pricing and Packages available to accommodate bridal parties of all sizes. Our trials are hosted at Hyde House in Hyde Park Village and start at $300. We would love to pop some bubbly for you while we create the hair and makeup look of your dreams!
Our Associations:
Published: Southern Bride Magazine Summer 2020 Edition
Featured: Tacari Weddings and Strictly Weddings
Awards: Wedding Wire Couples' Choice Award 2020, Best of the Bay Nominee 2019
---
---
Adore Bridal Reviews From Marry Me Tampa Bay Couples: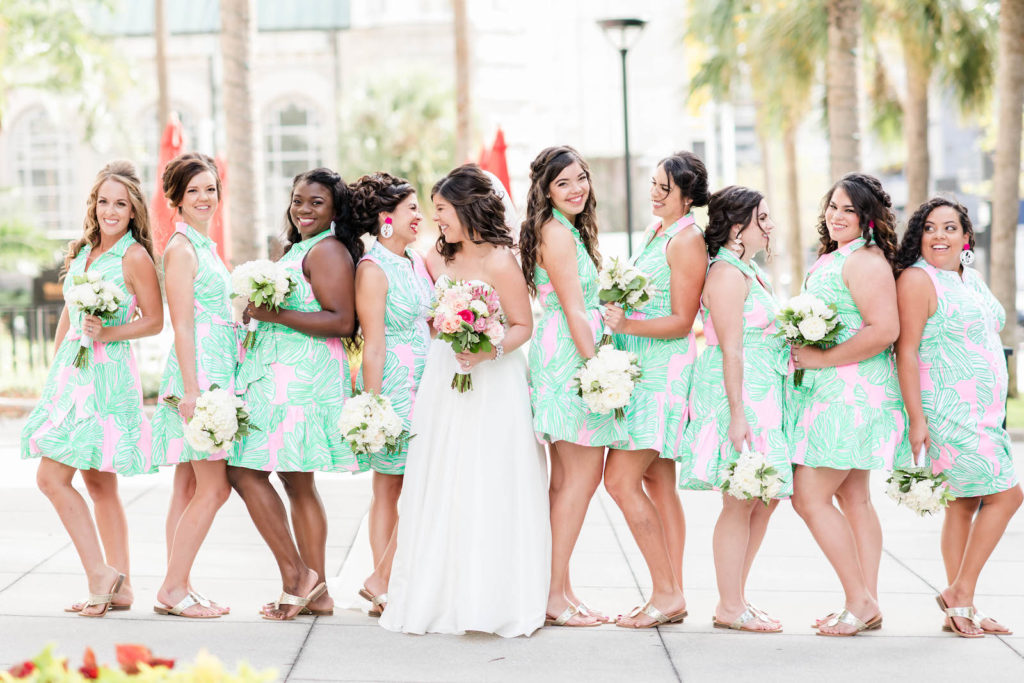 Pink and Orange Citrus Florida Inspired Wedding | Tampa River Center
"It was really important to me to look like myself on my wedding day, just a really glam version. I love that Adore Bridal also believes in that philosophy too! Their style is classic, timeless, and chic which was exactly what I was looking for!" the bride beamed. "You spend so much time with your hair and makeup team, and I wanted to make sure we clicked. The Adore team was really so much fun to be with! They brought music that kept us pumped all morning, were so kind and friendly, and just felt like an extension of my bridal party." -Gentry and Rob
---
---
---
As Seen on Marry Me Tampa Bay