Setting a budget for your Tampa Bay wedding day might be one of the biggest decisions that you will have to make before your planning even begins. Your budget sets the tone and pace for how you will take action on selecting not only your venue but the rest of your vendor team.
With budgets and finances being a delicate issue to discuss with your partner or someone who is contributing to the wedding fund, we asked our team of area wedding experts to share their insight and top tips when it comes to setting your budget for your wedding day.

1. Determine Your Wedding Style
Brandon Wheeler, owner of Gulf Beach Weddings shares:
Start by thinking about the type of wedding you want to have. This means location (i.e. beach), number of guests, the formality level of the wedding, etc. Once you and your fiancé have agreed on most of these elements, it's time to research and figure out the approximate cost of everything. It is impossible to create a wedding budget without first knowing the estimated cost of the elements you want for your wedding day. For example, you don't want to create a budget of $1,000 for an open bar only to find out that an open bar tab at your venue actually costs $3,000.
Once you've figured out the actual prices of the things you'd like to have at your wedding, sit down and figure out what you can actually afford. This is also the perfect time to have the dreaded talk with any other people that are going to be contributing to your wedding (i.e. parents).
2. Consider Hiring a Wedding Planner
Riley Gersch, owner and wedding planner of Elegant Affairs by Design offers the following insight:
Did you know that wedding planners can actually save you money? Planning a wedding can be extremely stressful and expensive! Although planners may be perceived as a luxury vendor, it is also important to understand that planners can be a critical part of managing a wedding budget. We help our couples by negotiating volume discounts, avoiding contract nightmares, utilizing preferred wedding vendors and most importantly, freeing up your time, because time equals money.
Most of my clients have full-time jobs or are recent graduate students. A wedding is a complicated event with a lot of moving parts that need to be planned months in advance. Not everyone has the time to research, communicate, interview, and hire wedding professionals. Our mission is to make the entire wedding process seamless and easy, so you can sit back and enjoy your special day.
When deciding if you want to hire a wedding planner, it is important to know wedding planning is not a one size fits all service. Your wedding vision is unique and a wedding planner will customize their services to fit your needs. Most couples can expect to spend an average of $1,000-$2,500 on wedding planner services.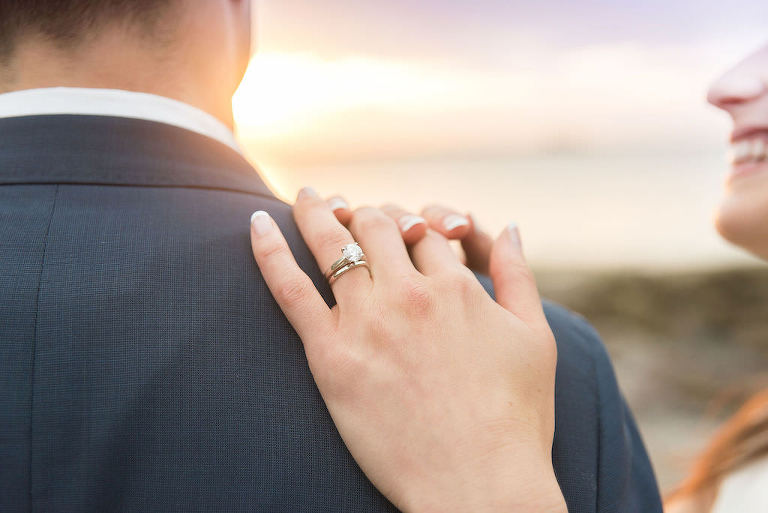 3. Think About What's Most Important
John Campbell, owner of John Campbell Weddings explains:
Budget with your personal priorities in mind. Make a list of anticipated expenses (catering, entertainment, etc.) and rank them from most to least important. If you know having an incredible band is more important than décor, you might take some of your floral budget and add it to your entertainment category.
Brandon Wheeler, owner of Gulf Beach Weddings agrees:
Think about the items that are the most important to you (i.e. band/DJ, catering, the photographer, the wedding dress) and decide what percentage of your total funds you'd like to spend on those things. This will help you be a little more flexible with your budget since you'll be okay with spending a little outside of your budget on the things you prioritize while going under budget (or doing without) things that don't matter as much to you. Adjust your budget numbers to reflect your priorities.
Your turn: Sit down with your spouse and separately write down 2-3 items that are most important to both of you. Compare your two lists and figure out how you can combine them. Also, write down the 2-3 items you can both go without (i.e. rose petal aisle way).
Kemari Ihlenfeldt, Owner & Lead Videographer of Kemari Lyn Films adds:
Always make sure you budget for your videographer and photographer around the same time and far in advance, (typically booked 8-18+ months out). If you think you'll have room in your budget later for a videographer, chances are you won't have anything left to spend if you wait. You should budget in the same ballpark as your photographer for your videographer, which averages between $3,000-$6,500+ each. Especially for your videographer and photographer, you don't want to have to settle because of a lack of proper budgeting. These are the only things from your wedding day that will last and capturing quality images of those generational memories is so important!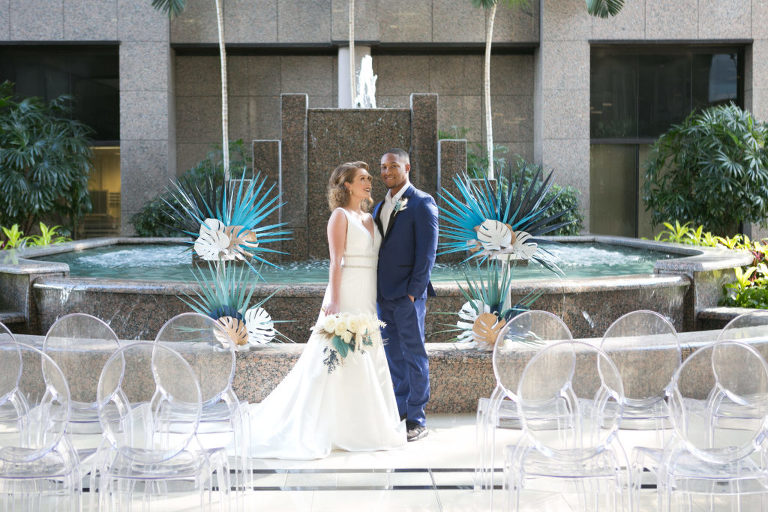 John Campbell Weddings | Carrie Wildes Photography | Centre Club
4. Figure Out How Much You Want to Spend
Katy Turchich, owner of Coastal Coordinating provides her insight:
I always suggest to my couples to take their overall budget and divide by how many months they have in the planning process, and then I have them make payments to different vendors throughout the planning time. This is super helpful because they don't feel like everything is due at once and at the end of the planning process. It's much more manageable for couples, and they love it in the planning and budgeting process. Typically, we start with how many guests they are going to have, then we break it down by categories to see where their budget works with each category. We explain how it will change based on the number of guests. Most couples come to us with an overall budget in mind, and we help tweak it for them.
John Campbell, owner of John Campbell Weddings concurs:
Budget SUSTAINABLY! You shouldn't be getting a second job or borrowing from your emergency savings to pay for your wedding. When my clients come to me with budgetary concerns, I remind them that this should be a happy process centered around their union. Why put unnecessary strain on your psyche, relationship, and wallet over an event that lasts one day?
Coastal Coordinating | The Wild Thistle | Stephanie Velez Photography | Armature Works
5. Determine Who is Paying for What
Riley Gersch, owner and wedding planner of Elegant Affairs by Design shares:
Talking about money can be difficult. When it comes to your wedding budget, you have to have open, honest conversations with your partner and those helping to pay for your wedding. Discuss with your families about who will be paying for what. While some couples' families will pick up the entire tab, other couples prefer to cover costs themselves. If you're uncomfortable asking your parents, or future in-laws for money, how about asking them to purchase certain items? For instance, the wedding cake or let them pick up the tab for the rehearsal dinner. Whether your family pays a portion of your wedding costs or foots the entire bill, having upfront conversations about who will be paying for what will certainly relieve the stress of limited cash flow.
6. Think About Ways to Save
Brandon Wheeler, owner of Gulf Beach Weddings adds:
If you're looking to cut costs, the first place to cut down on is the guest list. The average guest costs you about $100, so the difference between having 50 guests versus 100 guests is huge.
Another easy way to cut down wedding costs is to have your wedding day outside of the peak seasons, and perhaps even consider having a mid-week wedding. In addition to cutting down the price, the privacy, availability of vendors, and reception locations make these days ideal. In addition, hotel stays, airplane fares, rental car rates, etc. are all more inexpensive during the week…take advantage!
7. Plan for the Unexpected
Alex Landry, Event Manager at the Vinoy Renaissance shares:
Make sure you are comparing apples to apples when it comes to your venue. Standalone venues might seem less expensive at first glance but, once you add it all up you might be spending more. Ask questions as to what items are included. A la carte services like plates, serving equipment, and staffing can add up. Be sure to ask your venue if there are any additional costs you should be aware of examples could be, security, parking attendants, or even a backup space.