MDP Events meticulously plans spectacular events throughout the Suncoast of Florida and across states nationwide. Every detail is accounted for with extraordinary organization and an attention to personalized decor that resonates with our couples to provide meaningful, thoughtful, and cherished memories throughout every wedding day touchpoint. Our process includes inventive design and intimately crafted timelines that lead into a well managed, seamlessly coordinated celebration that will leave a lasting impression on every guest for years to come.
---
---
Our Wedding Style Is:
MDP's wedding planning style utilizes our expertise in the industry to plan completely custom events for any size or style celebration! We are honored to have the opportunity to be a part of our couple's special day. Through inventive design, detail-oriented planning, and stress-free production, we provide coordination that is ALL about our client's vision! Our goal is to guide you through every aspect of planning with ease and confidence so you can enjoy your engagement. We also offer A La Carte packages making sure that our couples are given the services that best suit their needs to make for a wonderful and fun planning partnership!
Our Personality Is:
Our personality is super outgoing, optimistic, and realistic! We absolutely adore working with each of our clients and want to make sure they always have an answer and feel like they are in the best hands. We want to have fun with our clients and make sure they know that even though we are their Wedding Coordinators, we are in this partnership together and will do everything we can to make sure their day is as they imagined while guiding them based on our knowledge of the industry!
---
What Inspired Us to Start Our Business is:
I opened MDP Events in honor of my best friend, Maggie Dundon Potter who loved weddings and the industry just as much as me! I have been in the events world for 10 years and knew I wanted to continue for the rest of my life! In 2016 Maggie and I spontaneously left our coordinator positions in Newport, RI and decided to move to Boston together. We always said we would start an event planning company together, but she sadly passed in 2017. Now I have the most incredible privilege of detailing each celebration in memory of her.
---
We Love Being a Part of the Wedding Industry Because:
What we love most about planning weddings is the relationship we create with our clients and seeing their ecstatic reaction on their special day knowing they are over the moon happy! I have always had a love for planning weddings even before I found my niche working in Newport, RI during college when realized it was my absolute dream career. The passion I have for coordinating weddings stems from my obsession with organizing and the couple's personal details! It's ALL in the details! I mean who doesn't love a wedding?!
---
What Makes Our Business Stand Out From Other Vendors Is:
What makes our business stand out from other planners is our backbone of pure passion. I opened MDP Events in honor of my best friend who shared the same obsession and love for weddings that I do. Not only do I adore planning weddings, but having a huge motivational inspiration makes each and every celebration extra special. We offer the standard packages as well as A La Carte options. We want to make sure their coordination package is what they need and best suits them to make our relationship as beneficial as possible.
---
One Thing Most Couples Would Be Surprised to Know About Us Is:
I LOVE EDM and dance music! I attend lots of concerts where there is SO much event inspiration through color, design, and pieces of stage art that are outside the box. Music is so therapeutic to me and I enjoy getting to listen to it in my car or especially live with a huge glowing smile on my face.
One of Our Non-Wedding Passions Is:
One of my passions non-wedding related is FOOD! I absolutely adore all things food. Many people say they love food, but I definitely call myself a foodie for how I love to try new very weird combinations, constantly binge every cooking show under the sun, and have a serious adoration for cooking for my family and friends!
---
Our Pricing:
Month of Coordination starts at $3,000
Partial Planning Experience starts at $5,000
Full Service Coordination starts at $7,000
We also offer A La Carte customization for couples to create a personalized package!
---
Our Associations/Awards:
The Knot Best of Weddings 2022
Wedding Wire Couples' Choice Awards 2022
Best Of Sarasota – Wedding Planner 2022
---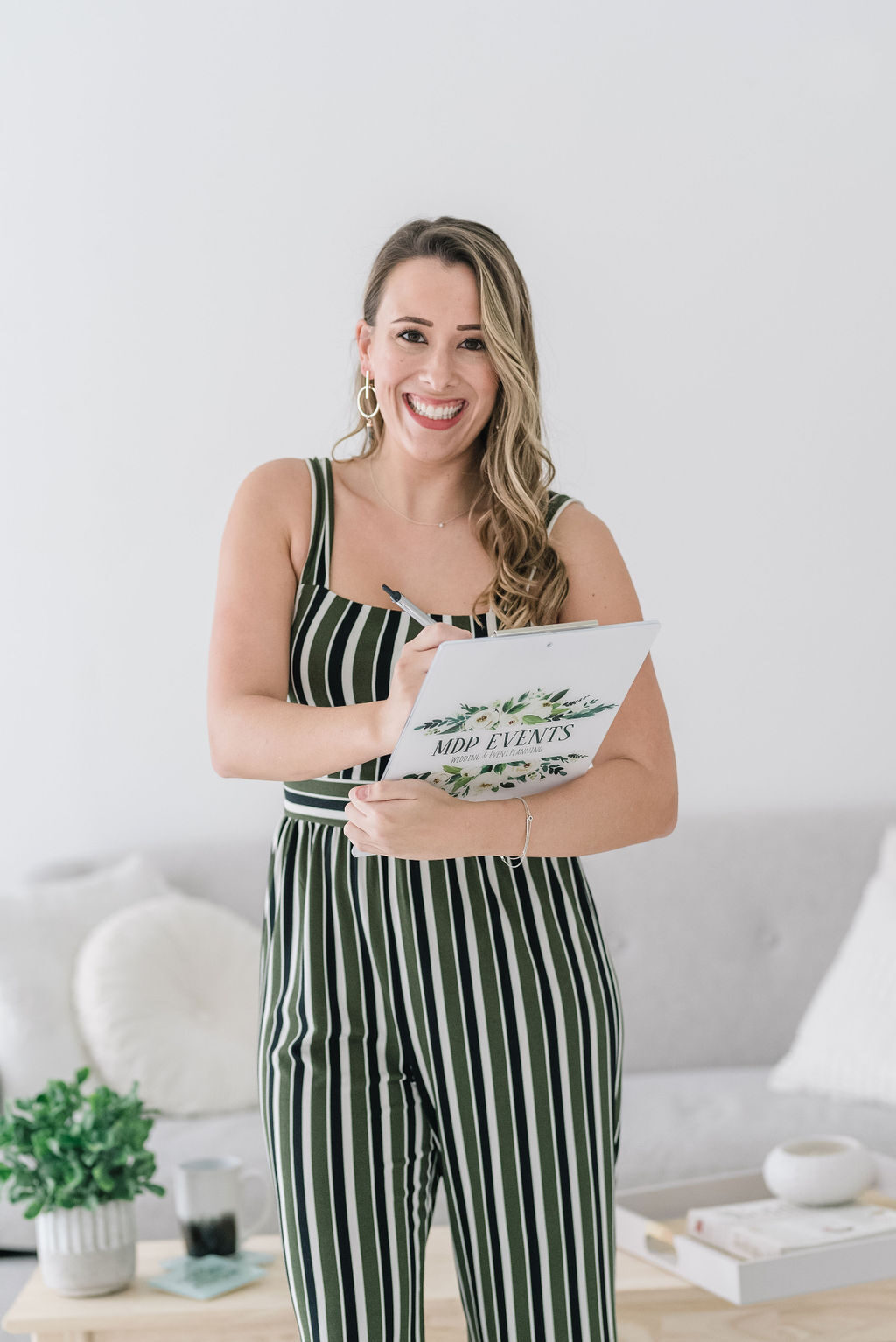 Meet Lauren Gertz
Hi! I'm Lauren! I am originally from the smallest state of Rhode Island. I went to college at Quinnipiac University for IO Psychology, Criminal Justice, and Photography. I know…weird combination! I always knew I wanted to work in weddings, but also thought I might like to be a Forensic Psychologist. WELL we all know how that turned out.
I studied abroad in Australia and it is still one of my absolute favorite places! I live in Sarasota Florida with my boyfriend and cute cat Jade. I recently bought a house in Sarasota and had a blast doing all of the interior decorating. I love traveling, theme parks (especially roller coasters), relaxation time at home, makeup and skincare, getting some sun at the beach, dancing at concerts, and spending lots of time with my family!
Website
401.258.2281
MDP Events Reviews from Marry Me Tampa Bay Couples:
Marry Me Tampa Bay curates the below reviews from real couples whom we've personally interviewed. As Tampa Bay's most trusted wedding planning resource, these reviews are 100% accurate and aren't created by fake accounts.
---
---
As Seen on Marry Me Tampa Bay