Ahyoung and Lamont's downtown St. Pete wedding was a tropical paradise filled with luxurious white orchids and rich dark-green florals.
"Even though we had a fall wedding, we still wanted the colors and theme to be very representative of Florida, where we met each other and fell in love. I looked through reviews and other weddings published on Marry Me Tampa Bay for inspiration," the bride shared. "The large green palm fronds and monstera leaves provided the tropical feel of Florida, and the silver accents and touches completed the look by making everything feel a bit more trendy and modern."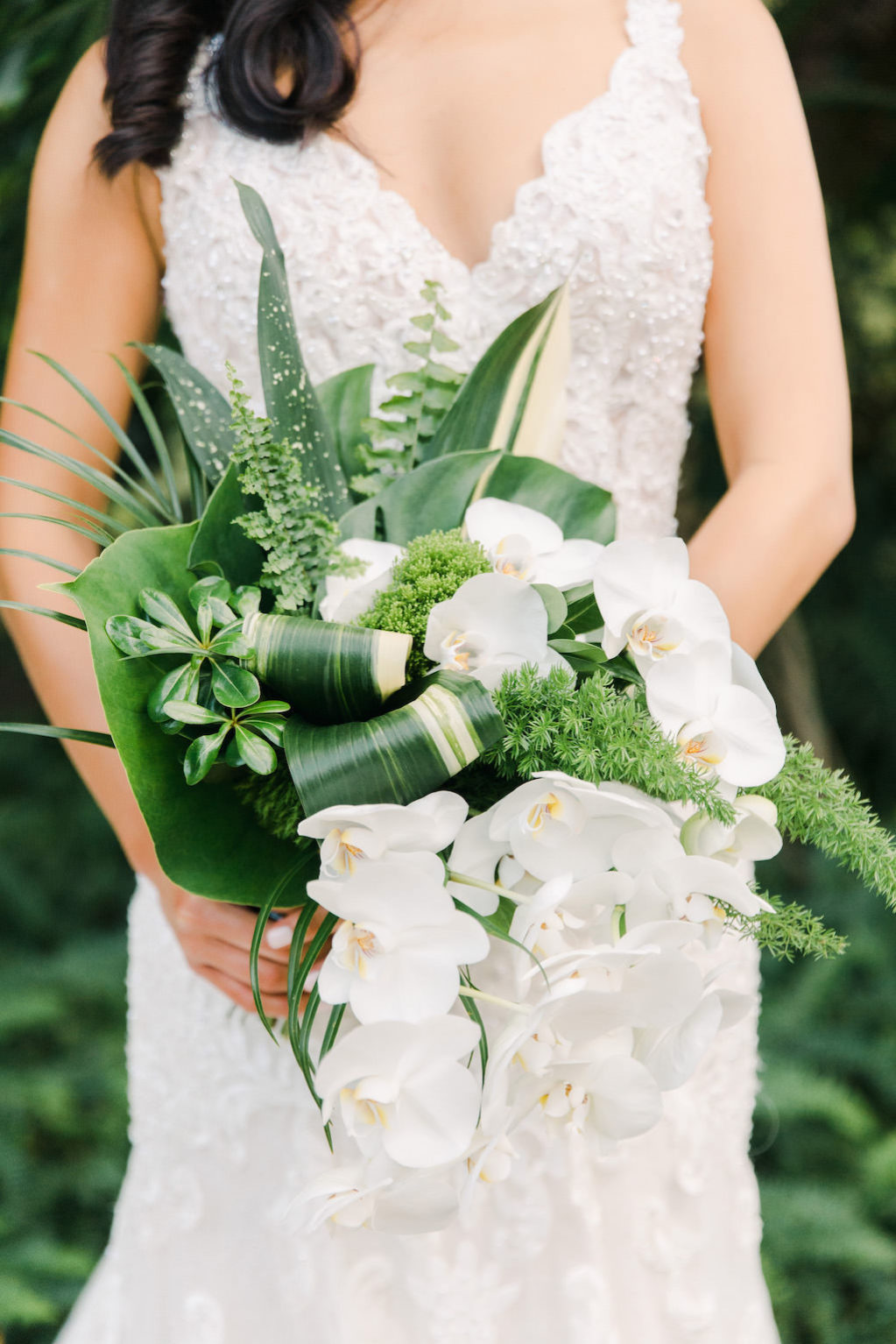 K&K Photography | Parties A'La Carte | Bruce Wayne Florals | The Vinoy Renaissance St. Petersburg Resort & Golf Club
---
Roseann and Paul's destination St. Pete Beach wedding brought to life a modern take on tropical elegance with a color palette of white, gold, and blush.
"Our theme was a mixture of modern and tropical. I like clean lines and design, but I also didn't want the room to feel cold, so I was conscious not to go overly modern," the bride explained. "The tropical part I definitely wanted to incorporate given we were doing a destination wedding! It definitely is a different feel than us New Yorkers are used to seeing all the time, so I knew our guests would appreciate that."
"I wanted my wedding cake to stick with our theme of tropical elegance and incorporate our colors, as well as our invite. The Artistic Whisk did a phenomenal job capturing our vision and even had real orchids coming down the side of the cake. It was perfect!" Roseann added.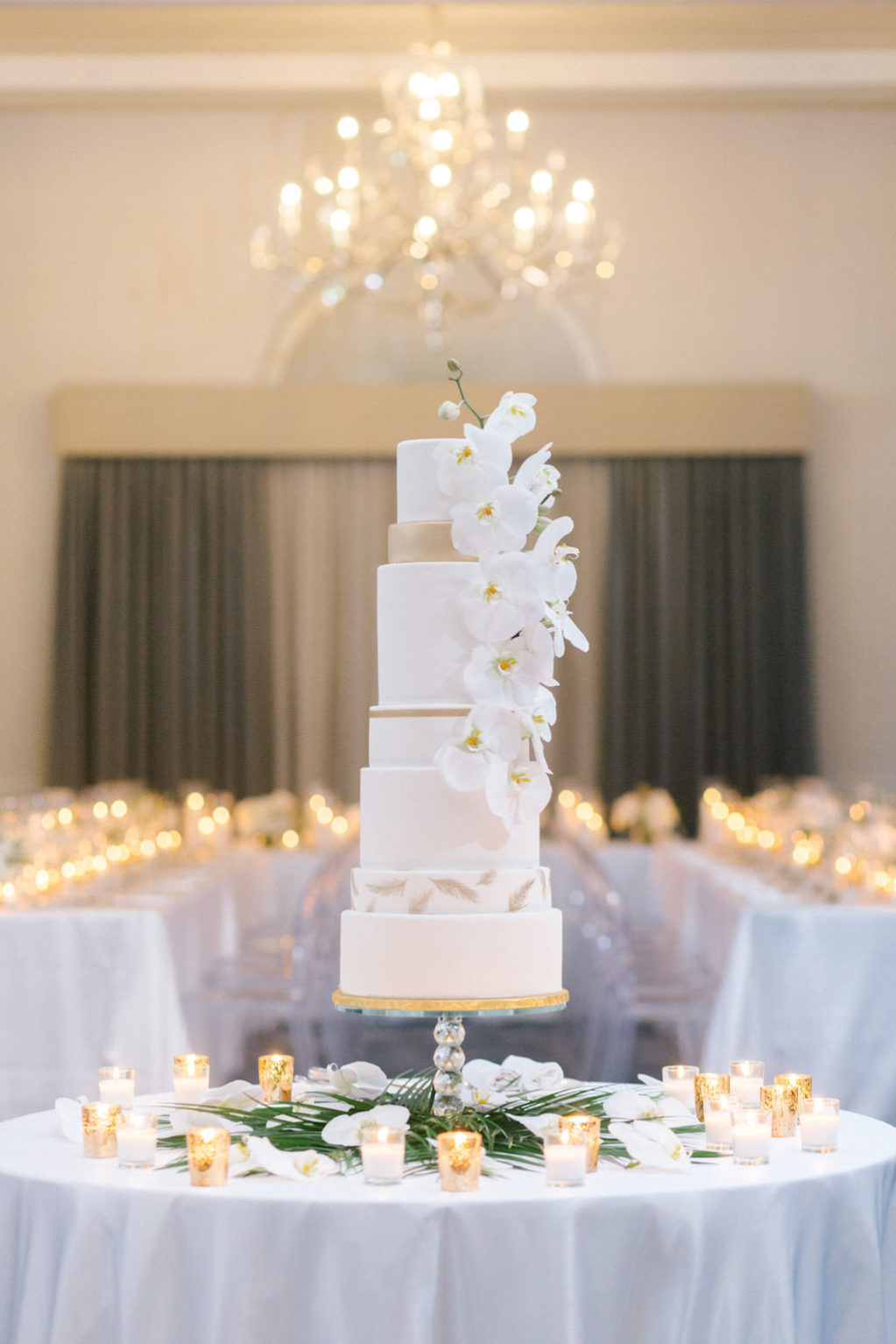 K&K Photography | Parties A'La Carte | Bruce Wayne Florals | The Artistic Whisk | Kate Ryan Event Rentals | A Chair Affair | The Don CeSar
---
Designing a fresh and colorful stylized setting for this wedding inspiration photo shoot, St. Pete wedding planner UNIQUE Weddings + Events came together with floral and rental specialists Gabro Event Services to create a uniquely vibrant design. The pop of gold chargers and cutlery with the geometric black and white plates from Kate Ryan Event Rentals effortlessly combined with the monstera leaf and vibrant peony centerpieces.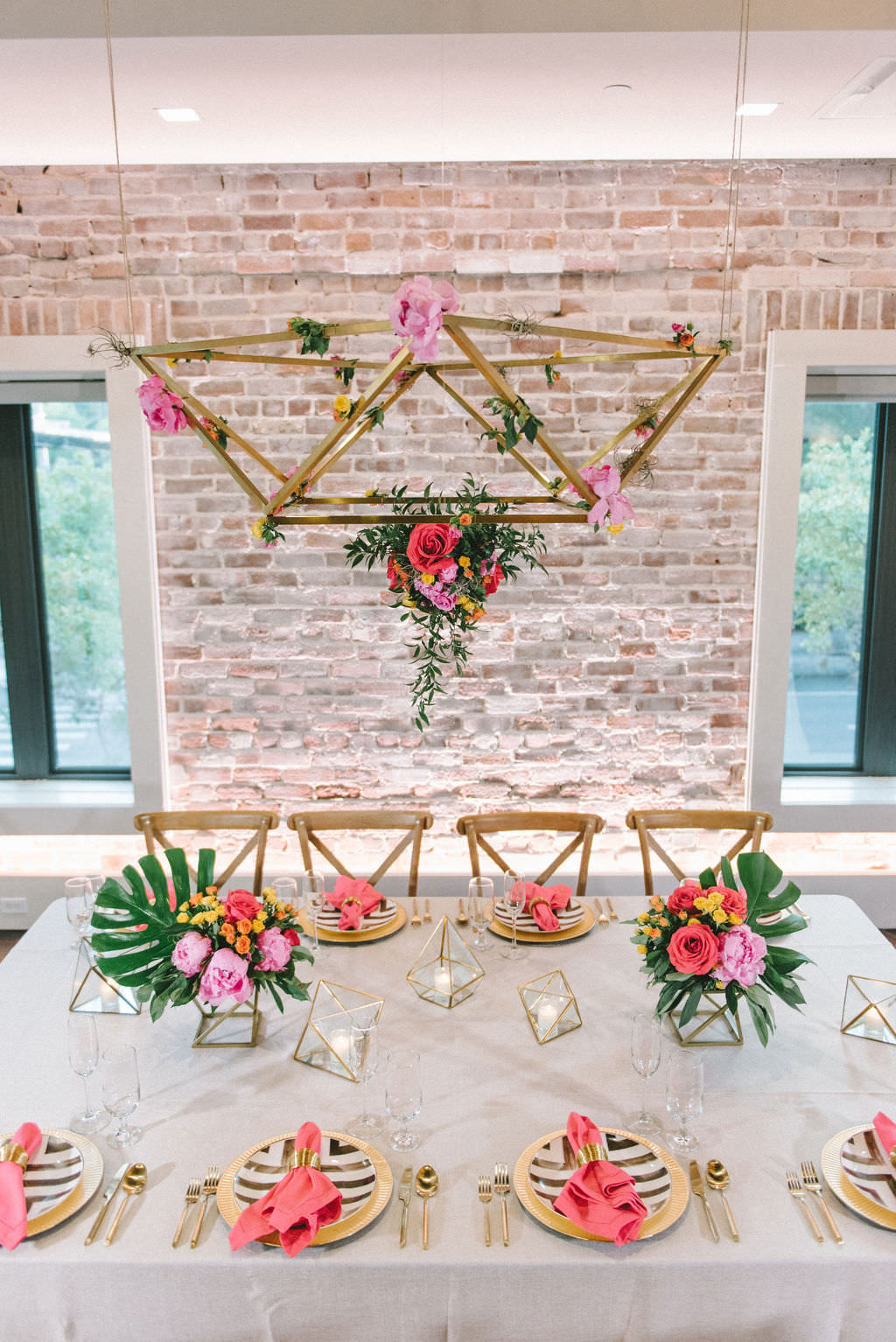 Kéra Photography | Bonnie Newman Creative | UNIQUE Weddings + Events | Gabro Event Services | Kate Ryan Event Rentals | Red Mesa Events
---
Kailah and Greg's Clearwater Beach wedding dazzled with vintage travel-inspired decor, earthy elements, and pops of jewel tones.
"I have always loved the beach and knew I wanted to get married with the sand in my toes. I didn't want to do a typical beach themed wedding so we incorporated elements of what we enjoy," the bride shared. "Purple is my favorite color, but I wanted a little more of a pinkish-purple jewel tone. For the details, we wanted to incorporate a little bit of a travel theme with Earthy elements of driftwood, succulents, rose quartz, amethysts, and agate slices."
To complement their personal style, the bride and groom chose a geode wedding cake design, that looked as good as it tasted.
"Crystals, rocks, and gems are common decor of our house and interest to us," Kailah explained. "The Artistic Whisk had so many delicious flavors, it was hard to choose! Many compliments on the cake!"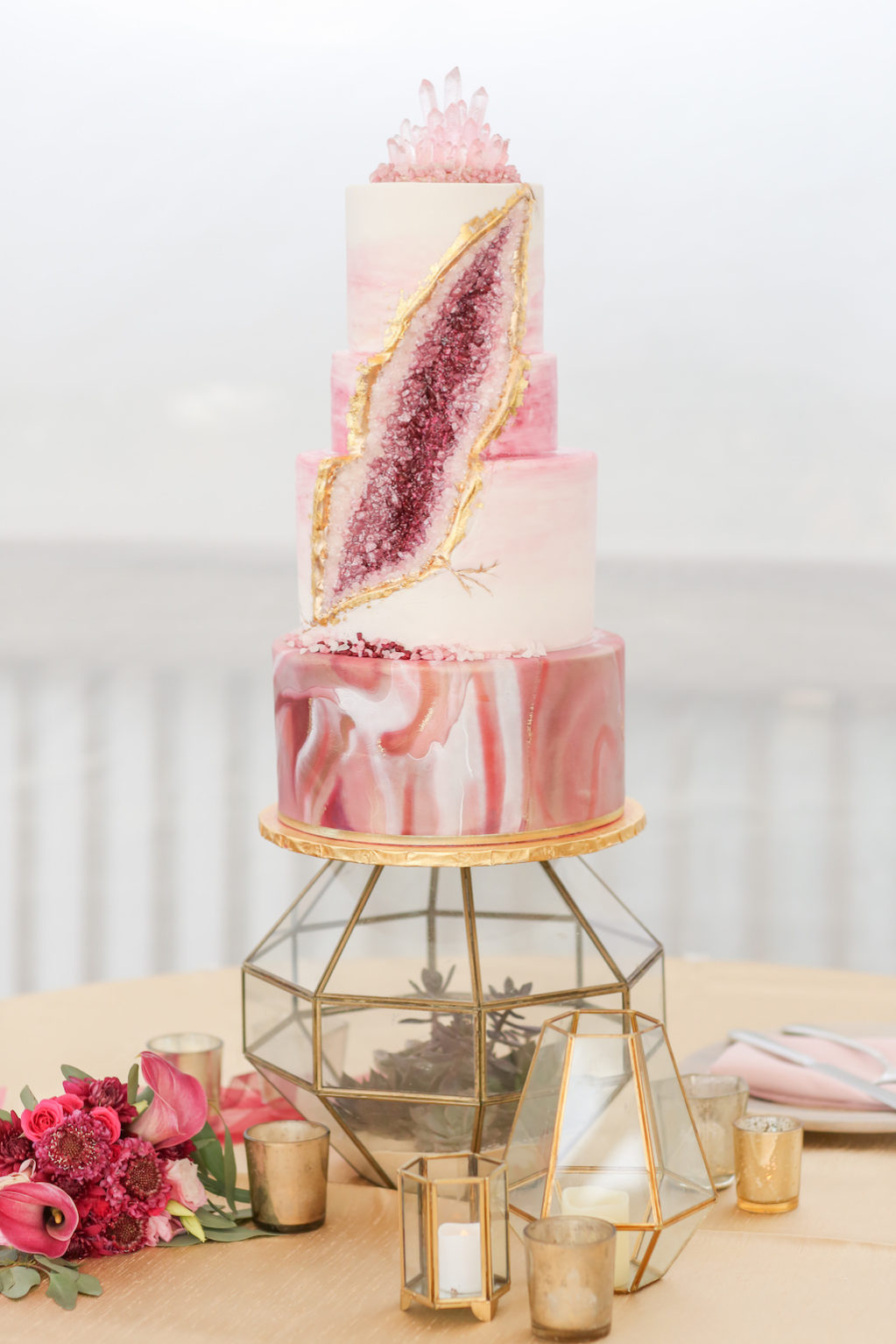 Lifelong Photography Studios | Wonderland Floral Art | The Artistic Whisk | The Reserve Vintage Rentals | Hilton Clearwater Beach
---
Planning for their celebration of 140 guests, Amanda and Brad were strategic when it came to getting the most bang for their buck and chose a rental and decor company that could transform their wedding venue.
"Kate Ryan Event Rentals provided our tables, linens, chairs, draping, bars, and tabletop rentals, which we got to see all in person. The beauty of getting to see everything is being able to feel the textures of the linens and see the sequins, stitches, and designs up close. Not only that, but Kristin spent hours with us designing different place settings before we settled on the perfect one," Amanda gushed. "Having everything in one place made it so easy to see exactly what our design would look like on our wedding day. Working with Kristin also played a huge role in flipping our ceremony space to our reception space. She worked so hard with our event coordinator, Jennifer, the night before the wedding and the day of to ensure that everything was perfect!"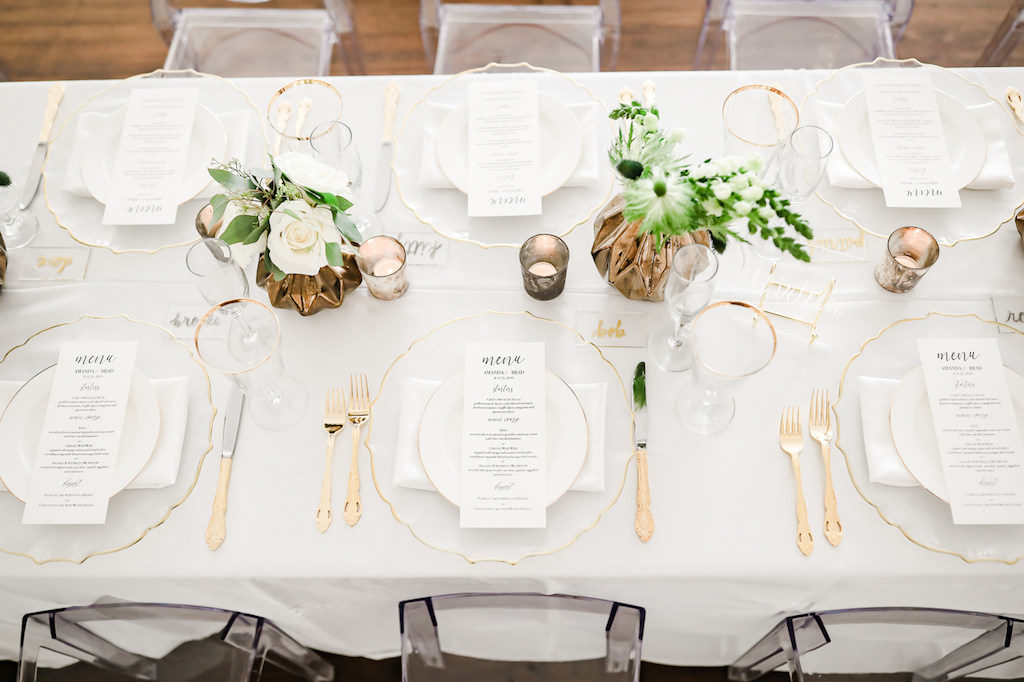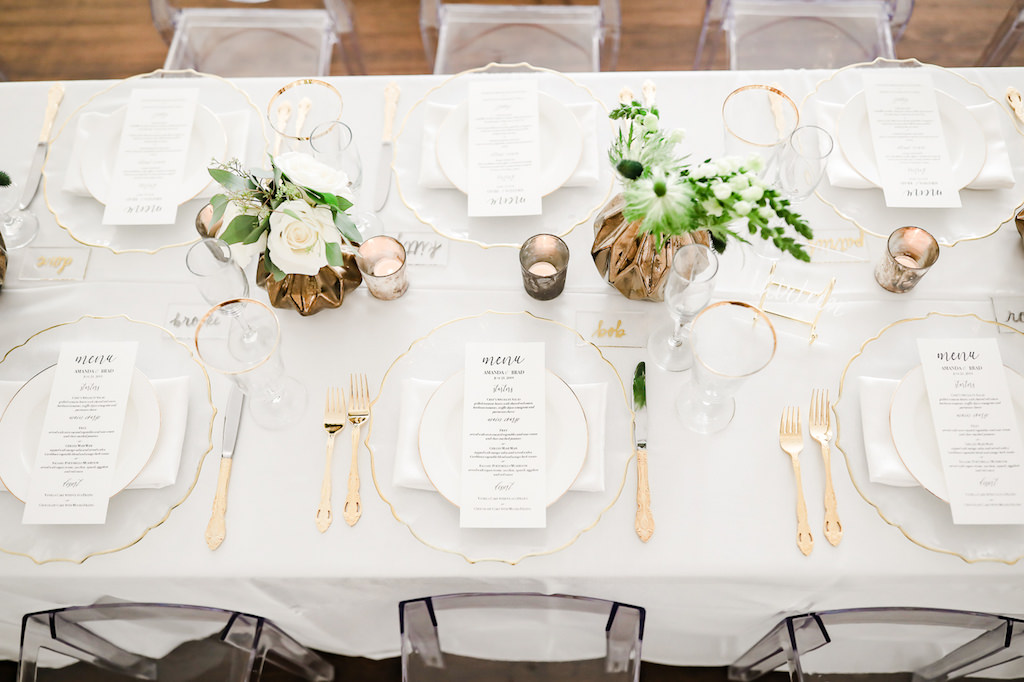 Lifelong Photography Studio | Kate Ryan Event Rentals | Tailored Twig | The Orlo | Bourbon and Blush Events
---
The Florida natives imagined their special day with 127 guests to be the perfect reflection of their love for each other and their undying love for their French Bulldog, Lilo, a.k.a the star of their celebration.
"The true love of our lives is our sweet French Bulldog, Lilo. She is spunky and sweet and was about nine months old at the time of our wedding. We had to include her in any way shape or form," the bride gushed. "I got a little illustration of her made and it kind of became our little wedding logo. She was on our seating chart, cocktail napkins, koozies, and our bar were named after her. She also made a little cameo in our photos with the help of FairyTail Pet Care! She was definitely the highlight of our wedding getting to see her in between our ceremony and reception put a smile on everyone's face!"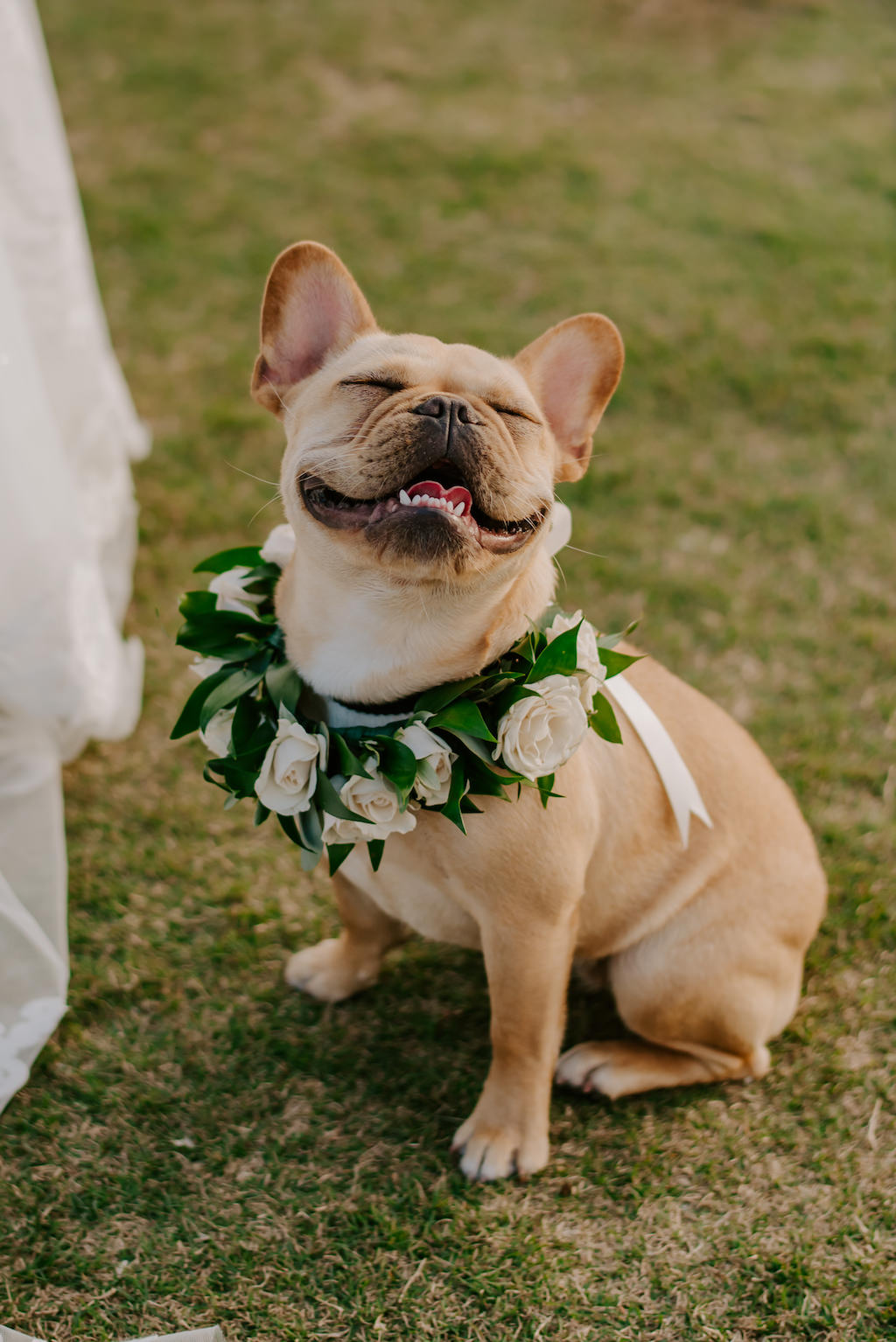 Regina as the Photographer | FairyTail Pet Care | Armature Works
---
Laci and Roger's outdoor rustic Bradenton wedding found the most magical ways to incorporate a little bit of country and a whole lot of glam.
"Our wedding could be described as 'ballroom in a barn,'" the bride beamed. "I grew up in orange groves with cattle, but I really love pink and diamonds. Since we were going for a romantic yet rustic ambiance, we chose a color palette of pink and white to tie everything together."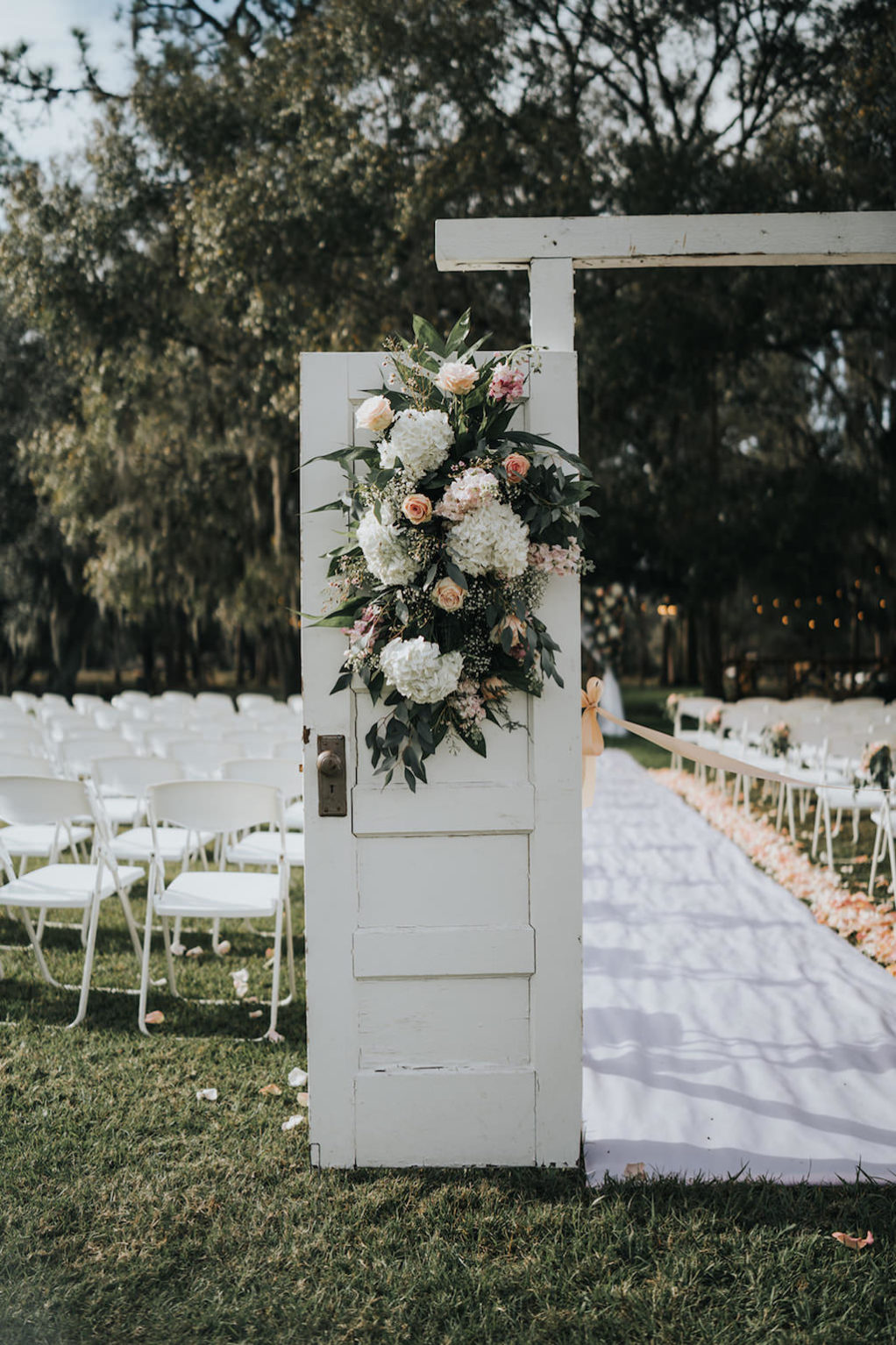 LoveView Weddings | Kelly Kennedy Weddings and Events | Rafter J Ranch
---
Tampa wedding planner and designer John Campbell of John Campell Weddings created a unique wedding style for this tropical meets art deco wedding inspiration shoot at the Centre Club.
Designing a look that was more of an updated art-deco vibe rather than Gatsby, the planning team incorporated accent draping that enhanced the swanky ambiance of the ceremony and reception space and minimalistic ghost chairs and velvet table linens from rental company Gabro Event Services, while Tampa wedding decor and rental company, Kate Ryan Event Rentals set the mood with gorgeous tabletop rentals. The gold-rimmed glasses were the perfect complement to the glass chargers and gold silverware.
"There were so many marine elements: views of the bay, driftwood installations, and a beautiful color palette of muted blues. It was kind of an 'Aha!' moment at that point: an updated art deco look with a monochromatic blue color palette and heavy tropical foliage," John gushed.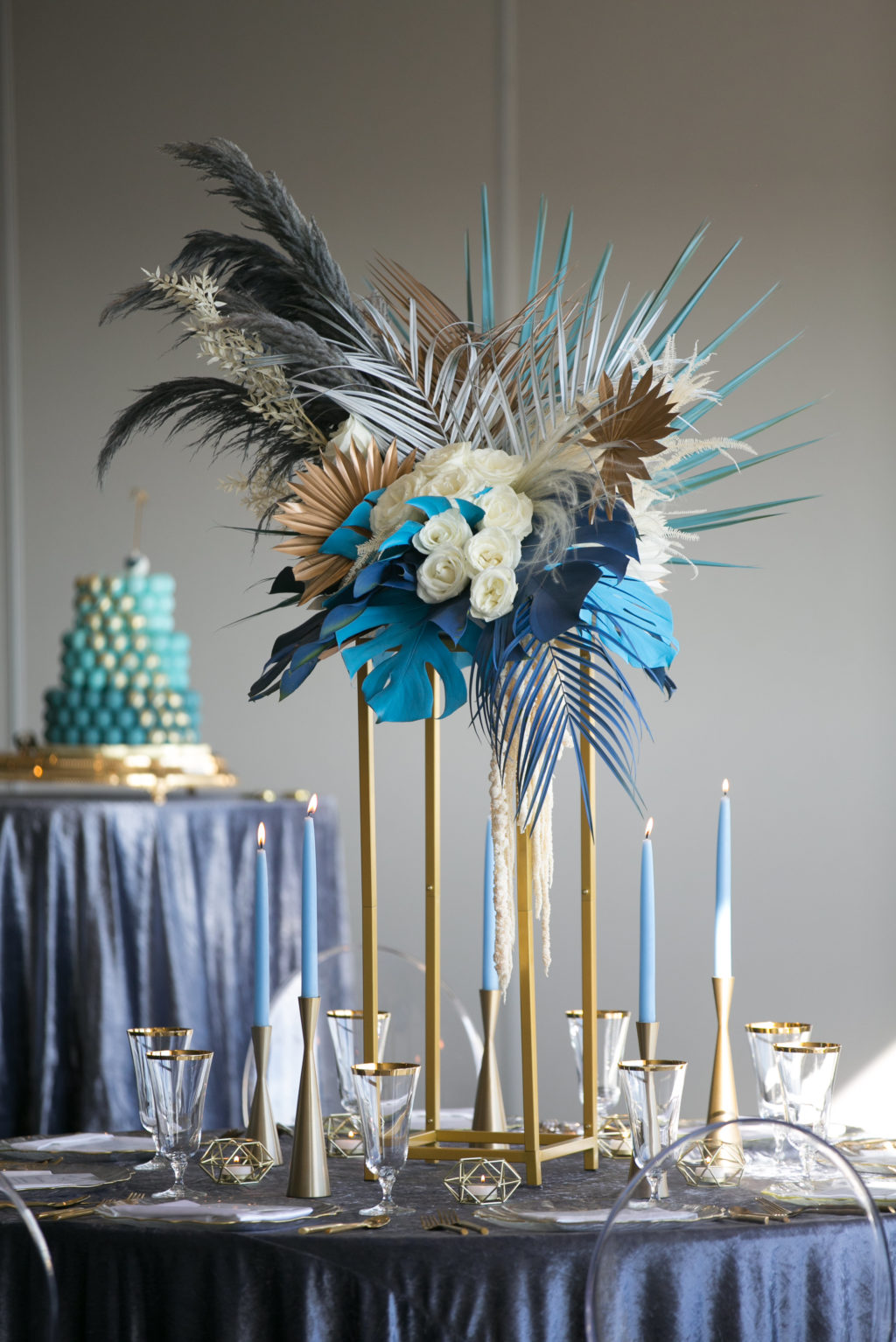 Carrie Wildes Photography | John Campbell Weddings | Gabro Event Services | Kate Ryan Event Rentals | Centre Club
---
The navy blue, emerald green and magenta color palette popped against the lush bamboo garden at downtown St. Pete wedding venue NOVA 535.
"I integrated wooden elements and gold metallics to add texture variations to the moody jewel-toned color palette. The colors and textures were chosen to compliment the natural space of the venue while portraying a luxurious design," the planner shared. "NOVA 535's charming courtyard set the tone of the shoot with its natural components of lush greenery, exposed brick, and towering bamboo walls. The atmosphere was an ideal setting to bring a chic bohemian feeling to life while giving adorable puppies ample space to roam and explore."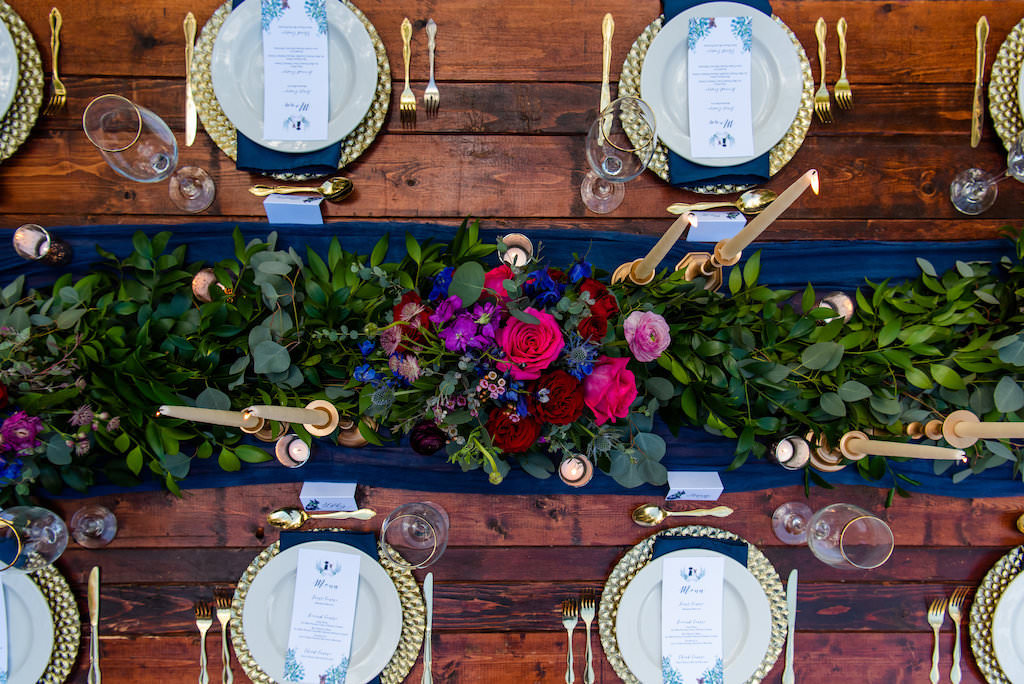 Caroline & Evan Photography | Kemari Lyn Films | Southern Glam Weddings & Events | Monarch Events And Design | A Chair Affair | Outside of the Box Event Rentals | NOVA 535
---
Envisioning a gorgeous naked cake with fresh florals, the couple turned to iconic Tampa Bay bakery Alessi Bakeries to turn their vision into a reality.
"Since we were nearly halfway across the world, I really wanted vendors that were experienced and trustworthy," the bride shared. "Alessi Bakeries was a recommended vendor of our venue, and they did not disappoint! They were wonderful to work with, and the entire process was seamless."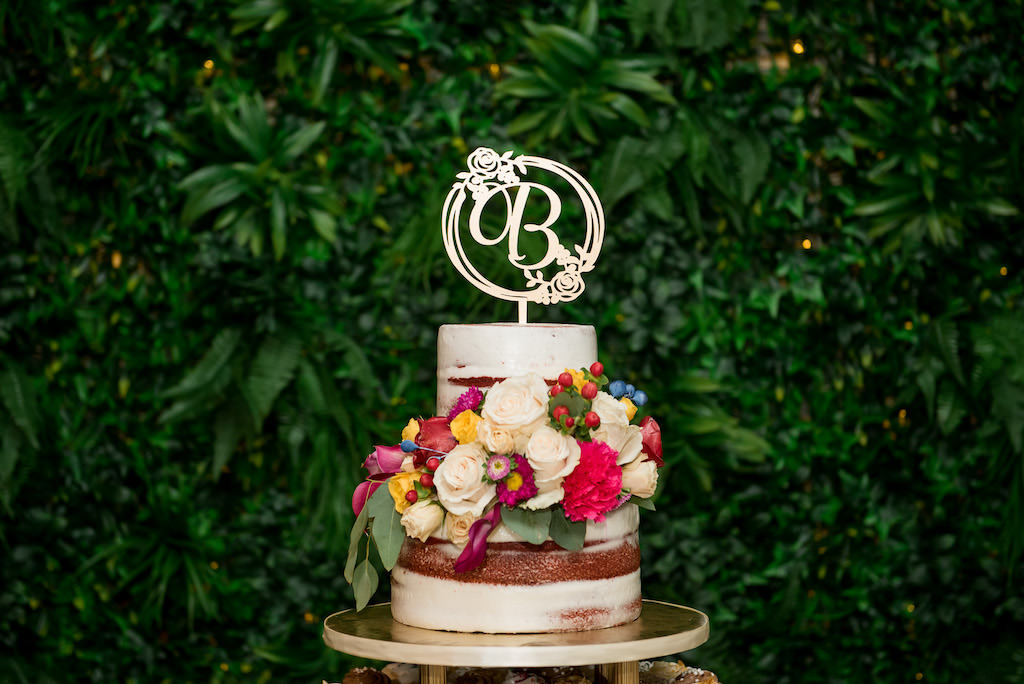 Life's Highlights | Alessi Bakeries | Kathleen's Garden
---
Ashley and Randy's magical outdoor Dade City wedding came to life in a Georgia-inspired setting. The Clearwater couple's celebration perfectly embodied sweet country charm, as the bride wore a chic yet modern lace dress, while her groom wore blue-jeans and boots, reflecting their personalities for a laid-back wedding.
"I wanted country, but elegant⁠, sort of a country-chic ambiance," the bride shared. "I love color, but I didn't want to look back and have regrets in ten years for doing something that was trendy. We stuck with a more traditional feel and added lots and lots of greenery with white florals."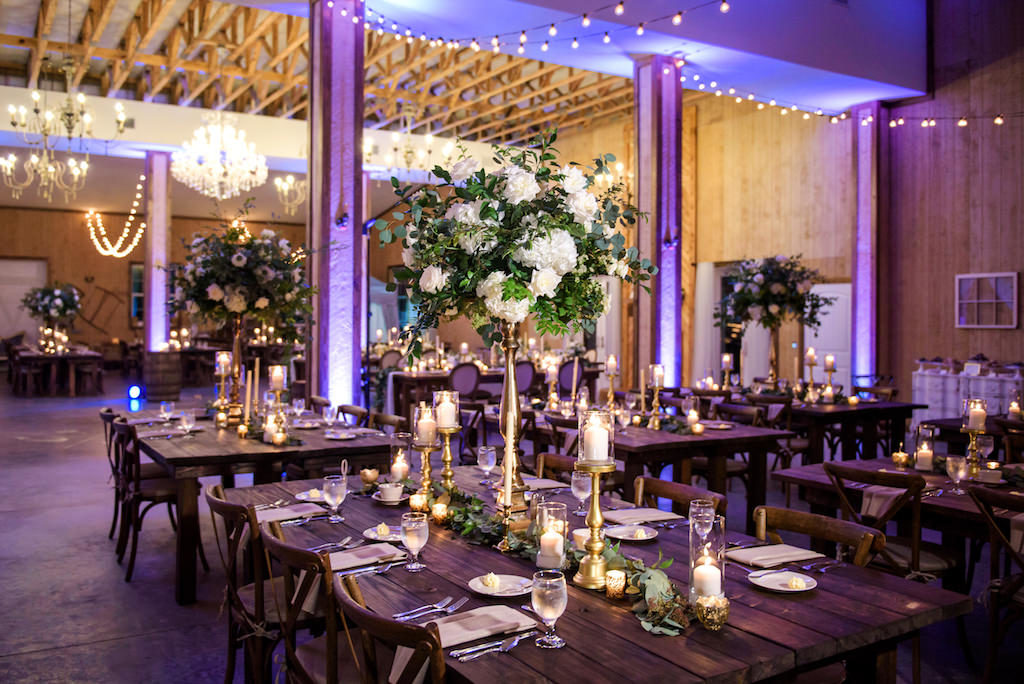 Corey Conroy Photography | Parties A'La Carte | Bruce Wayne Florals | Gabro Event Services | Over the Top Rental Linens | Covington Farm
---
Ashley and Nick's downtown Tampa wedding didn't skip a beat when it came to capturing their vision of laid-back Florida elegance with a romantic color palette of navy blue, mulberry, blush pink.
"Since we had a lot of family and friends traveling from out of state for our wedding, we really wanted it to feel like a vacation for them. Everything we chose, from our venue to our entertainment, was selected to ensure our guests would experience the perfect Florida weekend getaway," the bride beamed.
Looking for a wedding baker who could create a delicious tasting cake with a modern look, Ashley and Nick turned to The Artistic Whisk for their unmatched expertise and passion.
"Nick loves chocolate, but I also wanted something unique and fall-flavored. We opted for two different cake flavors, classic chocolate and strawberry, and a more fall-inspired cinnamon flavor," the bride shared. "We chose to have a watercolor type cake that matched our invitations and color scheme based on an inspiration photo we found. We also wanted to have our dogs incorporated into our day somehow and were able to work them into the cake design."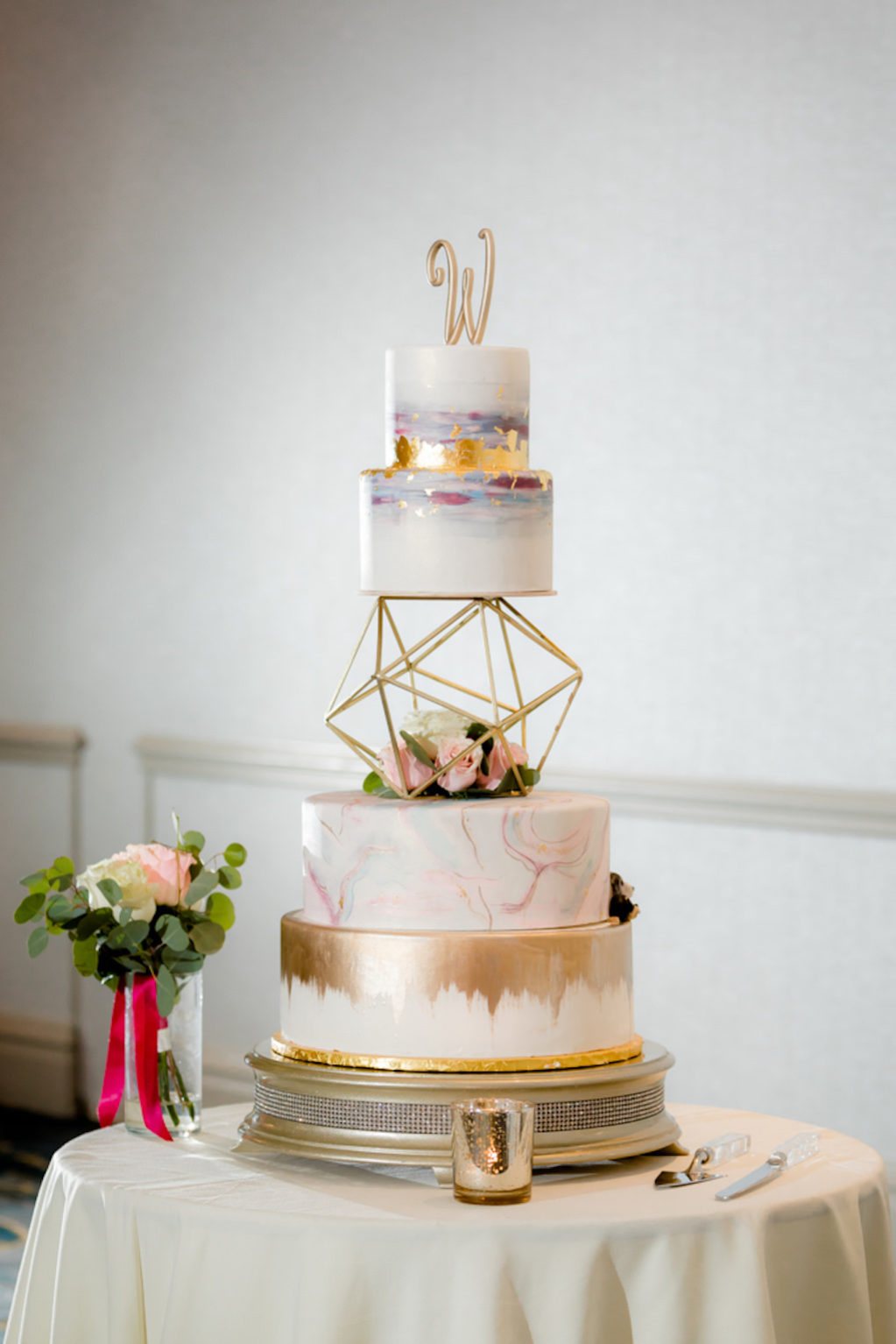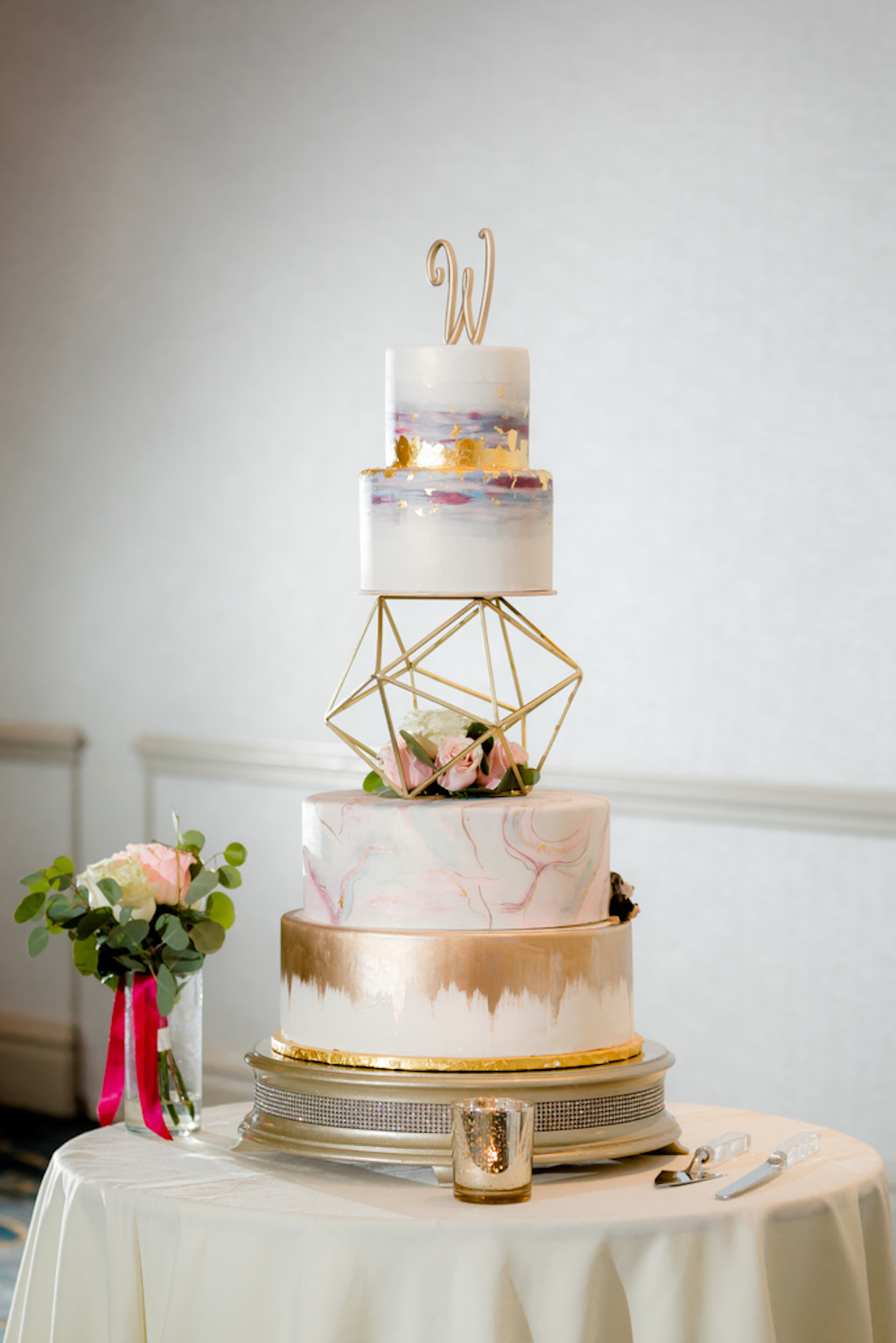 Richard Harrell Photography | Kemari Lyn Films | Special Moment Event Planning | The Artistic Whisk | Tampa Marriott Water Street
---
Roxy and Robert's downtown Tampa wedding embodied classic elegance with timeless decor and stunning details. Selecting a color palette of champagne, gold, and blush pink, the bride and groom snuck in some playful personal touches with a doughnut wall and their favorite craft beer on tap.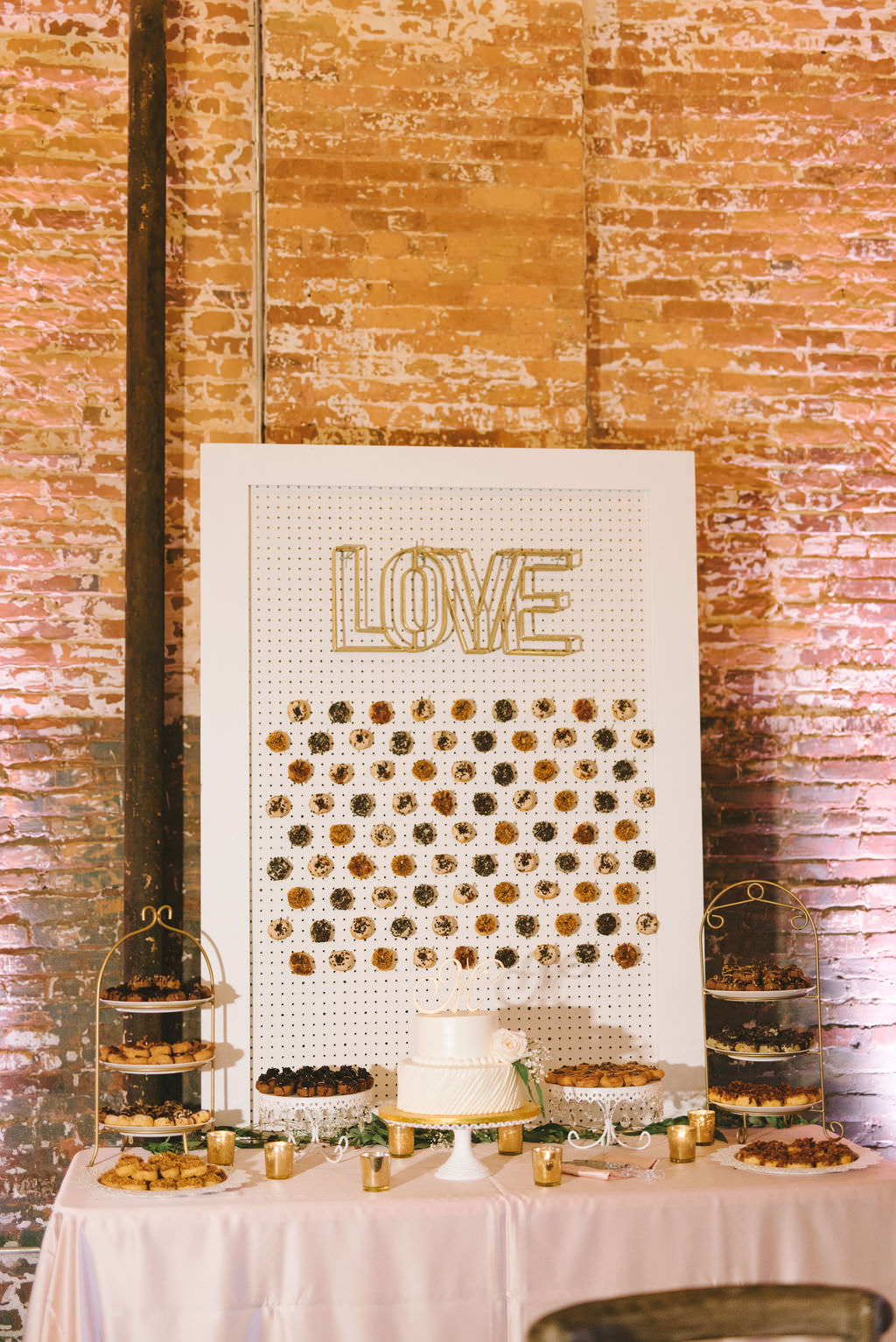 Kéra Photography | Kelly Kennedy Weddings & Events | Armature Works
---
Complementing an art-deco vibe with a hint of Gatsby, Sweetly Dipped Confections created an ombre-effect cake pop wedding cake, adding to the whimsical atmosphere of this unique wedding decor.
Carrie Wildes Photography | John Campbell Weddings | Gabro Event Services | Kate Ryan Event Rentals | Sweetly Dipped Confections | Centre Club