Downtown St. Pete – NOVA 535 is ideal for couples who want a wedding venue with unique character. With texture from the brick walls and hardwood floors and state-of-the-art uplighting, its natural decor provides a WOW factor all on its own.
As you enter NOVA's beautifully lit private courtyard you're encompassed by a zen and private towering 30-foot tall bamboo garden. You'll completely forget you're right in the middle of downtown St. Pete. The 4,000 square foot outdoor space seats 300 and is the perfect ceremony backdrop or outdoor cocktail style reception for 500 guests.
Inside, the industrial two-story reception space features original 1920 clay brick walls, Brazilian hardwood floors, 16-foot ceilings, and exposed original rafters. The double wrought iron staircase makes for the perfect grand entrance.
The Ceremony:
Outdoor Brick and Bamboo Garden Courtyard: Private, enclosed brick 4,000 sq. ft. courtyard surrounded by bamboo trees for a seclusive, unique setting.
Up to 300 guests
Inside Gallery Event Space: Features 16′ red brick walls and hardwood floors with incredible lighting, sound and video systems built-in and ready to go.
The Cocktail Hour:
Cocktail hour is available in either the indoor or outdoor spaces.
---
The Reception:
NOVA 535 offers both indoor and outdoor options for your reception, with the two-story indoor event space being most popular. NOVA 535 features original 1920 clay brick walls, Brazilian hardwood floors, and 16-foot ceilings with exposed original rafters.
200 dining inside with large dance floor, 260 dining inside with no dance floor (plus room for 80 more guests upstairs), 450 dining inside and out, 500 cocktails inside 800 inside and out
Lighting, sound, and DJ available
Venue rental fee includes: Two getting-ready suites, free convenient parking, tables, modern black chairs, designer couches and lanterns with oil candles, and vases for decorating. Three hours of setup and one hour of breakdown, and one-hour ceremony rehearsal.
---
The Food:
NOVA 535 has an extensive list of preferred caterers and food trucks for couples to choose from.
The Drink:
NOVA 535 provides bar service, no outside beverages allowed
---
Pricing:
Monday, Tuesday, Wednesday: $595/hour
Thursday, Friday, Sunday: $995/hour
Saturday, Holidays: $1,095/hour
*venue rental only, plus 7% tax, see below for complete pricing info
Learn More about Pricing at NOVA 535 | Take a Virtual Walkthrough
---
Special Offer for Marry Me Tampa Bay Readers:
$500 bar credit when you mention Marry Me Tampa Bay at the time of booking.
---
---
What Couples Love about NOVA 535:
Unique texture and non-balloom look of a historic 1920 building with all of the modern comforts and conveniences featuring hardwood floors, brick walls, twin wrought iron staircases to the VIP loft, private balcony, and SpeakEasy private entrance. Multiple rooms to explore and enjoy. SUPERNOVA bridal suite.
Private lush bamboo courtyard perfect for St. Pete wedding ceremonies and cocktail parties.
Ten world-class restroom suites and getting ready rooms.
State of the art lighting, sound and video systems.
Flexible catering options: multiple catering options, not just one like at hotels and most other venues.
Exclusivity: we only perform one event at a time…YOURS!
Awards:
Best Blank Canvas. Best Place to Get Married. Top 10 Best Restrooms in USA. Best Swanky Events Space. City of St. Petersburg Beautification Award. Brides Choice Awards.
NOVA 535 Reviews From Marry Me Tampa Bay Couples:
"We fell in love with NOVA 535 the moment we walked in. It fulfilled every single hope we had for a venue. The bamboo courtyard was perfect for our theme. We especially loved the string lighting. I was head over heels for the exposed brick walls and interior decor. It was truly the perfect canvas to make our own. I can't stress enough how perfect the day went in large part due to NOVA's staff and our vendors being top-notch. I had no stress and no worries on the day of. Everything was executed seamlessly." -Monique and Davante | Burgundy and Plum Floral Filled NOVA 535 Wedding
"The reason we fell in love with NOVA 535 was that the vibe of the venue was both a little rustic and also industrial, which fit both of our styles. With the gorgeous brick walls, iron staircases, and the string light garden, there was not a lot that needed to be done to the venue decor-wise. We also really liked that the venue did the liquor, DJ, security, set up/clean up, and had a day of coordinator. Incorporating all those things into one vendor made the wedding planning process much easier." -Angie and Brian | Romantic Industrial Green NOVA 535 Wedding
"We looked for something different than the typical banquet space or ballroom. We fell in love with the bamboo courtyard with all of the lights and knew it would be a perfect location for our ceremony. For the reception space, we loved the warmth of the exposed brick and wood flooring. It was the perfect venue for us. Their service was phenomenal leading up to our wedding and especially on our wedding day. I cannot say enough amazing things about NOVA 535 and the service they provided." -Brandi and Imad | Purple, Orange and Turquoise Moroccan NOVA 535 Wedding
"I wanted something different from a beach, country club or a ranch wedding. I also wanted something that was more like a blank canvas, where I could show off the design of our wedding. NOVA 535 was exactly that. They provided the beautiful, unique interior brick walls, double staircase, two-story party space and amazing outdoor courtyard, while I was able to add all of my own decorations and floral. Guests were extremely impressed with the character of this venue." -Chelsea and Dan | Black, Gold and Coral NOVA 535 Wedding
---
Meet the Event Sales Manager: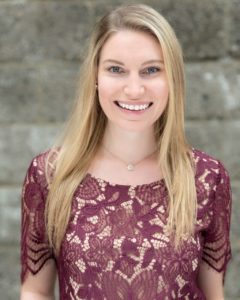 April was born and raised in St. Pete, Florida. Graduating with a degree in Hotel, Tourism, and Event Management from New York University, she worked as the event coordinator for NYU Law School for 5 years. After then working as the Assistant Director of Events for the Harold Pratt House, a beautiful 2-story 1920s townhouse mansion on Park Avenue, she relocated back home in January 2020. April is obsessed with anything rose gold (which includes rosé wine), and loves being a part of her client's own love story. April is also CMP certified.
Website
535 Dr M.L.K. Jr St N, St. Petersburg, FL 33701
---
---
---
---
NOVA 535 Unique Event Space Reviews from Marry Me Tampa Bay Couples:
Marry Me Tampa Bay curates the below reviews from real couples whom we've personally interviewed. As Tampa Bay's most trusted wedding planning resource, these reviews are 100% accurate and aren't created by fake accounts.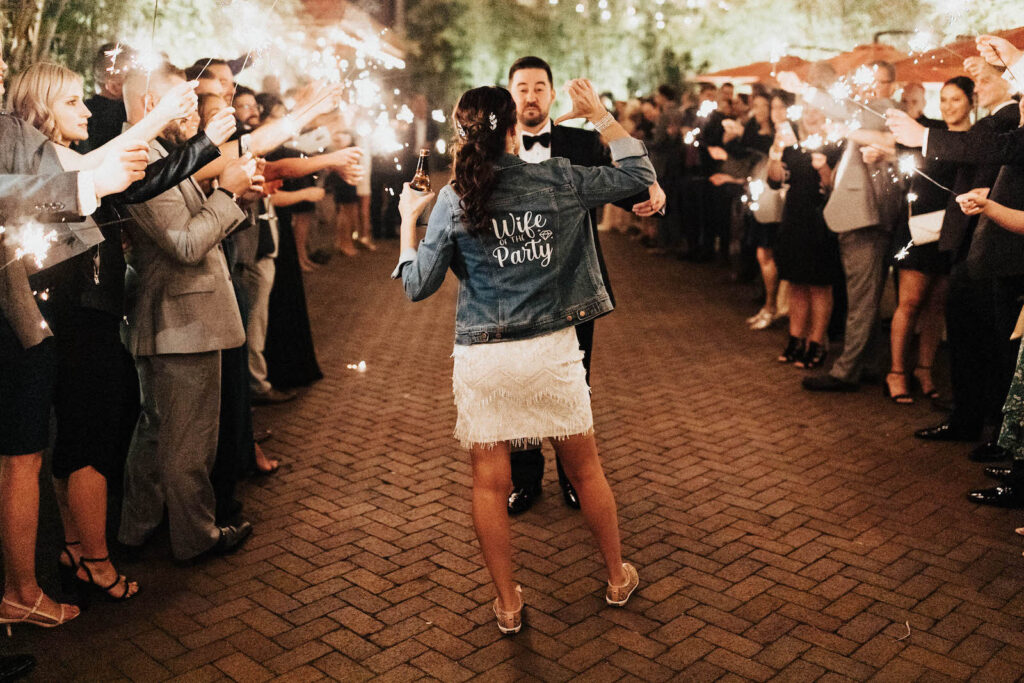 We wanted a private area that nobody else would be around.
NOVA 535 is right in downtown St. Pete, so it's local to going out afterward. It's such a cool place with brick and an outside area.
-Amanda and Jimmy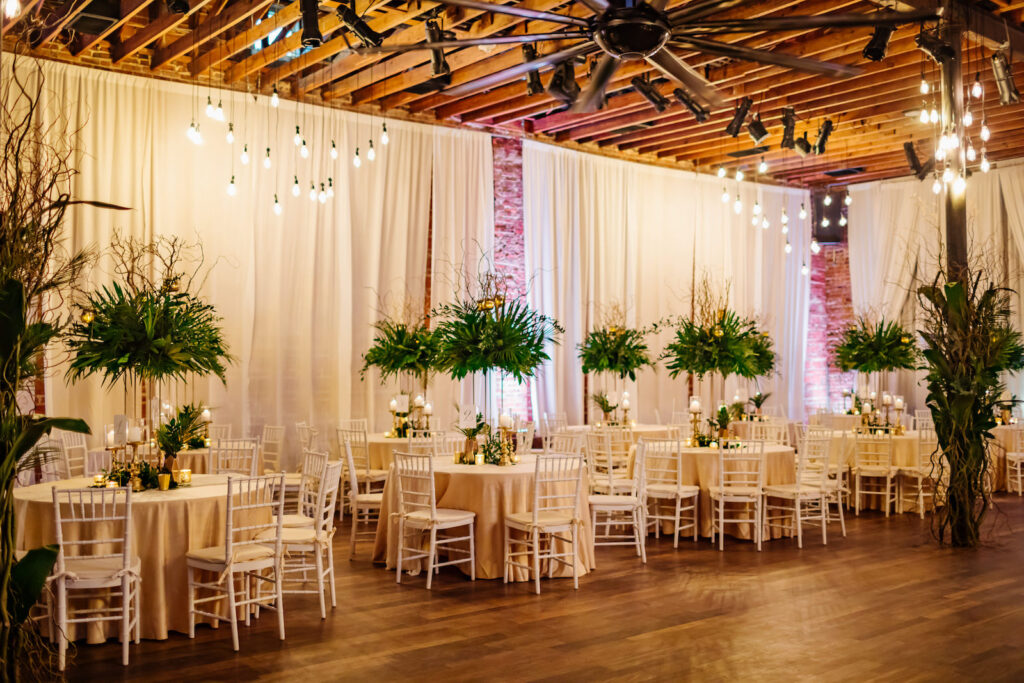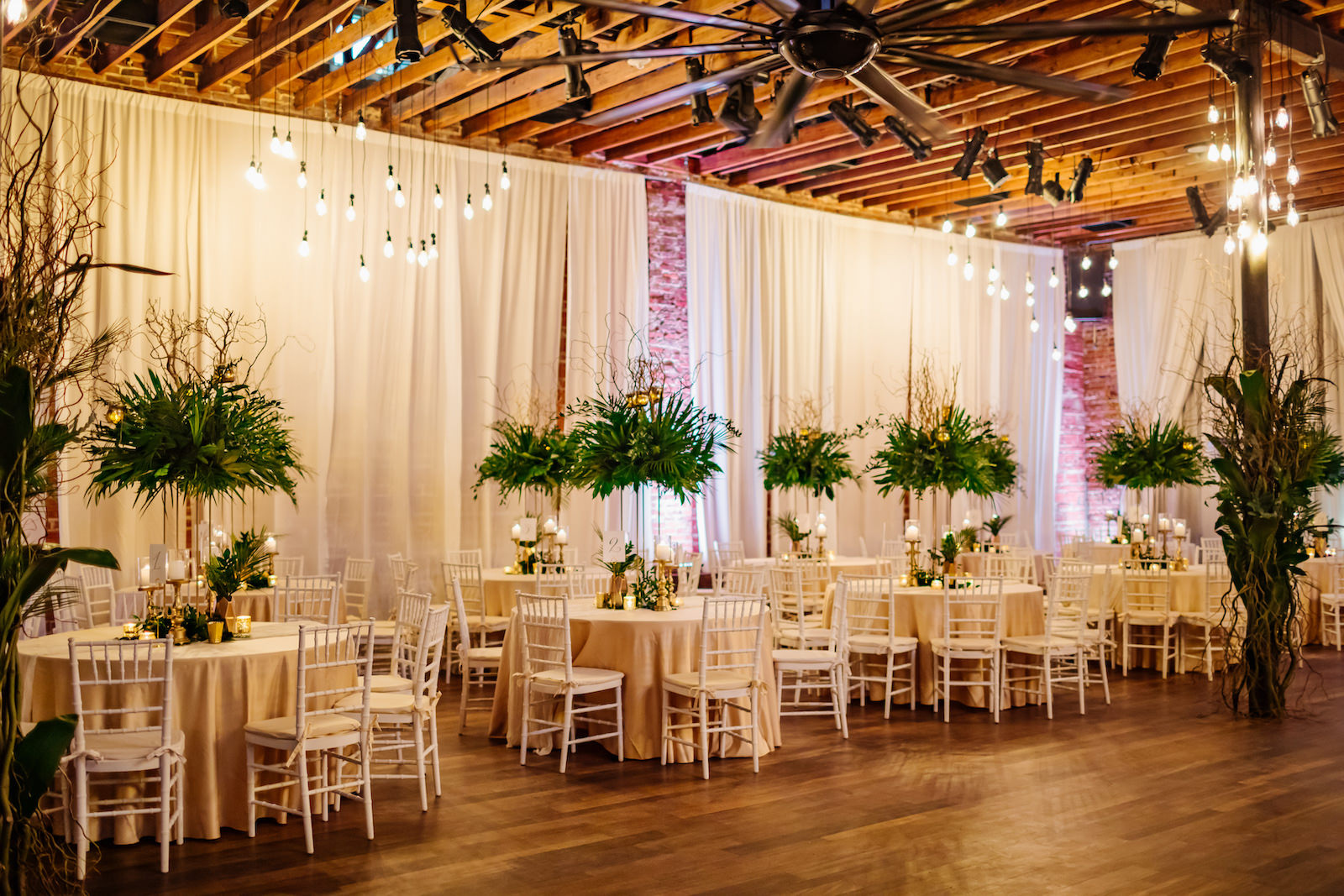 Our hearts were set on getting married and having sunset photos on the beach because the beach has always been special to us and one of our favorite pastimes; however, the beach reception locations were very limiting for what we were looking for. We wanted our reception to go later than normal and we wanted to use outside food truck vendors, which NOVA 535 was the perfect option and allowed us flexibility for our own creativity and vision!
We had very specific requirements for our reception venue that made NOVA 535 the most obvious and best choice, custom flexibility for outside vendors, including food, décor, design, and later hours extending past midnight. We partied until 1 a.m.!
NOVA 535 fit our needs for flexibility and later hours, and they totally blew us away with their service! Ruby, the venue manager, helped with all planning, communication, and selections leading up to the day. She is a rockstar, always so responsive, detailed, and resourceful! Stephany, the day of coordinator, and April, the bartender, were wonderful and made our day special!
Our ceremony reception site was wonderful and so fun to work with!
-Alex and Kit
---
---
As Seen on Marry Me Tampa Bay