St. Pete Beach – Palm trees, tropical flowers, sugar-fine sand, and uninterrupted views of the Gulf of Mexico make the iconic Don CeSar Hotel a welcoming destination. Layer in the luxurious accommodations and world-class Spa Oceana and it's no surprise why many couples choose to get married here and then stay for their honeymoon. With roots to 1928, the landmark hotel is lovingly referred to as the Pink Palace. A palace, indeed, it is well known for its amenities and level of service. And of course the couple—and family and friends—will forever connect the joyous occasion with the world-class setting. Many couples like to take advantage of multiple entertainment venues throughout the property, including exchanging vows in the courtyard or on the beach, and then making their way to one of the hotel's many scenic reception locations—indoors or out.
The Ceremony:
The Don CeSar offers outdoor ceremony locations on the beach or in our Courtyard as well as indoors in our elegant, light-filled ballrooms. Our ceremony packages include the Event Space, an indoor weather backup location, White Folding Chairs, a Fruit-Infused Water Station, an Audio Package, and a Day-of Wedding Coordinator.
$3,500.00 (plus Administrative Charge and Sales Tax)
The Cocktail Hour:
Each of our reception locations has an included cocktail hour space which includes Cocktail Tables, Chairs, and House Linen in White, Black, or Navy as well as any food and beverage set up.
Included in reception Food & Beverage Minimum.
The Reception:
The Don CeSar has a variety of recently renovated ballrooms to accommodate a variety of group sizes for the reception.
Up to 250 guests
Most wedding receptions are scheduled for 5 hours. The end time is Midnight on Friday and Saturday or 11:00 PM Monday through Thursday.
Included in the food and beverage minimum for your reception are tables, chairs, house linens in white, black, and navy blue as well as china, flatware, glassware, and all food/beverage service equipment. We also have table numbers and votive candles available upon request.
Savings Tip: Consider the months of January, July, August, and September for reduced food and beverage minimum and special menu offerings.
The Food:
The Don CeSar offers a wide variety of unique menus and can customize a menu just for your special event. Food and beverage minimum varies per ballroom; the range of $8,000-32,000
$108/ person average meal cost
The Drink:
$52/ person average beverage cost
---
What couples love about the Don CeSar:
The Don CeSar Hotel, known affectionately as the Pink Palace, offers a storied past, beautiful architecture, striking color, and grandeur. The Don CeSar is an outstanding wedding venue because it exudes a class that meets a comfort vibe. We offer eight venue options, indoor and outdoor, with sweeping Gulf views. Couples often choose to make their wedding a multi-day event, hosting their rehearsal dinner, wedding ceremony, reception, and farewell brunch all at the hotel. Our beachfront ceremony location is ideal for couples looking to say their vows with toes in the sand and a gorgeous Gulf of Mexico sunset in the background. Additionally, we have a private Wedding Courtyard, giving couples the versatility of being married beachfront, but the Bride will still be able to wear her stilettos!
---
Don CeSar Reviews From Marry Me Tampa Bay Couples:
"We decided on The Don CeSar because I grew up telling my dad that I was going to get married there. I wanted to be a princess with a big dress and pink shoes. Luckily I was able to live out those childhood dreams with my prince! The Don is a beautiful, classy, and historic building; it's the closest thing to a castle that we have in St. Petersburg." -Emily and Steven | Navy and Pink Romantic Don CeSar Wedding
"The Don CeSar had everything I was looking for in a venue. It has the iconic old world glamour I wanted, matched with being on the beach that made it the perfect fit for both of us. We couldn't have been happier with their service. The entire staff went above and beyond to make our guests stays and our wedding wonderful." -Chaya and Michael | Glamorous Champagne and Burgundy Don CeSar Wedding
"We wanted a wedding with the beach incorporated somehow and a place we could go back to and enjoy for many years to come. It was also important when having an outside wedding, with the unpredictable Florida weather, to make sure we also liked the weather back-up room just in case it was needed. The Don CeSar is such a historic location and was perfect because the gorgeous courtyard was the happy medium to provide us with that outdoor, beach-y feel without being on the actual beach. I also fell in love with the terrace on the fifth floor which was where we had cocktail hour, as well as the two levels of the Grand Ballroom where we had our reception." -Deviney and Brett | Romantic Blush Pink, Gold and Ivory Don CeSar Wedding
"The Don CeSar was the first place we looked at outside of Sarasota, and as soon as I saw it I just knew it was the place. The Don has beach access, is beautiful, close to the airport, is resort style with no need to rent a car and is an amazing New Year's Eve party for those who stayed the weekend! It was perfect!" -Tiffany and Thomas | 1920's Inspired Glamorous Don CeSar Wedding
"We chose The Don CeSar because it reminded us of our art deco theme, and it's just a gorgeous building. I wanted a space that was glamorous on its own and didn't need too many decorations to be beautiful. The Don has so many different rooms where we could host the rehearsal dinner, wedding and brunch. The events manager was a dream to work with. She was so sweet and very easy to get a hold of. She did everything she could to make our day special." -Alessandra and Bryan | Great Gatsby Inspired Blush Pink, Mint and Gold Don CeSar Wedding
---
Meet the Senior Catering Sales Manager:
Beth Clark has worked in the events industry for nearly 18 years and absolutely LOVES weddings! She strives to create a unique and custom experience for each of the couples she works with and to provide unmatched personalized customer service. She is originally a Georgia girl but loves living near the beach with her teenage son, Julian, and sweet rescue pup, Harper. Email Beth Clark or call 727-363-5042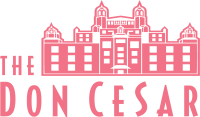 (727) 360-1881
3400 Gulf Blvd, St Pete Beach, FL 33706
---
Featured Don CeSar Weddings:
---