Out-of-this-world Wedding Films + Photos
Your story runs deep, and love is never truly as simple as, "We met on Bumble and the rest is history!"  When you found your person, the stars aligned, your whole world was flipped upside down, you became a better person, and you finally found your soulmate in this vast universe. Capturing the depth of your love in a way that genuinely reflects your story and speaks to your soul, is our honest passion in life. We'd love to learn about yours and create something totally epic for you and your family to cherish for light years to come.
---
---
Our Wedding Style Is:
Genuine, Relaxed, Balanced, and Playful
We're perhaps best known for how chill and relaxed we are, and nearly every review we get mentions how calming a presence we are. We're not freaking out about the little things (or the big things, really). Being stressed on your wedding day is overrated, so why would you hire a team that makes you even more stressed?!
While we're calm and relaxed on the wedding day, we work behind the scenes ahead of time to create a stress-free timeline that works for you. The day of, we don't overly pose you, but we also make sure to get those "must-have" shots while having fun at the same time!
We're big fans of capturing the day as it happened and not intruding on special moments that are CLEARLY happening. We can't tell you how many times we watch other vendors interrupt first looks by talking and reposing the couple. It makes us want to scream and cry at the same time (but we don't).
Our Personality Is:
Calm, collected, and goofy AF
We can be pretty silly and ridiculous around each other…it's kind of disgusting sometimes. Like, we apologize in advance for any thrusting or butt grabs you witness on the dance floor. As silly as we are, we can also be big, emotional, mushy romantics with each other. More apologies in advance if you catch us crying at your wedding over something that made us feel ooey gooey inside.
---
We Love Being a Part of the Wedding Industry Because:
We get to work from home in our underwear with a kitty on our lap most days. 
No, but for real, working in this industry feels like being part of an ever-growing family. Between our freaking awesome couples, and all of our friendors (vendors that are friends), we love the connections and friendships that we've formed over the years. Some of our best friends were once our clients, and have been there for us at our highest highs and lowest lows. Working in our underwear at home is really just the cherry on top. 
---
What Makes Our Business Stand Out From Other Vendors Is:
We believe your wedding day is about YOU and not about our portfolio, and we aren't afraid to be ourselves 100% around you and your family. 
What the F@#$ does that even mean? 
Your wedding isn't just about a viral video or a *perfectly* posed Instagram photo. Your wedding day is about connection, shared memories, and having a damn good time with your friends. We pride ourselves on being able to read a room. If you're OVER taking photos and just wanna join cocktail hour, then GO JOIN COCKTAIL HOUR. We'll stand in the corner with a zoom lens capturing those candid laughs and hugs. But if you're down to do something fun and creative with us, let's F-ing do it!
Our Style Is:
Personalized

Candid

True-to-color

Genuine

Calm + Relaxed

Honest

Down-to-earth

Raw
Our Style is NOT:
Generic

Cookie-Cutter

Posed

Intrusive

Overbearing

Complicated

Overexposed

Overly Chatty
---
One Thing Most Couples Would Be Surprised to Know About Us Is:
Bonnie is the videographer and Jon is the photographer…gender stereotypes usually have those roles reversed, but we're not here to follow the rules, we're here to break them.
---
Our Pricing:
What is money called in outer space?
Star bucks!
Nobody likes talking about this part, so we thought a space pun might lighten the mood???
Our average Film + Photo package investment is $9,200 and includes a TON of goodies:
– 9 hours of coverage
A Cinematic Highlight Film

A Full Ceremony and Toast Edit

Raw Footage

A Photography Engagement Session

$200 credit towards an album purchase
and a whole lot more. 
Please reach out to us for a full info and investment guide.
At this time, we are not accepting videography-only bookings.
---
---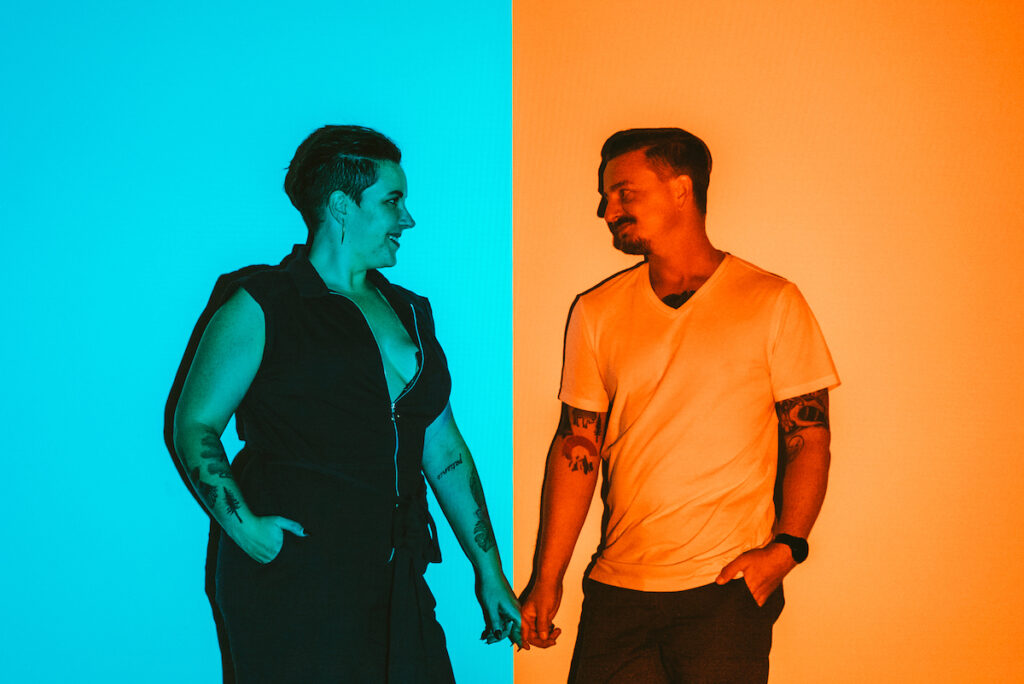 Meet Bonnie + Jon
#TeamBonJon
"Bonnie is everything I could ever ask out of a partner in this life. She is my rock when I am struggling, and exudes a resolve that keeps me going when I would normally throw in the towel. I have never felt so comfortable in my own skin as I do in her presence. As long as she is by my side I know that everything will be alright. She amazes me every day with her creativity and talents, her hard work, and of course those stunning eyes of hers! Her ability to tell me numerous times throughout the day how much she loves me, and to make each of those times feel more sincere than the last, is just one of the many reasons I can't wait to call her my wife." –JON
 "Jon is the funniest person I've ever met, and he makes me laugh at the dumbest shit every single day. His sense of humor is light-hearted, goofy, and absurd. Nearly every morning, I wake up to a new jingle that he's written for me. He's an expert at remembering the slightest mention of something and creating the most memorable gift out of it. On that note, Jon is an excellent listener, and it's one of the biggest reasons I'm marrying him soon. He makes me feel heard and understood like no one ever has. Jon has always encouraged me to be myself, and I love him for that. Jon is also smashingly good looking for his age, which is really just the perfect cherry on top of an already excellent ice-cream sundae." –BONNIE
Mars and The Moon Films + Photos Reviews from Marry Me Tampa Bay Couples:
Marry Me Tampa Bay curates the below reviews from real couples whom we've personally interviewed. As Tampa Bay's most trusted wedding planning resource, these reviews are 100% accurate and aren't created by fake accounts.
---
---
---
As Seen on Marry Me Tampa Bay