We are professional pet sitters who make it possible for couples to include their pets in their wedding! We take care of everything that is involved so the couple doesn't have to worry about a thing.
---
---
What We Offer:
Wedding Day Pet Care
---
Our Wedding Style Is:
We love to personalize our packages and have fun with our clients & their pups! With such a unique business concept, it's really exciting to see all the different creative avenues that we can take in our planning.
Our Personality Is:
We're paw-ty animals! But really, our goal is to have a good time including your pet on the biggest day of your life. We are passionate about animals and strive to do whatever it takes to make our clients and their pups as happy and stress-free as possible.
---
What Inspired Us to Start Our Business is:
Our background is in hospitality & event planning. We saw a need for couples that wanted to include their pet that they considered family in their wedding day, but the logistics were just too overwhelming. Who would they put the responsibility on? Who would take them home after the ceremony? Everyone that the couple trusted would be invited to the wedding so the idea seemed too far-fetched. That's where we came in & created what we've now coined as "wedding day pet care". We take care of everything so that the couple AND their pet are able to have the best day ever!
---
We Love Being a Part of the Wedding Industry Because:
While we don't plan weddings, we are so thrilled to be part of such a special day in a couple's life. The look on our client's face as their four-legged friend walks down the aisle is truly priceless. This is our dream job!
---
What Makes Our Business Stand Out From Other Vendors Is:
Founded in 2015, we are the first Wedding Day Pet Care company in the US! We are experienced wedding & event professionals. Our mission is to treat our client's pets like they are our own & help rescues find their home. This is why a portion of every FairyTail Wedding is donated to a local animal shelter.
---
One Thing Most Couples Would Be Surprised to Know About Us Is:
We (Ilana & Kelly, the co-founders) have been best friends since we were 13. We've worked many jobs together over the years & have been dreaming big since the start. It's honestly been no surprise to those close to us that we started a business together bringing dogs to weddings.
One of Our Non-Wedding Passions Is:
Music & traveling.
---
Our Pricing:
Our pricing varies, of course, and we are really willing to work with couples on any budget. Typically it ranges anywhere from $300-$1,000. From just pictures to our all-inclusive package.
We also offer packages for engagement photoshoots which are priced accordingly with the photographer.
---
Our Associations/Awards:
Pet Sitters Associates LLC, Professional United Pet Sitters LLC, As Featured in the Tampa Bay Times, As Featured on the Today Show, Voted Best Pet Sitting in Tampa Bay
---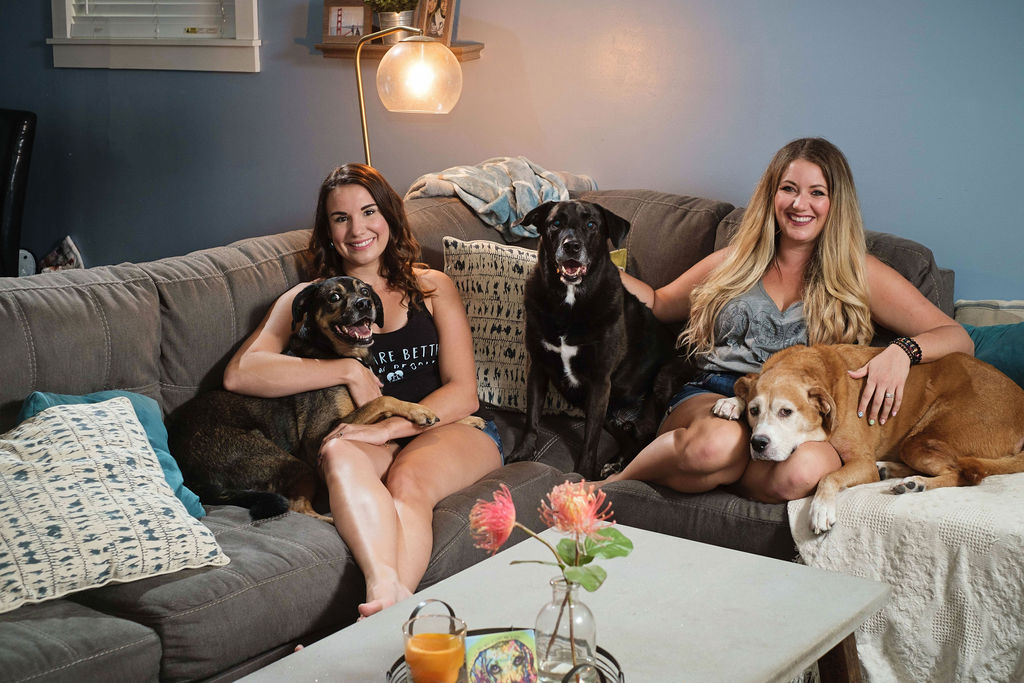 Meet Kelly & Ilana
Ilana & Kelly both grew up in Tampa Bay. They've been best friends since they were 13, instantly bonding over their passion for music & animals. They both attended Florida State University & graduated with bachelor's degrees. After college, they both began working for Hilton Hotels. It was there, planning weddings & events, that the idea for FairyTail Pet Care sparked. They've been in business together for almost 6 years & have continued to find new ways to innovate & give back to their communities. They both live in Seminole Heights with their dogs & loving partners, Eric & Cassidy, respectively. Ilana has a quirky, lovable hound/boxer mix named Cooper. Kelly has a beautiful, smart black lab named Rowdie & a sweet & emotional hound/boxer mix named Grizzie. All three dogs are rescues & Cooper & Grizzie are actually brothers. They are looking forward to the continued success of their business that they've worked so hard to build & of the future of the "wedding pet care" industry as a whole.
FairyTail Pet Care Reviews from Marry Me Tampa Bay Couples:
Marry Me Tampa Bay curates the below reviews from real couples whom we've personally interviewed. As Tampa Bay's most trusted wedding planning resource, these reviews are 100% accurate and aren't created by fake accounts.
---
---
As Seen on Marry Me Tampa Bay