Downtown St. Pete – Red Mesa Events features multiple wedding spaces: an open-air courtyard restaurant, Red Mesa Cantina, perfect for rehearsal dinners or bridal showers, a renovated ballroom, open-air bar and lounge, and a rooftop deck featuring stunning views of downtown St. Pete.
The three-story wedding venue, originally the home of downtown St. Pete's first fire station, was fully restored in 2017, while still preserving the original features of the historic building.
The Ceremony: 
La Florida Ballroom: With original exposed brick, two brilliant chandeliers and herringbone wood floor, La Florida Ballroom is an exquisite, 1200-square-foot space that seats 110.
DeSanto Rooftop: A chic third-story lounge overlooking the heart of downtown St. Pete. With a rich Brazilian Walnut deck and a stunning view of the sunset for up to 150.
The Cocktail Hour:
Cantinita Terrace: Trendy second story balcony lounge overlooking the courtyard and bubbling fountain. Max capacity 120.
DeSanto Rooftop & La Florida Ballroom: Available for cocktail hour
The Reception:
La Florida Ballroom:
When you walk into the La Florida Ballroom, you'll immediately notice the historic charm with its original whitewashed exposed brick walls, yet the event space features a modern touch with two majestic chandeliers, a white marble bar, stunning herringbone wood floor, and large windows overlooking downtown St. Pete. The 1,200 square-foot ballroom seats 120 guests in a formal dining setting or 175 for hors d'oeuvres and cocktails.
The ballroom is decked out with state of the art AV and uplighting and features its own cutting edge banquet kitchen so that your chef is dedicated to your wedding menu.
100 guests for a formal plated reception 100
175 guests for a cocktail reception
DeSanto Rooftop:
One of the few private rooftop spaces in downtown St. Pete, the DeSanto Rooftop is a stunning third-story lounge overlooking the heart of downtown St. Pete. It features a rich Brazilian Walnut deck, lounge seating, and 30-foot bar specializing in exclusive handcrafted cocktails. This chic 1,200-square-foot space is the quintessential location for sunset outdoor ceremony, cocktail hour or reception for up to 175 of your closest friends! With three semi-private lounge areas, even smaller events are welcome.
175 guests accommodated for a cocktail reception (Cocktail only available on DeSanto Rooftop)
Cantinita Terrace:
This open-air balcony bar and lounge offers a trendy space that overlooks the Red Mesa Cantina courtyard and bubbling fountain. If offers a private bar and catering, perfect for a rehearsal dinner of 25 or 75-person cocktail hour.
25 guests for a formal plated reception
120 guests for a formal cocktail style reception
The venue rental fee includes: Private Space Rental – including cross-backed chairs, tables, linens (black, white or ivory), cutlery, glassware, uplighting (La Florida & DeSanto), state-of-the-art audio system, microphone, 24′ foot built-in bars in each space, 25-foot screen and projector (La Florida). One hour ceremony rehearsal is included.
Venue Rental Fee: $1,500-$15,000 event minimums
Gratuity & Tax not included: 20% service & 7% tax
The Food:
With Mexican cuisine at its heart, Red Mesa Events blends Latin and Caribbean kitchen traditions to create a menu of bold, fresh flavors. Their wedding menus include Red Mesa Cantina menu favorites as well as classic wedding dishes with a unique twist.
Food and beverage minimum depends on space, day and time.
Heavy Hors D'ouvrés $24 | Buffet $50 | Plated $55
The Drink:
If cocktails are a priority, the wedding venue has the most extensive selection of tequilas and mezcals in the South! They are able to create signature cocktails for any palate and include specialized offerings in their beverage menus.
Red Mesa Events sources local St. Pete distilleries and breweries, to showcase our city, on all banquet menus.
$12-$20 per person, per hour, champagne toast included
---
---
What couples love about Red Mesa Events:
At the heart of Red Mesa Events is the food, an eclectic banquet menu with a collection of unique takes on the average banquet meal plus a few Red Mesa favorites. Couples love that they can have an amazing wedding (and party) with no outside costs. Red Mesa Events is not in the business of nickel-and-diming. All three spaces are so aesthetically pleasing that minimal decoration is needed.
---
Special Savings for Marry Me Tampa Bay Readers: 
Book for the remainder of 2020 and Mention Marry Me Tampa Bay to receive 19% OFF your Room Rental.
---
Red Mesa Events Reviews From Marry Me Tampa Bay Couples:
"We both really wanted a space with exposed brick and modern design. I saw Red Mesa on multiple wedding blogs, but I was a little unsure since it seemed relatively new. Once we saw the space, we both fell in love. The rooftop area for the ceremony and cocktail hour combined with the reception hall downstairs was exactly what we were looking for. It truly is an all-in-one venue, and they took care of absolutely everything." -Kaleigh and Greg | Boho Chic Downtown St. Pete Brunch Wedding
"We chose Red Mesa Events for our reception because it is one of our favorite places to eat and offered a 'one and done' kind of deal, including everything we needed in one package." -Nicole and Lance | Tropical Mauve Downtown St. Pete Wedding
---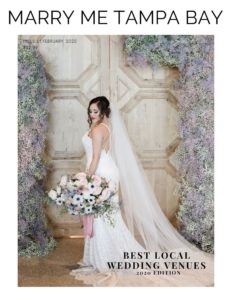 ---
Website | Email
1-800-584-5414
128 3rd St S, St. Petersburg, FL 33701
---
Featured Red Mesa Events Weddings:

post
open
---