At the end of every real wedding feature, we ask couples their advice for other soon-to-be weds, and hands down we hear the same reply: Hire a wedding planner.
If you ask any wedding vendor if you should hire a wedding planner the answer will always be yes, because experienced wedding planners are worth their weight in gold.
Most couples don't realize that you don't hire a wedding planner to just help with the timeline and getting you down the aisle, a wedding planner is your "firefighter" for the day. They solve problems before they become bigger issues because, with that many moving parts, anything can (and does) happen!
But before you say that a wedding planner isn't in your budget, did you realize that a wedding planner can actually save you money?
Between discounted rates from other vendors and knowing how much you should be spending to stay within budget, you can't afford to not hire a professional wedding planner!
1. Keeping You Within Budget
"The process of saving our couples money starts immediately. We take the budget and break it down into prioritized categories so you know exactly how much you have to spend on each. With that, our clients and their vendors can make the best decisions going forward. If you go to a vendor meeting without knowing your budget, you are very likely to overspend. We start with venue selection and consider what the venue includes and what items you will need to bring in at an additional cost to accomplish the desired outcome. We refer clients to vendors that are trusted, reliable, and within budget, and because of our strong relationships may offer discounts and are more flexible. We review contracts for hidden or avoidable costs. I think my favorite way we help clients save money is by guiding them on how to get the most bang for their buck when selecting vendors, décor items, flowers etc. It's very easy to get wrapped up in all the little things and those can add up!" -Karen Cerboni, owner EventFull Weddings
"No blog post or article you will read accurately covers what a wedding costs. Please read that 10 times, because it's true. One of the best ways planners help you stay on budget is by knowing the true cost of everything that goes into a wedding and guiding you to make choices that you can actually afford. Nothing is worse than booking a venue that's way above your budget and realizing too late that you now have next to nothing left for the rest of your big day. Having a planner keeping track of numbers from day one might seem unnecessary, but I promise it is worth every penny and much more!" -John Campbell, owner John Campbell Weddings
"The best advice to save money is to hire a planner from the beginning of the planning process. A planner can create a detailed budget based on knowledge of the industry and the importance of certain desires to the couple. A planner can also negotiate vendor contracts and help you to not overspend on certain budget line items; like spending 1/3 of your budget on only one vendor and expect to get everything else you want with the remaining 2/3's." -Kelly Kennedy, owner Kelly Kennedy Weddings & Events
"This is always a tricky area. It's not our wedding, it's yours! A wedding planner can work with a couple to prioritize what is important to them and create a realistic working budget that looks at those priorities. BUT, nothing is stopping a couple from splurging on something that can blow the budget. A prime sample is referring a couple to a wedding pro who is well within their budget for services. The couple can still go way overboard, adding in upgrades and additional services." -Tammy Waterman, owner Special Moments Event Planning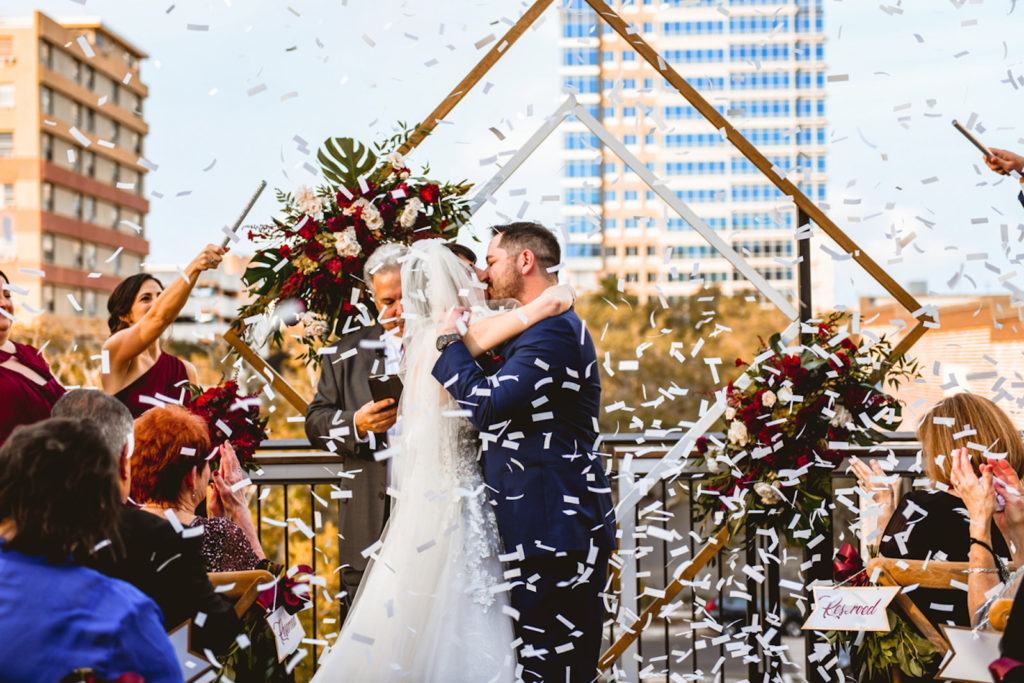 Special Moments Event Planning | Caroline Allen Photography | Burgundy and Gold Downtown St. Pete Rooftop Wedding
2. Recommending the Right Vendors for Your Budget

"Wedding planners can help save couples money with our vendor relationships. By working multiple weddings in the same city and surrounding areas, we get to know vendors very well. Once we know a couple's desired wedding budget, we are able to give them suggestions on the best vendors who will fit their budget." -Katy Turchich, owner Coastal Coordinating
"A wedding planner and designer can take your inspiration photos, which are probably pulled from a $500K wedding in L.A., and create something that is more manageable in your budget while retaining the same inspiration or style." -Staci Mandikas, owner UNIQUE Weddings and Events
3. Passing Along their Industry Discounts
"Because we have our preferred vendors we work with often, they may pass down discounts, waive certain fees, offer special pricing packages and be more flexible with their services." -Karen Cerboni, owner EventFull Weddings
"Experienced wedding planners work on creating relationships with the best professionals in the industry. Since we are a good referral source for companies providing a service to the wedding industry, wedding professionals will reach out to us with specials or new products and, services. Normally we are the first to know who has new services or pricing. We also have preferred wedding professionals who enjoy working with us on a frequent basis, therefore they are always willing to offer discounts, perks, or special packages because we make their job easier. Even if for some reason we are unable to offer you discounts or specials on specific elements or services, we are knowledgeable in the cost of products or services. Therefore, we will know if you are getting a good deal or not, and if we should continue to look for better pricing." -Tammy Waterman, owner Special Moments Event Planning
"Many planners are offered 'kickbacks' from vendors in exchange for referring business their way; this may be for vendors who are looking for more business or from vendors with whom the planner works with often. Some planners will pocket this kickback as a commission for referring their client, while others will pass along that savings directly to their couples. For moral reasons and best business practices, we personally do not accept kickbacks from the vendors we work with, referring vendors based on their stellar reputations, products, and services is always our motivation. Instead, we ask our vendors to take that referral incentive and apply it towards our clients' invoices as savings to them. We believe this makes us even more valuable and trustworthy to our couples." -Christi Winsor, owner Winsor Event Studio
"The best example in which a wedding planner saves you money is his/her Rolodex that you now have access to. A true professional is able to obtain 'wholesale' or 'in the business' pricing on your behalf. First, they consistently recommend a short-list of excellent vendors. This way the focus is on the clients' needs and wants versus negotiating a contract. Second, the vendors that are hand selected by the planner are not required to market, advertise, and sell themselves to the client and therefore pass on these savings. It important to note that certain vendors do not allow access to just anyone, they typically work with a select group of planners that over the years have created a relationship (and represent 80-90% of their work). As an example, photographers, videographers, and live musicians are willing to do one and two-hour time blocks when they would normally require a half-day session because we reserve so consistently and pay in full prior to the event." -Brandon Wheeler, owner Gulf Beach Weddings
"A good amount! We can receive discounts on rentals, cakes, lighting, and pretty much anything else. Discounts shouldn't be your main priority when choosing a planner, though! The most valuable thing your planner can give you is talented professionals who charge full price and go above and beyond to give you everything they're capable of! The occasional discount or favor is just icing on the cake." -John Campbell, owner John Campbell Weddings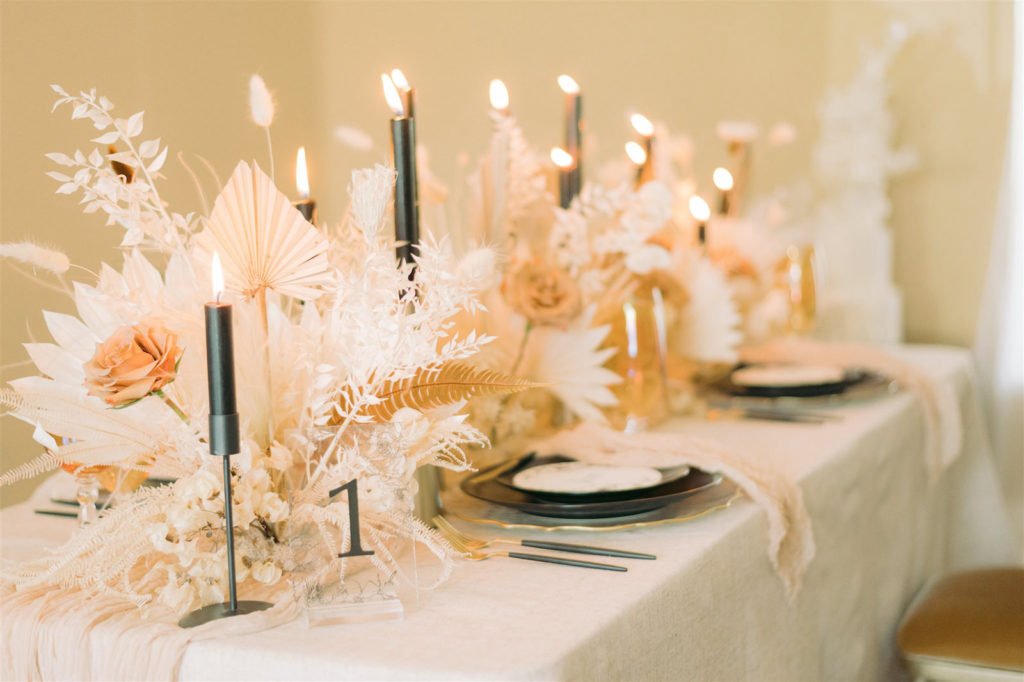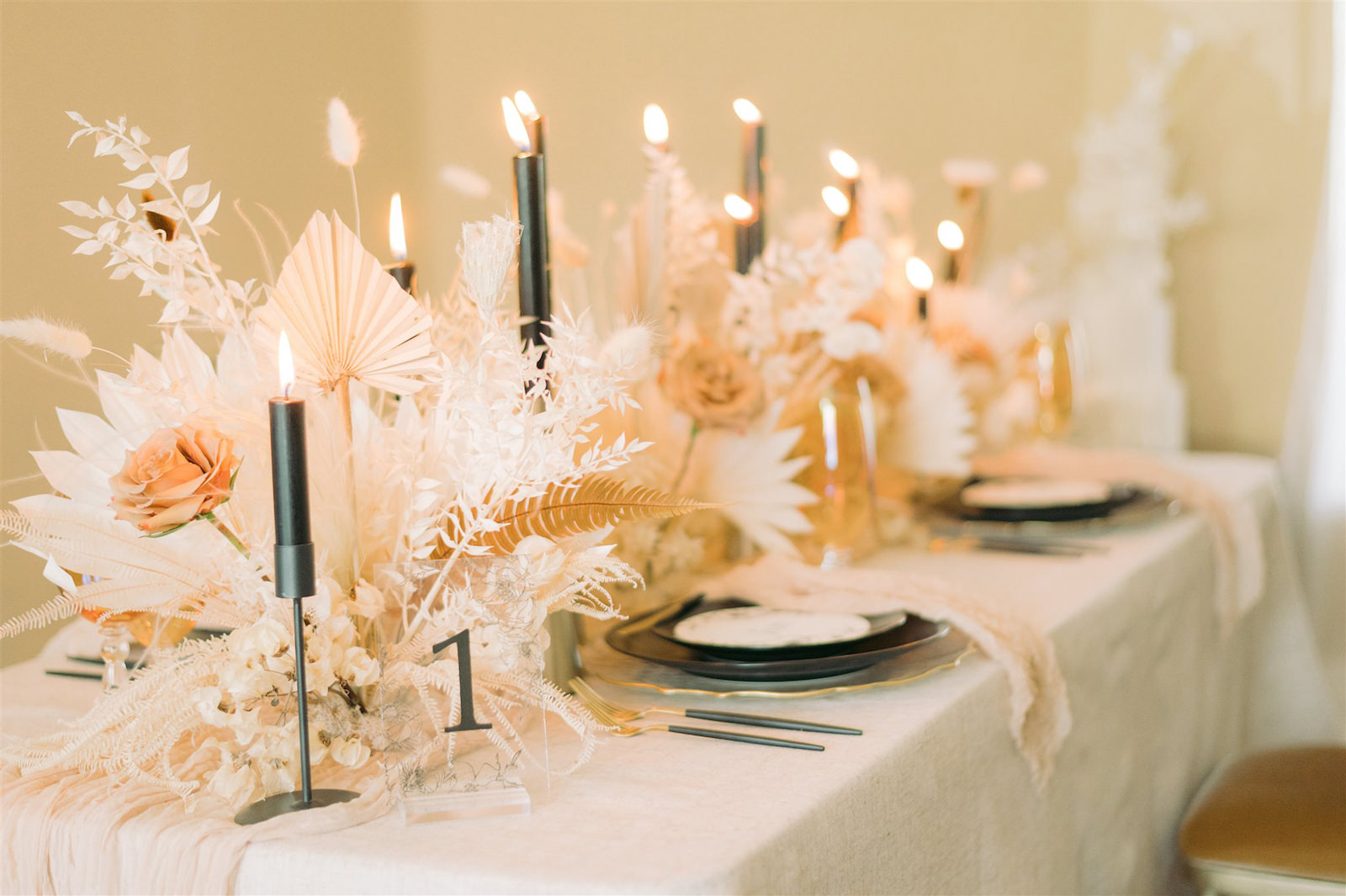 John Campbell Weddings Stills by Hernan | Modern Boho Neutral Intimate Wedding Shoot
4. Preventing Wasted Dollars

"A wedding planner can save you money by preventing you from making costly mistakes. We hear all the time from couples, if I could do it again, I would do it differently. Engaged couples are inexperienced at planning a wedding, so mistakes are expected. Hands down, mistakes cost money. A professional, experienced wedding planner has been there and done that, so they know how to prevent couples from making mistakes that in turn, cost them money. Whether it's hiring a vendor that goes out of business or undergoing a costly DIY project, a wedding planner can stop you before you go down the rabbit hole of wasting money that you can't afford to waste." Staci Mandikas, owner UNIQUE Weddings + Events
"We help couples to focus; you can really spin your wheels running from one end of the region to another or looking at venues or services that aren't a good fit for you. Even online research takes time. We have done the research and stay on the pulse of who's on top of their game. We really listen to what couples want and refer them to people who can offer that. Additionally, we help couples focus on a few high-impact items that will be focal points and enhance those instead of sprinkling money on many small things that might go unnoticed." -Tammy Waterman, owner Special Moments Event Planning
"Staying in budget and avoiding wasting money is a major role of any wedding planner. Our job is to keep you from having any regrets. We have been to a lot of weddings and know what makes an impression, what guests like and remember, and what not to spend your money on. We have worked with numerous vendors ranging from Etsy retailers to luxury venues and know who delivers a quality product that you will not be disappointed with. If you work with a professional wedding planner, you will avoid the dreaded "If I had to do it over again." -Karen Cerboni, owner EventFull Weddings
"I honestly cannot count the number of times I've had to box up favors at the end of the reception or throw out ceremony programs. There are certain things that couples think they need when, in reality, it will be money down the drain. From details that no guest would ever notice to overpaying on a specific vendor category, we help guide our clients to make sensible financial decisions and get the most bang for their buck!" -John Campbell, owner John Campbell Weddings
5. Reading Between the Lines
"A professional wedding planner will examine contracts for hidden fees, educate clients on what a contract does and does not include that may result in additional expenses, and make note of payment deadlines to avoid late fees. Planners review contracts for accuracy to make sure everything is specified as discussed and all the tiny details are covered. We also make sure our clients fully understand the cancellation and postponement language and what that could mean for them and how to protect themselves." -Karen Cerboni, EventFull Weddings
"An experienced wedding planner will review your contracts to ensure you will not be taken advantage of, that nothing slips through the cracks, and that you have everything you need, such as enough power for the band, DJ, or lighting company or the right amount of food and beverages to match your guest count and will remind you when payments and final counts are due, so you do not fall behind or breach your contract. Sometimes what initially looks like a considerable value might not be. We've learned to read between the lines. Things that make the venue what a couple really wanted might come with additional costs. 'Oh, by the way, there's a cleaning fee,' or 'You really need to have valet parking,' or even "That package is actually before tax and service charge." A 25% increase might change what looked like a bargain price drastically." -Tammy Waterman, owner Special Moments Event Planning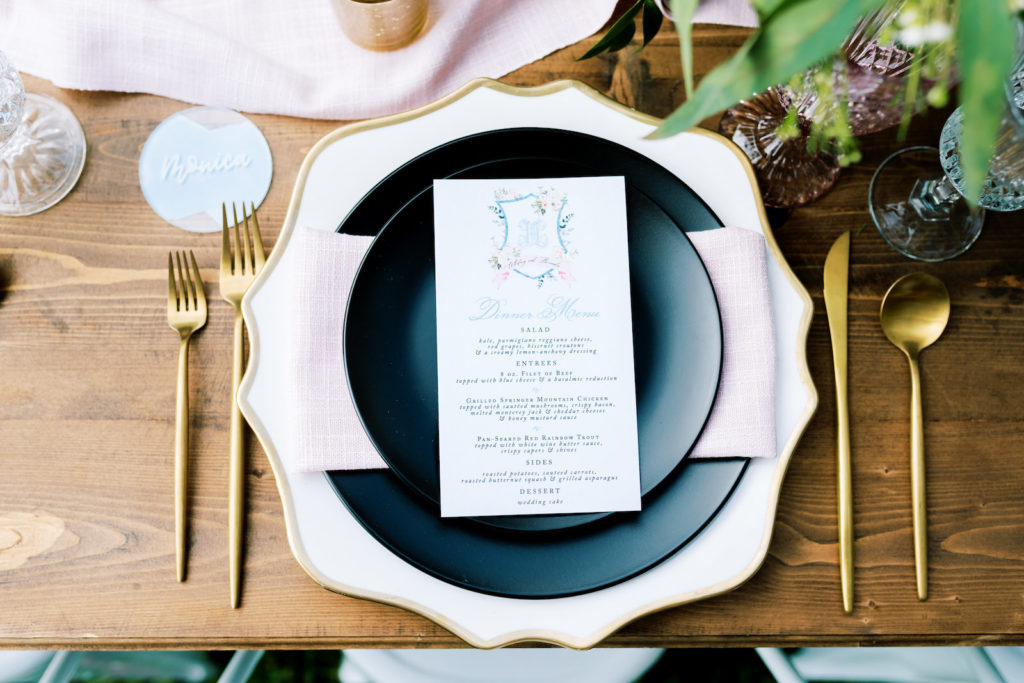 EventFull Weddings | Stephanie Lanni Photography | Elegant Southern Inspired Wedding Shoot
6. Saving You Time (Which Is The Same as Money)
"A professional wedding planner will save you a tremendous amount of time and all of your sanity. It's no longer 'time is money.' Now time is literally the new money. A wedding planner will do extensive research and find the perfect rehearsal dinner location or suggestions on the best place to handle a brunch the day after your wedding. That's time back in your life, and time that you didn't waste looking for the right fit because it was delivered to you with options from your wedding planner." -Tammy owner Special Moments Event Planning
"A professional wedding planner is hands down a time saver for any couple planning their wedding. We do all the research and sourcing for you and present you with options to fit your needs. We are making the calls and emails to the vendors so you don't have to. We are doing all the thinking, planning, and working to free up your time for other things. You know the saying 'time is money' and we give you back your time!" -Karen Cerboni, owner EventFull Weddings
"I spend at least 400-600 hours on every full-service wedding that I plan. That's a lot of time most couples just don't have to spare, and we're not even taking into account that I do this every day of my life. If you're walking into this with zero experience, you'll end up spending a lot of wasted time going back and forth with vendors for months over something that would probably take a planner one week." -John Campbell, owner John Campbell Weddings
7. Best Money-Saving Tips
"Hiring a wedding planner at the beginning of your planning can save you a lot of time, money, and headaches. Unfortunately, couples planning a wedding don't know what they don't know until they're well into planning. Not having a plan, a budget, and a clear picture of your priorities can be a really costly mistake." -Tammy Waterman, owner Special Moments Event Planning
"Really examine your guest list. Don't get caught up in having to have a large wedding or a certain number of guests. The guest list affects almost every aspect of the wedding. Weddings are expensive and should be reserved for the closest most intimate of family and friends. It is one of the most common regrets among couples months after their wedding when they realize they forfeited things that they wanted due to budget and didn't know or even speak to a lot of their guests at the wedding." -Karen Cerboni, owner EventFull Weddings
"Hire a planner. If that's not in the books for you, then really understand what a wedding costs in your market. Don't book a venue before you know what you're able to afford. Lastly, reserve a portion of your budget for unexpected expenses (because there will be a lot if you're doing this on your own!)." -John Campbell, owner John Campbell Weddings