At the end of every real wedding feature, we ask couples their advice for other soon-to-be weds, and hands down, we hear the same reply: Hire a wedding planner.
If you ask any wedding vendor if you should hire a wedding planner, the answer will always be yes, because experienced wedding planners are worth their weight in gold.
Most couples don't realize that you don't hire a wedding planner to only help with the timeline and get you down the aisle, a wedding planner is your "firefighter" for the day. They solve problems before they become bigger issues because, with that many moving parts, anything can (and does) happen!
"Hiring a wedding planner at the beginning of your planning can save you a lot of time, money, and headaches. Unfortunately, couples planning a wedding don't know what they don't know until they're well into planning. Not having a plan, a budget, and a clear picture of your priorities can be a really costly mistake." Tammy Waterman, owner of Special Moments Event Planning, advises.
But before you say that a wedding planner isn't in your budget, did you realize that a wedding planner can actually save you money?
Between discounted rates from other vendors and knowing how much you should be spending to stay within budget, you can't afford to not hire a professional wedding planner!
---
1. Keeping You Within Budget
"The process of saving our couples money starts immediately. We take the budget and break it down into prioritized categories so you know exactly how much you have to spend on each. With that, our clients and their vendors can make the best decisions going forward. If you go to a vendor meeting without knowing your budget, you are very likely to overspend. We start with venue selection and consider what the venue includes and what items you will need to bring in at an additional cost to accomplish the desired outcome. We refer clients to vendors that are trusted, reliable, and within budget, and because of our strong relationships may offer discounts and are more flexible. We review contracts for hidden or avoidable costs. My favorite way we help clients save money is by guiding them on how to get the most bang for their buck when selecting vendors, décor items, flowers etc. It's very easy to get wrapped up in all the little things and those can add up!" -Karen Cerboni, Owner, EventFull Weddings
"The best advice to save money is to hire a planner from the beginning of the planning process. A planner can create a detailed budget based on knowledge of the industry and the importance of certain desires to the couple. A planner can also negotiate vendor contracts and help you to not overspend on certain budget line items; like spending one-third of your budget on only one vendor and expect to get everything else you want with the remaining two-thirds." -Kelly Kennedy, Owner, Kelly Kennedy Weddings & Events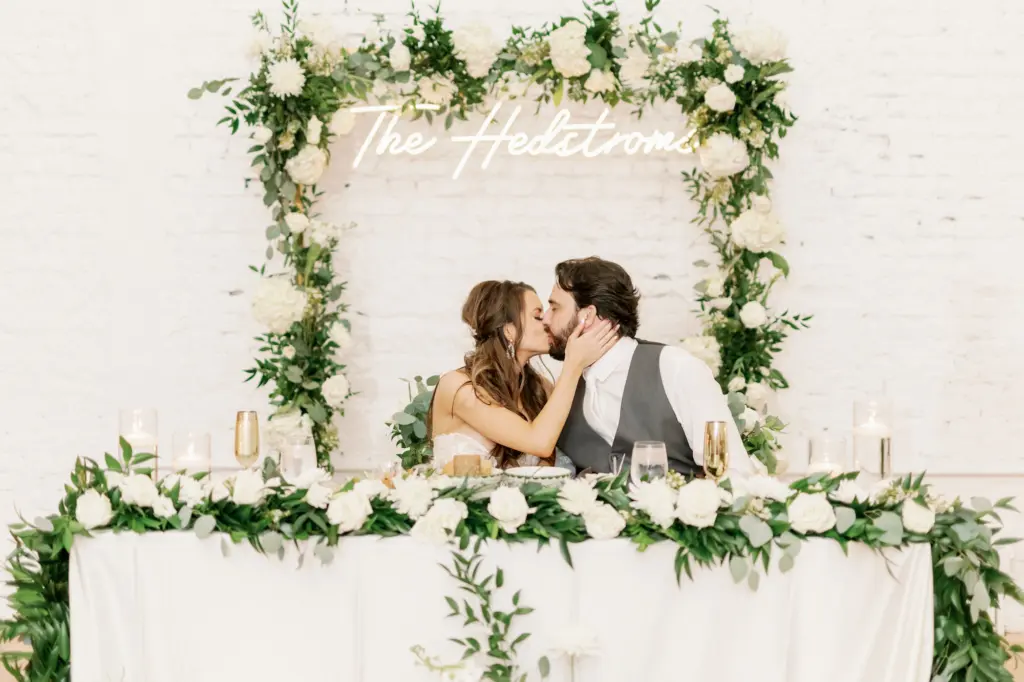 Classic White, Gold, and Greenery Ybor City Wedding | Hotel Haya | EventFull Weddings | Emma Anna Photo
---
2. Recommending the Right Vendors for Your Budget
"Wedding planners can help save couples money with our vendor relationships. By working multiple weddings in the same city and surrounding areas, we get to know vendors very well. Once we know a couple's desired wedding budget, we are able to give them suggestions on the best vendors who will fit their budget." -Katy Turchich, Owner, Coastal Coordinating
"Your wedding planner will be your biggest advocate during the planning process. From the very beginning, wedding planners assist couples in narrowing their venue and vendors search that that isn't a suitable fit. We know that there are many options when it comes to vendors. We take the time to learn about the needs of the couple and then connect them with appropriate resources." -Riley Gersch, Owner, Elegant Affairs by Design
"A wedding planner and designer can take your inspiration photos, which are probably pulled from a $500K wedding in L.A. and create something that is more manageable in your budget while retaining the same inspiration or style." -Staci Mandikas, Owner, UNIQUE Weddings and Events
"This is always a tricky area. It's not our wedding, it's yours! A wedding planner can work with a couple to prioritize what is important to them and create a realistic working budget that looks at those priorities. But nothing is stopping a couple from splurging on something that can blow the budget. A prime example is referring a couple to a wedding pro who is well within their budget for services. The couple can still go way overboard, adding in upgrades and additional services." -Tammy Waterman, Owner, Special Moments Event Planning
---
---
3. Passing Along Their Industry Discounts
"Experienced wedding planners work on creating relationships with the best professionals in the industry. Since we are a good referral source for companies providing a service to the wedding industry, wedding professionals will reach out to us with specials or new products and, services. Normally we are the first to know who has new services or pricing. We also have preferred wedding professionals who enjoy working with us on a frequent basis, therefore they are always willing to offer discounts, perks, or special packages because we make their job easier. Even if for some reason we are unable to offer you discounts or specials on specific elements or services, we are knowledgeable in the cost of products or services. Therefore, we will know if you are getting a good deal or not, and if we should continue to look for better pricing." -Tammy Waterman, Owner, Special Moments Event Planning
"We try to go above and beyond to help our clients save money while staying close to their vision. One of the cost-saving strategies we implemented is offering a wide range of décor items included in our fees, eliminating the need for additional rentals or purchases. Additionally, since Breezin' Weddings is a part of Breezin' Entertainment company, we are able to offer discounts on DJs, live bands, solo musicians, and other wedding entertainment by hiring us as planners." -Anna Shvaykova, Lead Planner, Breezin' Weddings
"Wedding planners know who the best players in the industry are because we have built strong relationships with them by working at several weddings together. Our connections with local vendors allow us to assist couples cut costs on their wedding. Due to the close relationships we have established with specific vendors, we're often able to negotiate better terms and flexibility, and sometimes even receive unique price packages." -Riley Gersch, Owner, Elegant Affairs by Design
"Because we have our preferred vendors we work with often, they may pass down discounts, waive certain fees, offer special pricing packages, and be more flexible with their services." -Karen Cerboni, Owner, EventFull Weddings
"The best example in which a wedding planner saves you money is his/her Rolodex that you now have access to. A true professional is able to obtain 'wholesale' or 'in the business' pricing on your behalf. First, they consistently recommend a short list of excellent vendors. This way the focus is on the clients' needs and wants versus negotiating a contract. Second, the vendors that are hand-selected by the planner are not required to market, advertise, and sell themselves to the client and therefore pass on these savings. It is important to note that certain vendors do not allow access to just anyone, they typically work with a select group of planners that over the years have created a relationship (and represent 80-90% of their work). As an example, photographers, videographers, and live musicians are willing to do one and two-hour time blocks when they would normally require a half-day session because we reserve so consistently and pay in full prior to the event." -Brandon Wheeler, Owner, Gulf Beach Weddings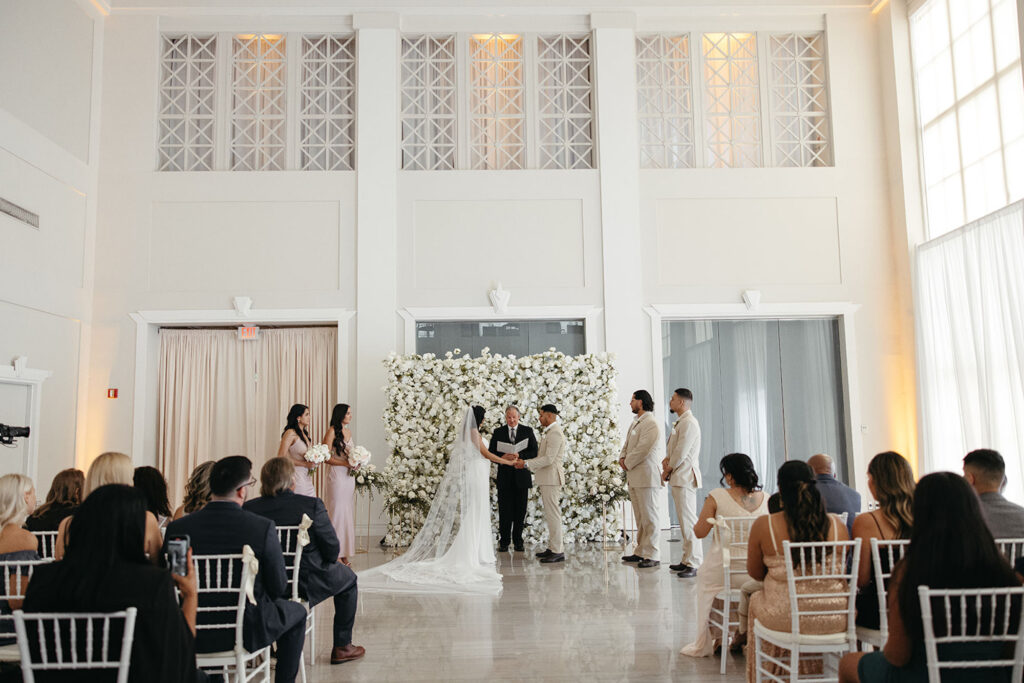 Elegant White, Gold, and Neutral Downtown Tampa Wedding | The Vault | Coastal Coordinating | Janel Herranz Photography
---
4. Preventing Wasted Dollars
"A wedding planner can save you money by preventing you from making costly mistakes. We hear all the time from couples, if I could do it again, I would do it differently. Engaged couples are inexperienced at planning a wedding, so mistakes are expected. Hands down, mistakes cost money. A professional, experienced wedding planner has been there and done that, so they know how to prevent couples from making mistakes that in turn, cost them money. Whether it's hiring a vendor that goes out of business or undergoing a costly DIY project, a wedding planner can stop you before you go down the rabbit hole of wasting money that you can't afford to waste." Staci Mandikas, Owner, UNIQUE Weddings + Events
"We help couples to focus; you can really spin your wheels running from one end of the region to another or looking at venues or services that aren't a good fit for you. Even online research takes time. We have done the research and stay on the pulse of who's on top of their game. We really listen to what couples want and refer them to people who can offer that. Additionally, we help couples focus on a few high-impact items that will be focal points and enhance those instead of sprinkling money on many small things that might go unnoticed." -Tammy Waterman, Owner, Special Moments Event Planning
"Staying in budget and avoiding wasting money is a major role of any wedding planner. Our job is to keep you from having any regrets. We have been to a lot of weddings and know what makes an impression, what guests like and remember, and what not to spend your money on. We have worked with numerous vendors ranging from Etsy retailers to luxury venues and know who delivers a quality product that you will not be disappointed with. If you work with a professional wedding planner, you will avoid the dreaded "If I had to do it over again." -Karen Cerboni, Owner, EventFull Weddings
"A planner is familiar with what to look for when reviewing contracts, proposals, timelines, and design. You may be paying more for a vendor than you should be or hiring one that is out of your budget range when we know of many others that are just as talented and wonderful to recommend. Also, we have the background to know when to repurpose items, when to rent over DIY, and when to make sure to give the job to a professional and not a family member." -Lauren Gertz, Owner, MDP Events
---
---
5. Reading Between the Lines
"A professional wedding planner will examine contracts for hidden fees, educate clients on what a contract does and does not include that may result in additional expenses, and make note of payment deadlines to avoid late fees. Planners review contracts for accuracy to make sure everything is specified as discussed and all the tiny details are covered. We also make sure our clients fully understand the cancellation and postponement language and what that could mean for them and how to protect themselves." -Karen Cerboni, Owner, EventFull Weddings
"An experienced wedding planner will review your contracts to ensure you will not be taken advantage of, that nothing slips through the cracks, and that you have everything you need, such as enough power for the band, DJ, and lighting company, or the right amount of food and beverages to match your guest count. We will also remind you when payments and final counts are due, so you do not fall behind or breach your contract. Sometimes what initially looks like a considerable value might not be. We've learned to read between the lines. Things that make the venue what a couple really wanted might come with additional costs. 'Oh, by the way, there's a cleaning fee,' or 'You really need to have valet parking,' or even "That package is actually before tax and service charge." A 25% increase might change what looked like a bargain price drastically." -Tammy Waterman, Owner, Special Moments Event Planning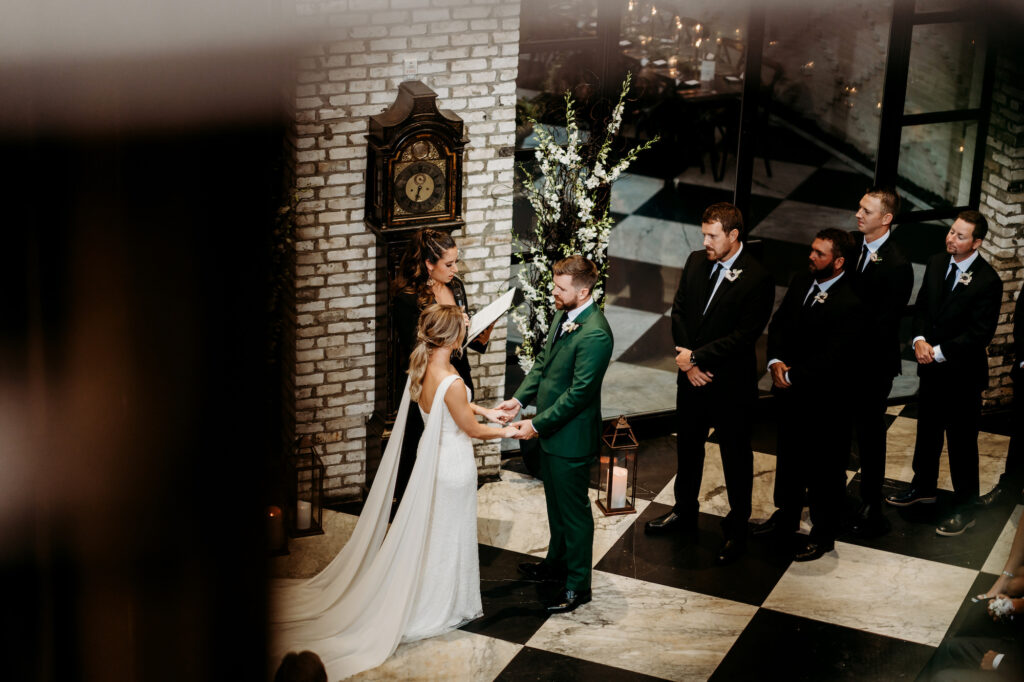 Timeless White and Black South Tampa Wedding | Special Moments Event Planning | Jason Angelini Photography
---
6. Saving You Time (Which Is The Same as Money)
"A professional wedding planner is hands down a time saver for any couple planning their wedding. We do all the research and sourcing for you and present you with options to fit your needs. We are making the calls and emails to the vendors so you don't have to. We are doing all the thinking, planning, and working to free up your time for other things. You know the saying 'time is money,' and we give you back your time!" -Karen Cerboni, Owner, EventFull Weddings
"A professional wedding planner will save you a tremendous amount of time and all of your sanity. It's no longer 'time is money.' Now time is literally the new money. A wedding planner will do extensive research and find the perfect rehearsal dinner location or suggestions on the best place to handle brunch the day after your wedding. That's time back in your life and time that you didn't waste looking for the right fit because it was delivered to you with options from your wedding planner." -Tammy Owner, Special Moments Event Planning
"When it comes to wedding planning there is so much that goes into it besides money! Time, stress, emotions, creativity, and knowledge. As everyone always says, 'time is money.' That is so accurate with planning your wedding because beginning the process, how are you supposed to know what everything costs, what the verbiage means, which vendor is the best, which venue won't make you go venue broke, and where to begin? There are lots and lots of pieces to the puzzle when it comes to arranging all the details for your big day, and that's what a planner is there for. We provide guidance, knowledge, management, assistance, coordination, as well as the extra creativity, advice, and second set of eyes that you may not have on your own." -Lauren Gertz, Owner, MDP Events
---
Bonus: Money-Saving Tips
"Really examine your guest list. Don't get caught up in having to have a large wedding or a certain number of guests. The guest list affects almost every aspect of the wedding. Weddings are expensive and should be reserved for the closest most intimate of family and friends. It is one of the most common regrets among couples months after their wedding when they realize they forfeited things that they wanted due to budget and didn't know or even speak to a lot of their guests at the wedding." -Karen Cerboni, Owner, EventFull Weddings
"Be realistic with your numbers. If you are having a destination wedding, we use the following metric: 60-75% attendance for immediate family and 50-66% attendance for extended relatives and friends in attendance. A local affair will yield closer to 90% immediate family attendance and 50-75% extended family and friends. For a destination wedding, this can translate into thousands in savings since the guest count can decrease by as much as 33-50%. We commonly find couples expect a much higher rate of attendance than what is realistic. Even to the point where couples will have an 'A' and 'B' list, once they receive 10-20 cancellations, they extend the invite to others!" -Brandon Wheeler, Owner, Gulf Beach Weddings
---
---