I was recently speaking to a newly engaged couple, and they asked me what advice I had for them. I told them what I tell EVERY couple…hire a seasoned wedding planner. Hands down, there is no better investment you can make for your wedding.
"Hiring a wedding planner can relieve stress, provide options, create a planning path, guide a couple through the planning process, and last but not least ensure an enchanting wedding day for a couple," Jessica Ralph Bova, owner of Parties A'La Carte explains. "There are numerous details and factors that go into planning a wedding that can be overwhelming and simply overlooked when trying to plan without assistance."
We reached out to our preferred Marry Me Tampa Bay wedding planners to help you understand why you should hire a planner, how much to budget, and what to look for to find the best fit.
Luxurious Pink and Gold Downtown St. Pete Wedding | Parties A'La Carte
What Exactly Does a Wedding Planner Do?
"A seasoned wedding planner creates a personalized plan for each couple and checks off the "to-do list," while still keeping the couple involved in the process. Planners offer customized services such as complete planning, partial planning, and month of planning. Full planning is for the couple who desires a customized wedding that will reflect their unique style and taste with expert guidance every step of the way. Through complete planning, planners create and maintain a couple's budget, find a venue that fits their style, communicate with vendors to ensure their vision is fully executed, guarantee a beautiful burden-free wedding day and much more. Partial planning is designed for the couple who would like assistance with securing vendors, but enjoys being more hands-on in the planning process. Month-of-planning is for the couple who wishes to take care of the wedding planning themselves, however, they would like the luxury of enjoying their wedding day without the worry of any details. Through Month of planning, planners are able to see the couple's vision, observe their plans and execute the details accordingly. Hiring seasoned wedding planner can guarantee nothing but beautiful memories to look back on!" -Jessica Ralph Bova, owner of Parties A'La Carte
"I like to think of it more as 'What doesn't a wedding planner do?' Meaning that a wedding planner, especially a full-service planner, will be by your side every step of the way and take on responsibilities for the couple that will limit feeling overwhelmed or not knowing what steps to take next. A seasoned planner will want to do whatever it takes to make sure that the couple is taken care of and make them feel at ease during the planning process. From start to finish, the planner is researching the best vendors for the couple (based on budget and the best fit), as well as assisting in designing, figuring out every logistic, giving advice on the little details such as the wording of your invitations or explaining what your place card should be inserted in so that it doesn't fly away if you're having an outdoor wedding. What's great about this industry is that every wedding is different, which also means that the detail is different. My favorite quote from couples is 'Oh, I didn't even think about that,' which solidifies the argument of 'Do you even need a wedding planner?' Yes, you do! We know the questions to ask, we have the experience, and we know what to do to provide you with the best possible wedding day!" -Kelly Kennedy, owner of Kelly Kennedy Weddings and Events
"Wedding planners do everything on your wedding day to make it run smooth and perfect. Your wedding planner is your eyes and ears for the day to make sure it is played out how you have always envisioned. Planners are the miracle workers who will shield you from problems, and the problem solvers who make the impossible possible. Prior to the wedding day, we finalize the timeline, diagram, and details. We are corresponding with the vendors to finalize details for you. We are your main contact with the vendors leading up to the wedding day, on the wedding day, and sometimes after as well." -Katy Turchich, owner of Coastal Coodinating
"Wedding planners are creators and organizers who are able to streamline the planning process efficiently while also providing creative suggestions for how to make an event unique and personalized. They use their expertise to navigate products and services for their clients in a way that eliminates a lot of time, energy, and stress for their couples; and those industry relationships often mean a couple's dollars go farther, be it from special discounts or smarter spending. A planner is also a neutral party that can be a great mediator, helping ease any tension between couples and family members during the planning process and helping ensure that everyone feels like they are heard and being accounted for in the process. And more than anything else, a planner assures a more enjoyable wedding day experience, taking on the workload for the day of the event and allowing the couple to relax and enjoy the day with each other and their friends and family." -Christi Winsor, owner Winsor Event Studio
"A seasoned wedding planner is like a general contractor building a house. We work with couples to create an overall vision based on their personality, style, and specific needs. From there we work to create a blueprint that involves budgeting, vendor referrals, and guiding couples through all the planning. Planners need to be educated, have hands-on experience in lots of areas of weddings, and know the best of the best in the Tampa Bay area. Each company offered different products and services based on their background. We've found that beyond wedding planning, design, and wedding day management we've added on services that tie in with managing the day and making life easier for our couples. From invitation management to custom printing services and creation of welcome bags – it's the little things that add personalization and take projects off of our couples to-do lists." -Tammy Waterman, owner Special Moments Event Planning
"It depends on the type of planner! Some planners are full-service only and some are coordination only. Do you need help with all things wedding planning? Our full planning package is for you! Do you only need help when it comes to finding and booking your vendors? Our partial planning package is for you! Do you have all of the planning under control but really need help finalizing all of those details, creating timelines, and coordinating everything on the day of your wedding? Our month of coordination package is for you!" -Abi Littles, owner Weddings by Abi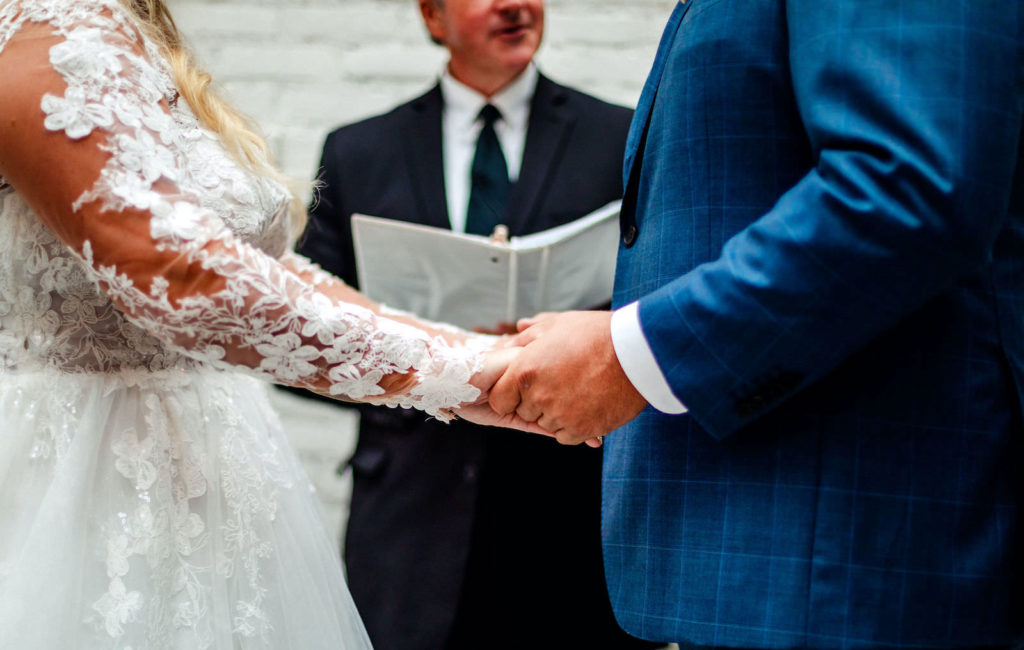 Sophisticated Tropical South Tampa Elopement | Coastal Coordinating
How Do I Know if I Need a Wedding Planner?
"I think that everyone needs a wedding coordinator! A wedding coordinator doesn't necessarily help with the planning process (although we do monthly check-ins and offer vendor recommendations at any time), but we do come in and help tie up all of those loose ends! I promise you that in those last few months you are not going to want to reach out to all of your vendors, put together timelines, get final details, know all of the rules/requirements for your vendors, coordinate your rehearsal, set up all of your decorations on the weddings day, handle problems that will come up on your wedding day, pack up, and clean up at the end of the night, etc.! Trust me when I say that you will not regret hiring a wedding coordinator. A wedding planner is there to help with budgeting, booking vendors, attending meetings, helping with design, and everything that I mentioned that a coordinator does as well. A wedding planner is really for those couples who maybe don't have the time to spend reaching out to all of the vendors to get pricing/availability, doesn't know what to look for in contracts, doesn't know what they want as far as design goes, etc. A wedding planner will help guide you through the entire process so that way you don't have to worry if you left something out!" -Abi Littles, owner Weddings by Abi
"If you have a hectic work or school life, live out-of-town, travel for work, or potentially have challenging family dynamics, you might want to hire a wedding planner. We loved it when one mother said, "Hiring a wedding planner is an investment in my daughter, and we still like each other at the end of the planning process!" -Tammy Waterman, owner Special Moments Event Planning
"If you're doing anything more than heading to the courthouse for a marriage license, you should have a wedding planner. You're investing in your engagement experience and wedding day experience. You cannot go back for a re-do if things fall apart, so give yourself the gift of great wedding memories and hire a planner." -Christi Winsor, owner Winsor Event Studio
How Much Should I Budget for a Wedding Planner?
"An investment in a wedding planner is an investment in the overall planning experience, wedding day experience, and peace of mind knowing all the special details that have been painstakingly selected throughout the months of the planning will come together seamlessly; this investment is $2,000-$8,000+ and always worthwhile; ask any former couple who hired a professional planner! The couples who had a great planner will swear by their skills, and those who didn't will always say they wish they could do things differently." -Christi Winsor, owner Winsor Event Studio
"A good rule of thumb is to budget 10% of your overall wedding budget for your wedding planner. Our packages range from $1,200 to $4,000." -Abi Littles, owner Weddings by Abi
"Budgeting for a planner really depends on which service you choose and the size of your wedding, but in general anywhere from $1,500-$4,000 depending on services." -Karen Cerboni, owner EventFull Weddings
"Wedding planning can range from $1,200 to $5,000 depending on what you need." -Brittany Downey, Coastal Coordinating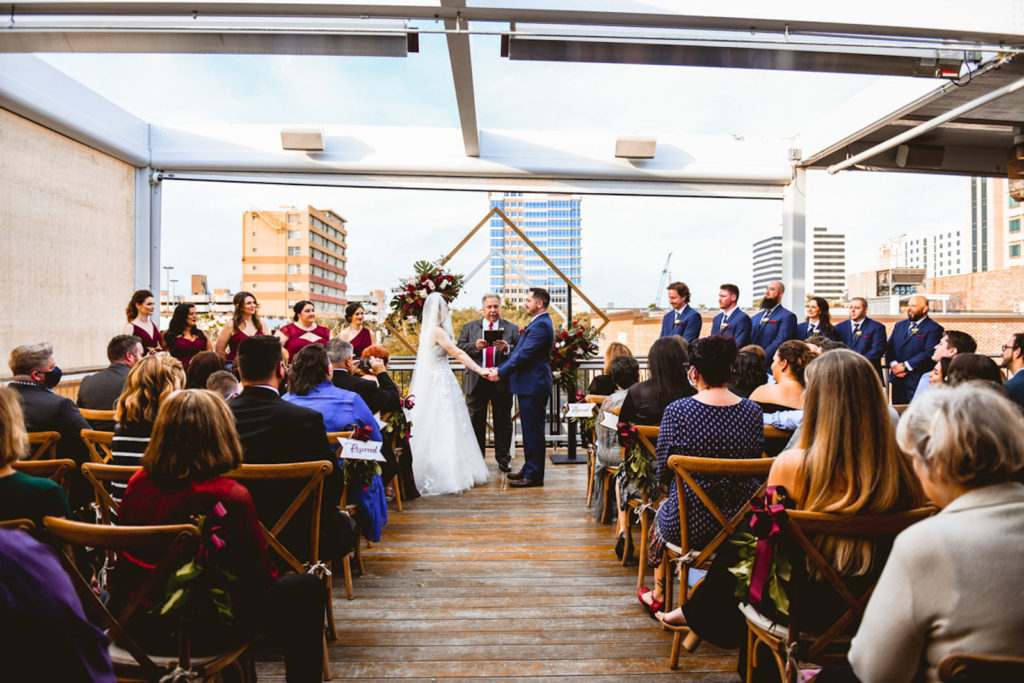 Burgundy and Gold Downtown St. Pete Rooftop Wedding | Special Moments Event Planning
What Advice Does a Wedding Planner Provide?
"An important piece of advice we give is how to set a budget and what you should be spending in each category. An example would be, on average your food and beverage is 47% of your overall budget. Knowing your budget and where to spend money will help to ensure a smooth planning process. We can also advise the couple on what vendors to hire based on their needs. The right wedding professional can make a major difference in having a stress-free wedding process and ensure a couple's memories of their wedding are nothing but beautiful!" -Jessica Ralph Bova, owner of Parties A'La Carte
"I have provided every type of advice that you can imagine. From nail polish color, to which hotel has the best hotel room rates for the guests, to what color goes best with gold. Planners give advice on the smallest to the biggest details, including what to include in the ceremony, the best songs for the reception, and the most common food choice options." -Katy Turchich, owner of Coastal Coodinating
How Does a Wedding Planner help Couples Choose Their Venue/Vendors?
"Choosing the perfect venue can be very difficult for a couple. A wedding planner has the knowledge of venues in the area and can help steer a couple in the right direction. When choosing a venue, the couple's budget plays a huge role in the final decision. Hiring a wedding planner can remove the hassle caused by having to research and contact venues for specific pricing and dates. Another key aspect when helping a couple choose their venue is their vision and style. We believe a couple's vision can paint a clear picture of what they see their wedding day like. When consulting with a couple, we ask couples specifics on what they want and do not want in a venue. From there, we are able to narrow down their venue options based on their budget, vision, and specific requests. We take great pleasure in finding a venue, transforming that venue into a couple's vision and most importantly, putting on a fabulous wedding!" -Jessica Ralph Bova, owner of Parties A'La Carte
"Even if a couple is local there are hundreds of unique wedding venues and talented vendors that they might never have come across. We love working with couples to offer them options based on price, product and personality. There are incredible options out there for every style and budget, you just have to know where to look." -Tammy Waterman, owner Special Moments Event Planning
"Seasoned and skilled practitioners in the wedding industry provide a streamlined list of recommendations/vendors at a discount who have relationships often dating back several years, saving clients time and money. In a post-COVID world, this is even more so as over the past 12 months wedding businesses have moved, downsized, reduced their coverage, or gone out of business completely (especially in the catering and restaurant sector). Many of the weddings from spring-summer of 2020 pushed their date out one year, thus all of the desirable 2021 dates were pre-maturely reserved. This sparked an unusual demand curve as new couples petition venues for availability requiring many to 'be flexible' on their date. Although there are many levels of online coverage, this resource lacks the human touch and an 'in the know' personalized service. Always work with a company that leverages modern technology while adding considerable value! On your wedding day, there are a number of moving parts, so it's important to work with someone who only lets you worry about one, marrying the love of your life." -Brandon Wheeler, owner of Gulf Beach Weddings
When Should I Hire My Wedding Planner?
"Hiring a wedding planner is ideally the first step in the planning process because a planner will be able to take a couple's wedding vision and budget and provide recommendations for venues and vendors that would be a great fit stylistically as well as financially. Sometimes couples get caught up in the excitement and will book a venue, select a photographer, or purchase a dress, without that big picture in mind, and then that's when we see clients who end up purchasing another dress after having buyer's remorse or end up with no money left for decorations because they became 'venue poor' and didn't realize how their budget should be allocated." -Christi Winsor, owner of Winsor Event Studio
"ASAP! One of the most asked questions during our consultation calls with couples is, 'Should I book you first or my venue first?' We recommend booking your wedding planner first! This way we have a chance to break down your budget and see what venue fits best with your budget. We will also help you look over contracts, review the list of rentals that the venue has in-house, etc! Having a wedding planner by your side before you book your venue will help relieve so much stress!" -Abi Littles, owner of Weddings by Abi
"Hiring a planner from day one is always a great idea! We can help review contracts and negotiate on your behalf! Even if it is 'Day Of' coordination, we have many vendors that we can recommend, and we have access to discounts that will help when it comes to booking vendors or wedding necessities like invitations! We are also able to guide you with checklists to keep you on track." -Brittany Downey, Coastal Coordinating
"Hire a wedding planner as soon as you decide to actually start planning your wedding. Whether we are here to assist with partial planning or full planning why not get input from a professional right from the start?" -Karen Cerboni, owner EventFull Weddings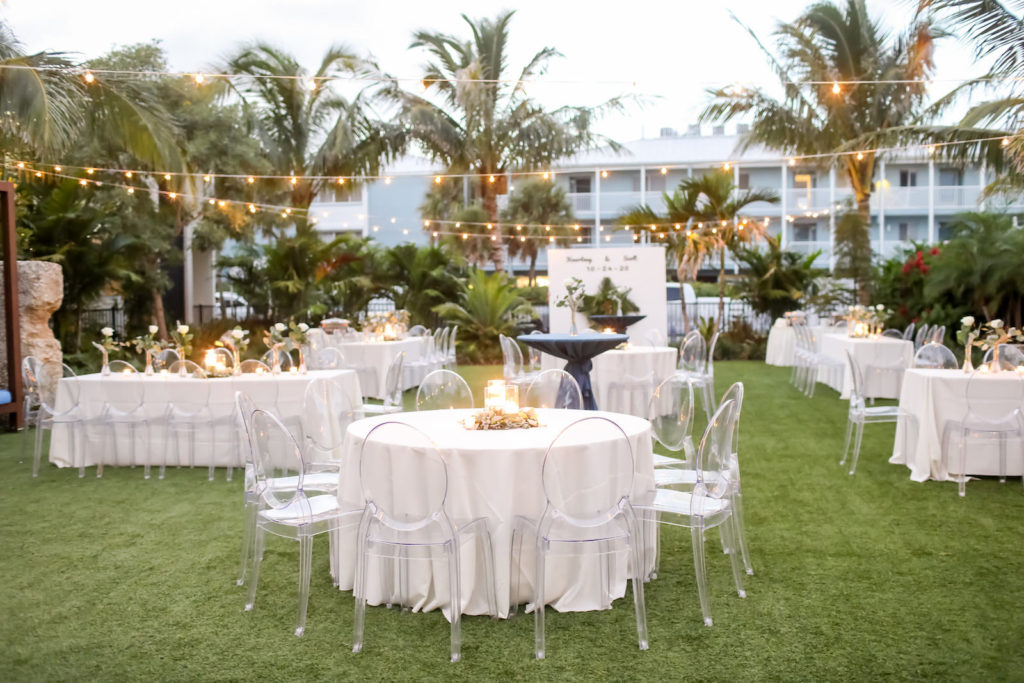 Vintage Modern Anna Maria Island Wedding | Kelly Kennedy Weddings and Events
How Do I Know Which Planner is Right for Me?
"You'll know. The right planner listens and will 'get you.' You'll feel a click when your personalities mesh, and you know that they are hearing your vision and what you need. You'll also know when you read the reviews and comments from other happy couples; they'll probably be commenting on all the things you're already worried about." -Tammy Waterman, owner Special Moments Event Planning
"Have a consultation call with them! We have a consultation call with all of our couples to make sure that we are a good fit for them. You are going to be working very closely with your wedding planner so you want to choose someone that you enjoy talking to! Also, make sure to look at the planner's social media and website. You want to make sure that their work matches your style and that they have good reviews." -Abi Littles, owner Weddings by Abi
"You'll be working closely with your wedding planner over the course of many months, so you'll want to choose someone who you mesh well with and feel connected to. Read reviews and ask questions about things that are important to you. Have they worked within your desired budget before? Are they familiar with your venue? Will you be working with them personally or be assigned a member of their team? Be sure to meet and chat with your planner via video or in-person so that you can gauge how you think you'll work together and so that you feel comfortable and confident moving forward with the person you choose." -Christi Winsor, owner Winsor Event Studio
"It's a vibe! You'll know when you mesh well with a planner. It's not always about the price or the "what's included" it's about how you feel and get a long with the type of planner personality. There's a lot of communication that happens between hiring and event execution so pick someone with your personality style. Any planner can execute the same type of wedding. It's about how they make you feel." -Laurie Lupcho, owner Core Concepts
"It's all about personality and style. Check out websites and social media to determine the style and quality of weddings that the planner performs and to get a feel for their personality. I suggest interviewing a few also to see if your personalities mix. You will be working closely with your planner so it's important that your personalities match." -Karen Cerboni, owner EventFull Weddings
What does a Planner Do on the Day of the Wedding?
"The wedding day, for a planner, should end up being the easiest day of the entire planning process. Why? Because all of the planning and figuring out of logistics is done and is ready to be executed. The vendors have all been booked, the contracts signed, and now we are to make sure that the vendors are abiding by those contracts. The rental companies order has already been approved, the drop-off and set up times have already been confirmed, and now it's seeing all of the work unfold into a beautiful masterpiece. In addition to making sure the vendors are all doing what they are supposed to be doing, planners keep the timeline flowing even before the ceremony starts to ensure that everything is on time. We are placing linens, setting chargers, folding napkins, putting the couples' wedding details into place (pictures, place cards, seating charts, signs, etc.) the list goes on. We are stepping in to help with whoever needs help in order to make sure that the setup of the wedding goes smoothly. Throughout the wedding we are keeping to the timeline, communicating with vendors so they know what is coming next, and making sure that the couple is having the best night of their lives." –Kelly Kennedy, owner of Kelly Kennedy Weddings and Events
"You absolutely need to have a wedding planner on the day of your wedding to help fix any and all situations. Recently we had a photographer no-show, and if we were not there the bride literally said she would not have been able to keep it together, and she would not have been able to find a replacement in the last moment as we did. Having the contacts and the network helped find a replacement for the wedding." -Katy Turchich, owner of Coastal Coodinating
"Literally everything! We are making sure that all of your vendors arrive on time, all of the rentals are being set up according to the layout, setting up all of your decorations, buying batteries when you forget that your twinkle lights needed them, coordinating the ceremony, telling the musicians when to change songs, bringing you a drink after the ceremony before you start taking pictures, doing a flip during cocktail hour if your ceremony and reception are in the same space, making sure everyone is lined up for the dances, making sure you get a plate before everyone else, cleaning up broken glasses on the dance floor, packing up all of your decorations, taking all of your decorations/cards/gifts to a predetermined location so that way you and you friends and family can go out after the wedding and you don't have to stay back and clean up/pack up, and handling any problems that come up (and trust me – there are always problems that occur the day of your wedding, but if you have a wedding coordinator to handle them you will never even know that there were any problems). Whew! That was a lot, but that is just a little sliver of what we do on your wedding day!" -Abi Littles, owner of Weddings by Abi
"The wedding day is very busy for everyone but the couple should be busy doing nothing but having fun and soaking it all in with friends and family. We assist the wedding party with time management so the day stays on track during hair and makeup, first looks, getting to the ceremony on time etc. We are also busy at the venues meeting vendors to ensure proper set up, setting out décor items, styling dining tables, lighting candles, watching the clock making sure everything is running on time, and most importantly troubleshooting if necessary. During the ceremony and reception, we make sure vendors are running on schedule and assist with flipping décor if needed and generally overseeing the evening so that everything runs smoothly." -Karen Cerboni, owner EventFull Weddings
What Would Couples Be Surprised to Know about Hiring a Wedding Planner?
"The biggest surprise to most couples is that it's not our wedding day. It's yours and a reflection of the two of you, your family, and the things you like. We want to help bring out the best of the two of you, not fit you into a mold like every other couple." -Tammy Waterman, owner Special Moments Event Planning
"A lot of couples hire a wedding planner thinking they will help them plan their wedding but most are surprised at just how much we do and how much stress we remove from the process. 'We couldn't have done it without you!' is the most satisfying comment we can receive." -Karen Cerboni, owner EventFull Weddings
"1. They're not trying to take your money, they're trying to save you money. 2. It's a business like any other and it's not all butterflies and rainbows planning. It's about the organization, planning, budgeting, and proper execution." – Laurie Lupcho, owner Core Concepts
"How close you become with your wedding planner! We are sharing one of the most important days of your life. We get to know you, become friends, and build a lifelong connection!" -Brittany Downey, Coastal Coordinating