I was recently speaking to a newly engaged couple, and they asked me what advice I had for them. I told them what I tell EVERY couple…hire a seasoned wedding planner. Hands down, there is no better investment you can make for your wedding.
"Hiring a wedding planner can relieve stress, provide options, create a planning path, guide a couple through the planning process, and last but not least ensure an enchanting wedding day for a couple," Jessica Ralph, owner of Parties A'La Carte explains. "There are numerous details and factors that go into planning a wedding that can be overwhelming and simply overlooked when trying to plan without assistance."
We reached out to our preferred Marry Me Tampa Bay wedding planners to help you understand why you should hire a planner, how much to budget, and what to look for to find the best fit.
What Does a Wedding Planner Do?
"The primary role of a wedding planner is to be a team leader. We're responsible for creating a solid foundation for your vendor team to build off of, and we keep your vendor team organized and informed so they can do their best work." -John Campbell, owner/principal planner, John Campbell Weddings
"A seasoned wedding planner creates a personalized plan for each couple and checks off the 'to-do list,' while still keeping the couple involved in the process. Planners offer customized services such as complete planning, partial planning, and month of planning. Full planning is for the couple who desires a customized wedding that will reflect their unique style and taste with expert guidance every step of the way. Through complete or full planning, planners create and maintain a couple's budget, find a venue that fits their style, communicate with vendors to ensure their vision is fully executed, guarantee a beautiful burden-free wedding day, and much more. Partial planning is designed for the couple who would like assistance with securing vendors but enjoys being more hands-on in the planning process. Month-of planning is for the couple who wishes to take care of the wedding planning themselves, however, they would like the luxury of enjoying their wedding day without the worry of any details. Through months of planning, planners are able to see the couple's vision, observe their plans and execute the details accordingly. Hiring a seasoned wedding planner can guarantee nothing but beautiful memories to look back on!" -Jessica Ralph, owner, Parties A'La Carte
"I like to think of it more as 'What doesn't a wedding planner do?' Meaning that a wedding planner, especially a full-service planner, will be by your side every step of the way and take on responsibilities for the couple that will limit feeling overwhelmed or not knowing what steps to take next. A seasoned planner will want to do whatever it takes to make sure that the couple is taken care of and make them feel at ease during the planning process. From start to finish, the planner is researching the best vendors for the couple (based on budget and the best fit), as well as assisting in designing, figuring out every logistic, giving advice on the little details such as the wording of your invitations or explaining what your place card should be inserted in so that it doesn't fly away if you're having an outdoor wedding. What's great about this industry is that every wedding is different, which also means that the detail is different. My favorite quote from couples is 'Oh, I didn't even think about that,' which solidifies the argument of 'Do you even need a wedding planner?' Yes, you do! We know the questions to ask, we have the experience, and we know what to do to provide you with the best possible wedding day!" -Kelly Kennedy, owner, Kelly Kennedy Weddings and Events
"Wedding planners do everything on your wedding day to make it run smooth and perfect. Your wedding planner is your eyes and ears for the day to make sure it is played out how you have always envisioned. Planners are the miracle workers who will shield you from problems, and the problem solvers who make the impossible possible. Prior to the wedding day, we finalize the timeline, diagram, and details. We are corresponding with the vendors to finalize details for you. We are your main contact with the vendors leading up to the wedding day, on the wedding day, and sometimes after as well." -Katy Turchich, owner, Coastal Coordinating
---
---
"Wedding planners are creators and organizers who are able to streamline the planning process efficiently while also providing creative suggestions for how to make an event unique and personalized. They use their expertise to navigate products and services for their clients in a way that eliminates a lot of time, energy, and stress for their couples, and those industry relationships often mean a couple's dollars go farther, be it from special discounts or smarter spending. A planner is also a neutral party that can be a great mediator, helping ease any tension between couples and family members during the planning process and helping ensure that everyone feels like they are heard and being accounted for in the process. More than anything else, a planner assures a more enjoyable wedding day experience, taking on the workload for the day of the event and allowing the couple to relax and enjoy the day with each other and their friends and family." -Christi Winsor, owner, Winsor Event Studio
"A seasoned wedding planner is like a general contractor building a house. We work with couples to create an overall vision based on their personality, style, and specific needs. From there we work to create a blueprint that involves budgeting, vendor referrals, and guiding couples through all the planning. Planners need to be educated, have hands-on experience in lots of areas of weddings, and know the best of the best in the Tampa Bay area. Each company offers different products and services based on their background. We've found that beyond wedding planning, design, and wedding day management we've added on services that tie in with managing the day and making life easier for our couples. From invitation management to custom printing services and creation of welcome bags, it's the little things that add personalization and take projects off of our couples to-do lists." -Tammy Waterman, owner, Special Moments Event Planning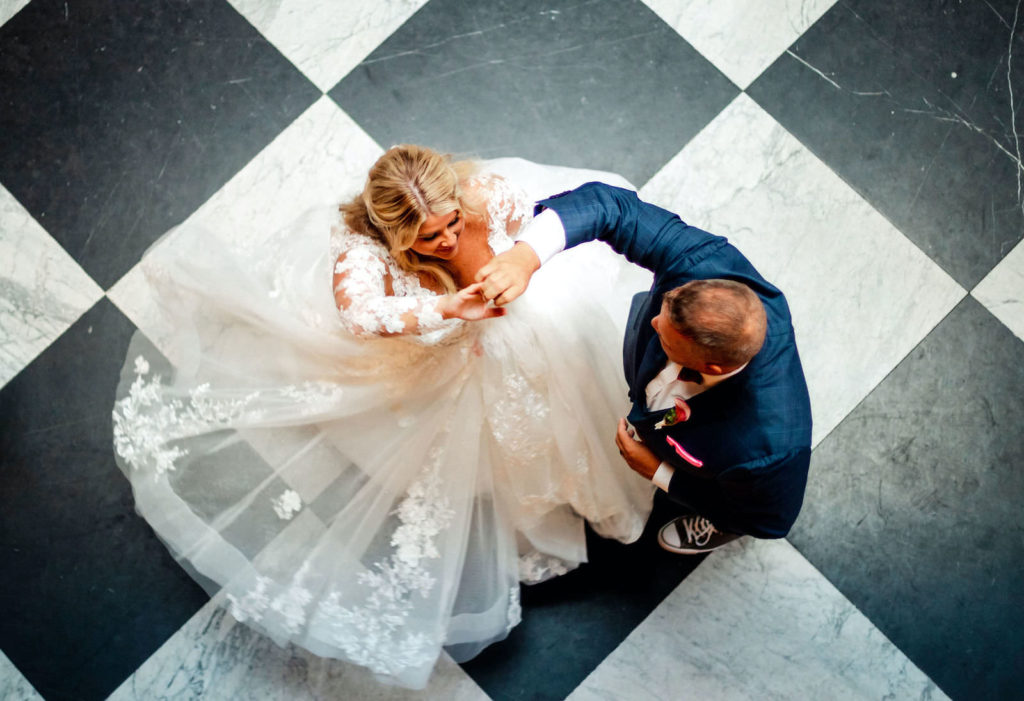 Sophisticated Tropical South Tampa Elopement | Coastal Coordinating | Tara McGovern
---
How Do I Know if I Need a Wedding Planner?
"If you're doing anything more than heading to the courthouse for a marriage license, you should have a wedding planner. You're investing in your engagement experience and wedding day experience. You cannot go back for a re-do if things fall apart, so give yourself the gift of great wedding memories and hire a planner." -Christi Winsor, owner, Winsor Event Studio
"Simple but true, If you are getting married then you need a wedding planner. Think about it this way, you'll want to enjoy your day and know that someone is taking care of everything. Even if you are a planner at heart you should hire someone to coordinate your wedding day. Knowing that everything is being taken care of by a pro is one of the best ways to relieve as much stress as possible on your big day." -Stephany Perry, owner, Stephany Perry Events
"In the past, we would have probably suggested a wedding planning full or partial planning services if you have a hectic work or school schedule, are planning from out of town, or have potentially challenging family dynamics. However, since COVID, we would recommend a wedding planner for practically every couple. We've lost count of the number of couples we have assisted in postponing, canceling, or moving their weddings. The number of pieces involved in revising agreements, finding new wedding vendors, changing venues, or reducing the size of a wedding can be overwhelming. Many couples told us they wished they had hired us from the beginning!" -Tammy Waterman, owner, Special Moments Event Planning
---
---
"Everyone needs some form of wedding planning. The question to ask is 'What level of wedding planning do I need?', instead of 'Do I need a wedding planner?' We are the unsung heroes on your wedding day and help you avoid a lot of mistakes when planning your wedding. I often tell couples 'You don't know, what you don't know,' which sounds obvious, but it's so true. I have planned a ton of weddings and this is most likely your first, so how are you supposed to know if you are doing things right, asking the right questions, and getting quality vendors?" -Delaney Driver, owner, Wilder Mind Events
"Everyone needs a wedding planner in some capacity. Whether you need help with reviewing contracts, don't know how to budget, aren't familiar with your local events market, or some combination of all of those things, a wedding planner can help guide you to make the big decisions (and the small ones!)," -John Campbell, owner/principal planner, John Campbell Weddings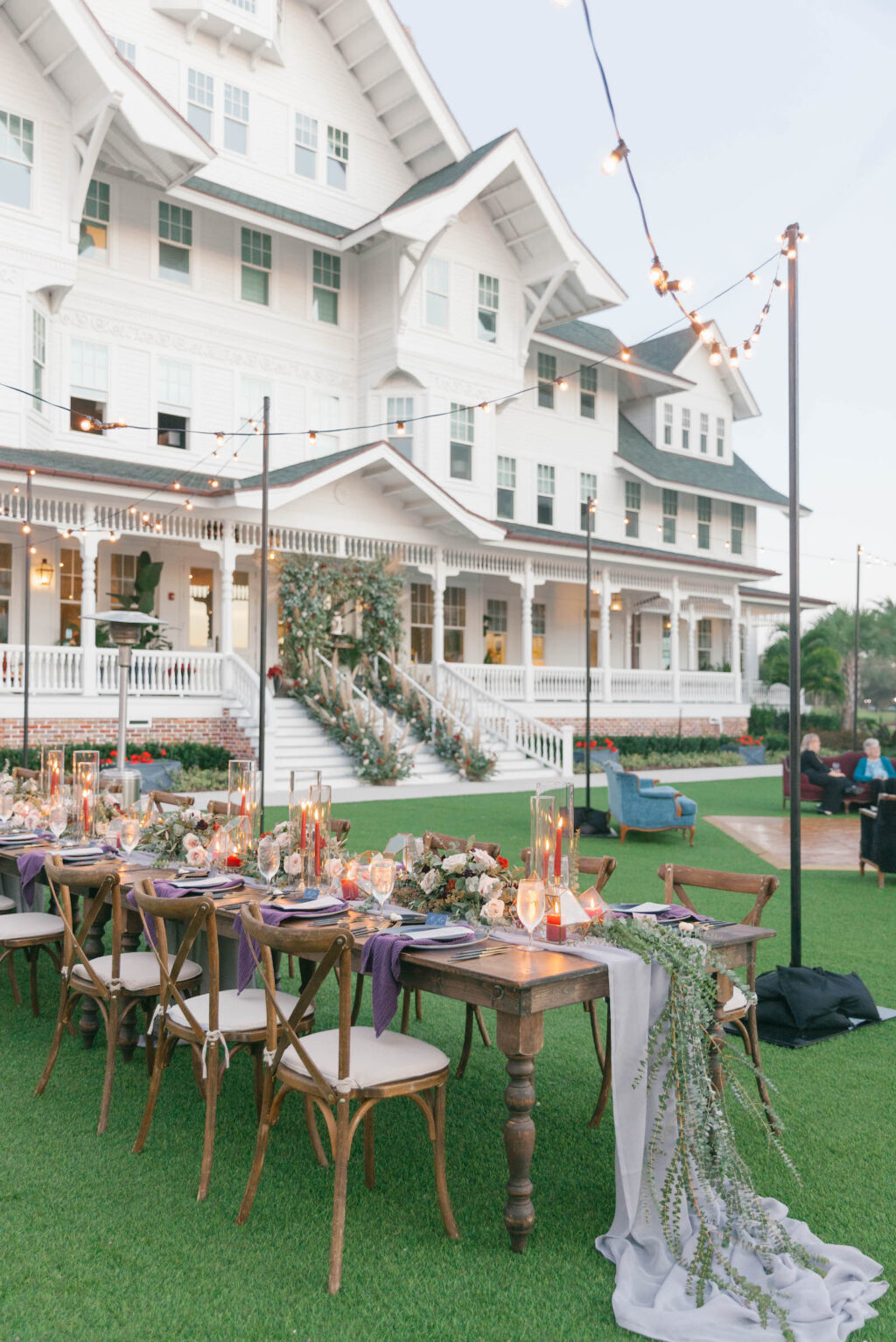 Romantic Clearwater Boho Wedding | Parties A'La Carte | Photography by Avery
---
What Advice Does a Wedding Planner Provide?
"I have provided every type of advice that you can imagine. From nail polish color, to which hotel has the best hotel room rates for the guests, to what color goes best with gold. Planners give advice on the smallest to the biggest details, including what to include in the ceremony, the best songs for the reception, and the most common food choice options." -Katy Turchich, owner of Coastal Coordinating
"Everything. My interactions with my clients consist of non-stop advice and guidance. We are a constant sounding board for you as you make decisions, this could be from dress colors to how to deal with family drama, we are here through it all. Think of us as your wedding planning coach; we are here to teach you, guide you, encourage you when it gets tough, and cheer you on throughout the entire process." -Delaney Driver, Owner, Wilder Mind Events
"A professional wedding planner can assist you with every step, from creating a customized planning calendar and budget to referrals of qualified wedding vendors, etiquette advice, and design and décor assistance. We are there every step of the way, supporting clients through the end of their wedding day." -Tammy Waterman, Owner, Special Moments Event Planning
"An important piece of advice we give is how to set a budget and what you should be spending in each category. An example would be, on average your food and beverage is 47% of your overall budget. Knowing your budget and where to spend money will help to ensure a smooth planning process. We can also advise the couple on what vendors to hire based on their needs. The right wedding professional can make a major difference in having a stress-free wedding process and ensure a couple's memories of their wedding are nothing but beautiful!" -Jessica Ralph, owner of Parties A'La Carte
"Planners do this stuff every day, so we tend to have advice on everything: what to budget, what vendors to contact, what venues to choose, how to design the wedding, the list is seriously endless!" -John Campbell, owner/principal planner, John Campbell Weddings
---
---
How Does a Wedding Planner Help Couples Choose Their Venue/Vendors?
"Part of the reason you hire a planner is to tap into their expertise in the industry. Experienced wedding planners have spent time building relationships with reputable venues and vendors in the area and have most likely created a preferred vendor list of qualified vendors in each category. Some of those relationships also pass down savings to couples that can go a long way for your overall budget.  Since every wedding is different, planners also bring the experience of vetting vendors when you need to find someone who is a better match for your wedding day vision." -Stephany Perry, owner, Stephany Perry Events
"Choosing the perfect venue can be very difficult for a couple. A wedding planner has the knowledge of venues in the area and can help steer a couple in the right direction. When choosing a venue, the couple's budget plays a huge role in the final decision. Hiring a wedding planner can remove the hassle caused by having to research and contact venues for specific pricing and dates. Another key aspect when helping a couple choose their venue is their vision and style. We believe a couple's vision can paint a clear picture of what they see their wedding day like. When consulting with a couple, we ask specifics on what they want and do not want in a venue. From there, we are able to narrow down their venue options based on their budget, vision, and specific requests. We take great pleasure in finding a venue, transforming that venue into a couple's vision and most importantly, putting on a fabulous wedding!" -Jessica Ralph, owner of Parties A'La Carte
"Even if a couple is local, there are hundreds of unique wedding venues and talented vendors that they might never have come across. We love working with couples to offer them options based on price, product, and personality. There are incredible options out there for every style and budget, you just have to know where to look." -Tammy Waterman, owner, Special Moments Event Planning
"Every planner is different, but I start with getting to know my couple first. I think it's important to get a feel for their priorities and personalities. From there, I look at the budget for each vendor category. Using those criteria, I pair a couple with a vendor who best matches their budget and meshes well with their personalities." –John Campbell, owner/principal planner, John Campbell Weddings
"Venues and vendor searching can be very overwhelming since there are so many options. Vendors also play a huge role in your wedding day and can make or break the event. We make this process seem easy eliminating your search by guiding you to vendors we know, trust, and fit your personality!" -Delaney Driver, owner, Wilder Mind Events
"Seasoned and skilled practitioners in the wedding industry provide a streamlined list of recommendations/vendors at a discount who have relationships often dating back several years, saving clients time and money. In a post-COVID world, this is even more so as other businesses have moved, downsized, reduced their coverage, or gone out of business completely (especially in the catering and restaurant sector). Many of the weddings pushed their date out one year, thus all of the desirable dates were pre-maturely reserved. This sparked an unusual demand curve as new couples petition venues for availability requiring many to 'be flexible' on their date. Although there are many levels of online coverage, this resource lacks the human touch and an 'in the know' personalized service. Always work with a company that leverages modern technology while adding considerable value. On your wedding day, there are a number of moving parts, so it's important to work with someone who only lets you worry about one, marrying the love of your life." -Brandon Wheeler, owner of Gulf Beach Weddings
---
---
When Should I Hire My Wedding Planner?
"Hiring a wedding planner is ideally the first step in the planning process because a planner will be able to take a couple's wedding vision and budget and provide recommendations for venues and vendors that would be a great fit stylistically as well as financially. Sometimes couples get caught up in the excitement and will book a venue, select a photographer, or purchase a dress, without that big picture in mind, and then that's when we see clients who end up purchasing another dress after having buyer's remorse or end up with no money left for decorations because they became 'venue poor' and didn't realize how their budget should be allocated." -Christi Winsor, owner of Winsor Event Studio
"As soon as you get engaged the wedding planner should be the first thing couples hire. Planners can be a vital resource when it comes to choosing your venue and can also help guide you to what venues you should look at based on your budget. Don't waste your time on dozens of venue tours hire a planner right out of the gates and you will have an expert at your fingertips through your entire planning process." -Jessie Soplinksi, Breezin' Weddings
"Hiring a planner from day one is always a great idea! We can help review contracts and negotiate on your behalf. Even if it is 'Day Of' coordination, we have many vendors that we can recommend, and we have access to discounts that will help when it comes to booking vendors or wedding necessities like invitations. We are also able to guide you with checklists to keep you on track." -Brittany Downey, Coastal Coordinating
"If you are looking for full planning, planners should be the first vendor you hire! If you are looking into partial planning or a month of planning package, I would book at least a year out. COVID has made schedules fill up quickly, and if you wait, you may not be able to hire your favorite planner!" -Delaney Driver, owner, Wilder Mind Events
"The sooner you hire a wedding planner, the better. Too often, couples struggle to get wedding planning off the ground by looking at venues without looking at their 'must-have items,' creating a realistic budget based on what's important to them, and looking at the number of guests they are looking to invite. Missed steps can waste time, create problems and cost the couple money." -Tammy Waterman, owner, Special Moments Event Planning
"Your wedding planner should be the first vendor you hire, especially if you are looking for full planning services. By hiring your wedding planner first they are with you every step of the way to help with all things weddings from creating a robust and realistic budget, leading your venue search, and of course, helping with securing the best vendors for your vision. Having a pro from day one will make planning so much easier, as you have your planner's expert knowledge every step of the way." -Stephany Perry, Owner, Stephany Perry Events
"Hire a wedding planner as soon as you decide to actually start planning your wedding. Whether we are here to assist with partial planning or full planning why not get input from a professional right from the start?" -Karen Cerboni, owner EventFull Weddings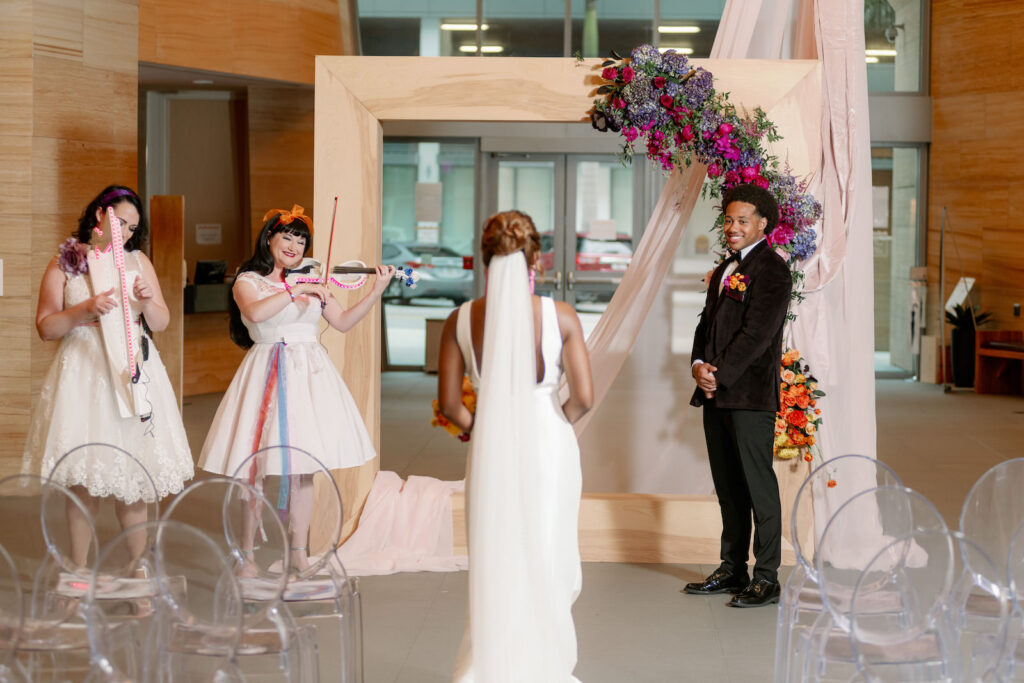 Vibrant Modern Pink and Purple St. Pete Wedding Styled Shoot | Wilder Mind Events | Dewit for Love Photography
---
How Much Should I Budget for a Wedding Planner?
"An investment in a wedding planner is an investment in the overall planning experience, wedding day experience, and peace of mind knowing all the special details that have been painstakingly selected throughout the months of the planning will come together seamlessly; this investment is $2,000-$8,000+ and always worthwhile; ask any former couple who hired a professional planner! The couples who had a great planner will swear by their skills, and those who didn't will always say they wish they could do things differently." -Christi Winsor, owner, Winsor Event Studio
"There are various wedding planners that charge differently, but a good rule of thumb is 10% of your overall budget." -Delaney Driver, owner, Wilder Mind Events
"Budgeting for a planner really depends on which service you choose and the size of your wedding, but in general anywhere from $1,500-$4,000 depending on services." -Karen Cerboni, owner EventFull Weddings
"Wedding planning can range from $1,200 to $5,000 depending on what you need." -Brittany Downey, Coastal Coordinating
"Budgeting for a wedding planner varies depending on the level of services you require. For Full-Service Planning, you probably want to look at approximately 10% of your wedding budget. Regardless of what you budget, keep in mind that add-on services like custom printing, invitation management, and rental items can add to the costs." -Tammy Waterman, owner, Special Moments Event Planning
"You should initially allocate 10% of your budget for planning and coordination services. This number will fluctuate based on the level of assistance you require. Most planners offer a range of services from month of coordination to full planning services and range between $1,500-$6,000+ based on your needs." -Stephany Perry, owner, Stephany Perry Events
"Depending on the services offered and your personal needs, it's safe for the average couple to budget between $5,000 and $20,000 for their wedding planner." -John Campbell, owner/principal planner, John Campbell Weddings
---
---