Rustic chic is beyond a Tampa wedding trend; it is a style just as vintage weddings are. Yet, so few people can put words to this style to define it. Even as someone who creates rustic chic designs, I hesitated to find the right words when asked. I can point it out in photographs and can give examples until the cows come home, but I couldn't explain what exactly rustic chic was, until now.
A rustic chic wedding is heartwarming, sweet, diverse, creative and so much more. It is comforting, elegant, filled with textures and natural organics (think trees, flowers, wheat, etc.). It is the use of natural elements and surroundings, with the love of vintage and worn treasures and the feel of home. With a multitude of ideas out there, this style varies greatly and depends on the bride's particular taste. However, I have managed to compile the "Must Haves" for almost any rustic chic wedding in Tampa Bay.
Mason Jars
Mason Jars are the item for rustic chic events, but it's no wonder that these simple little glass jars have a near endless amount of uses as lanterns, flower vases, wedding favor containers (fill them with jellies or a hot chocolate kit) and more. I suggest jazzing them up with burlap and lace and maybe a bow or flower in your wedding colors.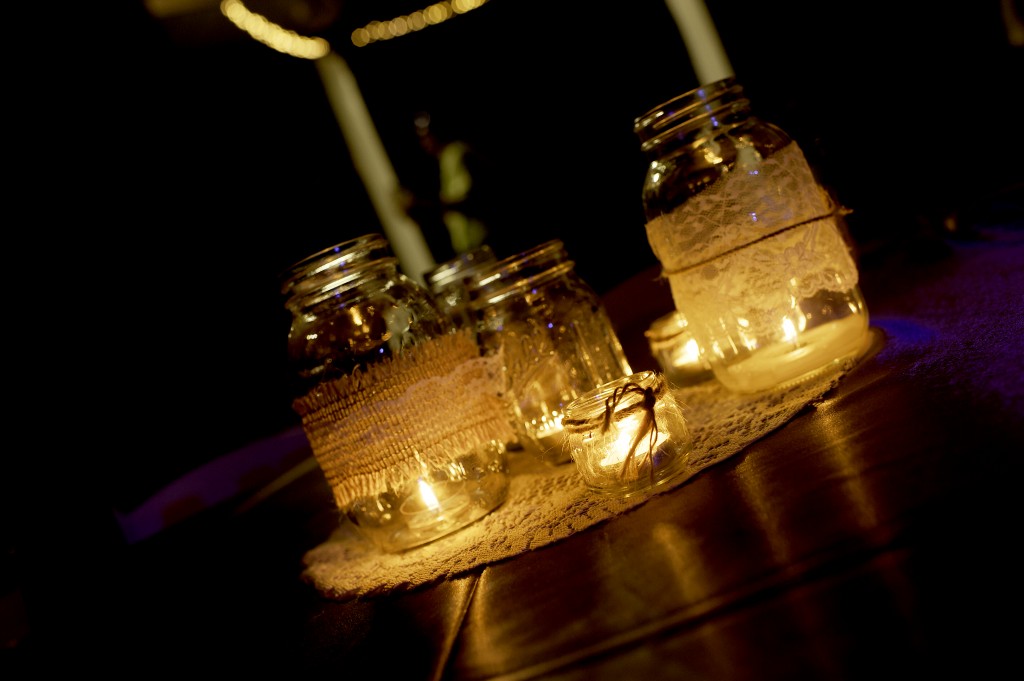 Photo by Pink Lily Photo – Purple & Grey Rocking H Ranch Wedding
Burlap and Lace
The earthy feel of the burlap with the luxury of lace is a beautiful mixture. This is where creativity comes in handy because you really can't get enough burlap and lace when designing a rustic chic Tampa Bay wedding. From stair and chair décor to burlap favor bags and an adorable "Here comes the Bride" sign for your ring bearer or flower girl, the possibilities are limitless.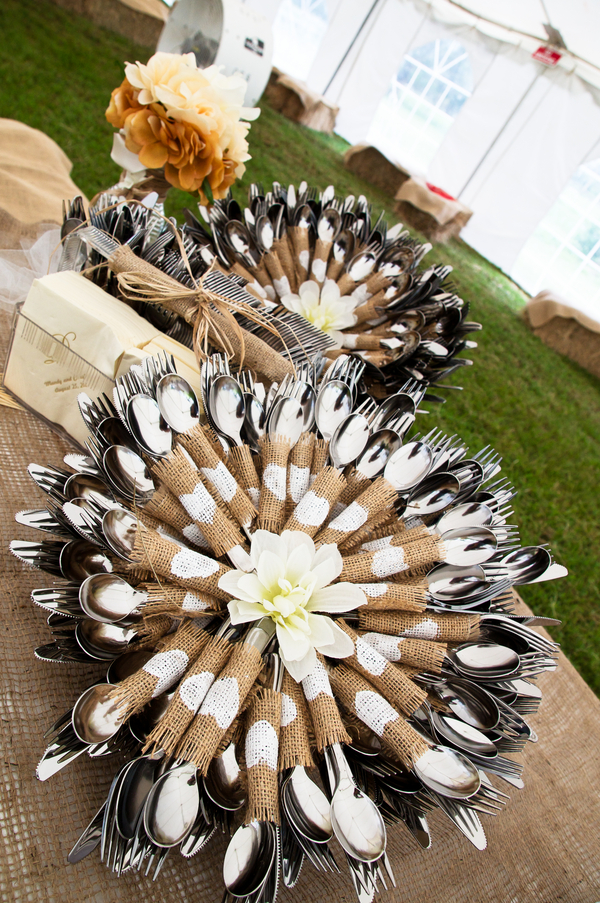 Photo by Ashfall Mixed Media – Elegant Rustic Country Cowboy Wedding Part 2 – Tampa Wedding Photographer Ashfall Mixed Media
Suitcases and Trunks
Found at garage sales, thrift stores, vintage shops and even for rent by some rustic chic wedding vendors, old suitcases and trunks are great decorating pieces. You can place these randomly around your event, use them as tables, or as charming centerpieces when matched with flowers. The more vintage and beat up the better.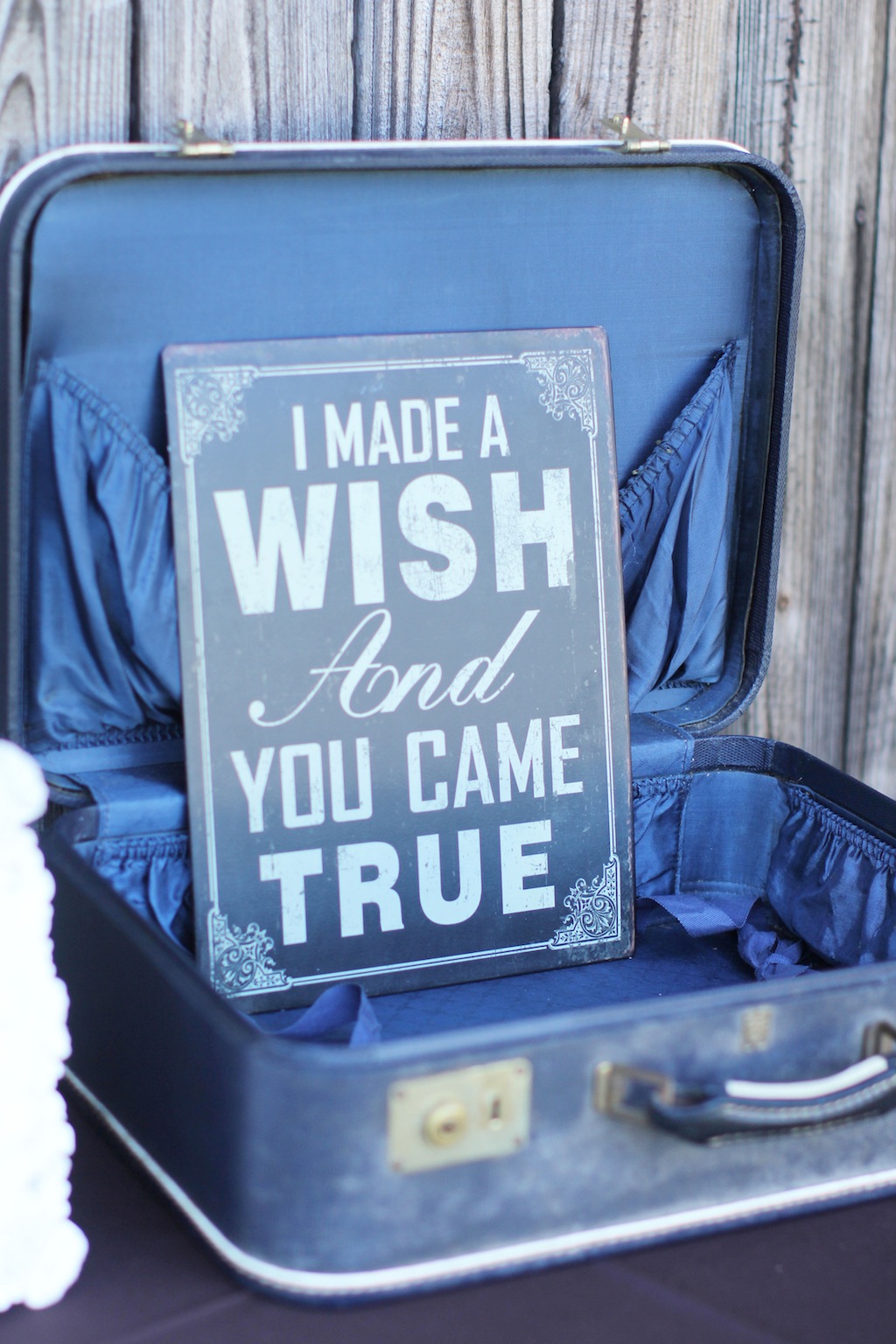 Photo by Wings of Glory Photography – Rocking H Ranch Wedding – Gold, Cream & Peach Shabby Chic Wedding
Hay
Normally, a Tampa bride wouldn't think of using hay for a wedding but rustic chic weddings can break the rules. Large hay bales can be a beautiful addition to your wedding photos, as well as a practical solution for unexpected rain. If you're having an outdoor wedding and/or reception and it rains the morning of your event, unpleasant puddles and wet grass can put a damper on things. Lay some hay down in extra wet areas to soak up water and give dry ground for your guests to walk on while maintaining your rustic chic style.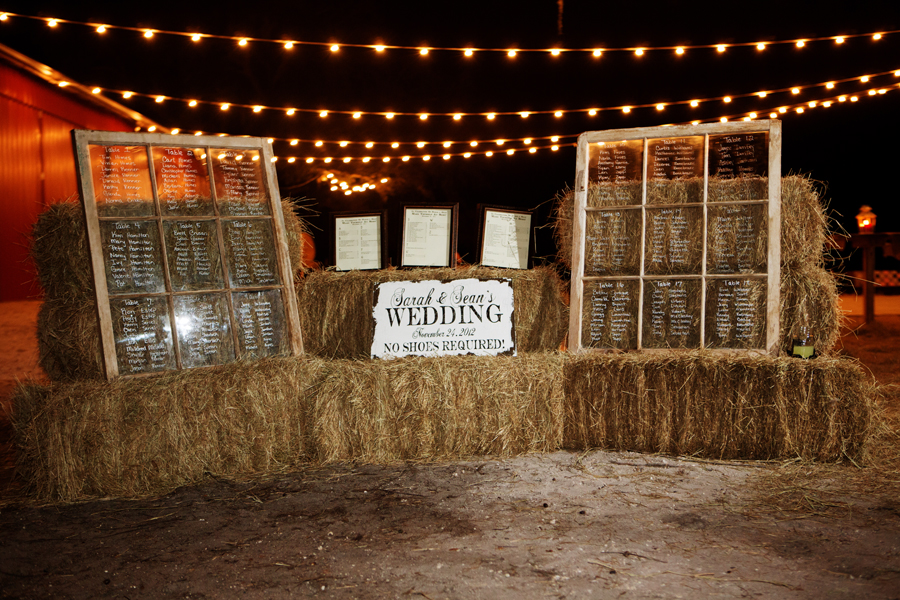 Photo by Leah Jean Photography – Purple and Cream Country Chic Brooksville Wedding
Barrels and Tins
Like suitcases and trunks, these are wonderful decoration options to add to the ambiance and can be acquired inexpensively from a variety of places.
Rustic Beverages
There are so many options that scream rustic chic — it's all about keeping it simple and delicious! Have a lemonade stand using glass beverage dispensers with spouts or water with citrus slices. You can fill a wheel barrow or tins with ice and place bottled drinks inside. Use bottled beer and have your own beer bar made from wood planks, or serve up some delicious cocktails like this Black Ginger Splash in mason jars (I told you, endless uses).
If you're looking for something simpler, there's nothing wrong with good ol' fashioned glass pitchers filled with iced tea. Just remember, if you want your wedding guests to dance the night away, make it easy for them to stay hydrated by keeping lots of water available and within sight.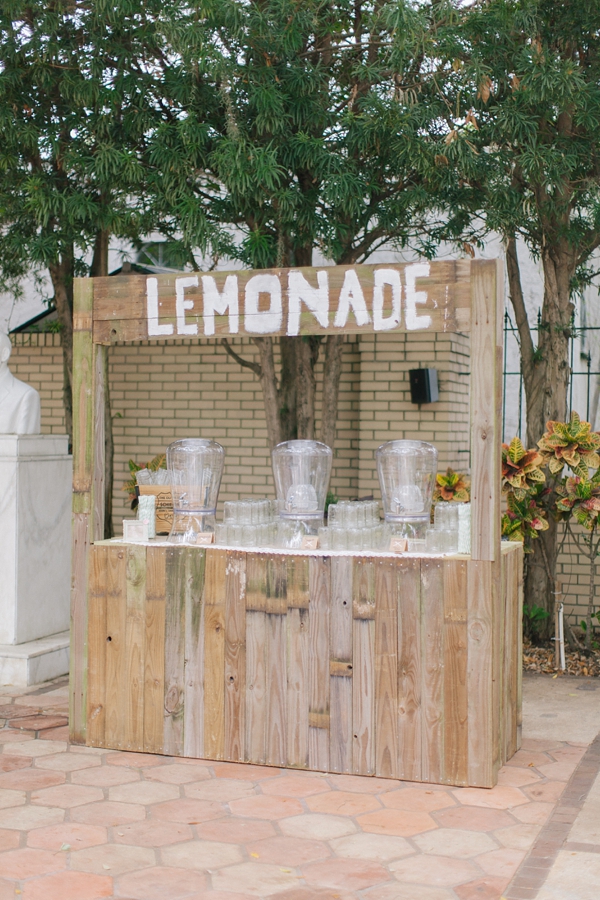 Photo by Raquel Sergio Photography – Mint Green & Ivory Rustic Ybor City Wedding
Wood
Rustic chic is nature driven, use wood for furniture choices as well as decorating. Hollow out part of a tree branch to create flower vases or candle holders. Use small blocks of wood to make photo blocks of you and your groom and family to place on your reception tables. Use wooden signs to direct your guests around your venue, as well as have inspirational love quotes or special dates for the bride and groom. You can even use slivers of tree branches as platforms for your centerpieces. Be creative.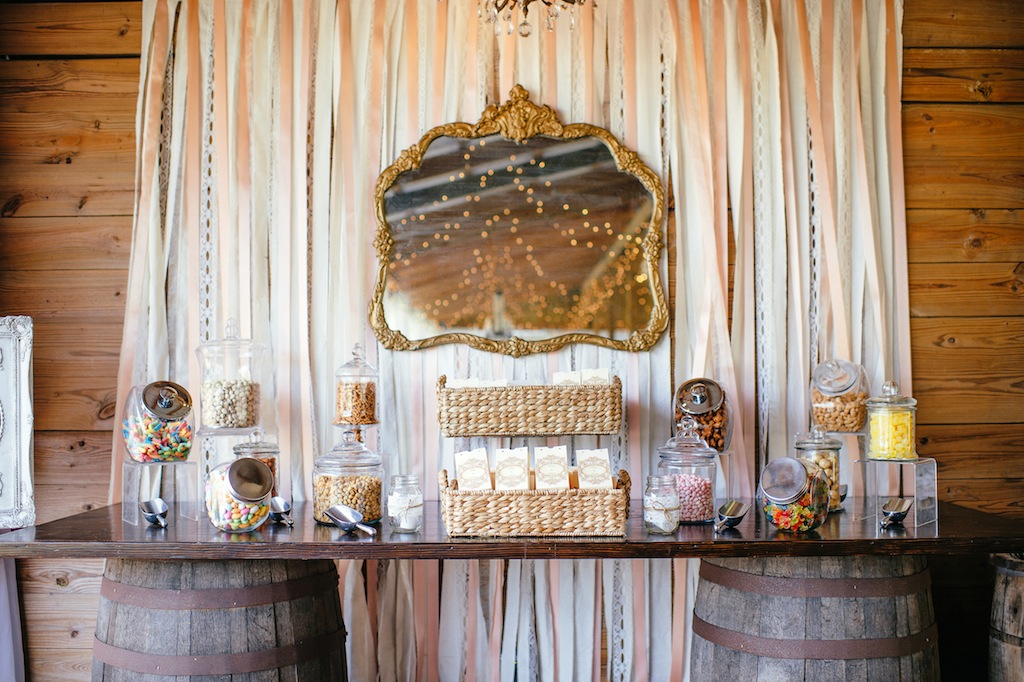 Photo by Sunglow Photography – Rustic Rose, Burlap and Lace Cross Creek Ranch Wedding
Chalkboards
Depending on the bride's style of rustic chic, in lieu of wooden signs it's very popular to use chalkboards.
Photo by Sunglow Photography – Rustic Rose, Burlap and Lace Cross Creek Ranch Wedding
Vintage Furniture and Decorations
Vintage furniture such as wooden dressers and glamorous vintage sofas add a touch of whimsy to your outdoor rustic chic wedding. Think typewriters and birdcages for table décor and classic novels for your centerpieces or simply placed throughout your wedding venue. Vintage picture frames are also a wonderful choice; they can be hung from trees creating an interesting effect, as well as a fun place for guests to take pictures during the reception.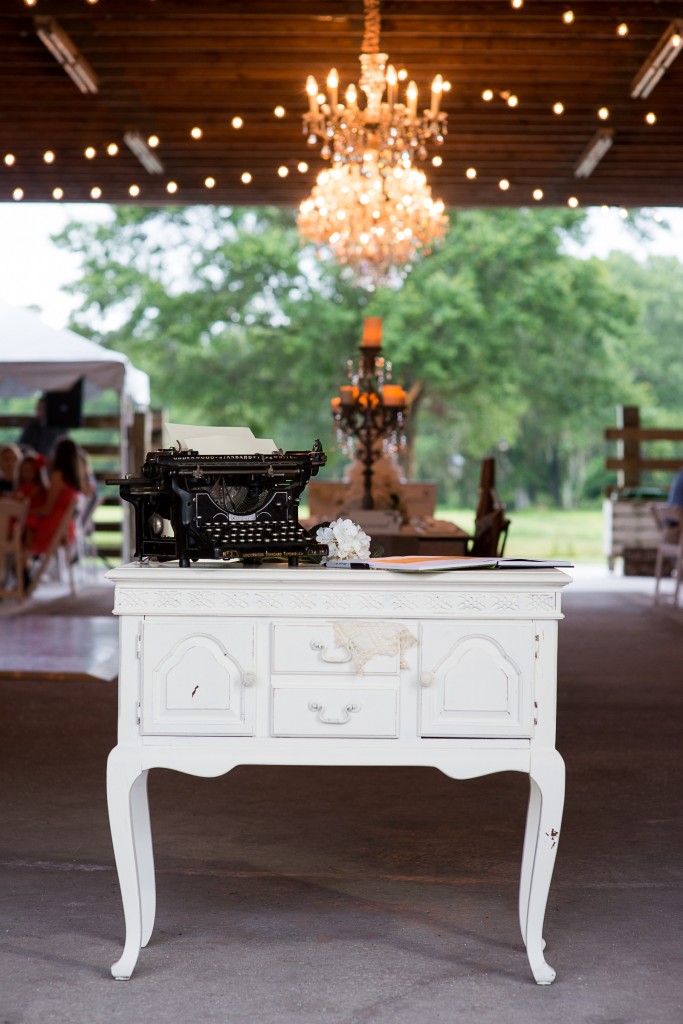 Photo by Jeff Mason Photography – Beige and Cream Vintage Country Barn Wedding
Wine Bottles
Similar to mason jars, wine bottles are a great decorating option. They're beautiful bare or can be wrapped in twine or burlap and lace. Perfect for centerpieces and as flower vases, they also work well as candle holders. Another use would be as a way to specify table numbers by tying or gluing a card number onto the wine bottles. For corks, I'd suggest something fun like leaving a container of wine corks out for your guests to sign and write messages on, then you can place these in glass jars and vases around your home as a nice keepsake after the wedding.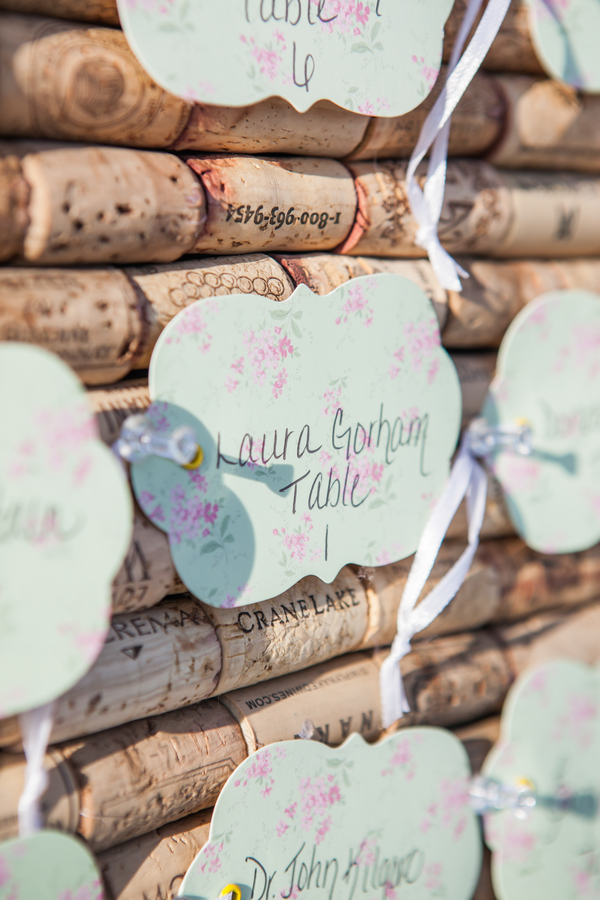 Photo by Maria Angela Photography – Pink & Green Rustic Clearwater Beach Wedding – Clearwater Beach Rec Center
Lanterns and Chandeliers
Lighting is always important. I'm in love with the use of chandeliers in outdoor settings, like vintage furniture it reflects such beauty and gives a magical feel. Lanterns are also a spectacular choice, this is where your mason jars can come in handy. Mason jar lanterns are easy to make and inexpensive to buy (in case you don't have the time).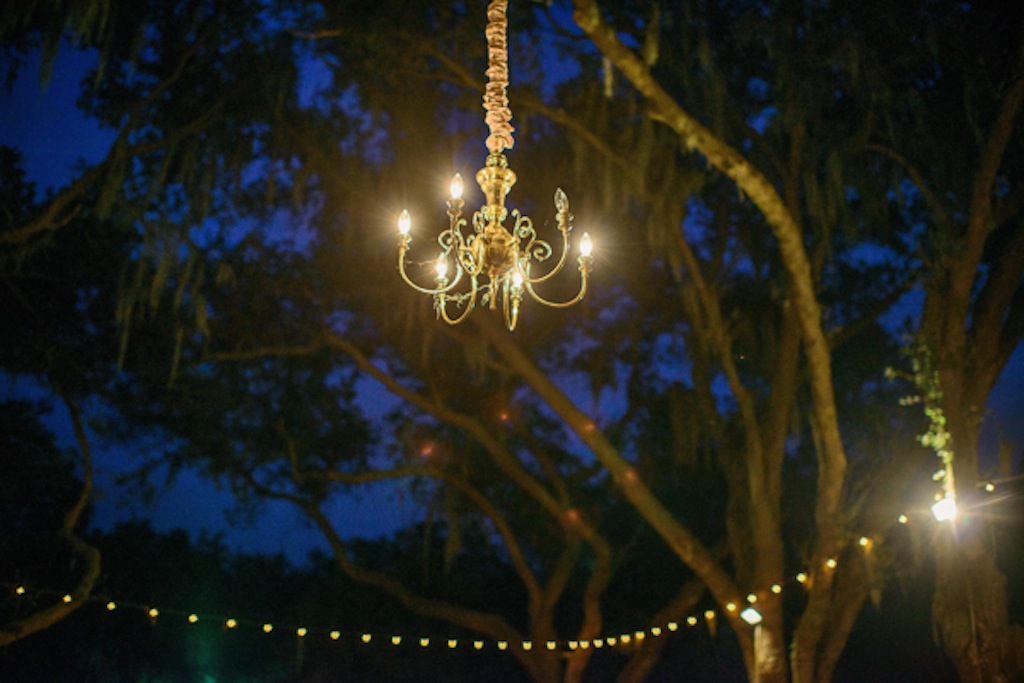 Photo by Sunglow Photography – White, Gold & Black Rustic New Year's Eve Rocking H Ranch Wedding
Ladders
Ladders are simple, but a good decorating option. They can stand alone nicely or you can wrap them in ribbon and decorate them with flowers. Perhaps my favorite unconventional use for ladders is as overhead lighting; suspend a ladder horizontally and then hang some lanterns and flowers. Perhaps the only "must" is having wood ladders.
Rustic Games and Activities
Make your reception a party to remember by including rustic games for all of your guests to enjoy. I know it sounds cheesy, but it can be a load of fun. Among some of my favorite reception games are "Photo I Spy" (leave cards on your reception tables with the list, and have your guests upload images onto Instagram or provide disposable cameras), set up Horse Shoes or Ring Toss, or make your own Giant Jenga set. You can also leave cards on your reception tables with a "He Said, She Said" game (have your guests guess what statements were said by the groom or the bride) or build your own DIY photo booth (use Polaroid cameras or have your guests upload their photos onto Instagram, and leave an assortment of fun props for them use such as mustaches and hats). All these games can be decorated to match your rustic chic wedding: add burlap to your horseshoes, have chalkboard signs and vintage items for your photo booth, etc.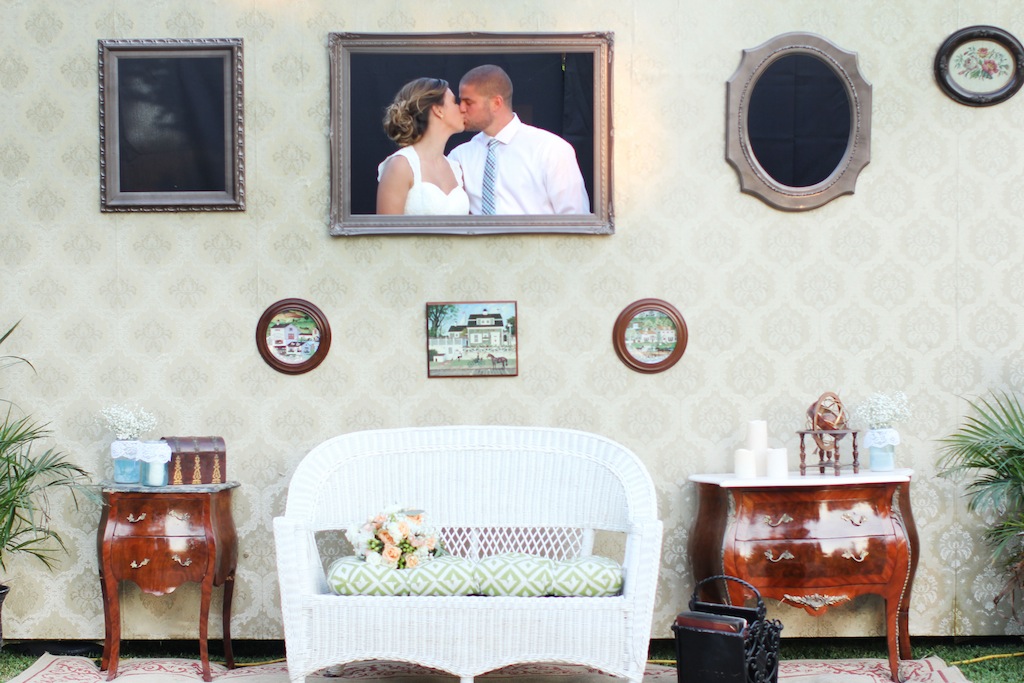 Photo by Wings of Glory Photography – Rocking H Ranch Wedding – Gold, Cream & Peach Shabby Chic Wedding
Flowers and Fruit
Keeping with the use of natural elements, you want plenty of flowers and fruit at your rustic chic Tampa Bay wedding. The flowers in your centerpieces should be adorning a lot of your decorations, such as on vintage frames, in tins, hanging from ladders, and laying on top of barrels.
Using apples or citrus fruit to decorate also gives a stunning effect and is simple to do. Fill glass vases with slices of citrus, and water, then place your flowers in the vase. Similarly, fill large glass containers/vases with apples and place them around your venue. I've seen brides use oranges lightly wrapped in brown paper with name tags for their guest seating, as well as brides adding fruit to their flower arrangements. Be creative but keep it simple; try single serving mini brown bags filled with blueberries for your guests or even a whole platter of fruit with a few select cheeses that your guests can freely pick from.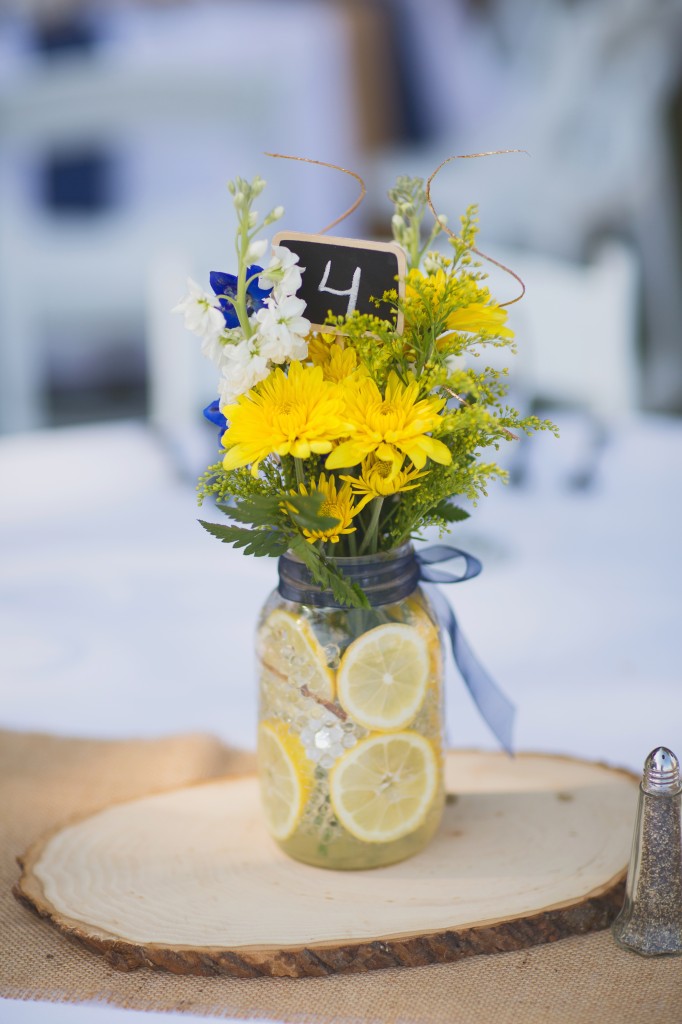 Photo by Vitalic Photo – Navy & Yellow Rustic DIY Lakeland Wedding – Rocking H Ranch
A Beautiful Outdoor Venue
Perhaps the most important aspect of a rustic chic wedding is the gorgeous outdoor venue. There are many well priced venue options in Tampa Bay for the rustic chic bride. Try local farms or vineyards. A large wheat field, woods, or lake can create the perfect scenery as well.
If you go the farm route, take advantage of their barn. It's a a great "prop" for photos, as well as a beautiful indoor rustic option for the wedding ceremony. For our Tampa brides I'd suggest checking out Old McMicky's Farm in Odessa.
And there you have it, your 15 Must Haves for Any Rustic Chic Wedding. I hope this can serve as a helpful guideline for those planning a Rustic Chic event, however, the most important thing is to make it yours!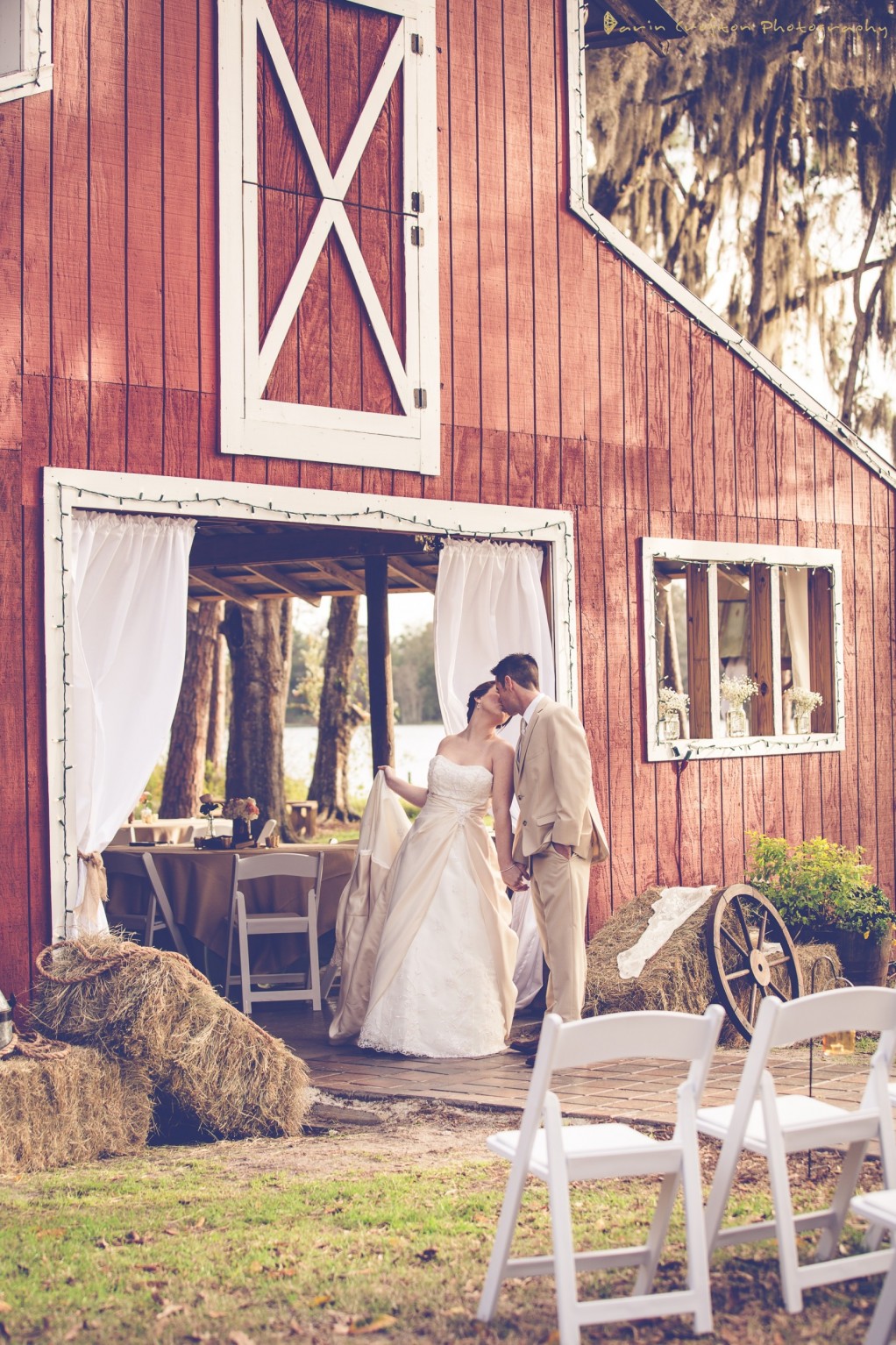 About the Author: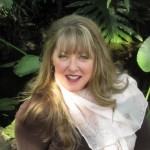 Heidi Belmont started Burlap and Bling Design Studio in 2008. Through dedication to her art, she has taken an at home Etsy store and created a successful small business expanding to a new brick and mortar store to serve local brides, photographers and event planners in Tampa. She hand makes a variety of items from fabric bridal bouquets and wedding accessories, to household décor (as well as offering vintage décor rental). Heidi has honed her skills for over 15 years as a one-of-a-kind, functional art designer. She is passionate about all things vintage. Discovering one- of-a-kind "treasures" that are antique, weathered, or worn is what she lives for. This passion, as well as her joy for life, is what inspires her unique creations. Over the last six years she has found a love for working with brides to achieve their dream bouquets and wedding décor, with the most exciting aspect, getting to know each bride individually and giving them a personalized keepsake they can adore for years to come.
Burlap and Bling Design Studio offers a variety of handmade items for your rustic chic, shabby chic, or vintage event and every item is completely customizable to you. Like us on Facebook.