Post updated: September 6, 2016
Your wedding day will be one of the most important days of your life, and you want to ensure that you look beautiful from the inside out! Most Tampa Bay wedding hair and makeup artists swear by airbrush makeup. Discover if it's right for your skin type, who shouldn't use it and why it costs more money from expert Michele Renee The Studio.
 Email Michele Renee The Studio
Website | Facebook | Instagram | Pinterest
Featured weddings on Marry Me Tampa Bay
The History of Airbrush Makeup
The first airbrush system was invented by Abner Peeler in 1879 and was called a "paint distributor." Many improved patents later and we have the modern airbrush gun. Facial makeup was first used in an airbrush gun in the late 1950's when MGM used it for extras on the movie set Ben Hur with Charleston Heston. The movie used 8,000 actors, all which needed not only facial makeup, but also their bodies needed to be darker to resemble ancient Romans. Hence, "cosmetic airbrush makeup" was invented as a unique solution to a problem.
With the change of technology to high-definition video and television, airbrush makeup is usually the first choice in facial makeup for film and is highly sought out for weddings. Airbrush makeup is highly micronized and, when applied correctly, can make your skin look flawlessly even but still very natural.
Airbrush makeup can last for eight or more hours, unlike liquid foundation which has to be applied in several layers in order for it to have long-lasting effects. When layered, liquid foundation can sometimes look cakey and possibly have an unnatural effect, especially for high-definition video and film.
Airbrush Makeup: The Basics
Airbrush makeup comes in three basic formulas: alcohol based, water based and silicon-based. Most makeup artists prefer the silicon-based versus the water based formulas; however, both options are very popular. Oftentimes, water based airbrush foundation, like water based liquid foundation, tends to melt off especially when tears are shed…and we all know there are many tears at a wedding! Also, water based liquid foundation doesn't stand up as well to sweat, which isn't ideal for a Tampa Bay wedding.
Silicon molecules are bigger than your pores and also bigger than water molecules, so a silicon-based makeup foundation will sit on top of your skin and not melt into it. A silicon-based airbrush application deposits a thin layer of silicon foundation, which lasts longer than liquid foundation and slightly absorbs oil making your skin look matter longer.
Airbrush Makeup: The Pros
Airbrush makeup will last longer than regular makeup and Tampa Bay wedding photographers generally love airbrush makeup because it gives the skin a porcelain finish in pictures. Makeup artists love airbrush because it is quick and sanitary; nothing but air and makeup touch the face.
Most importantly brides choose it because it is quick, offers great coverage without feeling heavy, is virtually waterproof and lasts for at least eight hours, allowing you to enjoy what is truly important on your wedding day — celebrating your with your husband, friends and family.
Airbrush Makeup: The Cons
Although, airbrush makeup is ideal for 85 percent of our brides it may not be the best option for everyone. Women who have very large visible pores (think of the texture of an orange) or those with prominent deep wrinkles are not the best candidates for airbrush makeup. It tends to make pores look larger and sometimes it can enhance wrinkles.
One solution to this problem is to use a silicon-based primer to fill in the fine lines and pores. We love Benefit's POREfessional which can help to "brush" on the airbrush foundation like a liquid foundation giving the silicon-based airbrush a more refined finish.
Although, some clients with Rosacea are hesitant about airbrush makeup, the American Academy of Dermatology suggests that airbrush makeup can reduce redness, stinging and irritation.
One of the main reasons brides may not consider airbrush makeup is the higher cost. Airbrush makeup requires specialized foundation, a gun and compressor to apply, which is costly for the artist, (sometimes up to $500 for a complete system).
Michele's Final Thoughts
Even though I personally have large pores and very oily skin, I still really like airbrush makeup because it lasts longer than regular makeup, especially on my oily skin. However, it was a challenge for me to find my perfect combination. I use a light primer and "brush" on my airbrush makeup.
For my brides who have heard mixed reviews on airbrush makeup, I encourage them to do a "half and half" for their trial. "Half and Half" is where I apply regular foundation to one side of their face and airbrush foundation to the other side of their face. And apply the rest of the makeup (shadow, blush, lipstick) as usual. Usually, you really can't see a big difference at first it take a couple of hours to really see airbrush makeup long-lasting effects. But if you do see and immediate difference then you will definitely know which one to choose. Either way it is always good to give the bride options to better fit her needs and values for her big day!
Have more questions for Michele Renee or want to suggest the topic for our next advice video, comment below!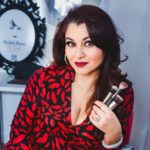 According to her mother, Michele Renee has been doing hair and makeup since she was 7. Her first model was her reluctant younger brother dressed in drag. Since then she has moved up and has worked for renowned companies such as Origins, Lancome and The Home Shopping Network. She is most proud of putting together a group of talented and dedicated stylists in the Tampa Bay area to serve brides on their special day with her company Michele Renee The Studio.