"The ceremony itself was very important. The words used and the promises we made to each other really mattered to us. I remember feeling nervous beforehand, but it ended up being perfect. Our theme was romantic and classic. The choices on florals, décor and everything else just fell into place, and it was perfect. We chose were mostly white, eucalyptus green, and very soft pink. I have always loved the way eucalyptus looks in floral bouquets. I loved the way the colors came together on our wedding day." -The Bride
*Marry Me Tampa Bay Preferred Wedding Pros:
Ceremony, Reception Venue, and Caterer: The Birchwood
Planner: Perfecting The Plan Rentals: Gabro Event Services
Cake: The Artistic Whisk, LLC
Hair & Makeup: Femme Akoi Beauty Studio
---
Photographer: Visual Muse Studio | Videographer: Tampaniac Productions | Florist: 2Birds Events | DJ and Dance Floor: DJ Cory Barron | Officiant: Pastor Brian Jones | Invitations: Minted | Dress Shop: CC's Bridal Boutique | Shoe Designer: Betsey Johnson | Bridesmaid Dress Shop: Show Me Your Mumu | Rehearsal Dinner: BellaBrava | Day of Paper, Welcome Sign, Table numbers, seating chart: URBANcoast
---
"We never wanted to have a traditional wedding so keeping it small and intimate was definitely our style! Our theme was very dark and romantic. We wanted a more intimate setting and something different than your typical Florida wedding. We didn't have a wedding party so the only color coordinating was with our flowers and décor. We used orange, burgundy, rose pink, and cream." -The Bride
*Marry Me Tampa Bay Preferred Wedding Pros:
Ceremony and Reception Venue and Caterer: The Urban Stillhouse by Horse Soldier
Cake: The Artistic Whisk, LLC
Hair & Makeup: Femme Akoi Beauty Studio
---
Photographer: Taylor Shea Photography | Videographer: Erikson Corbin | Florist: Wonderland Floral Art and Gift Loft | Dress Shop: Malindy Elene Bridal Boutique | Dress Designer: Made with Love – Unique Bridal Collection | Shoe Designer: Christian Louboutin | Rehearsal Dinner: Tryst
---
After 40 years of marriage, Sandy and Bill's intimate waterfront St. Pete vow renewal featured a tropical ceremony, much different from the blizzard and two feet of snow that occurred during their first ceremony and rainstorm that arose during their 25th wedding anniversary party.
Vibrant pink, bright purple, and vivid yellow floral decor popped against the soothing earth tones of the private beachfront of their wedding venue's marina.
"Our theme was tropical. We went Lilly nuts! Our little flower girls referred to the event as the Lilly Party." -The Bride
*Marry Me Tampa Bay Preferred Wedding Pros:
Ceremony and Reception Venue: Isla Del Sol Yacht & Country Club
Planner and Officiant: Perfecting The Plan and MiniMony Weddings ⁠
Florist: Iza's Flowers, Inc.
---
Photographer: Visual Muse Studio
---
"My idea for the overall wedding design was a tropical jungle oasis. I wanted tropical greenery to be everywhere and to incorporate neutrals and simple décor, as to not outshine the foliage. Our colors were beige and dark green. I wanted the colors to coordinate well with the florals. They meshed very well together and even though the green is considered a dark color, it didn't make the space feel dark." -The Bride
*Marry Me Tampa Bay Preferred Wedding Pros:
Venue/ Caterer and Rehearsal Dinner: Hilton Clearwater Beach
Florist: Iza's Flowers, Inc.
---
Photographer/ Videographer: Paisley Sunshine Photography | Rentals: Gabro Event Services | Cake: Kristen Marie Cake | DJ: Celebrations 24 | Officiant: Sensational Ceremonies West Coast FL | Invitations: Minted | Dress Shop: Bridal Gallery of Orlando; Mori Lee Bridal | Bridesmaids Dress: AZAZIE | Hair and Makeup: Hibiscus Spa of Hilton Clearwater Beach Resort
---
"Our wedding theme was chic and romantic with a touch of citrus fruit in the centerpieces. I wanted to match the theme of the venue by keeping the decor modern with a fun Florida twist. Our main inspiration came from a styled shoot I had seen, especially the minimalist ideas and color scheme. My colors were blush, navy, champagne, and glitter gold. I absolutely had to have glitter gold! The blush and champagne softened this bold color, and the navy adds a touch of masculinity for the groom." -The Bride
*Marry Me Tampa Bay Preferred Wedding Pros:
Rentals: Kate Ryan Event Rentals
Furniture Rentals: FH Events

---
Ceremony and Reception Venue: Tampa Museum of Art, Inc. | Photographer: Jennifer Martin Photography | Planner: Oh My Occasions | Florist: Florist Fire Design House | Caterer: SaltBlock Hospitality | Cake: Publix | DJ: Island Sound | Officiant: Pastor Ryan Miller | Invitations: Minted | Transportation: Uber | Dress and Shoe Designer: Anomalie | Hair & Makeup: Kellie Riana | Gelato Carte: Café Ala Carte – TampaBay/Sarasota
---
"Our wedding was elegant and unique. We wanted our wedding to be a formal affair that had a soft and romantic tone. Our colors included blush, rose, and, champagne tones with a light gold accent. We chose these colors to complement cherry blossoms, which are one of my favorite flowers and were a main part of the floral arrangements. We also felt these colors set a soft and romantic tone which is what we wanted for the overall experience of the wedding." -The Bride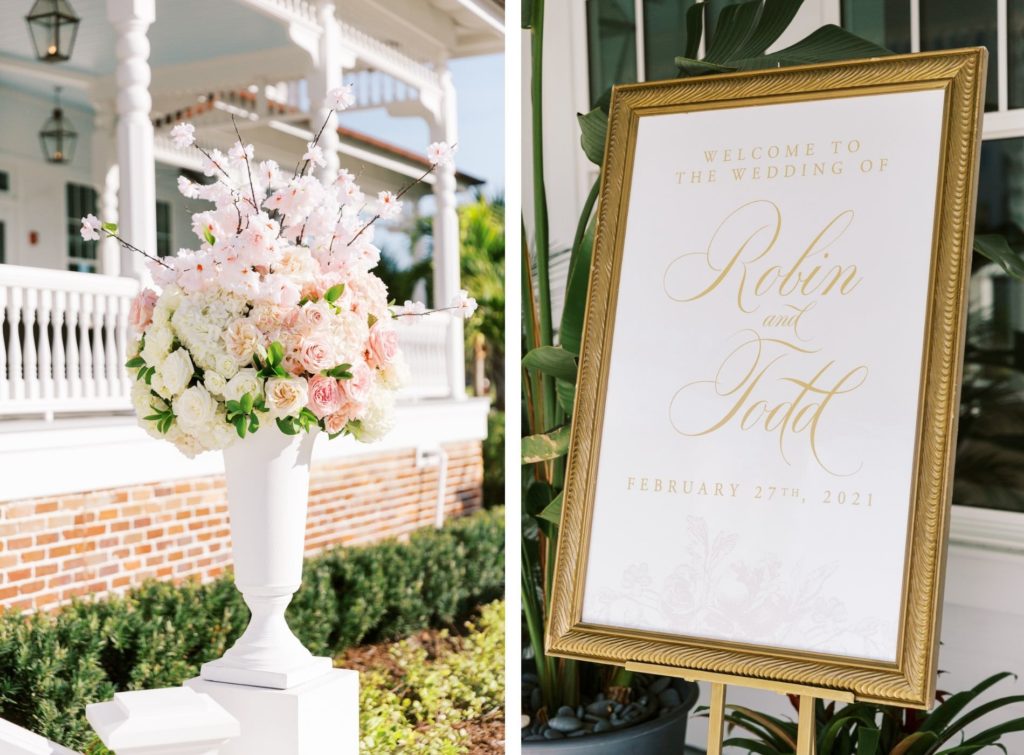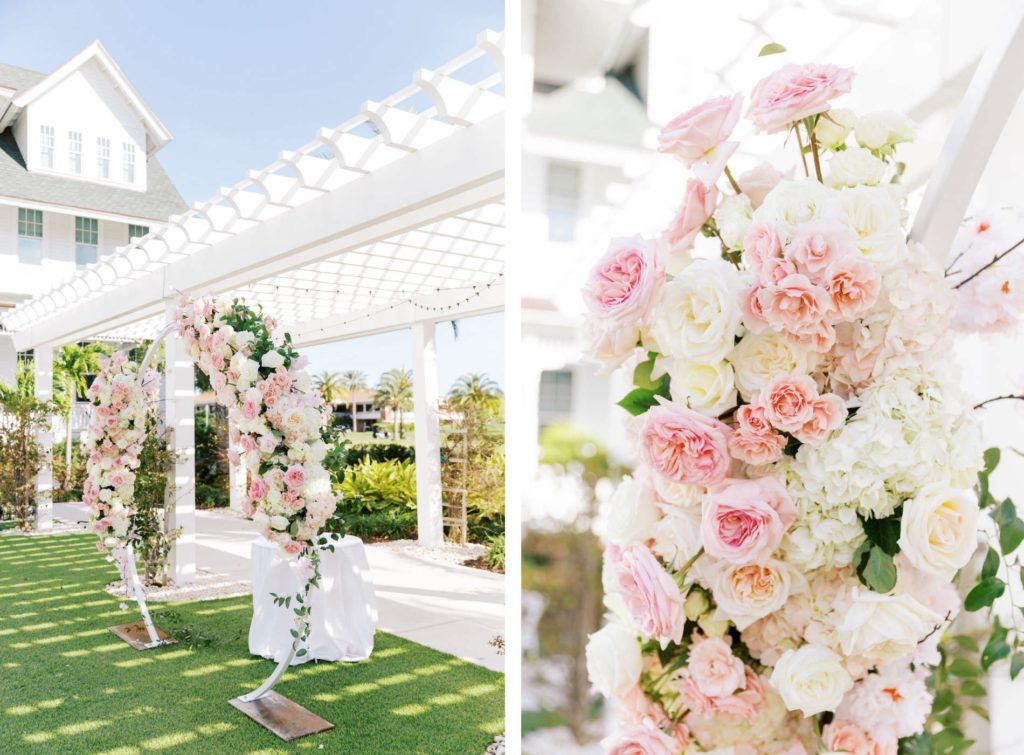 *Marry Me Tampa Bay Preferred Wedding Pros:
Planner: Parties A' La Carte
Florist: BRUCE WAYNE florals
Linen Rentals: Over The Top Rental Linens
Furniture Rentals: A Chair Affair, Inc.
Draping: Gabro Event Services
Bridesmaid Dresses: Bella Bridesmaids
---
Ceremony Venue: Belleview Inn |Reception Venue: Belleair Country Club | Photographer: K&K Photography | Videographer: Sunshine City Films | Cake: Hands on Sweets | Ceremony Musicians: Jade Strings | Band: Phase5 | Officiant: Pastor Jeffrey Weaver | Stationery: URBANcoast | Transportation: Clearwater Jolley Trolley Ambassador Limousine & Sedan | Dress: Isabel O'Neil Bridal Collection ADAM ZOHAR Bridal Accessories: Galia Lahav House of Couture | Bridal Jewelry: The White Closet Bridal Company | Hair and Makeup: Irina Bilka Weddings | Groom's Tux: Giorgio Armani | Groom's Loafers: Salvatore Ferragamo | Photobooth: Bash Booths | Ice sculpture: Ice Sculpture Pro | Wedding bands: Gold & Diamond Source | Bridesmaids Dresses: Jenny Yoo Collection
---
Katelynn and Avery's intimate downtown St. Pete wedding combined a romantic palette with a garden setting filled with abundant and colorful floral – including a jaw-dropping peacock fountain arrangement. Following the stunning ceremony, friends and family enjoyed outdoor dining at a communal table enclosed in a canopy of suspended blooms and sheer draping.
"The theme we were going for was a romantic garden theme with lots of flowers. The colors were greens, whites, and all different shades of pinks." -The Bride
*Marry Me Tampa Bay Preferred Wedding Pros:
Ceremony/Reception Venue and Caterer: The Vinoy Resort & Golf Club
Planner and Florist: Lemon Drops Weddings & Events
Hair & Makeup: Femme Akoi Beauty Studio
---
Photographer: The Ganeys – Wedding Photography | Cake: @The Colors of Food | Officiant: Pastor Randy Morris | Dress Shop: CC's Bridal Boutique | Dress Designer: Martina Liana | Shoe Designer: Badgley Mischka | Bridesmaid Dress Shop and Designer: BHLDN
---
"The theme was mid-century modern meets 2021. The mid-century vibe has stood the test of time. TV Shows, Movies, fashion, and home décor all still live in this realm so I thought well what about weddings? Our colors were orange, green, marigold, and white. We wanted to stay true to the original aesthetic of mid-century, and they are deeply vibrant and give off those eclectic retro vibes!" –Annah Tarallo, Everlasting Affair
*Marry Me Tampa Bay Preferred Wedding Pros:
Venue: Tampa Garden Club, A Venue with a View
Hair and Makeup: Savannah Olivia Beauty Boutique
Pet Care: FairyTail Pet Care
---
Photographer: Regina as The Photographer | Videographer: Givenchy Jones House of Film | Planner and Designer: Everlasting Affair, LLC } Florist: By The Bay Floral | Cake: Lia's Dolce Delights | Invitations: @Homestead Ink | Dress: Retro-Stage | Earrings: Prosta | Creative (Table Numbers, Place Cards, Aisle Runner): She Made It Like That
---
"We had lovely ceremony music, with a live violinist and a pianist. The song I walked down the aisle to was a mash-up of Perfect by Ed Sheeran (which is Keith and my song) and the traditional Bridal Chorus which is something I have always wanted to walk down the aisle to since I was a child. I loved princesses and castles growing up. Princess is also what my father used to call me I wanted something softer than my favorite color purple, so naturally mauve was the perfect color!" -The Bride
*Marry Me Tampa Bay Preferred Wedding Pros:
Ceremony Venue: Harborside Chapel
Reception Venue & Caterer: The Birchwood
Cake: The Artistic Whisk, LLC
---
Photographer: Jessica Cruz Photography | Videographer: Ricco Campos | Planner: Elle Gray Events | Florist: Flower Child Florist | DJ: Delite Entertainment and Photography | Officiant: Griffith with Harborside Chapel | Dress Shop: The White Closet Bridal Company | Dress Designer: Stella York | Bridesmaid Dress Shop: JJ's House | Hair: Lex Cosmetics | Makeup: Corine Potter | Gelato Cart: Paciugo
---