The Artistic Whisk, LLC is a completely CUSTOM bakery. Everything we create is baked from scratch using only the highest quality ingredients, and we are committed to bringing your dream cake to life. "Our cakes are but a canvas for your imagination…"
What couples should know about planning a tasting with The Artistic Whisk:
Tastings are conducted here in the bakery one-on-one with Jovana (owner of The Artistic Whisk) or one of our Pastry Supervisors. There are 15 unique flavors to sample, so it's important to bring an appetite! Each flavor will be explained in detail, including how it is made and what ingredients are used. We like to say, it's more of an experience than a simple cake tasting! We find that it's rather difficult to please everyone with only 1 flavor option at a wedding, so we include 2 flavors with our wedding cakes or cupcakes.
Selecting and designing your cake:
The design process begins with questions for the couple. We ask for the wedding colors, the theme or descriptive words for the overall feeling of the reception. Photos are very helpful to inspire the design of the cake. We like to use centerpieces, invitations, the dress, flowers, and photos of their favorite cake designs. Our goal is to create their dream cake that cohesively fits into their overall décor, but most importantly matches the couple's personality. We love getting to know our clients and it is in the design consultation where we start to get to understand who they are, what's important to them, and what their style is.
---
---
Our Wedding Style Is:
We bake everything from scratch in a European style, using no mixes or premade fillings while using only the highest quality ingredients. Our cake designs are all inspired by our clients! With our talented team of decorators, we can successfully achieve any design or style. Unique fun flavors, quality ingredients, artistically beautiful designs, quality customer service, budget-friendly options, and the simple joy of working with a passionate team is our recipe for success!
Our Personality Is:
We are fun-loving girls who are happy to come to work. We enjoy working to loud music and laughing all day long. We like to smile and make other people smile too.
---
What Inspired Us to Start Our Business is:
After going to school for Baking and Pastry, I worked at several hotels in the surrounding areas perfecting my craft and all-around knowledge of the Pastry Arts. I had the privilege of working with talented French and Swiss pastry chefs while working at properties such as the Ritz Carlton, Marriott, and the Sandpearl. I eventually was promoted to the Executive Pastry Chef at Innisbrook Golf and Spa Resort where I first began making wedding cakes.
After 3 years at Innisbrook, my husband (fiancé at the time), encouraged me to open my own bakery. I finally gained the courage and took the leap of faith! I'm so thrilled and proud of myself for doing so because even though it was utterly terrifying at the time, I feel so blessed that I have been able to meet and work with all of these incredible clients over the years, watch my team learn and grow, both as individuals and as a team, and witness the pure magic, talent, and joy that happens in this little bakery. It's a true dream come true!
---
We Love Being a Part of the Wedding Industry Because:
We LOVE making people happy. Exceeding our client's vision is our ultimate goal. We pay close attention to detail, using our artistic abilities, and of course, taste-testing our creations. Our favorite part of our jobs is the entire creative process; taking ideas from our clients, asking questions, drawing a sketch, baking the cakes, getting lost spending hours decorating, then taking a step back and admiring our hard work, and then finally seeing or hearing how happy our clients and their guests are. There's nothing better!
---
What Makes Our Business Stand Out From Other Vendors Is:
Our bakery is unique in many ways. Our Pastry Chef/Owner, Jovana, is a trained pastry chef with a degree from Le Cordon Bleu, who has worked at prestigious resorts around the area, including the Marriott Waterside, The Sandpearl, Innisbrook, and The Ritz Carlton, Naples. Working for talented chefs in busy hotels has given Jovana an enormous amount of knowledge and experience imperative to running a bakery. We are also committed to only using the finest ingredients and making everything from scratch. You won't find any shortening or hydrogenated oils, artificial flavors, cake mixes, or preservatives in our baked goods. Every single person who has come to one of our tastings has been able to tell the difference.
We also strive for the best customer service. Communication is key. Friendliness and understanding our client is most important.
Our attention to detail in our artistic designs and decorating is obvious; we do not take shortcuts.
---
One Thing Most Couples Would Be Surprised to Know About Us Is:
I think they might be surprised to know that I am a Florida native and that I don't speak any other languages. I get asked where I am from a lot.
One of Our Non-Wedding Passions Is:
I love boating and traveling! And I love love love meeting new people.
---
Our Pricing:
Our pricing: 
Our pricing is determined based on the cake flavors that are chosen, and decorations are added on separately. With each wedding cake, we include a complimentary tasting up to four, the top tier (anniversary tier) is free, cake stand rentals are free, and we also include one hour of decorating.
Simple Sweet Collection- 
No Minimum!
Servings are $5 each and include a Take-Home Tasting Box!
5 Flavors for $15
First, $15 goes towards the purchase of the cake
Additional boxes of 5 flavors can be purchased for $15 each
15-minute Design Consultation
Simple Buttercream Designs Only
2 Flavors- Standard Flavors Only
Anniversary Tier – available for purchase: $25 for 4" round. Must be one of the 2 flavors
Pick Up Available
Delivery option only if $425 minimum is met Friday – Sunday (unless it's a slow weekend)
In-House Tasting Experience is available for $50. $15 goes towards the purchase of the cake
Additional Flavors are $50 each
No Discounts
The ability to design their cake and order online
Creative Classic Collection-
$500 Minimum
Servings start at $7 each, then $8, $9
Take-Home Tasting
10 Flavors for $30
First $30 goes towards the purchase of the cake
Additional boxes of 5 flavors can be purchased for $15 each
Design Consultation
Includes all designs in the Simple Sweet Collection, but has the ability to upgrade to fondant and any design
Designs are a-la-carte
2 Flavors – upgrades are available
Delivery Only
In-House Tasting Experience is available for $50. $30 will go towards the purchase of the cake
Complimentary Anniversary Tier
Complimentary Cake Stand Rental – must be brought back to us
Styrofoam option available
Sheet Cakes are $6 per serving
All Cupcakes are $6 – include dragees and sparkle
Vegan, GF, DF are $1 extra
Vendor List, Planner, and Military Discount 10% OFF – Cannot combine
Creative Couture Collection-
$1,200 minimum
Servings start at $12
In-House Tasting Experience – $50 upfront but it goes towards the purchase of the cake
Includes design consultation
ANY designs are possible
4 hours of decorating is included ($400 value)
Additional decorations and materials are a-la-carte
ALL flavors are included – including Vegan and GF
2 Flavors for the cake
Fondant is included
Complimentary Anniversary Tier
Complimentary Cake Stand and Pick Up
Delivery Only
Styrofoam option available
Sheet Cakes are $6 per serving
Cupcakes are $12 but include more elaborate decorations
Vendor List, Planner, Military Discount 10% OFF – Cannot combine
---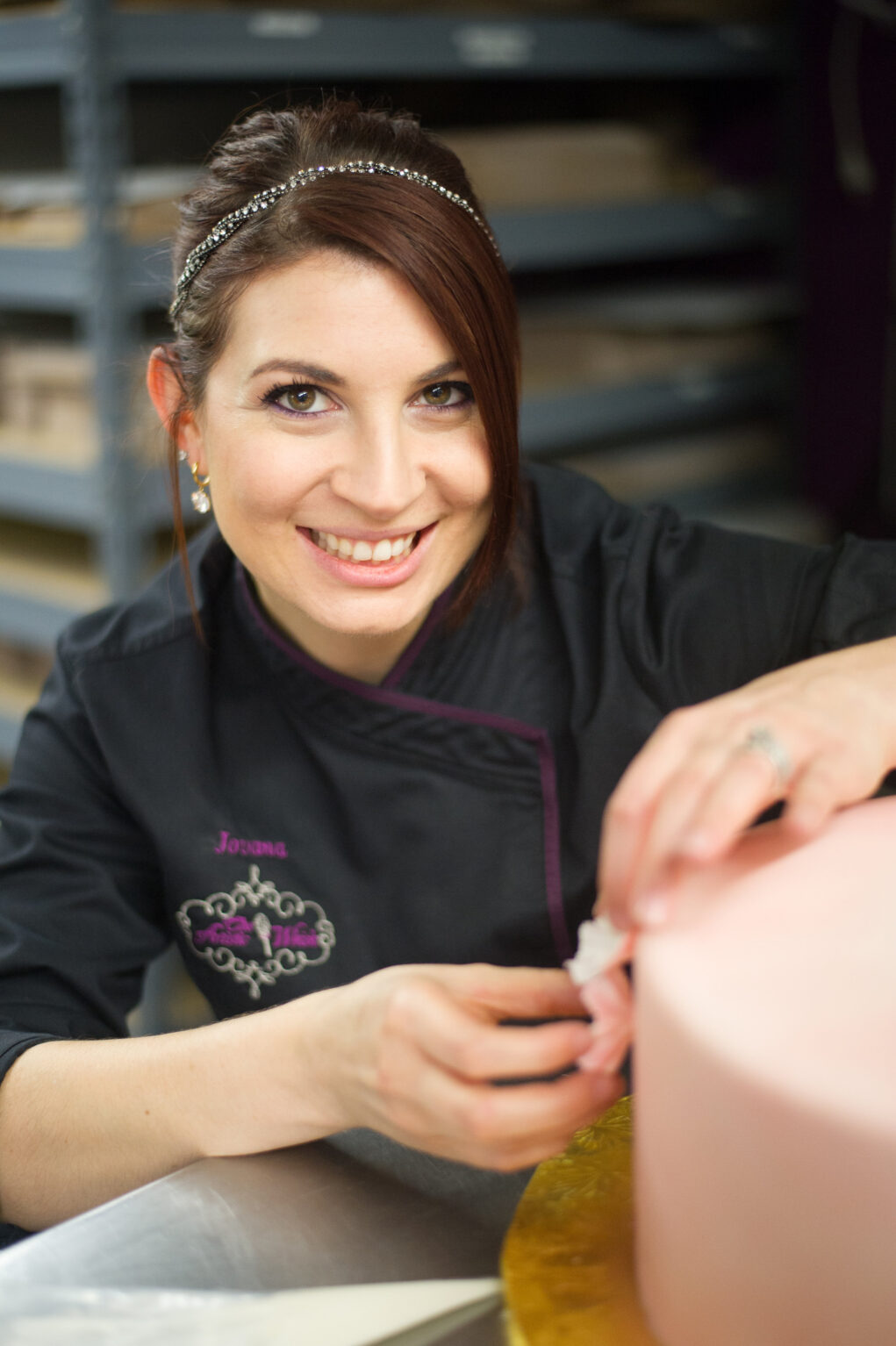 Meet Jovana
I was born in Orlando in 1986, and I moved to Largo, Seminole when I was 2 years old. My younger sister is a year and a half younger, and she now lives in Tampa.
Dance and art were my first passions, which I thoroughly enjoyed because I was able to express myself without using words. I was an exceptionally quiet child who followed the rules and was well behaved. I danced for 11 years until I tore my meniscus and had knee surgery when I was 13. At the time I was a dance focus student at John Hopkins Middle. (I was in the same grade as actress Megan Fox) My childhood dream of dancing on Broadway was shattered and I fell into a deep depression that lasted for years.
When I was 16, 2 weeks before my birthday, I attempted suicide. I was hospitalized for a month at Fairwinds Treatment Center after they diagnosed me with having an eating disorder as well. Although this was an incredibly challenging time in my life and for my loved ones all around me, it's what changed me and made me the person that I am today. If I hadn't gone through what I went through where I feel like I was able to hit the 'reset' button, I believe that I would've spiraled out of control and I wouldn't be here today. Again, it's a testament that I couldn't have done anything alone. If it wasn't for my supportive family, the amazing doctors and nurses, the faculty at my high school, and my friends, I couldn't have been able to see that I mattered and that I'm here for a reason.
I emerged out of the hospital a new person, with a new attitude and a new lease on life. I began reading books by Dr. Wayne Dyer and Eckart Tolle which completely shifted my way of thinking into something so much more positive. I was extremely focused and positive, and I began talking a lot more. Even in class, I started raising my hand, sitting in the front row, and stopped cheating off of my friends. Most importantly, I started believing in myself again.
After taking a college algebra class the summer after my senior year, my professor asked me to be a math tutor for the school, St. Petersburg College. So I did! My goal at the time was to be an Architect and Interior Designer. I became a new over-achiever that nobody recognized. For example, I only needed to take a 3 credit calculus class for my degree. Instead, I took the 5 credit calculus class and received the highest grade in my class. I also made straight A's for the first time in my life, all through the 3 years that I was a student at SPC. Even my parents didn't think I could do that!
I got engaged when I was 20, not to my current husband, and my goals shifted. I no longer wanted to go to school for 6 more years. I had a quick stint as a mortgage broker in 2006 but quickly realized that I was WAY too creative and artistic for that job. One day I randomly thought that I would be really successful as a cake decorator, so I requested more information from a couple of culinary schools. The Le Cordon Bleu reached out to me right away, and the next day I took a tour of the facility. I immediately signed myself up and then told my parents what I had just done. I started school a few months later, left my fiancé and moved to Orlando, and never looked back!
The Artistic Whisk LLC Reviews from Marry Me Tampa Bay Couples:
Marry Me Tampa Bay curates the below reviews from real couples whom we've personally interviewed. As Tampa Bay's most trusted wedding planning resource, these reviews are 100% accurate and aren't created by fake accounts.
---
---
As Seen on Marry Me Tampa Bay