St. Petersburg – The Vinoy Renaissance St. Petersburg Resort & Golf Club is a hotel wedding venue located in Saint Petersburg, Florida. With space for celebrating indoors and outdoors, the happy couple and their guests will have their pick of stunning venues to host memorable festivities. The Vinoy Golf Club includes an 18-hole, par 71 golf course on a certified Audubon Cooperative Sanctuary. The resort also features a salon and full-service spa that specializes in personalized pampering. Guests will enjoy dining at our 3 on-site restaurants and relish in our resort-style pool.
---
---
The Reception:
Reception dinner packages range in price from $164 – $181 per person.
Custom menus are available. Please contact us for specific pricing details
---
The Food & Drink:
The catering staff at The Vinoy Renaissance St. Petersburg Resort & Golf Club can help craft a culinary experience that wows the newlyweds and their guests. They can customize their menus to suit your preferences, and they achieve this by first offering a tasting event. The catering services they offer include buffet, cocktail reception, hors d'oeuvres, plated, and more.
---
The Space:
Boasting an impressive 62,000 square feet of space, The Vinoy Renaissance St. Petersburg Resort & Golf Club has ample space for hosting your ceremony, reception, rehearsal dinner, and more.
The Palm Court Ballroom offers over 11,300 square feet for the wedding party to make use of, and it allows 750 guests to enjoy a sit-down meal.
The Vinoy Grand Ballroom provides 6,120 square feet of room. Exuding opulence and elegance that is fitting for wedding receptions, the window drapes, curved ceilings, and chandeliers lend it a sophisticated touch. As many as 350 guests can sit and dine here in comfort.
The Plaza Ballroom offers just over 4,000 square feet of space, while it can accommodate 140 guests for the reception meal. The Sunset Ballroom is another one of the interior space that would suit a more low-key event as it allows 180 guests to savor a meal while seated in comfort.
Outside, Esplanade offers space for 400 guests to gather for ceremonies or receptions. From here, the wedding party can enjoy views of the bay, meaning they are treated to a magnificent backdrop for the vows and exchange of rings.
Fred's Cellar & Patio features a charming outdoor patio that is an excellent place for guests to mingle and cocktail before dinner. Once guests move inside Fred's Cellar for dinner they will be greeted with beautiful dark wooden beams and bright blue walls. Fred's Cellar is ideal for intimate receptions of 80 guests or fewer.
The Tea Garden provides a splendid setting for the ceremony of your dreams. Here, ample seating can be arranged as you say 'I do' with the trickle of a glorious water fountain providing peaceful background noise.
Also outside, the Mezzanine & Terrace offers an intimate setting for 120 guests to celebrate a reception. Get-ready rooms are also available to use.
The Vinoy Renaissance St. Petersburg Resort & Golf Club Reviews from Marry Me Tampa Bay Couples:
Marry Me Tampa Bay curates the below reviews from real couples whom we've personally interviewed. As Tampa Bay's most trusted wedding planning resource, these reviews are 100% accurate and aren't created by fake accounts.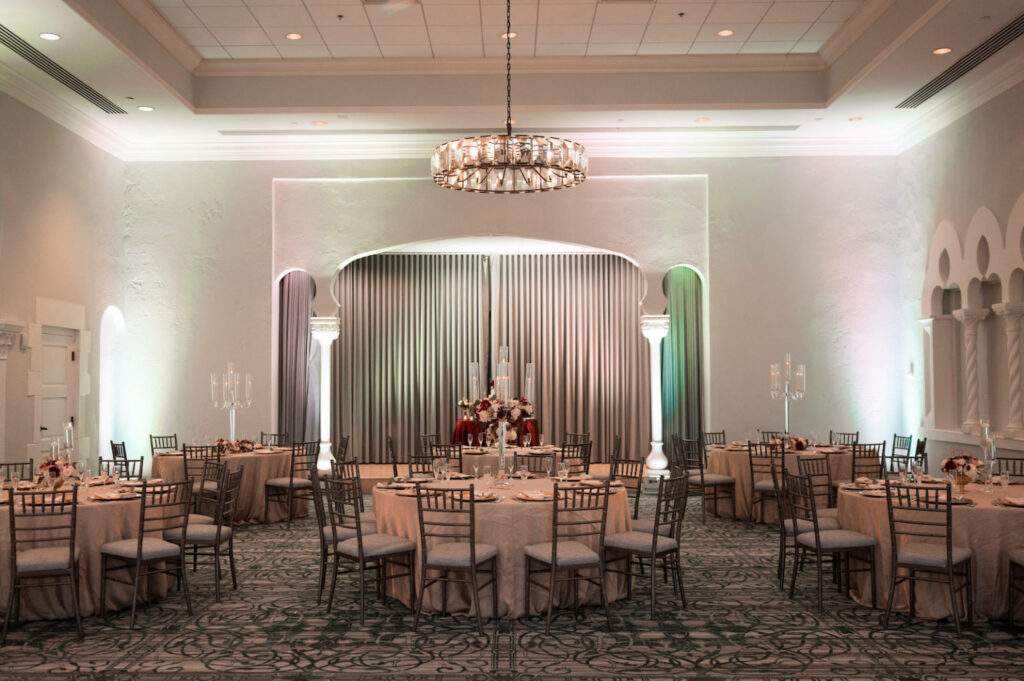 The Vinoy Renaissance is a historical hotel with a lot of character. We wanted our guests to feel the historic vibe in the Sunset Ballroom with its arches and beauty. We also wanted our guests to feel cared for. During the reception there were dancing shoes, delicious food, glow sticks, and late-night snacks (sliders and chicken and waffles). The wedding was a blast!
-Bianca and Edgar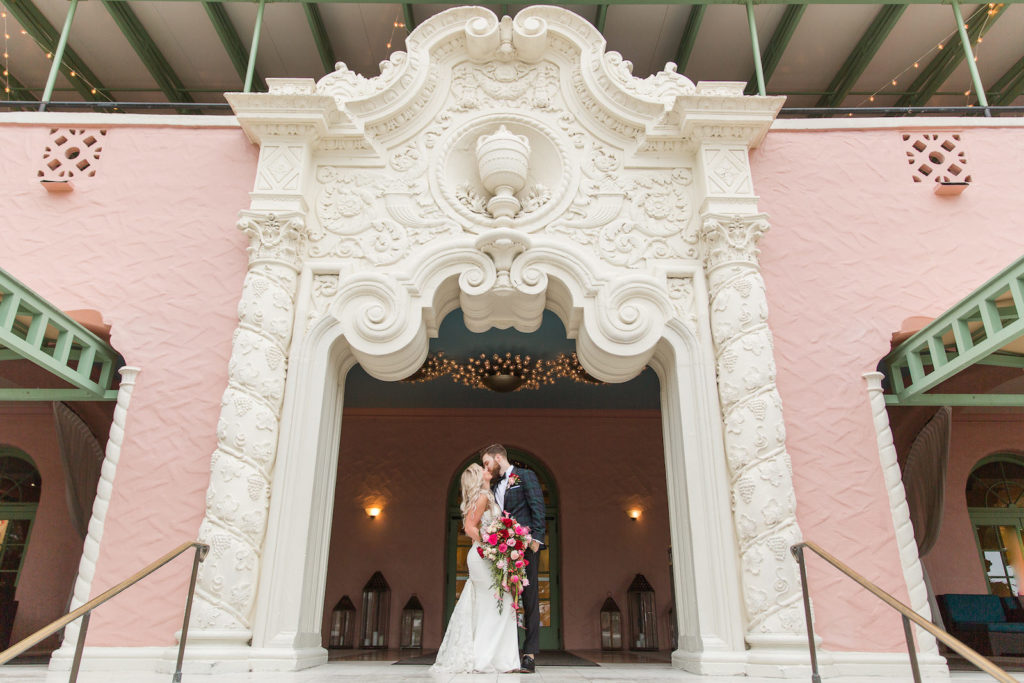 We both knew we wanted something that had history and was timeless.
We originally had chosen a Sarasota venue for the wedding. However, due to COVID-19 we canceled the wedding and had to go a different route. We downsized from 135 guests to 15 and chose The Vinoy Renaissance because they were able to offer a smaller private space that made more sense for what we were doing, while at the same time still elegant and beautiful. It was also a place I visited throughout my childhood as well as the place Avery and I had our first date, so it held sentimental value.
-Katelynn and Avery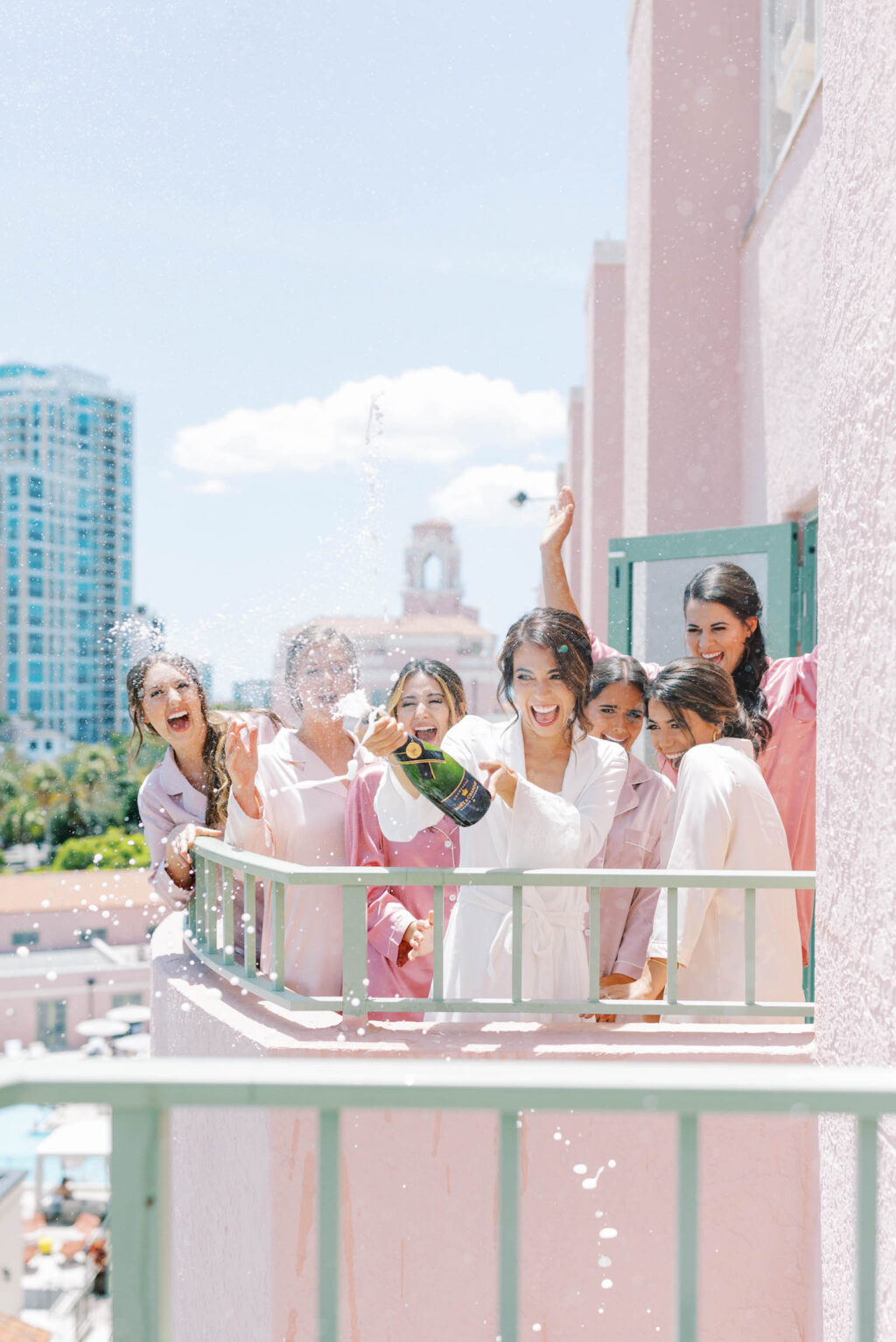 Meg at the Vinoy exceeded our expectations. She gave us complimentary nights at the hotel, and we were also given Marchand's for an after-party after having a noise complaint in our suite. She was always very quick to respond and helped so much with our room block.
-Rachel and Eric
---
---
As Seen on Marry Me Tampa Bay