Kari and Trip's elegant St. Petersburg wedding featured long feasting tables, gold chiavari chairs and calla lily centerpieces.
The Navy bride and groom incorporated a variety of personal touches such as a globe guest book, ornament escort cards (handmade by the groom's mother) and an elaborate groom's cake of the couple's beloved labrador Barney.
The couple hired St. Pete wedding photographer Carrie Wildes Photography to capture their big day.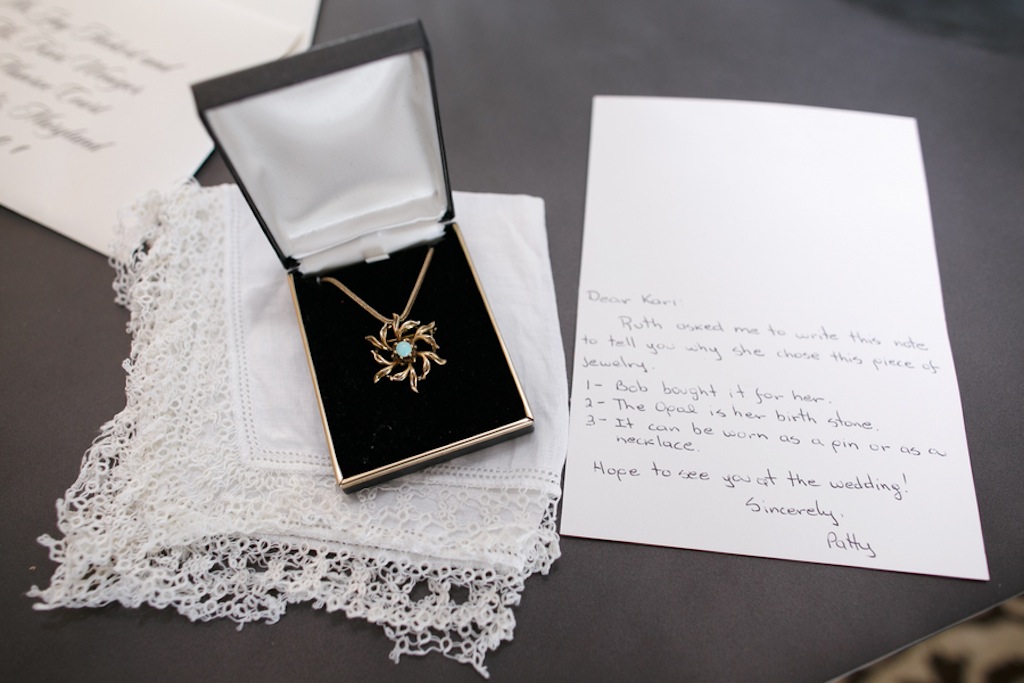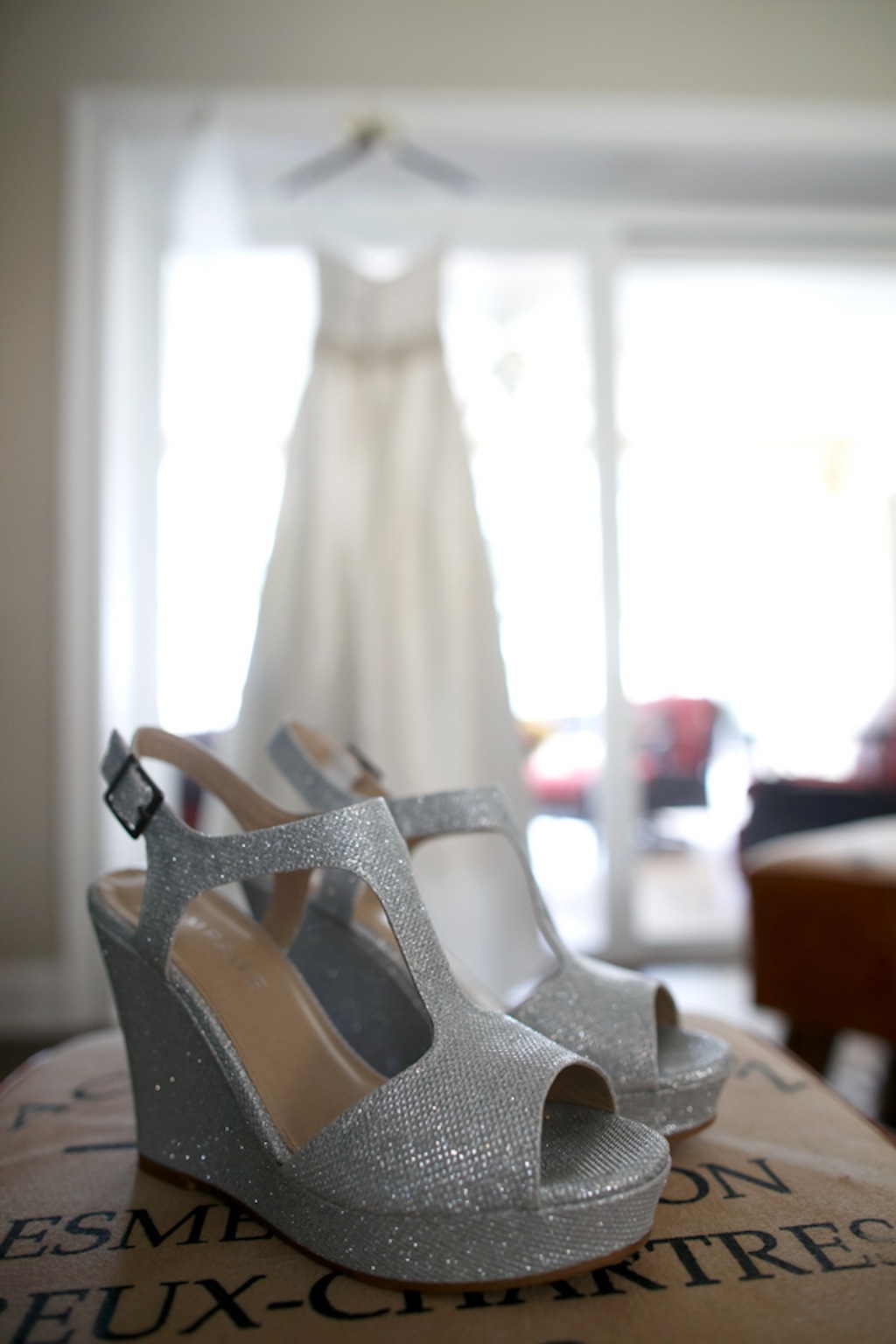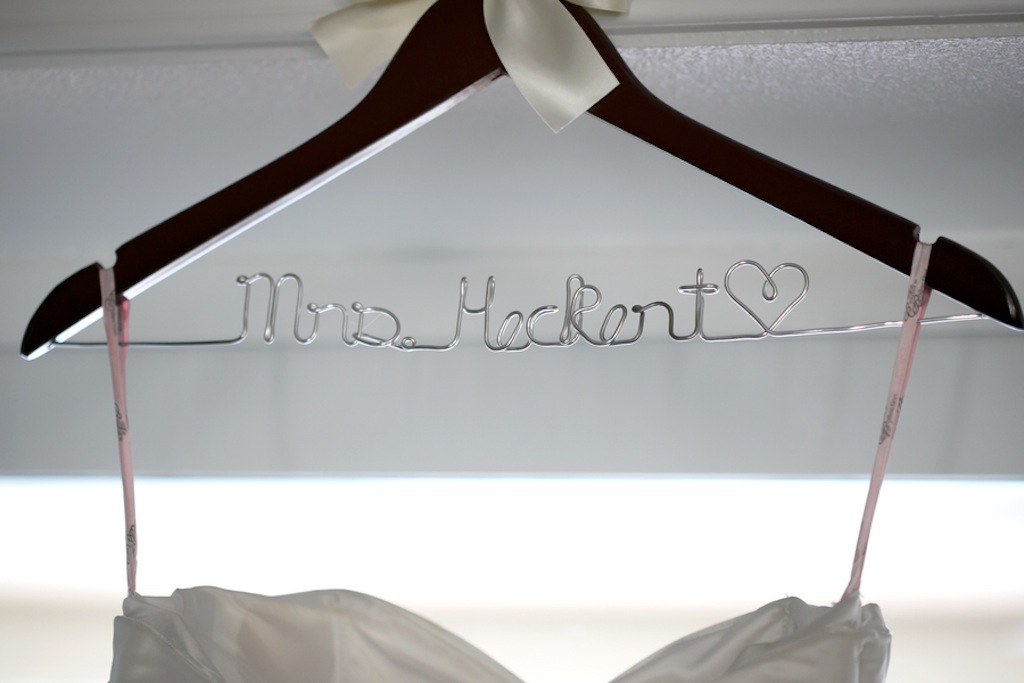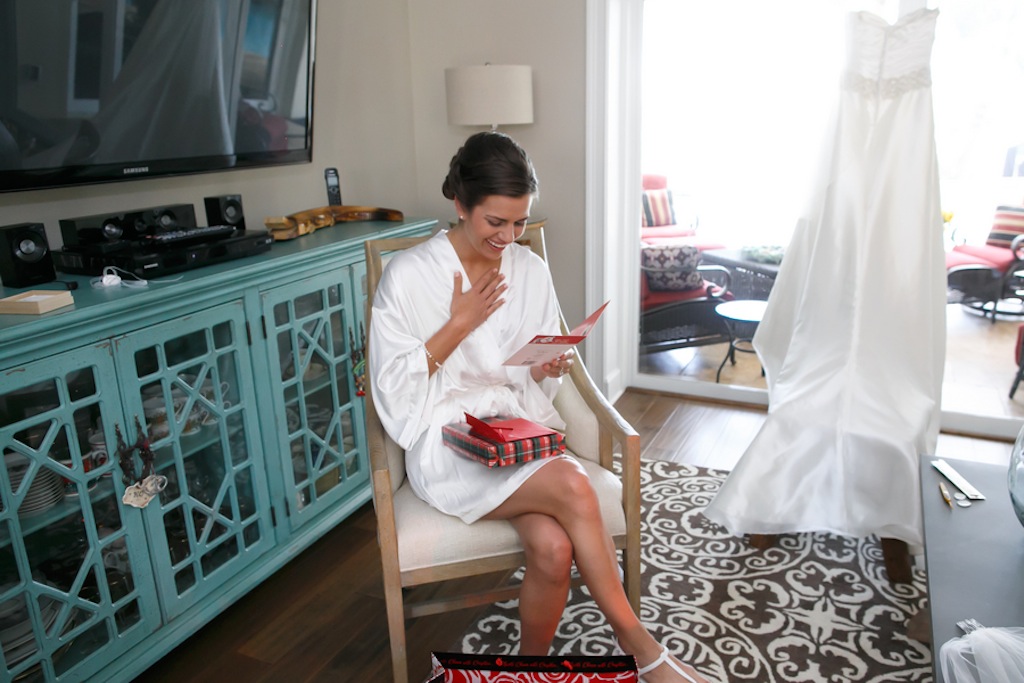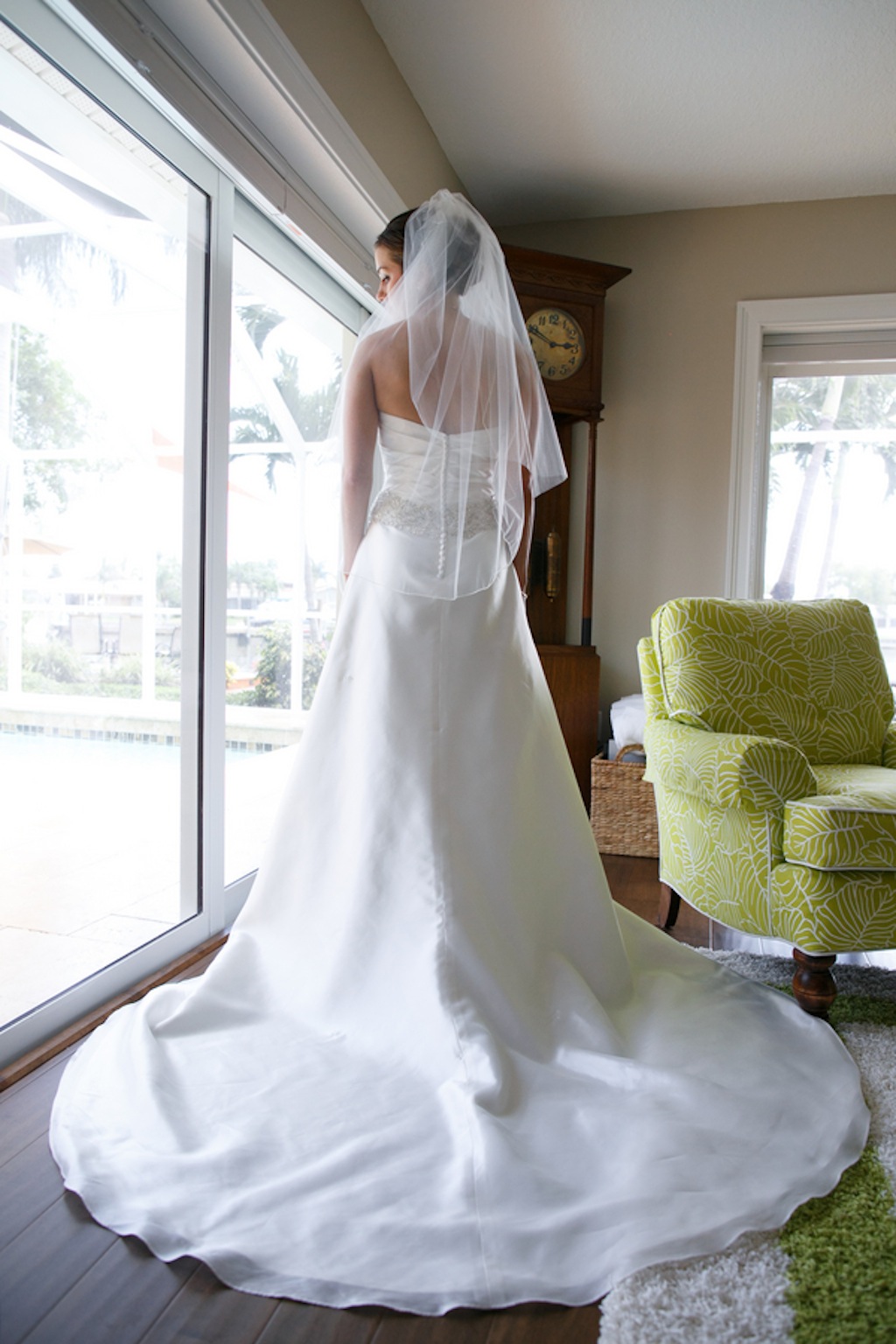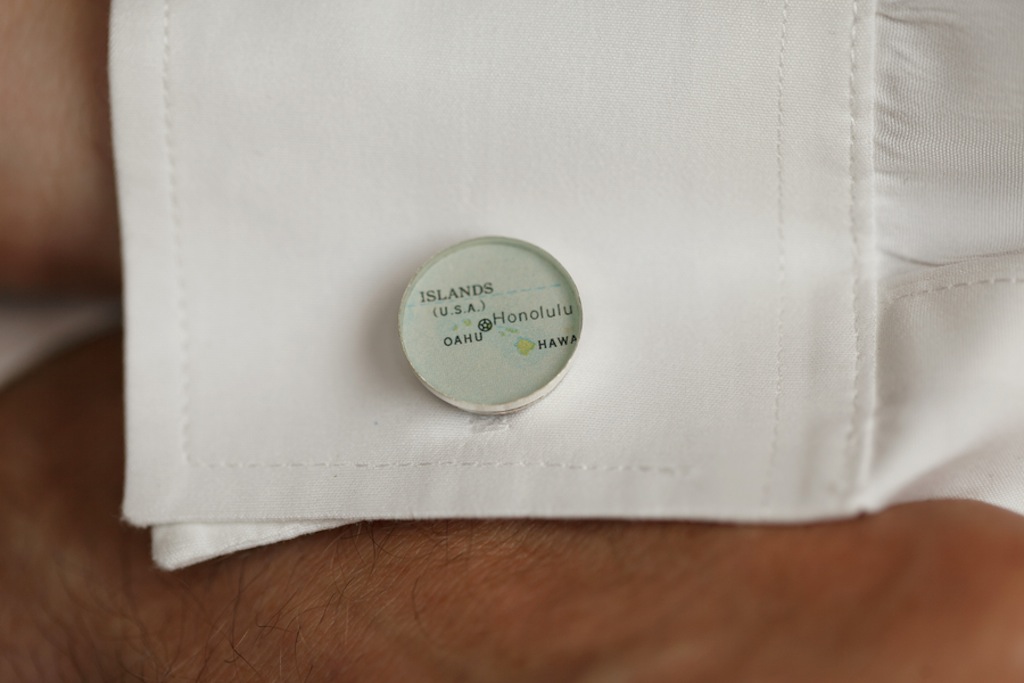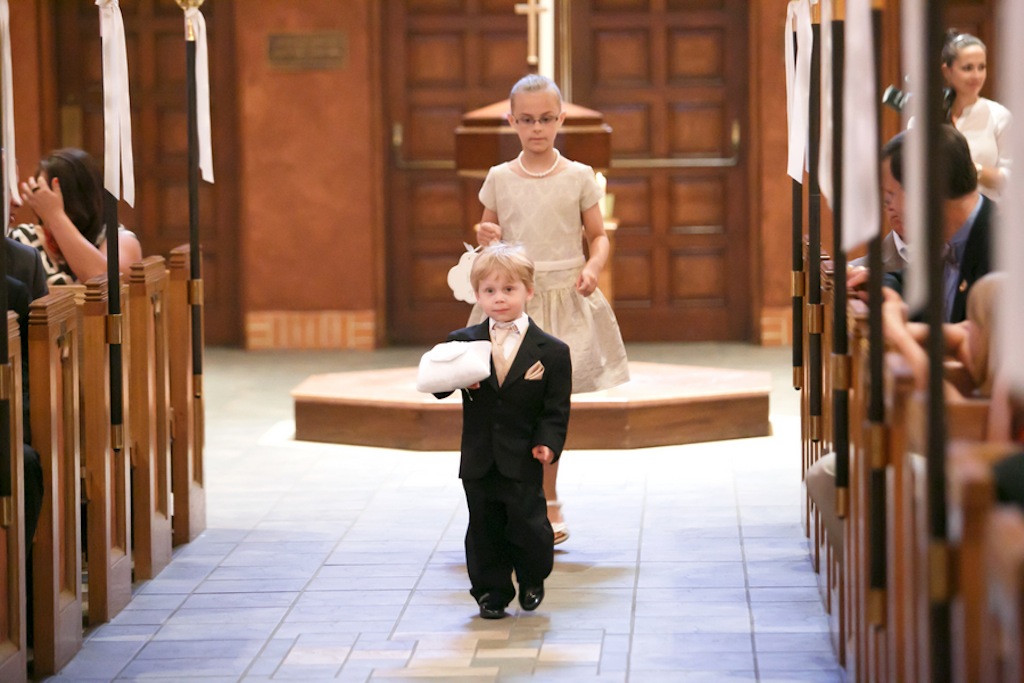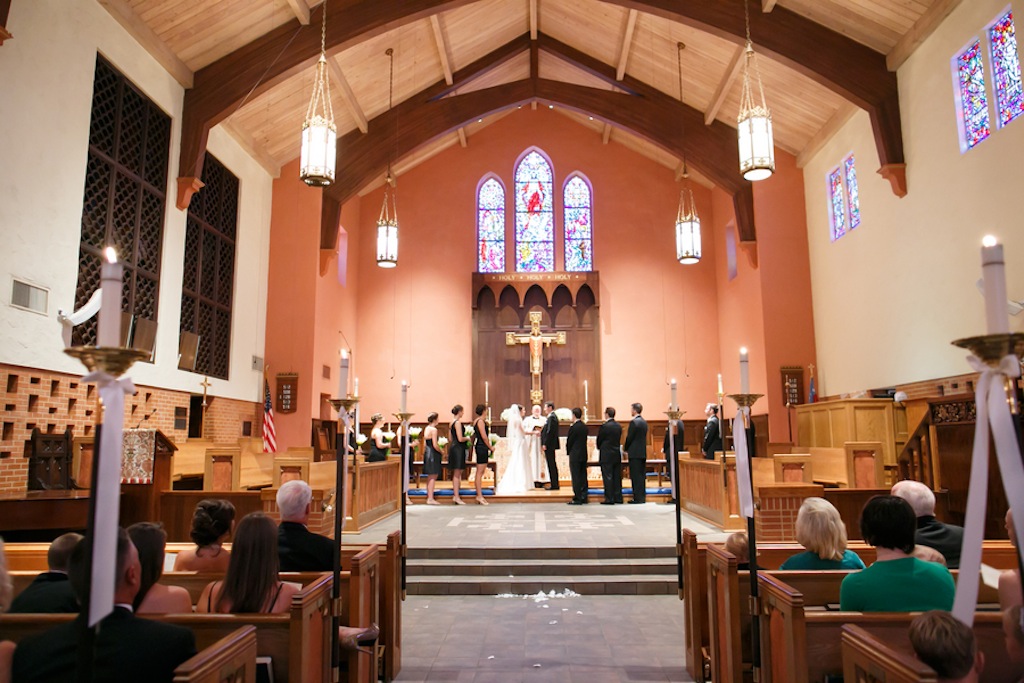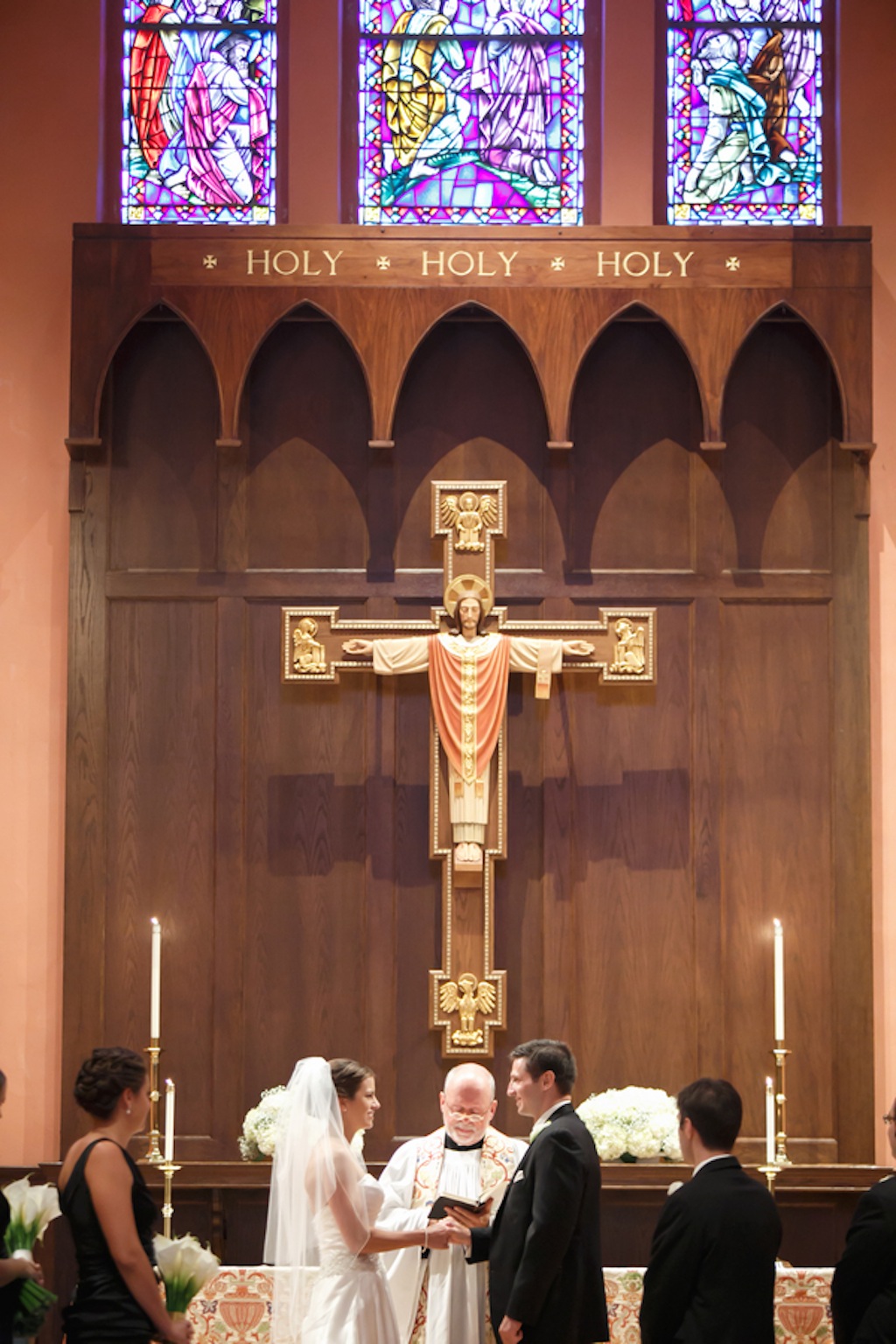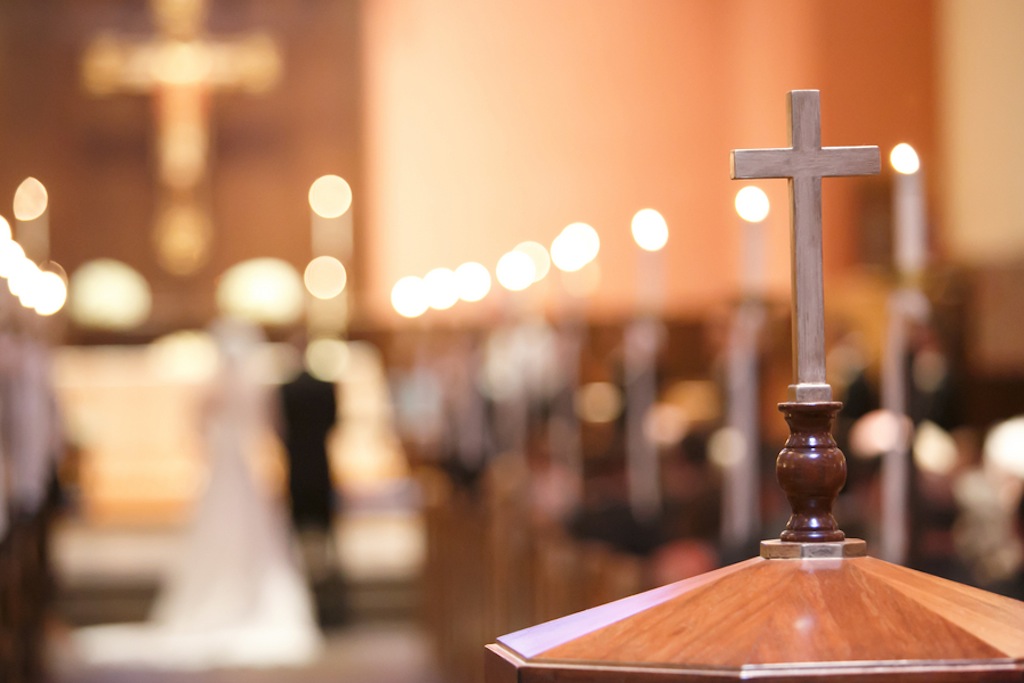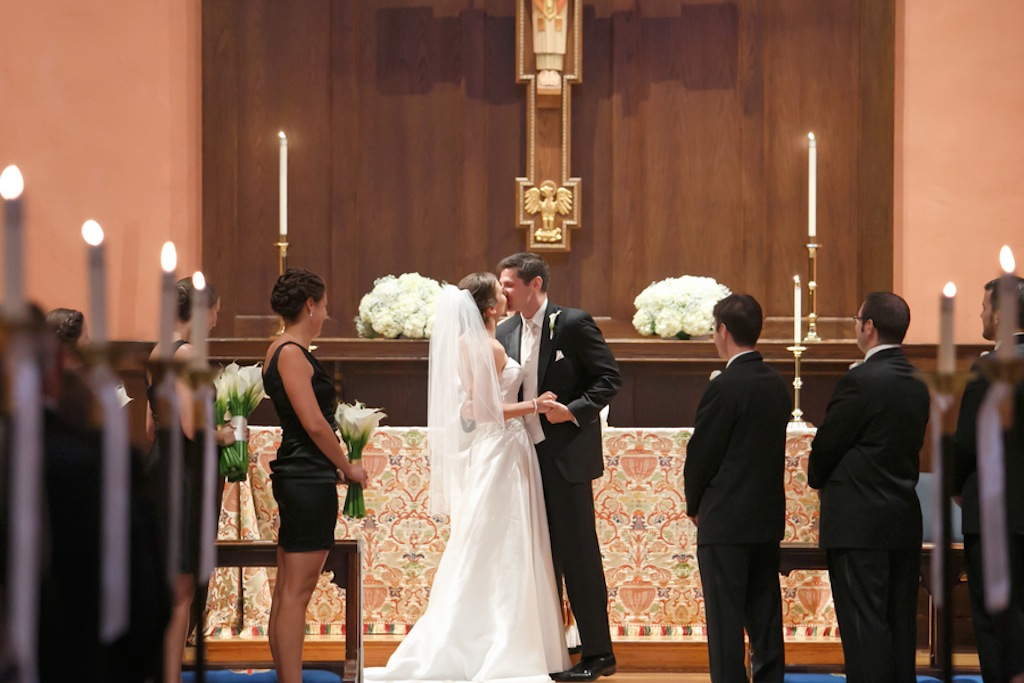 What did you look for in a wedding photographer?
I saw Lindo Agosto's photos from a previous wedding and instantly knew I wanted  Carrie Wildes Photography! Linda had such beautiful photos and really captured the emotion of the day. She was great!
I was so impressed by Carrie Wildes and team. From the thank you card when we signed the contract, to the detail and excitement for the day. It was like Linda had known me for years.
MORE: CARRIE WILDES PHOTOGRAPHY WEDDINGS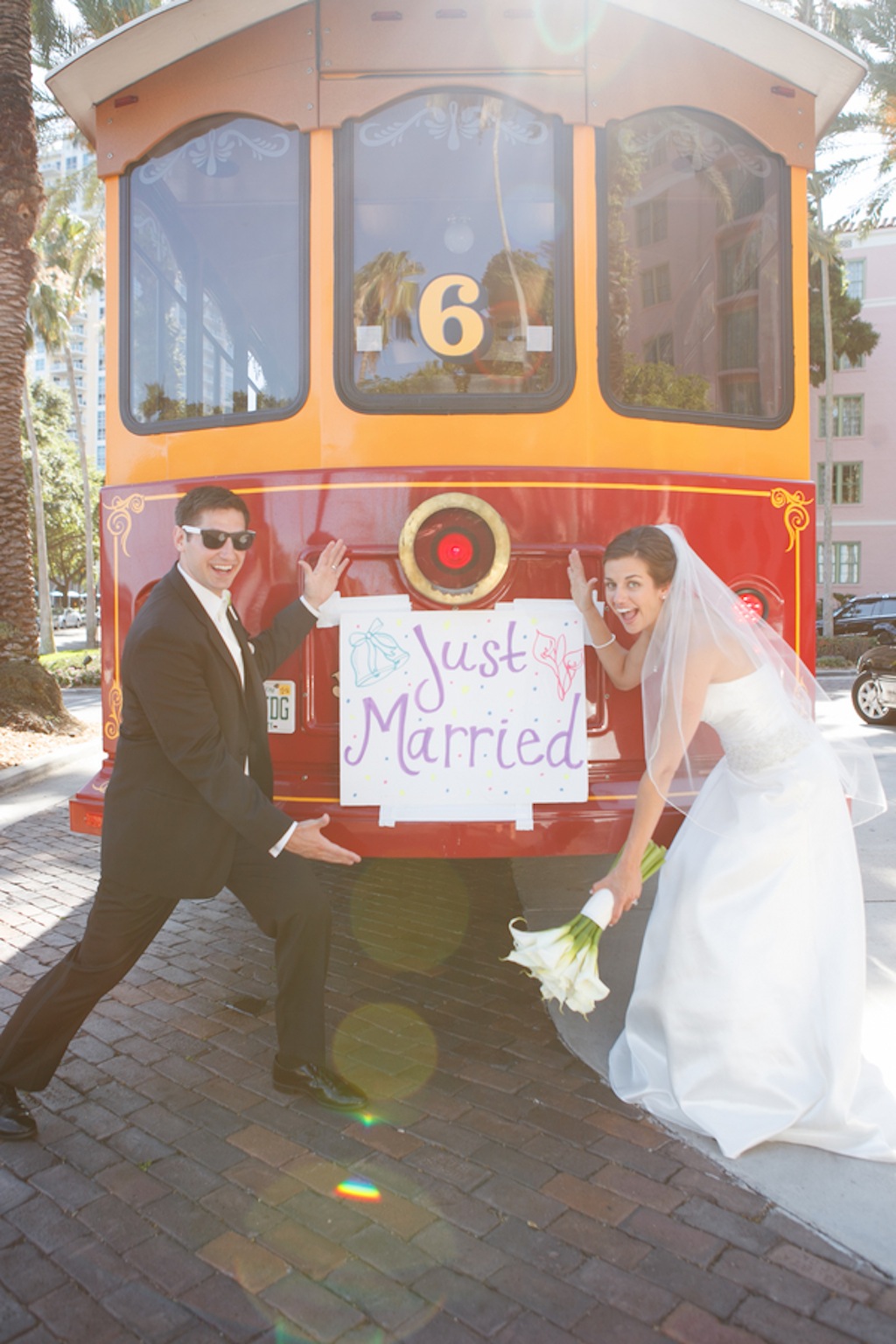 Why did you chose the Tampa Bay area for your wedding?
I grew up in St. Pete, and the downtown waterfront makes me feel like I'm at home!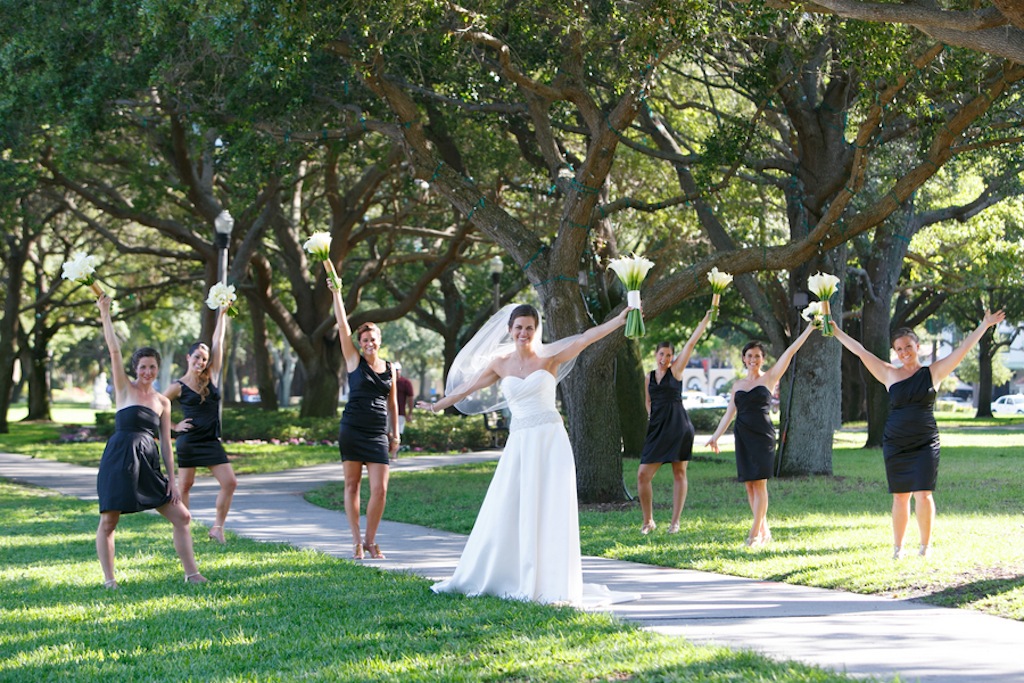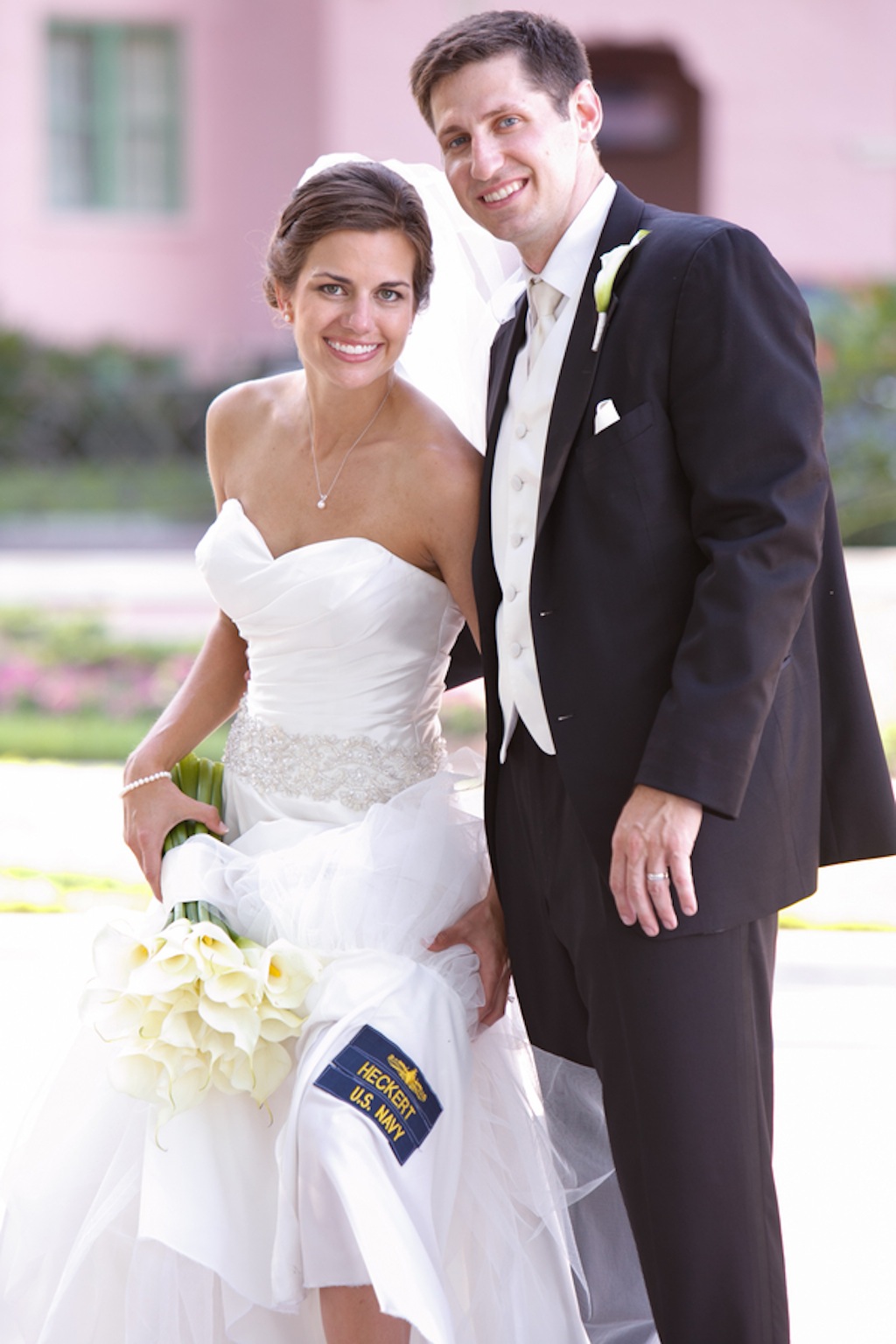 The Proposal:
We got engaged on Memorial Day in Annapolis, MD (where we were living). Trip had to work in the morning, so he asked me to walk our yellow lab Barney to a nearby field on the U.S. Naval Academy, where we met and had a picnic. It was a beautiful day with boats on the water nearby.
Trip said he had some wine in his bag, but instead pulled out a black box and a ring! After lots of hugging, kissing, crying and laughing, he did bring out the wine he mentioned; a bottle of wine that we had purchased on Memorial Day 2011.
We were dating long distance between Hawaii (me) and Florida (him), and we met for the long weekend in Napa Valley. Thanks to a great suggestion, we bought a bottle of wine to "save for a special occasion." Two years later, we celebrated our engagement with that bottle of wine.
How did you incorporate you and your husband's personalities into the wedding?
We both were in the Navy, so while we didn't have a full military wedding, we had touches of America including USA sunglasses and flip flops for dancing.
We dated long distance for the first 1.5 years of our relationship, so there was a travel theme throughout. The tables were named after places we met or traveled together during our long distance days.
I also surprised my husband with a groom's cake of our dog Barney.
Overall, we just tried to make the weekend reflect our love and our lives and we wanted everyone to have a great time!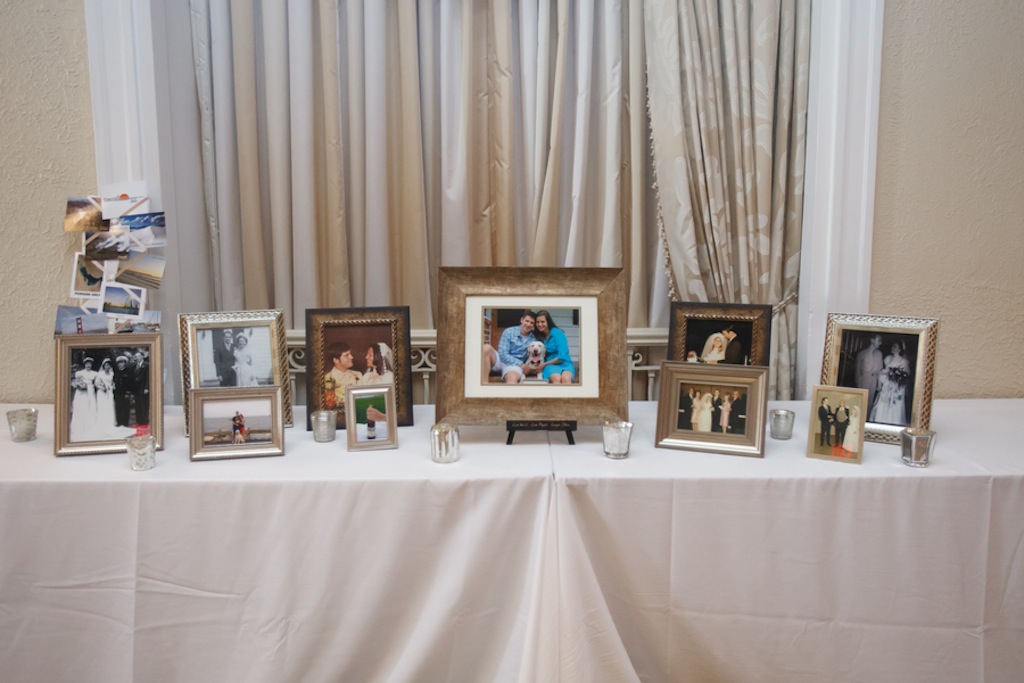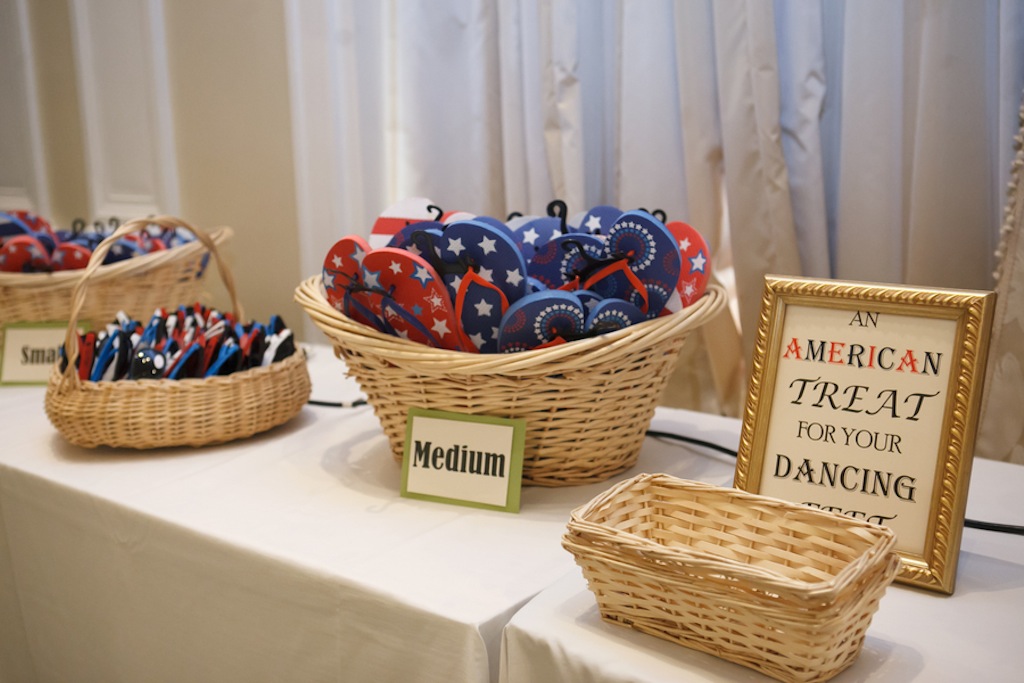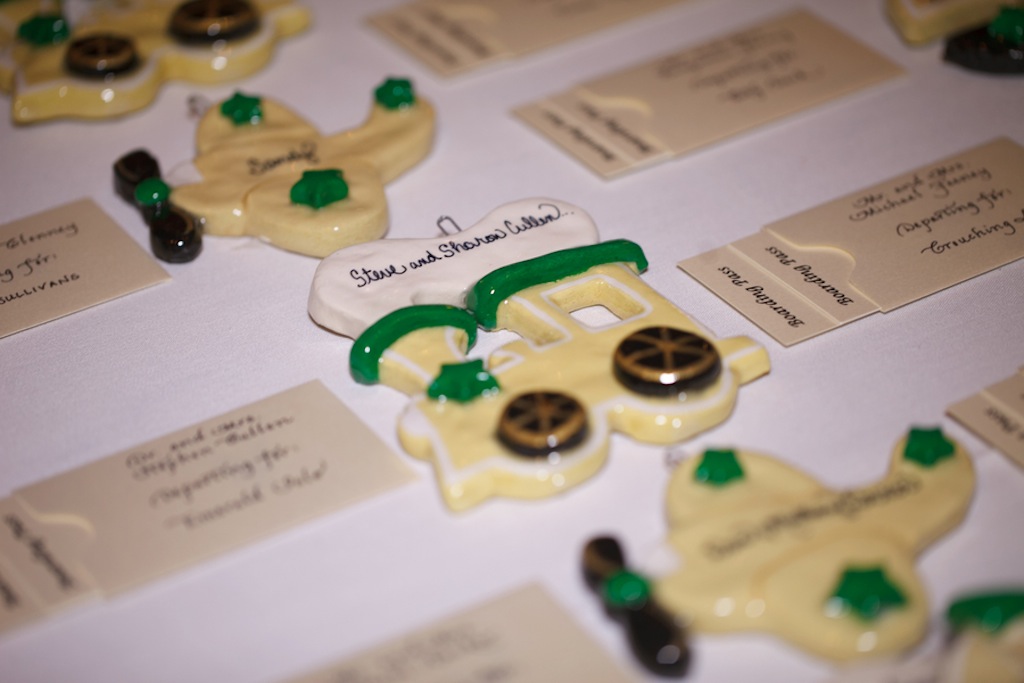 What made your wedding unique?
My mother-in-law makes Christmas ornaments, so to go along with the travel theme, she made personalized travel ornaments (boats, planes, cars or trains) and each family got an ornament with a boarding pass to their destination table name. They matched the color theme and were beautiful! The escort cards were also our favors.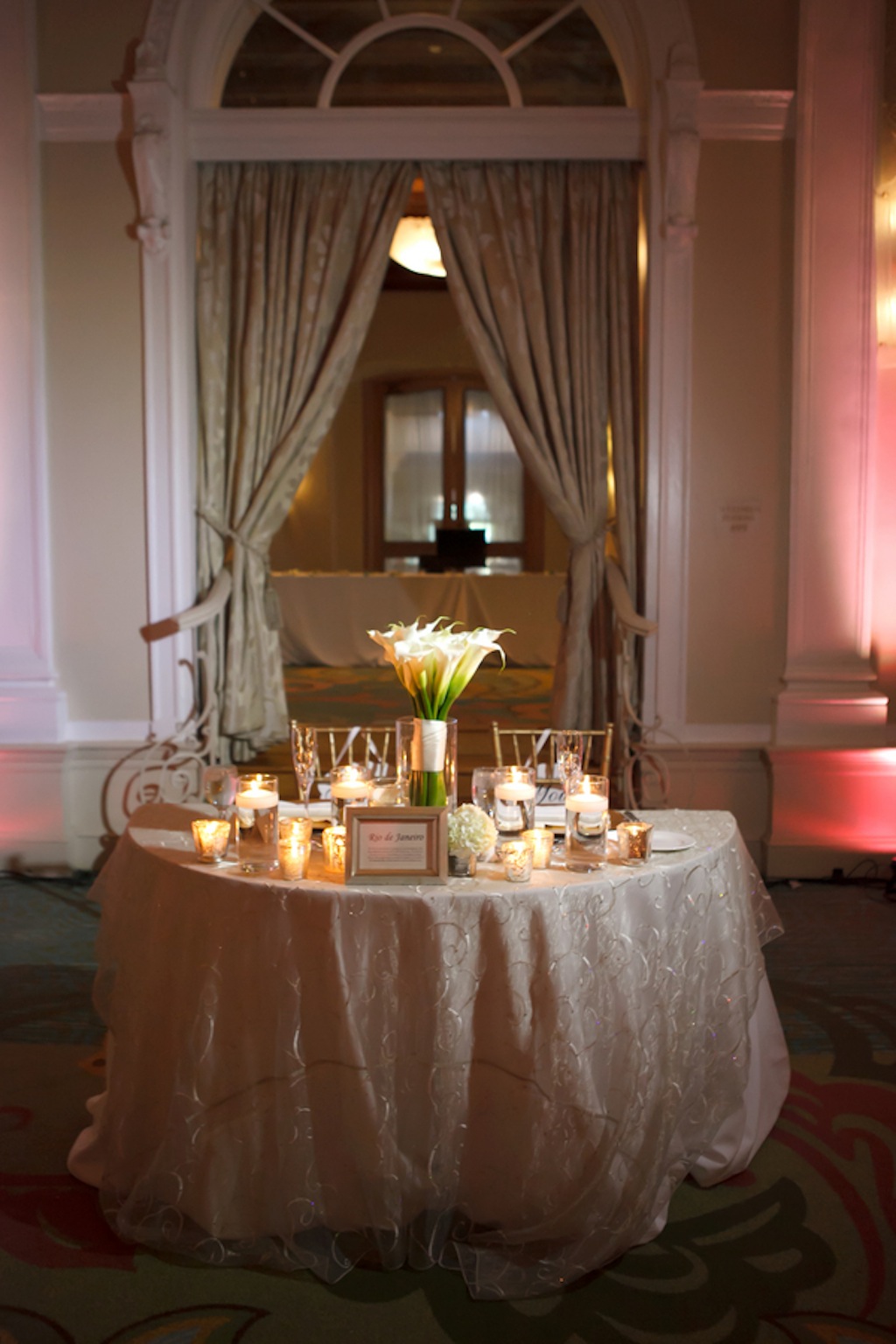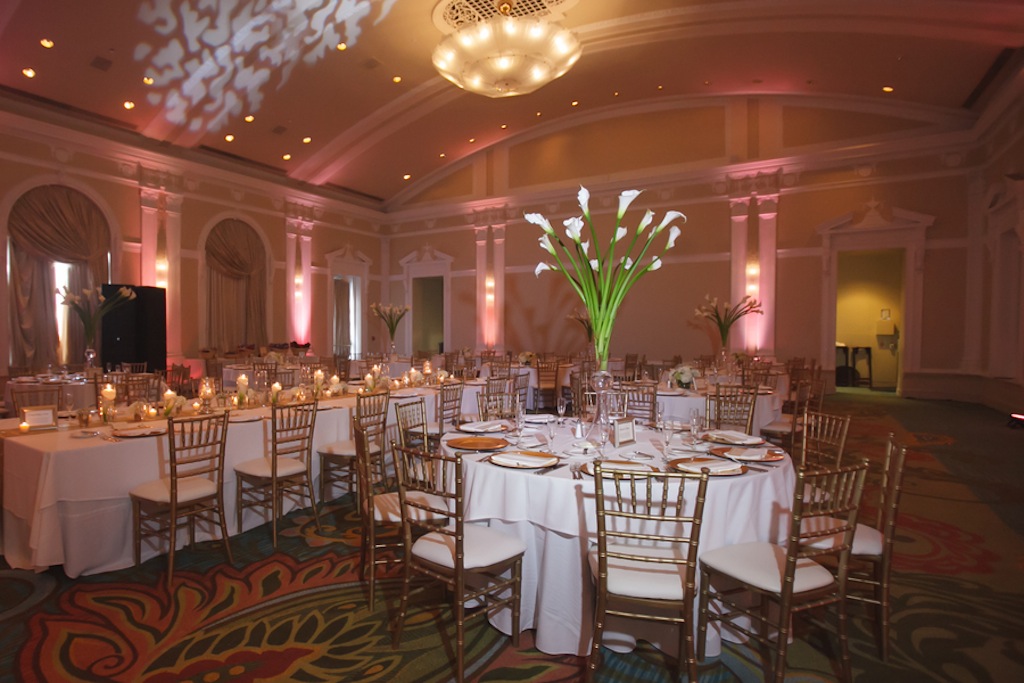 What were your colors and why did you chose them?
Gold, green, black and white. I wanted it to be very clean, classic and elegant.
How would you describe your theme? What made you choose it?
Classic, elegant, lots of dancing! I loved the classic golds and blacks with touches of green and the simple elegance.
I had a vision of what I wanted in my head, but more than anything, I wanted everyone to have a great time!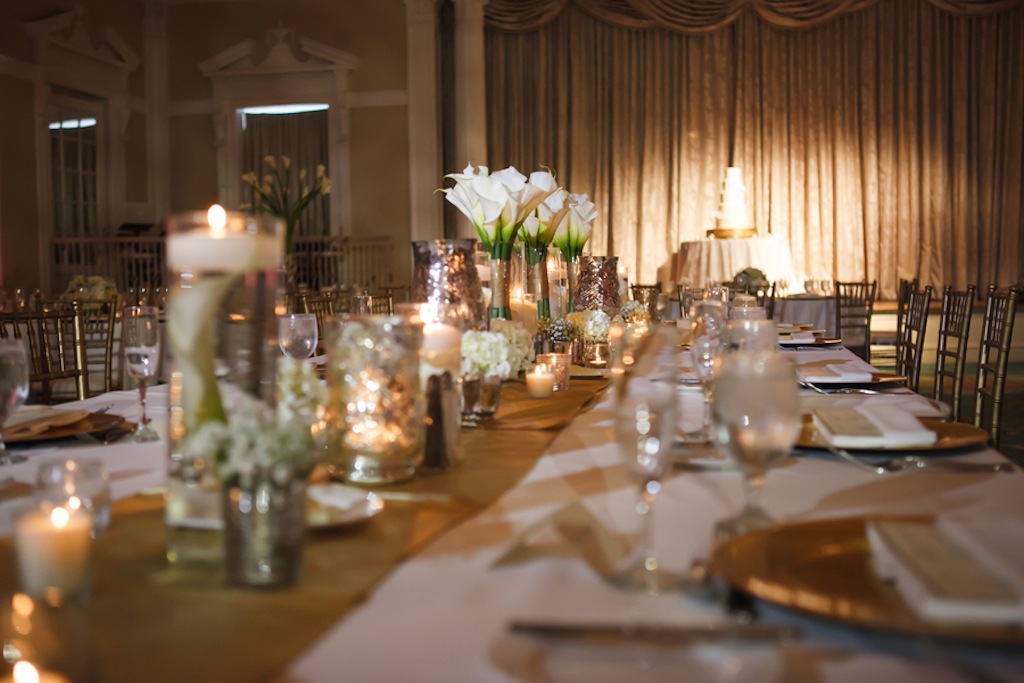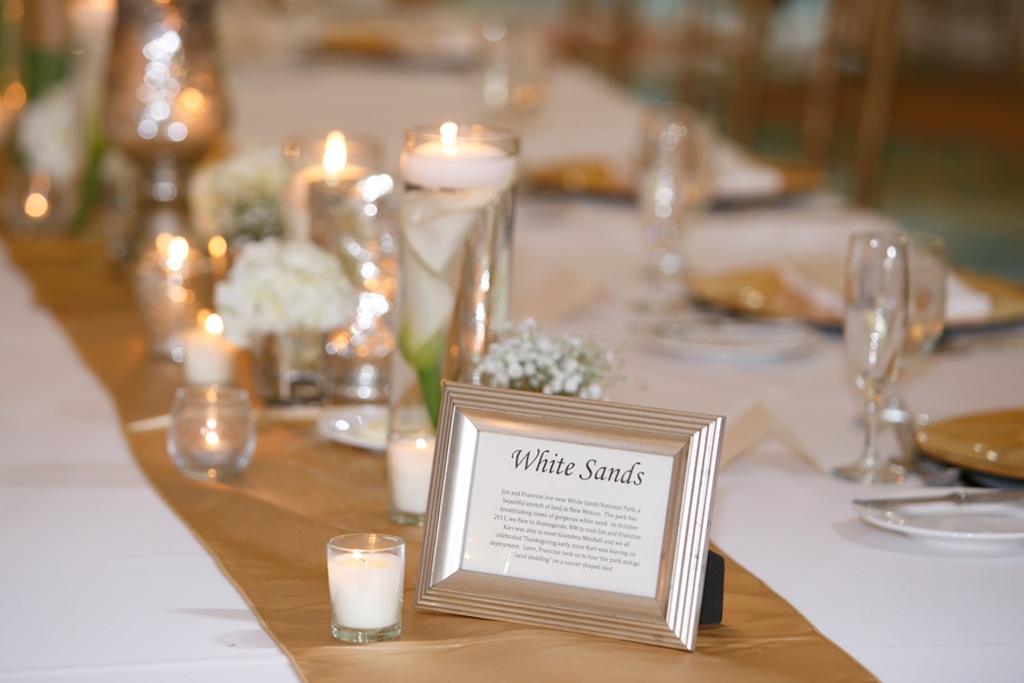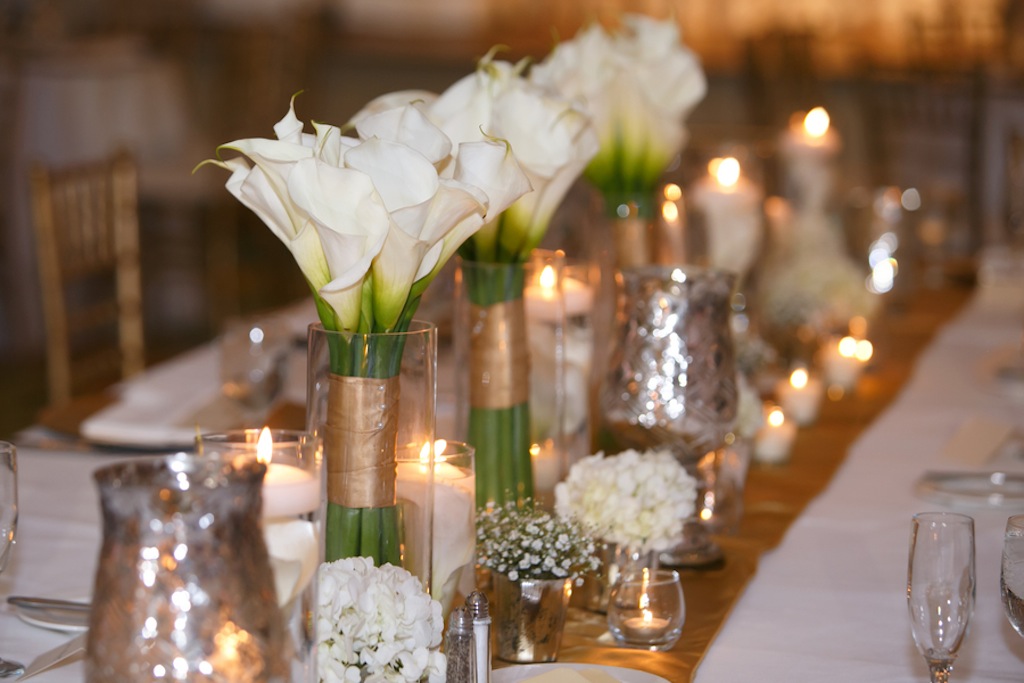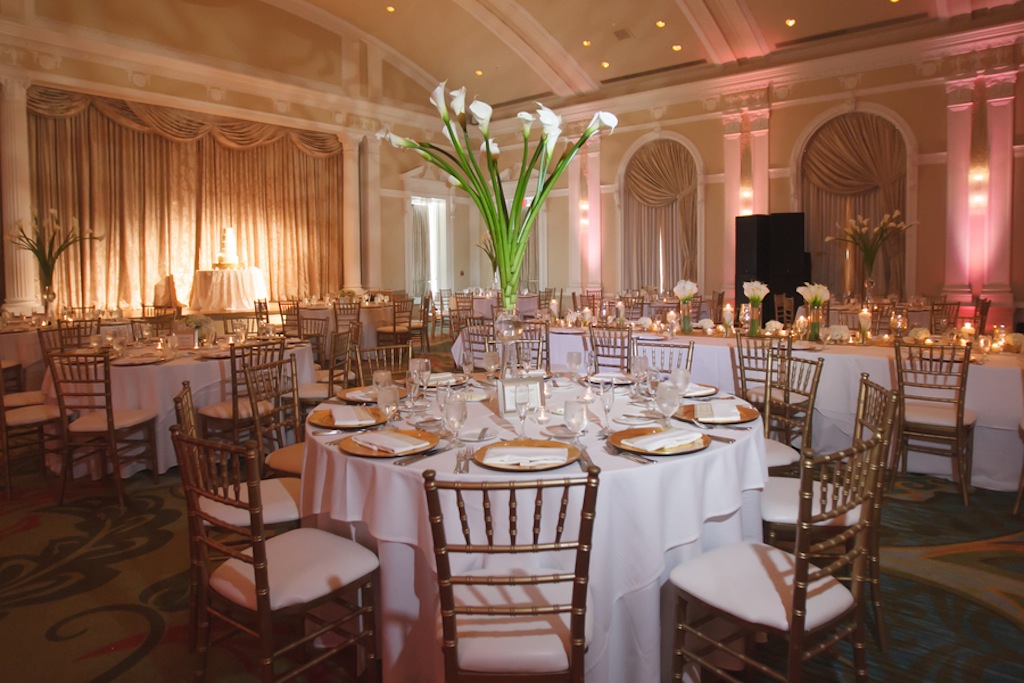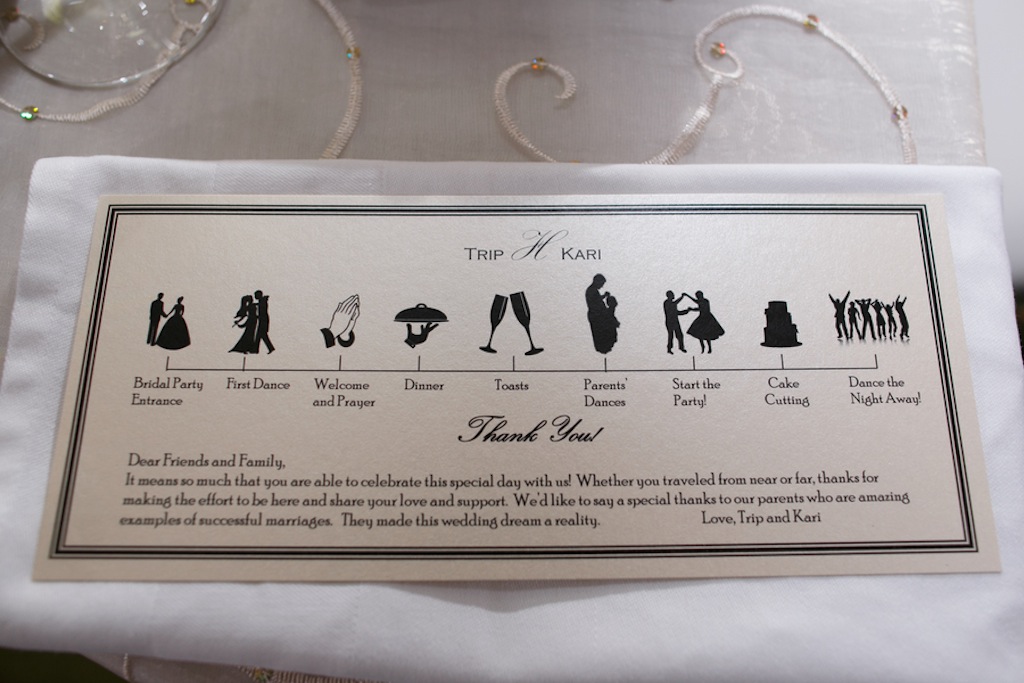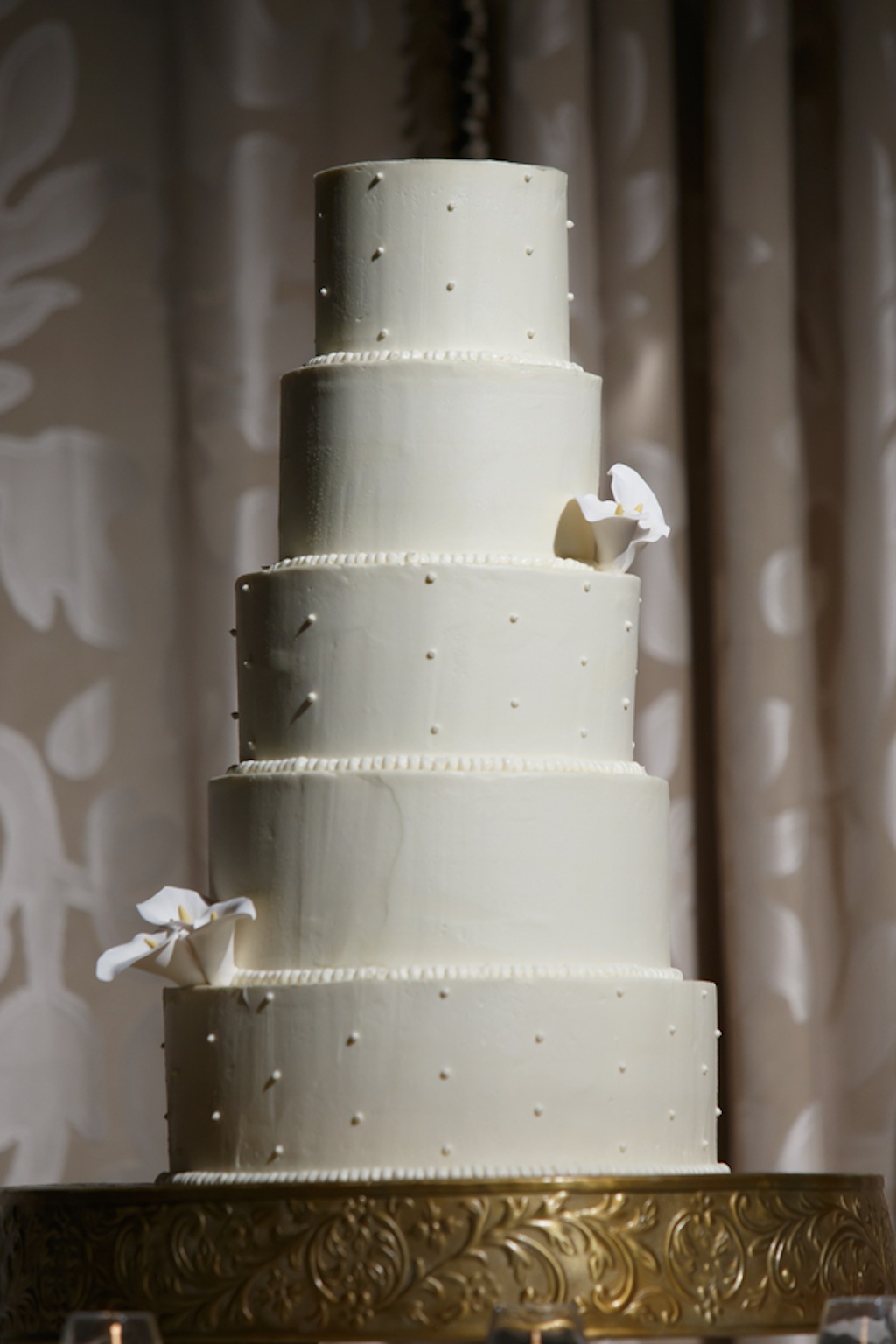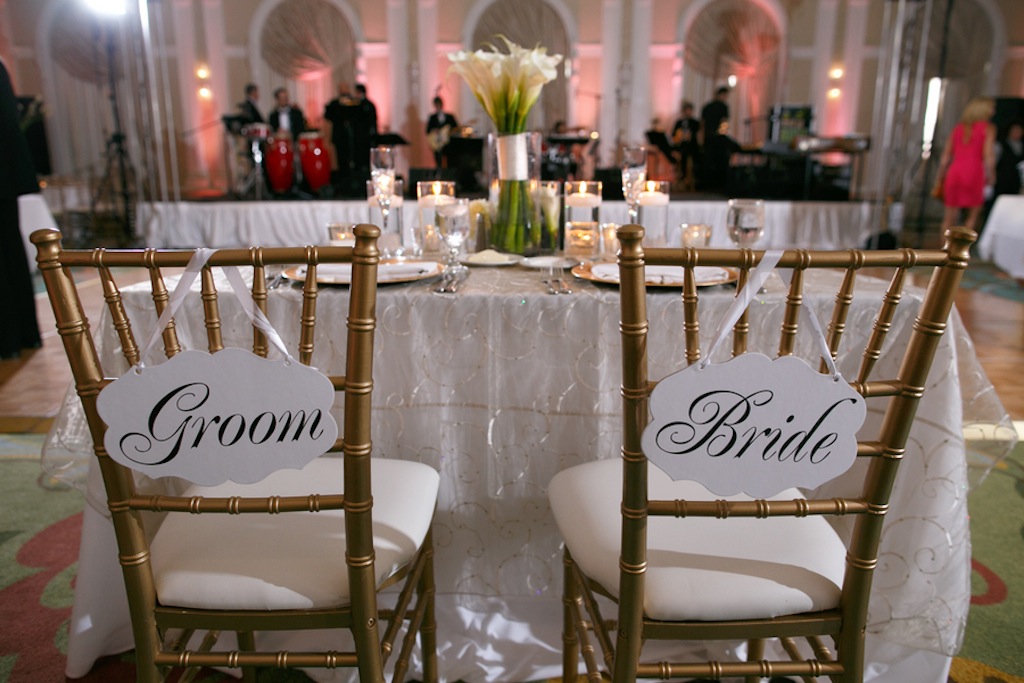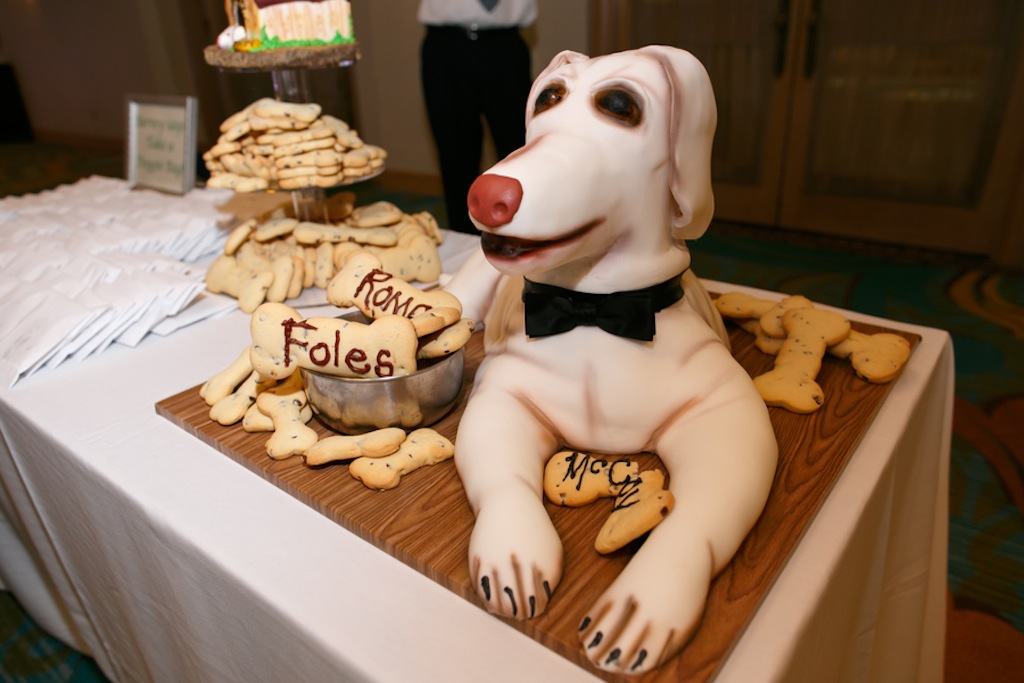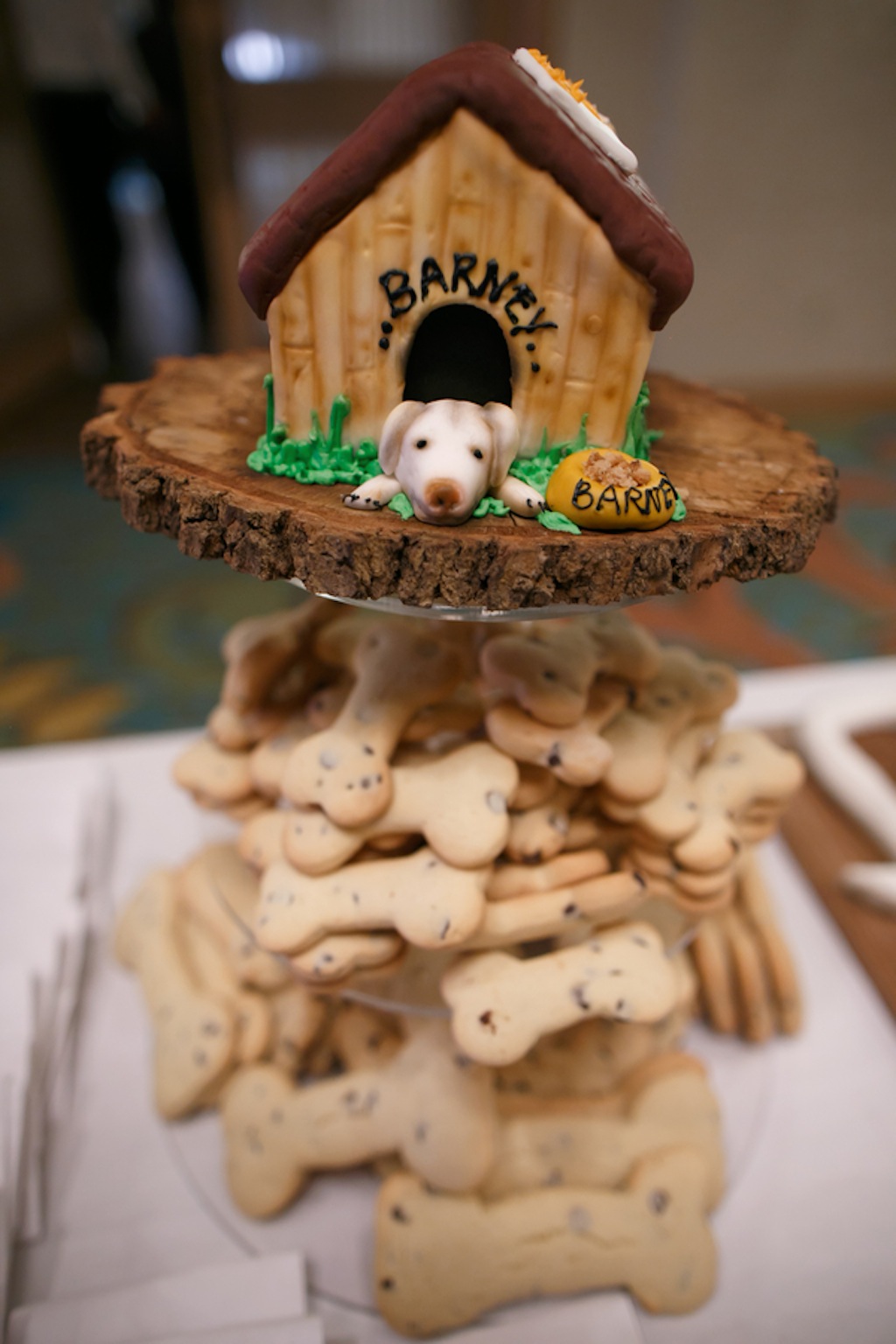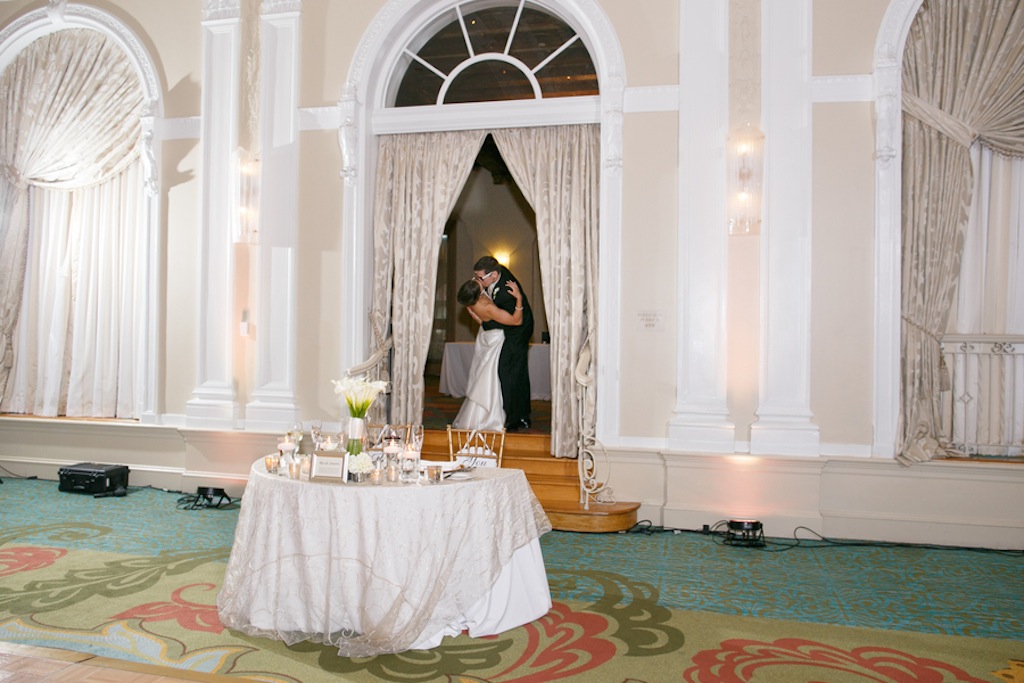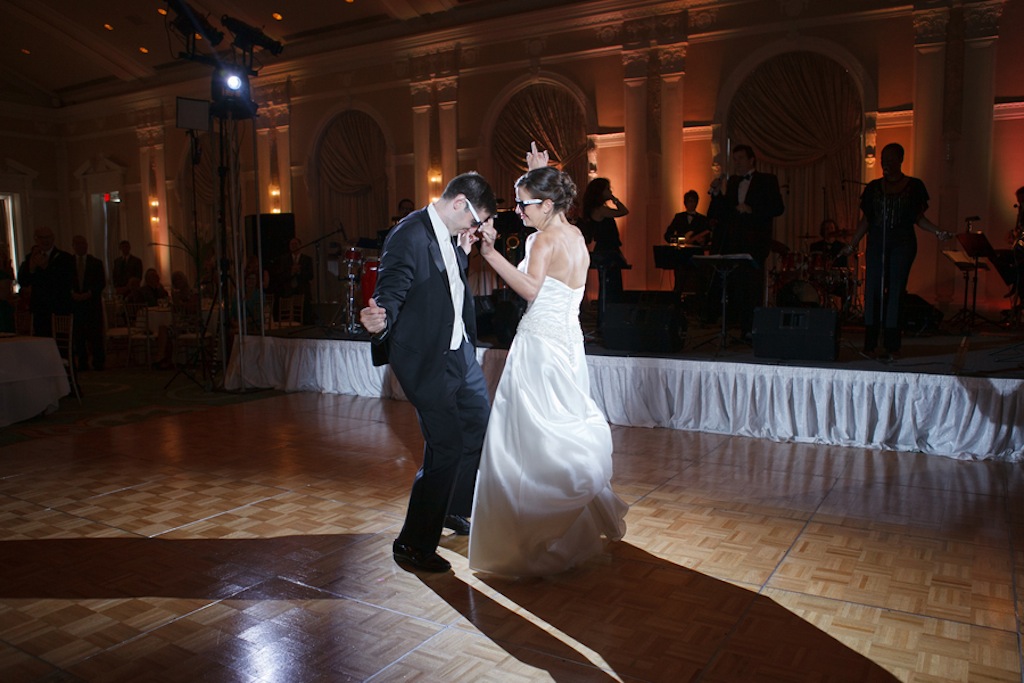 What were the most memorable moments?
Opening the card my husband sent me (he had found the same card we both coincidentally gave each other during our very first Christmas).
My mom helping me get dressed.
Singing "Going to the Chapel" with the bridesmaids on the way to the church.
Walking with my dad from the waiting room to the church.
Walking into the church and hearing/feeling the excitement and joy.
Seeing Trip at the end of the aisle.
Our first dance and feeling so happy.
Our brothers' toasts.
Being on stage with Trip and the band and everyone on the dance floor and thinking that all of the most important people to us are in that room and having a blast and that we made it happen!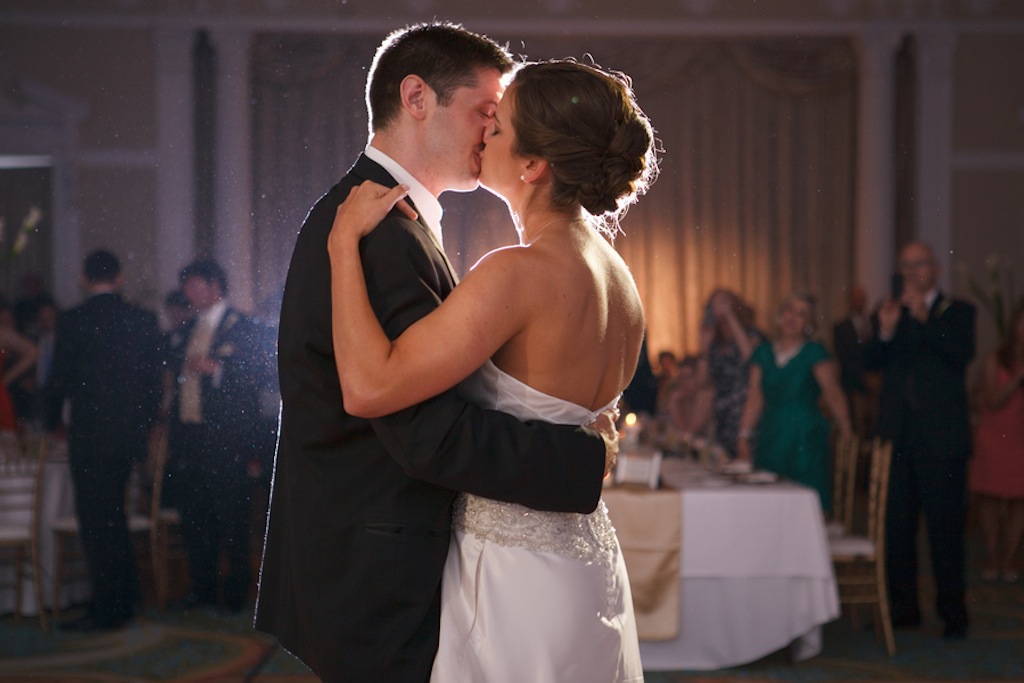 What advice would you give to other Tampa Bay Brides?
Make a list of the top 5 things that are important to you and spend your time and money there.
I highly recommend a day of coordinator! I loved planning most of the wedding myself, but it was essential to have someone to take the lead so I could enjoy the day and relax.
We stayed one night at the Vinoy during the week prior to the wedding. We enjoyed the pool and hotel and spent some time alone together before being married. I knew it would get busy once everyone started arriving, so this way, we didn't feel like we missed out on the "vacation" during the wedding weekend and we really got excited for everyone to arrive.
Ceremony: St. Thomas Episcopal Church
Reception Venue: Renaissance Vinoy *Preferred Marry Me Tampa Bay Wedding Venue
Photographer: Carrie Wildes Photography – Lindo Agosto *Preferred Marry Me Tampa Bay Wedding Pro 
Email Carrie Wiles Photography
Planner: Event Design – Jennifer Gumpert
Florist: Event Design
Caterer: Renaissance Vinoy
Cake: Renaissance Vinoy
Groom's Cake: Publix
Band: Southtown Fever
Officiant: The Very Reverend C. Christopher Thompson
Invitations: Paper in the Park (Maryland)
Transportation: Jolley Trolley
Dress: Brides Across America
Groomsmen Tuxedos: Sacino's Formalwear
Hair & Makeup: Creative Touches Salon – Kelly Kalmbach
Calligraphy: Calligraphia by Melissa
Favors: Dough Boys Ornaments (Northern Virginia)
Photo Booth: Venice Sarasota Photo Booth
We are proud to have Carrie Wildes Photography as a Marry Me Tampa Bay Member!