Hannah and Kyle's St. Pete Beach wedding was a timeless affair with breathtaking views and romantic blush pink florals.
"I love pink and Paris and that was based upon everything I chose! Flower petals, bubbles, and pink champagne are all my favorites and represent my happy, pink personality," the bride revealed. "Pink is my favorite, navy is Kyle's favorite, and we loved the combo with gold. It was the perfect fit for a wedding at the Don Cesar. The Don is pink, and the carpet everywhere was navy blue. We didn't even consider this before picking our colors but it worked out perfectly."
The St. Petersburg couple chose their beachfront venue for their 125-guest wedding not only its beauty and elegance but also for its family history.
"My parents got married at the Don CeSar, and it has always been my dream to get married there too! We loved the service so much; it was the perfect place for us! The dinner was so yummy," the bride gushed. "I loved Marry Me Tampa Bay's Instagram and looking at past Don weddings on the website."
Hannah and Kyle searched for a wedding florist who could complement the romantic aesthetic of their venue for their July wedding. The bride's iconic pink peony bouquet was accented by the bridesmaids all white roses florals and flowing blush dresses.
"Bruce Wayne Florals were so easy to work with. They had a beautiful shop and shopping experience. The florals were everything of my dreams!" the bride beamed.
Faith and music were the most important elements to the couple. The bride is a musician and gifted her new groom with a personal ballad.
"Our love for God really had an impact on guests. We are both strong believers and wanted our wedding to be based on God; we handmade the white cross at our reception," Hannah detailed. "I think our music was also amazing. The song that I walked to was an original wedding march; my band was literally the best. I even sang a song with them, and it was a magical moment. I also surprised Kyle with an original song for his wedding gift that was uploaded to iTunes for everyone to listen to after the wedding."
Where did you host your bachelorette party?
The penthouse at the Vinoy! My sister planned it and also had a boat experience and a night on the town in St. Pete. I just wanted to do something on the water with my girls.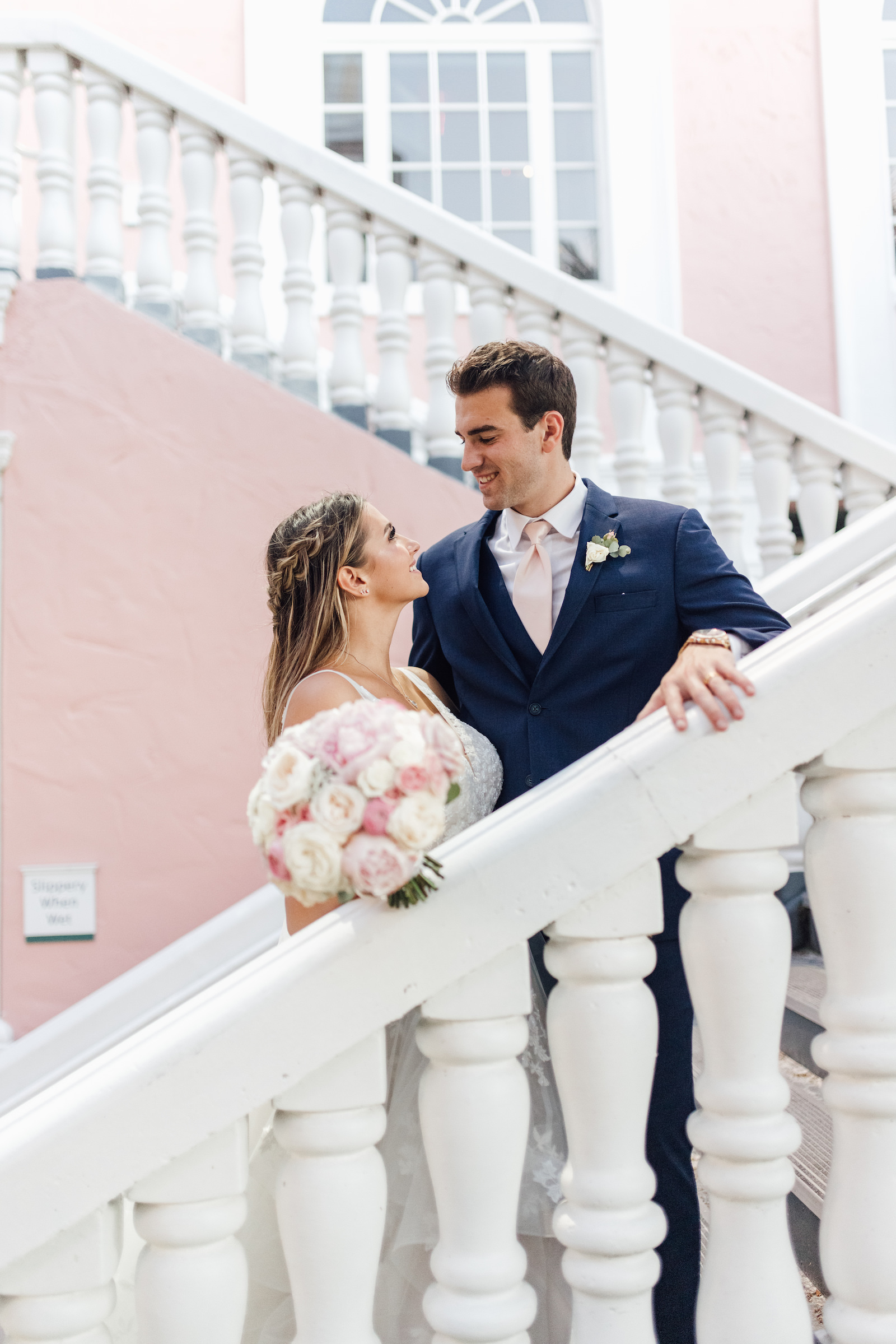 ---
---
The Proposal:
Kyle planned a family trip to North Carolina. Both of our families spent Christmas Eve at the Biltmore, and he proposed privately on the bridge. He had a photographer staged there, and it was one of the most amazing moments of my life. It was a dream come true day! Being engaged on Christmas Day in the snow was just unbelievable.
Where did you spend your honeymoon?
Barbados! The hotel looked awesome.