What Should Brides Know about Choosing a Hair and Makeup Artist (HMUA)?
"Do your research and make sure you love the pictures on their social media and website. Do the styles and brides that they have featured match your style? If the answer is yes, then that artist could be worth it!" -Christine Wheaton, owner of Femme Akoi Beauty Studio
"Clear communication is key when choosing a hair and makeup artist that fits your style. We love to see inspiration pictures from our clients and pinpoint exactly what they love about that particular look. An inspiration picture allows your potential stylist to use their expertise to recreate that look on you. View pictures on their website and social media pages to determine if their style matches yours, and most importantly, have a consultation with your stylist. It's always good to ask for recommendations on what you might need to do to achieve your desired look. For example, many bridal hairstyles found on Pinterest require extensions or color services. When looking for makeup inspiration pictures it's important to look for pictures where the model has a similar skin tone and facial features (such as eye color, face shape, etc.). An experienced stylist can recognize what is needed to create the look and give you honest advice, rather than over-promising and under-delivering." -Kelcey Yeager, owner of Adore Bridal
"Stalk your HMUA like she/he is an ex! Rival the FBI. Google their Instagram and Facebook, and find out their consistent hair and makeup style. You want to make sure they are an expert in your hairstyle and that they are not doing it for the first time. Also, a HMUA's personality is super important. Will their personality match up with yours? Remember, you are going to have to spend at least two hours with this person. As a bride, you want to make sure that the 'getting ready' experience is going to be relaxing for you. You don't want your HMUA to drive you crazy on an already stressful day. Lastly, make sure your HMUA is open to critique. If you don't like your hair the day of your wedding or want to change something, will your HMUA take the critique with an open heart or will she burn you with a curling iron? Make sure you have good communication. Your HMUA will forever be a memory in your life. Make sure that memory is a good one!" -Michele Renee Zerda, owner of Michele Renee the Studio
What Are Some Common Misconceptions Brides Have About Hiring a Wedding HMUA?
"A common misconception is believing that one HMUA artist can complete hair and makeup for a large party in a limited amount of time. Hiring a HMUA team that sends at least two artists to accommodate your bridal party is imperative in order to accommodate your overall wedding day timeline. Your hair and makeup artist should be scheduled at least 45 minutes for each person. Be cautious if the estimated time is less than that. It could mean the artist either rush through applications or does not take the time to properly sanitize their equipment between guests. Hiring a reputable team that provides a schedule and multiple artists will set you up for a stress-free day of pampering." -Kelcey Yeager, owner of Adore Bridal
"I find some brides will say, Oh my friend is really good at makeup, I'll have her do it! You don't want to do that to your friend! There is a big difference between makeup for a dinner party and makeup for a wedding. There are so many things a HMUA does to make your hair and makeup photograph well and last all day. In the grand scheme of things, your photos will be all you have left once the wedding is over and having amazing hair and makeup in that photo is priceless!" -Christine Wheaton, owner of Femme Akoi Beauty Studio
"HMUA have timelines for a reason. Please don't assume you have your HMUA for the entire day. They have families to get back to, children to pick up from the babysitter, and their own household responsibilities. If you are running two hours late, that puts the HMUA in a very difficult situation." -Michele Renee Zerda, owner of Michele Renee the Studio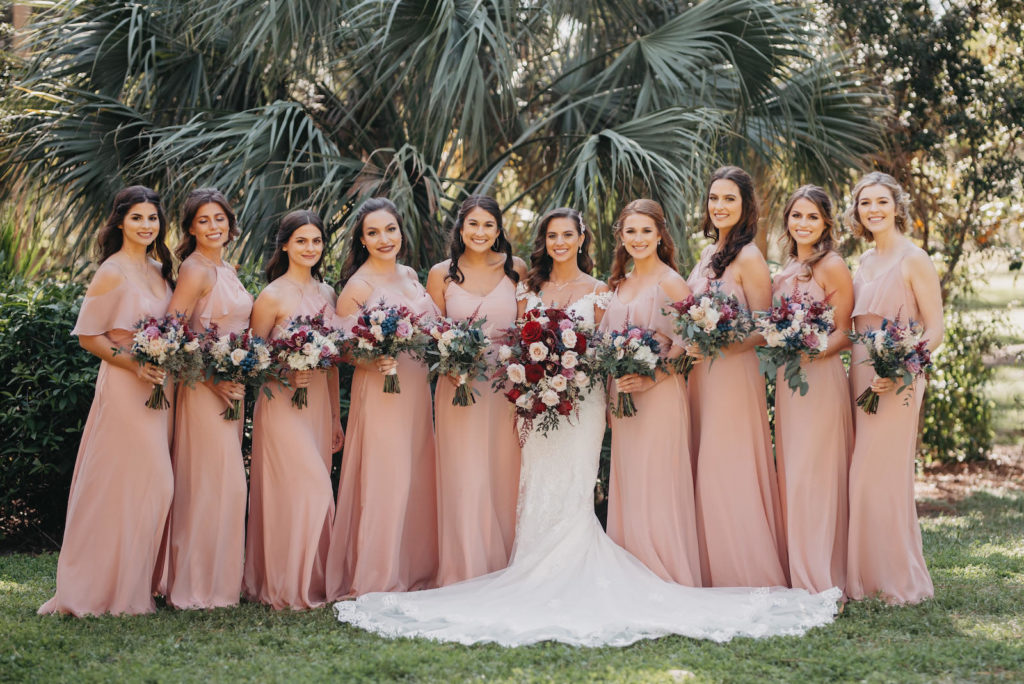 Red and Pink Traditional Romantic Greek Wedding | Michele Renee The Studio
What Should Brides Budget for Wedding HMUA Services in the Tampa Bay Area?
"Of course, there will be a range of prices, but for a bridal hair and makeup package, $150-$250 is an average here in Tampa Bay." -Christine Wheaton, owner of Femme Akoi Beauty Studio
"Compare this to going to a hairstylist for a balayage for a bargain; we know this usually results in a color correction and spending twice the money to fix it. Hiring a bargain bridal HMUA is the same risk without a correction option for your wedding day. If you are looking for an industry professional, expect to pay at least $200 per person for hair and makeup. Your luxury hair and makeup artist has invested thousands of dollars in experience, education, training, product knowledge, safe and high-end products, and insurance. If they are charging less, you can expect less quality." -Kelcey Yeager, owner of Adore Bridal
"Hair and makeup services can run in the thousands. It just depends on how elaborate you want them. For example, you can add extensions which can cost up to $1,000. I always tell my brides, you can find a nice dress at Target, Dillards, and Nordstroms, but for a special occasion, you probably want to shop at least at Dillards or Nordstroms. For your wedding, you want quality and service which comes with a higher price tag." -Michele Renee Zerda, owner of Michele Renee the Studio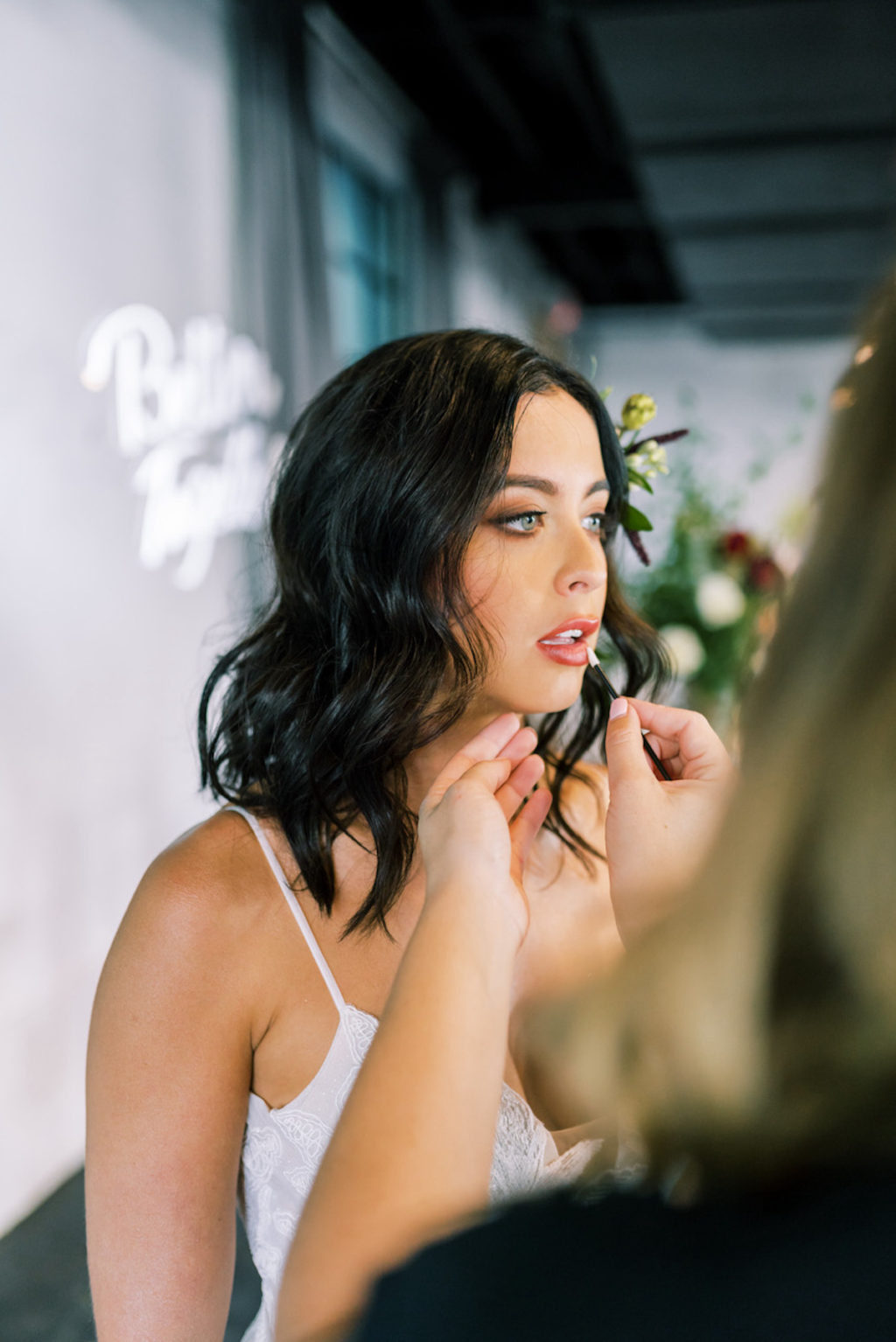 Stephanie Lanni Photo | Adore Bridal Hair and Makeup Group
What Should Brides Do Before Coming to Their Trial?
"The most important thing is to come prepared! It is your wedding and your vision, so enlightening your artist with lots of pictures and inspiration is key so that they can do the best job possible in bringing that to life." -Christine Wheaton, owner of Femme Akoi Beauty Studio
"Do not schedule your trial too early! We recommend 3-4 months out from your wedding date. This ensures that your hair color, skin tone, and style are going to be the same for your wedding day. A common misconception is that you need dirty hair for styling. This can be counterproductive and prevent us from getting the volume we need because our hair is weighed down by the oils. We suggest washing your hair one to two days prior. We are aware that it is uncomfortable to come to your trial with a bare face but it helps your makeup artist get a proper skin evaluation. Skincare is key for flawless bridal makeup. Our licensed aestheticians can recommend custom skincare regimens prior to your wedding date to give you that bridal glow that every girl dreams of!" -Kelcey Yeager, owner of Adore Bridal
"Wear a shirt color the same color as your dress so you know how the makeup will look according to color context, and so that you can find a suitable lipstick. Send a picture of the dress to the artist so you can make sure the hair and makeup style will go along with the overall look. If you want to bring a friend that is great, but remember you really need to bond with the makeup artist and make sure you have great communication before adding more voices and options to the mix." -Michele Renee Zerda, owner of Michele Renee The Studio
What Insight Would You Give to Help a Bride Feel Comfortable During Her Trial?
"Communication before you actually start hair and makeup is so important. Talk about your overall wedding. What is the location of the wedding? What are your bridesmaids' colors? When you walk down the aisle, what do you want people to say about your look (sexy, beautiful, she looks like a princess, etc). If you are anxious, ask the artist if you can have a conversation before the trial or plan an online meeting. Sometimes when you get to know the personality of the artist, it will put your mind to rest." -Michele Renee Zerda, owner of Michele Renee The Studio
"Knowing that she can be transparent with her hair and makeup artist will make her feel the most comfortable. Establishing that trust and relationship with your bridal company, in the beginning, helps you feel at ease with giving feedback. A true professional can handle constructive criticism without getting defensive. Your trial is all about figuring out what you like and don't like and provideing a safe space for feedback." -Kelcey Yeager, owner of Adore Bridal
"Just relax because the trial is just that, a trial! This is where you get to play, try things and really get to know your artist. It's supposed to be fun!" -Christine Wheaton, owner of Femme Akoi Beauty Studio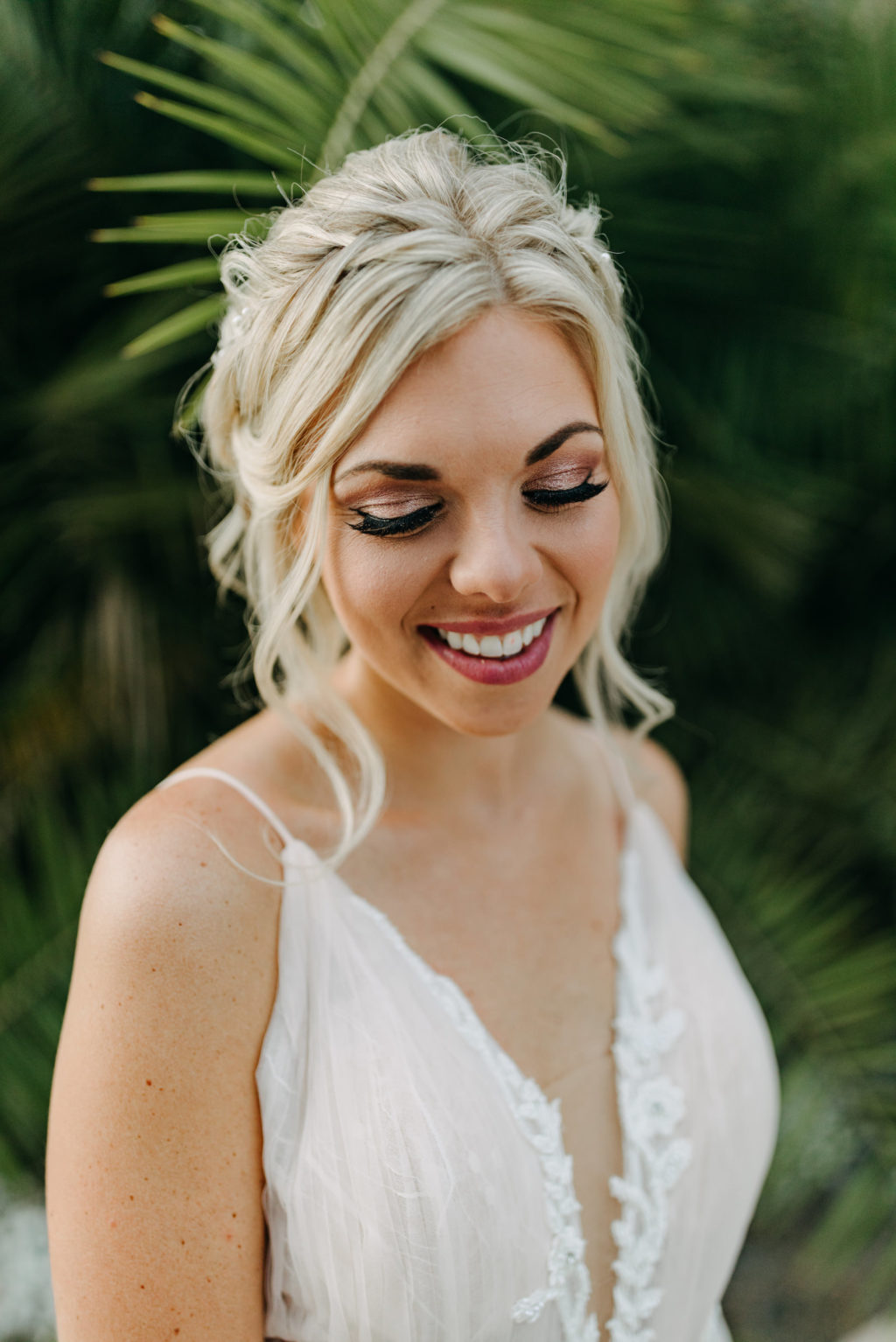 Amber McWhorter Photography | Femme Akoi Beauty Studio Tropical Waterfront Tampa Elopement Inspiration
What Additional Insight Would You Give About Hiring a Wedding HMUA?
"You should always have a contract with an artist, and if they do not have or offer a contract, I would consider that a red flag." -Christine Wheaton, owner of Femme Akoi Beauty Studio
"Although hair and makeup artists are willing to do anything to make your day go smoothly, (I have actually taken out the trash, babysat, sewn a bridesmaid in her dress), a HMUA is not your indentured servant. So, while I am sure your HMUA loves being there, just make sure she is able to get a drink of water when she needs to, go to the bathroom, and is in a comfortable climate." -Michele Renee Zerda, owner of Michele Renee the Studio
"When selecting your HMUA, it is important to ask straightforward questions; there is no such thing as over-communication. Quite often, your hair and makeup team are the first people to greet you on your wedding day. It's so important to trust and know that you are in good hands. Once you find the one you like, book them! Most good, reputable bridal vendors reserve their bridal parties one to two years in advance." -Kelcey Yeager, owner of Adore Bridal