THE EXPERTS:
What should brides know about choosing a hair and makeup artist (HMUA) that fit their style?
Priscilla Charite, owner of The Destiny & Light Hair and Makeup Group by Priscilla Marie, adds:
"You get what you pay for. However, that doesn't mean you need to book the most expensive artist in your area. Highest price does not always mean highest quality. It's so important to read reviews. You may find that the artist had disappointed several clients or has a very poor attitude. Your initial call will tell you a lot about an artist. If they do not care to answer your questions in length or if they take a week or more to respond to you, then you may want to move on with your search. If they cannot value your time and consideration in the beginning, how will they treat you when you are locked into a contract? Also make sure that the stylist/artist is licensed and insured! So many self made stylists/artists are operating without a proper license and insurance. 'So they may slay, but bring germs your way.' On the flip side, be leary of the stylist/ artist that is severely underpriced. You may find an artist doing hair AND makeup at $85 per person, but again read their reviews. If they have very few reviews or none at all that could mean that they are most likely starting out in the industry, which means they have little experience with hair and makeup for weddings, and could also mean that they have a kit fill of starter drug store makeup. (Not knocking drug store makeup, but if you want makeup that lasts 8-10 hours, you need high end products!) Preferably airbrush makeup for this Florida sun!"
Lindsay MacConnell, owner of LDM Beauty Group shares:
"Some things to look for ahead of time is how professional they run their business. Is there a contract? Do they have a website? Do they have a place where you can see their work on other people? Are there reviews on wedding planning sites? Are they good? Be mindful that the Instagram page of their 'work' isn't just photos of themselves. Actually be wary of people who only have Instagram. Look for 'About' and 'Bio' sections on websites and read about their experience. If there isn't anything, feel free to ask. When you are at your trial, look at their products. Is it quality stuff or from the drug store? Are their brushes clean? Is their kit kept tidy and organized? These are good indicators about how seriously they take their craft and career. Trust your gut!"
Michele Renee Zerda, owner of Michele Renee The Studio shares:
"Stalk your HMUA like she/he is an ex! Rival the FBI. Google their Instagram, Facebook, Snapchat and find out their consistent hair and makeup style. You want to make sure they are an expert in your hairstyle and that they are not doing it for the first time. Also, a HMUA's personality is super important. Will their personality match up with yours? Remember, you are going to have to spend at least two hours with this person. As a bride you want to make sure that the "getting ready" experience is going to be relaxing for you. You don't want your HMUA to drive you crazy on an already stressful day. Lastly, make sure your HMUA is open to critique. If you don't like your hair the day of your wedding or want to change something, will your HMUA take the critique with an open heart or will she burn you with a curling iron? Make sure you have good communication. Your HMUA will forever be a memory in your life. Make sure that memory is a good one!"
Christine Wheaton, owner of of Femme Akoi Beauty Studio adds:
"Do your research and make sure you love the pictures on their social media and website. Do the styles and brides that they have featured match your style? If the answer is yes, then that artist could be worth it!"
What are some common misconceptions brides have about hiring a wedding HMUA?
Femme Akoi addresses one of the biggest no-no's in the wedding industry:
"I find some brides will say, Oh my friend is really good at makeup, I'll have her do it! You don't want to do that to your friend! There is a big difference between makeup for a dinner party and makeup for a wedding. There are so many things HMUA do to make your hair and makeup photograph well and last all day. In the grand scheme of things, your photos will be all you have left once the wedding is over and having amazing hair and makeup in that photo is priceless!"
LDM Beauty Group shares that your HMUA should make you feel beautiful:
"They are going to put a lot of makeup on my face. I have clients ask me to only do their eyes because they are suffering from PTSD from that one time they got their makeup done at the mall, and it looked terrible. Not knocking mall makeup artists, lots of us got our start there, but your artist should be someone who can change their application choices to your requests. Now, if you have fine blonde hair, pale skin and blue eyes, then no, honey, we can't make you look like Kim K, but we CAN listen to what you want from us and do a different look for your mom than we do on you. One of my favorite phrases is, I am not emotionally connected to your makeup. I am emotionally connected to how you feel in it. If you want blue glitter eyeshadow because that's what makes you feel amazing, then, by George, you're going to get a perfectly executed application of blue glitter eyeshadow on your wedding and, you're going to love it. And we love that."
Destiny & Light adds:
"Everyone will make me look like a drag queen. There is definitely a 'no makeup, makeup' look. A good artist will know how to deliver."
Michele Renee The Studio knows from experience that sticking to a schedule is important:
"HMUA have timelines for a reason. Please don't assume you have your HMUA for the entire day. They have families to get back to, children to pick up from the babysitter and their own household responsibilities. If you are running two hours late, that puts the HMUA in a very difficult situation."
Kristen Marie Photography | Destiny & Light Hair and Makeup Group
What should brides expect to pay for wedding HMUA services in the Tampa Bay area?
According to Michele Renee The Studio:
Hair and makeup services can run in the thousands. It just depends on how elaborate you want them. For example, you can add extensions which can cost up to $1,000. I always tell my brides, you can find a nice dress at Target, Dillards, and Nordstroms, but for a special occasion you probably want to shop at least at Dillards or Nordstroms. For your wedding, you want quality and service which comes with a higher price tag.
Destiny & Light shares that:
Normal hair and makeup should be no less then $100 per person and will increase from there based on quality, experience and reputation of the artist. What raises prices is usually a demand on time. If you are seeking an artist that is in high demand, she may use the same products as the next artist, but she has a higher demand in the industry, which makes her time more valuable.
LDM Beauty Group says:
For a professional makeup artist who works full-time in the wedding industry, you should expect to pay somewhere between $125-$350 (bride) and $80-$160 (bridal entourage) depending on the extent of services you choose.
Femme Akoi agrees that:
Of course there will be a range of prices, but for a bridal hair and makeup package $150-$250 is an average here in Tampa Bay.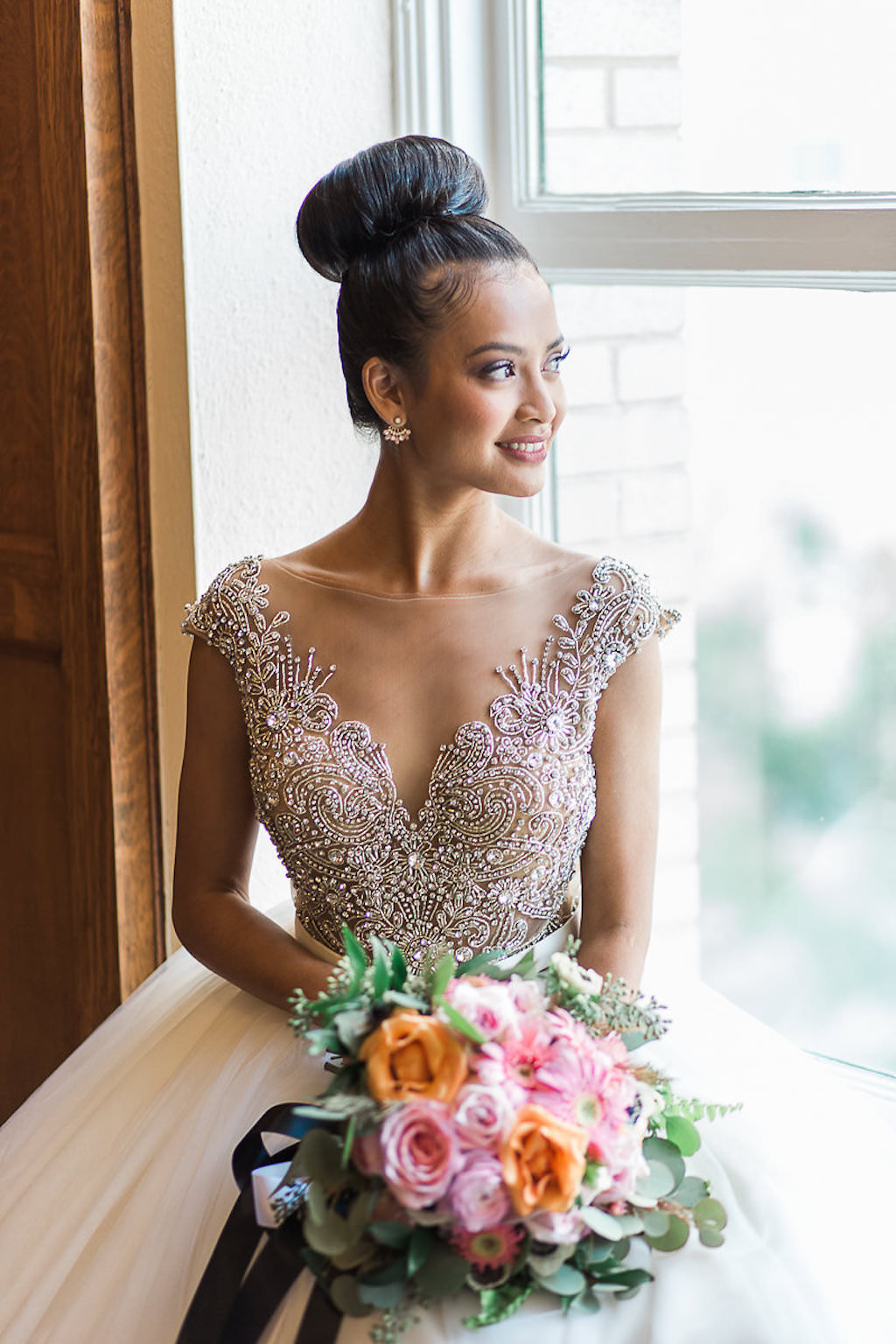 Elina Rose Studios | Michele Renee The Studio
What should brides do BEFORE coming to their trial?
Femme Akoi advises:
"The most important thing is to come prepared! It is your wedding and your vision, so enlightening your artist with lots of pictures and inspiration is key so that they can do the best job possible in bringing that to life."
Destiny & Light adds the following tips:
"Send photos to your stylist ahead of time, and include photos of yourself and your current hair length. Have conversations in advance about the need for extensions, and ask if she has sample extensions to use at the consultation. Come with your hair accessories and veil."
Michele Renee The Studio stresses the importance of connecting with your HMUA:
"Wear a shirt color the same color as your dress so you know how the makeup will look according to color context, and so that you can find a suitable lipstick. Send a picture of the dress to the artist so you can make sure the hair and makeup style will go along with the overall look. If you want to bring a friend that is great, but remember you really need to bond with the makeup artist and make sure you have great communication before adding more voices and options to the mix."
LDM Beauty Group requires their brides to do a little homework before their trial:
"It's beneficial to both the artist and client that the client come to the makeup/hair trial prepared. We can't read your minds, so if you do your homework, we can get a glimpse into your head. This gives us about a 1 million percent better chance in being able to give you the look you want. Bringing photos (Pinterest, Google, your own pics, your friends pics, whatever) of what you like is a huge help. Also, don't do your trial too far before your wedding. At LDM Beauty Group, we require your venue be booked and your wedding dress be purchased before we schedule the trial. (You can already have the date booked before your trial, so you don't loose it to someone else). This way you know what your wedding's style is really going to be. Then, we can curate a look that works with it. For example: the makeup look for a beach wedding versus a wedding in modern downtown venue will be very different."
What tips do you have to help a bride feel comfortable during her trial?
LDM Beauty Group shares the following tips for easing your nerves:
"Meeting someone new is stressful. Having a stranger touch your face for 30 minutes is stressful. Introducing yourself to someone with no makeup on your face is almost death-defying, but that's the nature of a hair and makeup trial. So, to help with your nerves, pick a company that resonates with you. You like their website, social media, etc. The communication setting up the trial is enjoyable. Then, do your homework. Know what your wedding style is. Pick out some images of hair/makeup you like. Wear a light, neutral color shirt with a similar neck line to your wedding dress so that you aren't distracted by your clothes. Trust the artist until they give you a reason not to. Remember, you can wash makeup right off and you can wash hair spray right out, so if you have a terrible trial, it's not like cutting your hair off."
Femme Akoi advises:
"Just relax because the trial is just that, a trial! This is where you get to play, try things and really get to know your artist. It's supposed to be fun!"
Michele Renee The Studio shares:
"Communication before you actually start hair and makeup is so important. Talk about your overall wedding. What is the location of the wedding? What are your bridesmaids colors? When you walk down the aisle, what do you want people to say about your look (sexy, beautiful, she looks like a princess, etc). If you are anxious, ask the artist if you can have a conversation before the trial or plan an online meeting. Sometimes when you get to know the personality of the artist, it will put your mind to rest."
Destiny & Light adds that honesty is the best policy:
"Be honest! If you feel uncomfortable with a look, tell the artist and give them a chance to fix it. It's not our day, it's yours! You will not hurt our feelings, so tell us exactly what you want! A good artist will make it happen. Also, be open to clip in extensions and false lashes."
Jessica Barfield Photography | LDM Beauty Group
What additional tips do you have about hiring a wedding HMUA that makes the process easier for couples?
Femme Akoi stresses the importance of getting a contract:
"You should always have a contract with an artist, and if they do not have or offer a contract, I would consider that a red flag."
LDM Beauty Group shares that staying on schedule keeps the day running smoothly:
"Nail down that morning timeline with your photographer. We don't want you rushing around like a crazy person that morning, so if your photographer wants you getting into your dress at 3 p.m., then you should be done with makeup at 2:30 p.m.. Communicate all your contracts with your wedding planner (obviously you have one of those, right, or do I need to get on my soap box?), so that all your vendors are on the same page and your day goes off without a hitch! That makes us wedding vendors so happy!"
Michele Renee The Studio adds to give your artist the proper atmosphere to work in so that they can provide the best service:
Although hair and makeup artist are willing to do anything to make your day go smoothly, (I have actually taken out trash, babysat, sewn a bridesmaid in her dress), a HMUA is not your indentured servant. So, while I am sure your HMUA loves being there, just make sure she is able to get a drink of water when she needs to, go to the bathroom, and is in a comfortable climate.
Just in case you missed it earlier, Destiny & Light has it covered:
"Communicate, communicate, communicate! Your HMUA should make time to listen to you and answer every question you have. Weddings are what we do, so do not hesitate to ask a million questions. You have never been married before, so you need answers. A great company will always have someone on stand by to answer any questions you have!"