What Should Brides Know about Choosing a Hair and Makeup Artist (HMUA)?
"Be sure to do diligent research to find the perfect hair and makeup artist for your day! First, make sure they have a consistent signature makeup aesthetic you can envision yourself in for the day. Secondly, look diligently through their portfolio to see if are knowledgeable on enhancing a client with your skin tone, facial features, and hair texture. A great tip on checking the true quality of their work is searching for their hair and makeup captured on real-time video. While photos are important, they can be altered. You want to ensure that you are going to look flawless both in person and on video for your big day, especially if you've made the investment of a videographer and photographer. Lastly, you will be working in very close proximity with your HMUA. I highly recommend choosing an artist who is a great match for your personality and expectations. Are they passionate about their craft and value you as a bridal client? How is their booking process and or organization for the day of your wedding? It's important to choose an artist who is willing to speak with you by phone and take the time to get to know you as a bride before you sign any contract." -Milan B. Walker, owner, Imago Dei By Milan
"Clear communication is key when choosing a hair and makeup artist that fits your style. We love to see inspiration pictures from our clients and pinpoint exactly what they love about that particular look. An inspiration picture allows your potential stylist to use their expertise to recreate that look on you. View pictures on their website and social media pages to determine if their style matches yours, and most importantly, have a consultation with your stylist. It's always good to ask for recommendations on what you might need to do to achieve your desired look. For example, many bridal hairstyles found on Pinterest require extensions or color services. When looking for makeup inspiration pictures it's important to look for pictures where the model has a similar skin tone and facial features (such as eye color, face shape, etc.). An experienced stylist can recognize what is needed to create the look and give you honest advice, rather than over-promising and under-delivering." -Kelcey Yeager, owner of Adore Bridal
"Stalk your HMUA like she/he is an ex! Rival the FBI. Google their Instagram and Facebook, and find out their consistent hair and makeup style. You want to make sure they are an expert in your hairstyle and that they are not doing it for the first time. Also, a HMUA's personality is super important. Will their personality match up with yours? Remember, you are going to have to spend at least two hours with this person. As a bride, you want to make sure that the 'getting ready' experience is going to be relaxing for you. You don't want your HMUA to drive you crazy on an already stressful day. Lastly, make sure your HMUA is open to critique. If you don't like your hair the day of your wedding or want to change something, will your HMUA take the critique with an open heart or will she burn you with a curling iron? Make sure you have good communication. Your HMUA will forever be a memory in your life. Make sure that memory is a good one!" -Michele Renee Zerda, owner of Michele Renee The Studio
"Do your research and make sure you love the pictures on their social media and website. Do the styles and brides that they have featured match your style? If the answer is yes, then that artist could be worth it!" -Christine Wheaton, owner of Femme Akoi Beauty Studio
"Don't choose your team based on if the artists use airbrush or not. Airbrush is NOT what it's cracked up to be! It's not as long-wearing as a good traditional foundation can be, and it sits in every pore and fine line. With good technique, traditional foundation is manipulated into the skin and therefore helps it to wear longer. Airbrush foundation sits on top of the skin. The wedding industry still pushes airbrush for some reason but I always tell brides to do their research. What are celebrity makeup artists using? Kim K's makeup artist is not using airbrush! Also, check out their Instagram! You have to love the HMUAs style!" -Savannah Smith, owner, Savannah Olivia Beauty Boutique
---
What Are Some Common Misconceptions Brides Have About Hiring a Wedding HMUA?
"The biggest misconception brides have is that airbrush makeup is the best makeup application. Being in the bridal industry for over 11 years, I've come to know that airbrush makeup is not suitable for all skin types. The biggest claim to airbrush makeup is that it is long-wearing with a natural finish. This is not always the case especially if you have imperfect skin like the majority of us. Most artists who use airbrush also finish the application with traditional tools. Traditional makeup can be both long-wearing and seamlessly natural when you find an artist who is knowledgeable on skin prep for your skin type, carries high-definition and quality makeup products, and is well-versed on how to ensure long-wearing results. The most luxurious makeup that we see with defined, flawless skin is certainly not achieved by airbrush makeup. If you are not certain, book a trial with both types of applications to make an informed decision on what looks best on your skin in person and on HD camera and video." -Milan B. Walker, owner, Imago Dei By Milan
"A common misconception is believing that one HMUA artist can complete hair and makeup for a large party in a limited amount of time. Hiring a HMUA team that sends at least two artists to accommodate your bridal party is imperative in order to accommodate your overall wedding day timeline. Your hair and makeup artist should be scheduled at least 45 minutes for each person. Be cautious if the estimated time is less than that. It could mean the artist either rush through applications or does not take the time to properly sanitize their equipment between guests. Hiring a reputable team that provides a schedule and multiple artists will set you up for a stress-free day of pampering." -Kelcey Yeager, owner of Adore Bridal
"I find some brides will say, Oh my friend is really good at makeup, I'll have her do it! You don't want to do that to your friend! There is a big difference between makeup for a dinner party and makeup for a wedding. There are so many things a HMUA does to make your hair and makeup photograph well and last all day. In the grand scheme of things, your photos will be all you have left once the wedding is over, and having amazing hair and makeup in that photo is priceless!" -Christine Wheaton, owner of Femme Akoi Beauty Studio
"We are not magicians! It takes effort on your end for beautiful results as well! Get on a good skin care regimen, get your brows threaded, and trim off the dead ends. Listen to your stylist and the prep work they tell you to do to help your hair hold curl. If you see a style you love but don't have a lot of hair, get clip-in extensions to make your Pinterest hair come to life." -Savannah Smith, owner, Savannah Olivia Beauty Boutique
"HMUA have timelines for a reason. Please don't assume you have your HMUA for the entire day. They have families to get back to, children to pick up from the babysitter, and their own household responsibilities. If you are running two hours late, that puts the HMUA in a very difficult situation." -Michele Renee Zerda, owner of Michele Renee the Studio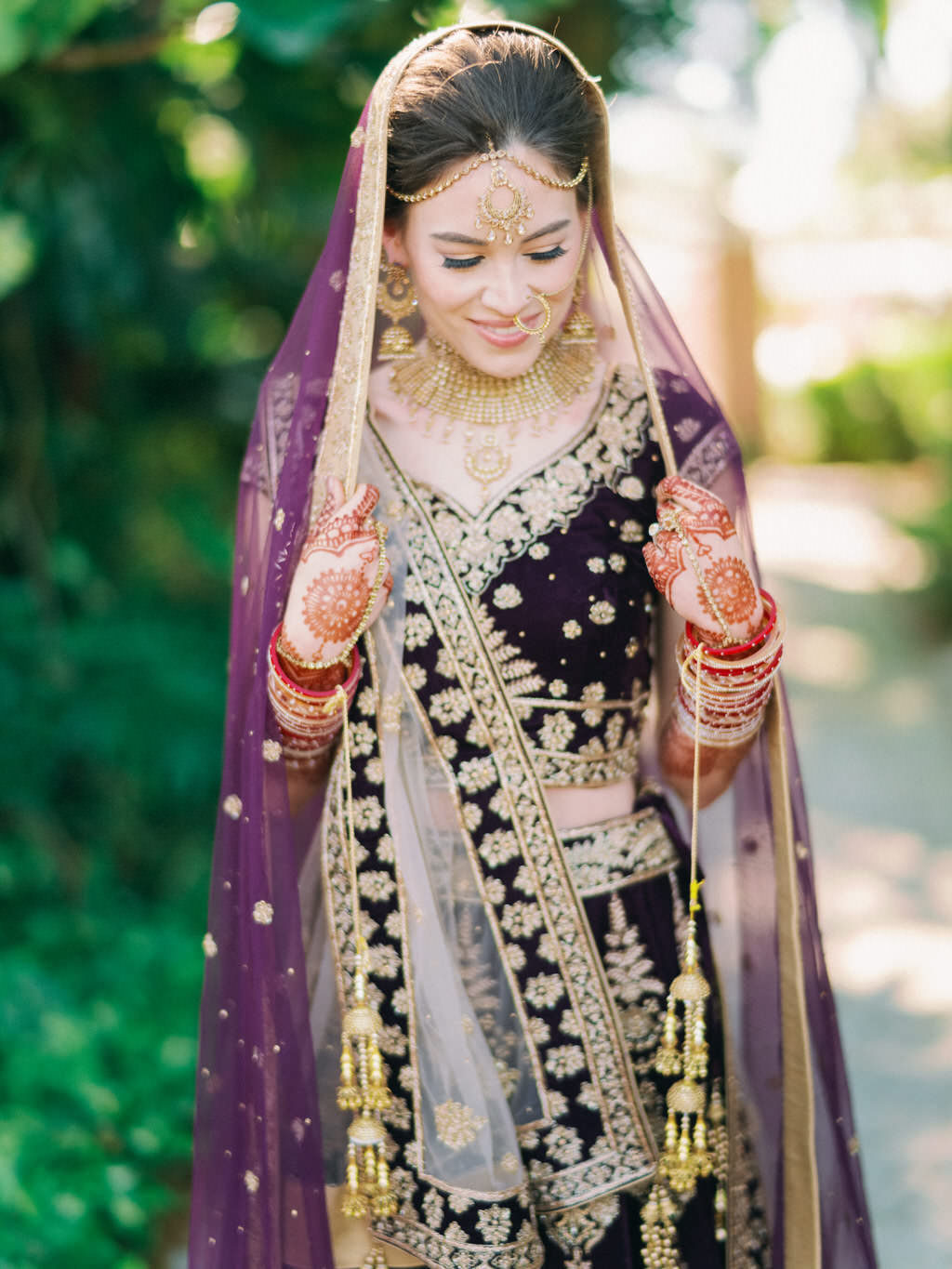 Michele Renee The Studio | Trenholm Photo
What Should Brides Budget for Wedding HMUA Services in the Tampa Bay Area?
"Compare this to going to a hairstylist for a balayage for a bargain; we know this usually results in a color correction and spending twice the money to fix it. Hiring a bargain bridal HMUA is the same risk without a correction option for your wedding day. If you are looking for an industry professional, expect to pay at least $200 per person for hair and makeup. Your luxury hair and makeup artist has invested thousands of dollars in experience, education, training, product knowledge, safe and high-end products, and insurance. If they are charging less, you can expect less quality." -Kelcey Yeager, owner of Adore Bridal
"Expect to pay $200+ for a bridal hair and makeup package. You also may need to add in any additional costs for hair extensions hair accessories, etc. We recommend 100% Remy hair, if the extensions are cheap, then they are synthetic and won't work)." -Savannah Smith, owner, Savannah Olivia Beauty Boutique
"Hair and makeup services can run in the thousands. It just depends on how elaborate you want them. For example, you can add extensions which can cost up to $1,000. I always tell my brides, you can find a nice dress at Target, Dillards, and Nordstroms, but for a special occasion, you probably want to shop at least at Dillards or Nordstroms. For your wedding, you want quality and service which comes with a higher price tag." -Michele Renee Zerda, owner of Michele Renee the Studio
"Your budget for an experienced and talented artist should be a minimum $400 for both hair and makeup. If you start your search for a makeup and hair artist with bargaining rather than choosing the artist who can deliver the best results, the compromise will cost you a lot in the end. A luxury makeup artist has invested far more in their education, products, insurance, etc. than a traditional artist to ensure you are absolutely flawless! Your choice of artist determines how beautiful you will not only look but also feel on your wedding day. As the bride, you will be the center of attention at all times on your wedding day. Choose the artist who will make you feel like the prettiest girl in the world! Your photos and video from that day will last a lifetime. Don't compromise by trying to save a few hundred bucks." -Milan B. Walker, owner, Imago Dei By Milan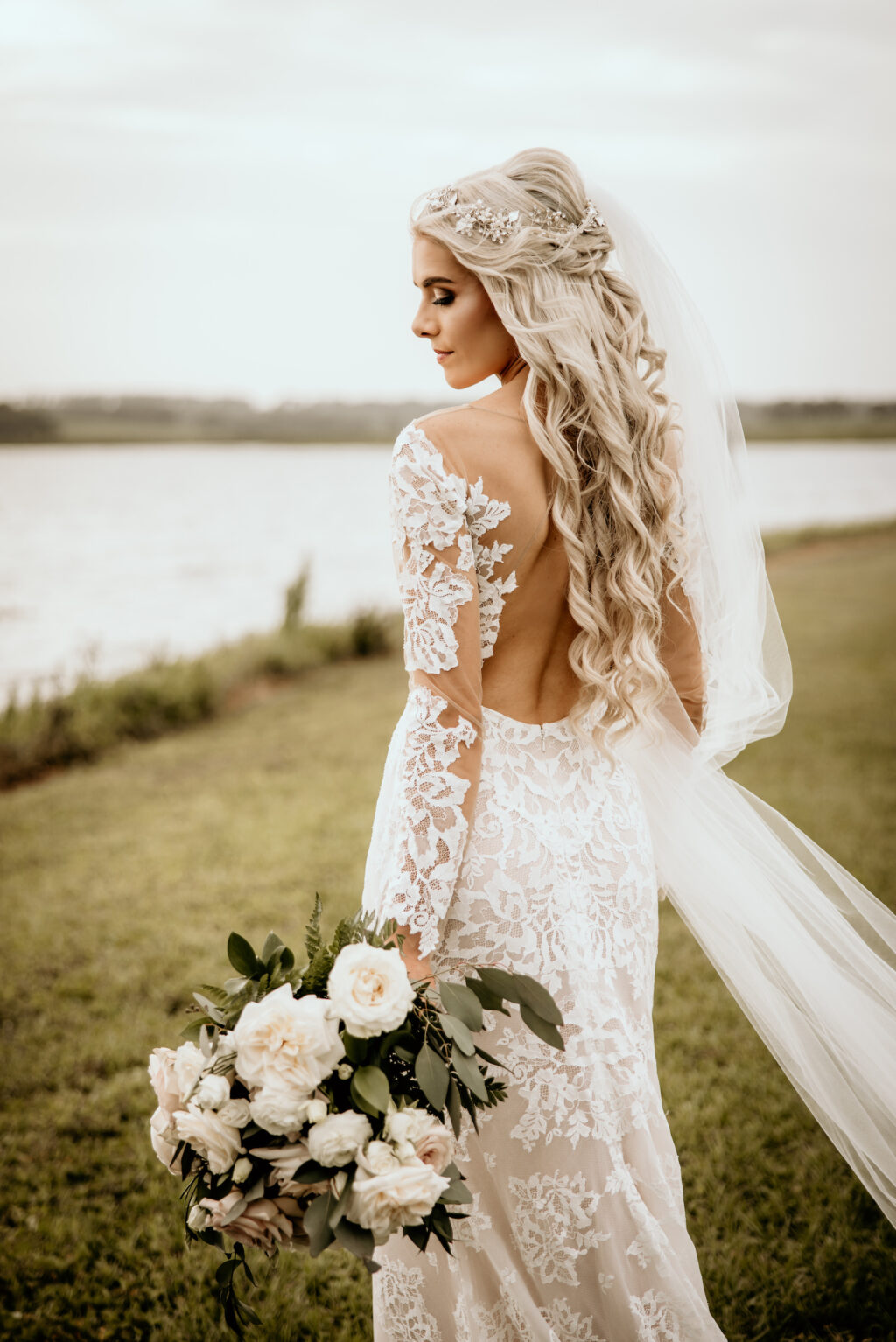 Adore Bridal Hair and Makeup Group | Rabecca Cruz Photography
---
---
What Should Brides Do Before Coming to Their Trial?
"Do not schedule your trial too early! We recommend 3-4 months out from your wedding date. This ensures that your hair color, skin tone, and style are going to be the same for your wedding day. A common misconception is that you need dirty hair for styling. This can be counterproductive and prevent us from getting the volume we need because our hair is weighed down by the oils. We suggest washing your hair one to two days prior. We are aware that it is uncomfortable to come to your trial with a bare face but it helps your makeup artist get a proper skin evaluation. Skincare is key for flawless bridal makeup. Our licensed aestheticians can recommend custom skincare regimens prior to your wedding date to give you that bridal glow that every girl dreams of!" -Kelcey Yeager, owner of Adore Bridal
"Shows photos of how you normally wear your hair and makeup and how you would do it when you go out; this gives the artist an idea of what you like on yourself. Show inspiration photos but be able to pinpoint what you love about each photo, such as, "I love the braid in this photo but love how messy and low the bun are in this one." White is always preferable but more than that wear something cute! Having a full face of makeup on and an updo in workout clothes doesn't give the same effect." -Savannah Smith, owner, Savannah Olivia Beauty Boutique
"I recommend scheduling your trial within a three-month period. This is early enough to accommodate any changes and late enough to ensure your skin tone and texture will be nearly the same as your wedding day. Try to avoid any harsh facials, extractions, or drastic changes in your skincare routine. Be sure to have photos of your dress, bouquet, and inspiration photos of your hair and makeup readily available to discuss with your makeup artist. A great tip is to schedule your trial on a day of an event like your bridal shower or photoshoot like your engagement pictures to see how your makeup wears behind an HD camera." -Milan B. Walker, owner, Imago Dei By Milan
"Wear a shirt color the same color as your dress so you know how the makeup will look according to color context, and so that you can find a suitable lipstick. Send a picture of the dress to the artist so you can make sure the hair and makeup style will go along with the overall look. If you want to bring a friend that is great, but remember that you really need to bond with the makeup artist and make sure you have great communication before adding more voices and options to the mix." -Michele Renee Zerda, owner of Michele Renee The Studio
"The most important thing is to come prepared! It is your wedding and your vision, so enlightening your artist with lots of pictures and inspiration is key so that they can do the best job possible in bringing that to life." -Christine Wheaton, owner of Femme Akoi Beauty Studio
---
What Insight Would You Give to Help a Bride Feel Comfortable During Her Trial?
"Communication before you actually start hair and makeup is so important. Talk about your overall wedding. What is the location of the wedding? What are your bridesmaids' colors? When you walk down the aisle, what do you want people to say about your look (sexy, beautiful, she looks like a princess, etc). If you are anxious, ask the artist if you can have a conversation before the trial or plan an online meeting. Sometimes when you get to know the personality of the artist, it will put your mind to rest." -Michele Renee Zerda, owner of Michele Renee The Studio
"Relax and have fun! Hair and makeup trials and food tastings are the most fun part of the wedding planning process. Plan a brunch with mom or a friend after or dinner with your fiancé to show off your hair and makeup. It's a day to feel pampered and all about you!" -Savannah Smith, owner, Savannah Olivia Beauty Boutique
"Knowing that you can be transparent with your hair and makeup artist will make you feel the most comfortable. Establishing that trust and relationship with your bridal beauty company, in the beginning, helps you feel at ease with giving feedback. A true professional can handle constructive criticism without getting defensive. Your trial is all about figuring out what you like and don't like and providing a safe space for feedback." -Kelcey Yeager, owner of Adore Bridal
"The biggest insight I would offer is to understand the difference between everyday makeup and bridal makeup. Professional makeup is not comparable to the makeup you wear for work or out to brunch with your girlfriends. This makeup must have the coverage and definition to be suited for a gown, high definition cameras, and videos. Prepare your mind to see a bit more coverage than what you're accustomed to while you are in street clothes. While I carry bridal robes for my brides in the studio, bring a mock bridal robe to your makeup trial to wear to envision the entire look better for the day of the wedding. I often tell my brides, 'Don't let your dress wear you!' Your hair and makeup must live up to the aesthetic of your gown! Trust your makeup artist to find the happy medium between the style of makeup you'd like and make sure it's enough coverage for HD camera and film. Lastly, be open, transparent, and honest with your makeup artist. Wear your hair and makeup for about 4-6 hours after the trial to see how it lasted. Make sure your artist checks in with you to hear your feedback about the trial and makeup wear and that they are open to any changes you'd like to make." -Milan B. Walker, owner, Imago Dei By Milan
"Relax because the trial is just that, a trial! This is where you get to play, try things and really get to know your artist. It's supposed to be fun!" -Christine Wheaton, owner of Femme Akoi Beauty Studio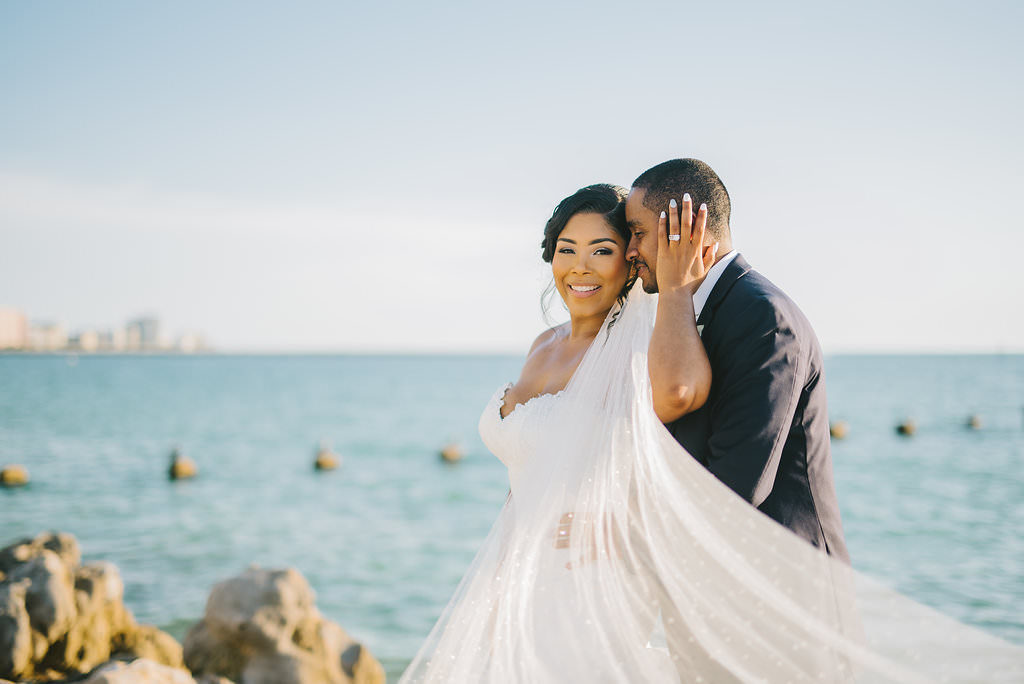 Imagio dei Milan | Kéra Photography
What Additional Insight Would You Give About Hiring a Wedding HMUA?
"When selecting your HMUA, it is important to ask straightforward questions; there is no such thing as over-communication. Quite often, your hair and makeup team are the first people to greet you on your wedding day. It's so important to trust and know that you are in good hands. Once you find the one you like, book them! Most good, reputable bridal vendors reserve their bridal parties one to two years in advance." -Kelcey Yeager, owner of Adore Bridal
"Book an established team! Trying to book individual artists and stylists can get messy. Booking a team, means hair and makeup timelines, payments, etc. are created and in one place. With COVID still lingering, the chance of your stylist or artist getting sick is a possibility, booking with a team gives you the peace of mind that you won't be left without a stylist and frantically looking for a replacement a week before the wedding." -Savannah Smith, owner, Savannah Olivia Beauty Boutique
"I highly recommend booking with an experienced bridal team. While most may think all makeup artists and hairstylists are the same, not every artist has experience in bridal and how to maneuver through wedding days. An experienced bridal professional will provide contracts (legally binding them to be present), invoicing with electronic receipts, and schedules to ensure you and your bridal party are on time for your wedding in conjunction with your other vendors. A reputable and luxury hair and makeup team are usually in high demand. Brides are typically reserving dates 12 to 16 months in advance. Don't wait to reserve your hair and makeup team! Beauty vendors are extremely important and should not be left last on your vendor list. Nothing is worst than being stuck with the hair and makeup artists who were available rather than having the opportunity to choose the luxury bridal artists who will bring your vision of bridal beauty to life!" -Milan B. Walker, owner, Imago Dei By Milan
"You should always have a contract with an artist, and if they do not have or offer a contract, I would consider that a red flag." -Christine Wheaton, owner of Femme Akoi Beauty Studio
"Although hair and makeup artists are willing to do anything to make your day go smoothly, (I have actually taken out the trash, babysat, sewn a bridesmaid in her dress), a HMUA is not your indentured servant. So, while I am sure your HMUA loves being there, just make sure she is able to get a drink of water when she needs to, go to the bathroom, and is in a comfortable climate." -Michele Renee Zerda, owner of Michele Renee The Studio
---
---