Gabriella and Carter's destination boho Thonotosassa wedding combined soft sage and peach with natural greenery and neutral tones for their fall wedding. The high school sweethearts combined their carefree personalities and love for the outdoors to create the perfect day. Every detail was curated, from the flowers sewn into the bride's veil to her lacing up white converse under her delicate dress.
"Carter and I are free-spirited and love the outdoors, so we felt like going with the boho/rustic style was very us. I love all things bohemian and wanted my wedding to reflect my style," the bride explained. "The venue we chose was very elegant, so I knew I wanted the theme to incorporate some classiness to it as well. Our colors were sage green, rust, and peach, and we drew inspiration from the venue's scenery and the outdoors."
The bride and groom, who are originally from Tampa, chose Mision Lago Estate to host their 102 loved ones close to where they met and grew together. The 20 acres of manicured landscaped property, with vineyards, orchid nurseries, and a horse farm, was the couple's dream location.
"One of our main focuses was ensuring our guests were comfortable and having a good time. We wanted a venue with a lot of indoor and outdoor space that allowed people to move around freely and a space with plenty of room to dance and beautiful natural scenery," the bride shared. "We chose our venue because of its sheer beauty and natural scenery. The moment we drove through the front gates, we were sold! It was breathtaking. Once we walked up to the vineyard, we knew that was where we wanted to have our ceremony! It was amazing from start to finish."
The destination wedding couple approached the wedding planning process as a blank slate. Due to the challenges of planning from a distance, they turned to Tampa wedding planner EventFull Weddings to help create their dream day.
"We were nervous about planning our wedding in Tampa all the way in Alabama. I wanted a wedding planner who was resourceful and knowledgeable because we had no idea what to expect. Also, it was a requirement to find someone whose services fit our budget and involved a complete planning package," the bride revealed. "We were immediately shown that our planner knew what she was doing. EventFull Weddings stepped up to the plate and exceeded our expectations in every way possible!"
Whimsical florals reflecting the couple's bohemian spirit adorned the venue. The pair exchanged their vows in front of the vineyard, surrounded by lush arrangements of neutral tones, pops of rust, and pampas grass. Pops of pink and red added a romantic touch and finished look to the venue's natural beauty.
"Our wedding day floral inspiration was a mix of rustic and bohemian vibes. Since our venue and ceremony spaces were outdoors, I wanted our floral arrangements to enhance the natural beauty already present rather than overshadow it," Gabriella explained. "Our florist, Save the Date Florida, blew me out of the water with what they created. It was absolute perfection and truly made our day so special. They took my ideas and made them unique in a way that complemented the venue and the rest of the decor throughout the wedding."
Looking back at their special day, Gabriella and Carter shared that their wedding felt intimate and was filled with love. The bride's younger brother was their officiant and part of their favorite memory.

"We have been together for almost eight years, so we tend to be on the same wavelength and not even realize it. When Carter said his vows, I couldn't help but laugh (and cry) because we had managed to write pretty much the exact same promises to each other, just in our own words. Our guests even came up to us after the ceremony asking if we had planned to do that all along or if we had written our vows together. It was so special!" the bride reminisced.
The Proposal:
Carter and I love to travel, especially to National Parks, as we love hiking and camping. For my 23rd birthday, we planned a trip to Washington to explore Seattle and the Mt. Rainier area. We hiked the Paradise trail to Panorama Point, and when we got to the top, Carter got down on one knee and proposed!
How would you describe your theme/wedding design inspiration?
Our wedding theme was very inspired by the traditional boho style. I love all things bohemian and knew I wanted my wedding to reflect my personal style, so I spent a lot of time on Pinterest and Instagram, finding inspiration that looked like they matched my vision. The venue we chose was also very elegant, so I knew I wanted the theme to incorporate some classiness to it as well.
What were your colors?
Sage green, rust, and peach. We really drew inspiration from the scenery of the venue and the outdoors!
Where did you spend your honeymoon?
We had to postpone our honeymoon so my husband can finish law school, but we are planning on going to Greece!
Where did you host your bachelorette party?
Las Vegas, Nevada. I chose Vegas because of the movie The Hangover! I wanted to have an all-out, crazy week with my friends, and we definitely met that goal!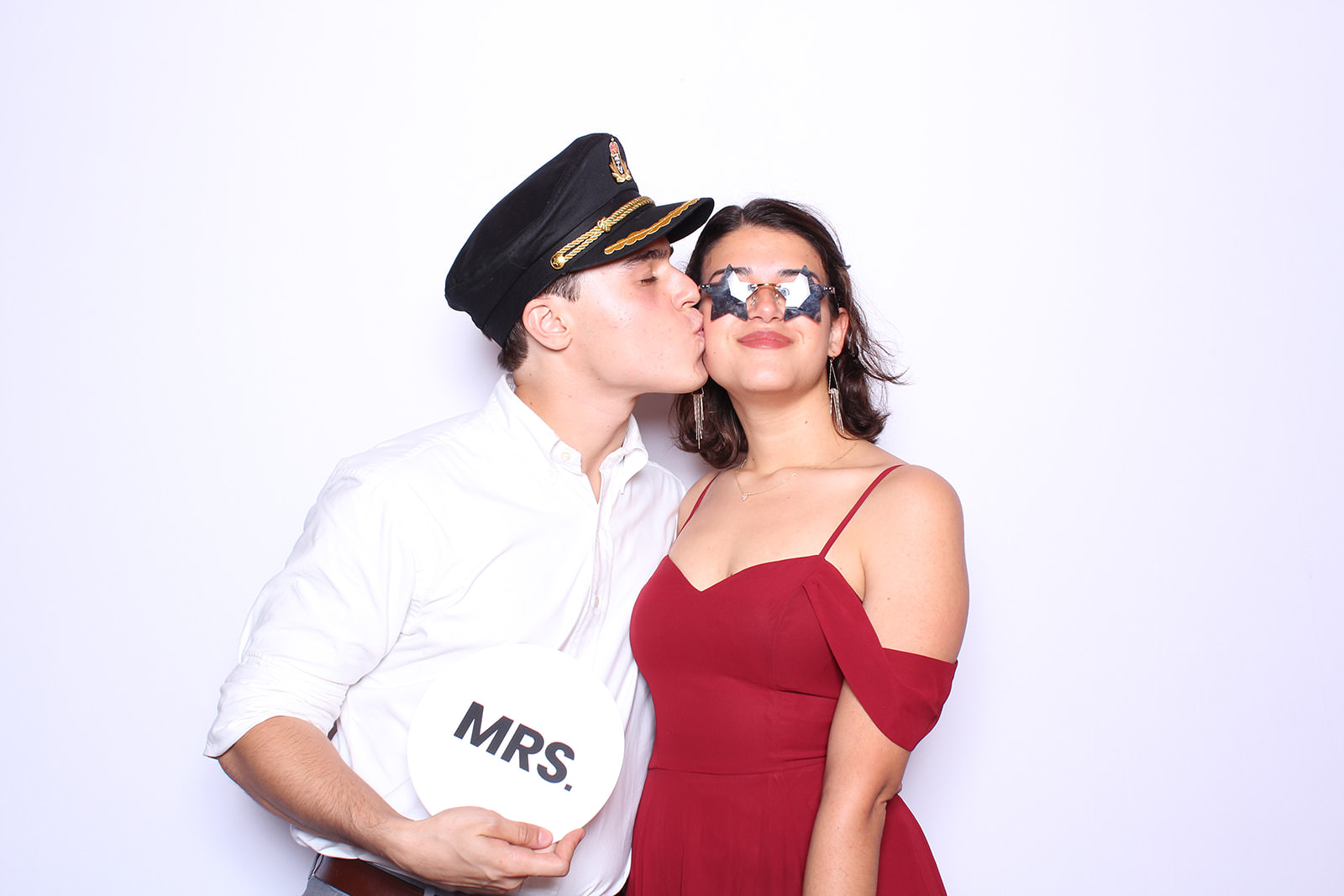 Why did you choose to have a photo booth as part of your wedding?
We chose to have a photo booth after we went to a few weddings that had one. We loved that we were able to take fun pictures and have something tangible to remind us of those great memories. We hired The Gala Photobooth after Karen recommended their services. Breanna was sweet and patient during the selection process for our backdrop and print styles. We loved that they would be able to provide us and our guests with instant photo prints and that the booth itself was open-air.
Which vendors really exceeded your expectations?
Most of our vendors were truly amazing, but our photographer exceeded our expectations. She was one of our favorite parts of the entire wedding planning process. When we saw our photos, I felt that she perfectly captured our love through the lens.
What advice would you give to other Tampa Bay couples?
You'll spend so much time and put in so much effort into planning your wedding; at the end of the day, what matters is that you're getting married to your best friend. Don't sweat the small stuff, and enjoy the big day!