Ali and Teresa's downtown St. Pete wedding was as romantic as a scene from a holiday movie. The 65-guest ballroom ceremony and reception were filled with the classic red and green Christmas color palette
"Our wedding theme was Hallmark Christmas movie vibes. I have always been obsessed with Christmas and getting married the day before Christmas Eve and having a holiday-themed wedding was so nice because it's as if the whole city and venue were decorated just for us! It really made photos in the park and in the venue extra special," the bride beamed. "The colors we chose were sage green, emerald green, ice white, red, and sparkle! Tons of sparkle."
The bride read Marry Me Tampa Bay for wedding inspiration and to research her wedding vendors.
"I used Marry Me Tampa Bay during the wedding process by reading the blogs and getting inspiration from their stories! Literally the night I got engaged I started saving posts," the bride revealed. "I even found Adore Bridal Hair and Makeup through Marry Me Tampa Bay!"
Known for elite shopping, dining, and entertainment, downtown St. Pete's Beach Drive is an iconic staple in Tampa Bay, making The Birchwood's waterfront location in the heart of the historic downtown ideal for a memorable wedding weekend.
"When looking for a wedding venue it was really important that we got married in St. Petersburg. We toured many St. Pete venues and just fell in love with The Birchwood. We signed right after we toured it; we just knew! We loved The Birchwood for their Christmas decor and their hospitality. We loved that it is a hotel and that we were able to get ready there and stay the night of the wedding. It was beyond stress-free not having to transport from locations," the bride shared. "I am so happy with how our wedding turned out, and our venue coordinator was so responsive and helpful. We felt like family there. The Grand Ballroom had a private balcony that overlooked the park that was completely lit up and decorated for the holiday. It was so dreamy."
For an ambiance reminiscent of a classic Christmas tale, the St. Petersburg couple incorporated The Birchwood's decorations into the styling of the day. To enhance the existing holiday aesthetic, pre-lit snow-flocked Christmas trees from Outside the Box Event Rentals created a stunning statement in the historic ballroom.
"What made our wedding unique is that we chose to do so many non-traditional things and they all turned out incredible. Having a holiday wedding was really a setup for success with decor. I shopped for Christmas decorations the day after Christmas the year before our wedding. All the decor was DIY to save money and keep within our budget while not compromising on decorations. The wedding style, theme, and decorations were all hand-picked by me!" the bride detailed.
With twinkling lights throughout the picturesque streets, the bride's pulled-back updo featured a chic braid reminiscent of a romantic holiday movie heroine. To pull off the ambitious styling, Adore Bridal Hair and Makeup curated the perfect combination of polished and easy-going.
"My hair and makeup inspiration were classic Christmas bride vibes complete with a side braid and sassy lashes. I loved how it turned out," Teresa exclaimed. "I chose Adore Bridal Hair and Makeup because their work and reviews spoke volumes about their services. They definitely were one of my favorite vendors and made me feel so comfortable and beautiful. I love that they specialize in bridal looks."
As Ali and Teresa remembered all of the moments from their wedding day, it was seeing each other for the first time that brought back the sweetest memory.
"The most memorable part of the day was definitely the intimate first look. I loved having that moment with my husband before the rush of the ceremony. I am so grateful we did that because we were able to really soak it in before walking down the aisle," the bride reminisced. "We also had our families sit opposite of us during the ceremony so that my parents could see my face and Ali's family could see his face during the ceremony. That was a super unique twist that we added and got so much positive feedback on it."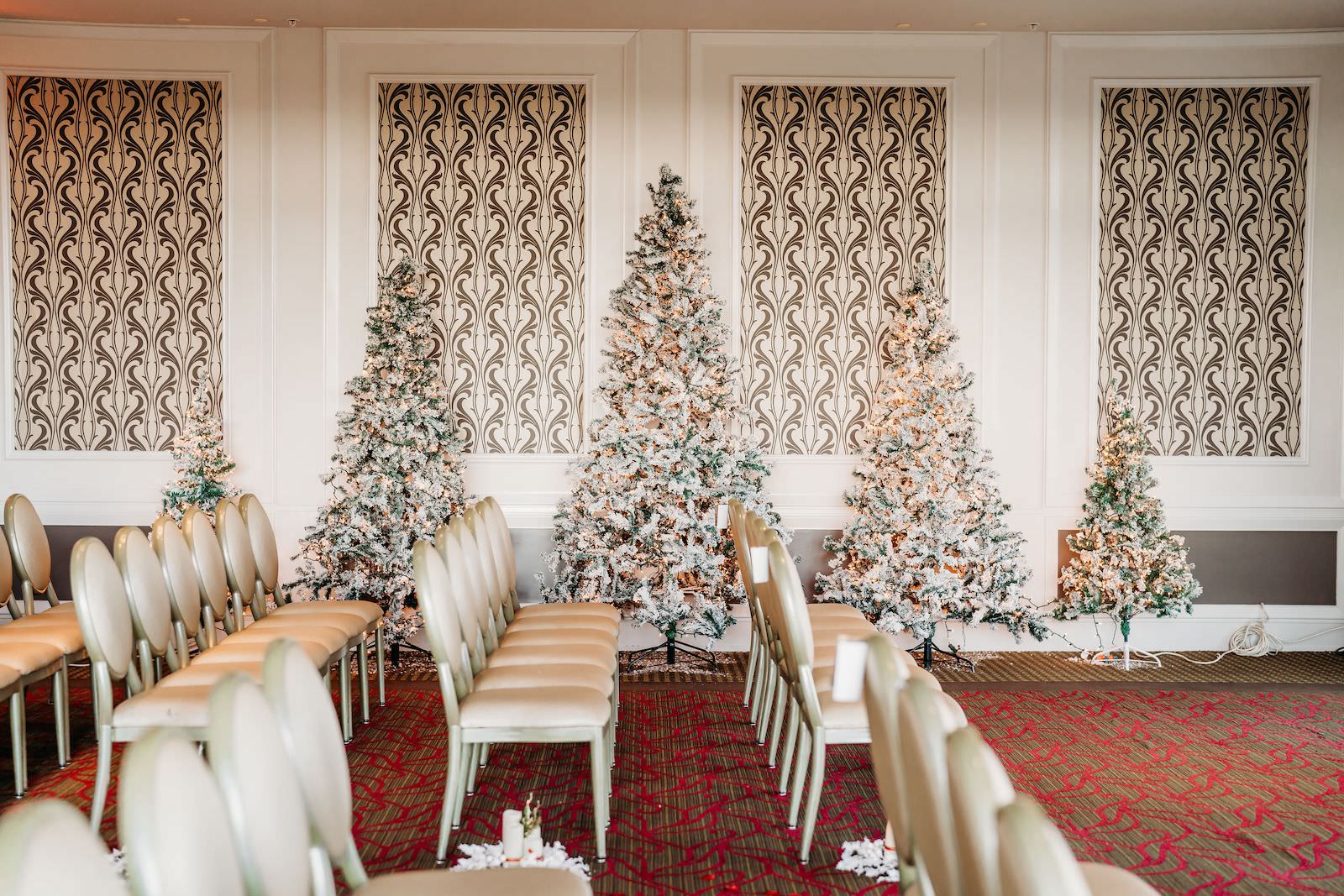 The Proposal:
Our proposal was during Nights of Lights in St. Augustine and was super intimate and memorable. My husband took me to my favorite place there, and it was our first time going together but he recalled the area from stories I mentioned about previously being there and the gazebo I loved. It was really special and just a moment I will never forget.
Where did you spend your honeymoon?
We pushed our international honeymoon due to the new COVID variant but we are going to Europe, the Amalfi Coast in Italy and Paris!
Where did you host your bachelorette party?
I had an amazing bachelorette in St. Augustine, and I chose that location because it is so quaint and also has amazing food and drinks! I love that everything is within walking distance.
---
---
Which vendors really exceeded your expectations?
Four main vendors really stood out and went above and beyond and I truly believe that my wedding day would not have been as amazing without them. Our photographer was incredible and everything I wanted out of a wedding photographer. She was so easy to work and hang out with. Our videographer was attentive and really took his time capturing the details of the day.
Our ceremony decorator was truly phenomenal and decorated our ceremony arch and helped with the sweetheart table. Their additions made our wedding go from wow to WOW! Lastly, our hair and makeup team made getting ready so stress-free and relaxing. I had tons of fun. They even stayed to touch me up before I walked down the aisle.

What advice would you give to other Tampa Bay couples?
Save yourself stress and anxiety and book your venue and vendors early. If possible work an hour into your wedding timeline to wind down and eat before the ceremony. I did that and it was a game-changer.