What makes your wedding different from all the other events that happen at your venue?
Your flowers and decor.
Think of flowers as the "icing on the cake" or the jewelry and accessories to a great outfit.
With endless options on Pinterest and Instagram, how do you know how to achieve your vision, while also staying on budget? When should you hire a wedding florist, and what do you look for in one?
We've asked Tampa Bay's best wedding florist to share their insight for "A Guide to Hiring a Wedding Florist in Tampa Bay."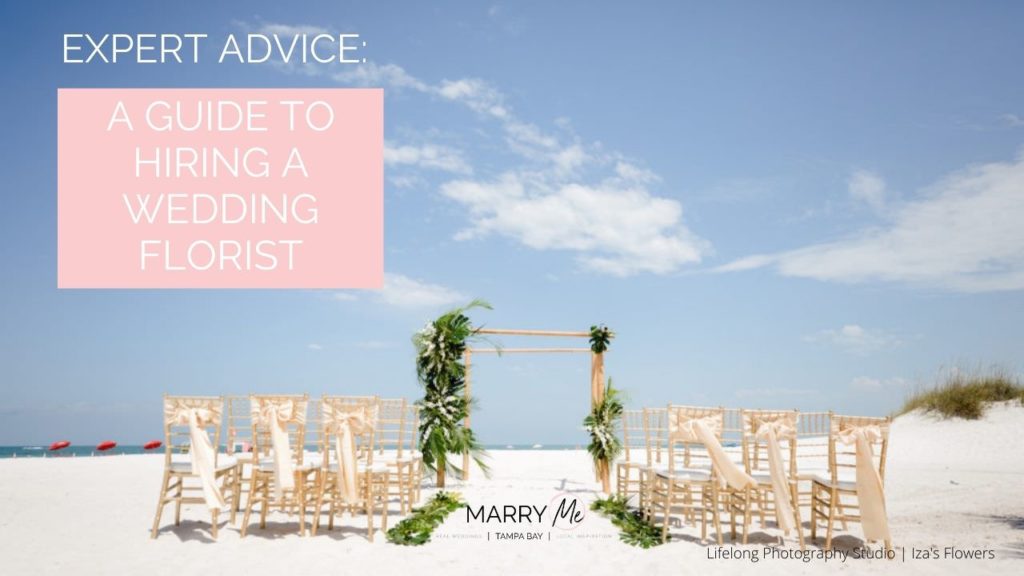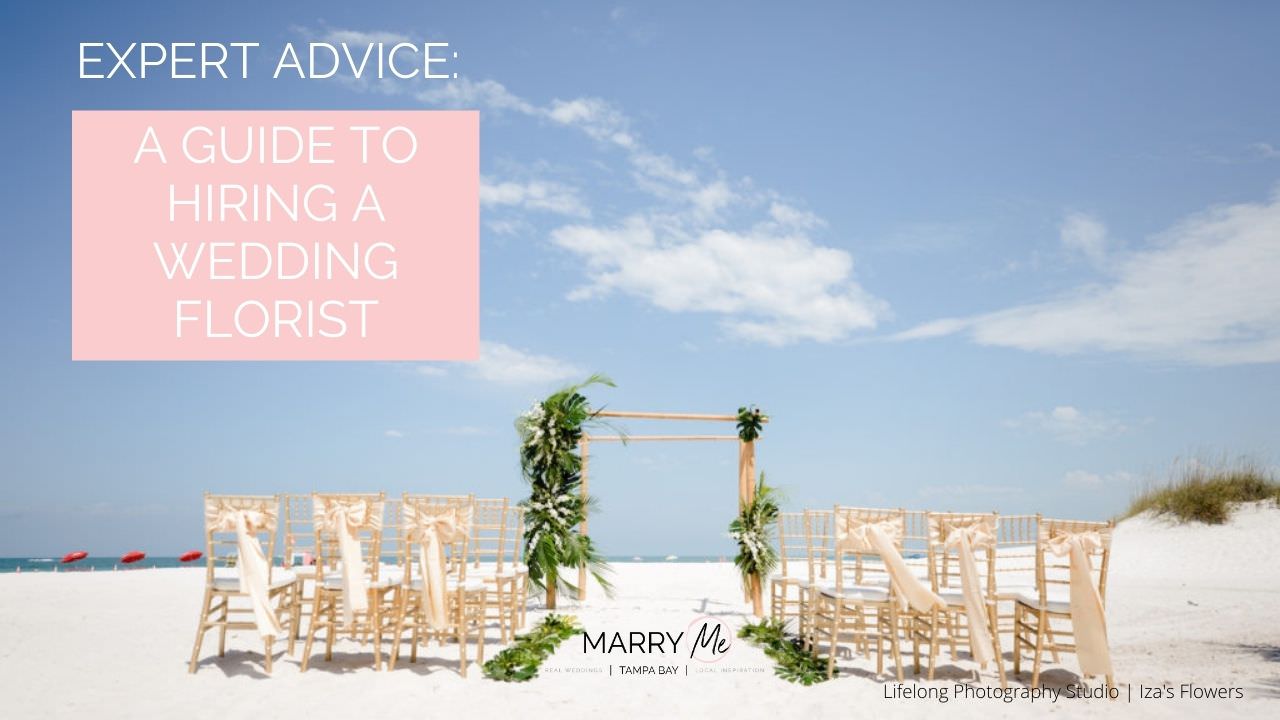 Iza's Flowers | Lifelong Photography Studio | Modern, Minimalistic, Tropical Wedding Inspiration
What Do Couples Need to Know Before They Start Contacting Florists?
"You need to have some important details in place. Couples need to have a wedding date and their venue booked as well as the approximate number of guests who will be attending. This is very important because it is difficult to start planning and designing flowers if there is not a specific date picked and wedding venue booked. The number of guests is also important so that the appropriate number of tables and centerpieces can be planned," Jean King, owner Monarch Events and Designs
Dorelle Raphael-Fishkin, owner of Brides and Blooms Designs says you need to have these five items in place:
In order for a florist to work up a reasonable quote, we need to know the date of your event. Some flowers will be more cost-effective at different times of the year. If you are planning a wedding around Valentine's Day, red roses are going to cost way more than they will in July.
If you know where you are holding your event, a florist will be able to recommend different styles and or heights to achieve the best look.
The florist will want to know how many floral designs they will be making for the wedding party so that they can create an accurate quote.
Know color story and style so that we can showcase your personality through your flowers.
The budget is not only about how much you want to spend, but, rather, what kind of flowers and greenery we should be showing you and what kind of designs will fit within that budget.
John Elice, of Bruce Wayne Florals adds:
Know the selected venue spaces for each part of your wedding day: ceremony, cocktail, and reception. Understand the environment within each location. Will you be outside or inside? Is there shade or will you be exposed to direct sun, wind, etc.? The florist will need to make sure the design and selection of floral varieties will accommodate these elements.
Know the style of your event. Will it be formal, casual, beach, modern, garden, bohemian? This is important in selecting the floral varieties used to best achieve the overall look of the wedding theme.
Determine your floral needs by creating a list of items you expect your florist to provide. Will you need an arch for your ceremony? What is the size of your bridal party? The more information you have available, the easier it will be to make sure the florist can provide you with your expectations.
Most importantly have a general idea of your budget. Think about how much money you can reasonably allocate to the floral decor. This is critical in determining if a florist will align with your overall vision. Once a florist understands the budget, it empowers them to present you with visuals that fit within your budget, rather than presenting you with ideas that are not realistic. You will be surprised at how much easier the process can be for everyone once a realistic budget is set. It is the first step in creating a level of trust between you and the florist you eventually select.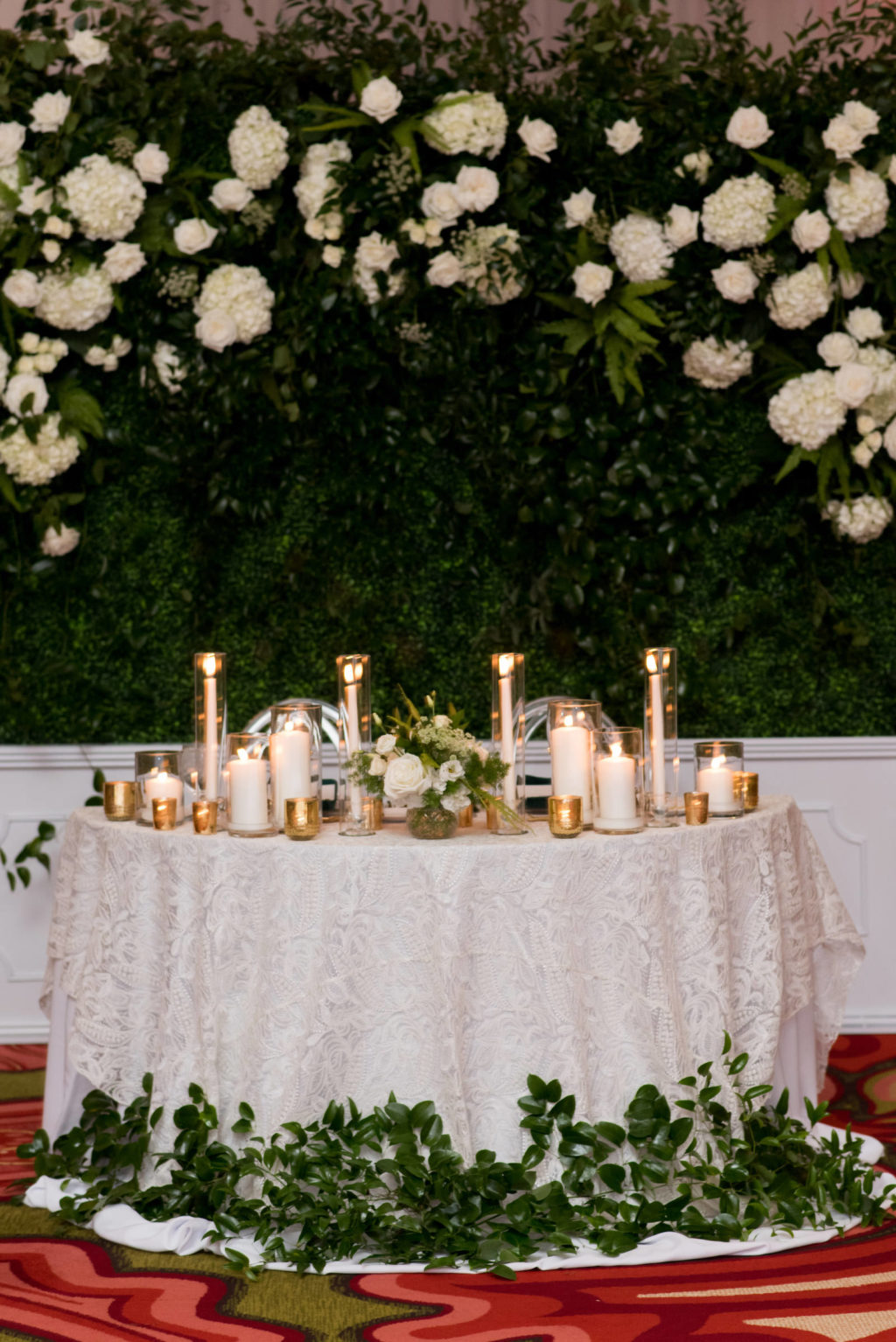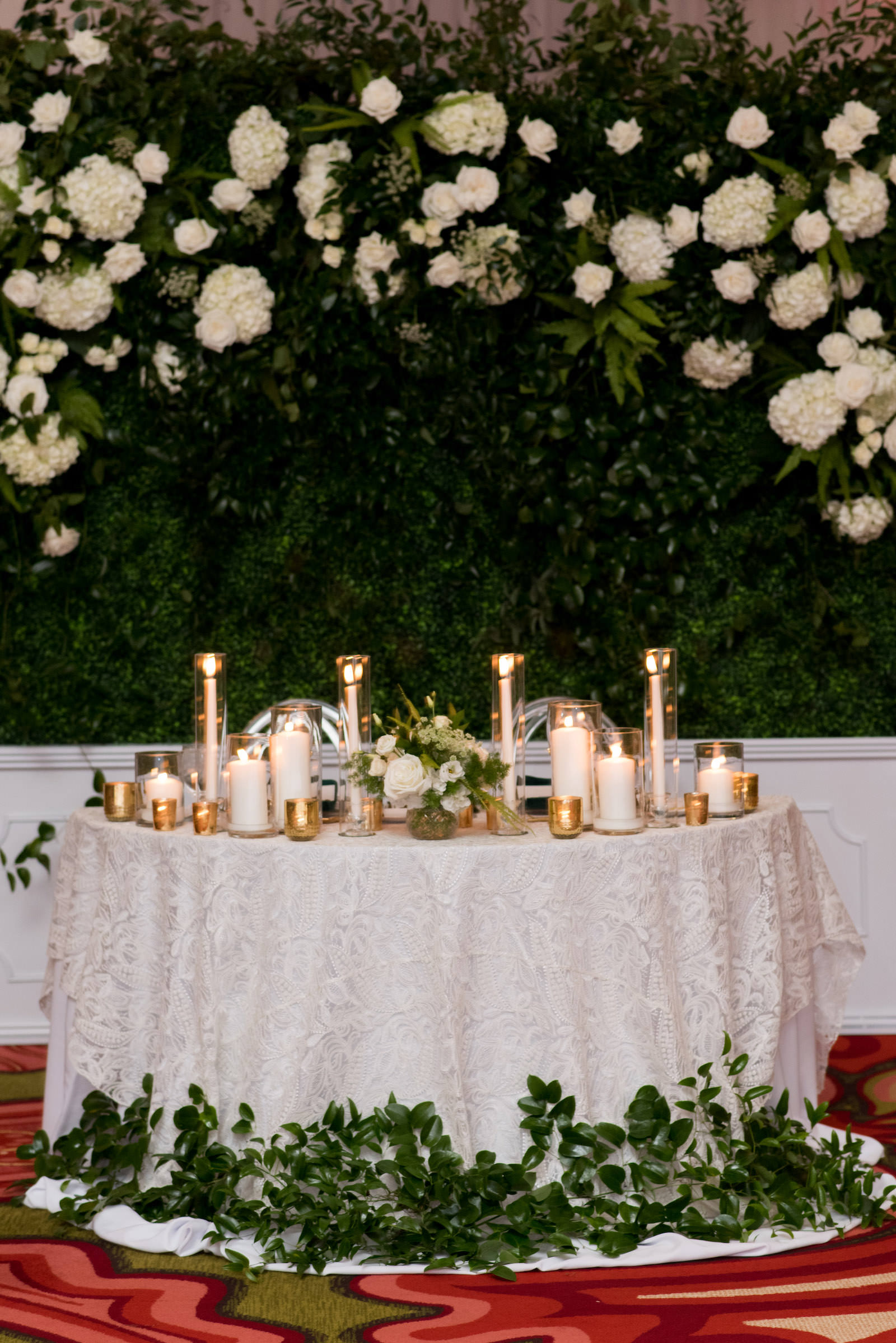 Bruce Wayne Florals | Photography by Avery | Luxurious Green and Gold Downtown St. Pete Wedding
What's the Best Way to Set a Floral Budget?
Jean King, owner of Monarch Events and Designs explains:
Flowers are one of the most memorable, colorful parts of the wedding. They bring in a sense of romance and luxury to the special day. Flowers elevate the wedding photography as well. The first step in creating a floral budget is to browse pictures to find inspiration of what you like. By looking at pictures, you will get a better sense of what you want for your wedding day. Typically floral budgets are 10% of the total wedding budget, but this number can vary depending on a number of factors. The types of flowers used can drive the budget up.
For example, peonies and dahlias are more expensive than roses. An experienced florist can help guide you in where to put the "splurge" flowers to help with the budget. The bride's bouquet is a great place to go all out with flower selection and use less expensive flowers in bridesmaids bouquets and centerpieces. Also, certain types of arrangements cost more than others. For example, a tall, large centerpiece and floral arches cost more than smaller, modest arrangements. The number of bridesmaids and groomsmen you have affect the floral budget as well. The higher the number, the more bridesmaids bouquets and boutonniere's needed which has an impact on the budget.
John Elice, of Bruce Wayne Florals shares:
Have a budget range and be willing to share the range at your initial consultation. Trust your florist to respect your limits and know that they want your business within reason and that they will work tirelessly to help you stay on point with your budget.
Understand that there are fees and charges in addition to the flowers. These include: delivery, setup, the flip (moving ceremony flowers to your reception, striking (returning at the end of the night to break down and clean up). These charges and fees can average around 25-35% of the product total.
Have flexibility by identifying and discussing your "Must-Have" vs. "Nice-to-Have" floral decor items. Identifying and discussing these items with the florist will help them know where to focus on the design/money and where to scale back. Also, if cuts need to be made, the florist knows where to cut first. This also allows the florist to do their best to make the numbers work for your budget.
Another important thing to consider when setting your budget is calendar holidays. In picking the event date, avoid a holiday like Valentine's Day, Mother's Day or New Year's Eve. Product costs go up considerably across the board, usually a few weeks before and especially the week of holidays, which will translate to a larger price tag on your proposal.
"A floral budget should be set by how important your decor look is to you. Flowers act like jewelry at any event and 'top off' your overall look. If your location is sparse, you will need flowers to help it come alive, conversely, if the venue is busy, flowers can help to give your guests' eyes a resting place. There is no real calculation for a floral budget, some people say 20% of your total budget works for them," Dorelle Raphael-Fishkin, owner Brides N' Blooms Designs
What Should Couples Know about Pinterest and Wedding Flowers?
"You've undoubtedly seen amazing photos of flowers on Pinterest. Keep in mind a lot of those designs are done strictly for photo shoots where there is a much looser budget. Florists will collaborate or fill just a single portion of the shoot, thereby keeping their costs in check. They are doing their shoots in places where some of that product grows wild and therefore is harvested for free (like pampas grass), or they are repurposing the flowers for multiple uses. A good florist will be able to take your Pinterest vision and bring it down to a reality that fits your budget." -Dorelle Raphael-Fishkin, owner Brides N' Blooms Designs
"We encourage couples to put together a Pinterest board before the consultation; it makes the consultation run smoothly. Especially when working with destination couples, it gives us a feel of their style before the meeting. However, please try to keep an open mind when looking at Pinterest photos, a lot of the bouquets and centerpieces are 'stylized' or even artificial so they may not be flowers that are available fresh or commercially. We are happy to make suggestions based on your inspiration board with what would work well and is available." -Izabela Rekawek, owner Iza's Flowers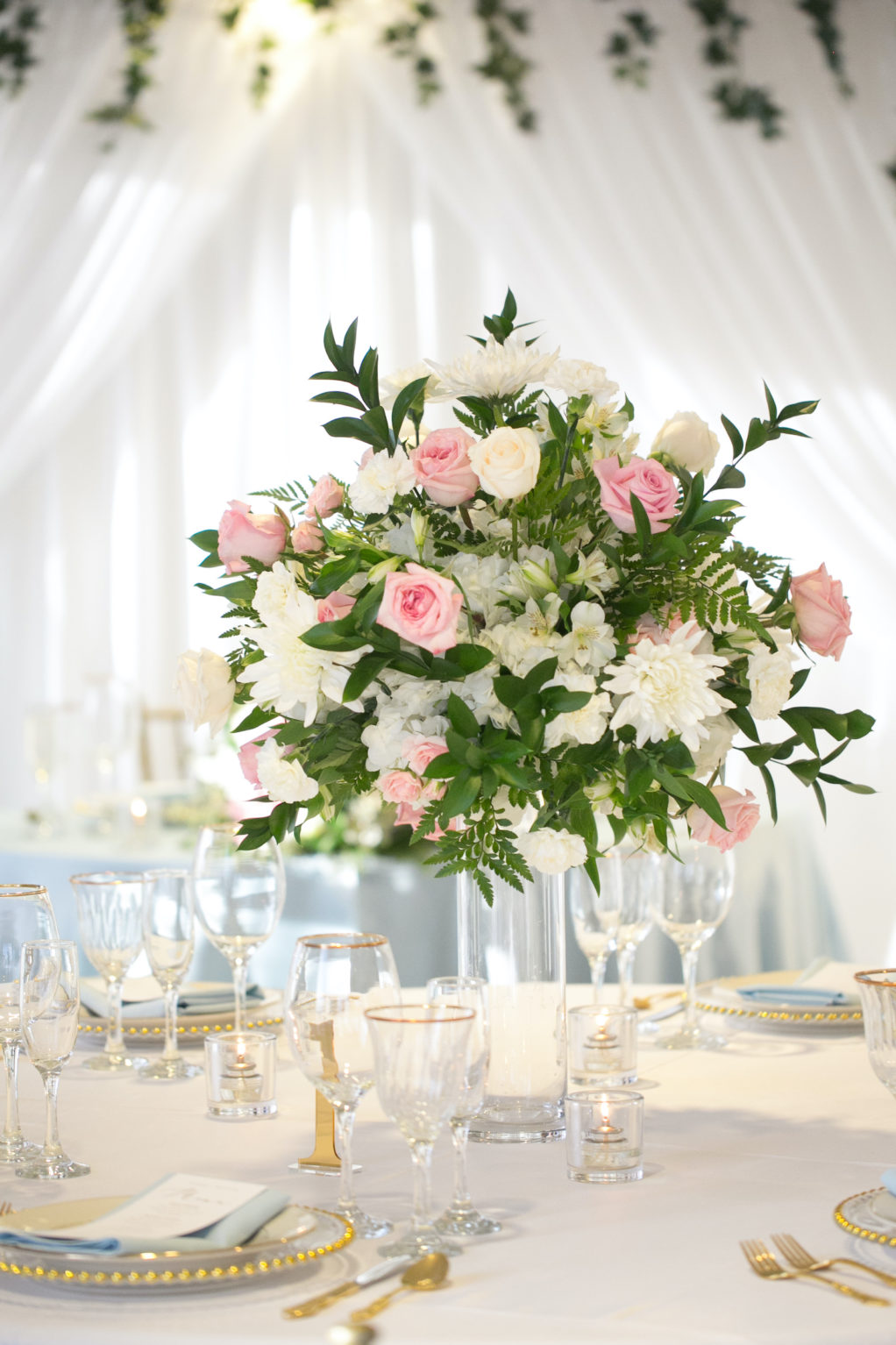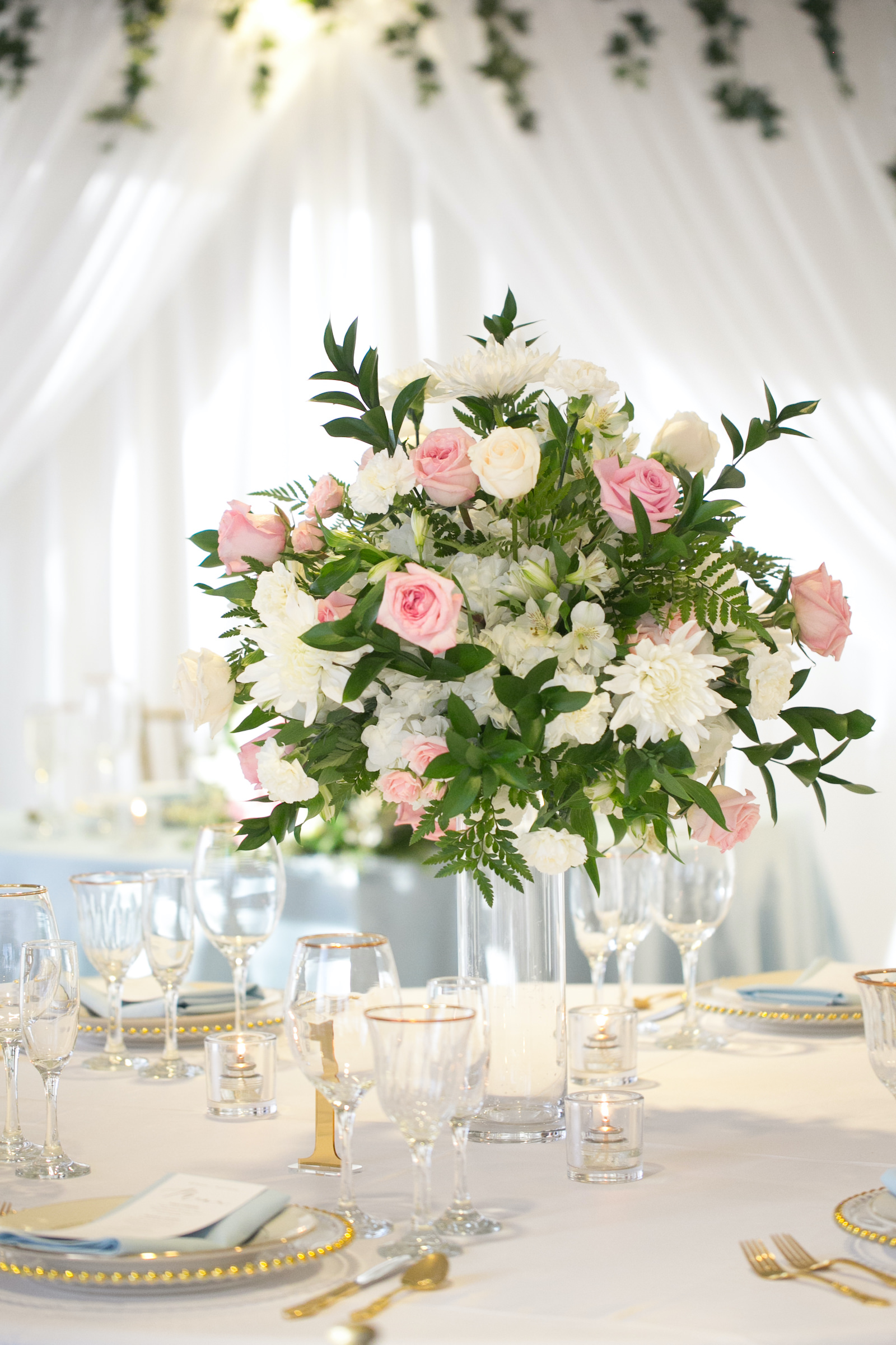 Brides N' Blooms Designs | Carrie Wildes Photography | Romantic Pastel Clearwater Beach Sunset Rooftop Wedding
What Should Couples Look for in a Wedding Florist?
John Elice, of Bruce Wayne Florals explains that finding a passionate florist should be a top priority:
Before contacting a potential florist, couples should do their homework. Do a background check on your candidates. With so many platforms available today it is easy to gather the basics. Utilize resources such as Google, Facebook, Instagram, Wedding Wire, The Knot, and local resources like Marry Me Tampa Bay to gather information about potential choices. Ask for recommendations from your venue or wedding planner, view photos of the florist's past work, view their websites, and pay attention to previous client reviews.
Couples should look for a florist who is passionate about what they do and has the experience needed to fulfill the scope of work your event will require. There needs to be a genuine connection with your florist. Your wedding florist needs to be open to and most of all excited about your ideas and concepts. They should have a willingness to work toward your overall vision and help maintain your budget. They should be reliable, and above everything else, you should trust them to create an unforgettable day you will always cherish. Remember most wedding florists are dedicated to their craft and passionate about what they do. Finding the right fit is a critical part of having your vision realized.
"Looking for a wedding florist might become overwhelming because the internet is full of florist options. There are a couple of things to keep in mind when searching for a wedding florist. The type of florist is one factor to consider. A retail flower shop that you can stop in and pick up a bouquet of roses might not be equipped in servicing full wedding events. A better choice would be a florist who specializes in wedding flowers specifically. A wedding florist designer can also provide other decor needed such as table numbers, candle holders, and other decor pieces. It is also important to find a wedding florist whom you connect with. Designing your wedding flowers is a personal, exciting experience. Find a florist whose work you love as well as who understands your style and vision," -Jean King, owner of Monarch Events and Designs
"Most wedding florists love the opportunity to stretch their wings. We love to create beautiful designs. As you discuss your dream wedding florals, listen closely to what the florist is offering. We want your wedding to be fabulously beautiful; we would never want you to pay for something that your 3-year-old niece could create. Let us give you our perspective; this is not your job, it is our job," -Dorelle Raphael-Fishkin, owner of Brides N' Blooms Designs
What Services Are Typically Included from a Wedding Florist?
"Every florist will offer different services to potential clients. We typically start our conversations by having clients fill out a brief wedding form where we gather basic information. Based on the response, we then issue a preliminary estimate (with starting price points) to help give clients an idea of costs based on the answers provided on the questionnaire. At that time, we schedule a consultation in our studio or over the phone. The consultation allows for time together where we can work through specifics, allowing for clarification of floral needs, and establish the overall décor concept, look and feel. After the initial consultation, we then present a professional, formal proposal, including a contract. Once a client is comfortable and has decided to sign with us, we would then schedule a floral mockup in-house so clients can view centerpieces to make sure that every detail is perfect. This is an optional service we offer but it is not required. We can also accommodate a floral mockup via video. We make ourselves available to our clients for phone calls and follow up on their emails in a timely manner. When the big day finally arrives, we are properly staffed, ready for delivery, setup, flip and strike," -John Elice, of Bruce Wayne Florals
What Should Couples Know about DIY'ing Wedding Flowers?
"DIY'ing flowers is a very good option if you have a lot of help and at least one person who has an idea of what to do and how to do it. If you are looking to do DIY flowers you have to keep in mind all the 'extra' things you never think of: the cost of hard goods (tape, ribbon, containers, bins or buckets, cooler space), transporting of the completed designs (not everything fits easily in a car, and fresh flowers don't do well in a pick-up truck). Who will do the setup on-site? Some places won't let you in to setup until two hours before your event. Who will do the breakdown and removal? The party is over and now someone has to pick up everything, pack it, bring it somewhere, and store it. And most of all, last-minute time. Because fresh flowers are fresh, they need attention. You will need to assess your time frames to account for the hydration, cutting, cleaning, and arranging. Then you have to make sure someone can get everything where it needs to go and can set it all up." -Dorelle Raphael-Fishkin, owner of Brides N' Blooms Designs
When Should Couples Book their Wedding Florist?
"The time frame in booking a florist can vary, depending on when you book your venue. If your wedding venue is booked 12 months prior to your wedding day, it would be ideal to book your florist 10 months out from the big day. This is a great amount of time to coordinate schedules and to meet with the florist to design everything needed for the wedding. Although this time frame is flexible depending on circumstances, an experienced wedding florist can help you design the wedding flowers of your dreams in less time than 10 months. Keep in mind experienced wedding florists book up quickly so the earlier the better!" -Jean King, owner of Monarch Events and Designs
"We always recommend at least a 6-month window. Of course, there are exceptions, if you are getting married on a holiday weekend, or a 'special' date wedding, ex. 02/21/21. As soon as you have chosen your venue, you should contact your florist," -Dorelle Raphael-Fishkin, owner of Brides N' Blooms Designs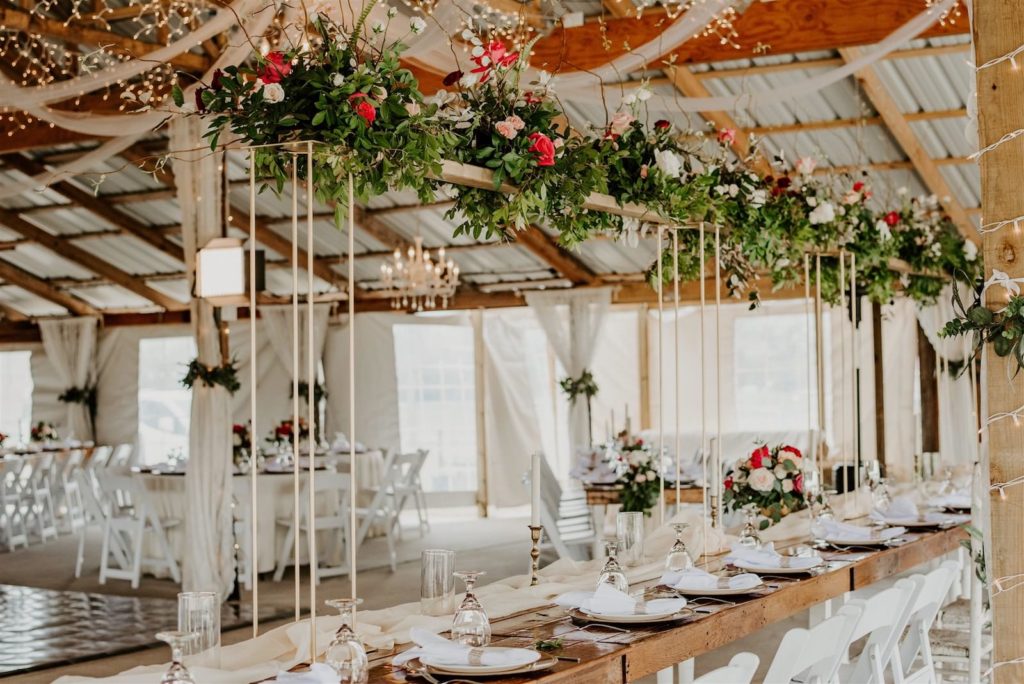 What Would Couples be Surprised to Know about Wedding Flowers?
"There is a lot that goes into the cost of wedding flowers. It is a long process before they get to your bouquet. From the minute the flower gets cut down in South America or Europe, it has to travel, then meet at a wholesaler florist, then be hydrated and prepped. We then choose the best flowers to be designed by a trained and experienced artist for your wedding day. Over the years we have learned which farms and growers we like the best and provide the best quality flowers for your wedding to ensure we have the most beautiful blooms for your wedding day." -Izabela Rekawek, owner Iza's Flowers
"Some people think that greenery is cheaper than flowers, this is not true! The farms have gotten smart and know that this is a trend right now, and they are capitalizing on it. The idea that 'tossing some loose greenery' on the table will be less money is also a fallacy. We have to cut all those small pieces and take the time to make it look right otherwise your 5-year-old niece could do that for you. Also, when your other vendors ask for 'free flowers' it actually costs us money. We do it because we want everything to be beautiful for you, but you would be surprised how many of your vendors, ask for extras. -Dorelle Raphael-Fishkin, owner of Brides N' Blooms Designs
What's Your Best Money-Saving Tip About Selecting Wedding Flowers?
"Be flexible. Let your trusted floral partner have some free reign. If you have a budget, don't be fussy about the actual 'name' of the flowers, but rather the overall look. Right now there is a real crisis in the market, and just sourcing fresh flowers is a challenge. Your florist is always going to do their very best for you; it's their reputation on the line. Communication is really key!" -Dorelle Raphael-Fishkin, owner of Brides N' Blooms Designs