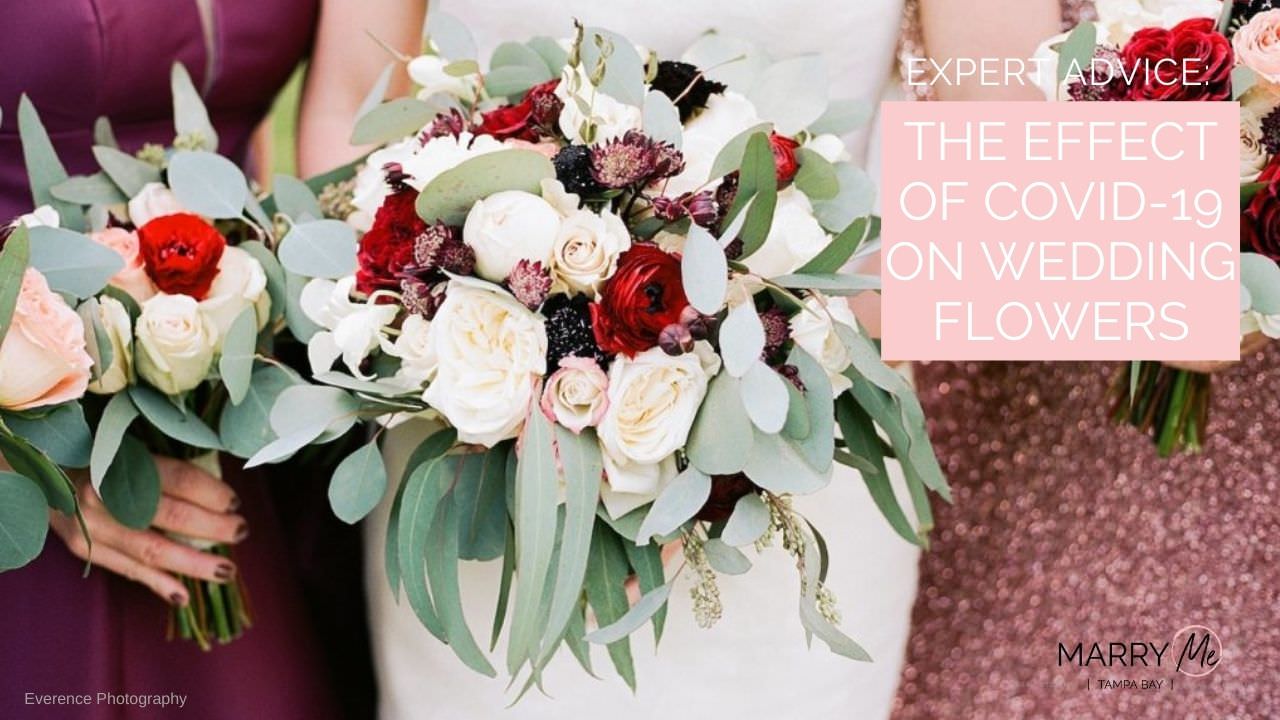 How Has COVID-19 Affected the Availability of Wedding Flowers?
"The impact of COVID-19 on the wedding floral industry has been broad. The wedding flower availability has been affected starting at the growers/farmers. When COVID began and the wedding industry came to a screeching halt, flower buying for weddings all but stopped. This meant the growers did not have a market for all those flowers that would have been used for weddings. The impact is still felt today even as weddings begin to slowly come back. Staffing at farms and overall logistics of navigating during the pandemic has been a challenge for flower producers. Many stems have been lost due to the sharp decline in sales, which forced farms to reconsider their overall management of the flower crops for the rest of the year." -Jean King, owner Monarch Events and Designs
"When COVID-19 first hit, and everyone was in a panic, the farms panicked as well, a lot of the smaller farms mowed down their crops to wait out the pandemic and some got bought out by the bigger farms. Once the panic started to wain and the world came back to business, it was really difficult to get a quality product, as well as quality help."
"Now that wedding season is upon us, and the world is kind of getting back to normal, there is very little product available. Not only is this a problem, but, the airlines that bring the flowers in from overseas, have had limited flights."
"This is all very important for the couples to understand as there is just nothing that we can do about getting specific items in. If we booked your wedding last year, or even in early 2020, we can no longer guarantee that the specific flowers you wanted, that we quoted, will actually be available now. Florists' hands are tied. We will do our very best to keep the 'vision' alive, but, couples must be understanding that flowers are a natural product and therefore may not be available." -Dorelle Raphael-Fishkin, owner Brides N Blooms Designs
"The COVID crisis has greatly affected the availability of many varieties of flowers that were easy to acquire prior to the pandemic. Because florists were classified as non-essential workers, many shops including ours had no choice but to close our doors. During this time, farms were unable to sell products and therefore unable to continue growing new plants for future orders. As businesses began to slowly open again there was a noticeable disruption to the supply chain. Even though businesses were opening back up, orders were still not as hefty as they may have been pre-COVID."
"Wholesale companies now request longer lead time to order larger quantities of flowers required for larger weddings and events. I personally have specific varieties of flowers that I love to work with because they are proven performers. I am having to source alternative blooms simply because not all varieties are as available in the market as they once were (at least not in the volumes needed). Because of these restrictions, it becomes extremely important to plan ahead when ordering flowers for your wedding. We are requesting a four-week lead time for final counts whenever possible. This allows time to make the sure product will be available on couples' wedding days. The days of procuring flowers quickly is a thing of the past, hopefully, not for much longer, but with so much uncertainty in the market, it could still be a while before things return to normal." -John Elice, floral designer for Bruce Wayne Florals
How Has COVID-19 Affected the Pricing of Wedding Flowers?
"It is difficult to answer this simply because so many factors come into play. Farms are trying to recuperate losses, shipping costs have gone up a lot, and because the volumes are lower, prices are naturally higher. It has been extremely difficult to predict the pricing of flowers, and things continue to change from week to week."
Expect to pay more when requesting a custom bouquet and boutonniere. Every flower in a bouquet has a minimum that needs to be purchased. Imagine if you want three different varieties of roses in your bouquet; your florist is required to purchase a bunch of each style rose (a bunch contains 25 stems.) So imagine the costs associated with a bouquet that might contain several different floral and foliage varieties. All of those flowers have to be purchased in "bunch" quantities. For larger events, those flowers can be easily distributed throughout the event, keeping costs manageable. But for smaller orders the prices will be higher just to help cover the cost of goods and hopefully provide a small profit."
"Flower prices will continue to rise each year. Develop a relationship with a florist you can trust to align your vision and budget. Maintain flexibility in flower choices and try and give as much notice as possible. If you allow your florist to create a beautiful bouquet from blooms and foliage available from their in-house inventory, special orders will not be required. This will allow you to have a beautiful bouquet with a more palatable price." -John Elice, floral designer for Bruce Wayne Florals
"Because of all the previously noted information, the flowers that are available, and are being shipped are in high demand, and therefore may be up to three times the price they were, prior to March 2020. Certain florists may ask that you increase your contracted amount to account for the price increase, or they may ask you to change the original flowers to accommodate the change in the costs associated. Though it may not seem fair, especially to those of you that are already feeling the pinch of loss of work, but, we too have felt this pinch and a lot of florists were not able to maintain a business with no customers for almost five months." -Dorelle Raphael-Fishkin, owner Brides N Blooms Designs
What Do Couples Need to Know about Flowers and Intimate Weddings or Elopements?
"This year has forced each of us to take a step back and consider what is most important. For a lot of couples that means tying the knot with a more intimate affair and increased attention to details. Flowers set the mood for your big day, no matter how many people are in attendance to support the couple. Be sure to select a statement bouquet that photographs well so you can share your images with friends and family who were unable to celebrate with you in person!" -Stephanie Newton, owner Posies Flower Truck
"For intimate weddings or elopements, couples can still have beautiful flowers. Whether it be a backyard wedding, a family home wedding, or a small venue affair, flowers play an important part of the perfect wedding day. Intimate weddings or elopements present an opportunity to focus on some of the most important flower arrangements of the day such as bouquets and personal flowers. Even though your big day will be smaller, it's the perfect opportunity to use flowers to make your wedding extraordinary." – Jean King, owner Monarch Events and Designs
"Though flowers may seem frivolous, they add so much to your overall feel. Whether it's in your backyard, at an Airbnb, or a beachfront, flowers bring it all together. If you are not local to the Tampa Bay area and are having a destination wedding, we give you the opportunity to gift your leftover designs to our local retirement homes, or nursing homes, bringing a huge smile to folks who may have no one in their lives. Flowers always bring a smile!" – Dorelle, Brides N Blooms Designs