Choosing your Tampa Bay wedding venue is one of the biggest decisions you'll make for your wedding day as it sets the tone for the atmosphere, can dictate which vendors you hire, and takes up half your budget, so it's important to select one that is the perfect match.
One of the biggest mistakes we see couples make is to inquire with lots of venues, then get completely overwhelmed by the options, emails, and follow-ups.
Take the time to do some due diligence before you hit the send button, and if you are no longer interested in a venue, then kindly reply to let them know (that way, they stop emailing you!)
We asked our team of wedding experts to share their insight on common mistakes couples make when choosing a wedding venue to give you insight into making a better-informed decision!
---
Mistake #1: Focusing Only on Price
"If you only focus on the price, you will always fall short. It's the experience and memories that are the critical components. Focus on the best values and the best reviews (from couples and vendors). Focus on venues that care about others (inclusive of everyone), that care about the environment (paperless, no straws, green cleaning products, low-waste, etc), and that are easy to deal with. Choose venues that list their pricing, put everything in writing, and have all your details, floorplans, timelines, invoices, and vendor contacts info organized. You want a venue that really cares about you and not just your checkbook. Ask a lot of questions and be a good listener. If the venue isn't asking you a lot of questions, run." –Michael Scott Novilla, owner, NOVA 535
---
Mistake #2: Focusing Only on the Date
"Don't just focus on a Saturday, especially for destination weddings. Guests will make the journey and come to the wedding whether it is on a Tuesday morning or Saturday night. The people that want to be there will be. What is more important? The date or the venue?" -Lindsey Sikes, Event Sales Specialist, Hyatt Regency Clearwater Beach
"Unpopular opinion…Hosting your wedding date near a holiday calendar date might help…(or oftentimes hurt) your guest attendance. If you are planning on getting married during a holiday weekend or season, be mindful of friends and family commitments that may conflict with your wedding date. Of course, the ultimate goal is to have as many of your loved ones present to celebrate with you, but some might be forced to make a difficult choice between attending your wedding and other family commitments. Hosting around a holiday date can also mean increased travel and hotel costs for those out-of-town guests attending your celebration. Ultimately, you know your guests best, so taking these factors into consideration may just help you pick the perfect date! -Mary Barnett, Event Sales Manager, The Birchwood
"Check the calendar and look at events happening in the area. This is important so that roads are not closed and hotel room rates are high. The venue might not know the event schedule in the area, but looking at the history of the date can help for sure." -Katy Martin, owner, Coastal Coordinating
---
Mistake #3: Not Doing a Venue Tour
"Touring your wedding venue is important, and even though the venue may have nice photos and good reviews, seeing your wedding venue in person is a must! Not only is this the space where you'll be spending the morning/first half of your day, but also the space where you'll have hair and makeup done, as well as photos taken. Having good lighting is always great (plus your vendors will love you for it), and ensuring that you have enough space for everyone you're getting ready with is always good to do, especially if you have a large bridal party or want a lot of friends/family members with you." -Tara Zimmerman | Lead Photographer and Social Media Engagement Specialist, Limelight Photography
"Be prepared with your questions before going into your venue tour. Have a list! The thing I love most about my job is answering couples's questions and educating them on the venue selection/planning process. Ask about preferred lists, what's included, amenities, getting-ready rooms, set-up times, break-down times, customization options, how involved is the venue manager, date availability, time frames and how that factors into booking. You should reach out and get initial quotes and estimates, drafts of contracts, and policies and procedures of each venue before narrowing down your options and scheduling tours. You may love a particular venue, but their heavy restrictions may prevent you from customizing your wedding to your liking." -Leigh Wilson, Evens Director, Red Mesa Events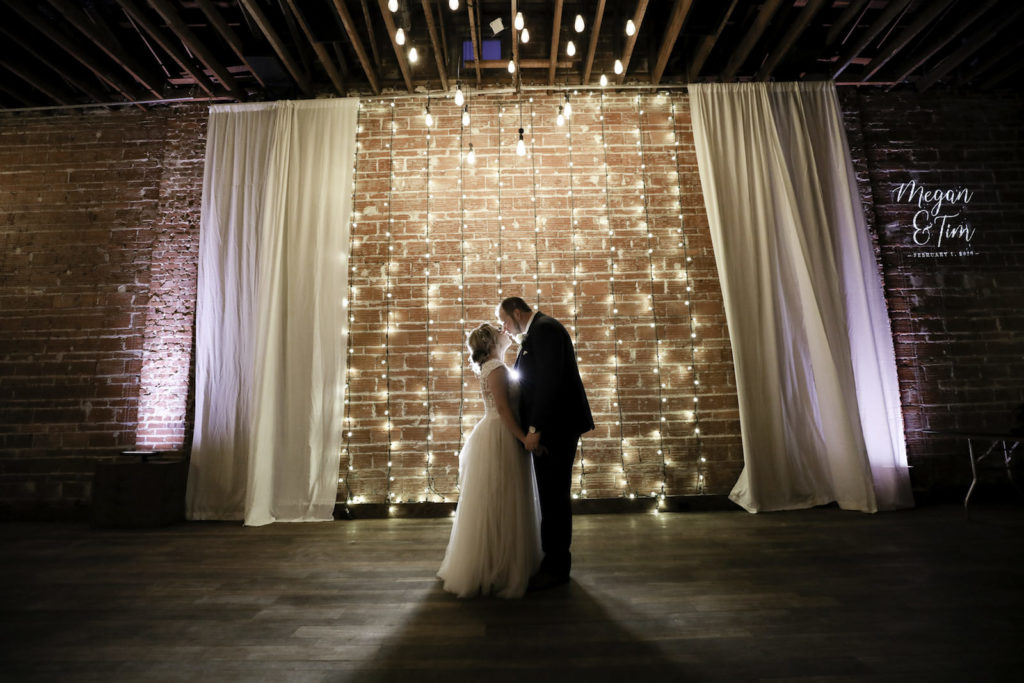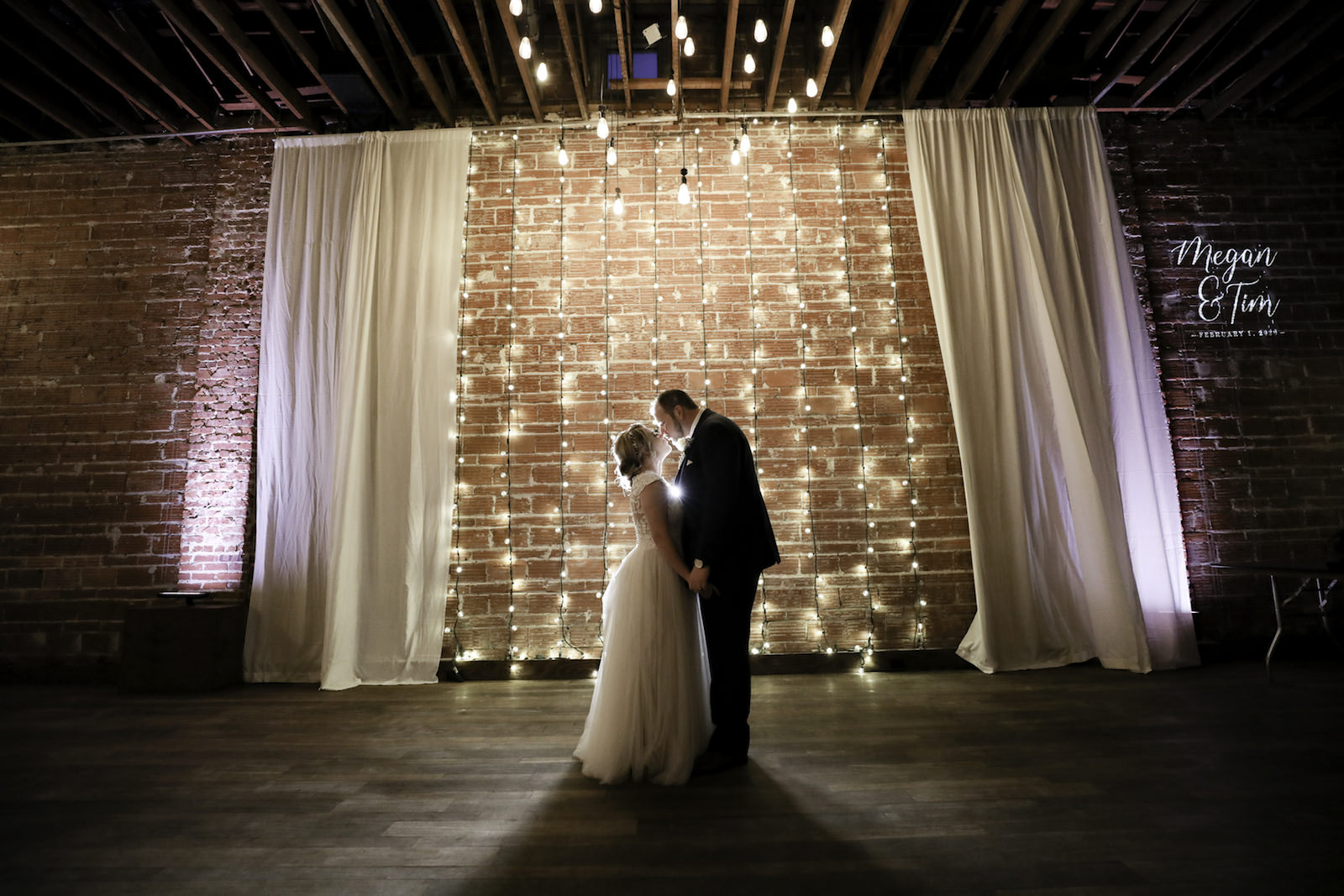 Industrial Dusty Blue Downtown St. Pete Wedding | NOVA 535 | Lifelong Photography Studios
---
Mistake #4: Not Making an Appointment
"Many couples get so excited when they are engaged, the first thing that they want to do is go out and explore venues. That is wonderful, and we love showing our beautiful Pink Palace! However, walk-ins can be difficult for the venue with couples who do not know much about the property or the wedding packages, or we potentially could be right in the middle of an event. Please show courtesy to a venue and do your homework first, have the venue send you information, and then schedule a time to tour to ensure that all you wish to see is available, and your host can spend quality time with you. In addition, do not 'pop up' and hang around at someone's wedding so that you can see 'what it will look like for your wedding.' I am sure you wouldn't want a stranger doing the same" -Kassey Bussell, Director of Events, Don CeSar
---
Mistake #5: Not Thinking About Overnight Accomodations
"Make sure the venue has hotel accommodations nearby for their out-of-town guests. Also, a plus with this is if they offer transportation from the hotel to the area. Ask the venue if they have relationships with local hotels for room blocks." -Katy Martin, owner, Coastal Coordinating
---
Mistake #6: Becoming "Venue Poor"
"Unfortunately, many times, couples fall in love and book a venue without doing all of the prep work. Beyond having a wedding date in mind, you want to create a rough guest list and a working budget, including your priorities. Couples can book a venue that is too small for their actual guest list or overspend, leaving themselves 'house poor' with no money for the things that are important to them." -Tammy Waterman, Master Wedding Planner, Special Moments Event Planning
"There are so many things to consider when you are looking for a venue. The venue sets the tone for your entire aesthetic and day. One of the most important things to note is to not go 'venue broke.' This is when you spend almost your entire budget on the venue alone, and then it leaves you with little to nothing for your other vendors. It is so easy to fall in love with a venue you cannot afford; pushing the limits so that you can be there puts you in a bad spot when planning for other vendors since you have no money left. This is a common mistake couples make, so pick a venue that works with your budget and not against it!" -Delaney Driver, owner, Wilder Mind Events
"The biggest mistake I see couples make is that they fall in love with a venue and spend a majority of their budget just on that. Every other aspect such florals, photography, decor, etc. is then at a minimum, and they aren't able to get the entire look and feel they want because they overspent on the location." -Carrie Wildes, owner, Carrie Wildes Photography Art & Design
"Choosing a venue before understanding all the different aspects that go into planning a wedding and the costs can be disastrous. Most people have no idea how expensive it is to plan a wedding. If you don't educate yourself and have your budget itemized from the beginning, you can spend too much on the venue leaving you having to make difficult and disappointing choices later." -Karen Cerboni, owner, Eventfull Weddings
---
Mistake #7: Choosing a Venue that Doesn't Fit Your Style
"Choose a venue that goes with your vibe, your personality and style as a couple not what's trendy or expected. If the trend is rustic barns but you're more classic ballroom, stay true to that. The same goes for expectations. If your loved ones are hoping for a traditional formal ballroom but the two of you are more of an urban edgy couple, say no to the ballroom and find yourself a hip spot." -Karen Cerboni, owner, Eventfull Weddings
"Choose the best venue that fits your vision and size versus what is available solely online. Don't forget restaurants or converting a space. We had our wedding reception in an airplane hangar that was decorated, and tables/chairs were brought in! We recommend couples consider all options available before selecting a specific location. Often, many couples will feel limited to venues seen online after searching wedding-specific websites only. If your wedding guest count is fewer than 35, consider a private room or section in a restaurant versus an all-out wedding reception. This saves money and involves less planning while keeping the location near the ceremony/lodging. Others, with a creative flair, may consider converting a space i.e. recreation centers, The Lions Club, American Legion, VFW, Moose Lodge, etc., that are nearby or waterfront. These types of venues are not allowed to advertise to maintain their 501(c)(3) status, however, they are often well located, budget-friendly, and have more flexible options if you intend to decorate yourself." – Brandon Wheeler, owner Gulf Beach Weddings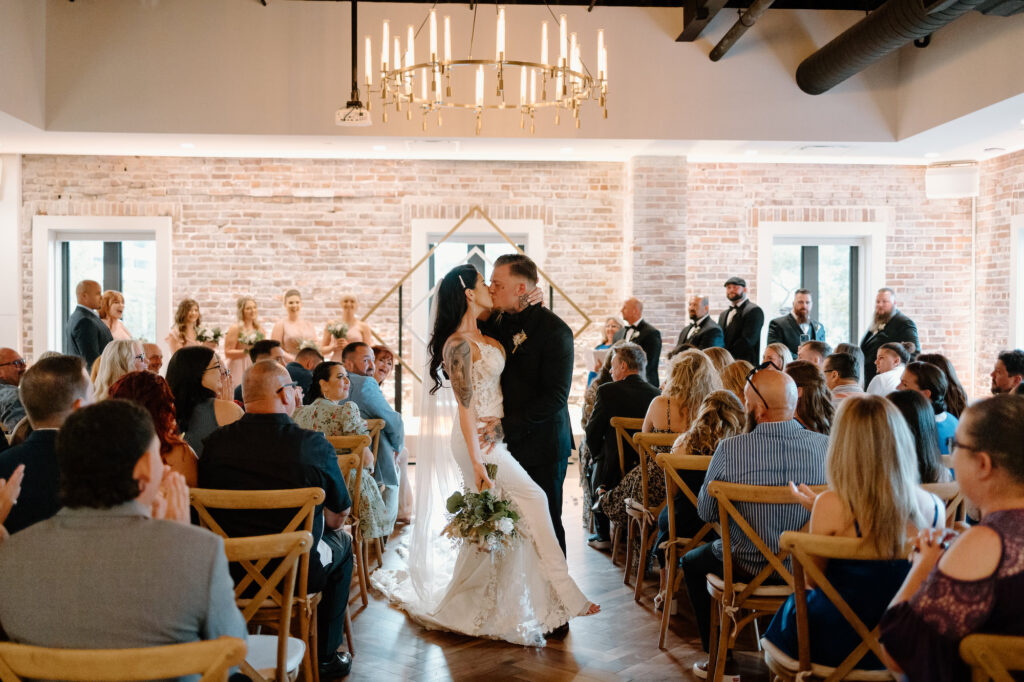 Beige, Boho Downtown St. Pete Wedding | Red Mesa Events | Memories by Lindsay | Breezin' Weddings
---
Mistake #8: Not Understanding the Difference Between Full-Service and Rental Only Venues
"There are so many different venues to choose from, and we, as wedding planners, like to work with clients from the very beginning of their planning process to assist with the search. The first thought running through a couple's minds is what style venue they envision getting married at. This is very important! However, the aesthetic is just one key part of the process. When choosing a venue, it is necessary to remember your budget. A space that enhances your theme is wonderful, but if it is a blank slate, then remember that decor, florals, and rentals will drive the cost up. Gathering proposals from venues that are full-service as well as venues that you will need to rent your own items is helpful for seeing the big picture for your budget. With so many trending color schemes and locations, it is important to remember your wedding day is about the two of you and to stay authentic to what represents you best!" -Lauren Gertz, owner and Lead Event Planner, MDP Events
"You might be able to find a venue that is a blank slate and very affordable, YAY! However, if they provide NOTHING, this is a big factor to consider. Bringing in your own tables, chairs, linens, etc. can be a big added cost and a big headache if you don't know what you need. Understanding exactly what is expected of the venue and of you is going to help you know how to plan best moving forward!" -Delaney Driver, owner, Wilder Mind Events
"Over-estimating what you can do. If your venue isn't all-inclusive and/or doesn't allow you to set decor up the day prior, you will need a day-of coordinator or a wedding planner. Accounting for these vendors in your budget is very important–they WILL save the day." – Tara Zimmerman, Lead Photographer and Social Media Engagement Specialist, Limelight Photography
"Is your desired venue four walls and a ceiling or is it all-inclusive? When you're venue shopping and receiving all these quotes, make sure you don't compare just the end price. What amenities are included? Are you going to need to rent everything for one venue that costs $2,500, and nothing for the other venue that includes it all for $9,000? Compare line by line what your venue includes and any additional charges so you know exactly what you're getting in the end! -Leigh Wilson, Events Director, Red Mesa Events
---
Mistake #9: Thinking Your Venue Coordinator is a Wedding Planner
"A lot of venues will publicize that they include a venue coordinator and couples consider this a replacement for the wedding planner when it is not. This can be seen as a benefit for choosing a venue and then come as a surprise in the final planning stages when the venue coordinator will not set up personal items, provide a day-of timeline, or coordinate with other vendors. A venue coordinator is very important of course, but knowing up front that a wedding planner is still needed would allow couples to budget appropriately and not be swayed in their venue decision because of the venue coordinator benefit." – Cara Anderson, Lead Planner, Perfecting the Plan
---
Mistake #10: Having Too Many Locations
"The Tampa area has numerous beautiful venues that accentuate beach weddings, garden weddings, church weddings, specific venue weddings, and more. One thing that couples sometimes don't think about is keeping it to just one or two venues in close proximity. When the couple has to travel from the getting ready location to the ceremony location, to a third location to take photos, and then to their reception at a final venue, it becomes very stressful. I have witnessed couples get flustered over their family or wedding party not being at the right location on time, which resulted in losing time for photography. My advice to couples is to decide what their vision is and find the best way to choose the venue and area, keeping any other locations nearby." -Amber McWhorter, owner of Amber McWhorter Photography
"If you are planning your wedding ceremony at a house of worship, be mindful of the distance to the reception venue you are considering. If it's too far, you might have guests that skip the ceremony or get delayed/lost in traffic." -Tammy Waterman, Master Wedding Planner, Special Moments Event Planning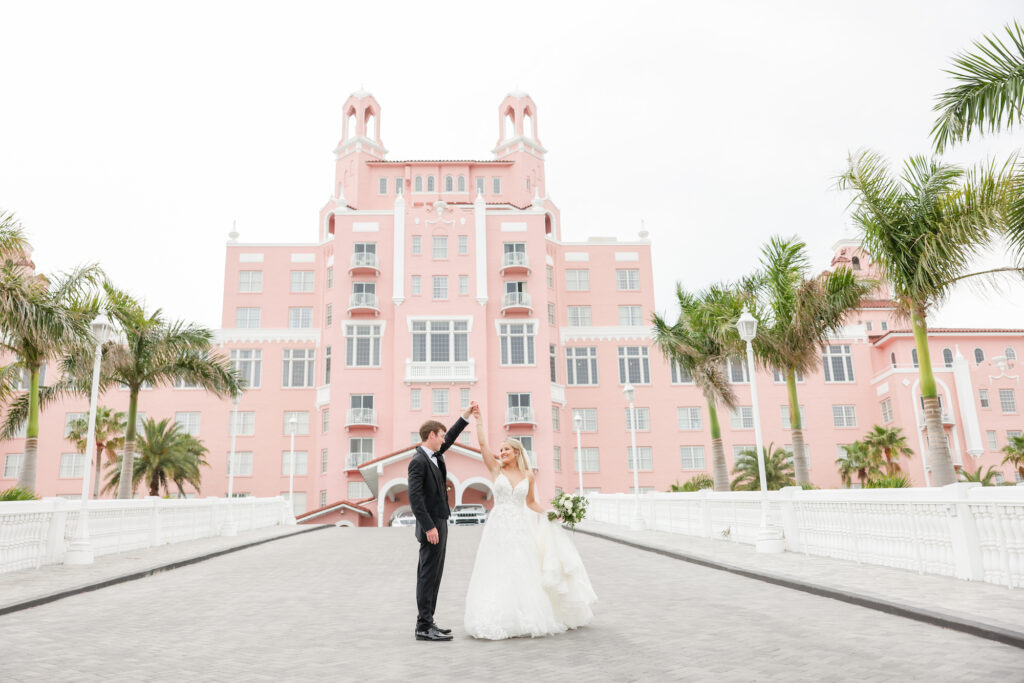 Classic Blue and White St. Pete Beach Wedding | The Don CeSar | Lifelong Photography Studio | Elegant Affairs by Design
---
Mistake #11: Not Having a Back-Up Plan
"We see couples forgetting 'Plan B.' They can get hyper-focused on one aspect of a venue or another, such as a lawn or garden, and don't typically think about having a backup plan for weather and the unexpected. We recommend working with the venue to make sure that 'Plan B' is built into your contract so that day-of you know that no matter what mother nature is doing, you are going to love every moment of your wedding day. Wedding planners are pros at creating contingency plans while keeping in mind your overall vision, eliminating any guesswork or bad surprises." -Jessica Ralph, Executive Planner/President of Parties A La Carte
"Choosing a venue that doesn't have a built in back up plan can lead to unexpected additional costs in the event of inclement weather. You may end up having to rent a tent or worse moving the event entirely. Make sure you know what the backup plan is and if there are additional costs involved you factor that into your decision." -Karen Cerboni, owner, Eventfull Weddings
"You have to love EVERY aspect of the venue! I feel like couples obsess over the photos they see on social media, which is amazing, but think about the chance where the weather may not be on your side, consider plan B, the rain plan for that random chance that you may have to use it. You have to love the backup plan because there's a chance you have to use it!" -Kelci Zicconi, owner, Kelci Leigh Events
"Ask questions. Is the venue doing any upgrades or renovations? Will this affect your event? What is the backup plan?" -Katy Martin, owner, Coastal Coordinating
---
Mistake #12: Choosing a Venue that is Too Small
"Use the three-quarter rule. Venues want to maximize revenue by filling a reception space, but that might make the seating a little closer than you'd find comfortable or a smaller dance floor than you'd like. For a guest list of 75 guests, you might consider a venue that accommodates at least 100 for a seated reception." -Tammy Waterman, Master Wedding Planner, Special Moments Event Planning
---
Mistake #13: Not Allowing Enough Setup Time
"Most wedding venues will rent for a certain period of time i.e. 4, 6, 8 hours. etc., and they expect the setup, reception, and takedown to be complete in that time frame. Remember, this is a venue you've never set up at before, a high-stress environment compounded by several other moving pieces to consider (ceremony, vendors, timeframes, etc.). It can be difficult to keep within the time allotted. If possible, we recommend renting the venue for the full day and paying for the cleanup; this allows you to focus on the decor, presentation, and coordination of the event with more flexibility and knowing that the venue is taken care of!" -Brandon Wheeler, owner of Gulf Beach Weddings
"Avoid DIY (Do-it-Yourself) projects, it causes extra stress leading up to and on your most special day. Avoid assigning a million tasks to your family, friends, and bridal party – chances they are NOT experts and they want to enjoy the day as well! Yes, it saves money but are you really achieving your vision? The same mistake is regularly made for makeup and hair. Your best friend might be an amazing makeup artist, but she's just one person and needs to get ready herself as well. Leave it up to the professionals!" -Courtney Owens, Hilton Clearwater Beach
---
Mistake #14: Not Understanding the Venue's Rules and Policies
"We work with quite a few venues that aren't very strict and others that are very strict. Depending on what is super important to you, it is important to note all the rules the venue has before proceeding further. For example, a venue might have a strict alcohol policy and only allow for a certain amount of hours. It is important to ask these questions ahead of time! -Delaney Driver, owner, Wilder Mind Events
"Sweet Saint Dolly Our Lady of Parton, can we make reading the contract before you sign a trend? Read your entire contract, all the clauses, all necessary addendums, and additional paperwork requiring signatures. Make sure you thoroughly understand each and every deadline and that you understand the contingency plans with regards to cancellations, insurance, liability, indemnification, and refunds or reschedules. If you don't understand a word or phrase, ask for clarification. You have a base price, but what fees are tacked on afterwards? Is tax included in the price? Are there additional labor fees or set-up fees that aren't listed on the proposal? Is gratuity included? Does your venue require the use of specific vendors or planners that are an additional line item in your budget you weren't planning for? Are you required to use their specific valet company? Make sure you fully understand exactly what the costs are and how your wedding needs are covered. Any vendor should be more than happy to ensure you understand what you're signing. -Leigh Wilson, Event Director, Red Mesa Events
"Always check to see what time the venue allows access to the bridal suite for getting ready. Often we see that brides are not allowed access until the late morning or afternoon, which, unfortunately, is not enough time for the bride and bridal party to have hair and makeup services done at the venue. It is a good idea to have a backup getting ready location in mind, such as an Airbnb, hotel, or to see if the venue is flexible with the bridal suite access times." Kelcey Yaeger, owner, Adore Bridal Hair and Makeup
"Read the fine print before signing so you understand exactly what is and is not included. Some venues charge you for vendor set up time that's needed or may not have enough tables or chairs to accommodate your guest count leading to rental costs. Make sure you know if you will have to pay additional for security, insurance, or for your rehearsal time. Know if the venue has preferred or required vendors. If your venue requires you use certain vendors, you need to educate yourself on those vendors and their minimum budgets. The venue might meet your requirements but the caterer and/or the florist for example may be well over your budget." – Karen Cerboni, owner, Eventfull Weddings
"Forgetting to check the preferred vendor's list (if your venue has one)! If you have a 'must-have' vendor in mind, but your desired venue has a preferred vendors list, be sure to check it! Sometimes you can't bring in vendors that aren't on the preferred vendor's list, thus you may miss out on a company that you have anticipated working with if you don't plan ahead." -Tara Zimmerman, Lead Photographer and Social Media Engagement Specialist, Limelight Photography
"If you are considering including your pet in your wedding day, make sure to ask about the venue's pet policies ahead of time. If they are typically not pet friendly, ask if they will make an exception if you were to hire a professional and insured handler for your pet. And even if your venue is not pet friendly indoors, they may still allow you to have your pet come by for photos on their property as long as they stay outside." -Kelly Maronpot, Co-owner of FairyTail Pet Care
"When choosing a venue, most brides are really sold on using the bridal suite. Unfortunately, most bridal suites don't open early enough to use it for hair and makeup! Choose a venue that fits your wedding vibe and not for the suites." -Kaitlyn Webb, owner, K.Ley Bridal
---
Mistake #15: Ghosting Your Venue
Engage with the venue by calling them back, responding to their emails, and answering their questions. Even if you are no longer interested or they are not a good fit, just let them know. A customer service-driven and professional venue will keep reaching out to follow up and make sure they can help, but they don't want to become bothersome!