While you may have thought selecting a Tampa Bay wedding date was the simplest part of planning, there are many factors to consider when choosing those special numbers:
Weather.
Hurricane season.
Gasparilla.
Spring break.
Local events (think St. Pete Grand Prix or festivals at Curtis Hixon or Vinoy Park)
So that you don't choose a date that costs you more money or that will lower your guest count, our wedding experts provide their insight to help you select the best date to get married.
---
1. Let your Wedding Date Choose You
"Decide if the actual date is important to you or not! Brandon and I have a special tie to the number "7," and originally secured our date of 11/7/15 with our venue. A few days later, they called us and stated that, unfortunately, they had double-booked our date. I was so upset; it felt like such a loss. I laugh about it now because, in the grand scheme of things, it did not matter, not a single bit. We ended up moving our date to 12/5/2015, and I formed a new relationship with those numbers. I thought it was so rad that the numbers 2015 were used twice in the date, and now eight years later, our original date doesn't even cross our mind." -Shannon Dewitt, owner, Dewitt for Love Photography
"If there is not a special reason for your date, consider choosing a date out of wedding season to assure you get a spot at the venue you want." -Gabro Event Services
"The style of your wedding can help you determine your date. If you always dreamt of a garden wedding, you probably want to pick a date in early spring, whereas if you are a couple who loves dark rich colors, fall or winter is probably more appropriate." -Karen Cerboni, owner, EventFull Weddings
"Consider your overall wedding vision, and let that help direct you towards ideal dates. If you've always envisioned an all-outdoor ceremony and reception under a canopy of oak trees, then avoid pollen season and acorn season, in addition to choosing from months with the best weather (No one wants a table covered with acorns or a dusting of pollen!). If you're considering a lush garden venue, try to tour it around the same time of year you intend to get married during, so you can see what is blooming or if it still fits your vision in that season. And if you're really set on a specific flower (such as peonies), make sure you choose a date when those are in season as it may impact pricing and availability." -Christi Winsor, owner, Winsor Event Studio
"First, choose the season: spring, summer, fall, or even winter here in Florida! The best date is the one that works for you and your family (and have a backup date). Reach out to key family members and friends to see if there are dates that do not work for them. Then work backward and be flexible." -Brandon Wheeler, owner, Gulf Beach Weddings
"When considering a wedding date, consider the availability of your immediate family and those closest to you. Beyond that, you will always have someone on your list who has a scheduling conflict for one date or another. You'll never please everyone, so don't even try. There will always be one or two people on your guest list who have scheduling conflicts." -Tammy Waterman, owner, Special Moments Event Planning
"As any wedding planner would advise, enjoy your engagement! You don't need to feel any rush when choosing a date and location. You are only a fiancé once, and it is important to cherish that time with your partner. When choosing a wedding date, remember to give yourself time to plan and research as well as send out Save the Dates and invitations. Wedding planners are here to help; however, if you are not getting full-service assistance, then I recommend giving yourself plenty of time to inquire with venues and vendors to see what you love best! If your dream venue doesn't have your dream date available, don't feel the need to compromise. You can always wait a little bit longer and maybe even have more wonderful vendors to choose from!" -Lauren Gertz, owner, MDP Events Planning
"Pick a date that your new partner won't forget." – Karin Bearnarth, Director of Sales and Events, Mision Lago Ranch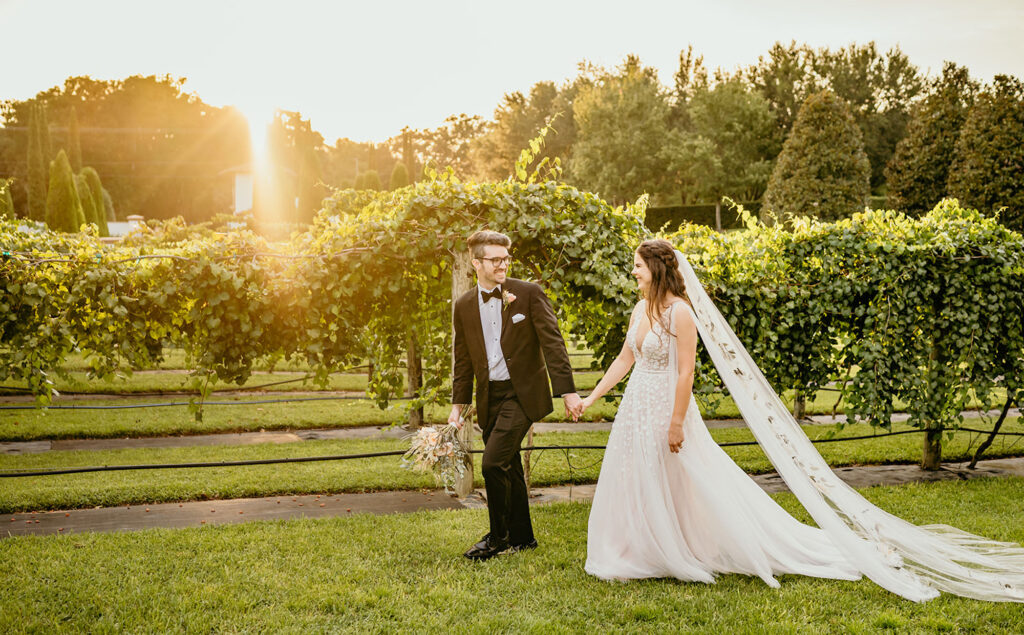 Peach and Sage Boho Inspired Wedding | Mision Lago Estate | Maria Leja Photo | EventFull Weddings
---
2. Consider Your Vendors' Availability
"Decide what your top three vendor priorities are that have nothing to do with your date and start there. If your top priority is working with your preferred photographer, make sure you stay flexible until you confirm if they are open on your desired date. If having your dream planner on board is your goal, don't make a decision on a date/venue until you speak with them." -Shannon Dewitt, owner, Dewitt for Love Photography
"Prior to picking a wedding date, consider what your non-negotiables are, specifically relating to floral design. Have you always envisioned a wedding with a dark and moody color palette? Then a summer date might not necessarily be the most appropriate time to select. While the floral industry has come a long way with technology and expanded seasonal availability, the blooms you love could possibly be available for a price, but the cost might be higher, or the quality might not be at its best. Another consideration is how holidays might affect your wedding day. Red is in high demand from December through February, so if selecting that as your color palette, be mindful that flowers in that palette will be in high demand, leading to higher costs or lower quality. Always envisioned a blush pink wedding? Try to avoid Mother's Day and Valentine's Day. The time of year when you choose to host your wedding can affect many factors beyond football season and 3-day holiday weekends." -Zoe Gallina, Chief Creative Officer, Botanica International Design & Decor Studio
"Some wedding dates are dictated by the availability of vendors or venues that you may have already predetermined. If you have been dreaming of a particular venue for long before you were engaged, contact them immediately upon getting engaged and find out their availability. If they are a popular venue, they book quickly, and finding out when it is available will provide you with some dates to consider if the venue is one that you have your heart set on. The same goes for individual vendors. If you already know there is no other florist for you, call them and discuss particular dates that you are considering to assure that their calendar is free for those times." -Laura Kane, Sarasota Manager, Truly Forever Bridal
"If you love a specific flower and you must have it at your wedding, keep in mind that some flowers have a season. Growers have come a long way to make sure certain varieties are available year-round, but that comes at a cost. If an item is not in season, and we are able to locate it for the couple, the price will be high, and the quality not so good. Keep an open mind about substitutions: for example, garden roses are available year-round and make an excellent substitution for a peony that has a limited growing season. Be open to seasonal blooms. Think fall colors for a wedding in November. For a spring wedding, consider blooming branches, tulips, and other spring flowers. Always remember, white is classic and readily available in the market year-round." -John Elice, Bruce Wayne Florals
"If you have a specific photographer you've been following on social media or a dream venue that you know will be perfect, be sure to be flexible with your date. Venues and vendors can often book months to years in advance, so, especially if you wait too long, they may be booked on your date. It's then that you'll have to decide if you're willing to give up the date or the vendor. If you go into booking venues/vendors with a couple of dates in mind versus only one, your success at booking your dream vendors will be more likely. Book the vendor/venue that is the most important to you and work around the date they are available. If the date is the most important factor for you, be prepared to make some sacrifices depending on how close the date is." -Melanie Eubanks, owner, Lemon Drops Weddings and Events
---
3. Popular Dates Book Quickly
"If you have a venue or vendor in mind that is a must-have, then book with them months and possibly years in advance! Dates such as Valentine's Day, April Fool's Day, weekends in October, and dates that numerically add up are among the most popular! This will help you can plan accordingly." -Limelight Photography
---
4. Be Flexible
"Your date is not everything; your actual marriage to your favorite person and partner for life is! So many times, we have couples reach out to us after their venue is already booked, being so sure they only want to work with us, and it breaks our heart to tell them that based on that date only, we are not able to work with them. This could be due to being fully booked that month, that year, or that day. If you're flexible with your day, month, or time of year, it opens up a world of possibilities!" -Shannon Dewitt, owner, Dewitt for Love Photography
"There are many things to take into consideration when choosing a date for your wedding, such as venue and vendor availability, travel plans and schedules for family, wedding theme, and weather. Because of all these factors, it might feel a bit overwhelming to choose the perfect date. Just relax, be flexible, and have several dates in mind. Don't limit yourself to just one date; have several to choose from in case your first choice doesn't pan out."  -Limelight Photography
"You have your pick when choosing a wedding date in the Tampa Bay area. We have such beautiful weather that you are not only limited to the summer months. I would choose your venue about a year to a year and a half in advance to give you a better chance of having your dream wedding vendors available. Stay away from July and August dates as it tends to be very hot and unpredictable weather unless you have an indoor venue. Don't rule out Friday, Sunday, or weekday options!" -Kelcey Yaeger, owner, Adore Bridal Hair and Makeup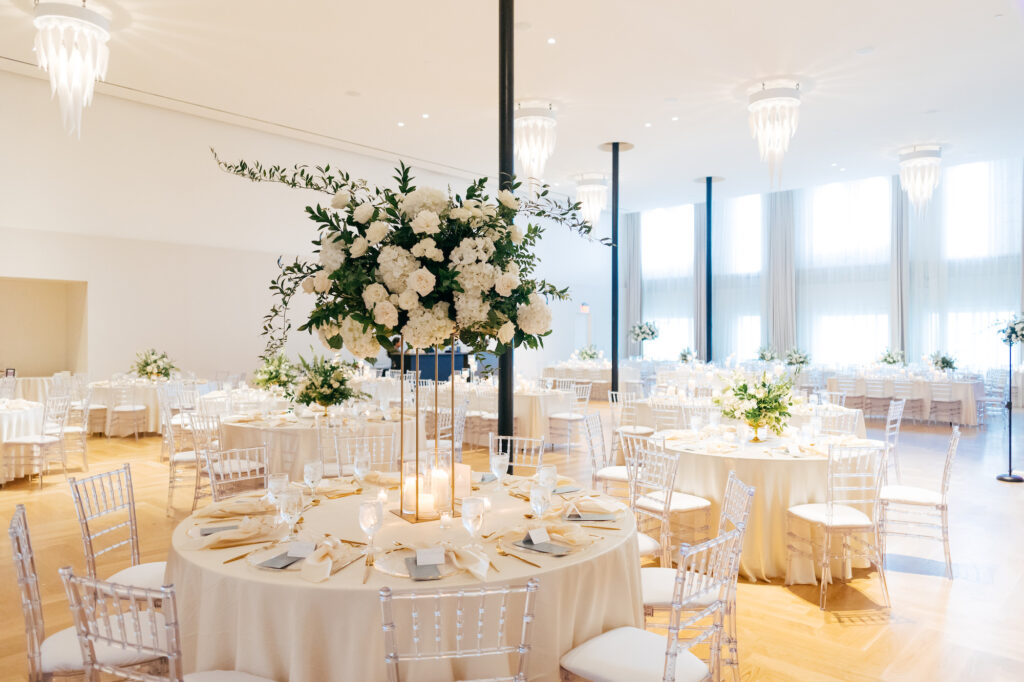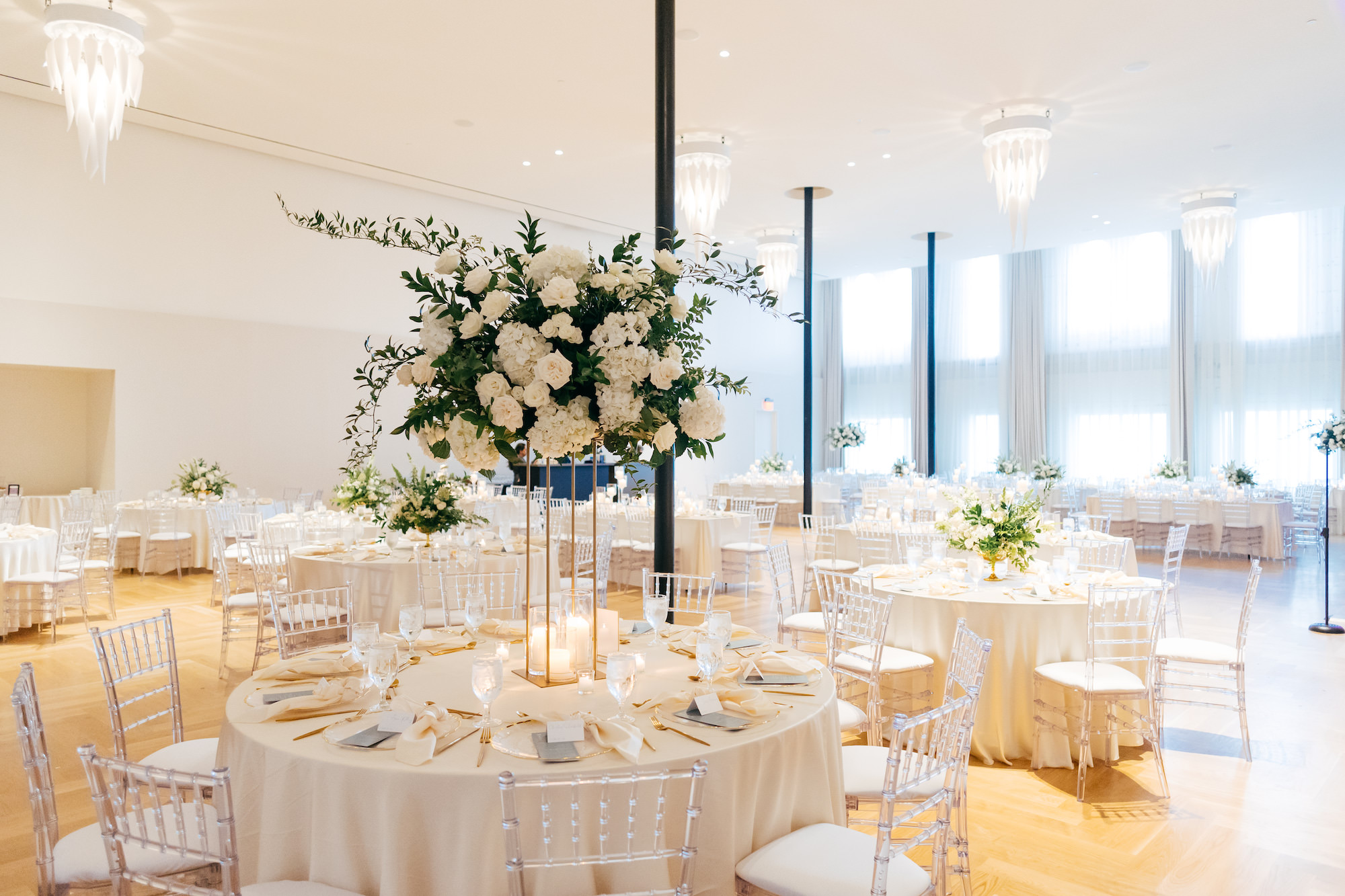 Romantic White and Green Ybor City Wedding | Hotel Haya | Tiffani Jones Photography | Parties A La Carte | Bruce Wayne Florals
---
5. It Gets Hot in Florida…Really Hot (And Rainy)
"Make no mistake, summer weddings in Florida are hot, and the weather in terms of thunderstorms can be really unpredictable. You may want to consider an indoor wedding venue with air conditioning and large windows overlooking the beach or water. Sneaking outside for some wedding portraits isn't out of the question; just keep an eye on the local radar! If your wedding vision is more 'toes in the sand.' You might want to consider a fall or spring wedding date. The waters are typically still warm enough for out-of-town friends to enjoy the beach in their free time. Just try to steer clear of spring break!" -Tammy Waterman, owner, Special Moments Event Planning
"The best time of the year to get married in Florida is November through February. These months are typically better for weather and fall around the holidays, where friends and family are already in town visiting. The months we would suggest avoiding are June through August. Weather is much hotter and more unpredictable falling into hurricane season." -Jessica Ralph, owner, Parties A La Carte
"As much as we love our beautiful and sunny Florida, it's important to remember that during the summer months, it can get very hot, humid, and rainy. Hurricane season in Florida is also most prominent in the summer to early fall months. This is certainly not to discourage you from having a summer wedding; just make sure to consider the weather when choosing your wedding date. If you are having an outdoor wedding in the summer months, you may want to have a backup indoor ceremony site in case of rain." -Limelight Photography
"Since so many couples dream about an outdoor ceremony, thinking about the weather before choosing a date is paramount. I like to use a handy little tool called a Farmer's Almanac. This book gives extended weather predictions for the entire U.S. and Canada, and it's always served me well! If you're like me and couldn't see yourself getting married in the Florida heat, then I highly suggest sticking with a date in late January or early February. I always get lucky this time of year with highs in the mid-'60s-low '70s and lots of clear skies!" -John Campbell, owner and Principal Planner, John Campbell Weddings
"Do your research on what you want! Many times what you envision involves the time of the year (the cool weather of winter, the sun setting later in the summer, etc.), which affects the date you ultimately choose! Often, couples will come to us without knowing what they envision for their wedding day, which makes it harder for us to know if we're the best fit for you if you haven't already done a bit of research and soul-searching to see what feels right to you." -Shannon Dewitt, owner, Dewitt for Love Photography
"Hurricane season has been harder the last few years than in the past, and we've learned a lot about rescheduling or postponing weddings due to hurricane season. If you are booking during hurricane season (June 1-November 30), make sure that you get wedding insurance to get paid back for anything you lose with any vendors. If you are scheduling a wedding during hurricane season, make sure you talk about rescheduling/postponing clauses with every single vendor that you book. It may affect travel which can affect your guests traveling in, and a lot of times it makes a last-minute decline in your guest count." -Katy Turchich, owner, Coastal Coordinating
"When people think of the 'busy season' for weddings, summer pops into their mind. While this may be the truth elsewhere, Floridians know that this isn't the case in our sunny state. Our wedding season is pretty much the opposite of up north because of the aggressive heat and humidity that can occur in the summer. Be wary of wedding seasons in the area you are planning to get married. Choosing a date in the off-season can come with a cheaper price tag, but there's usually a reason why this time of year is considered the off-season. Weight out the pros and cons and see if you are willing to take the risk or sacrifice to save money upfront." -Melanie Eubanks, owner, Lemon Drops Weddings and Events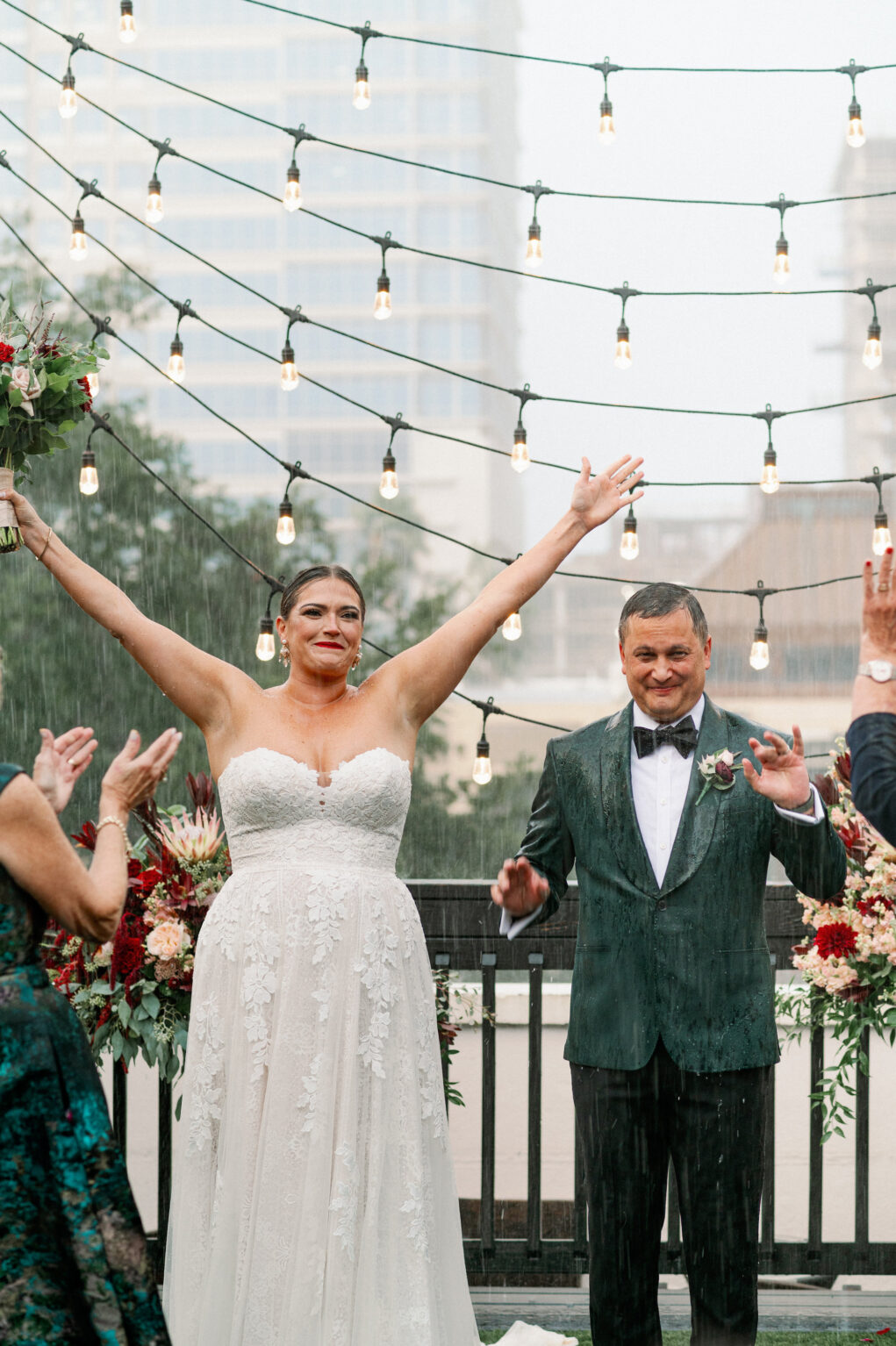 Moody Red and Burgundy Downtown St. Pete Wedding | Station House | Dewitt for Love Photography
---
6. Consider Sunset
"Know the time of year and sunset. If you want your couple's photos done after the ceremony during sunset, know if daylight savings time is a factor." -Kristen Jeffers, owner, Kristen Marie Photography
"If you are getting married in a church that requires you to have your ceremony at a certain time too late in the day, but you want to avoid having a "first look," consider getting married in months where the sun is still out past 5:30 p.m., or you may find yourself forced into a first look (which we love and very much recommend you at least consider), due to it being completely dark by the time your ceremony ends." -Shannon Dewitt, owner. Dewitt for Love Photography
---
7. Choose Holiday Wedding Dates Wisely
"Many couples look at dates that have a special meaning for them. The dates of your first date or engagement are often popular. Be cautious when looking at weddings around the holidays. While a Valentine's Day wedding can sound romantic, keep in mind that the cost of flowers can come at a premium cost, and floral designers who also have retail operations can be swamped. The same rule can apply to Mother's Day. Weddings around Christmas and Thanksgiving can be amazing, with lots of people coming home to spend time with family and friends, but that can also mean that many people have other plans that may involve them being out of town. If you don't celebrate Christmas or want a Christmas-themed wedding, consider that many venues install holiday decorations right after Thanksgiving. Many have strict policies against taking them down or can charge a steep fee to remove them and reinstall them." -Tammy Waterman, owner, Special Moments Event Planning
"Holiday wedding dates can at first seem like a great idea! However, take into consideration that, especially on major holidays, your wedding guests may have other holiday obligations. If you are planning a Florida destination wedding, keep in mind that holidays tend to be the busiest with travel and lodging." -Limelight Photography
"Avoid holiday weekends if you want options and savings. It sounds great at first: 'Let's get married on the 4th of July or Labor Day weekend,' however, these are often the highest rates on hotels, flights, rental cars, etc., and reception availability. Keep in mind, unless you are booking more than a year out, I would strongly consider the weekend before or after a holiday (same weather, less hassle)." -Brandon Wheeler, owner, Gulf Beach Weddings
"Don't compete with holidays, especially major holidays. It puts your guests in a tough spot unless you have talked with them first. and they want to celebrate with you during this time. Though, New Year's Eve weddings are always a hit!" -Christopher Grainger, owner, Graingertainment
"Try to avoid spring break. Hotels are super booked or very expensive. Ask your planner or a travel agent what flights cost historically that time of year. Working with professionals who know the rates of hotels and better travel time for your guests will help save you money and a lot of stress. We work with a few hotel booking agents who really know hotel rates and can get you the best pricing. Talking to them ahead of time before booking your venue can really help ensure that they will have hotel rooms for your guests who are coming into town." -Katy Turchich, owner, Coastal Coordinating
"When choosing a date for your wedding, be mindful of details like the time of year. It's great to utilize the holidays. if family are going to be in town already, but keep in mind that this is a busy season, and your guests' plans may not line up perfectly. This could result in your acceptance rate being lower since you'll be competing with trips for Thanksgiving, Christmas, and New Year. If you're planning a destination wedding or want to make sure as many of your guests can make it to your big day, avoid major holidays. Your friends and family love you but that doesn't mean everyone is going to be willing to sacrifice these special events." -Melanie Eubanks, owner, Lemon Drops Weddings and Events
"The week before, of, and after holidays such as Valentine's Day, Mother's Day, Thanksgiving, Christmas, and New Year, present florists with some hurdles. The biggest thing to consider is that the prices of flowers are more, sometimes as much as 50% more. Demand for flowers is high, and this demand directly affects the quality of the product." -John Elice, Bruce Wayne Florals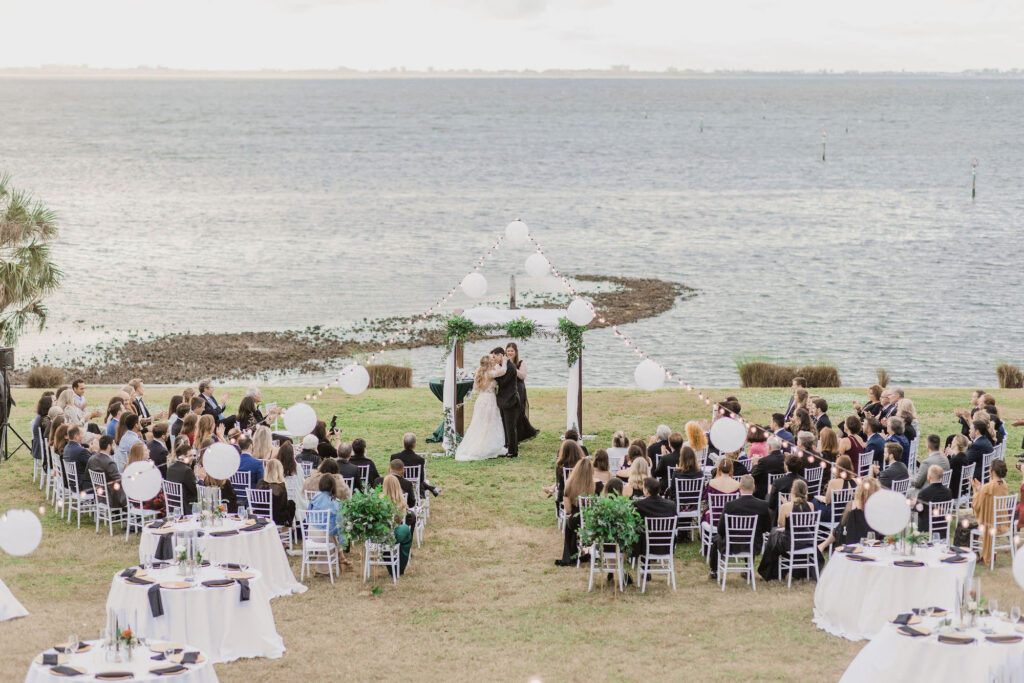 Elegant Waterfront Fall Sarasota Wedding | Tara Tomlinson Photography | Coastal Coordinating | Monarch Events & Design
---
8. Check the Local Event Calendar
"Ask the wedding venue you are considering about any annual local events or a large convention over the dates you are considering. They can often affect the availability and price of guests' rooms and local traffic. The local Chamber of Commerce or Convention and Visitors Bureau websites will usually have calendars." –Tammy Waterman, owner, Special Moments Event Planning
"Check the local events calendar to make sure there are no major events happening in the area that will cause hotel prices to soar, traffic to interfere with your day-of timeline, or guest parking options. Can you imagine trying to have a wedding in downtown Tampa during Gasparilla?" -Karen Cerboni, owner, EventFull Weddings
"Most cities, especially here in Tampa Bay, have several yearly events that attract hundreds of thousands of people. Hotels are quickly booked for these weeks, and traffic is usually heavily congested. Therefore, if you are planning a destination wedding and have guests flying in, make sure to check the local event calendar and try to avoid these heavily congested times." -Limelight Photography
"When choosing a date, consider special events that might be happening the week of your wedding, such as Gasparilla Festivities, St. Patrick's Parade, Spring Break (if you have a beach wedding), any major sporting events, etc. When it comes to logistics during such events, it might be stressful and difficult for your vendor team and your guests to get to your venue of choice on time." -Anna Shvaykova, Lead Wedding Planner, Breezin' Weddings
---
9. Don't Compete with Sporting Events
"Tampa Bay is an NFL city, home to the Tampa Bay Buccaneers. Because of this, and other major sporting attractions, you will want to take this into consideration when choosing a date.  Avoid competing with major sporting events since some of your wedding guests may skip out and go to the game or leave early!" -Limelight Photography
"We did a wedding on Super Bowl Sunday, and there were 40 guests. The couple was expecting 90 guests to attend. After dinner, we were down to 20 guests, and it was 8:30 p.m." -Christopher Grainger, owner, Graingertainment
---
10. Off-Peak Dates Provide More Options (And Sometimes Better Pricing):
"Let the Saturdays goooo. Everyone wants a Saturday date, but if everyone wants the same day of the week, and there are a certain number of Saturdays available, then your competition for your preferred vendors goes much higher. Consider a Friday or a Sunday wedding, or heck, even a Wednesday wedding. You'll have a much greater pick of your favorite vendors!" -Shannon Dewitt, owner, Dewitt for Love Photography
"Being flexible doesn't just apply to a date, but a day of the week and a time of the year. I've seen more and more Thursday and Friday weddings. It may be tougher to get the entire family together on a weekday, but if you'd planning a smaller gathering or if this is a destination wedding, then consider having the date on a non-weekend day. Dates may be more available, and some vendors and venues offer weekday discounts." -Joy Hmielewski, Lead Photographer, Joyelan Photography
"We are seeing more and more couples opt for non-Saturdays, especially when having a more intimate wedding. This gives you a lot of flexibility with vendors who are typically booked on Saturdays. Budge-wise venues may have a smaller food and beverage minimum for non-Saturdays or photographers like who have intimate collections may offer a smaller number of hours if needed." -Carrie Wildes, owner, Carrie Wildes Photography
"For those couples who are flexible on dates, consider an off-season month or perhaps a Friday or Sunday celebration. Most wedding venues will offer reduced revenue minimums during these times; thus allowing you to possibly save on overall reception costs!" -Mary Barnett, Event Sales Manager, The Birchwood
"You may consider having a Friday or Sunday wedding if Saturday dates are booked too far for your liking. At least then you aren't waiting longer than desired, and you might even save a little money." -Karen Cerboni, owner, EventFull Weddings
"Being open to a Friday or Sunday wedding, a daytime brunch wedding, and avoiding peak tourist season may save you a lot of money. With a destination wedding, nearly everyone is on vacation, and a weekday wedding can come with huge savings!" -Tammy Waterman, owner, Special Moments Event Planning