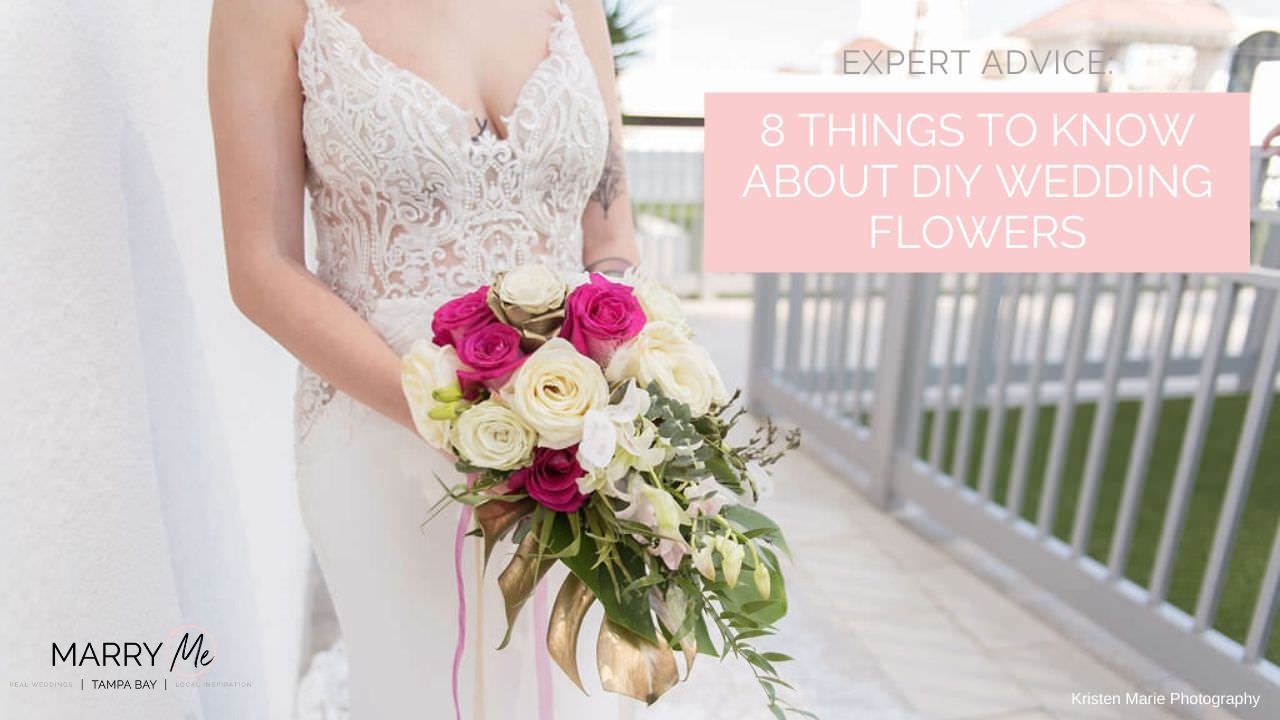 1. How Do I Know if I should  DIY my Wedding Florals?
Of course, it's best if every one hires a wedding florist, but if you are a perfectionist, or if you have literally no idea or get frustrated easily, DIYing your flowers is not for you.
If you are laid back, doing super simple designs, and have a great team of friends to help, you can make this work for you. Some things look super easy (i.e., baby's breath centerpieces)…but these are not for the faint of heart; they take a very long time and a lot of product to make it look perfect. On the other hand, orchids, under glass (not submerged) are definitely simple and cost-effective.
If you have done floral arranging with silk flowers, and it was easy, please, don't think fresh flowers will be the same. You cannot bend fresh flowers to your will; they do what they want, not necessarily what you want!
2. How Much Can I Save by DIYing my Flowers?
If you do a side by side comparison, of exactly the same items, you can expect to save approximately 50% for the design portion.
Always ask the florist before having them write up a quote (this takes a long time to create) if these designs are simple enough for a DIY bride; they should be honest with you.
3. Make sure you are going to have reliable help
Everyone thinks they want to help, your best friend, your mother-in-law to be, etc. are all very excited at the prospect of helping, but, things happen, people get sick, they fall out of favor, their flights get rescheduled, and so on. It's a big job, and there is more to do than just arranging. When you get your flowers they will need to be processed (cut, hydrated, and kept at a cool temp.), then after four hours, you can start cleaning the flowers and arranging.
When arranging flowers you have to take many things into consideration. How large is the bouquet you want to create? What is the weight you are comfortable holding for any length of time? How wide or long do you want the bouquet? Each of these decisions requires different types of mechanics and knowing what you are comfortable with will help you to decide in which direction to go.
For altars or centerpieces, you will need to decide if you are going with just water in vases or with floral foam and if the design is going to be more greenery than flowers or vice versa. You must remember to always cover your "mechanics" with either choice.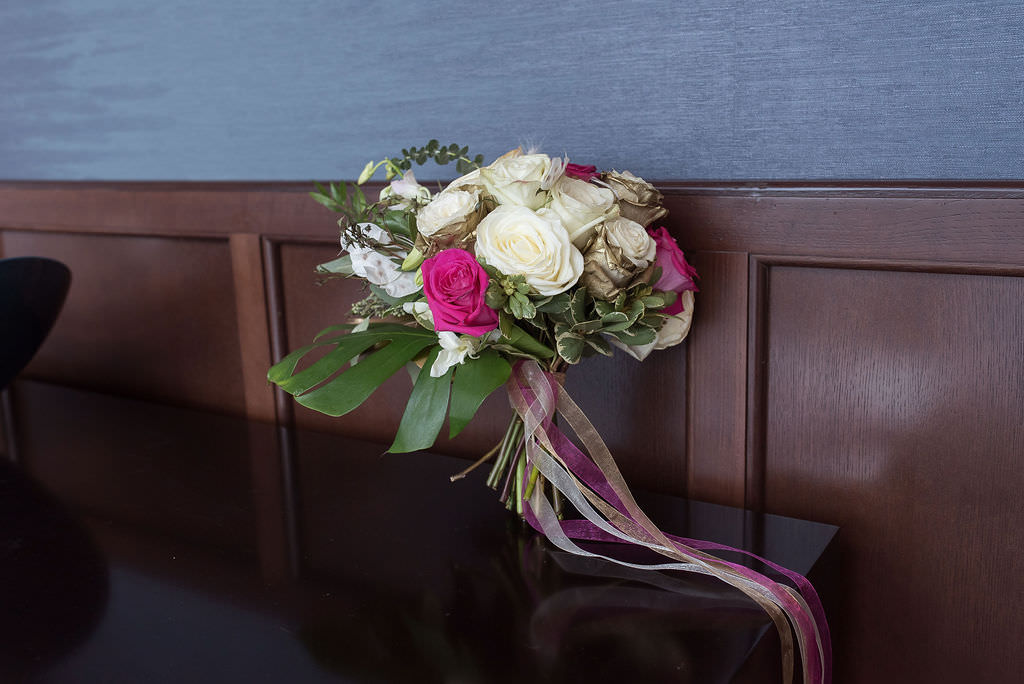 Kristin Marie Photography | Florist: Brides n Blooms Wholesale and Designs
4. You Need More than Just Flowers and Vases
Normally you will need florist's tape, ribbon, pearl headed pins, double stick tape (bouquet work), 5-gallon buckets, one bucket for each kind of flower you are choosing, and up to 200 stems per bucket (depending upon the flower).
Depending on your design choices, you will need a waterproof container. If you use a metal container, it may leak or leech metal into your flowers. Make sure you have a barrier of some type inside the container if it's metal.
Arranging flowers is a freeing, organic, and one with nature kind of experience. For DIY weddings, it can be more stressful than zen, but, if you set aside enough time, and have all the right tools in front of you, you can definitely make it work.
If you buy your flowers from Brides N Blooms Wholesale and Designs, we will give you a full list of hard goods you will need to make your designs. We will also tell you the best places to buy those items, even if it's not from us!
5. Keeping your designs alive and well before your event
It's essential to keep all your designs either in water or with a water source. Keeping flowers cool is essential; you can keep them in a refrigerator (no fruit or vegetables in the fridge at the same time, they leak ethynol gas which kills flowers). Don't lean any flowers or greenery against the sides or back of the fridge, they can "freeze" and turn brown. The best option is to use a bathtub filled 1/3 with ice and place your buckets or designs into the ice to keep them cool.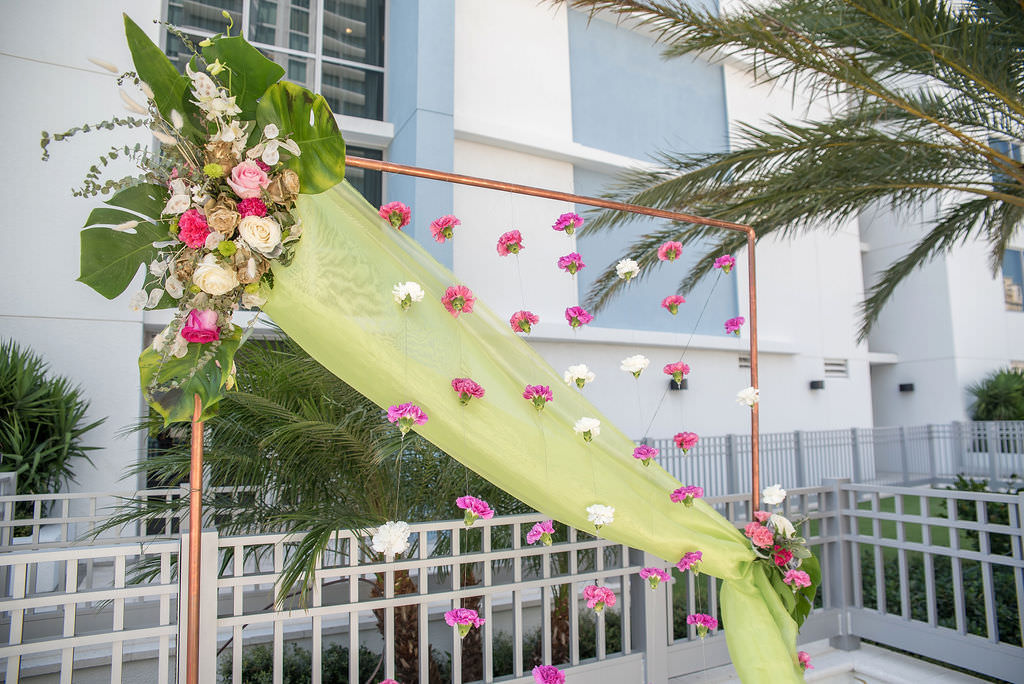 Kristin Marie Photography | Florist: Brides n Blooms Wholesale and Designs
6. Arch Designs
There are a lot of mechanics that go into design work, the most work, however, is in arch pieces. In order for fresh flowers to stay alive, they need a water source. If you don't give them water, they will wilt or die. Make sure you have all the proper mechanics when doing arch work.
7. Transport
Now that everything is done, you have to get everything to the ceremony and the reception. Again, make sure you have help! You want to get your hair, makeup, and nails done while spending the morning with your bridal party, and someone has to be responsible for getting the flowers where they need to be and set up. (It shouldn't be you!)
Get boxes from the local liquor store; they usually have inserts that cylinder vases fit really well in. Get carrier totes and bubble wrap and place the bouquets and designs, being careful to wrap everything, but keeping the flowers open to the air.
8. Setup 
If you are doing mostly water, say floating flowers and candles, it takes a lot of water and the vases can become very heavy. There are a lot of tricks to getting flowers not to float up above the water, beyond what you would think (this can be frustrating). Set up can take up to three hours, depending upon all that is being done.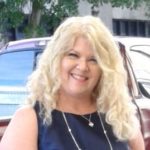 Dorelle started Brides N Blooms Wholesale and Designs for DIY customers in 2000 knowing that some brides just didn't have the extra money for a designer. Starting with farms willing to pack in smaller amounts gave couples the opportunity to save money and still have beautiful fresh flowers.
As the business grew, more and more farms were looking to work with Brides N Blooms and they expanded to shipping all across the United States and then Canada. Brides N Blooms started offering classes in the homes of their customers giving the bridal party the opportunity to get some hints and tips before floral arranging.
In 2013, Dorelle added a design studio that was affordable due to the fact that the flowers were still being offered at wholesale pricing. Brides N Blooms now offers a full array of rentals, complete floral design installations, as well as still catering to their DIY customers.
EMAIL BRIDES N BLOOMS WHOLESALE DESIGNS
To save on costs, BNB customers are able to buy wholesale flowers without having to buy "too" much. They offer the opportunity to buy a single box of any kind of flower, in multiple colors and consult customers to make sure that they don't overbuy or underbuy.
BNB's motto is, "We will not enter your pocketbook unless we've been invited." We want to make sure you have enough of everything so that you are not stressing out over quantities and needing last minute things.