Just like Tampa Bay has a multitude of wedding venues, there are also endless places to take your engagement photos. Typically, your portraits also double as a Save-the-Date card, but they also give you a chance to get to know your photographer and overcome any nervousness in front of the camera before your actual wedding day, as well as showcase your personality.
To discover some of the best locations for your engagement shoot, we asked our preferred wedding photographers to share their favorite spots.
View even more engagement shoot locations in Best Places for Engagement Photos in Tampa Bay Part 2.
---
Fort Desoto Park
"Best to shoot at on a weekday, this beach offers more than the flat water and sand of other beach locations. If you're looking for more visual interest in your images, Fort DeSoto is a great option with foliage, rocks, a pier, and a historic fort. Photographer Tip: If your hair being perfectly in place is your goal, remember that any time you shoot by the water, the wind can be pretty intense, so keep this in mind when picking locations and choose your hairstyle!" -Shannon Dewitt, Dewitt for Love Photography
"I love the variety that Fort Desoto Park has to offer. There are some beachy, green areas, as well as a street lined with palm trees, but the park also offers stunning beaches with white sand and is angled perfectly for sunsets by the pier. Some couples like to incorporate the fort, which is fun; however, it is just one area of many that can be utilized for an engagement session." -Amber McWhorter, Amber McWhorter Photography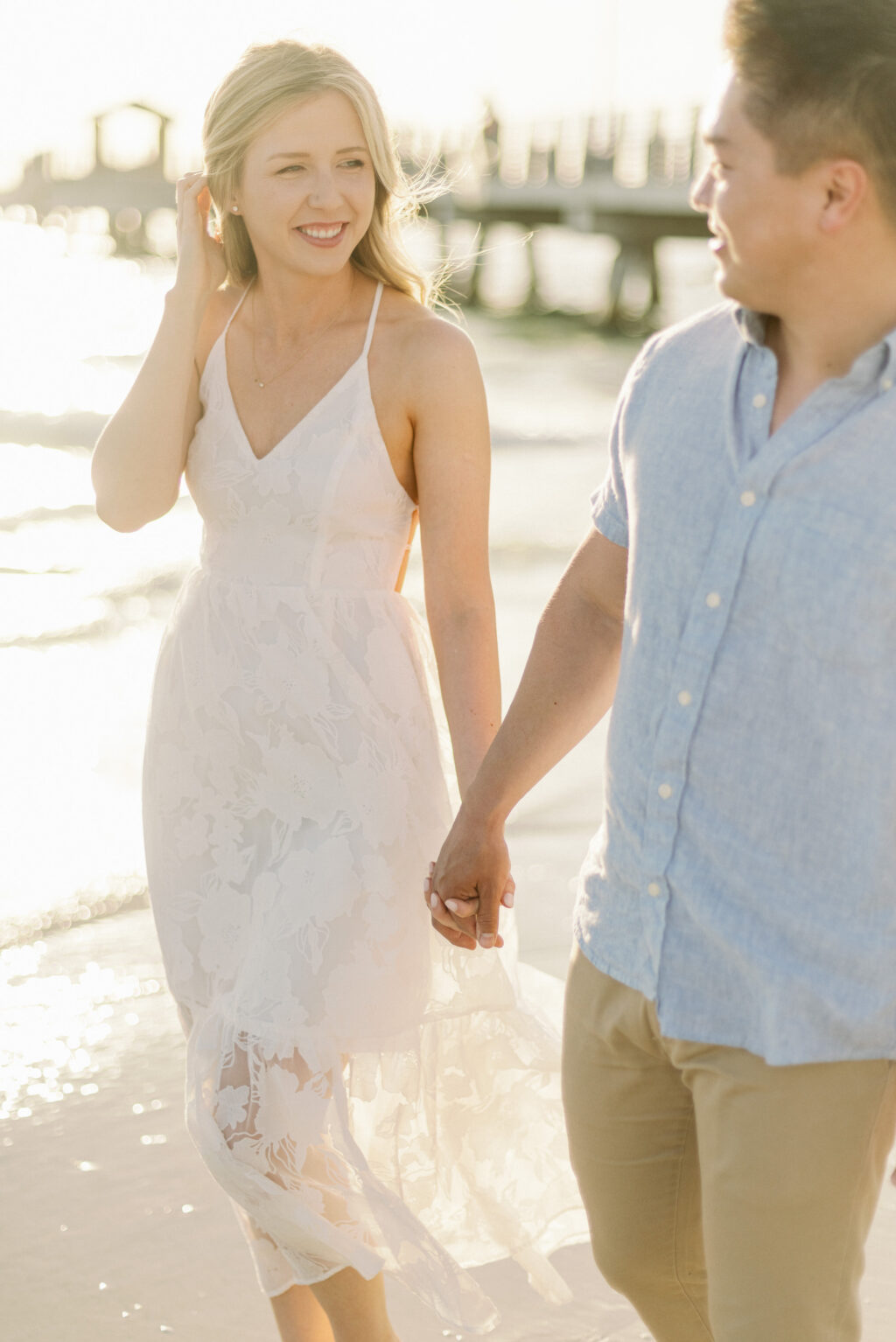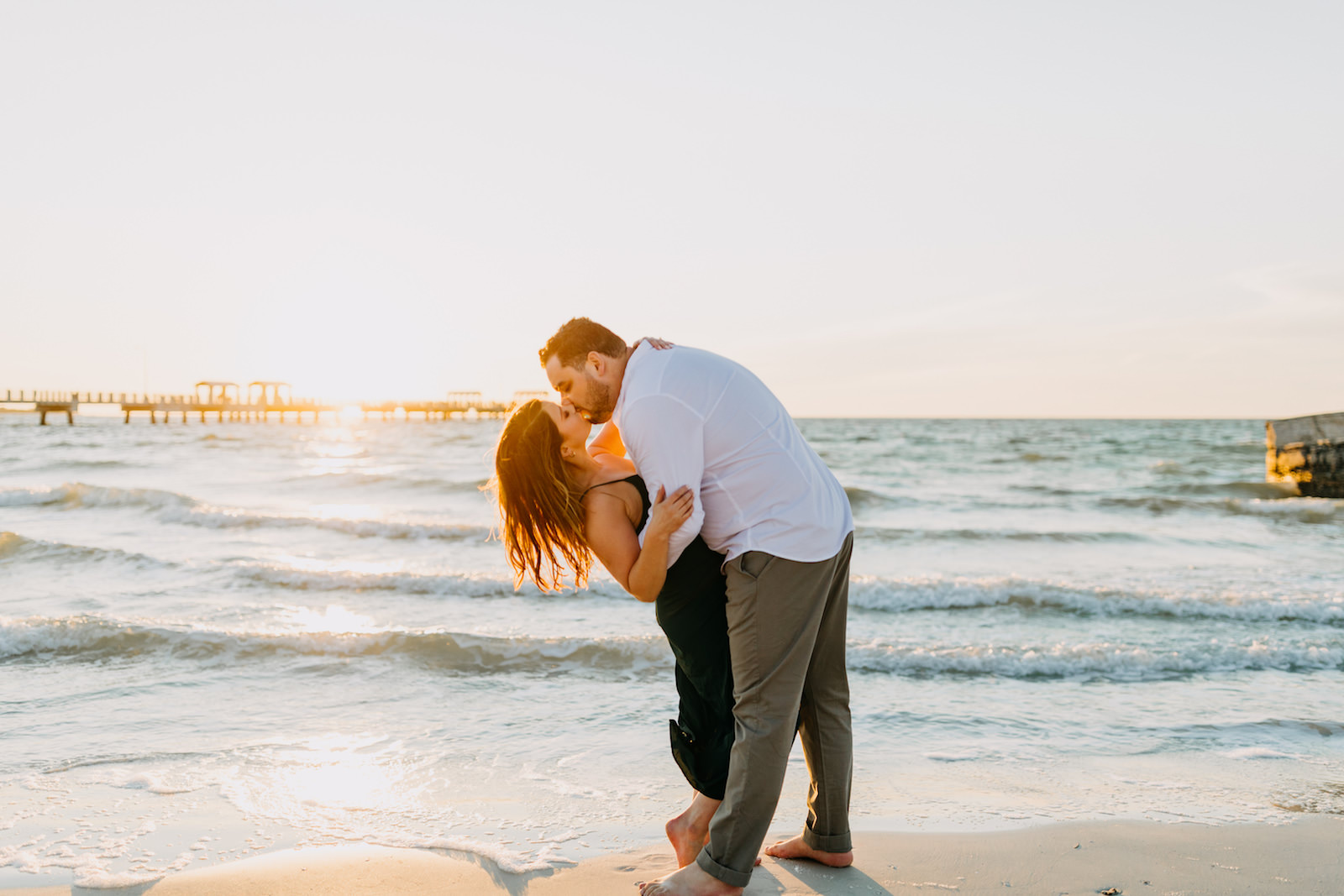 ---
University of Tampa
The University of Tampa is the perfect engagement shoot location for lovers of architecture and history! This location offers a variety of unique backdrops, such as the Henry B. Plant Museum and the historic Tampa Bay Hotel. With the stunning Moorish architecture, the UT offers a beautiful setting to hold your engagement session. We met Luegenia and Arnolson for their engagement shoot at the university, and they fell in love with the beautiful architecture around the property. They really wanted their engagement photos to capitalize on the historical and artistic craftsmanship of the buildings. -Limelight Photography
"Perfect for that sophisticated vibe, the Henry B, Plant museum, and surrounding areas make a stunning backdrop for photos, featuring beautiful steps to add levels to your images, a tall covered porch (awesome for an alternative option due to rain), stunning trees, and manicured greenery. Walk further into the park, and you'll reach the river, with a view of the city and Curtis Hixon Park. (Check with your photographer if you need a permit to shoot here). "-Shannon Dewitt, Dewitt for Love Photography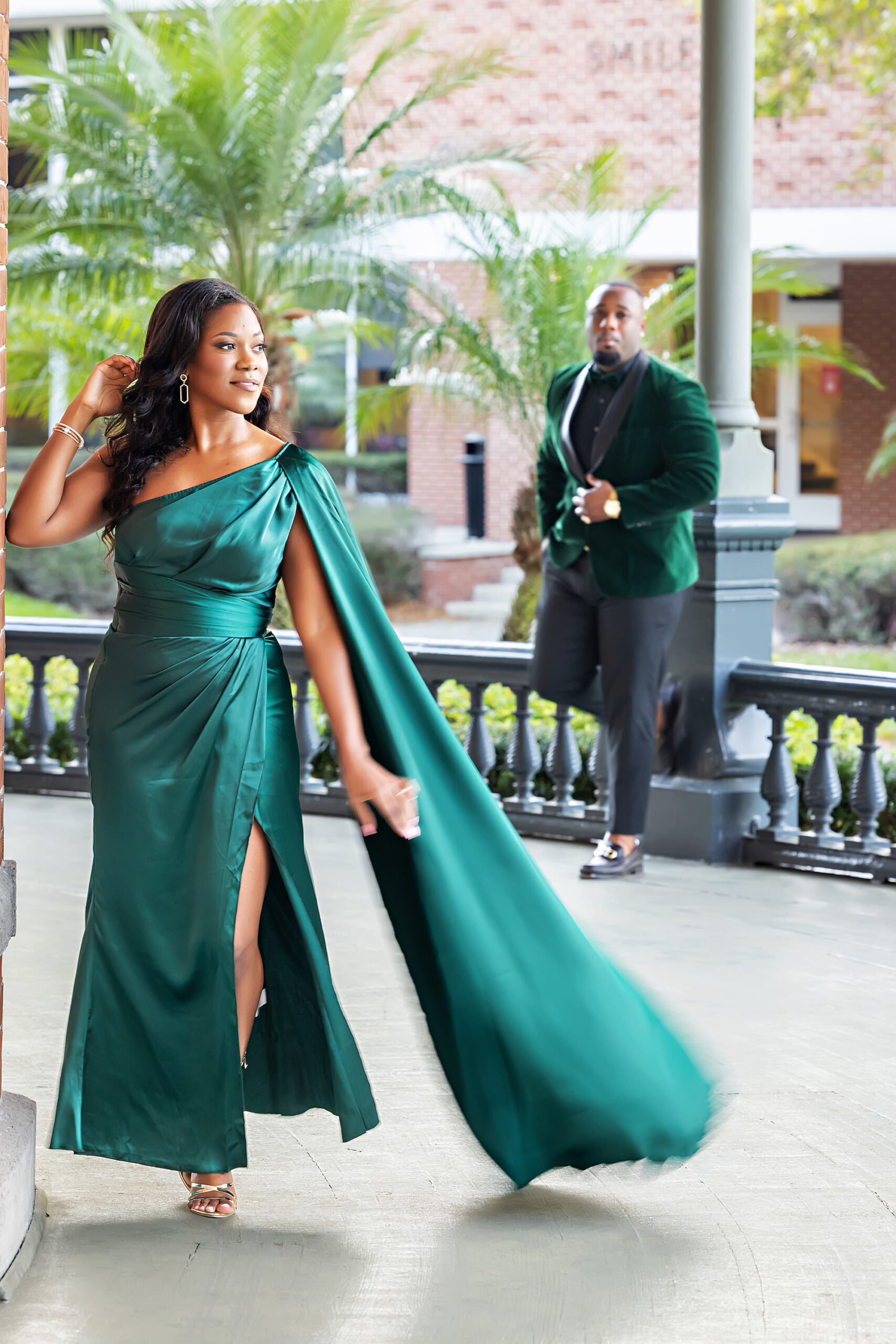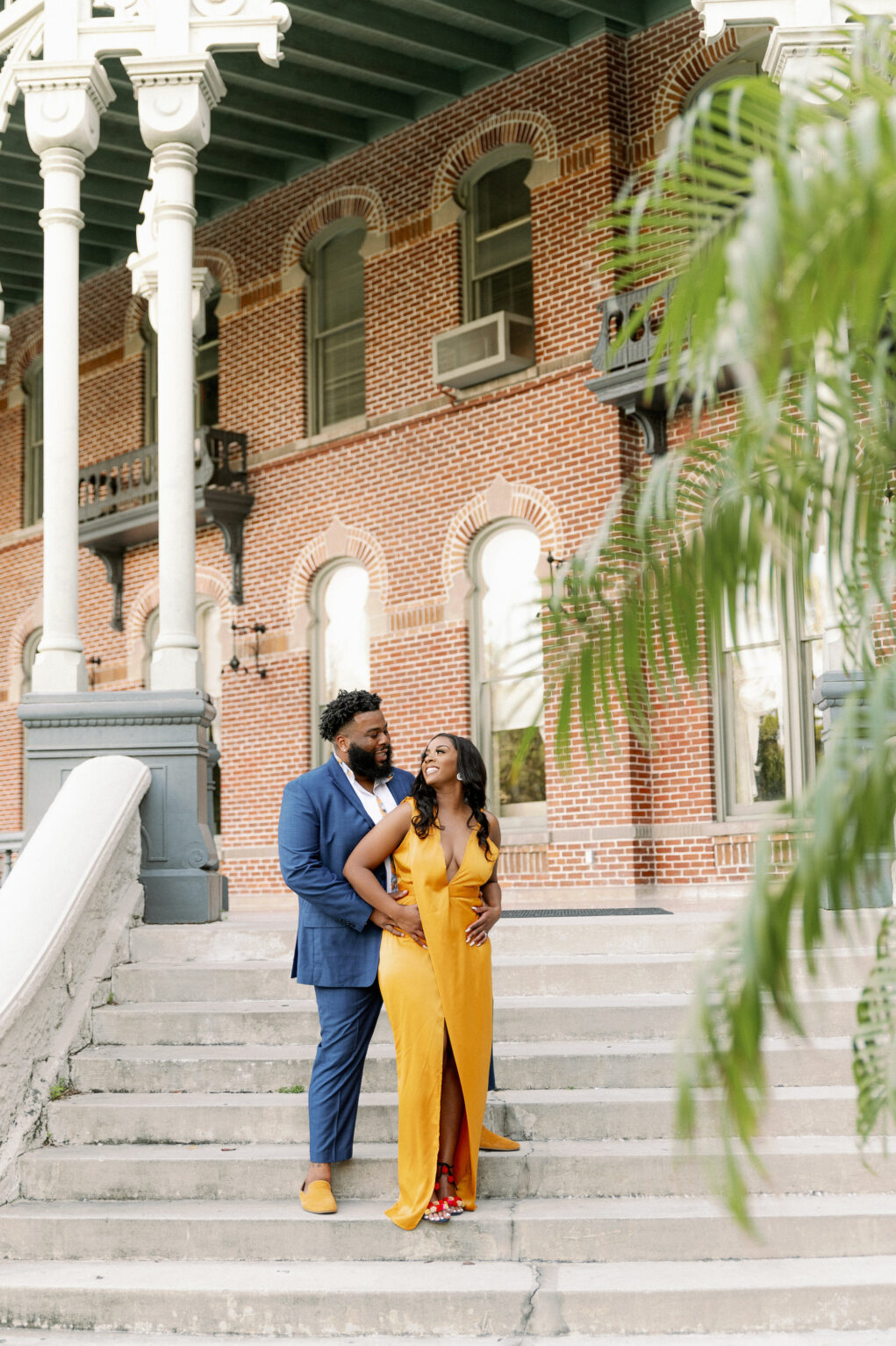 Dewitt for Love Photography
---
Bar/Rooftop
"Using a bar and rooftop as a location for engagement photos can be an excellent choice for several reasons. Firstly, rooftops often offer panoramic views of the city skyline or other scenic surroundings, providing a unique and visually stunning backdrop for photos. The combination of a rooftop and a bar can also create a fun and playful atmosphere, allowing for natural and candid shots that capture the couple's personalities and relationship. Additionally, bars often have stylish decor and unique lighting, which can add interest and variety to the photos. Using a bar and rooftop can also offer a range of settings, from cozy and intimate corners to open-air spaces, allowing for a variety of shots to be captured. These locations can offer a mix of style, atmosphere, and scenery, resulting in beautiful and memorable engagement photos." -Arron McNeile, McNeile Photography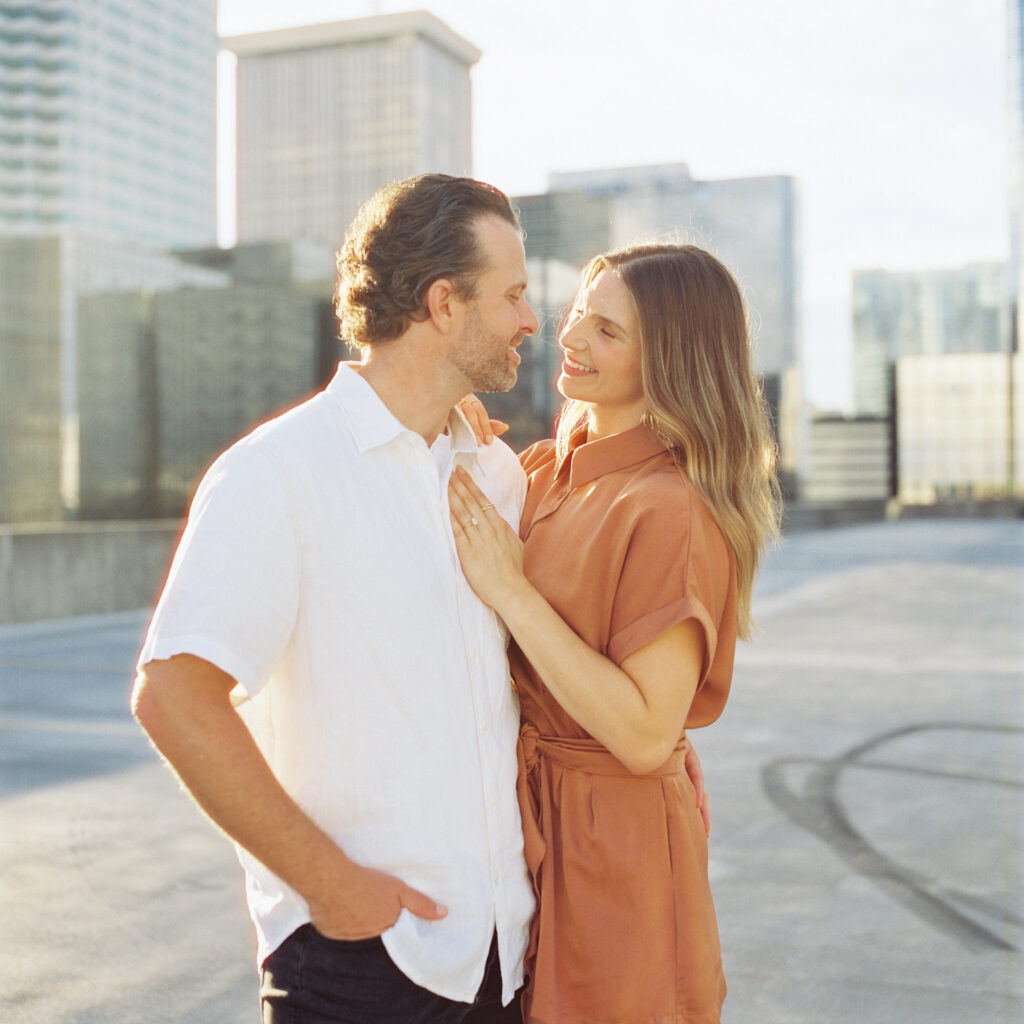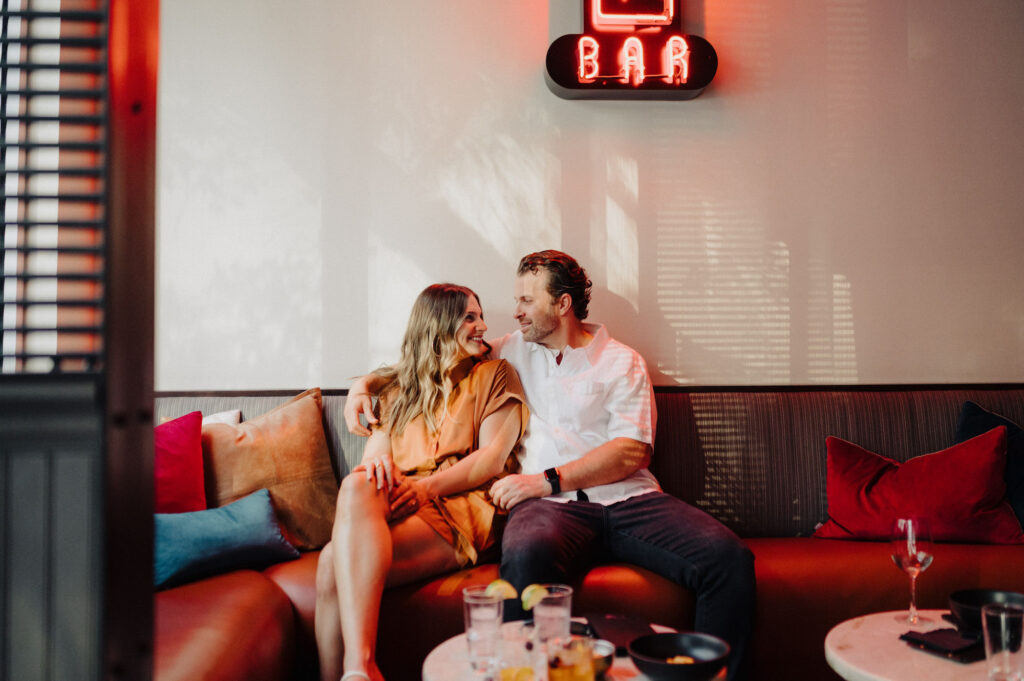 ---
Curtis Hixon Park
"I love this iconic location in downtown Tampa because you can get a great view of the city from a hidden little dock there, as well as a view of it with the fountains and park in the background. There are so many great little spots, and no matter the time of day; there's always so many options." -Carrie Wildes, Carrie Wildes Photography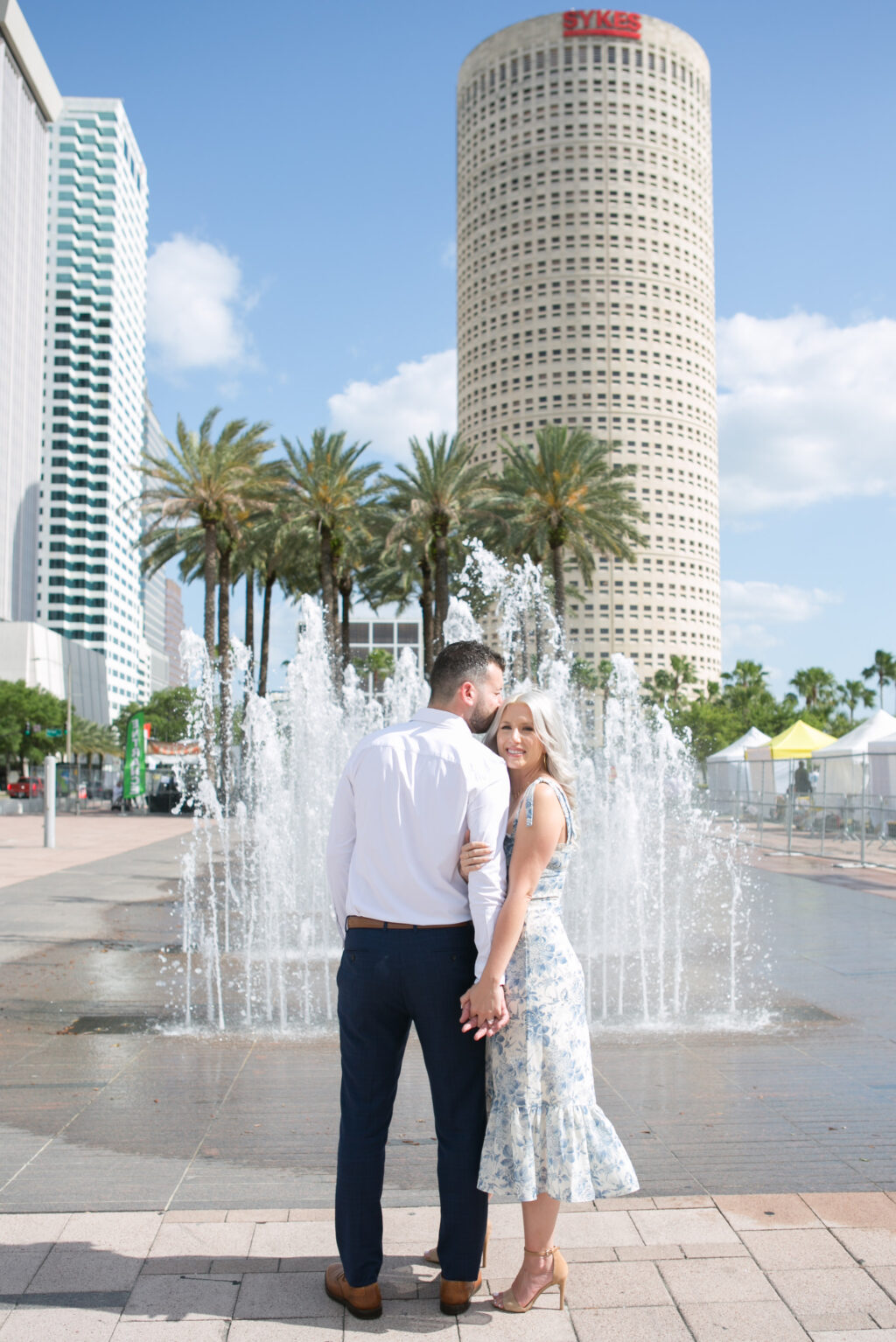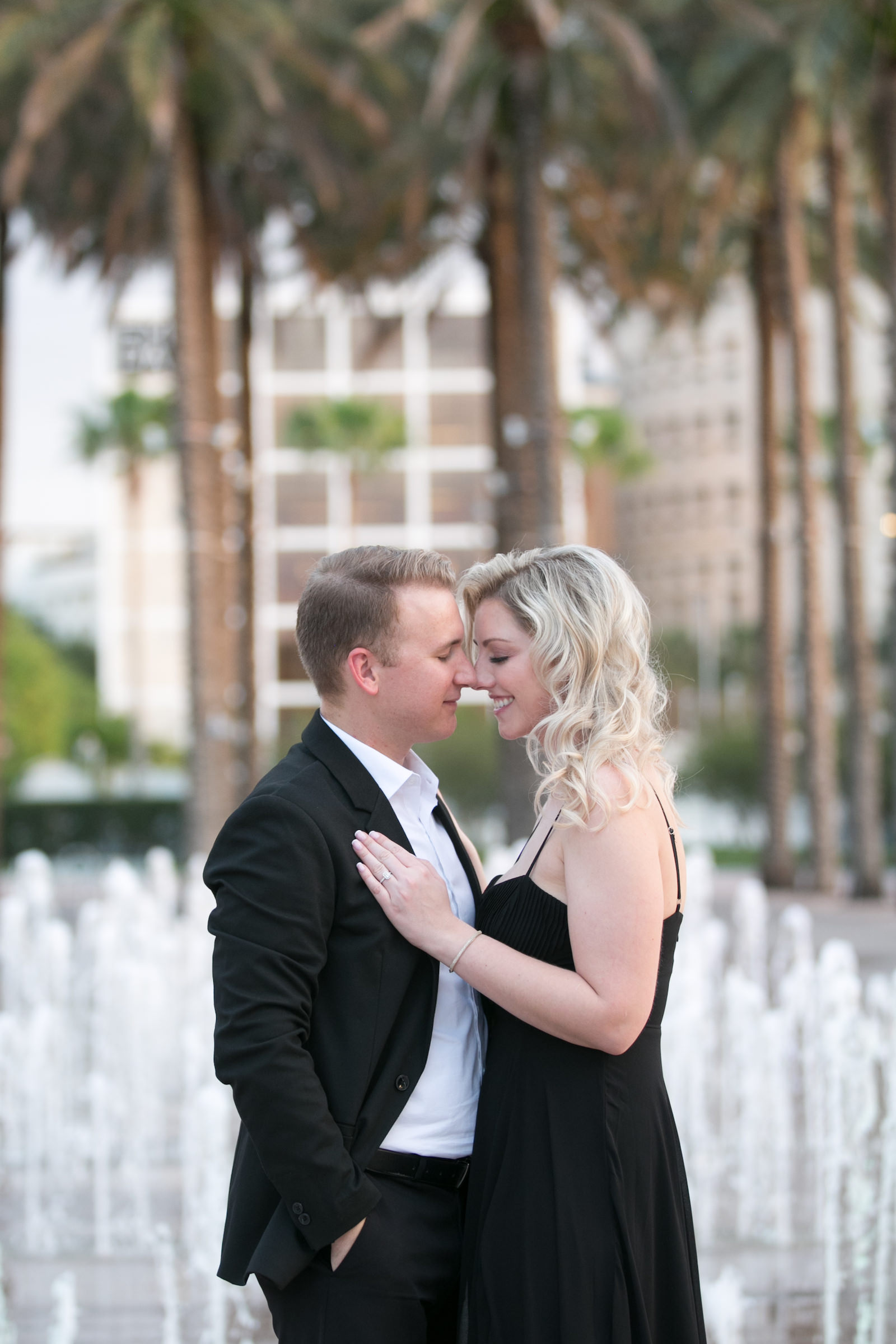 ---
Sand Key Beach
"Anytime someone requests a beach, especially if they mention Clearwater Beach, I always suggest Sand Key Beach. It is not only a beach with the ocean and sand, but there are so many other elements to utilize, such as a grassy field, boardwalks, trees (not just palm trees), a rock piling, a lifeguard station, and more. I love the variety of backgrounds in photos; therefore, it's a wonderful place to get multiple backgrounds while still having the golden hour beach vibes." -Amber McWhorter, Amber McWhorter Photography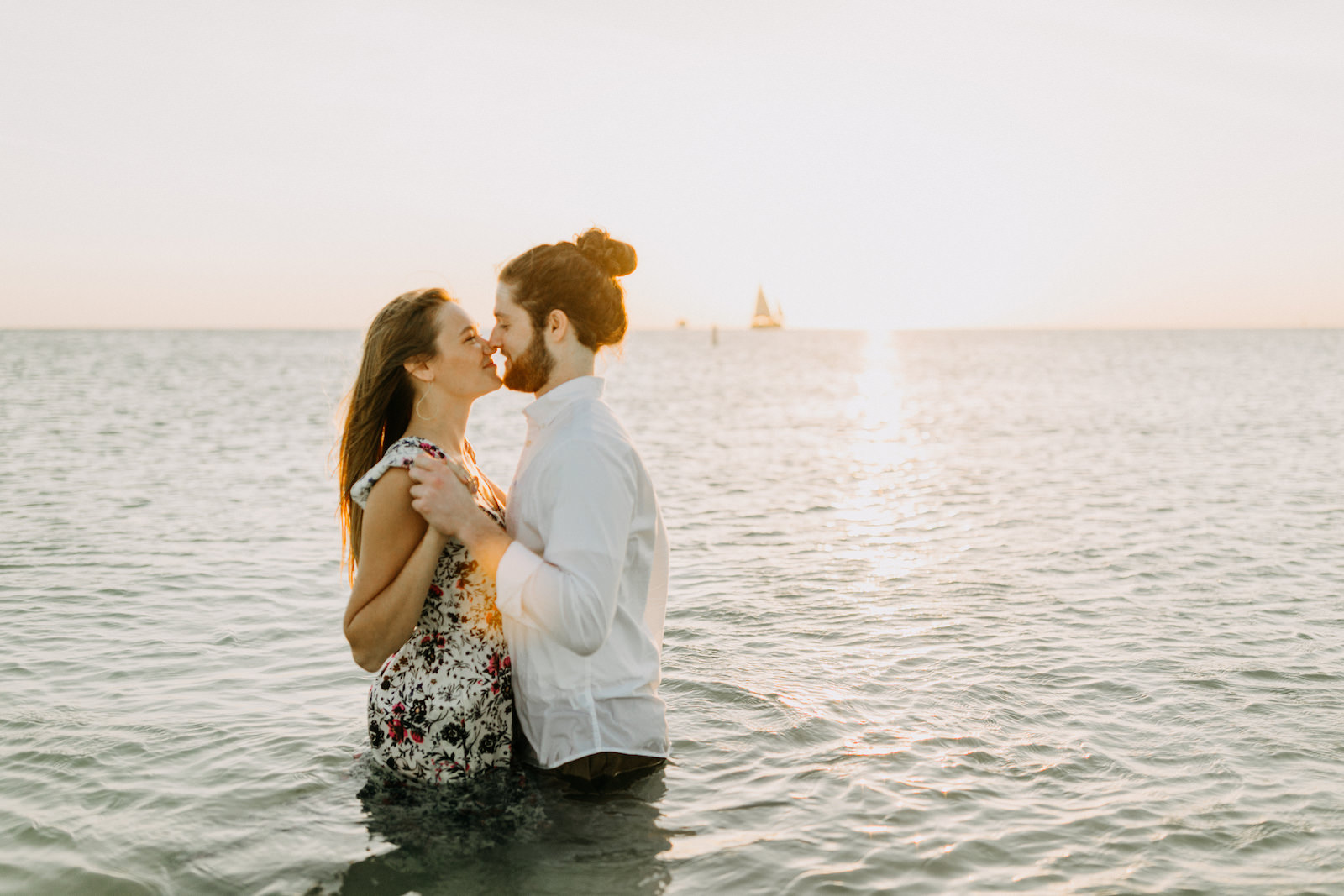 Amber McWhorter Photography
---
---
Vinoy Park
"The versatility that Vinoy Park provides has been one of the many reasons our couples choose this location for their engagement shoot. From the marina to the sculpture, the waterfront overlooking the bay, and the wide open green space in front of the pergola, you have almost four entirely different looks. Plus, it's pet-friendly! The sunsets are almost foolproof for that delicious golden hour effect playing off the mist of the water (when the weather is right). And as a bonus, make dinner reservations for after your shoot at any one of the incredible restaurants along Beach Drive!" -Stacy Boyce, Garry & Stacy Photography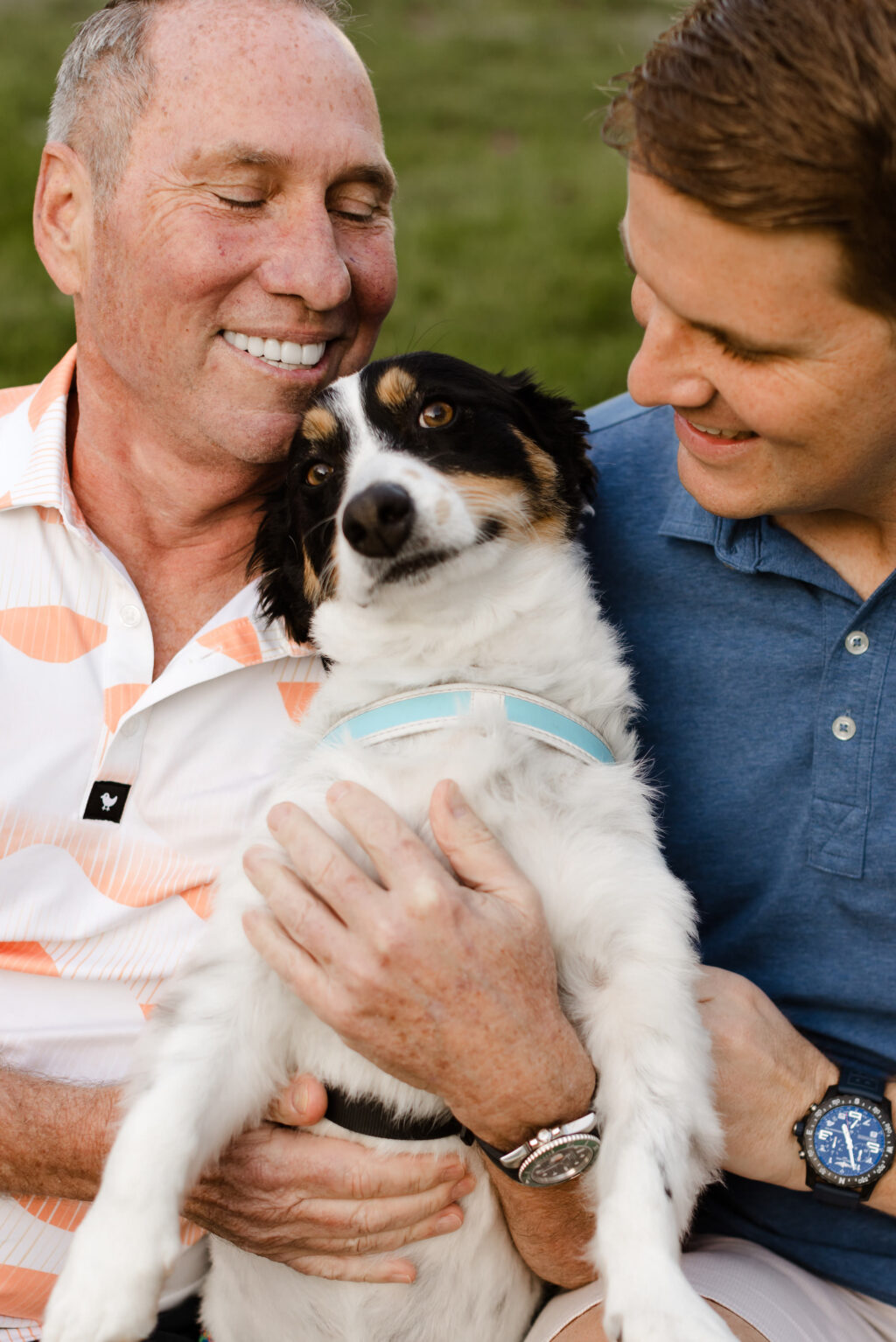 ---
St. Pete Pier
"One of our favorite places in the greater Tampa Bay area for engagement sessions is St. Pete Pier! We love shooting there, especially during the sunset hour. With the St. Pete city skyline and the beautiful Tampa Bay as the backdrop, engagement sessions at the pier are always a favorite among our couples. One of our favorite aspects that sets this location apart is the Bending Arch. This stunning netted illumination creates the most magical backdrop for night shots! We took our couple, Kathleen and James, to this illuminated masterpiece, and the shots turned out incredible!" – Limelight Photography
"There are so many cool spots on the Pier that are so gorgeous where you can also get a great view of the bay from." -Carrie Wildes, Carrie Wildes Photography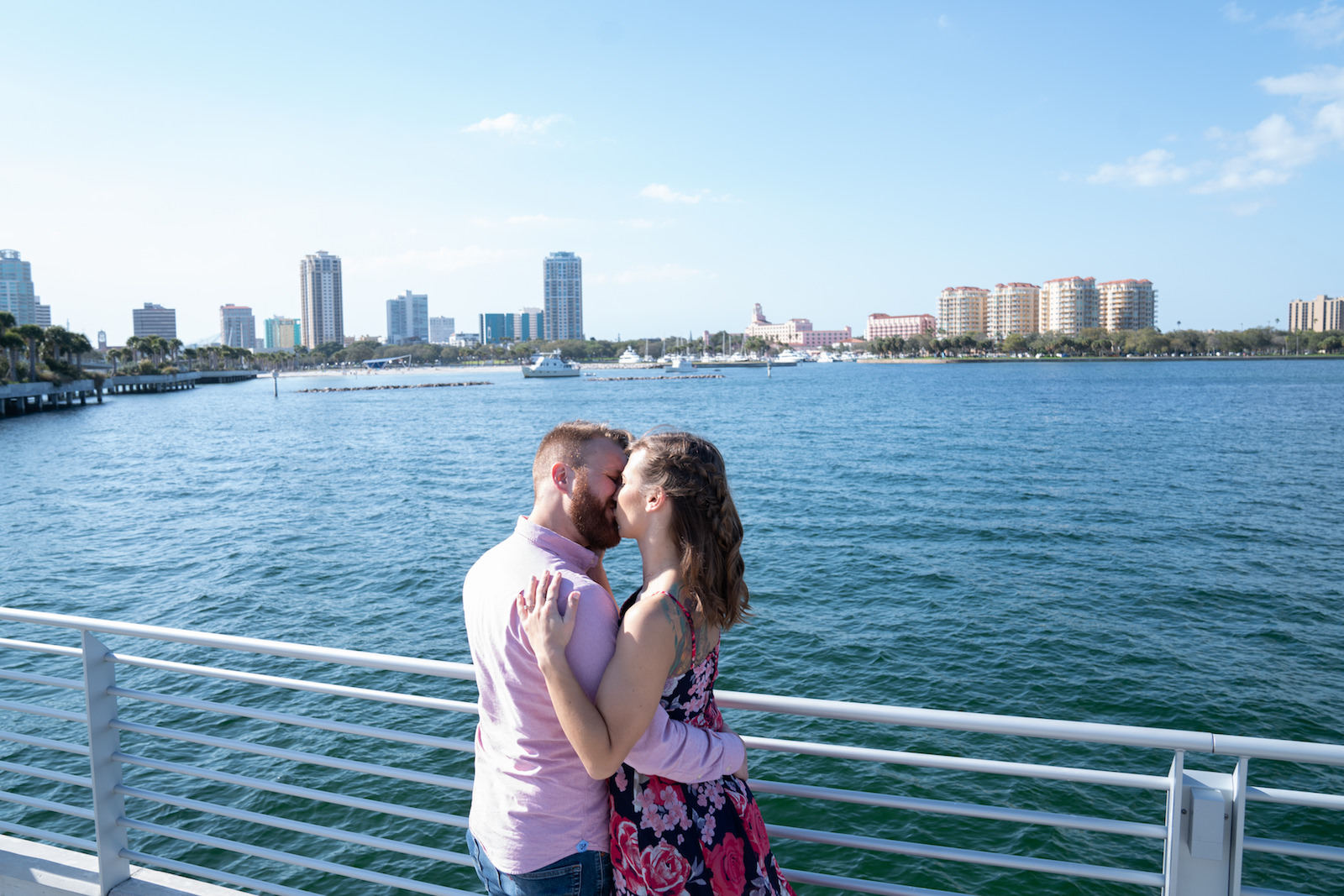 Carrie Wildes Photography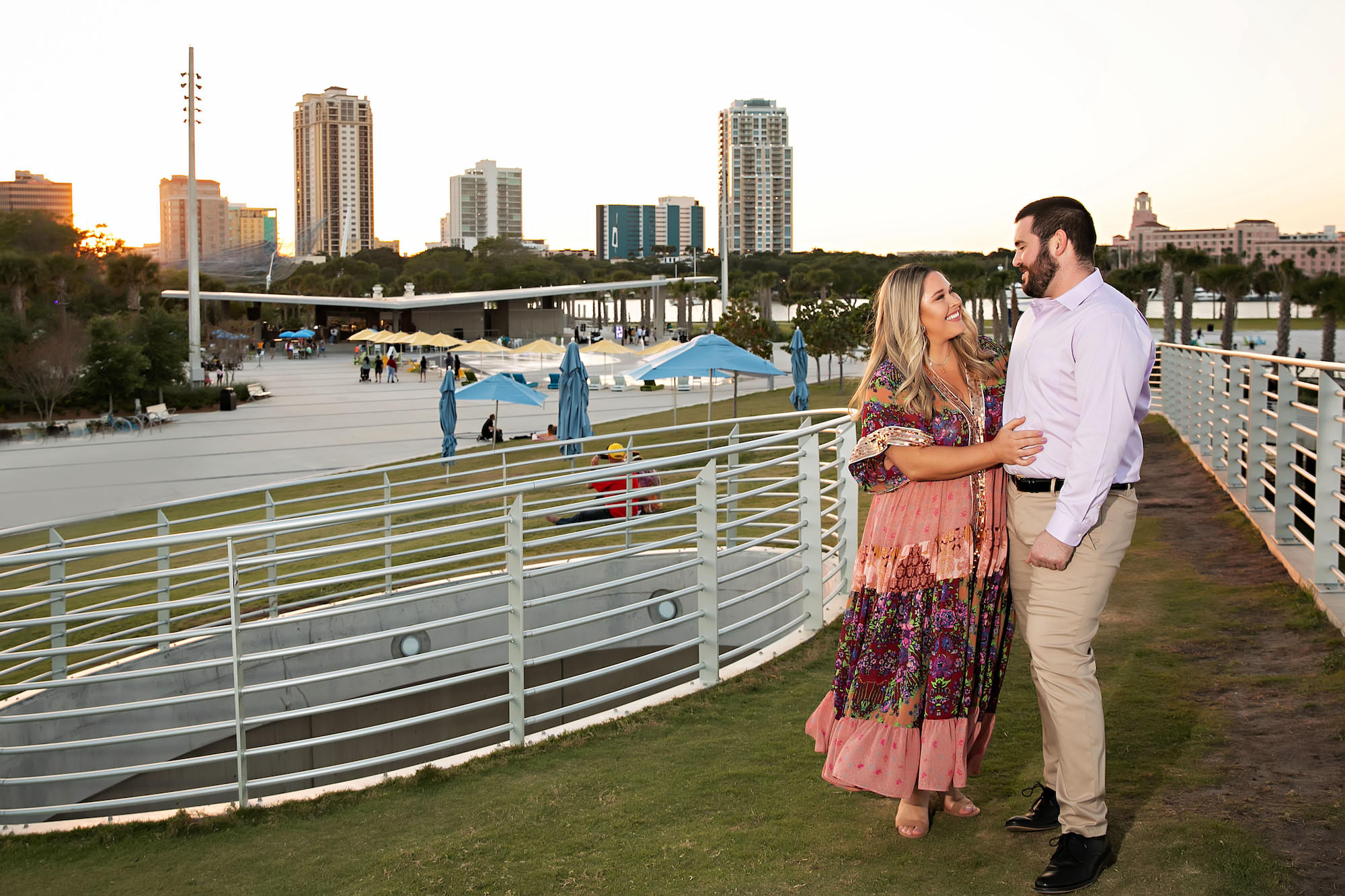 Limelight Photography
---
Gizella Kopsick Palm Arboretum
"A great location if you're looking for a tropical aesthetic! This winding brick road pathway park gives a lot of variety in lighting in one location and is close to other downtown St. Pete locations if you're doing multiple looks!" -Shannon Dewitt, Dewitt for Love Photography
"A favorite of ours is Gizella Kopsick Palm Arboretum. This location isn't only perfect because of the lush greenery but also because it's right alongside North Shore Beach, so you get the best of both worlds! Gizella Kopsick has a beautiful brick walkway, is dog-friendly, and has a variety of Florida plants for vibrant green scenery." -Tara Zimmerman, Limelight Photography
Sometimes couples want tropical and garden-like feels, which is when I immediately suggest Gizella Kopsick. It is a palm arboretum; therefore, it is full of various palm trees, bushes, plants, flowers, etc. There are beautiful brick walkways in between some of the areas making it a beautiful and classic feel as well. It is close to North Shore Park, which also allows getting the intercoastal waterway of St. Pete in some of the engagement photos as well. -Amber McWhorter, Amber McWhorter Photography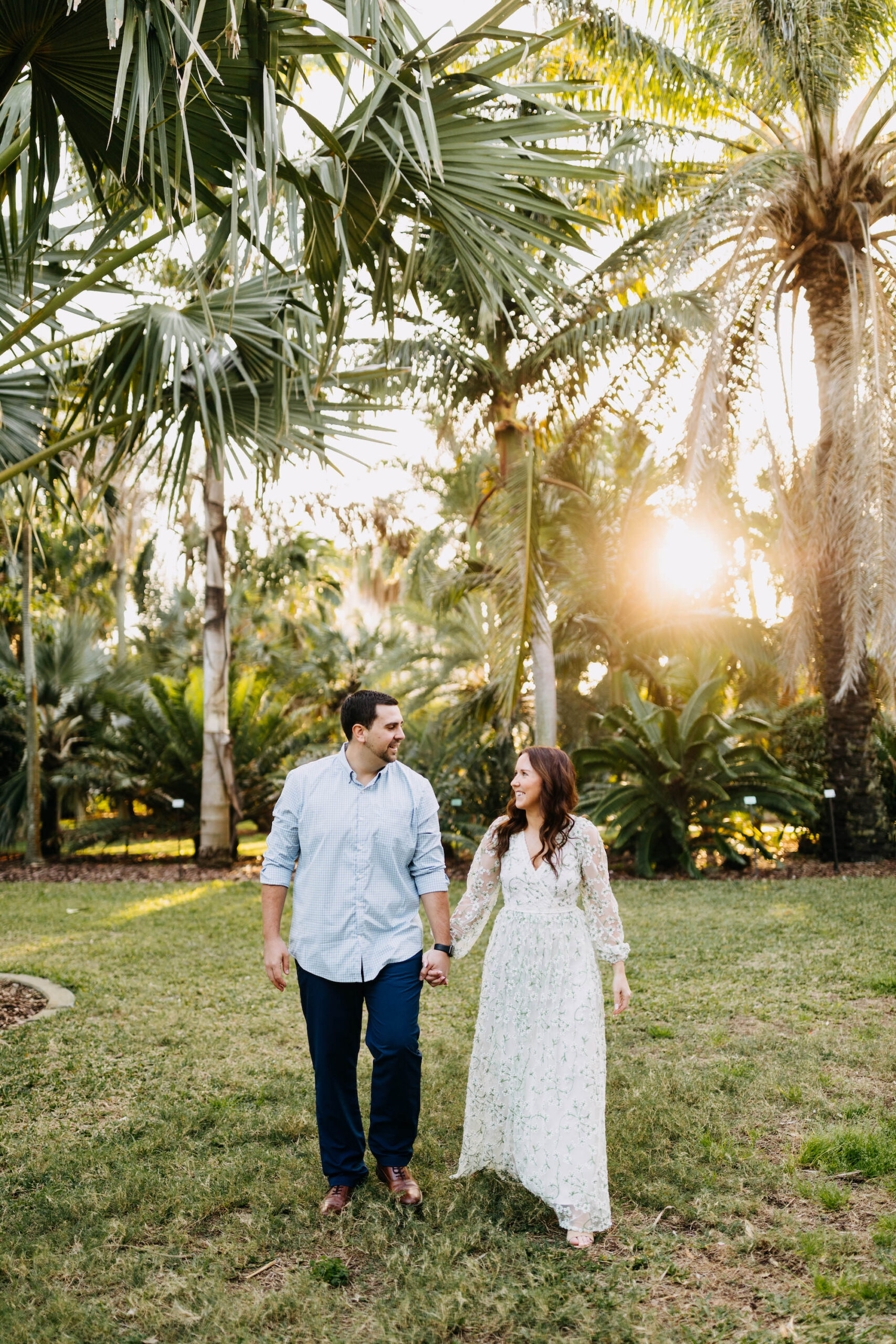 Amber McWhorter Photography
---
Tampa Museum of Art
"While this is already a popular destination, I only schedule shoots here very strategically. The time of day and day of the week are critical because you generally want to stay away from too much foot traffic. Parking is readily available, and there are lots of alternate areas for that couple who's looking for an editorial high-end fashion look to their engagement photos. For wardrobe, my recommendation here is towards a more monochromatic look that I feel pairs well with the ultra-modern architecture of the space." -Rodrigo Mendez, The Love Portfolio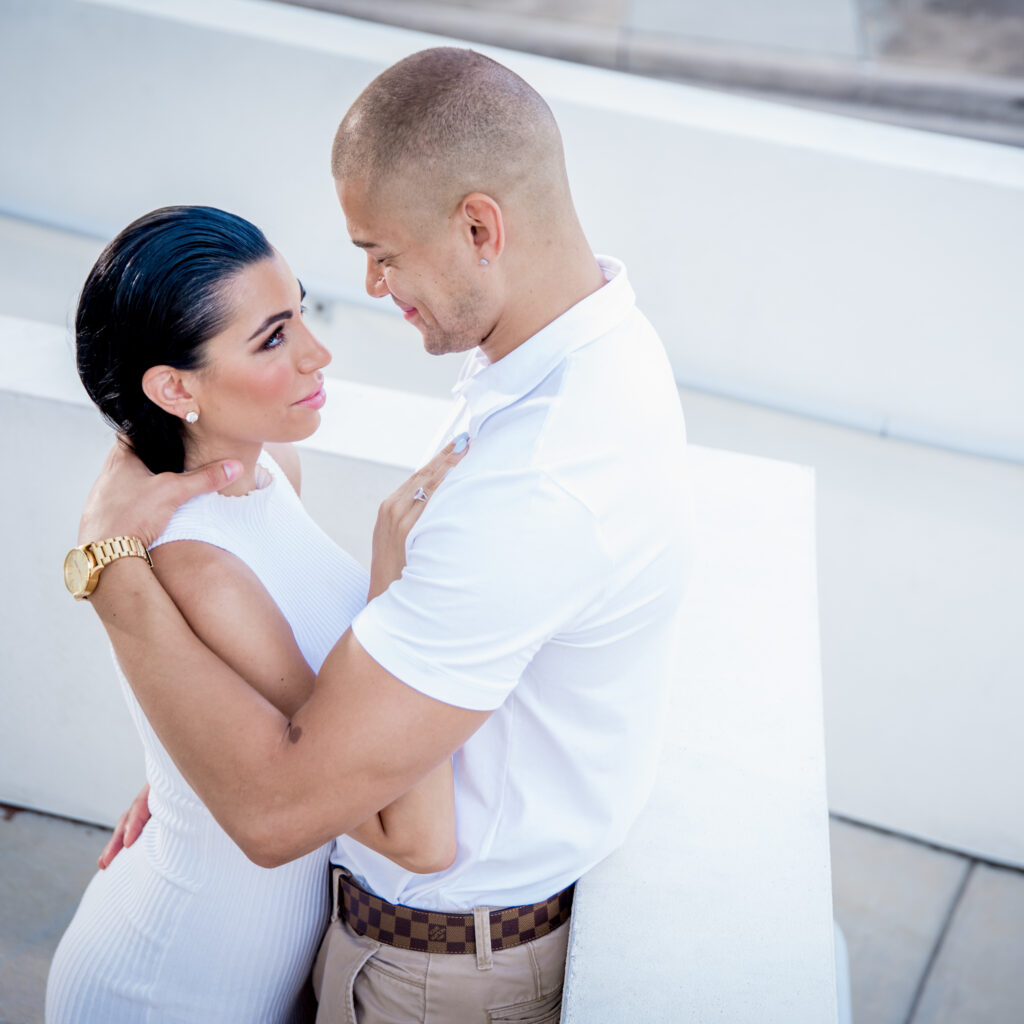 ---
Myakka River State Park
"A bit of a drive, but worth it for some dreamy light and so much beautiful nature!! It's giving The Notebook." – Shannon Dewitt, Dewitt for Love Photography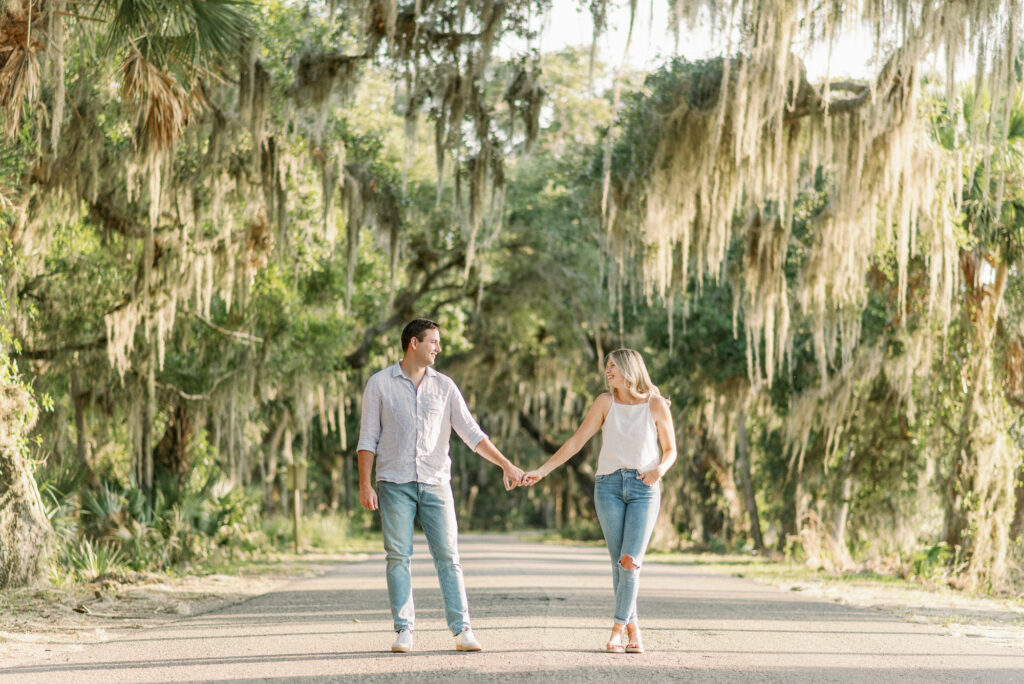 Dewitt for Love Photography
---
Philippe Park
From the beautiful stone staircase to the gorgeous waterfront views of Tampa Bay, Philippe Park is a serene and peaceful location for your engagement photos. This nature park located in Safety Harbor offers a wide variety of locations which are all within short walking distance. If you are a lover of nature and the outdoors, this park is the perfect setting for you. -Limelight Photography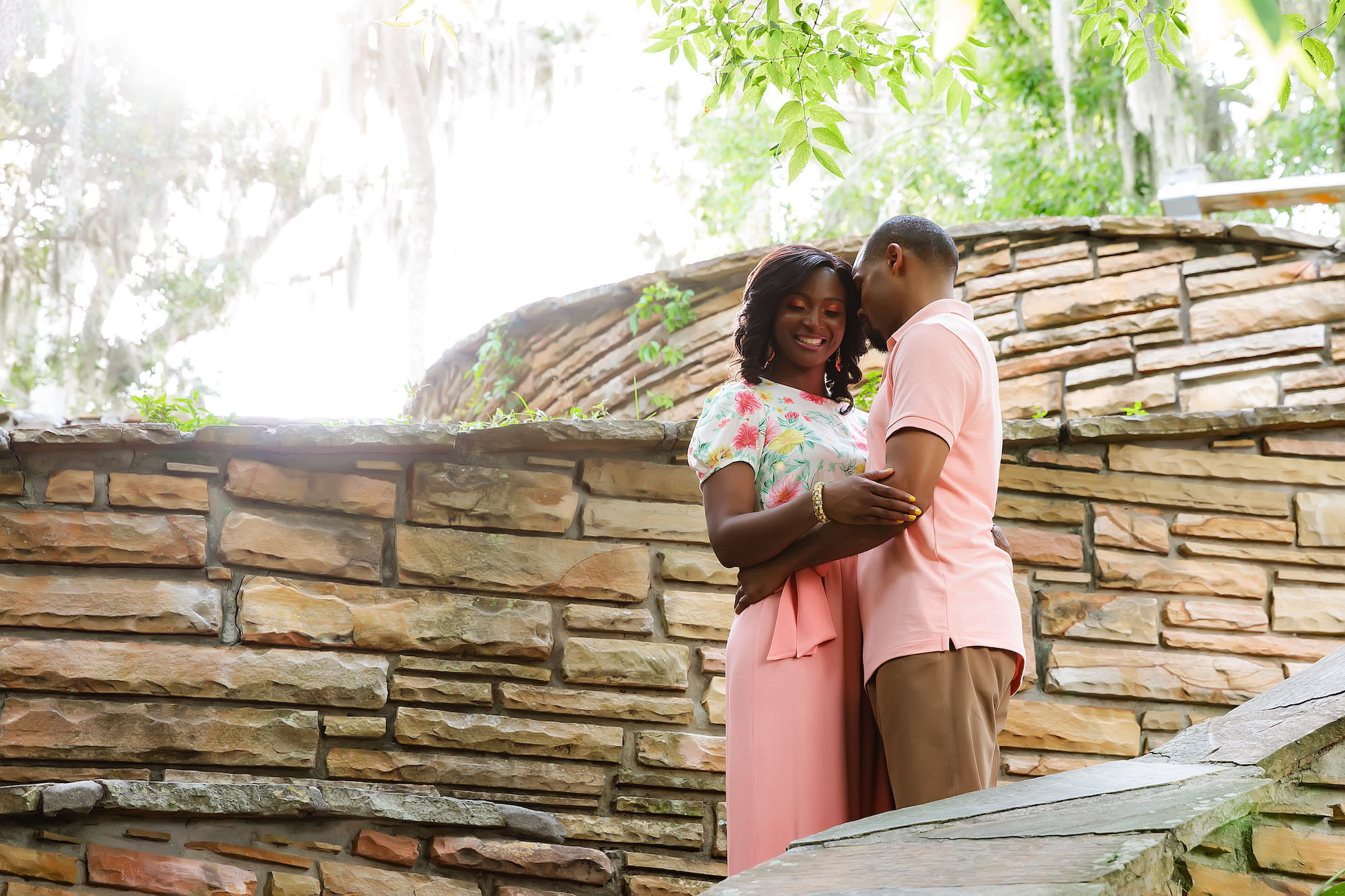 Limelight Photography
---
Sparkman Wharf/Downtown Tampa
There is a dock just past the Greenwise Market near Water Street where the Pirate Water Taxi stops that is such a great little hidden spot, and it's in walking distance to Sparkman Wharf, where the Tampa sign and some really cool street art are. -Carrie Wildes, Carrie Wildes Photography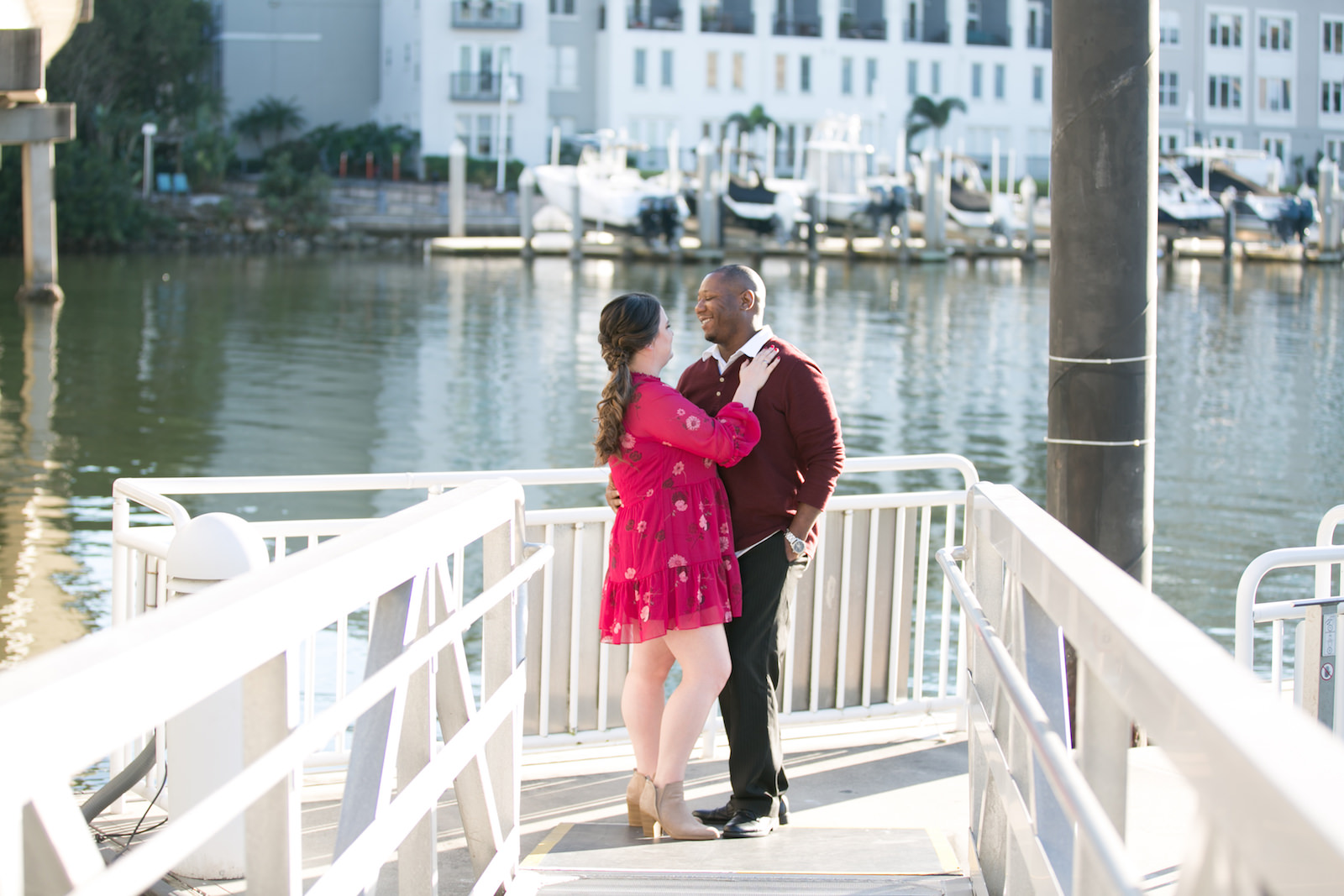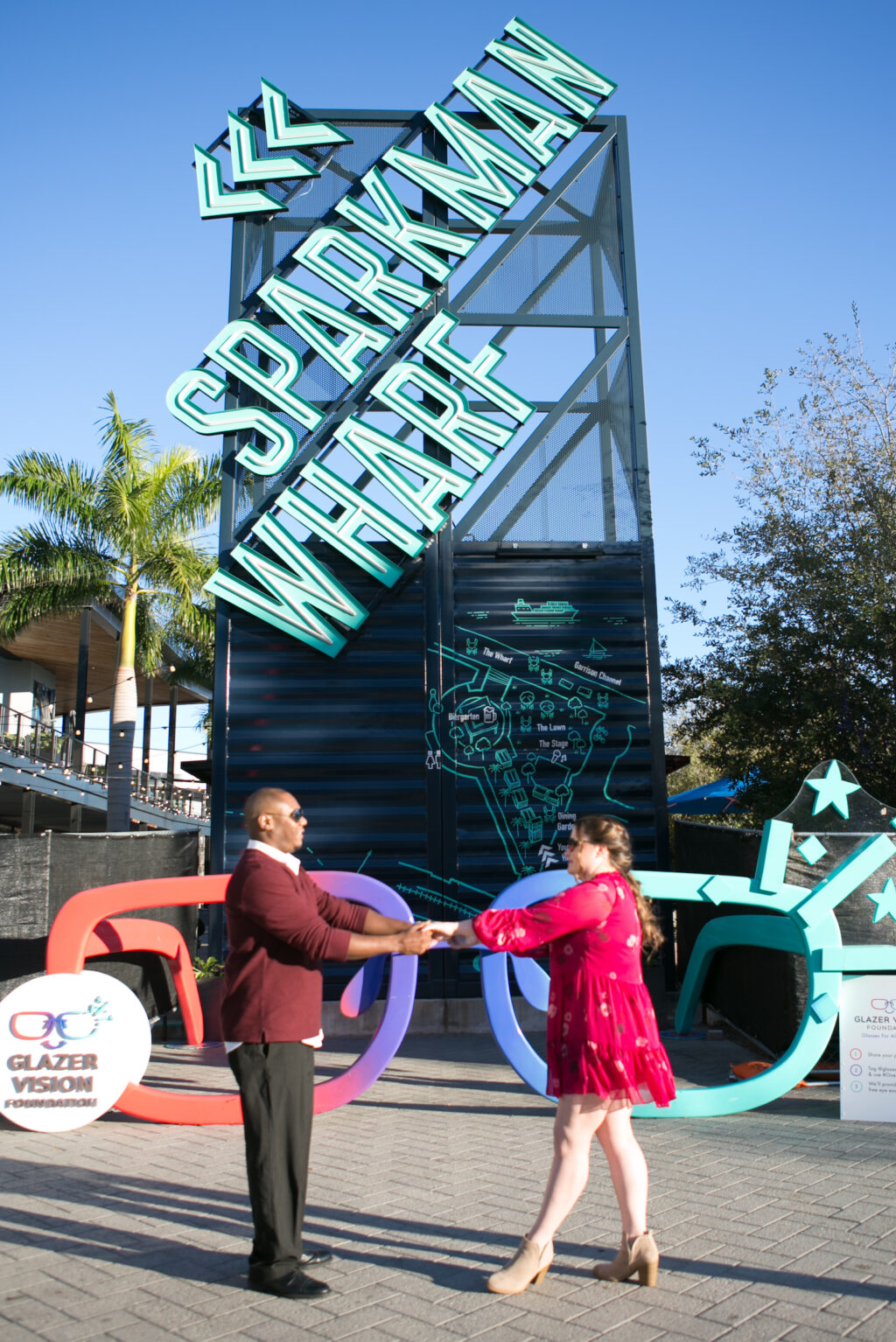 Carrie Wildes Photography
---
John Chesnut Park
I love John Chesnut Park, especially for cooler weather engagement photos. It is on the cusp of Lake Tarpon; therefore in the warmer months, I don't suggest it as much because of the bugs, but when it is cool out – it is PERFECT! It has a nice forest-like feel which is hard to find in Florida. There are lots of trees and greenery surrounding the park, creating beautiful backdrops for engagement sessions. -Amber McWhorter, Amber McWhorter Photography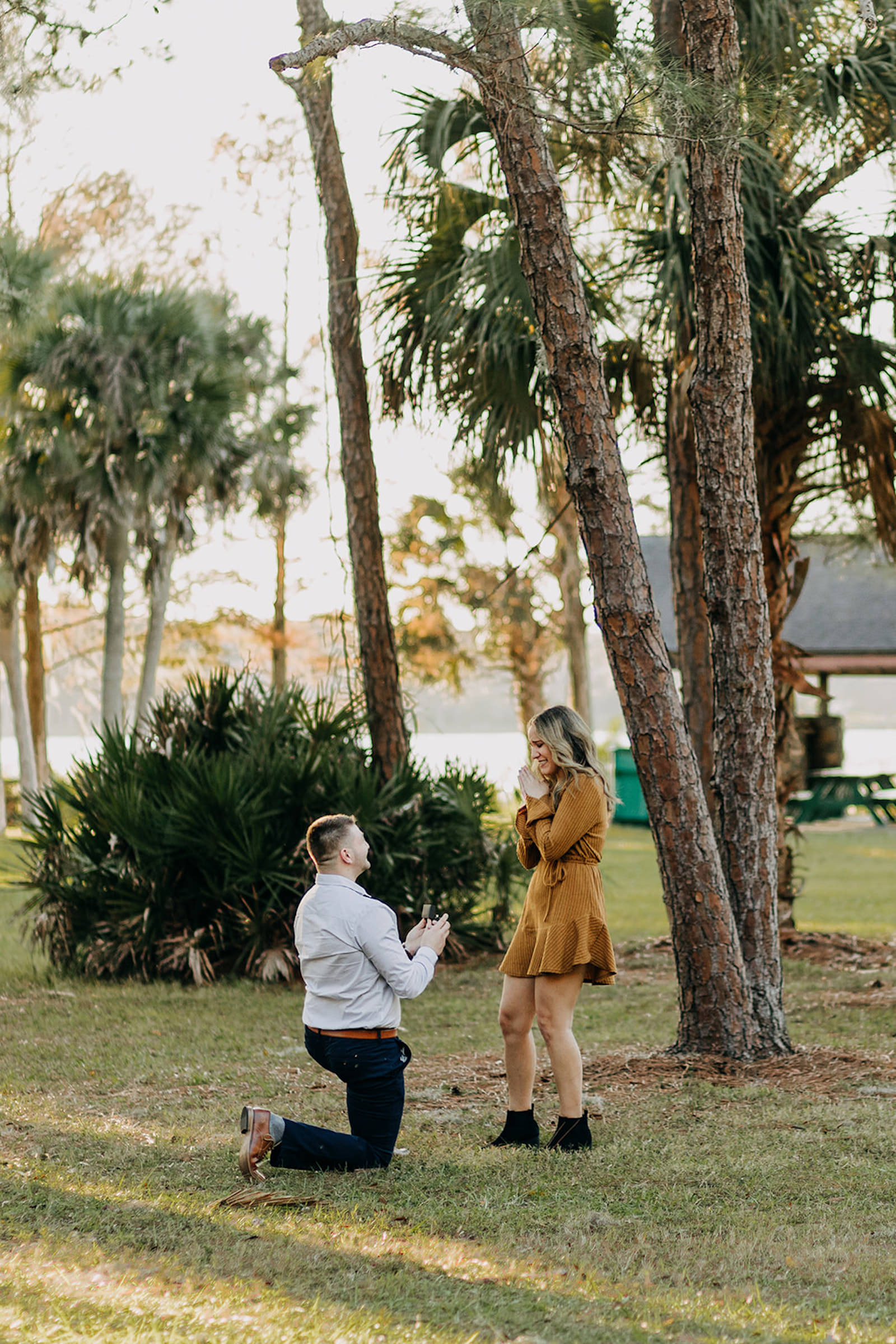 Amber McWhorter Photography
---
---