We've published hundreds of Tampa Bay weddings, and as part of those features we ask past brides to share their advice to new brides. The number one response, hire a wedding planner.
No bride, groom, mother, father, etc., who has hired a professional wedding planner, regrets that decision. It is the best money you will spend on your wedding, period.
Have you ever hosted a party? The host rarely gets to truly let go and enjoy themselves, because their focus is making sure their guests have what they need, the drinks are flowing and that everyone is having a good time. You want to enjoy your wedding, not work it!
Many couples don't budget for a Tampa Bay wedding planner or think they are too expensive, but this is one service that can actually save you money!
My "day of" coordinator (which really, I hired her almost a year out. Nobody walks into your wedding the "day of" and plans it.) saved me money two very specific ways. I received her vendor discount on my chiavari chairs, and when I decided to cancel my DJ after putting down the deposit, she persuaded him to provide uplighting with that money, instead of me losing it. And that's just the tip of iceberg!
Discover how six ways these wedding planners pay for themselves.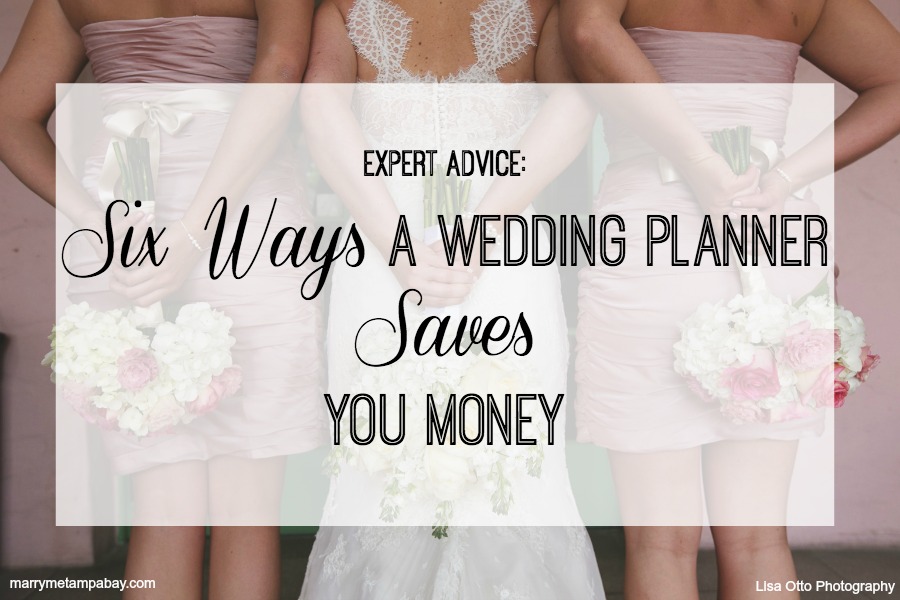 Researching the Industry
There are many ways that your wedding planner can save you money, but the bulk of the savings we are able to offer our clients is in our knowledge of the industry and relationships with vendors. Wedding planners are a great referral source for companies providing a service to the wedding industry, so we are kept up-to-date with specials that these companies are running, new products they are getting in, etc. By knowing who has quality products and services for the best prices, we are able to save our clients several hundred dollars in multiple delivery fees or overpriced items from a competing company. It's our job to get the best products for the most reasonable price to pass along to our clients! -Brandee Gaar, owner of Blush by Brandee Gaar
Reading and Understanding Your Contracts
An experienced wedding planner will review your contracts to ensure you will not be taken advantage of, that nothing slips through the cracks and that you have everything you need, such as enough power for the band, DJ, or lighting company or the right amount of food and beverage and will remind you when payments are due, so you do not fall behind or breach your contract. -Tammy Waterman, owner of Special Moments
Wedding planners review all of your contracts so that you are aware of any unexpected costs that you may not have budgeted for. For instance, some venues have a commission percentage if you use outside vendors. You may be thinking you are getting a vendor for a lower price, but once you add that commission, you may be better off using the inside vendors. Planners make sure that you keep that in mind, that way you use your budget efficiently. -Amy Kladis, owner of Glitz Events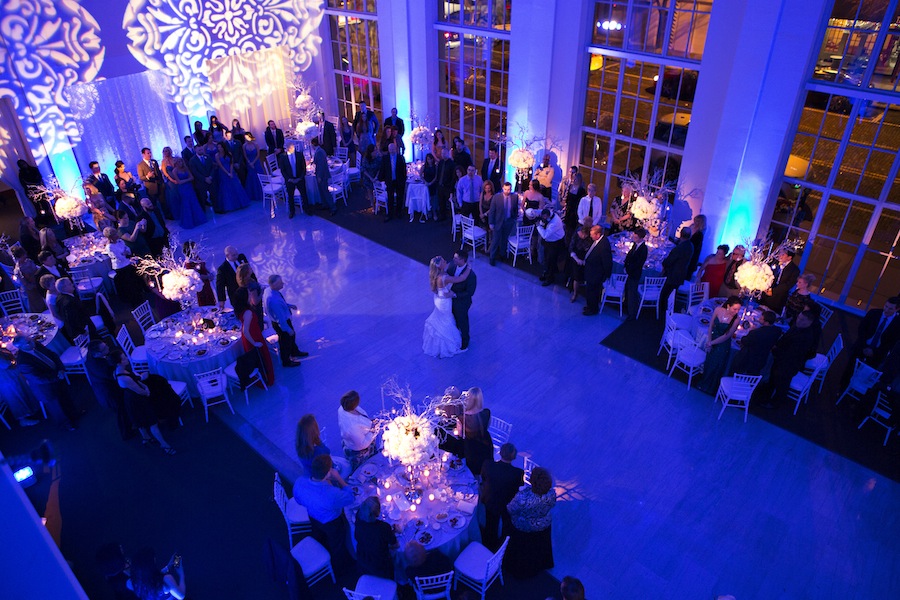 Winter Wonderland Wedding | Photography: Djamel Photography | Venue: The Vault | Planner: Special Moments | Flowers: Apple Blossoms Floral Designs | Uplighting: Nature Coast Entertainment Services
Time is Money
Wedding planners know vendors in their area and can pair you with the perfect vendor to reflect your vision and budget, therefore eliminating the time you spend researching, meeting and trying to figure it all out. Your time is very valuable, and it's hard to put a price on that, so wedding planners can be saving you TONS here. -Amy Kladis, owner of Glitz Events
We all want more time, to either spend with people we truly care about, follow our passion or simply have some "me" time. Unfortunately, planning a wedding requires a lot of your time, and time also equals money. Wedding planners have already done the job for you: the leg work, the interviews and the pricing of other vendors. We know which reliable vendors will match your vision and also deliver quality, because we have trusted relationships with the ones we bring to you. We allow you to have more time to make more money, to fall in love even deeper with your significant other by spending that time together stress-free at the spa and to truly enjoy this amazing journey. -Georgette Casimir, owner Pea to Tree Events
Discounts
As a wedding planner, I work on cultivating relationships with good, reliable vendors. As my relationships grow, I work with vendors who enjoy working with my clients as well as myself, and therefore are willing to offer discounts, perks or special packages to my clients, that are not available to the general public, such as a free engagement session from a photographer or discounted delivery fees from a florist. I also know how to negotiate deals and discounts with other vendors or venues when possible to help save money wherever I can! -Nikki Baxley Leonard, owner of Nicholle Leonard Designs
There are countless ways in which your wedding planner can save you money! Aside from discounts like the ones our couples receive via our vendor relationships saving them thousands of dollars, I also enjoy saving money for my couples in other ways! For example, one of my couples did not realize that their venue provided linens for their tables, and as their planner I avoided additional costs from being included in their catering bill for linens they already had. Our job as a wedding planner is to make sure we catch those little instances where a bride or groom would have otherwise paid more than needed (or double!), because those dollars really do add up. Many times we save our couples twice as much as what they've spent on their planning services and that truly is a return on investment! -Sasha Abreu-Jimenez, owner of Oh So Classy Events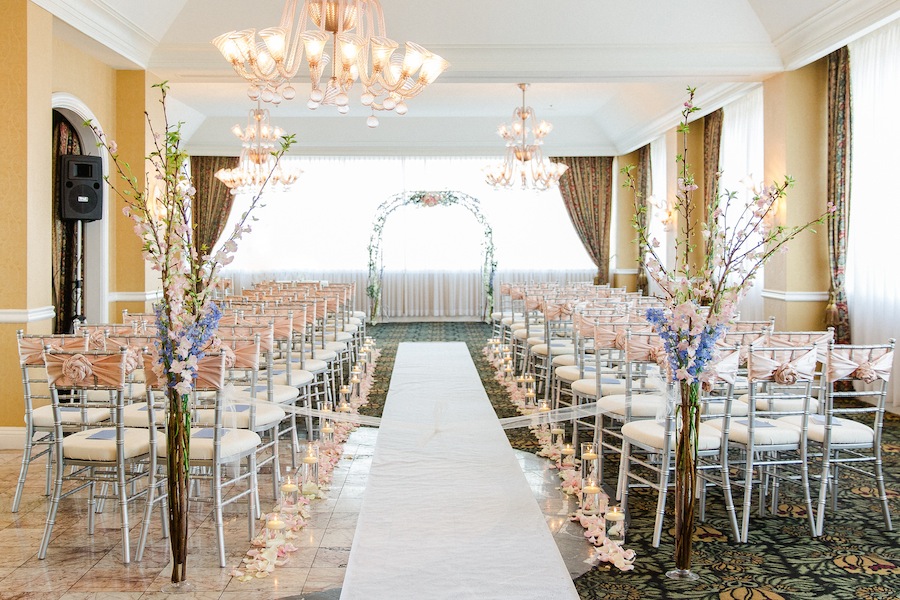 Blue, Blush, and Silver "Classic Romance" Tampa Wedding | Photography: Ailyn La Torre Photography | Venue: Centre Club | Planner: Oh So Classy Events | Florals: Andrea Layne Floral Design
Keeping You on Budget
Recently, I had a very detailed bride who was in love with Pinterest and wanted to take on a very big project creating items for her wedding. The problem was she decided to buy all the materials, spend countless weekends and late nights putting them together, just to be thrown out, because they did not come out the way she expected. If she had hired a professional wedding planner, she could have actually saved $500 in materials alone. As a wedding planner we are here to make sure you do not overspend on unnecessary things and hire the right vendors to save time and money. -Georgette Casimir, owner Pea to Tree Events
Suggesting Alternatives
An experienced wedding planner will tell you when you are heading down a road that is risky or unnecessary. -Tammy Waterman, owner of Special Moments
We can make suggestions that are more budget friendly, but still have the look you are going for. For example, the rustic theme was in this past season, although farm tables and wooden chairs are beautiful, they can be very costly. Planners can make different suggestions on how to get that rustic look without breaking your budget, such as using rectangular banquet tables lined like feasting tables with wooden, rustic accents. -Amy Kladis, owner of Glitz Events