This gorgeous, Halloween inspired Tampa Bay engagement party, the brainchild of event and fine stationery designer Loralee Lewis, is the perfect, spooky event to end the month of October. The out of the ordinary and too pretty to be scary, haunted mansion themed engagement party is the perfect combination of elegance and dark romance.
The inspiration for the party was none other than Morticia and Gomez Addams, the most popular Halloween couples of all time. The Addams Family embodies the perfect combination of spooky and unconditional love.
MORE: HALLOWEEN INSPIRED WEDDINGS
The engagement party took place at of one Loralee's paper suites, with neutral colors and pops of black, taupe, rich tobacco, whites and creams. Fun and unique Halloween elements, such as the rich tobacco colored furniture, gothic wrought iron chandelier and candelabras helped create a sense of mystery, while the lush and light colored floral arrangements of colored roses, fragrant hyacinth and lisianthus softened the setting. The amber glow of candles set an intimate tone for the room, perfect for the small, vintage " Smokin Gomez" cocktail bar that was embellished with fondant cigars and black "Morticia Martinis" garnished with dark blueberries in bamboo skewers.
The decadent food for the party such as savory meatballs on hand painted mustache fork skewers, tulle topped antipasto swords and caviar topped lobster bisque shots were gluten-free, to best showcase the vendors' expertise. The treats, like a gorgeous devil's food cake with a rich peanut butter ganache frosting, topped with a custom topper asking the question every girl wants to hear, "Will You Marry Me?" was playful and creative. Other desserts include cupcakes topped with fondant hands coming out of the box, aka "Thing," mini layered cookie and cream cheese frosting trifle, as well as rich chocolate macarons.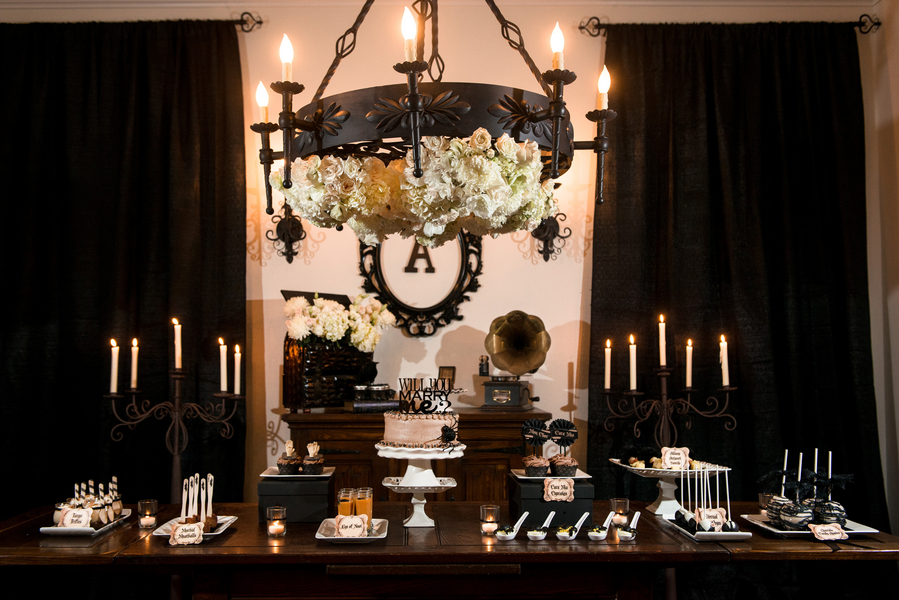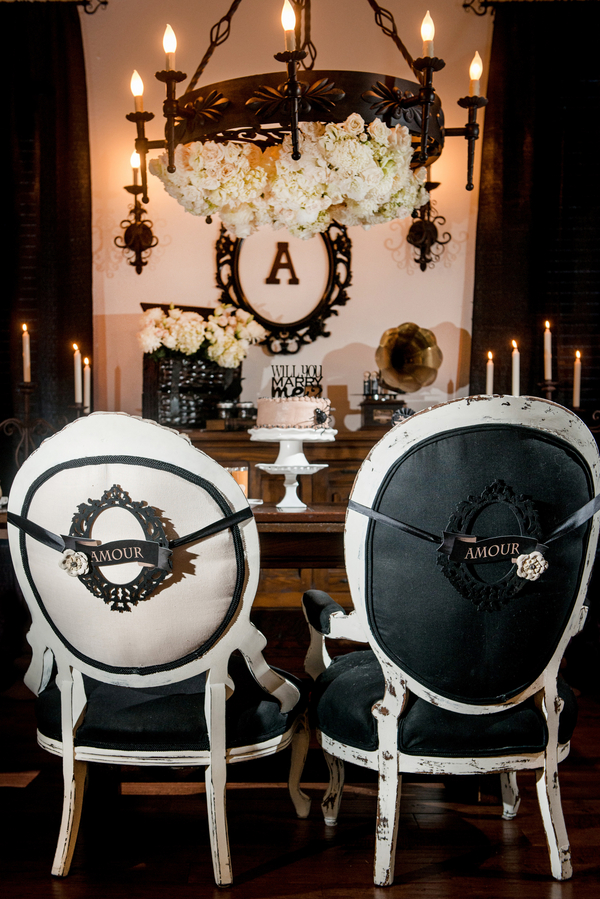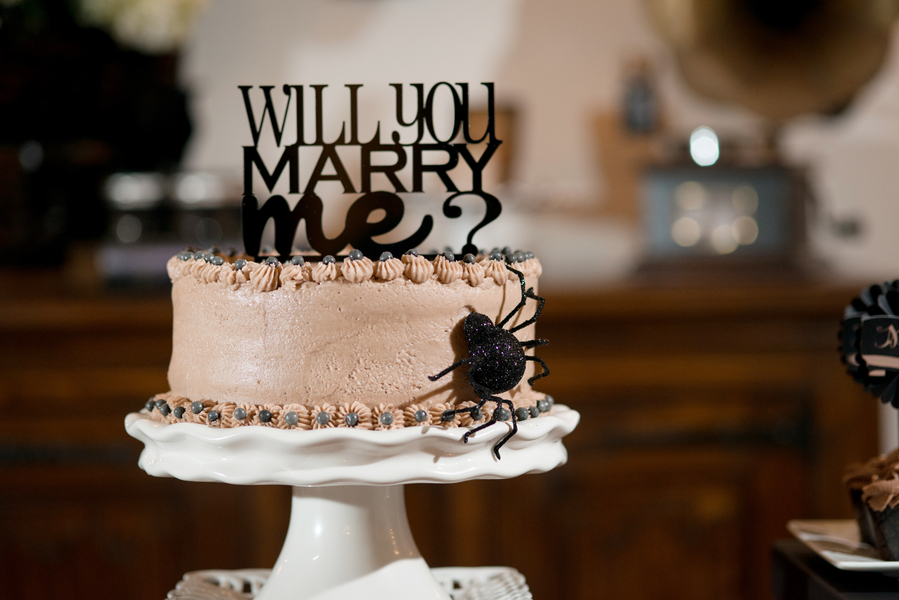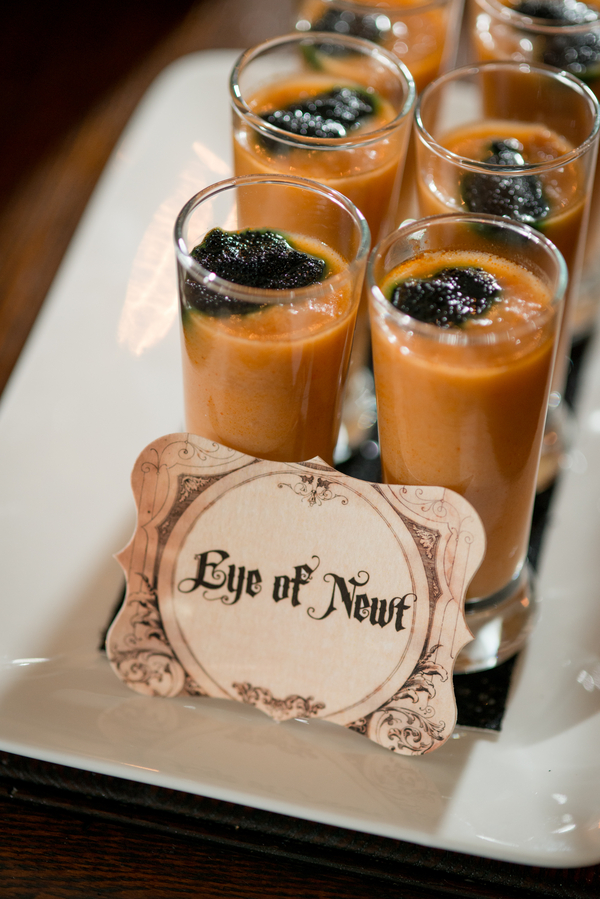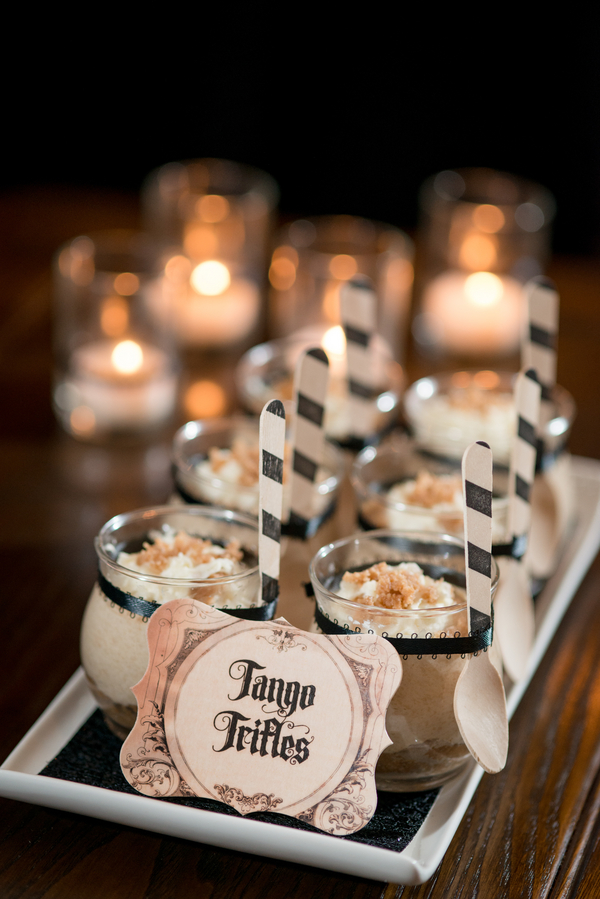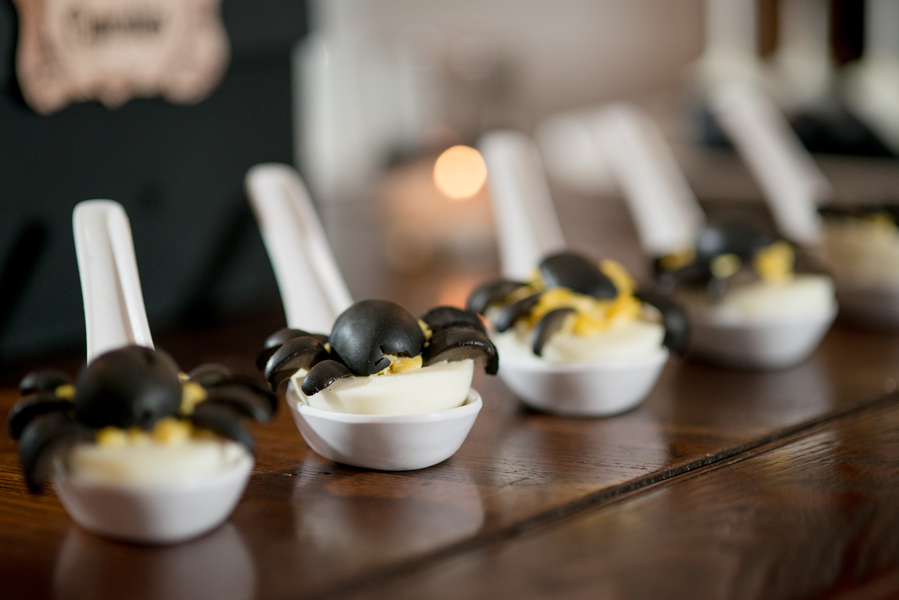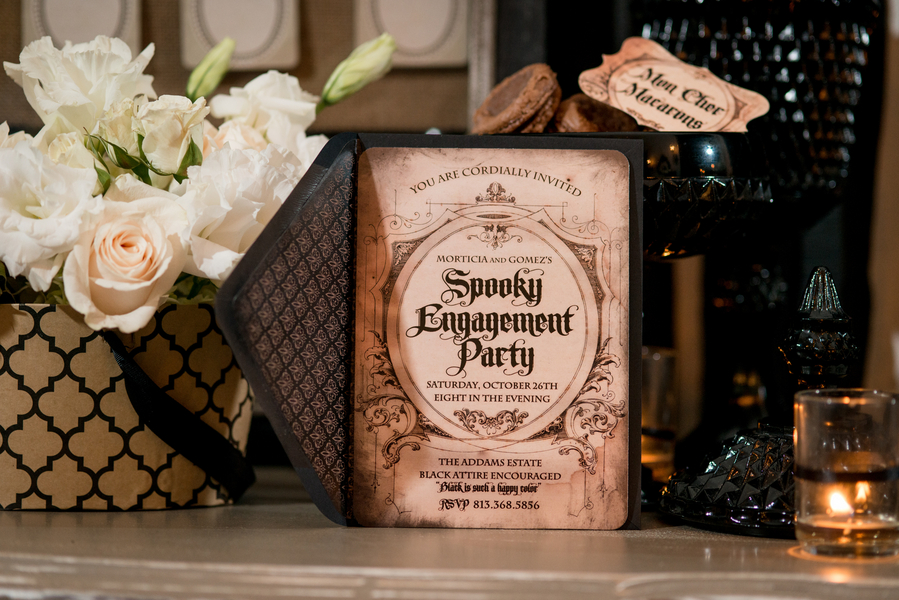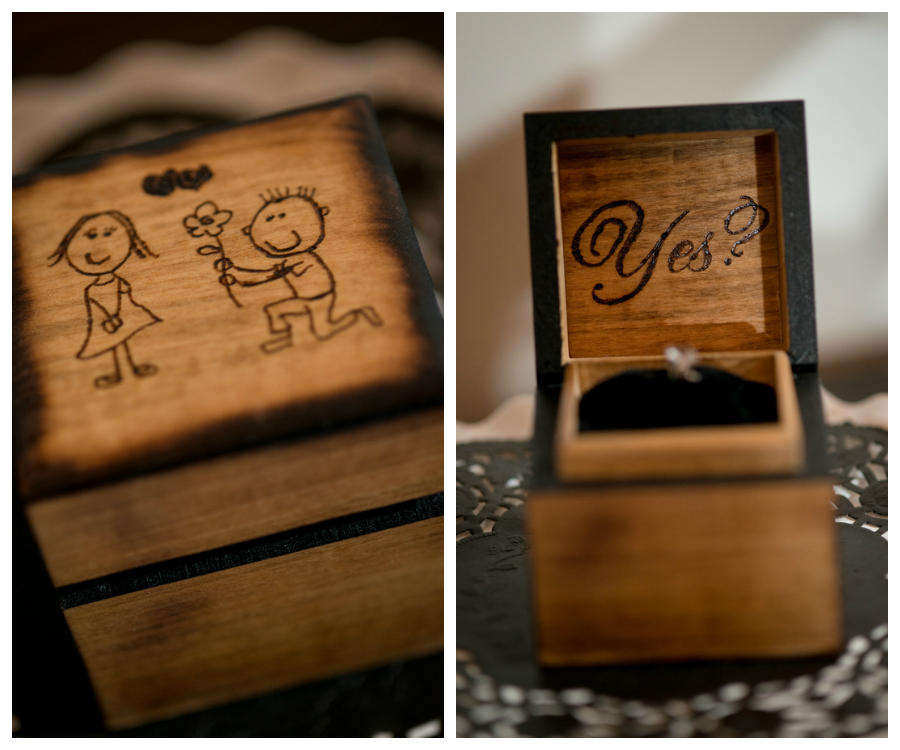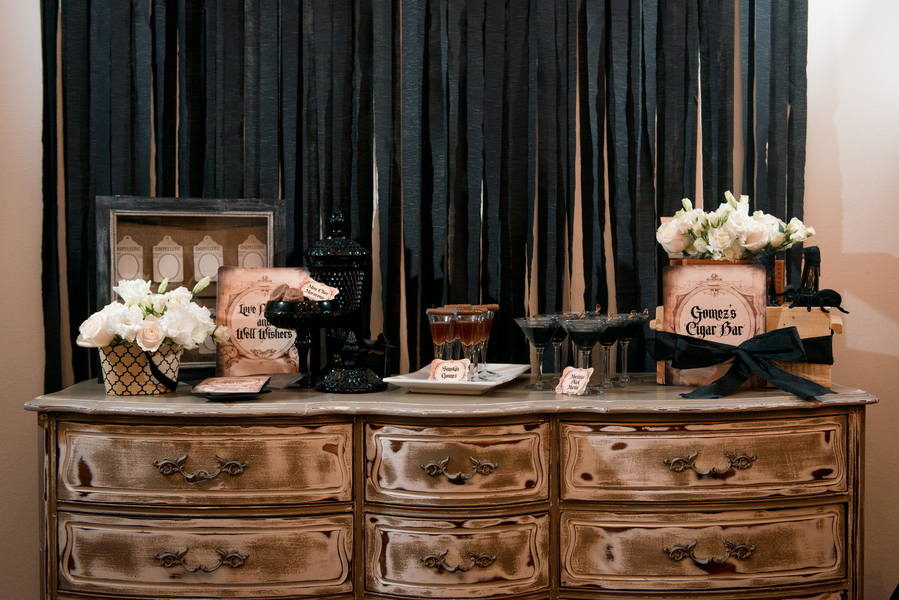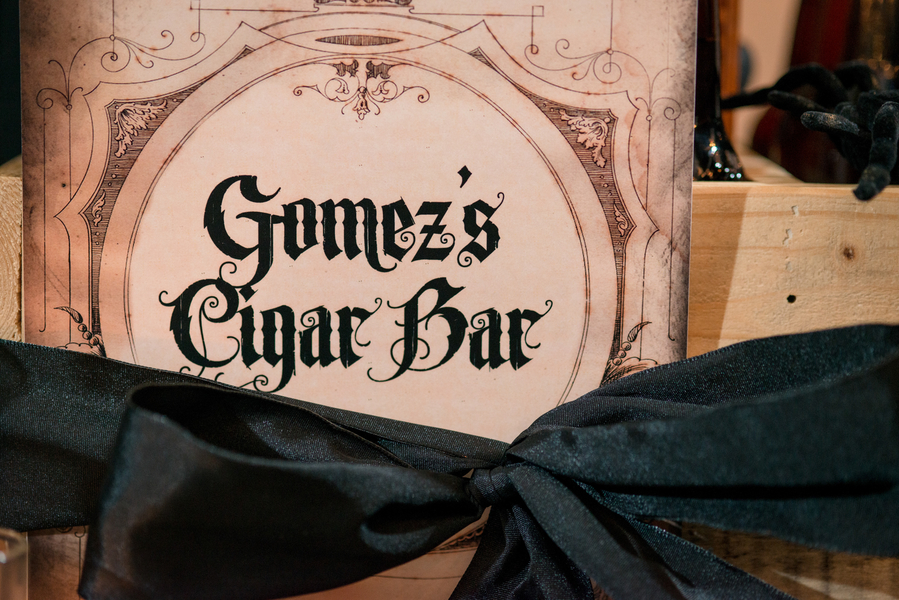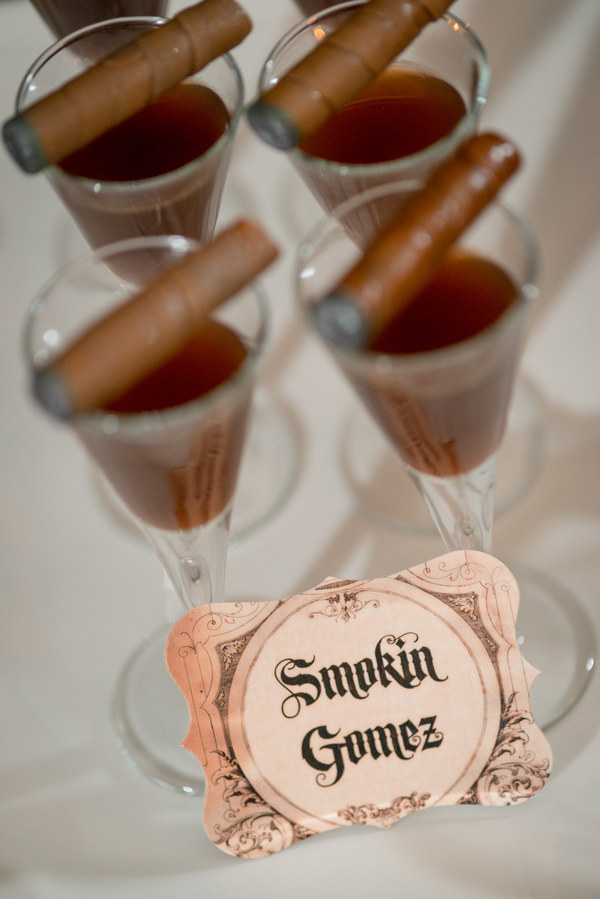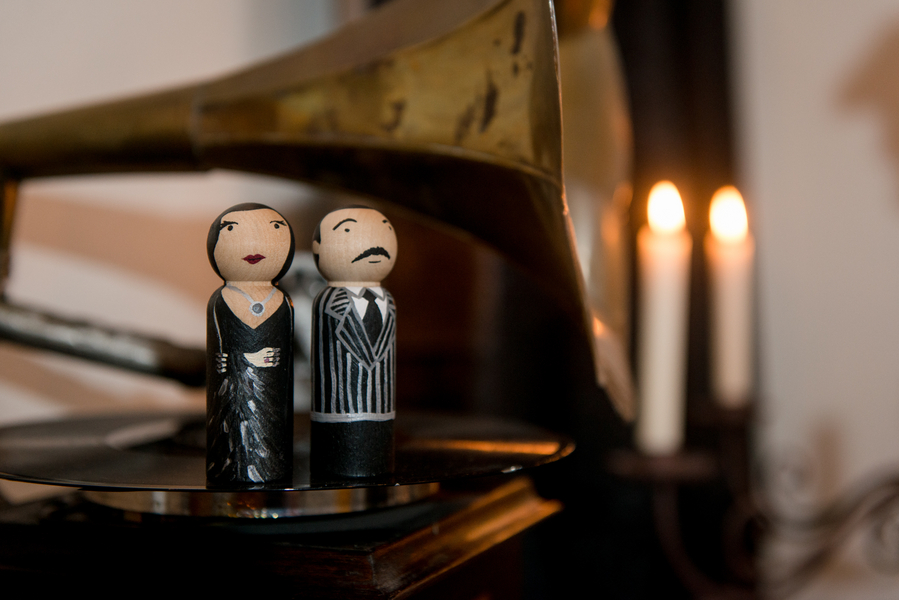 Photography: Marc Edwards Photographs *Preferred Marry Me Tampa Bay Vendor
Bakery, Cake and Event Design: Two Prince Bakery Theater
Cake Pops: Painted and Sprinkled
Florist: FH Weddings and Events
Specialty Foods: Frog Prince Cake and Cookie Design
Etsy Designers: Big Sky Rustics, Craft that Party, Miss Sarah Cake, Titi's Tutus, Woodburned Doodles
Invitations: Loralee Lewis
Handmade Goods: Michelle Dwights Designs, Sucre Shop