In all of our real Tampa Bay wedding features, we always share the couples' proposal stories. It's the first memory of the rest of their lives together. Some proposals are elaborate, full-day affairs, while others happen in the privacy of the couples' homes. There is no right or wrong way to propose, it's different for everyone.
As we approach "engagement season," keep these advice tops from our preferred Marry Me Tampa Bay wedding planners in mind if you're planning on popping the question.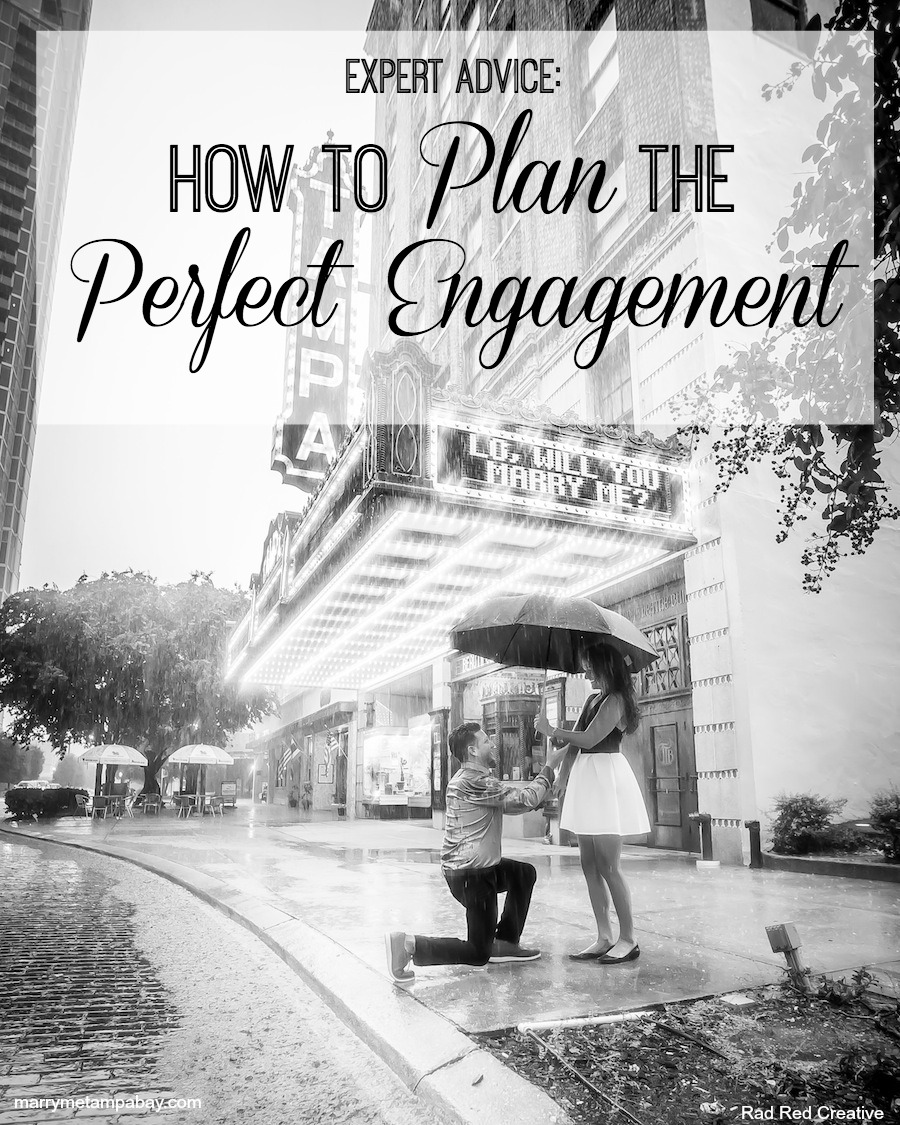 Rad Red Creative *Preferred Marry Me Tampa Bay Wedding Pro
Get the Family Involved
Your soon to be in-laws are probably some of the best people to ask about how to make the moment unforgettable. -Katie Marshall, Special Moments Event Planning
Keep your Significant Other's Personality in Mind
If they do not like attention on them or get anxiety in large crowds, now isn't the time to plan an over the top proposal that will be witnessed by hundreds of people and have attention drawn to you. Remember, you want your "engagement story" to be just that…your story…nobody else's. Stick to what is right for the both of you and no matter how you propose, it will be perfect. -Maria Balestriere, Blush by Brandee Gaar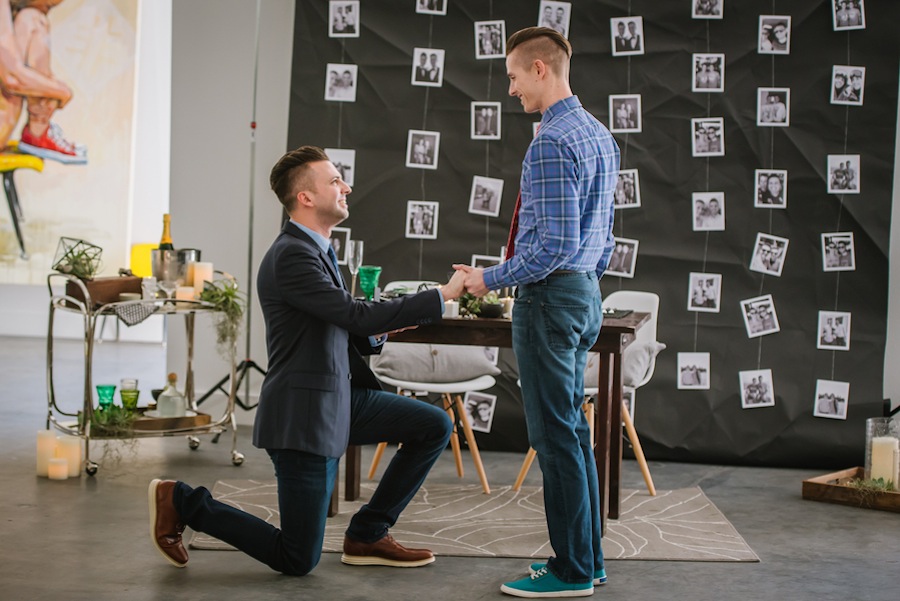 Make sure Its Documented
Either hire someone to take a video or a few snap shots or ask a friend to stand out of site and capture the experience as it unfolds. This is going to be a moment you will remember forever so make sure you both are dressed to par. -Katie Marshall, Special Moments Event Planning
Pay Attention to what He/She Likes
Some men want to plan the "perfect proposal" by movie or social media standards, but that isn't at all what their girlfriend wants. Is your girlfriend a private, at home on the couch type of person? Or does she love being the center of attention and a flash mob or the jumbotron at her favorite team's stadium? It doesn't matter how grand or expensive the gesture, just make sure it captures your feelings for her, and is everything she (and you!) want it to be! -Nikki Baxley Leonard, Nicholle Leonard Designs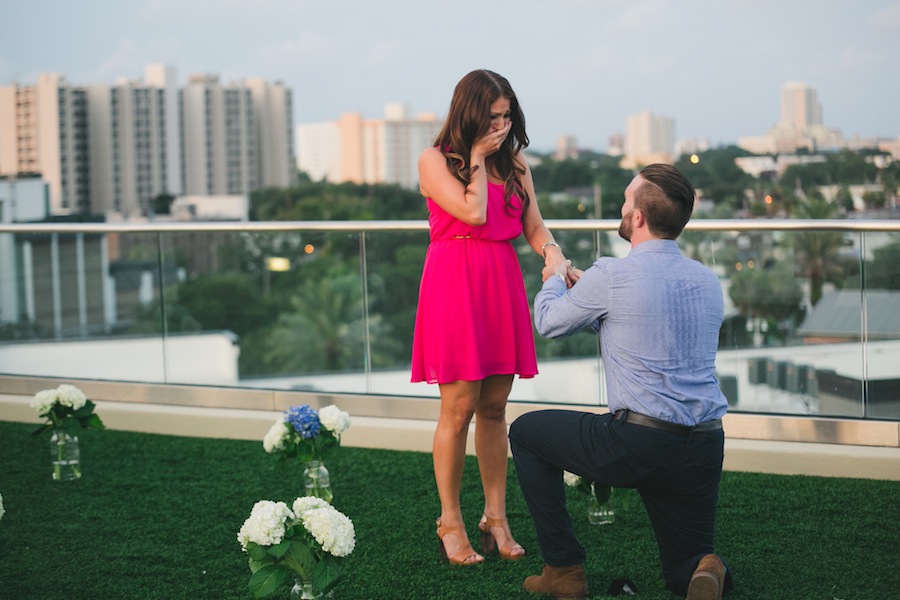 Roohi Photography *Preferred Marry Me Tampa Bay Wedding Pro
Some of our favorite proposal stories from 2015 weddings:
The proposal was last Christmas Eve. We were staying in our house for the first time, and we didn't have any furniture, so we stayed on air mattress and watched Christmas movies. Around 2 a.m., we opened our presents from each other and decided to go to sleep. Stephen woke me up and said he forgot to give me a present and then pulled out the ring box and asked me to marry him.
The proposal was a complete surprise. Tyson and I were supposed to get Sunday breakfast together before he was going back to Gainesville. We were long distance. When I woke up and began getting ready, my roommate handed me a letter from Tyson explaining that we would not be getting breakfast together and that he had some other things in mind.
Through a series of notes and gifts, I explored a day long scavenger hunt that included getting to see many close friends, even some from out of town. The scavenger hunt ended at Ballast Point Park where Tyson was waiting for me. He had a friend secretly take pictures as he proposed in the gazebo in the center of the park.
Next, we headed to Tyson's mom's house to share in the excitement. Tyson informed me that he had kept her "in the dark" in regards to the proposal date and thought it would be fun for us to surprise her. As we pulled up to the house, both of our families from all over the state were standing on the front porch cheering! Another 25 or so friends from as far as Tennessee were gathered inside the house. There was food, cake, champagne and photos of us everywhere.
For months leading up to the actual proposal, James grilled me with random questions about the type of ring I wanted. He constantly told me it was not going to happen just yet, and that he could only afford a Ring Pop. He asked what my favorite flavor was and I just played along with his questioning.
Then, on a Tuesday night in June, while I was in the kitchen cooking dinner and making cookies, he came home from his daily bike ride and greeted me with a hug and a kiss and said 'I Love You.' I wasn't sure what was happening, and just said "I love you too." Then, he pulled a Ring Pop out of his pocket and asked me to marry him. Completely caught off guard, and thinking the whole thing was a joke, I said 'of course, can I wear the Ring Pop?' He replied with, 'I know it's not the flavor you wanted, let me see if I have another one in my pocket.' He pulled out my beautiful antique inspired ring with his grandmother's diamond for the center stone and got down on one knee and asked me again. It took me a few minutes to realize he was being serious, and I even had to ask him if he was. It was a wonderful surprise!
In 2013, we took a vacation to Los Angeles, California to visit Glen's family. His brother-in-law owns a jewelry store in L.A., and they invited us to try on rings. Glen was surprisingly very okay with this, so I was super excited to look at all the sparkly diamonds. While we were there, he had me try on a ring that his brother-in-law designed, and it was beautiful!
About three weeks after our trip, on a weeknight after work, Glen looked at me with this grin and said, "Okay, are you ready for this?!" We both sat down and he started talking about our relationship and everything we had overcame together. My stomach was in knots and I had the biggest smile on my face. He got down on one knee and pulled out that beautiful ring that his brother-in-law designed! We spent the entire night laughing and crying and cherishing the moment. It was perfectly intimate, and I was not expecting to come home to a proposal. Hearing him describe our relationship and how much he cared for me, I felt so blessed to have found this love.
MORE: SURPRISE PROPOSALS IN TAMPA BAY
Since JJ and I were together for only eight months before he asked me, the proposal was a complete shock! We were eating dinner at his parents' lake house, like we typically do Sunday nights. After dinner, he asked me if I wanted to take the boat out to watch the sunset, like every other Sunday, I said "of course"!
JJ was holding me in his arms and funny enough I was telling HIM how unbelievably grateful I was for him. He turned it around with an amazing little speech and went down on one knee and popped the question, I saw him reach into the boat glove box to pull out a little red box, I FLIPPED! It was such a SHOCK, I immediately started crying tears of joy, kissed him and said "YES"!
My whole body was shaking, and I was sitting on his lap while he was driving the boat back. I asked him, 'Who all knows?' He said, 'No one, let's go tell my parents. We turned the corner to his parents' dock and from a distance I could see all of my dearest, closest friends and family waiting with sparklers in their hand and along the bank to congratulate us! I immediately started balling, AGAIN!
When we got off the boat to greet all of our family and friends we went back into the house and a gorgeous dessert bar with champagne was all set out. It gets even better, there were two chairs that said bride and groom on it on the patio (which was even a surprise to JJ). We were told to sit down and ENJOY. The love song "This will be" started playing and both of our parents started dancing to a choreographed dance, it was truly AMAZING! Better yet, towards the end of the song all of our friends joined in like a flash mob. My engagement night truly tops the charts.
George and I were living in Harrisburg, PA at the time we got engaged, because I was in law school there. After dinner [one night], our friends were meeting at my apartment for happy hour/game night before we headed downtown. We made some drinks and started playing Taboo. George started off by giving me clues to words that were actually a part of the game. As he prepared to give me clues for the third word, he started off with hints like "someone who loves you more than anyone in the world" and "someone who you loves the most." I was just yelling out random things like "mom, dad, family, husband, wife." He was clearly nervous but kept on giving clues, and I was at a loss for what the word could be!
Finally he said "someone who I want to spend the rest of my life with," and still confused at how this related to the game, said "Me?" He then came towards me, got on one knee and asked me to spend my life with him. I looked around the room at our friends and saw them taking video and pictures and immediately started crying.
George planned a night on the town for us and our closest friends. He rented a limo, stocked it with our favorite beverages and had a video slideshow of pictures of he and I. We celebrated the entire night. It was magical!